For Immediate Release
Lindsay Brock, Juliana Chapman, and Sabrina Brashares for Jennifer Wood Media, Inc.
Wellington, FL – January 19, 2020 – Great Britain's Emily Ward made a splash in the Under 25 division at the Winter Equestrian Festival (WEF) by winning the $25,000 Hermès Under 25 Grand Prix CSI2* riding Millioninmind on Sunday, January 19, at the Palm Beach International Equestrian Center in Wellington, FL. Closing out week 2 of WEF, Andrew Welles (USA) topped the $37,000 CaptiveOne Advisors 1.45m Classic CSI2* aboard Brindis Bogibo.
WEF continues through March 29, 2020 with 12 consecutive weeks of world-class competition and $13 million dollars on offer. The third week of competition at WEF will run January 22 through 26 and is sponsored by Adequan®. Recognized as a CSI3* by the Fédération Equestre Internationale (FEI), the week's featured event will be the $137,000 Adequan® Grand Prix CSI3* during "Saturday Night Lights" on January 25.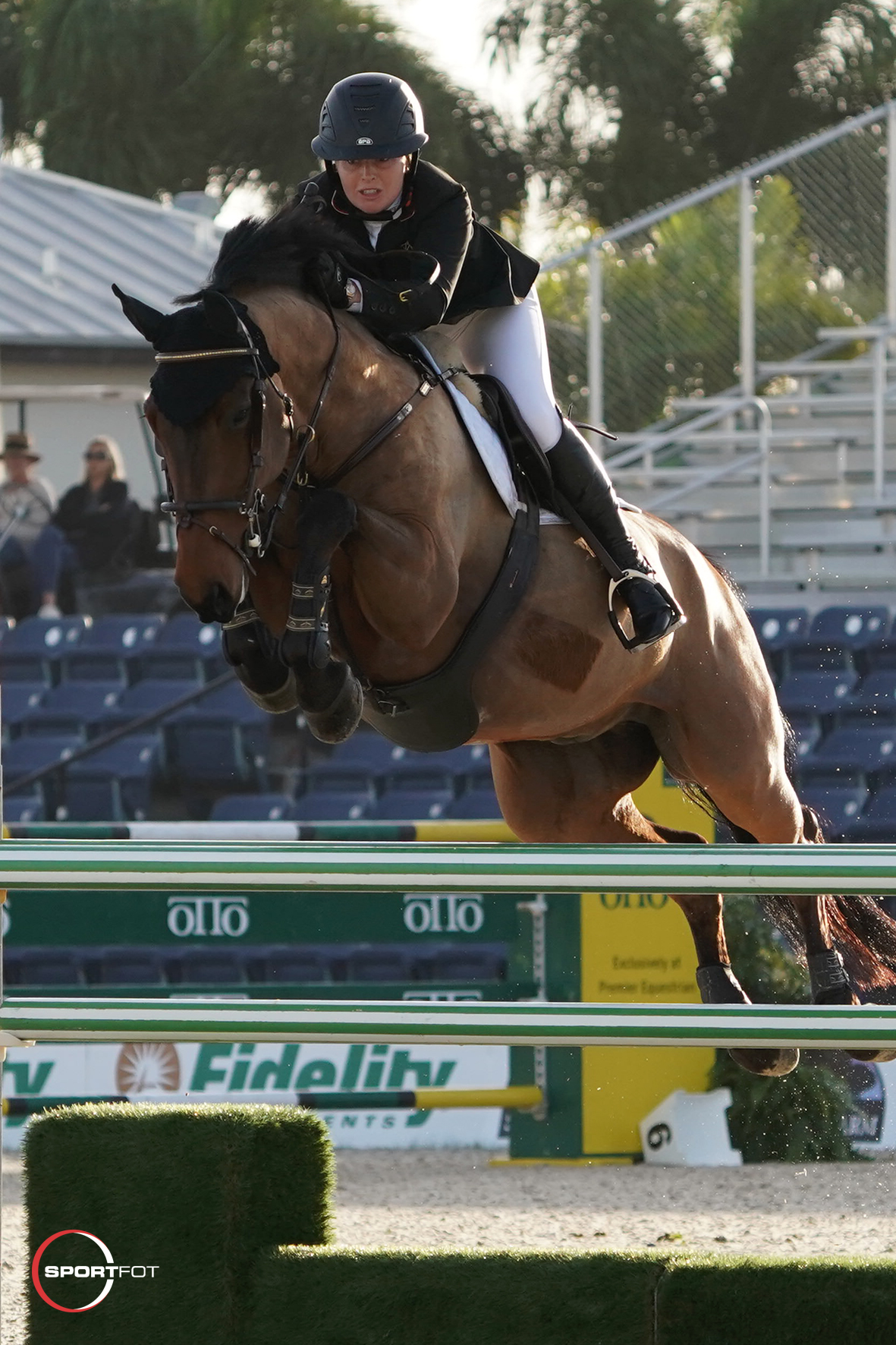 Fifty-five horses challenged Oscar Soberon's (USA) opening track with 19 returning for a deciding jump-off. After winning the Hermès Under 25 Welcome just a day earlier, Ward wasted no time in establishing herself as the one to beat this season. She and Millioninmind, owned by Steven Barnes, stopped the clock in a quick 35.99 seconds over second-place finisher Sydney Shulman's (ISR), who finished in a time of 36.18 seconds riding Jill Shulman's Azilis du Mesnil.
"I've actually never competed in America before, but I am off to a great start," said Ward, 20, who rides for Canadian Tiffany Foster's Little Creek Equestrian. "We've owned Millioninmind since he was six years old, so we've had him quite a long time. He took me on my first senior Nations Cup team, and won my first international grand prix with me. Now, he has come over here and flourished.
"He's super careful, so these types of classes are perfect for him," said Ward of Millioninmind, a 12-year-old Irish Sporthorse gelding by ARD VDL Douglas. "He loves to go fast, and he's always looking for the next jump. I jumped the first line [in the jump-off] on the five, and then I had a really good shot back to b and c of what was the triple combination. [Millioninmind] knows exactly what he's doing, and that's where I knew I won it."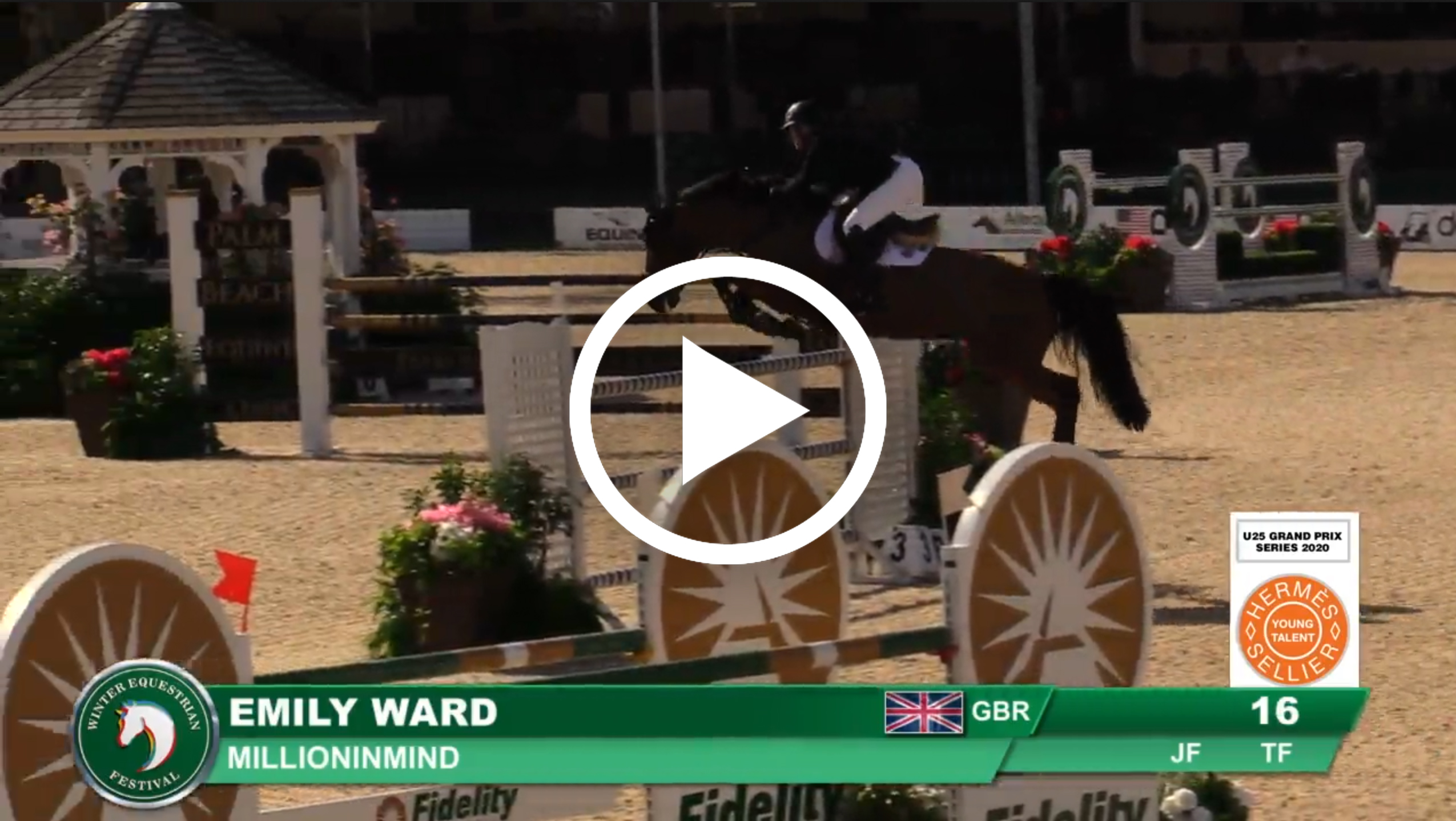 Fractions of a second off the win, Shulman's top finish was an early birthday present to herself before turning 25 on Monday. She hails from Greenwich, CT, and rides for Israel with seven years of experience in the under 25 division.
"It's an amazing division, and I am very grateful to Hermès for sponsoring it," she said. "It's a great stepping stone for riders like me. When I was younger coming up, and I couldn't do FEI legally, it was great to get my feet wet in FEI competitions. The horse I did today [Azilis du Mesnil], I bought her a little less than a year ago, and she's so competitive. She was a little bit green when I got her, but all she wants to do is jump the jumps and go fast."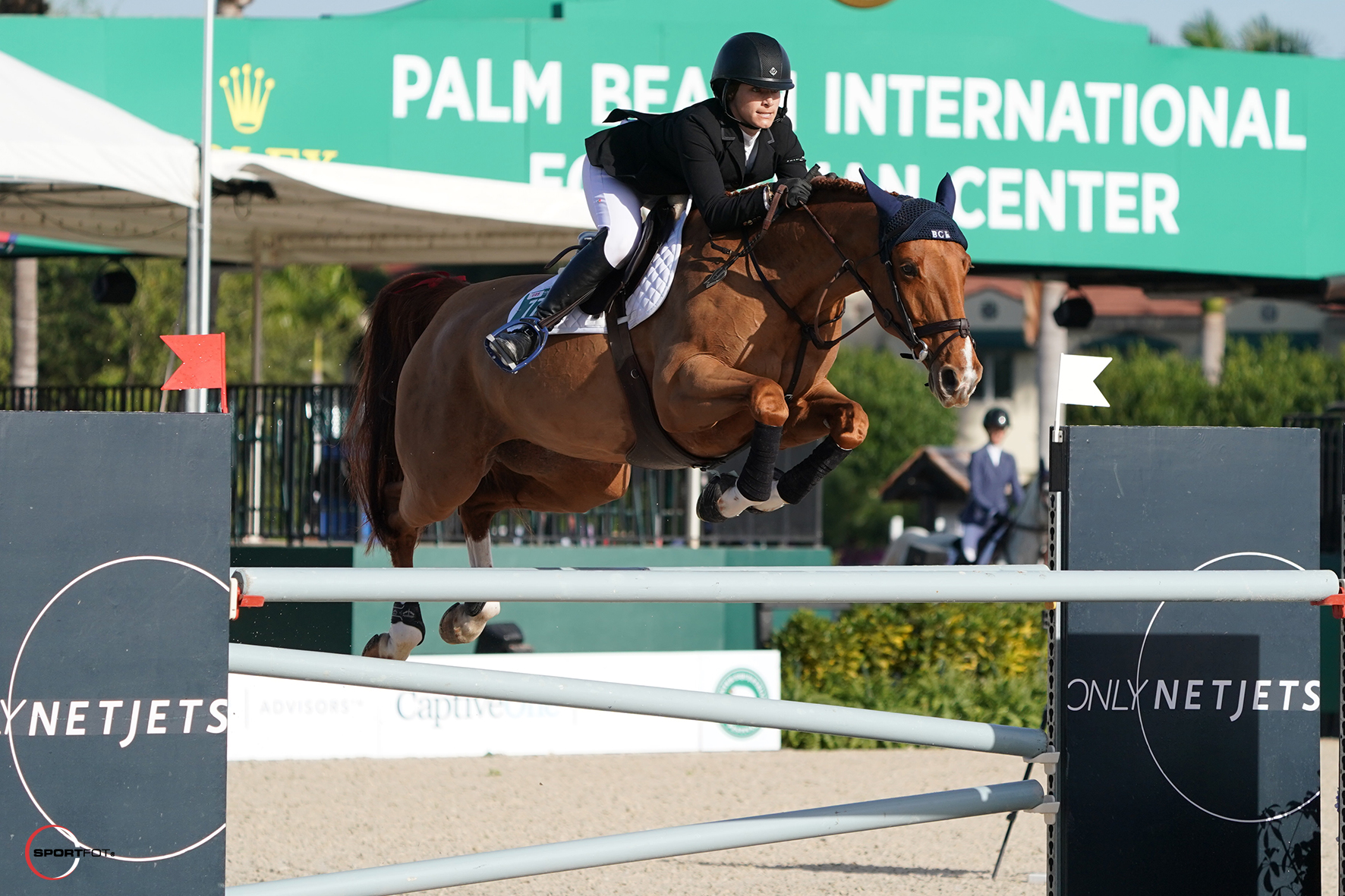 Rounding out the top three, Catherine Wachtell (USA) finished third aboard Coverboy, owned by Autumn View Farm, in a time of 36.71 seconds. The 24-year-old rider hails from Chatham, NJ, and is in her second year of law school at Fordham University in New York, NY.
"The course really tested rideability, and my horse and I have a good partnership," said Wachtell of the mount she's had for nine years. "He's not the fastest or the most scopey, but he listens really well, so that worked to my advantage.
"I feel lucky to have been able to develop with him," continued Wachtell. "We went from Low Junior Jumpers to Mediums to Highs, and now to be able to do the Under 25 is really special. I am a weekend warrior and a true amateur. I flew in on Friday on a 7:30 a.m. flight, and I had to just get on and go. Having a horse that you have a special partnership with is the only way to make it possible."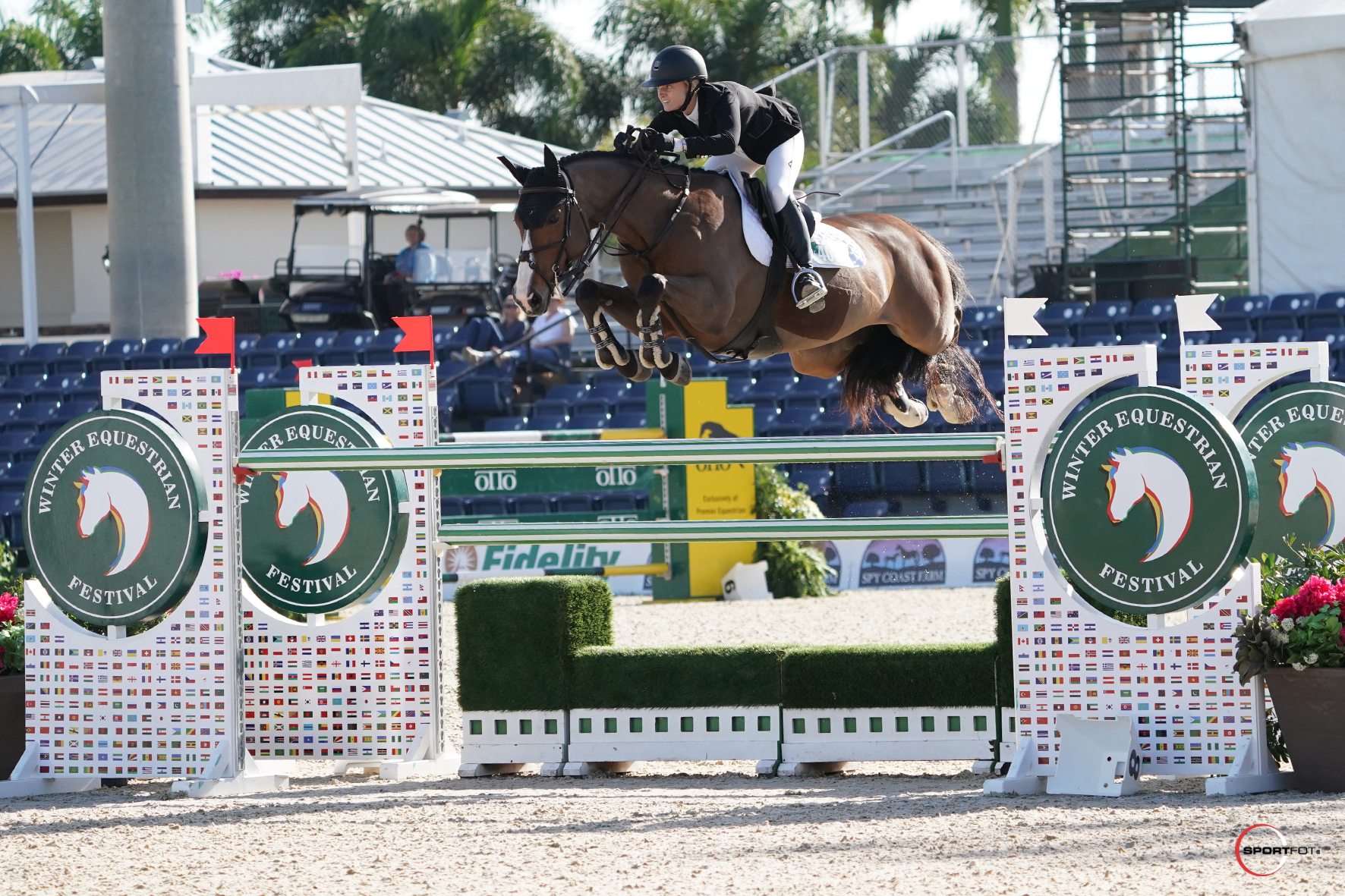 Finishing fourth, Eugenio Garza Perez (MEX) rode Caracas to a time of 37.29 seconds for owner Nerijus Sipaila, while Natalie Dean (USA) capped the top five riding Jewel de Kwakenbeek, owned by Marigold Sporthorses LLC, in 37.35 seconds.
Leah Rogers Meierfeld, Senior Equestrian Account Executive with Hermès commented at the conclusion of the weekend's events, "It's super special to be able to support a younger generation that's moving up. I think it's one of the most amazing classes within the Winter Equestrian Festival just because of that. It gives them an opportunity that they might not have had. To be able to support that and be a part of that is what Hermès is all about."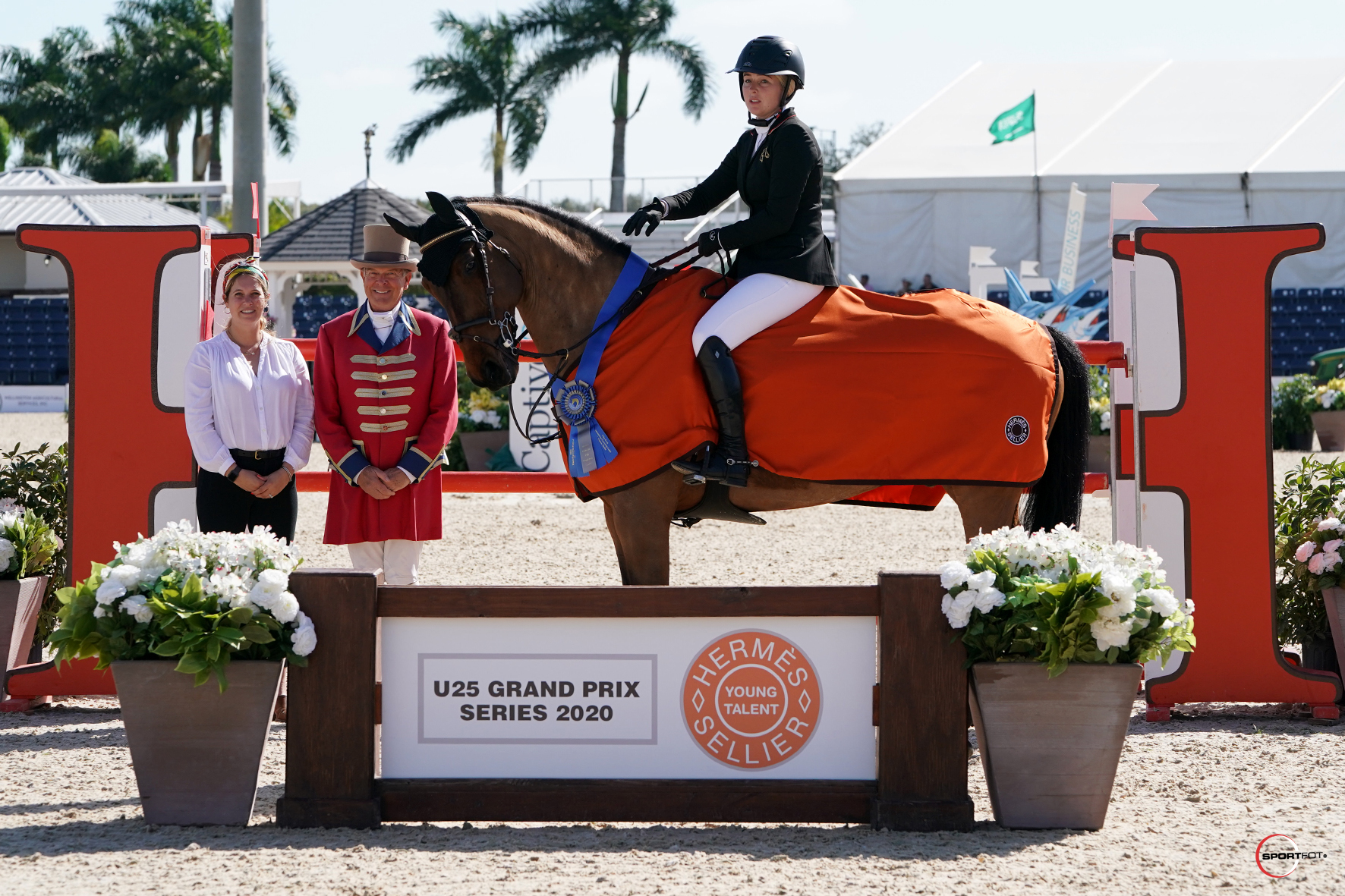 Final Results: $25,000 Under 25 Grand Prix CSI2*
1 MILLIONINMIND: 2007 ISH gelding by ARD VDL Douglas
EMILY WARD (GBR), Steven Barnes: 0/0/35.99
2 AZILIS DU MESNIL: 2010 Selle Français mare by Tinka's boy x Jarnac
SYDNEY SHULMAN (ISR), Jill Shulman: 0/0/36.18
3 COVERBOY: 2007 KWPN gelding by Veron x Corland
CATHERINE WACHTELL (USA), Autumn View Farm: 0/0/36.71
4 CARACAS: 2009 Holsteiner gelding by Cachas
EUGENIO GARZA PEREZ (MEX), Nerijus Sipaila: 0/0/37.29
5 JEWEL DE KWAKENBEEK: 2009 BWP gelding by Cicero Z x Quidam de Revel
NATALIE DEAN (USA), Marigold Sporthorses LLC: 0/0/37.35
6 LURON S Z: 2007 Zangersheide gelding by Lord Z x Landetto
RILEY NEWSOME (USA), Riley Newsome: 0/0/38.12
7 BALOU'S FLY HIGH: 2007 Oldenburg stallion by Balou du Rouet x Grandeur
ISABELLA RUSSEKOFF (USA), Suave Pony LLC: 0/0/38.28
8 E CLINTON: 2009 KWPN gelding by Clinton x Kojak
LUCAS PORTER (USA), Sleepy P Ranch LLC: 0/0/39.40
9 WALONA 15: 2003 KWPN mare by Quasimodo Z x Silvio II
NICOLA POHL (GER), Nicola Pohl: 0/0/45.60
10 CON PLEASURE 5: 2009 Westphalian gelding by Contendro 1 x Funny Fasion
FLO NORRIS (GBR), Cisca Norris: 0/4/37.29
11 BELLE Z: 2008 Zangersheide mare by Berlin x Carthago Z
BRIAN MOGGRE (USA), Ashford Farm BVBA: 0/4/37.31
12 CONCORDE: 2007 KWPN gelding by Vaillant x Concorde
SAM WALKER (CAN), The Epic Group LLC & Chris Pratt: 0/4/37.91
Andrew Welles Scores FEI Victory at WEF
Andrew Welles rode Brindis Bogibo, a 14-year-old Dutch Warmblood gelding, to best a field of 67 and win the $37,000 CaptiveOne Advisors 1.45m Classic CSI2* to close out the day in the International Arena at WEF.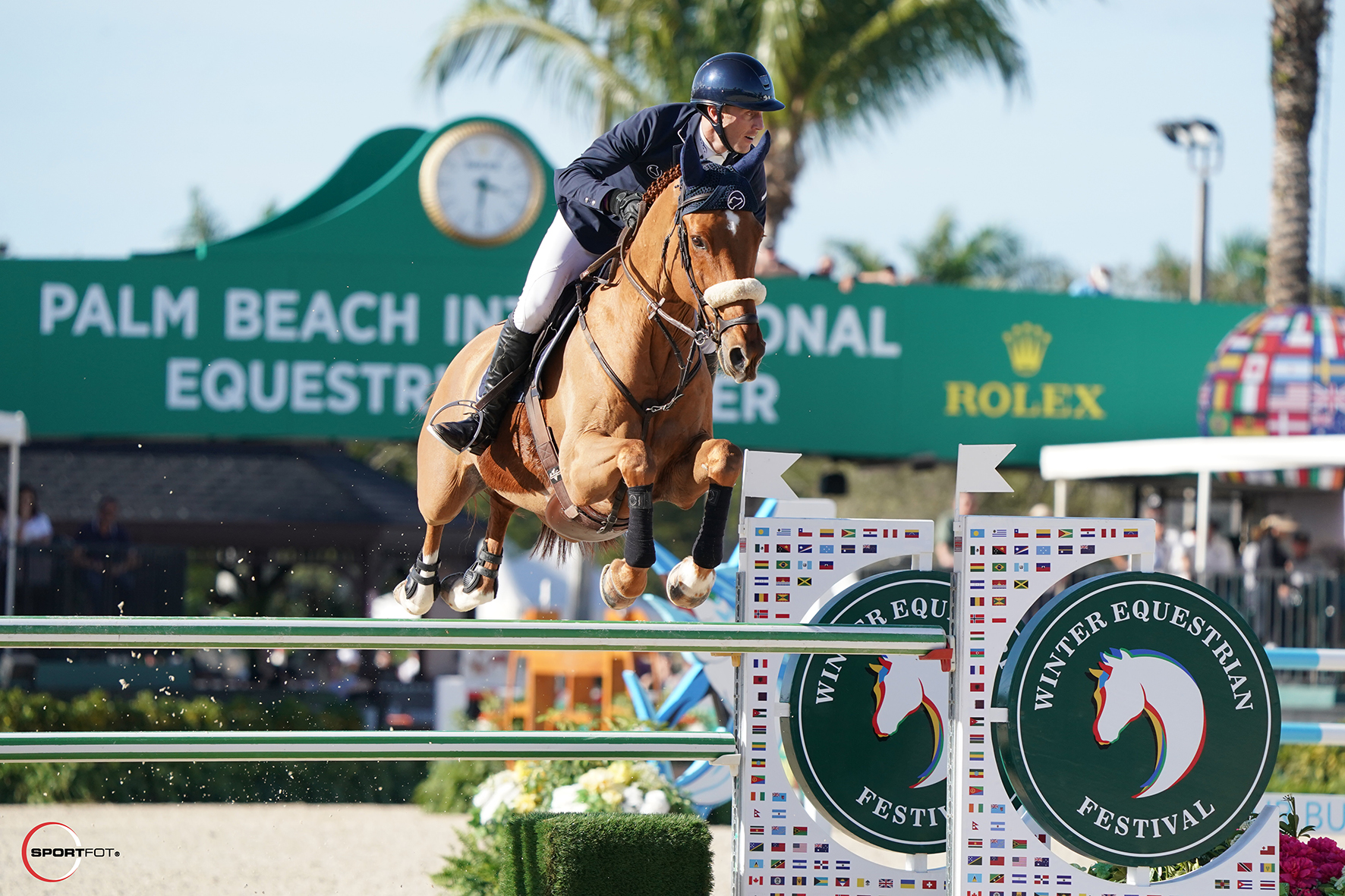 Speed and strategy were in tall order as Welles guided his mount through a 13-horse jump-off to stop the timers at 36.58 seconds for owner Itasca Group LLC.
"This was my horse's first week competing this year, and I wanted to make it a point to improve on jump-offs coming into the season," said Welles. "My plan was to give it our best shot. He was really in tune with the course today and I give him a lot of credit, he felt great out there. Especially in the jump-off, he was fully engaged going from jumps two to three where I left out a stride and his focus continued throughout the rest of the course.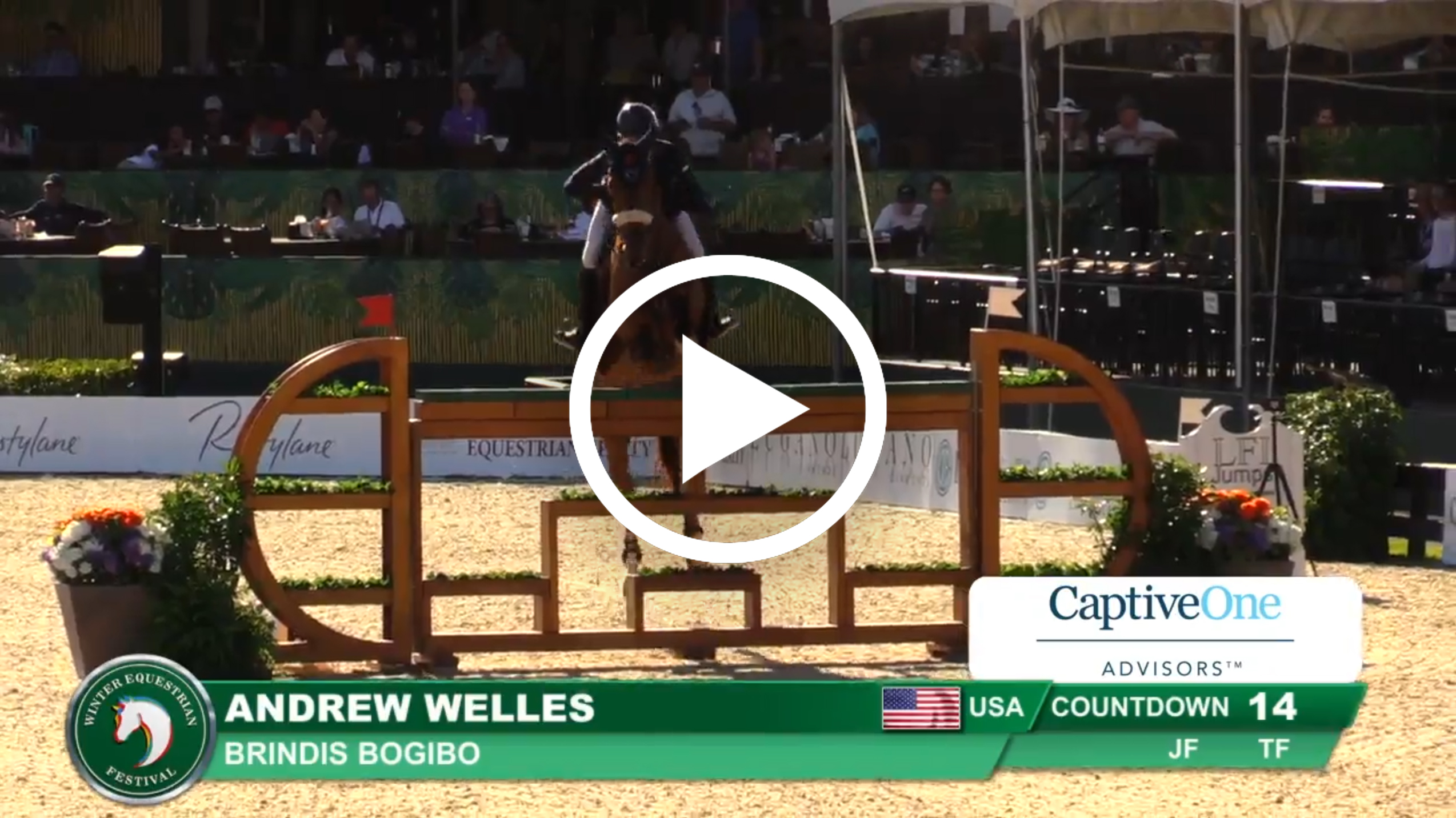 "He is actually a horse that has been in our lives for four and a half years," continued Welles. "But he was recently sold and then, thanks to the Razbeck and Hogan families, we were able to buy him back for me to ride. It's been really special to have him back in our lives."
With a string of six mainly younger horses Welles feels having Brindis Bogibo as a top grand prix horse takes the pressure off the young horses and keeps the whole team relevant at the higher levels.
In regards to the newly improved footing, Welles congratulated the whole WEF team for making it happen and stepping up to the plate for the horse and riders. "The footing feels great, and the horses are jumping really well."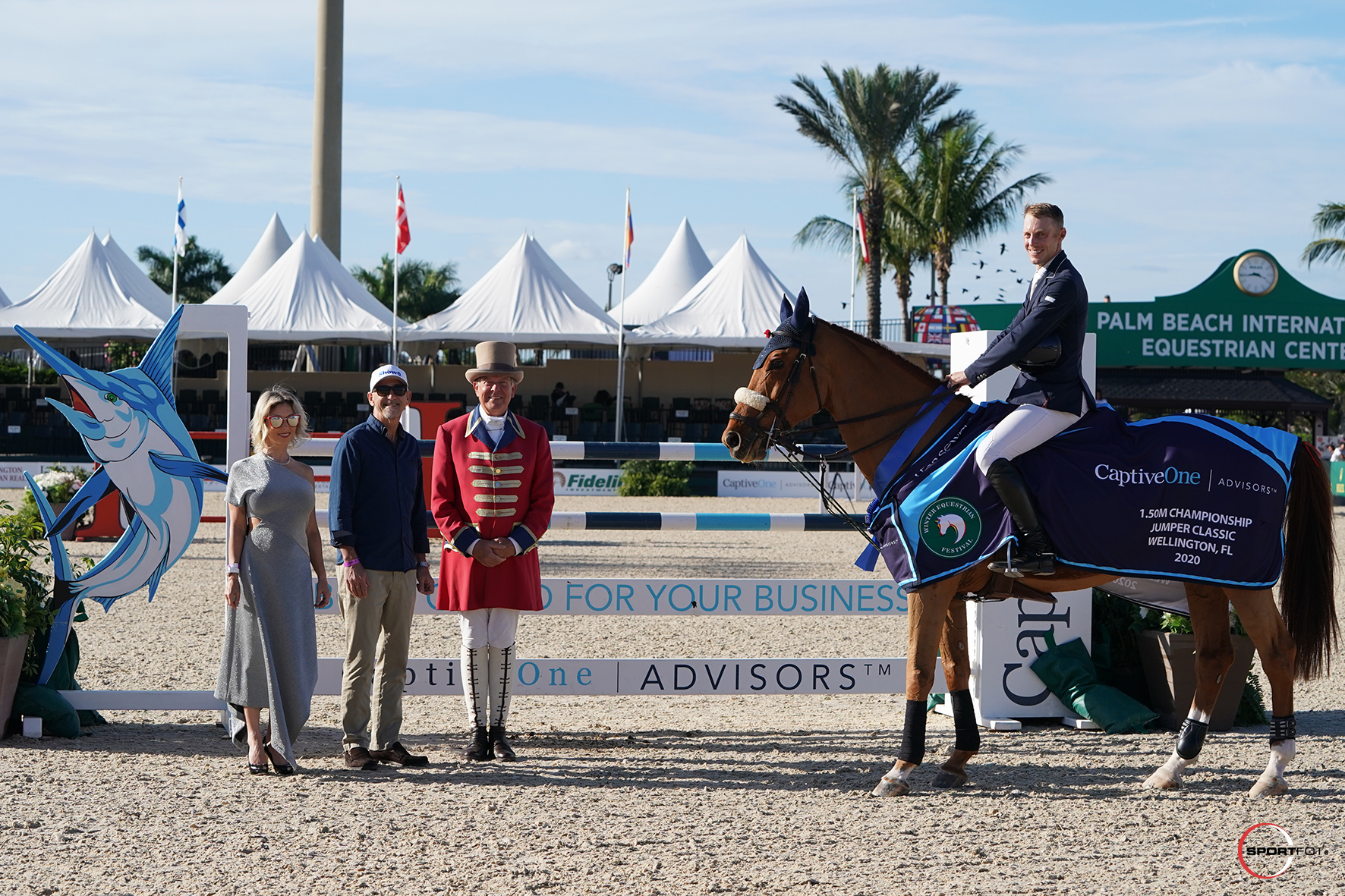 Ireland's Capt. Brian Cournane finished the runner-up riding Penelope Cruz to a double-clear performance in 37.71 seconds. Tomas Yofre (ARG) took third aboard Dasino in 37.95 seconds for owner Peacock Ridge LLC, and Bliss Heers (USA) finishing fourth on Cayani SN in 38.04 seconds for owner Team Philippaerts. Schuyler Riley (USA) capped the top five riding Iceman de Muze, owned by E2 Show Jumpers, in 38.76 seconds.
Final Results: $37,000 CaptiveOne Advisors 1.45m Classic CSI2*
1 BRINDIS BOGIBO: 2006 KWPN gelding by Grand Pilot I x Pacific
ANDREW WELLES (USA), Itasca Group LLC: 0/0/36.58
2 PENELOPE CRUZ: 2008 Irish Sport Horse mare by Ustinov x Peter Pan
CAPT. BRIAN COURNANE (IRL), Capt. Brian Cournane: 0/0/37.71
3 DASINO: 2009 SBS gelding by Casino x Gladstone
TOMAS YOFRE (ARG), Peacock Ridge LLC: 0/0/37.95
4 CAYANI SN: 2010 SWB gelding by Cayado 3 x Voltaire
BLISS HEERS (USA), Team Philippaerts: 0/0/38.04
5 ICEMAN DE MUZE: 2008 BWP stallion by Erco van't Roosakker x For Pleasure
SCHUYLER RILEY (USA), E2 Show Jumpers: 0/0/38.76
6 DON'S DIAMANT: 2008 KWPN stallion by Diamant de Semilly x Phin Phin
NATALIE DEAN (USA), Marigold Sporthorses, LLC: 0/0/38.77
7 UKULMAN DE LA NUTRIA: 2008 Selle Français gelding by Quick Star
CELSO ARIANI (BRA), Ricardo Romero Garcia: 0/0/38.88
8 VAGABON DE LA VALLEE: 2009 Selle Français gelding by Zandor Z x Rosire
CHRIS EWANOUSKI (USA), Cavalli Reale Stables LLC & Chris Ewanouski: 0/0/39.78
9 J-BOSTON S.E.: 2009 BWP gelding by Boris van het Kluizebos
SYDNEY SHULMAN (ISR), Jill & Sydney Shulman: 0/0/42.74
10 CHS KROOZE: 2010 Irish Sport Horse mare by Kroongraaf
DANIEL COYLE (IRL), Daniel Coyle: 0/4/35.25
11 CADANS Z: 2009 Zangersheide mare by Carosso VDL x Navarone
ADRIENNE STERNLICHT (USA), Starlight Farms 1, LLC: 0/4/36.39
12 JEWEL LVP: 2009 BWP mare by Berlin x Contender
ERYNN BALLARD (CAN), Makim Holdings Inc.: 0/4/38.14
Palm Beach Equine Clinic Amateur-Owner Hunter 3'6" 18-35 Championship Goes to Stephanie Danhakl and Tufton Avenue
Week two for hunters ended on Sunday with Stephanie Danhakl riding her new mount, Tufton Avenue, to the Palm Beach Equine Clinic Amateur-Owner Hunter 3'6" 18-35 championship. The pair earned three firsts, a fourth, and a fifth-place ribbon to claim their title.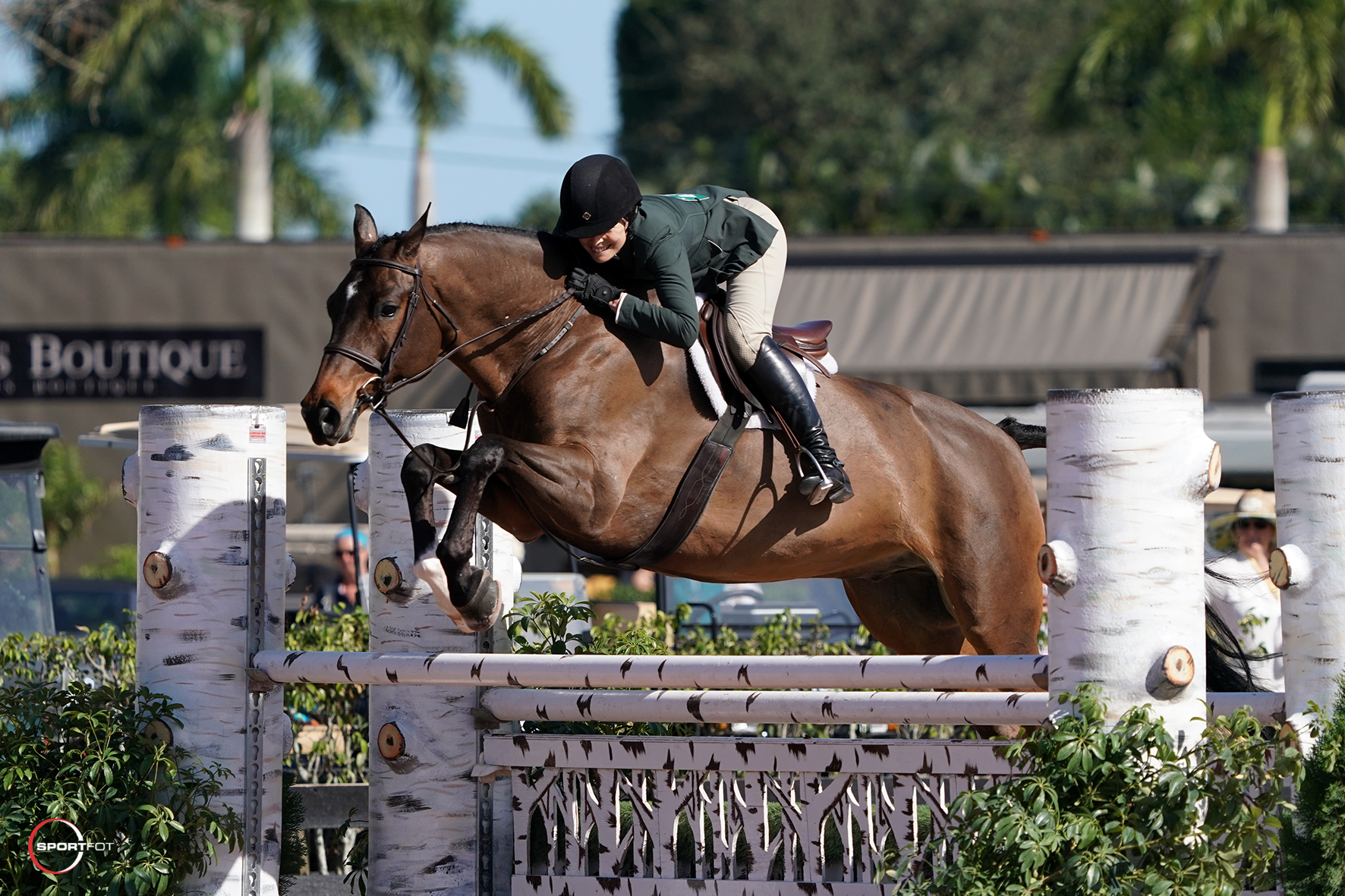 After riding Tufton Avenue only one time, Danhakl walked right into one of her favorite arenas, the E.R. Mische Grand Hunter Ring, with her new mount. "Yesterday I was still trying to figure him out but we still had two good trips and then today he won every class. I couldn't ask for him to be more perfect!" commented Danhakl, who hails from Pacific Palisades, CA, but is pursuing her PhD in Art History at Boston Universtiy.
On the second day of the division the pair, trained by Scott Stewart, Ken Berkley and Nancy Ciesluk, won the hack and received scores of 91 and 93 to put them on top. "Even when I make a few mistakes he just jumps higher and better," said Danhakl. The gelding's beautiful pace and round jump is what Danhakl believes helps him stand out to the judges.
Tufton Avenue is a first year green horse that was ridden and brought along by Katie Cooper of Owings Mills, MD. "She has done an incredible job with him, he doesn't feel like a green horse at all," described Danhakl.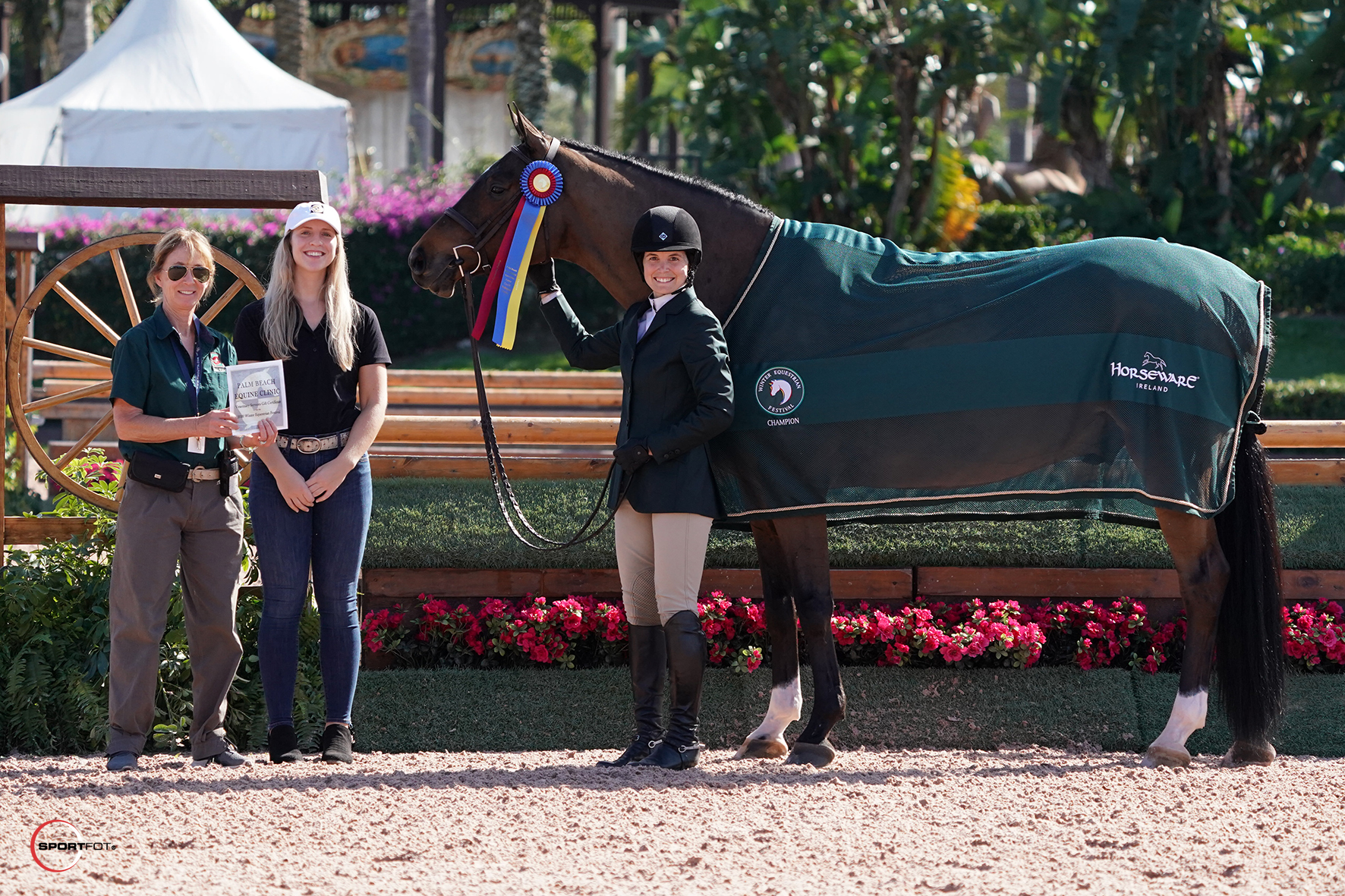 Although Danhakl was not looking for a new horse at the time, she rode Tufton Avenue once and realized that he was impossible to turn down. "I jumped one course and he was perfect so we said let's vet him!" she said.
Reserve champion of the Palm Beach Equine Clinic Amateur-Owner Hunters 3'6" 18-35 went to Britta Stoeckel, of Chicago, IL, and William Hill. Stoeckel and her horse William Hill received a first, two seconds, a third, and a fourth-place ribbon to earn reserve champion.
The third week of the Winter Equestrian Festival kicks off with hunter, jumper, and equitation competition Wednesday, January 22, and runs through Sunday, January 26. For full results, visit www.PBIEC.com.
Photo Credit: Photos © Sportfot, Official Photographer of the Winter Equestrian Festival. These photos may be used only in relation to this press release and must include photo credit.