For Immediate Release
Jennifer Wood, Lindsay Brock, and Summer Grace for Jennifer Wood Media, Inc.
Wellington, FL – March 23, 2019 – The main feature of the 2019 Winter Equestrian Festival (WEF) on Saturday, March 23, was the $209,000 Wellington Agricultural Services Grand Prix CSI 4*, held on the grass derby field at Equestrian Village at Palm Beach International Equestrian Center. Emil Hallundbaek (DEN) and Chalisco raced to victory in the field full of top competitors.  In the $134,000 CaptiveOne Advisors 1.50m Jumper Series Final, Sergio Alvarez Moya (ESP) rode MHS Attraction to the win, while Lorenzo de Luca (ITA) took home the overall series victory.
The eleventh week of WEF concludes on Sunday, March 24, with the $50,000 Hermès Under 25 Grand Prix Series Final on the grass derby field at Equestrian Village. The final week of WEF, sponsored by Rolex, runs March 27-31 and features the $500,000 Rolex Grand Prix CSI 5*.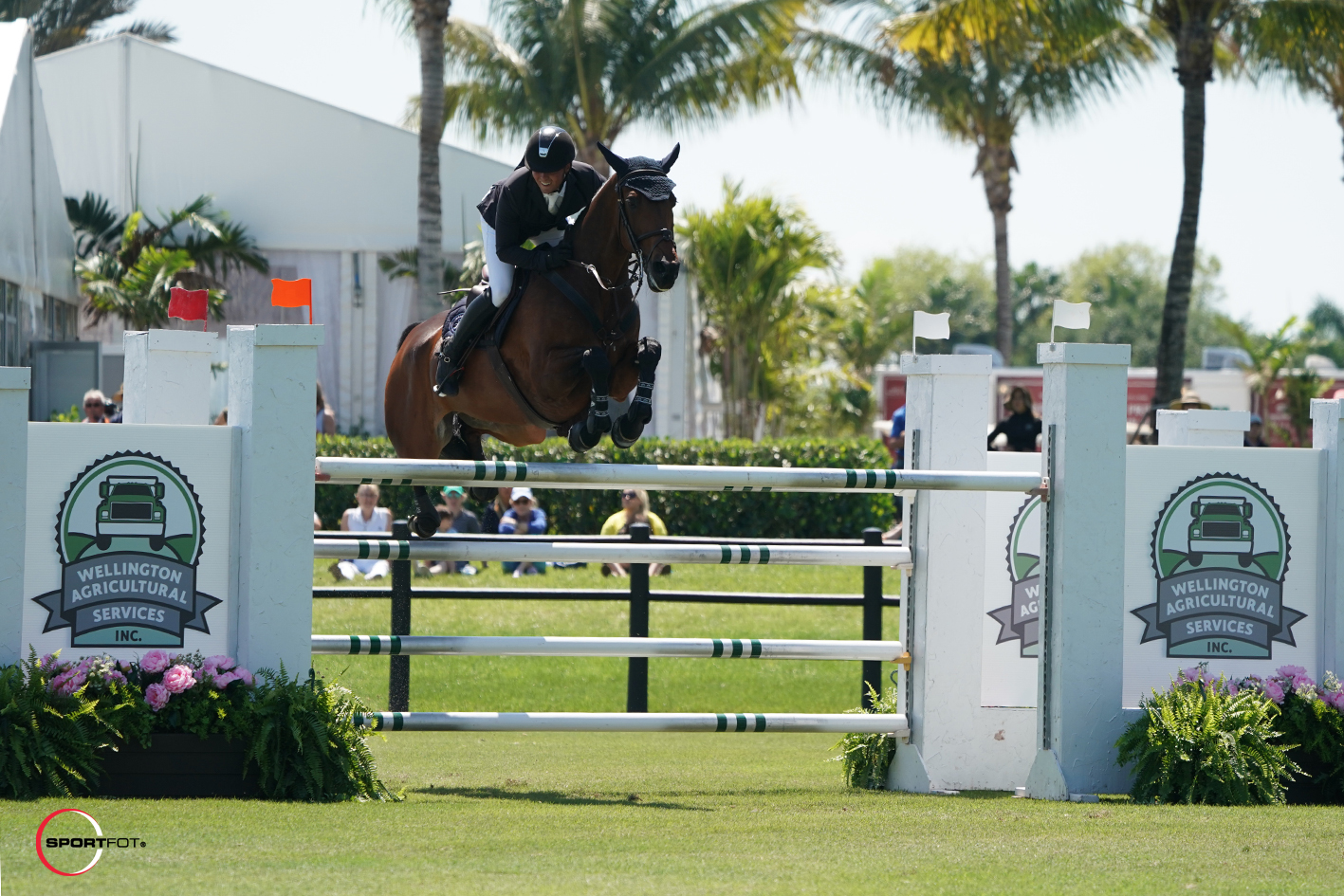 There were 45 entries that went to post in the $209,000 Wellington Agricultural Services Grand Prix CSI 4*, and five of those recorded a clear round and advanced to the jump-off.
First to return was Lorcan Gallagher (IRL) riding Dacantos Group's Hunters Conlypso II. He and the 11-year-old Hanoverian gelding by Contendro I x Calypso II had a rail at 'a' element of the "bogey" double combination for four faults in 45.35 seconds to finish in fifth place.
Hallundbaek and Chalisco were next in, and they galloped around the field and cleared every jump presented to them, crossing the timers clear in 42.37 seconds.
"It started off from one end of the arena to the other, so of course you got a lot of speed at the beginning. I have a very careful horse and for me I used the fence to push him up there," said Hallundbaek of his jump-off ride and the double combination. "It was a tight turn back. He cleared it super, but it was a difficult combination."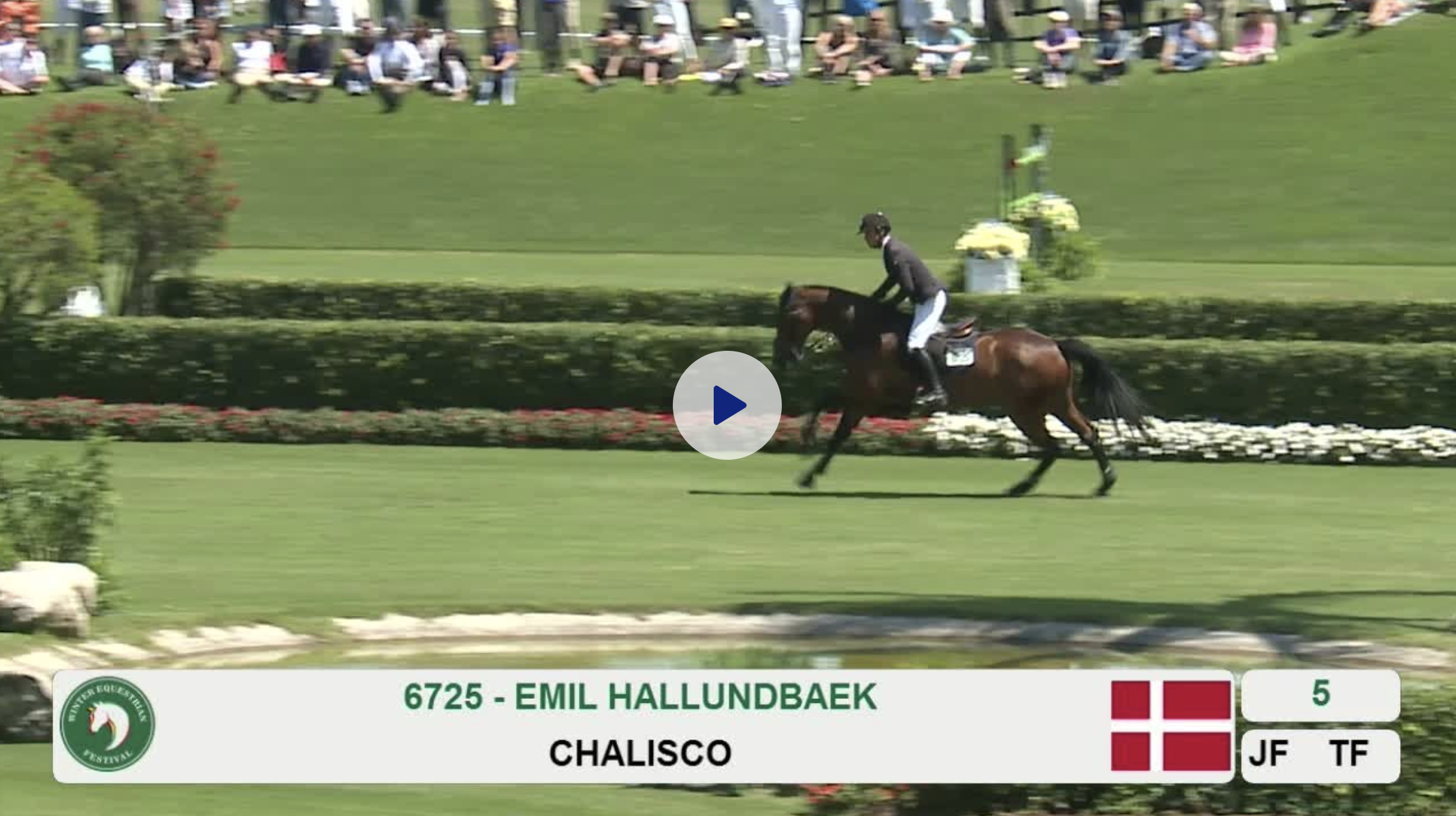 Click here to watch their winning ride!
They were followed by world number three Harrie Smolders (NED), who piloted Evergate Stables LLC's Une de L'Othain. They had a rail at the double combination as well, giving them four faults in 41.02 seconds for third place.
"I think that the course was not huge, but it was the first class on the grass in the ring," Smolders explained, since Thursday's qualifier was moved to the sand ring due to rain. "My horse has never competed in this ring, so I didn't know what to expect today. But she really did a very good job, the course was not huge but I think it was a very good build. There was a little time pressure, maybe a few too many in the triple [combination, but I think the course designer did a very good job. He probably would have liked a few more in the jump-off, but sometimes it goes that way."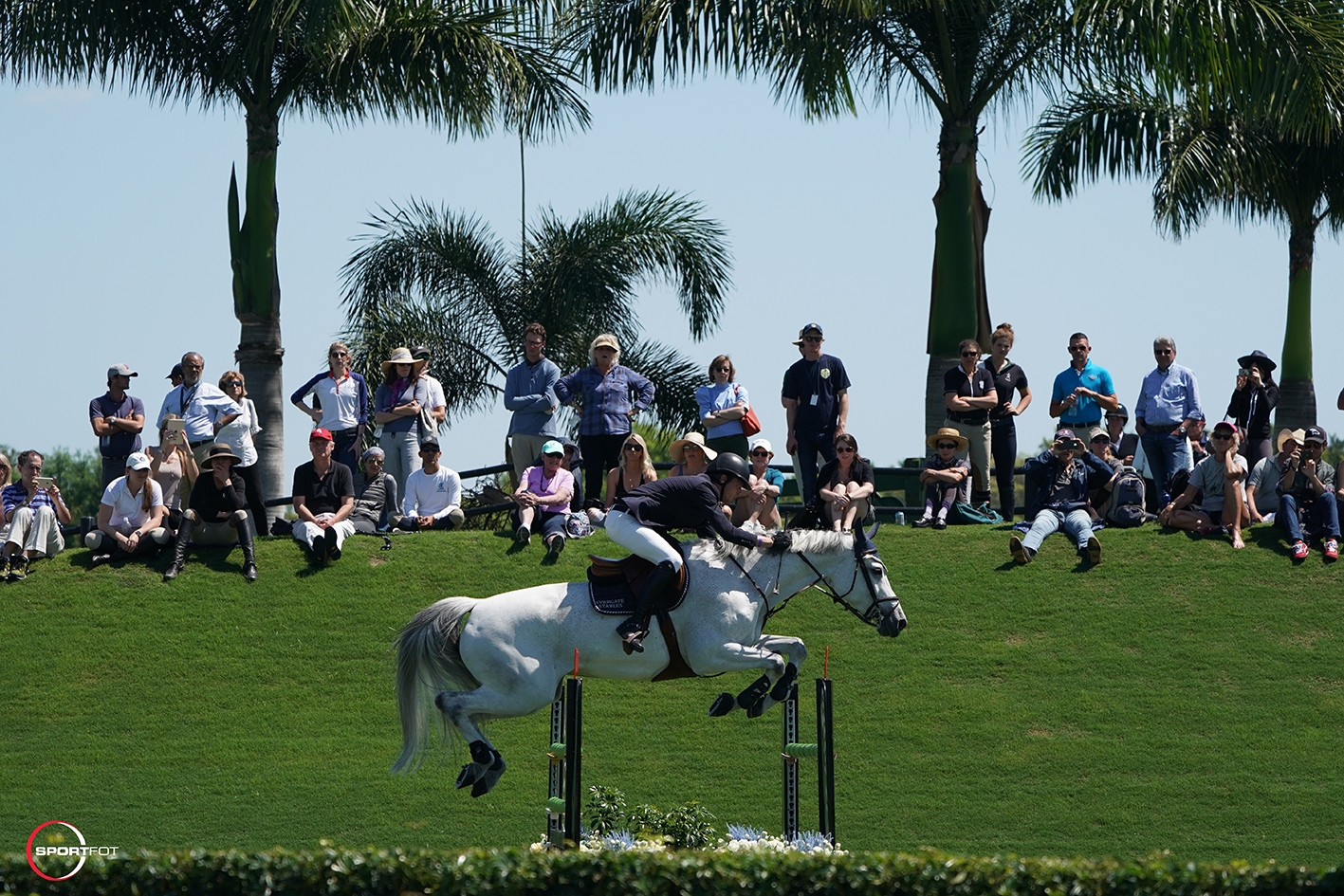 Smolders has ridden Une de l'Othain for six months, but said, "I think she felt a bit behind in mileage. We brought her here and I put her in the few weeks I was here in quite a few classes. She still needs to understand the game a little better in the jump-off, but she's a horse with all the capability. She's careful, she's scopey. We're getting close."
Taking note of the double combination, Rodrigo Lambre (BRA) piloted Chacciama carefully through the turn and was able to stay clear in a slightly slower time of 42.75 seconds for second place.
"I think I was lucky to go after [Harrie] so I saw that they were having that rail, and I lost a little bit more time to do it better, of course maybe there I lost the class," said Lambre. "[I] always have to think in the jump-off, since she's really hot and sensitive. So I was not looking too much at the others and trying to do my job with her."
Lambre has ridden the 12-year-old Oldenburg mare by Chacco Blue x Andiamo Z for two years.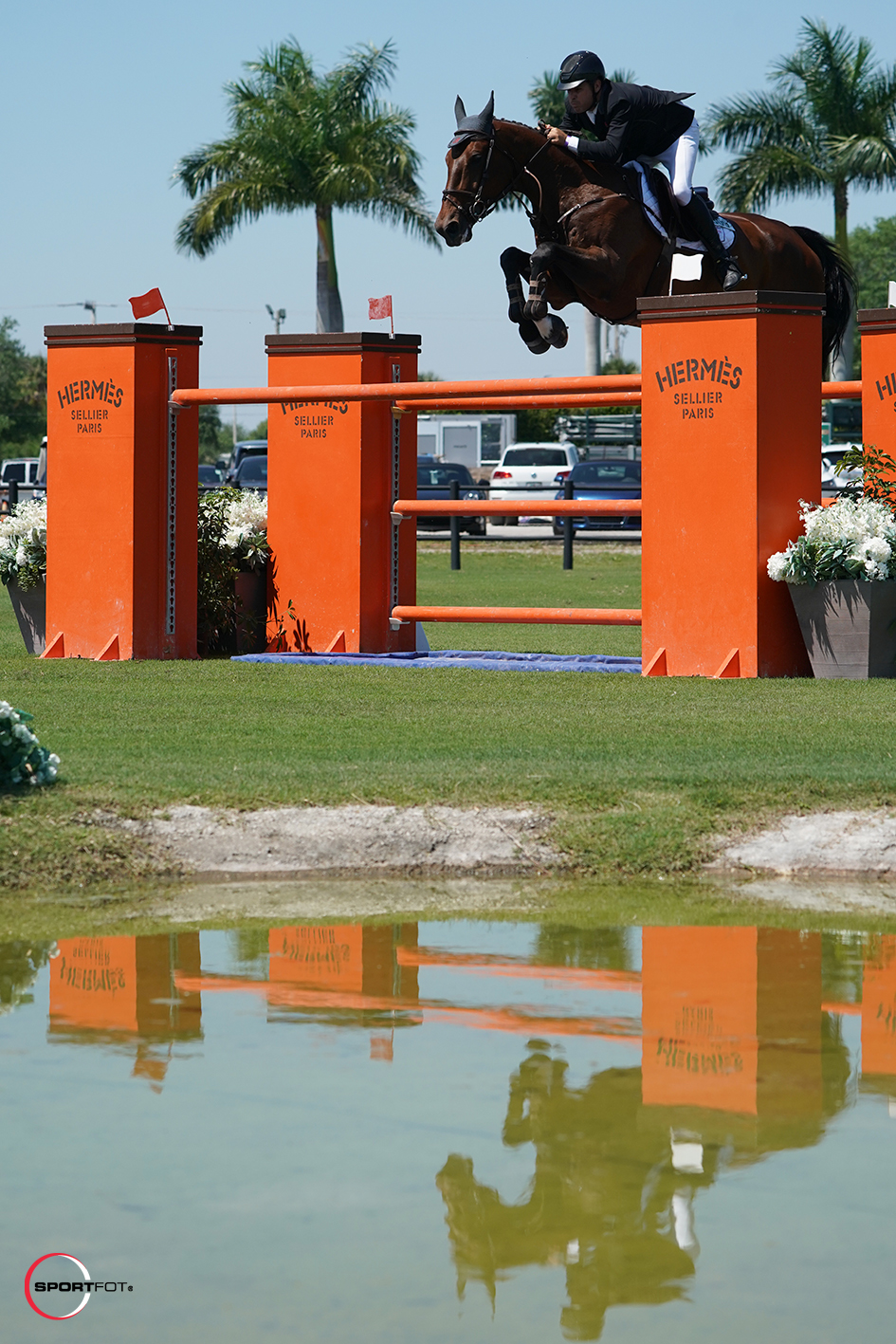 "She's a very sensitive mare," he said. "It took me awhile to connect with her. I think I finally understood her, since then I've been very happy. She always tries really hard."
The final combination into the ring were Jessica Springsteen (USA) and Fleur de L'Aube, Stone Hill Farm's 14-year-old Belgian Warmblood mare by Thunder van de Zuuthoev x Orchidee vh Pallieterland. They too had a rail at the double combination to finish in 41.97 seconds for fourth place.
"We have had many years of partnership," said Hallundbaek of the 12-year-old Oldenburg gelding by Chacco-Blue x Quidam de Revel he found through Paul Schockemöhle. "He's always jumped very good, but is a little bit of a hot horse. It took a few years to get the rideability perfect and everything. And now today he's so consistent in every class."
Hallundbaek, who is just 21 years old and now based in Aachen, Germany, has won 14 CSI 2* and 3* classes, but this is his first four-star win. Setting that victory in the grand prix made it that much more special with Chalisco, who has been in his family for six years. It is their first grand prix win together at any level. "This is a peak in my career," he said.
Hallundbaek will take that consistency and apply it next week towards the $500,000 Rolex Grand Prix CSI 5*.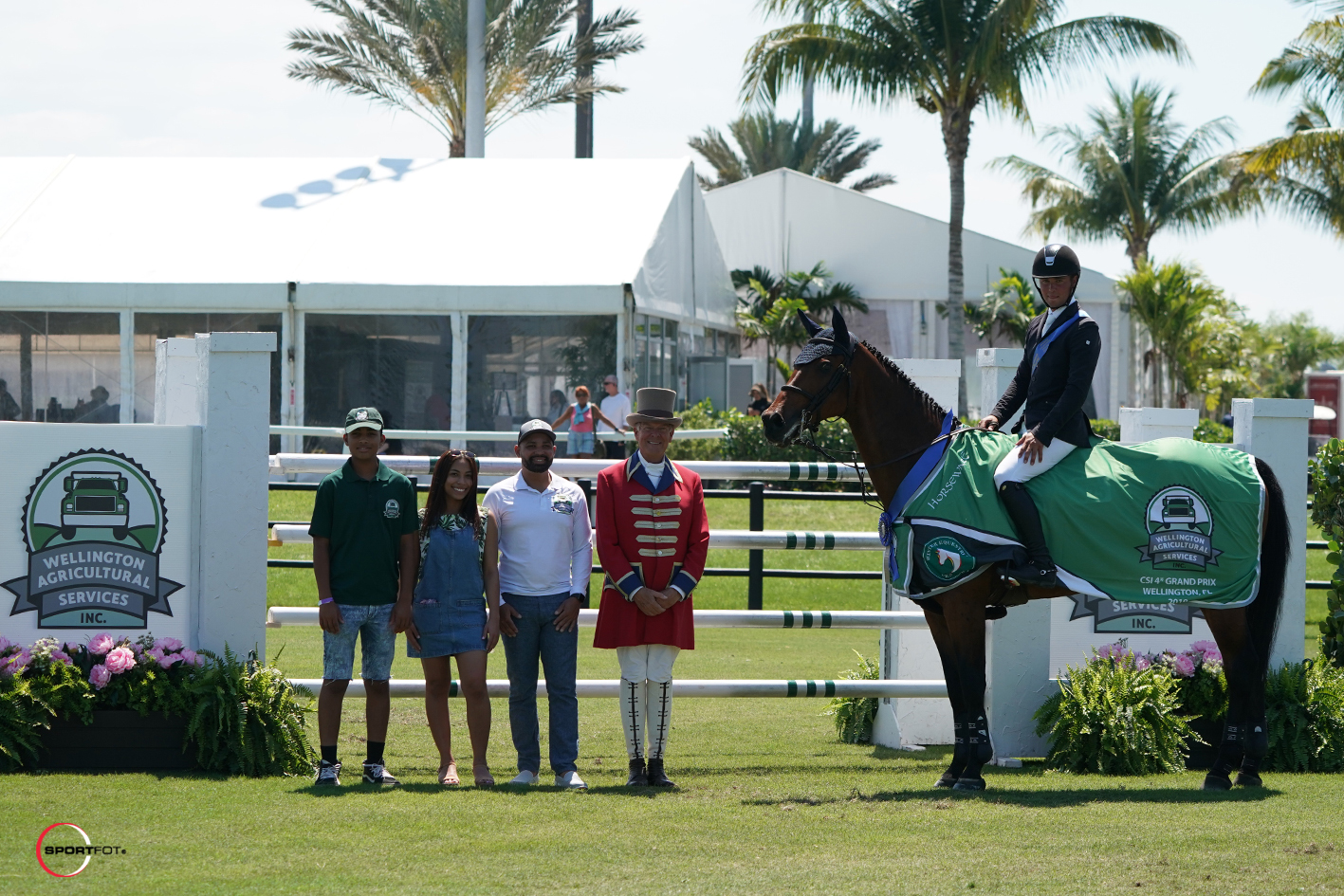 Jose Gomez, owner and CEO of Wellington Agricultural Services, said, "Wellington Agricultural Services is one of the largest agricultural services provider in the Palm Beach area. We basically do the manure removal services for all of the farms out here in Wellington and including the horse show itself. We've been around for over 30 years, and our main focus is the environment. Our drive is to one day take 100% of all the waste from Wellington and the Palm Beach area and convert it into bio-fuels and anything energy efficient for our community as well.
"Regarding our event today as a sponsor, it could not turn out any more beautiful than this day that we have out in the green field," he added. "It goes with our initiative, our brand, so I'm very excited to be a sponsor. I look forward to many more years of doing the sponsorship at the derby field."
Final Results: $209,000 Wellington Agricultural Services Grand Prix CSI 4*
1 CHALISCO: 2007 Oldenburg gelding by Chacco-Blue x Quidam de Revel
EMIL HALLUNDBAEK (DEN), Emil Hallundbaek: 0/0/42.37
2 CHACCIAMA: 2007 Oldenburg mare by Chacco-Blue x Andiamo Z
RODRIGO LAMBRE (BRA), Rodrigo Lambre: 0/0/42.75
3 UNE DE L'OTHAIN: 2008 Selle Français by Conterno Grande x Cento
HARRIE SMOLDERS (NED), Evergate Stables LLC: 0/4/41.02
4 FLEUR DE L'AUBE: 2005 Belgian Warmblood mare by Thunder van de Zuuthoev x Orchidee vh Pallieterland
JESSICA SPRINGSTEEN (USA), Stone Hill Farm: 0/4/41.97
5 HUNTERS CONLYPSO II: 2008 Hanoverian gelding by Contendro I x Calypso II
LORCAN GALLAGHER (IRL), Dacantos Group: 0/4/45.35
6 PUMPED UP KICKS: 2003 Brandenburg gelding by Levisto x San Juan
JENNIFER GATES (USA), Evergate Stables LLC: 1/90.64
7 SIMBA: 2006 Oldenburg gelding by Toulon x Argentinus
BEAT MÄNDLI (SUI), Grant Road Partners LLC: 4/83.38
8 LUIBANTA BH: 2008 Irish Sport Horse mare by Luidam x Abantos
AMANDA DERBYSHIRE (GBR), Gochman Sport Horses: 4/84.43
9 TRADITION DE LA ROQUE: 2007 Selle Français mare by Kannan x Oberon du Moulin
MCLAIN WARD (USA), Kessler Show Stables Europe B.V.: 4/84.65
10 DIAMONTE DARCO: 2005 GBSH mare by Unbelievable Darco x Unknown
LUCAS PORTER (USA), Sleepy P Ranch LLC: 4/84.88
11 ICEMAN DE MUZE: 2008 BWP stallion by Erco van't Roosakker x For Pleasure
SCHUYLER RILEY (USA), E2 Show Jumpers: 4/86.03
12 ALEJANDRO: 2009 Rheinländer gelding by Acorado's Ass x Contanga
SHANE SWEETNAM (IRL), Seabrook, SpyCoast Farm and Sweet Oak Farm: 4/86.23
Sergio Alvarez Moya Tops $134,000 CaptiveOne Advisors 1.50m Jumper Series Final
Spain's Sergio Alvarez Moya scored a comeback victory in the $134,000 CaptiveOne Advisors 1.50m Jumper Series Final during "Saturday Night Lights," after a six-month recovery from ACL knee surgery. Moya bested a field of 60 entries over tracks designed by Steve Stephens and Nick Granat (USA) in the International Arena at WEF by posting one of only three double-clear performances riding his own MHS Attraction.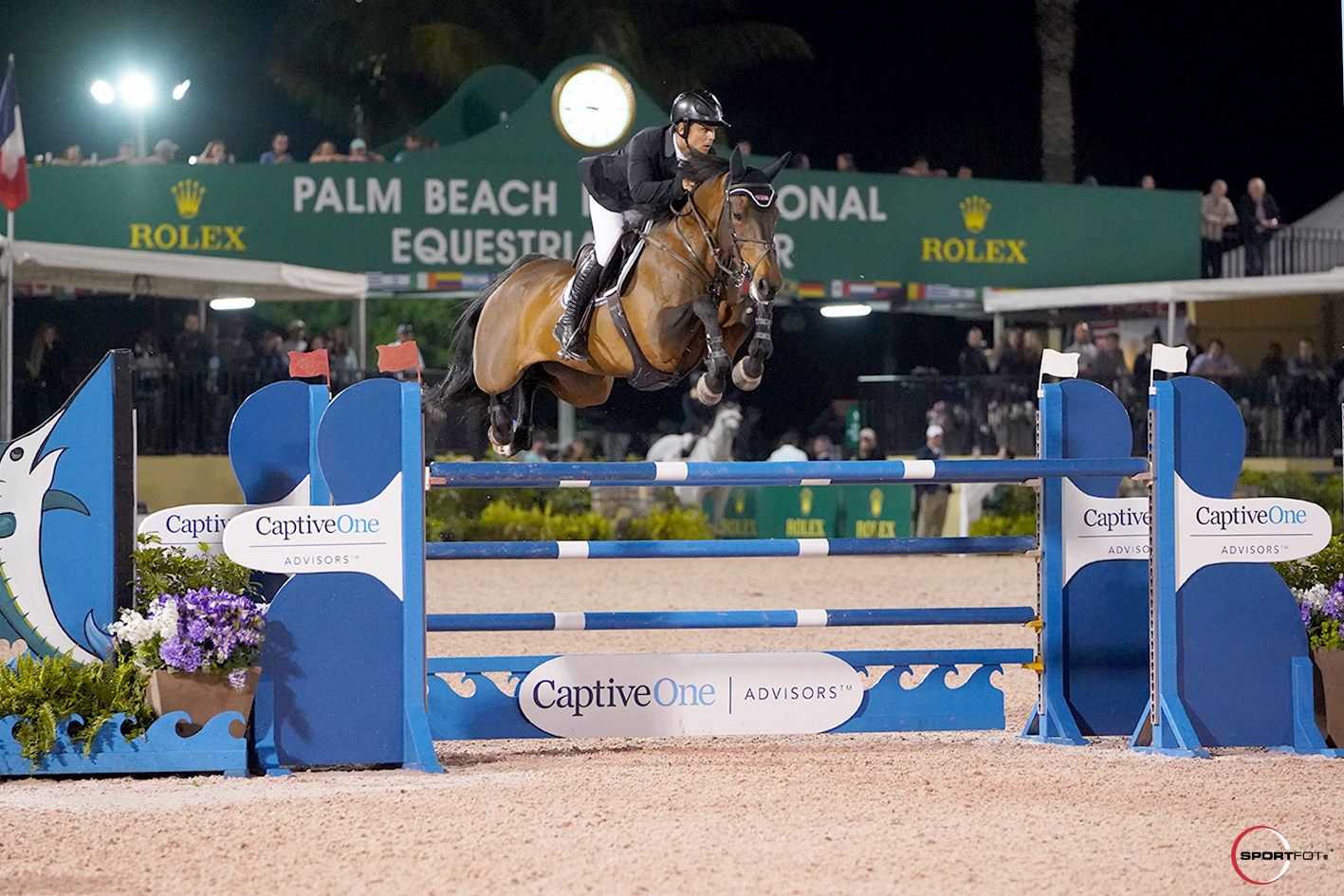 The top fifteen horse-and-rider combinations based on faults after the first round (25% of the original entries) of the CaptiveOne Advisors 1.50m Jumper Series Final advanced to a second phase to decide the ultimate winner, and faults were cumulative through the two rounds. Moya crossed the final timers in 49.59 seconds for the win over Lorenzo de Luca (ITA) aboard Soory de l'Hallali.
"From the first time I rode her, I thought she was really special," said Moya of his winning mount, a nine-year-old Irish Sport Horse mare (Numero Uno x Diamant de Semilly) that he purchased from the Bourns family in Ireland just over a year ago. "She was just in light work at home while I was out, but my people did a great job and that work paid off.
"She's naturally very fast, has an unbelievable connection, and is always in front of you," continued Moya of the mare he plans to now prepare for next year's competition. "You actually don't need your leg; as soon as you open your fingers a little bit, you reach the distance. I knew how fast she is and I didn't want to take everything out of her tonight, so I just did a nice round and I'm very happy."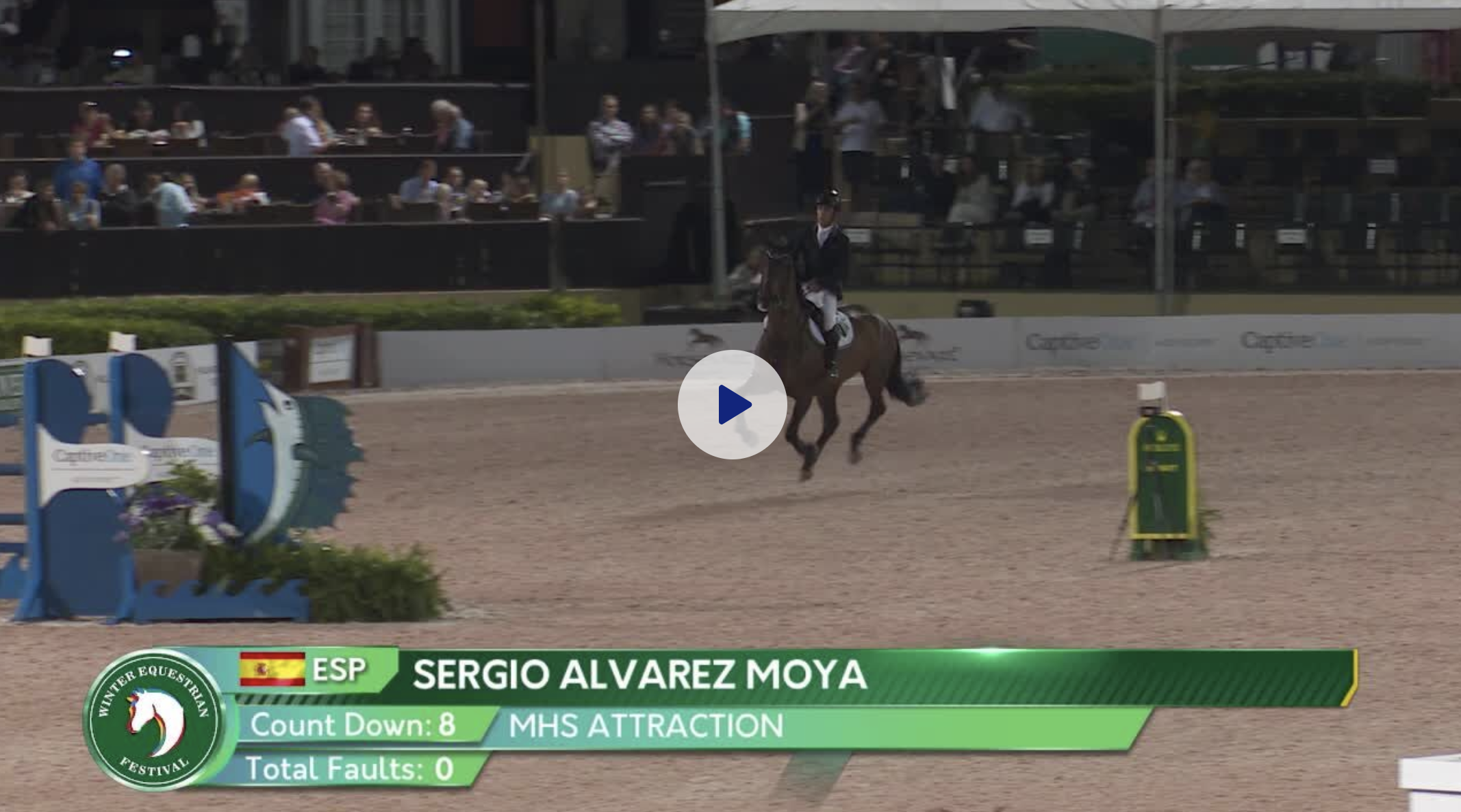 Click here to watch Sergio's winning ride!
After suffering a fall from a young horse in the fall of 2018, Moya underwent surgery in Spain and only returned to riding six weeks ago, saying, "I started in Wellington pretty late and I didn't know if I could ride or not. But, I had a very good doctor Dr. [Ramon] Cugat who works with all the football players and I didn't have any pain or a lot of physical therapy. I feel good!"
De Luca and Soory de l'Hallali, owned by Stephex Stables, finished just fractions behind Moya in 50 seconds flat. Their partnership is a new one after de Luca got the ride in October and the jump-off was only the second one of their career together.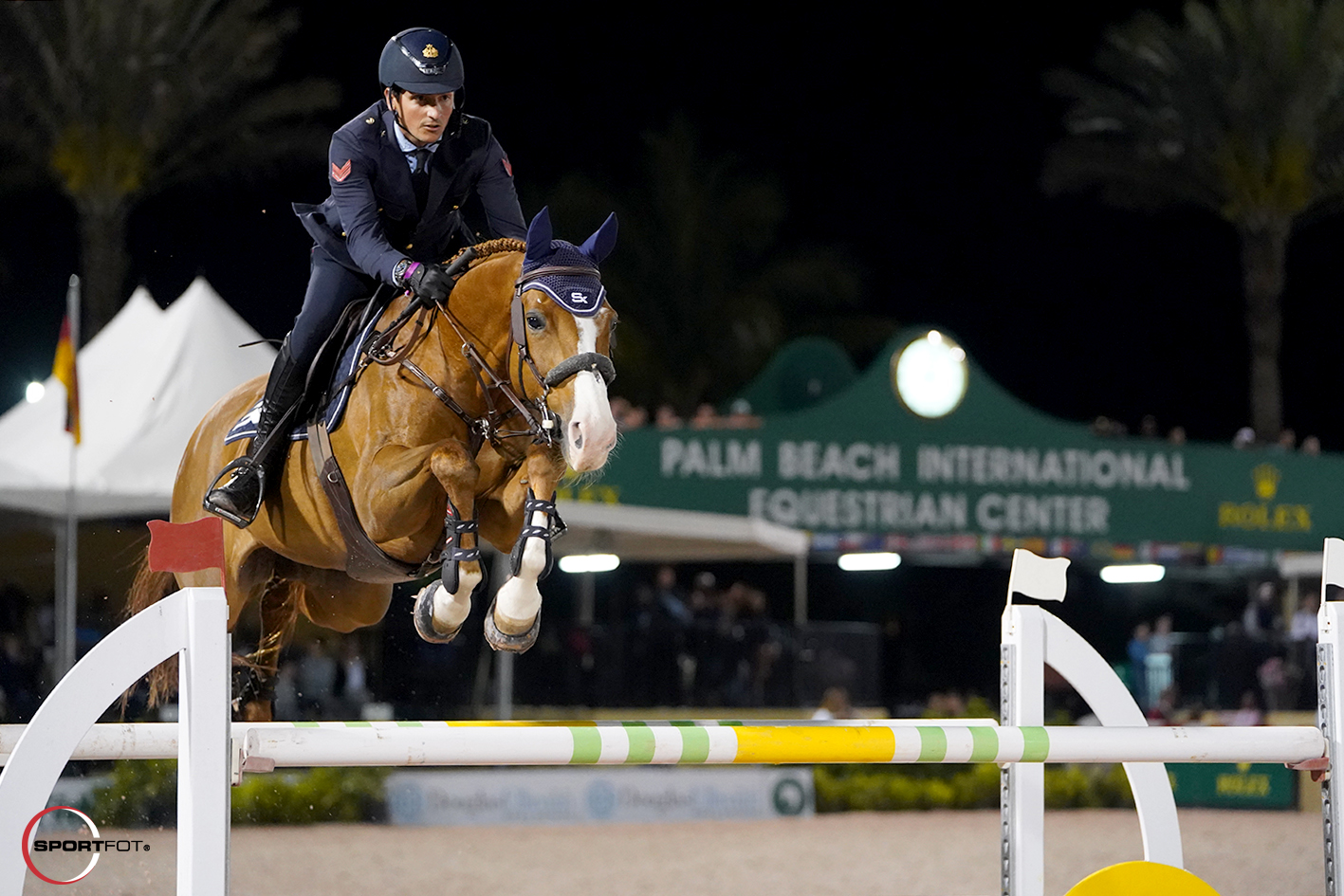 "If I went again now, I would go exactly the same," he said. "I only started jumping her a little bigger after WEF 8 and overall I'm quite happy. She's a For Pleasure, so she's a little bit stiff in her shoulder, but she's always been really careful. She used to be ridden by Zoe Conter and she did very well. She's very sensitive and she's a chestnut mare, but I am very excited for her future."
The second-place finish clinched de Luca the series championship with consistent finishes throughout 11 weeks of 1.50m competition. In recognition of his series championship, de Luca was presented with a trip for six people on the CaptiveOne Advisors yacht, Reel Captivating.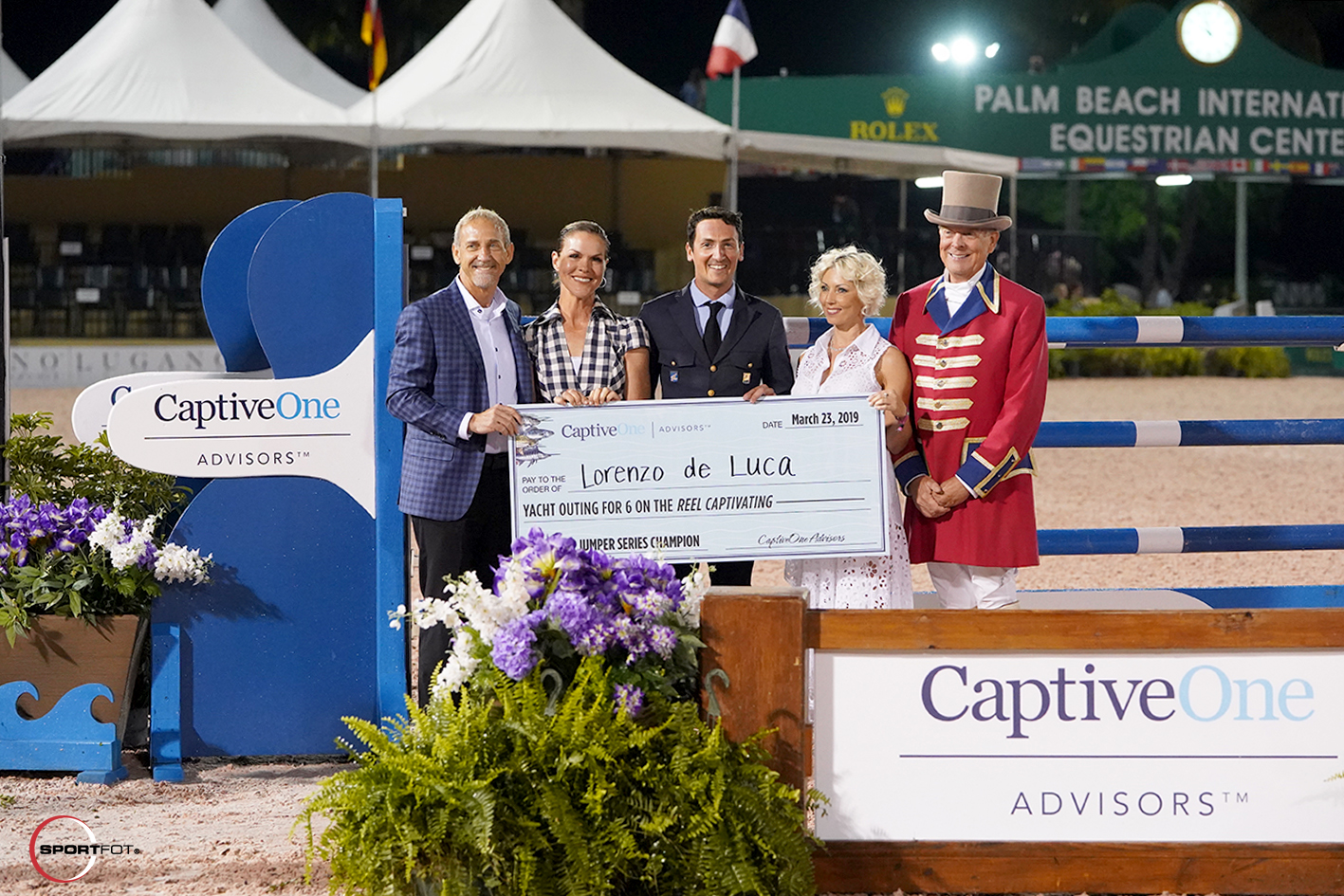 "I am really happy to win overall because it's very competitive and it's difficult to have good results here," concluded de Luca.
U.S. grand prix veteran Leslie Howard took third riding Donna Speciale, owned by Laure Sudreau, with another double-clear performance in 50.78 seconds.
"We've had sort of a funny career with her," said Howard. "Last year she was doing the 1.60m and getting ribbons in the World Cup. As horses happen, she got out of form, just not jumping well. Now, I feel that her scope is back. I was saying to my husband Peter that it's the first time in a year I felt she had the scope she had a year ago. You just have to play it day by day and show them in classes they're capable of winning, and not get caught up in the fact that just because they were jumping 1.60m six months ago, doesn't mean they want to jump1.60m tomorrow.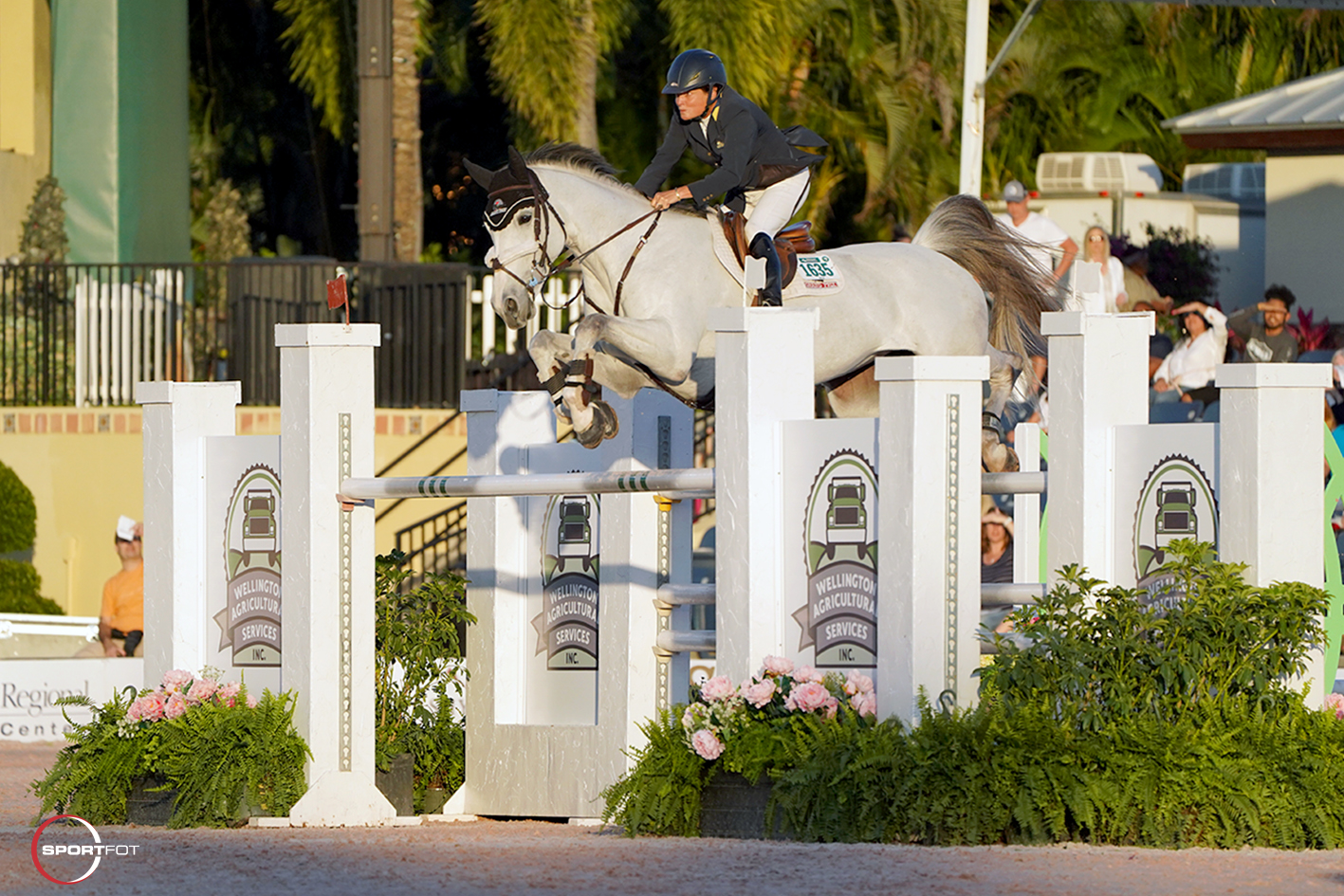 "I have to try not to go too fast because she's so fast on her own," continued Howard. "I was quick one, two, three, four, but we got totally stuck in the left turn back to the vertical, which cost me. I had seen the winner go, I knew I was out of it so then my thought process was just jump the last three jumps clean and settle for third."
Catherine Tyree (USA) took fourth with a single time fault from the first round riding Catungee for owner Mary Tyree. Ireland's Aiden Killeen also carried a time fault over the opening round to round out the top five aboard Fair Play, owned by
Andrea Hippeau Vogel.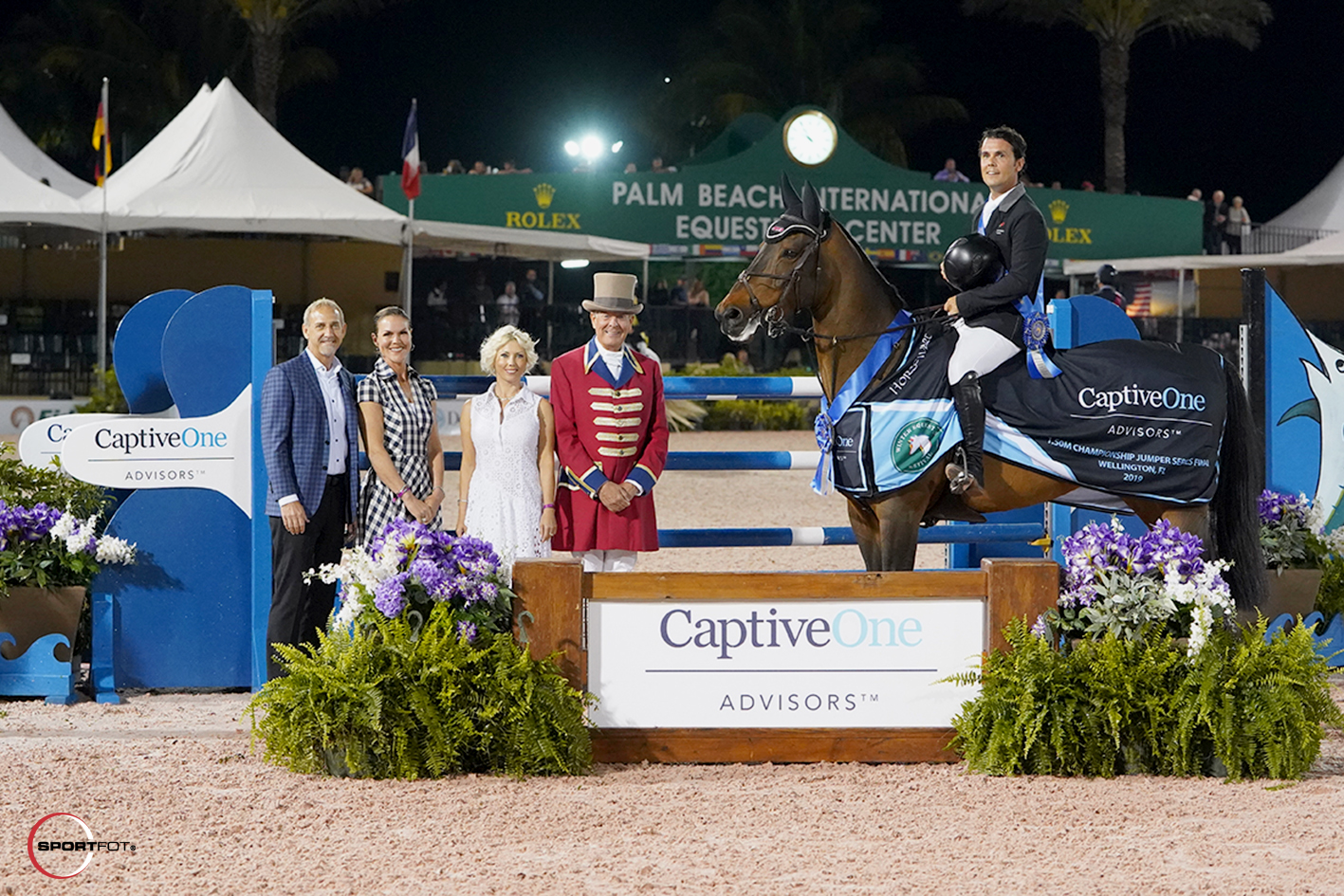 Final Results: $134,000 CaptiveOne Advisors 1.50m Jumper Series Final

1 MHS ATTRACTION: 2010 Irish Sport Horse mare by Numero Uno x Diamant de Semilly
SERGIO ALVAREZ MOYA (ESP), Alvarez Moya Horses S.L: 0/0/49.59
2 SOORY DE L'HALLALI: 2006 Selle Français mare
LORENZO DE LUCA (ITA), Stephex Stables: 0/0/50.00
3 DONNA SPECIALE: 2008 KWPN mare by Cavalier x Concorde
LESLIE HOWARD (USA), Laure Sudreau: 0/0/50.78
4 CATUNGEE: 2006 Holsteiner gelding by Contact Me x Liatos
CATHERINE TYREE (USA), Mary Tyree: 1/0/53.87
5 FAIR PLAY: 2010 KWPN gelding by Gaillard de la Pomme
AIDAN KILLEEN (IRL), Andrea Hippeau Vogel: 1/0/57.15
6 FARREL: 2010 KWPN gelding by Cardento
DANIEL COYLE (IRL), Ariel Grange: 1/0/61.58
7 ZAIA DI SAN GIOVANNI: 2009 mare by Cornet Obolensky
MAC CONE (CAN), Chadburn Holdings, Inc.: 2/0/59.71
8 CEITASI: 2010 Westphalian mare by Caretello B x Cavalier
ERYNN BALLARD (CAN), Ilan Ferder: 4/0/48.68
9 CALLE 67: 2009 Westphalian gelding by Carell x Capitalist
MARKUS BEERBAUM (GER), Michaels & Beerbaum GmbH: 0/4/50.49
10 BALOUS DAY DATE: 2005 Oldenburg mare by Balou du Rouet x Domino
MOLLY ASHE-CAWLEY (USA), Louisburg Farm: 0/4/50.70
11 JIVA: 2009 BWP mare by Concorde (84.4140) x Nonstop
BEEZIE MADDEN (USA), Abigail Wexner: 4/0/50.91
12 FANTASY: 2005 Hanoverian mare by For Pleasure x Acord II
TOMAS YOFRE (ARG), Oakland Ventures, LLC: 0/4/51.16
Sophie Gochman and Garfield Reunite to Win the Palm Beach International Academy Large Junior Hunter 3'6" 15 and Under Division
Kicking off Saturday competition in the E.R. Mische Grand Hunter Field, Sophie Gochman and Garfield secured the champion title for the Week 11 Large Junior Hunter 3'6" 15 and Under division. After parting ways when Garfield was purchased by Bikoff Equestrian LLC, the pair reunited in the hunters this circuit and landed the championship after winning both of the day's over fences classes.
Gochman owned the 16-year-old Holsteiner gelding (Coriano x Love Touch), whom she affectionately calls 'Kitty', for a period of time before he was sold a year and a half ago. With his current owner, Ella Bikoff, competing several other horses in the Junior Hunter 3'3" divisions, Gochman was given the opportunity to take the ride on Garfield again and the pair have picked up right where they left off.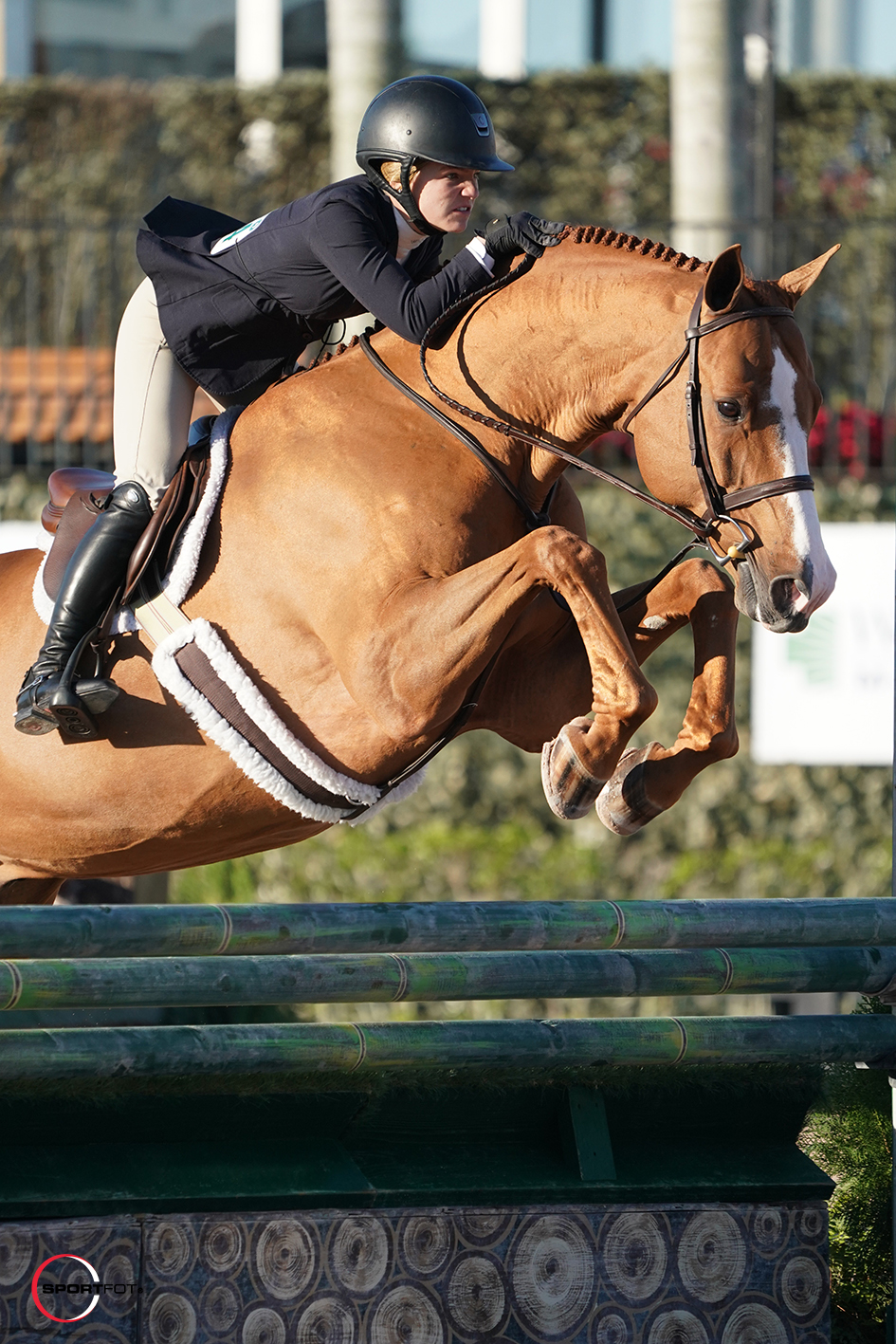 "I'm just showing him right now to keep him in the groove, but I am having so much fun riding him again," Gochman said. "I haven't been doing very much in the hunters and it's so fun to be with him again because he is such a special horse; anyone that rides him is so lucky."
Gochman and Garfield held the highest scores in three out of the four over fences classes with two rounds earning 87.00 points and a third earning 88.00 points.
"For the end of circuit, it was still a decent-sized division with some pretty high scoring rounds, but at WEF you always know you're going to have good competition," she explained of her win. "He is really straight-forward; you mostly sit back and let Garfield do his thing. He's the boss, and he lets you know it!
"He's just a really incredible jumper. He always has his knees tucked to his nose, and he is so elegant as he goes around the ring which I think makes him stand out quite a bit," Gochman added.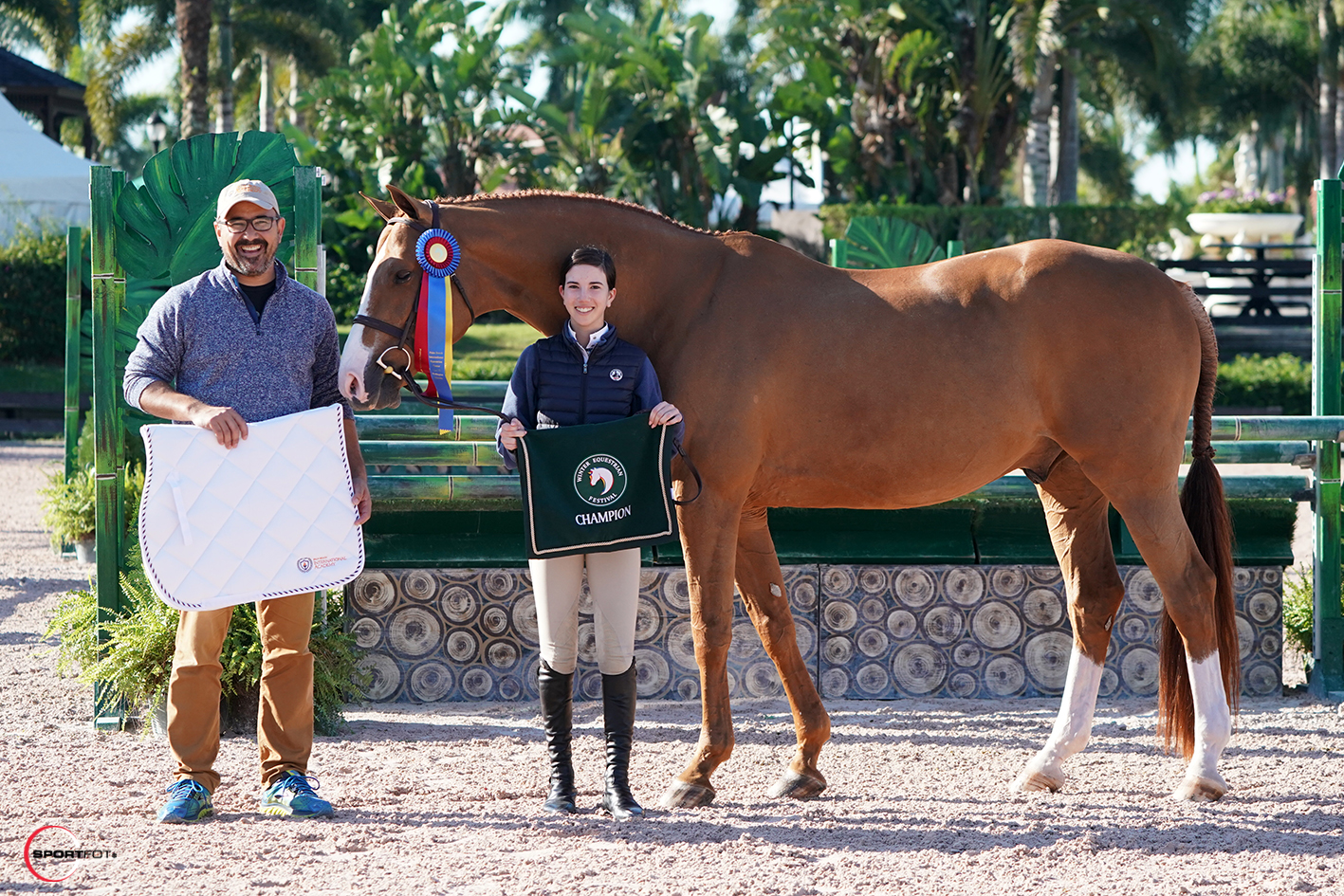 Gigi Moynihan and Christy Johnson's Corrico ended their week as the division's reserve champions. She and the seven-year-old Warmblood gelding were the winners of the handy round with a score of 86.00 points and also picked up two seconds, a third, and a fourth.
Week 11 will wrap up its final day of competition on Sunday, March 24, featuring the $50,000 Hermès Under 25 Series Final on the Derby Field at Equestrian Village.