The hunters stole the spotlight on Friday in the $10,000 USHJA National Hunter Derby, presented by Equiline, that took place in the E.R. Mische Grand Hunter Ring. Eighteen horse-and-rider pairs tested the classic round course set by Danny Moore of Spring Hill, FL, with 12 returning for the handy round. Eighth in the order, Ellen Toon of South Salem, NY, and Gabriel set the bar high after receiving a score of 95 that put them in the lead going into the second round, and then received a handy-phase score of 88 to secure the victory with a total score of 183.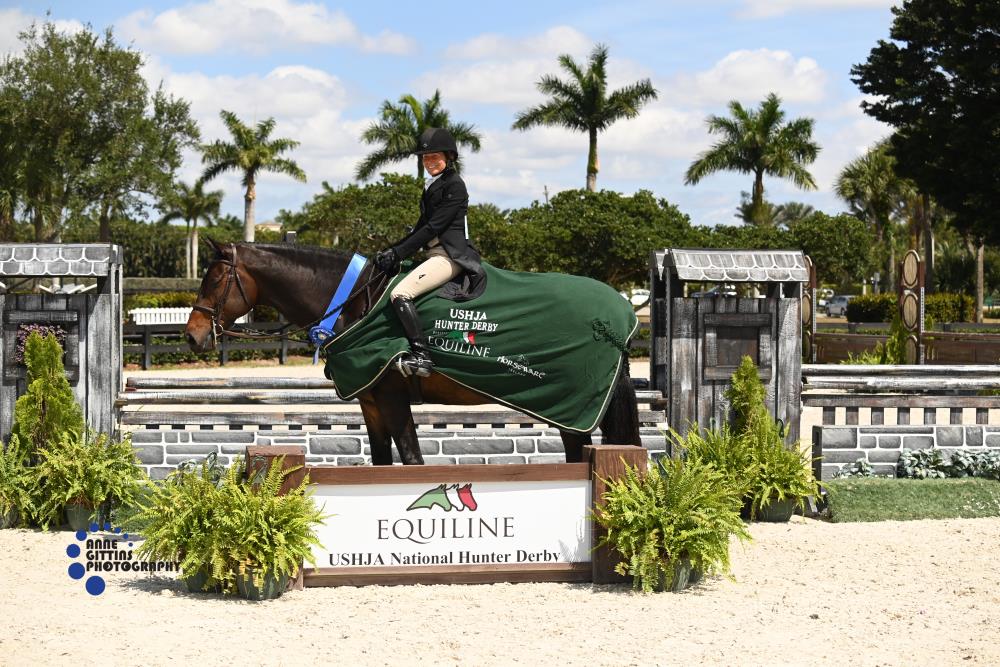 "I have had Gabriel for four years now and this has definitely been his best year. He is very scopey and fearless," Toon commented on the gelding owned by JT Farm. "He's shown in the professional divisions as well as the amateur divisions with me and we have had the absolute pleasure of Victoria Colvin taking over the professional ride on him. She has done a handful of International Derbies and has placed high in all of them. Everyone has done an amazing job with him. Today was only his fourth derby!" 
Though he has only competed in a handful of derbies, Gabriel is quickly making a name for himself and has earned ribbons, some of them blue, in just about all of the competitions he has entered.
"He did the $25,000 National Derby during the [Winter Equestrian Festival] with me in the Junior/Amateur division and he was amazing. I just need to get better at the handy rounds and he is definitely helping me. The next week, [Victoria Colvin] took him in the $50,000 International Hunter Derby and they won the handy round!" remarked Toon.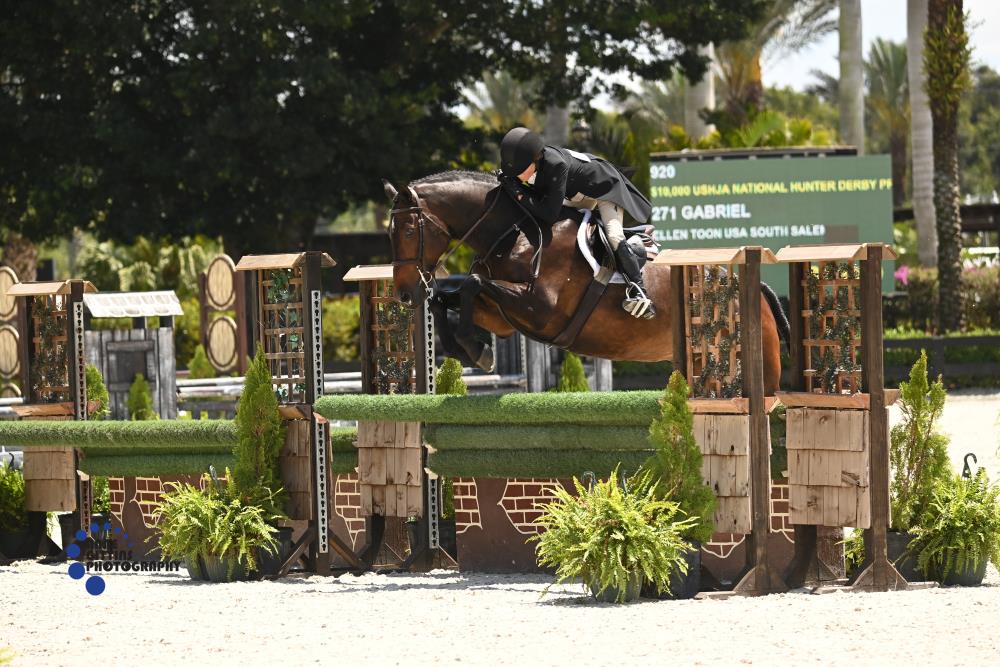 Just 4.5 points behind, Molly Sewell of Wellington, FL, and Heartdancer H, owned by Sophia Masnikoff, took home the red rosette. The duo received a score of 88.5 in the classic round and a 90 in the handy to earn an overall score of 178.5. Third place honors went to Jennifer Bliss of Loxahatchee, FL, and Sugarman, owned by Harris Hill Farm, LLC, with a total score of 176. The pair earned a score of 85 in the first round and improved to a handy score of 91. 
For the full results of the $10,000 USHJA National Hunter Derby, presented by Equiline, please click HERE. 
The 2021 ESP Spring Series will continue for Spring II from April 14-18. Hunters will compete at PBIEC while upper-level jumpers will ride at Equestrian Village. Spring II will feature CSI3* classes. To view the prize list, please click HERE.
To learn more about the safety protocols and procedures at the horse show, please click HERE.
Photo credit ©Anne Gittins Photography. These photos may only be used once in relation to this press release with proper credit.