For Immediate Release
Summer Grace, Lindsay Brock, and Emily Riden for Jennifer Wood Media, Inc.
Wellington, FL — March 31, 2019 — On the final day of the 2019 Winter Equestrian Festival (WEF), Sunday, March 31, the top 25 hunter combinations returned to the Derby Field at Equestrian Village to contest for the winning honors in the $50,000 USHJA International Hunter Derby. Victoria Colvin lead the all-female podium followed by Kelley Farmer in second, and Liza Boyd in third as the trio once again demonstrated why they are household names in the hunter industry. The second round of the derby is the pinnacle event for hunter riders to close out the winter circuit and only invited the top-scoring competitors from round one of the event.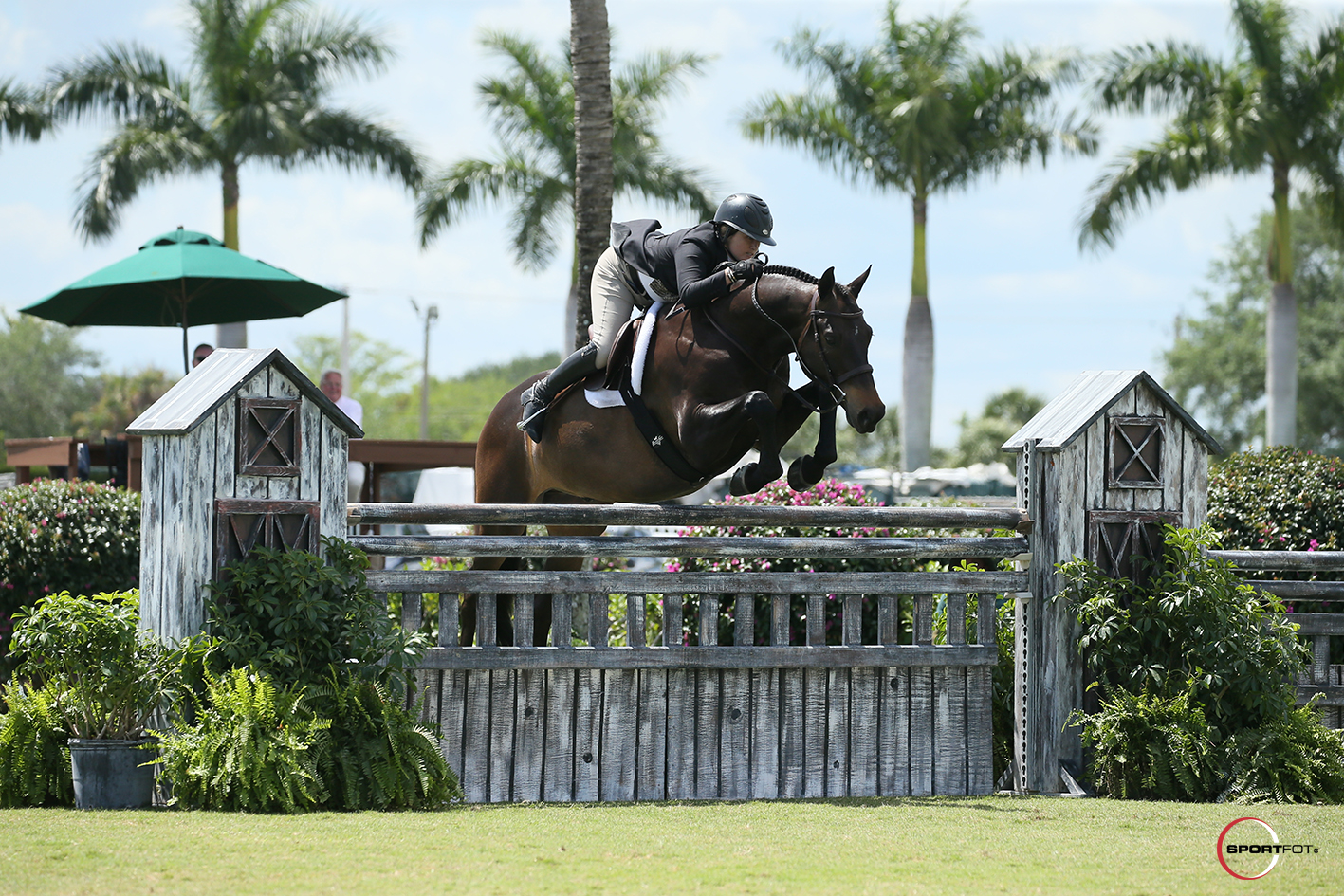 At the WEF International Arena, jumpers contested their final two major classes of the circuit: the $50,000 Puissance America Grand Prix CSI 2* and the $50,000 CaptiveOne Advisors 1.50m National Grand Prix, with Laura Chapot (USA) on Chandon Blue and Lillie Keenan (USA) with Fasther taking victories, respectively.
Don't miss the $500,000 Rolex Grand Prix CSI 5* on NBC Sports Network! Watch and set your DVRs on April 5 at 12 a.m. ET and April 9 at 6 p.m. ET and see the broadcast of this thrilling Grand Prix from WEF.
Ken Krome once again designed a beautiful track on the turf that included three high options and a rollback to a trot fence following fence two. The two panels of judges, consisting of Danny Robertshaw and Robert Crandall for panel one and Scott Williamson and Rob Bielefeld for panel two, had the ability to award extra points for handiness ranging from zero to 10. Junior rider Brian Moggre was the first of the 25 to return for round two but had an unfortunate rail at the second fence.
Jacob Pope shot to the top of the leaderboard midway through the class with a second round total of 200.00 points and held the lead until veteran hunter rider Liza Boyd piloted Tradition to the lead. Pope's combined score of 375.00 points was still enough to maintain the fourth place with Forget Me Not Farm's Unbelievable.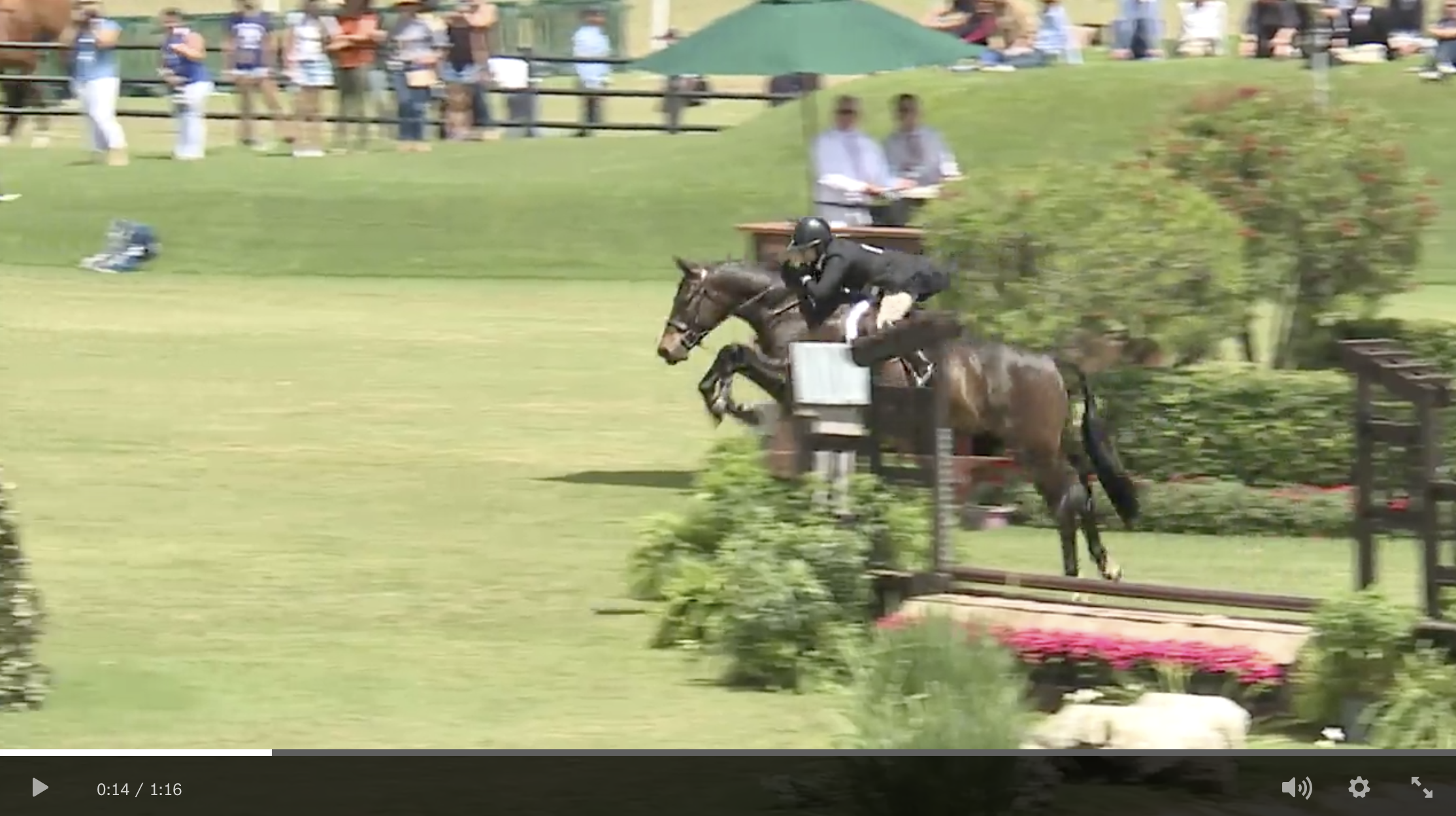 Click here to watch their winning handy round!
The last to return to the field was 21-year-old professional Victoria Colvin and the Meralex Farm entry, El Primero. The two held the final position after receiving the highest score in round one of 190 total points. Colvin and the nine-year-old KWPN gelding (Numero Uno x Zo-Special) gave it their all during the handy round and earned a whopping 212 total points from the judges for their effort. Combining both scores, Colvin landed on 402 overall points to take the blue ribbon.
"It means so much to win this class after winning the derby at Deeridge as well. It's really encouraging to come out here and have him do so well in the same season," Colvin said.
The young professional has only had the ride with the gelding since the beginning of WEF, but the pair have already proven themselves as fierce competition.
"I've only been riding [El Primero] since the beginning of WEF so I don't know him that well, but Louise Serio had the ride on him before me and I owe her a lot of credit for helping me figure out how to make him go his best," Colvin explained. "Everyone in the top ten were amazing riders, so I had to go in and just give it my best shot."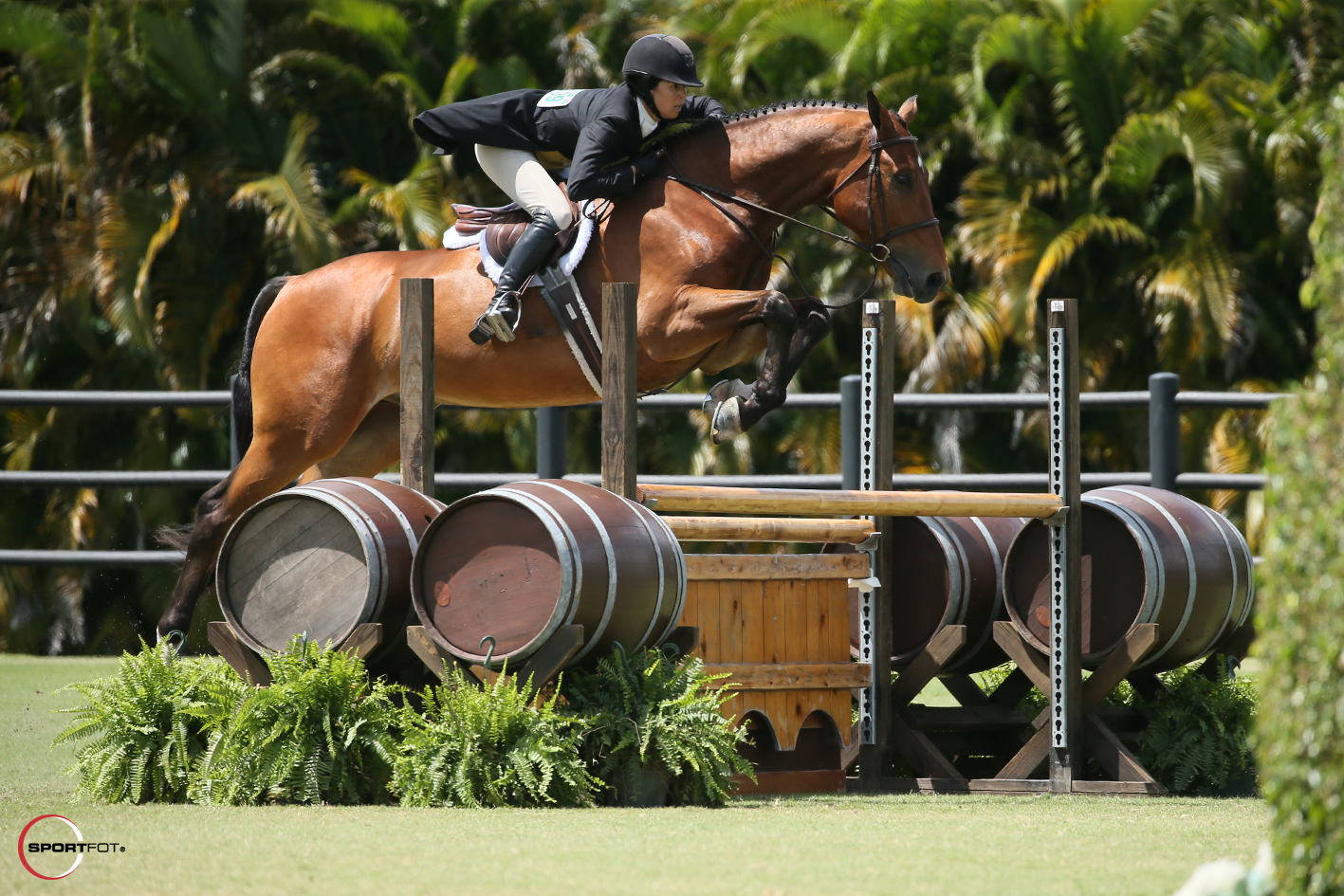 Boyd and Maggie Hill's eight-year-old Westphalian gelding Tradition (Cornet's Stern x Larix) accumulated an impressive second round score of 196.50 points and rounded out the top three after a combined score of 376.50.
"This horse did win in Friday's $15,000 USHJA International Derby Hunt & Go, because Tori and Kelley didn't show," Boyd teased. "In all seriousness, he did really perform well and this is his third time being in the top three of a very competitive class."
"I have to thank Tradition's owner, Maggie Hill, for encouraging me to show today," Boyd added. "I wasn't sure that I had it in me this week, but Maggie has more stamina than anyone, so she talked me into it and I'm very glad she did because both of our horses went great."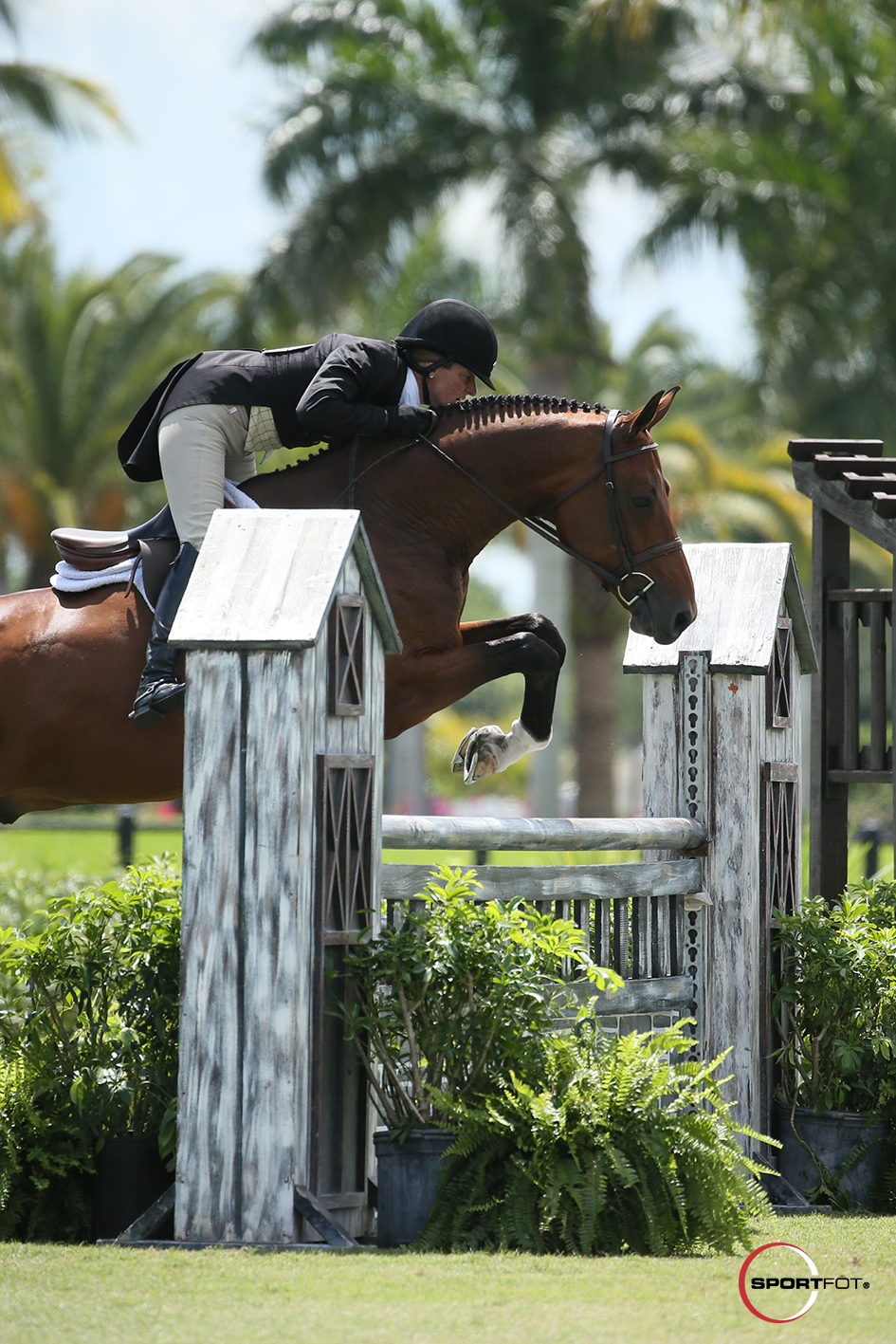 While Boyd displayed an exemplary round, Farmer brought the heat with Larry Glefke and Kent Farrington LLC's seven-year-old Westphalian gelding (Los Angeles x Fiones), Consent. The pair added a second round score of 201 points to their previous 184 and finished second with 385 combined points.
"We've partnered with Kent [Farrington] on a number of horses and he has a beautiful eye for a good horse whether it's a jumper or a hunter," Farmer commented. "This horse is only seven, but he tries to win every time even though he is not nearly as seasoned as the top group."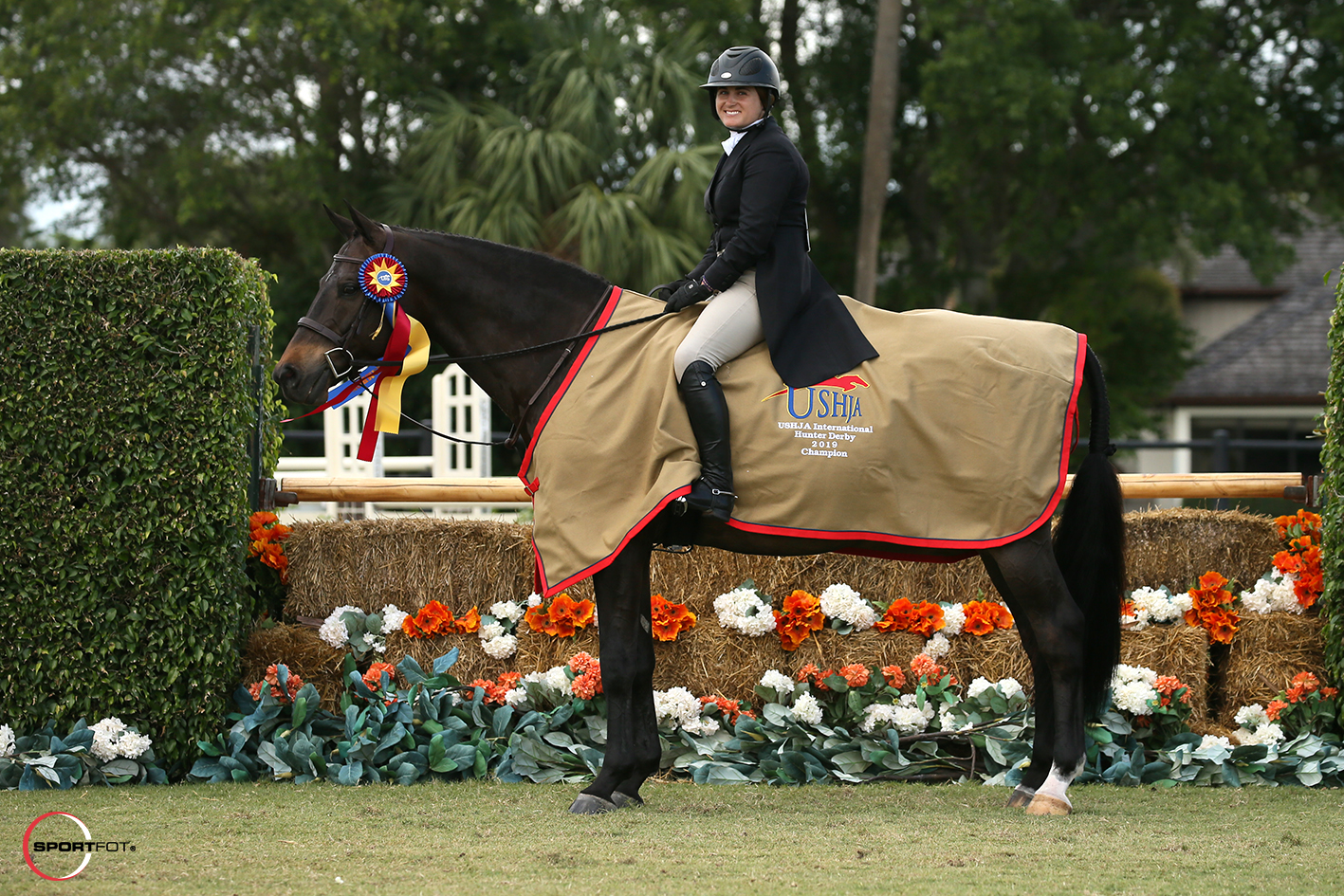 "He doesn't ever let you down and I knew if I had any chance of catching [Victoria Colvin] then I couldn't be conservative by any means. I couldn't have asked him to be any better," she added.
Final Results: $50,000 USHJA International Hunter Derby
Horse / Rider / Owner
R1 Total / R2 Total | Final Score
1 El Primero / Victoria Colvin / Meralex Farm, Inc.
190.00 / 212.00 | 402.00
2 Consent / Kelley Farmer / Larry Glefke & Kent Farrington, LLC
184.00 / 201.00 | 385.00
3 Tradition / Liza Boyd / Maggie Hill
180.00 / 196.50 | 376.50
4 Unbelievable / Jacob Pope / Forget Me Not Farm
174.50 / 200.50 | 375.00
5 Mostly Sunny / Havens Schatt / Caroline Moran
174.50 / 195.00 | 369.50
6 Diamante / Patricia Griffith / Callie Seaman
168.00 / 201.00 | 369.00
7 Mindful / Jennifer Hannan/ Kensel, LLC
180.00 / 186.50 |366.50
8 No Doubt / Victoria Colvin / Mark Woods
173.00 / 189.00 | 362.00
9 Corallo Z / Greg Crolick / Renaud Farm, LLC
165.50 / 188.00 | 353.50
10 Carson / Nikko Ritter / Kathryn Haefner LLC
168.00 / 183.00 | 351.00
11 Enchanted / Kelley Farmer / Christel Weller
170.00 / 181.00 | 351.00
12 Aeroplane / Amy Momrow / Melissa Wight
164.00 / 186.00 | 350.00
Laura Chapot and Chandon Blue Conclude WEF 2019 With Fourth Major Win Within Five Weeks
Laura Chapot and Chandon Blue topped the $50,000 Puissance America Grand Prix CSI 2* on Sunday, March 31, to claim the final Fédération Equestre Internationale (FEI) grand prix victory of the 2019 Winter Equestrian Festival (WEF) season, marking the pair's fourth win within the past five weeks at PBIEC.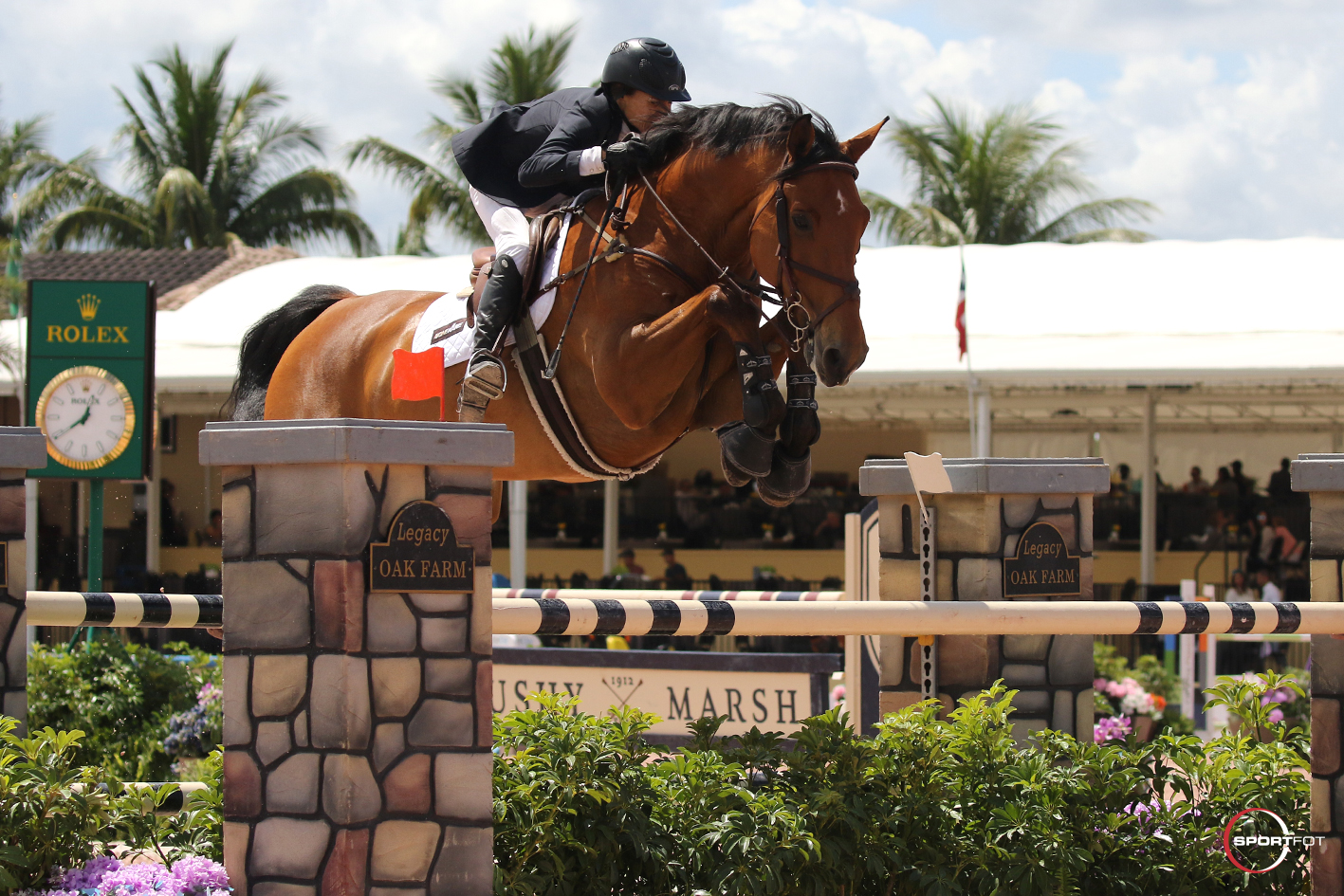 Forty-five entries contested the final FEI-sanctioned class of the 12-week circuit, with 11 entries navigating the Guilherme Jorge-designed track without fault to advance to the jump-off.
When Chapot entered the ring as the eighth rider to return, the time to beat had been set at 38.05 seconds by Carly Anthony (USA) and Chacco. However, Chapot and Chandon Blue again showcased the speed and accuracy that have become their signature, tripping the timers in a clear 36.30 seconds to take over the top of the leaderboard.
Wilhelm Genn (GER) was the final rider to return, and his time of 37.06 seconds aboard Van Gogh secured him the second-place finish while cementing the win for Chapot and relegating Anthony to the third-place honors.
"I feel so lucky to have this horse," said Chapot tearfully following her fourth WEF 2019 victory with Chandon Blue, a 14-year-old Oldenburg gelding (Chacco Blue x Landcapitol) owned by Mary Chapot.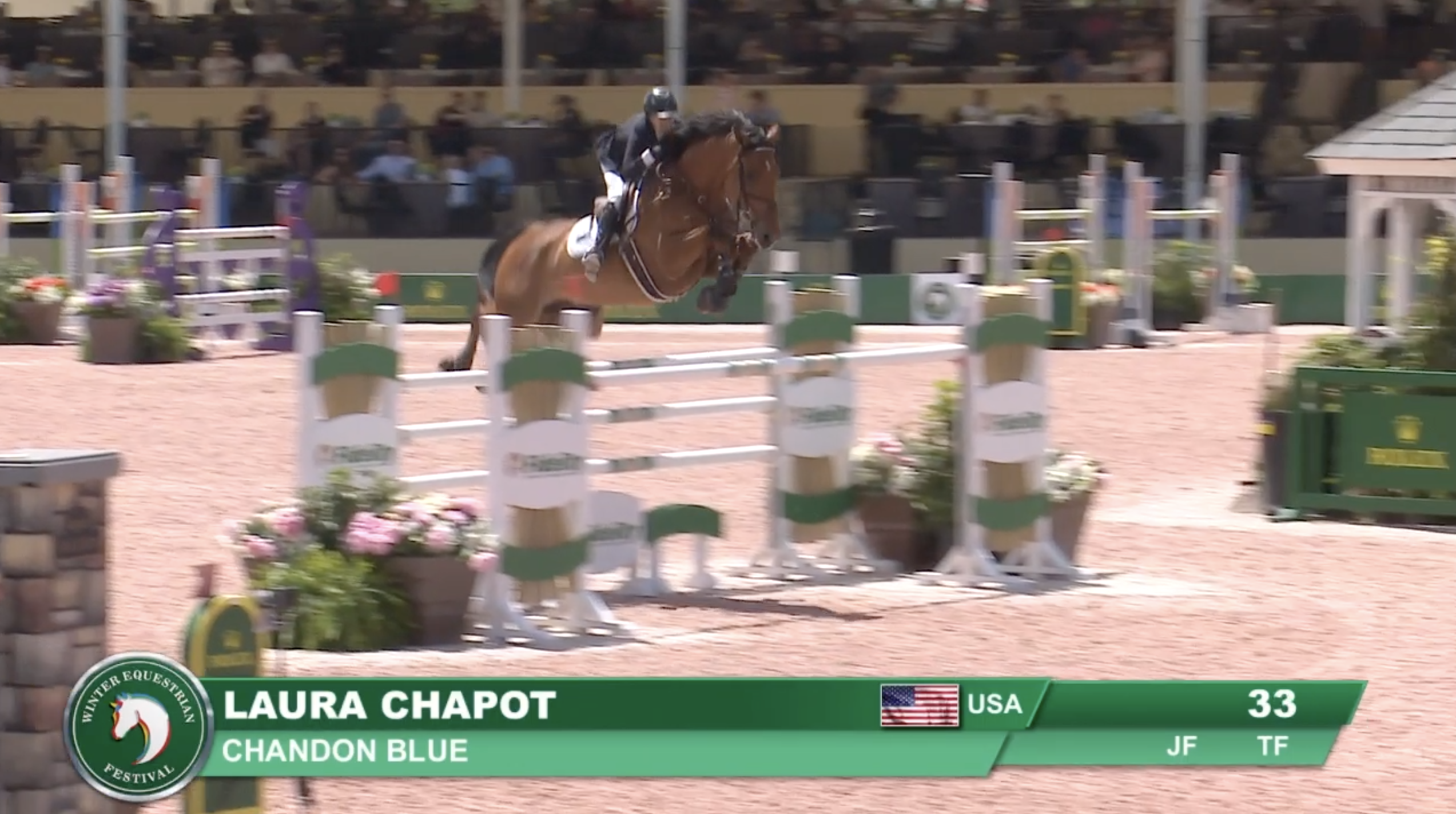 Click here to watch their winning jump-off!
The duo also topped the $50,000 Grand Prix CSI 2*, presented by The Dutta Corp in association with Guido Klatte, during WEF 7, the $36,000 Griffis Residential 1.45m CSI 2* during WEF 9, and the $36,000 Equinimity WEF Challenge Cup Round 10 CSI 3* during week 10.
"To win one class is great, but for him to win as many as he has is unbelievable," continued Chapot. "He just keeps producing time after time again. I'm just so amazed with his performance. I feel like I'm the luckiest person to have this horse right now. He obviously loves this place, and he goes in there and gives it his all every single time that he goes. What more can you ask than that?"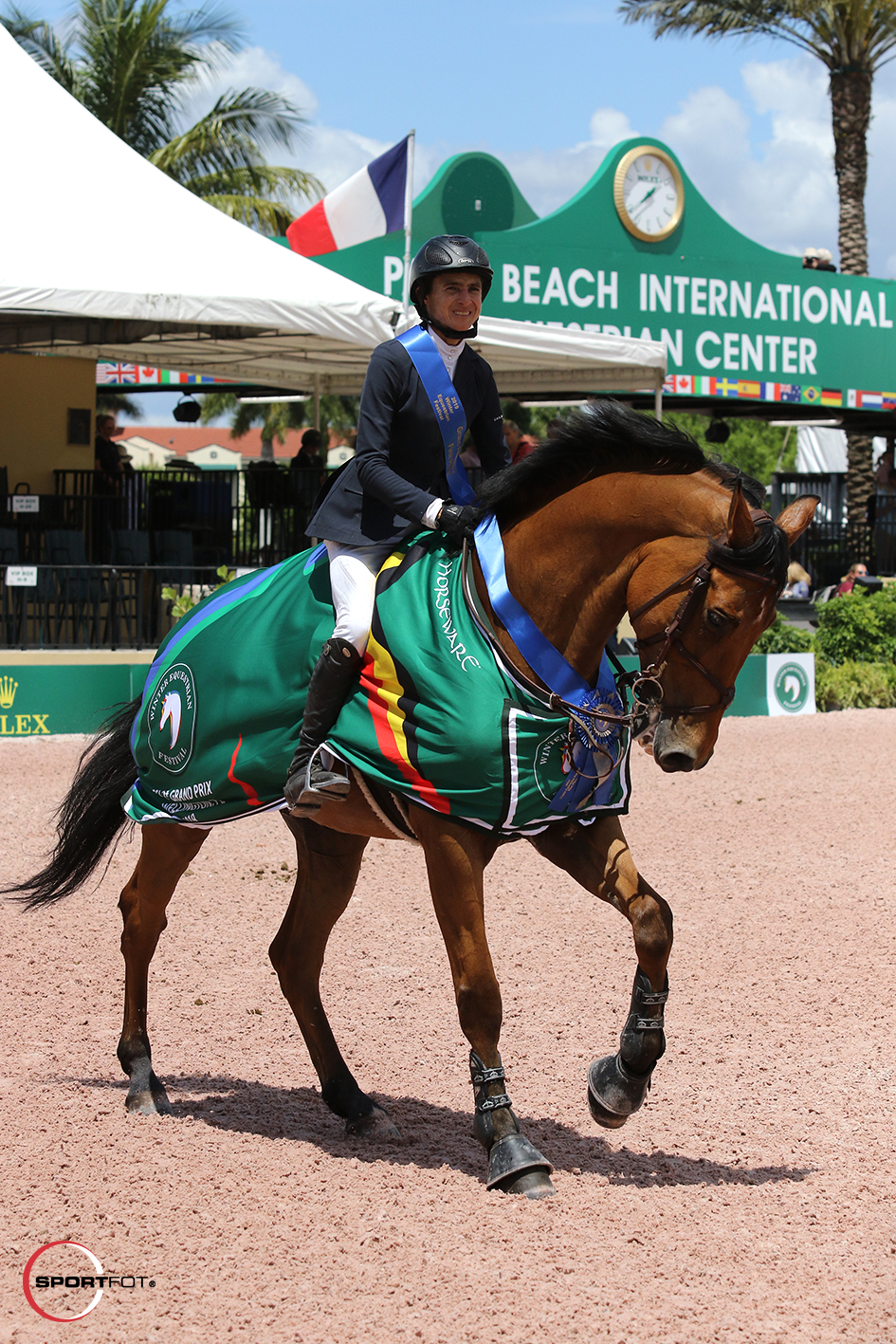 Chandon Blue is naturally quick across the ground, and Chapot used that to her advantage in Sunday's jump-off.
"I was fortunate to get to see a few go because [an inside turn] inside the tree ended up being a little bit slower and little bit awkward, and you had to slow up to do it," explained Chapot. "With my horse, he's got such good ground speed when he opens up; I decided to just run around, and I think I actually got one less stride going around than [Carly Anthony] did going inside. Her horse has a humungous stride. So, I'm very fortunate; my horse is a quick horse naturally, so that always gives him a little bit of an edge in the jump-off."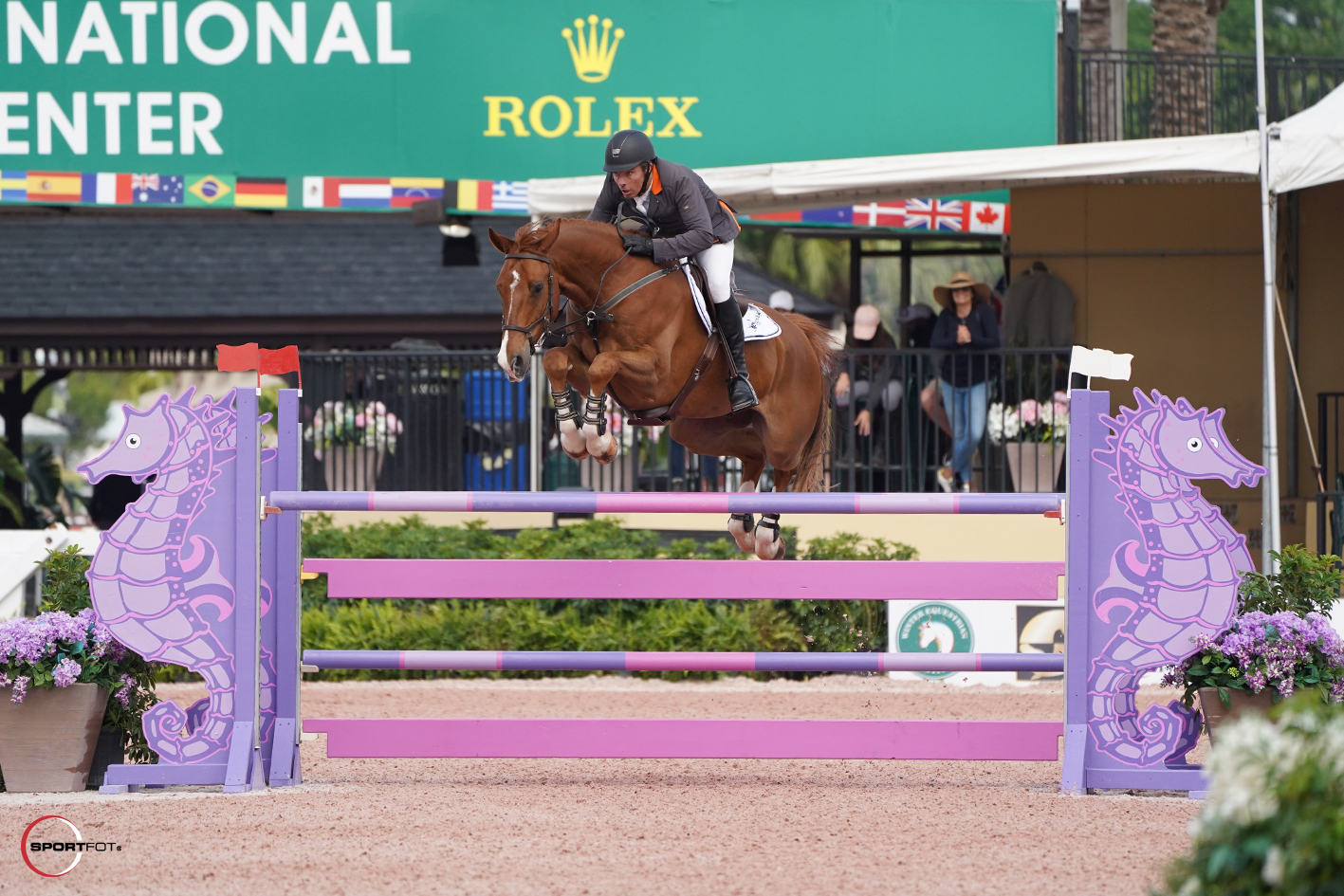 While he was just shy of catching Chapot, Genn was thrilled with the rounds turned in by his mount Van Gogh, an 11-year-old Oldenburg gelding (Valentino x Caretano Z) owned by Wilhelm and Patty Genn.
"I could not be more pleased," said Genn. "He's always showed a lot of talent, but he was always kind of slow, but he tried really hard. Last fall, I jumped him a little bit smaller to teach him to go faster and have fun, and it really paid off because now mentally I think he's getting it. Physically, he always had a lot of ability, but I think now mentally he's in the game.
"When you have so many great riders that go that fast, and you're on a slower horse, you think, 'How can I get even close to that time?'" continued Genn. "You hope everything comes up right, and you can leave a stride out here, a stride out there. He has a big stride, and he's careful. He was fantastic. I couldn't believe how close I got [to the time]. It shows me too, he's getting quicker. He's getting more efficient. He likes going fast. I think now the sky is the limit. I think he's just going to get better and better now, so it's super exciting."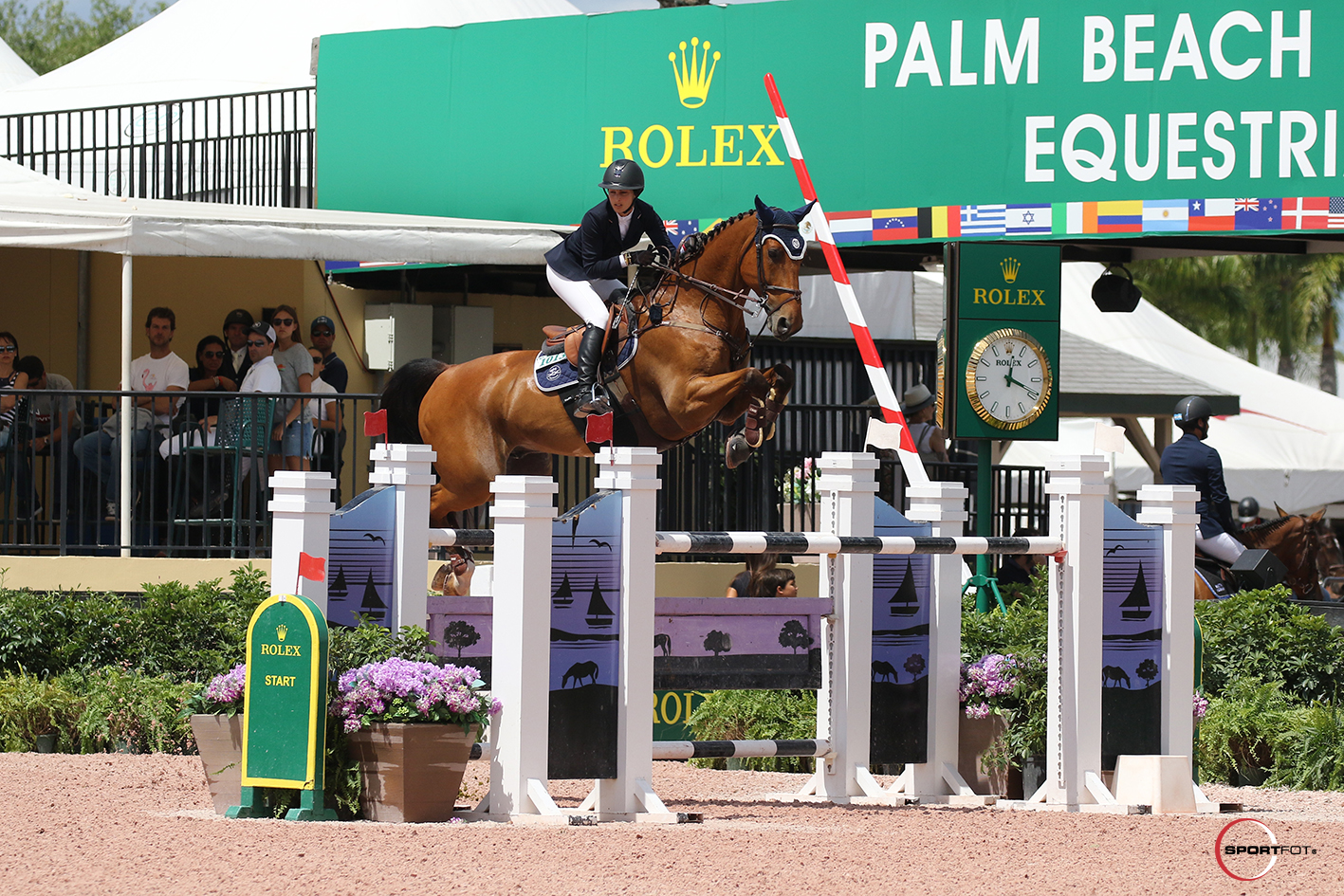 Like Genn, Anthony too was happy with how her jump-off round played out aboard her mount for the past year, Chacco, a 13-year-old Oldenburg gelding (Valentino x Caretano Z) owned by Neil Jones Equestrian Inc.
"Today, in my opinion, was the fastest that he's ever gone in the jump-off," said Anthony, who has had great success in grand prix classes on the West Coast with the gelding. "I thought he jumped super, and he was listening and with me; He really finished off the WEF season for me and the team quite strong, so I'm thrilled.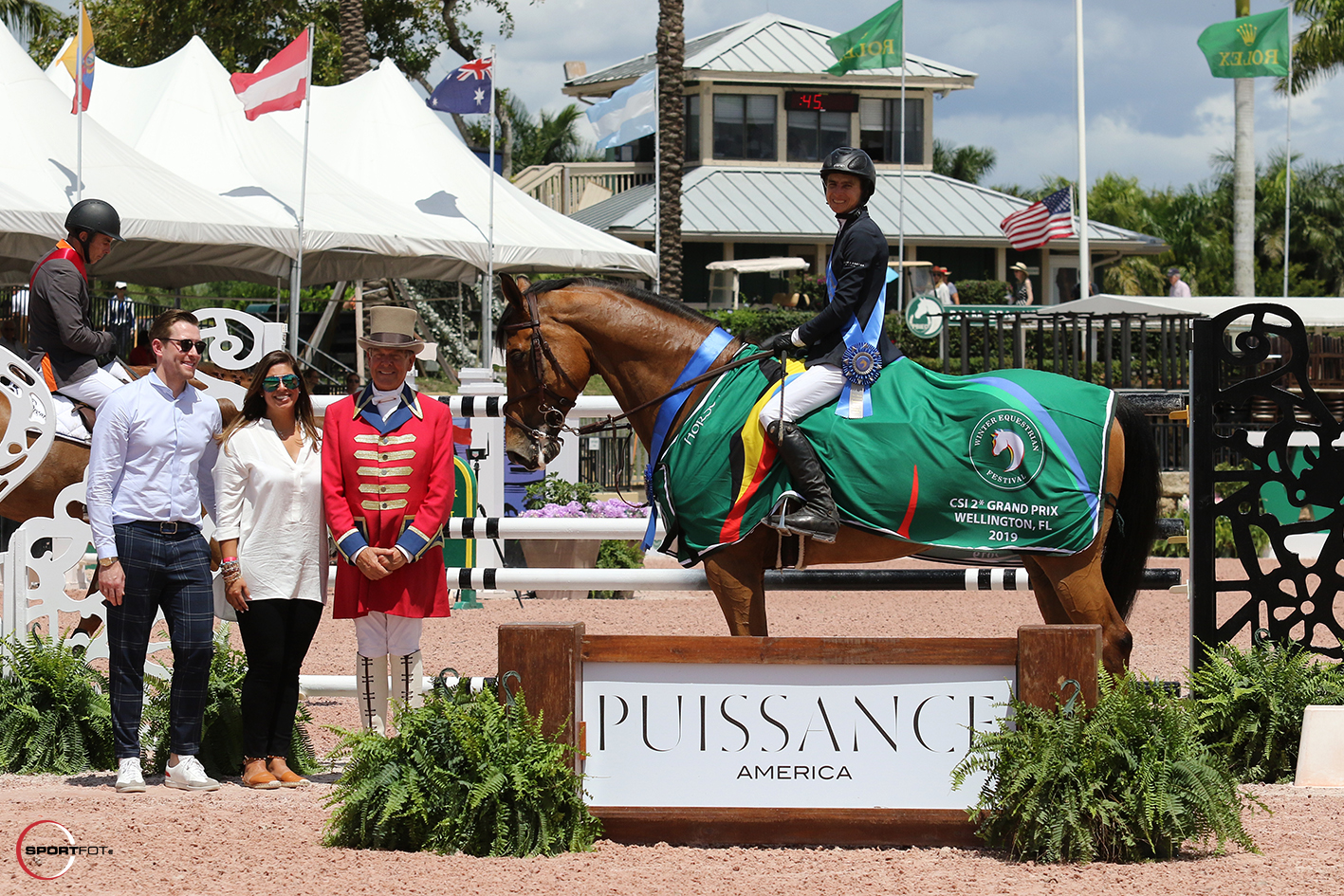 "[Chacco]'s been my rock. He's been consistent, and for those bigger classes, he's been getting me in there and placing and really doing a great job," concluded Anthony.
Final Results: $50,000 Puissance America Grand Prix CSI 2*
1 CHANDON BLUE: 2005 Oldenburg gelding by Chacco Blue x Landcapitol
LAURA CHAPOT (USA), Mary Chapot: 0/0/36.30
2 VAN GOGH: 2008 Oldenburg gelding by Valentino x Caretano Z
WILHELM GENN (USA), Wilhelm & Patty Genn: 0/0/37.06
3 CHACCO: 2006 Oldenburg gelding by Chacco-Blue x Achill
CARLY ANTHONY (USA), Neil Jones Equestrian Inc: 0/0/38.05
4 GEORGIE D'AUVRAY EC: 2006 Belgian Warmblood gelding by Vancouver d'Auvray x Nabab de Reve
KARRIE RUFER (USA), Morning Star Sporthorses: 0/0/38.07
5 BALOPPI: 2007 Danish Warmblood mare
LACEY GILBERTSON (USA), Seabrook LLC: 0/0/38.27
6 ICEMAN DE MUZE: 2008 BWP stallion by Erco van't Roosakker x For Pleasure
SCHUYLER RILEY (USA), E2 Show Jumpers: 0/0/39.98
7 LUEBBO: 2005 Oldenburg gelding by Lord Pezi x Stakkato
JAMIE BARGE (USA), Kylie Co: 0/0/43.48
8 CASCO 11: 2009 Holsteiner gelding by Caspar x Colman
LAUREN TISBO (USA), Tequestrian Farms LLC: 0/4/36.96
9 DISCO LADY: 2008 KWPN mare by Quasimodo Z x Voltaire
TAYLOR HARRIS (USA), Harris Equestrian LLC: 0/10/53.92
10 CON COLEUR: 2009 Hanoverian gelding by Contendro I x Couleur Rubin
REBECCA CONWAY (USA), Blue Hill Farm, LLC: 0/19/54.303
11 ARMANI SL Z: 2008 Zangersheide stallion by Asca Z x Cumano
EUGENIO GARZA (MEX), El Milagro: 0/eliminated
12 EST DI PALATINA: 2009 KWPN mare by Namelus x Guidam
CHARLES JACOBS (USA), CMJ Sporthorse, LLC: 1/78.05
Lillie Keenan Caps WEF 2019 On $50,000 CaptiveOne Advisors 1.50m Grand Prix Victory
USA's Lillie Keenan capitalized on only three months of experience with her mount Fasther, owned by Chansonette Farm, LLC, to top the final class of the 2019 WEF in the $50,000 CaptiveOne Advisors National Grand Prix in the International Arena.
Guilherme Jorge built a track for 48 starters and welcomed six through to the jump-off. Keenan qualified two mounts and returned first and last over the short course. She set an early pace with a clear trip in 39.649 seconds riding Chaccolette for owner Chansonette Farm, LLC. She was sitting second when she re-entered the ring aboard Fasther and the gelding lived up to his namesake by stopping the clock at 36.688 seconds for the win.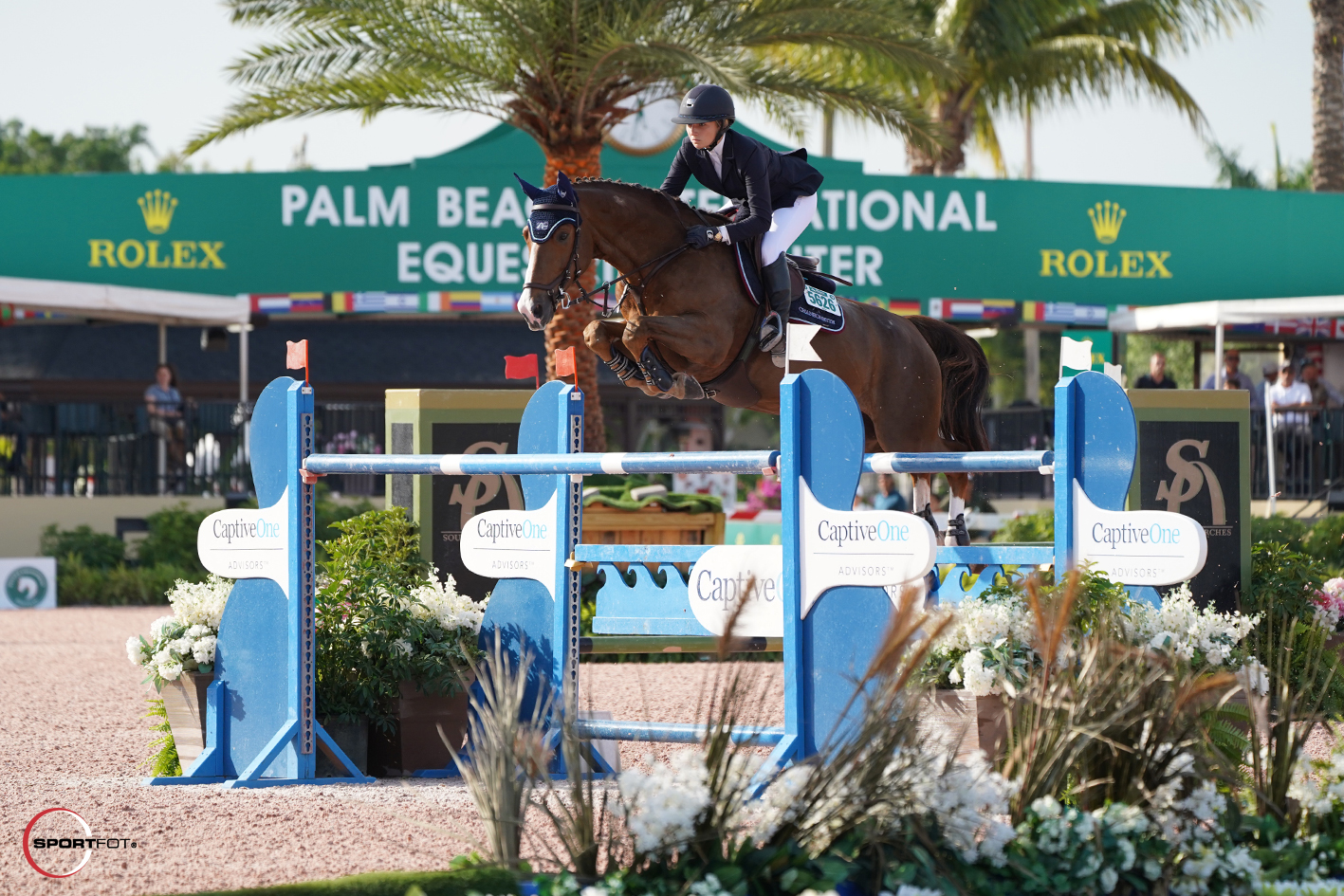 Keenan settled for third on Chaccolette behind Brazil's Fabio Leivas ds Costa riding Tosca de l'Esque, who posted a time of 38.580 seconds. Spanish rider Diego Perez Bilboa took fourth riding Orso del Terriccio in 39.649 seconds for owner Victoria Vargas d'Agostino. Kent Farrington (USA) rounded out the top five aboard Kaprice, a horse he owns together with Tanma Corp., on a time of 46.954 seconds.
Keenan, who trains under the direction of two-time U.S. Olympic team gold medalist McLain Ward, added Fasther to her string at the beginning of 2019. The nine-year-old Dutch Warmblood gelding (Vigo d'Arsouilles x Farmer) was found for Keenan by François Mathy and had previously been competing under the direction of Dutch rider Bas Moerings.
"I have to give him a lot of credit because he developed this horse from his very first show all the way up the FEI level and jumped a four-star grand prix with him as an eight-year old," said Keenan. "He believed in the horse and taught him how to win. A lot of today goes to the way that he brought the horse up and I'm very thankful for that. Fasther is obviously fast and so careful. I'd say he's probably the most talented horse I've ever ridden.
"He's got a character, which is what makes him so special but it also requires a partnership," continued Keenan. "His strengths are what's going to define his career and what makes him so special."
After moving to train with Ward in the fall of 2018, Keenan has reorganized her program and is now finding her stride with a new team.
"This is the moment we have all been waiting for; for me to pull it together," said Keenan, who is a senior at Harvard University studying History of Science. "I'm ridiculously lucky with the people that I have. Obviously McLain, he believes in me, which is more than you could ever ask of any coach. That support really transfers a team. Craig Pollard literally does everything for me and takes care of managing all of my life with horses. Then there's my parents, who obviously support me in doing this."
Keenan ended the WEF season on the highest of notes after what she considered a transitional season and will now focus on finishing school in Cambridge, MA.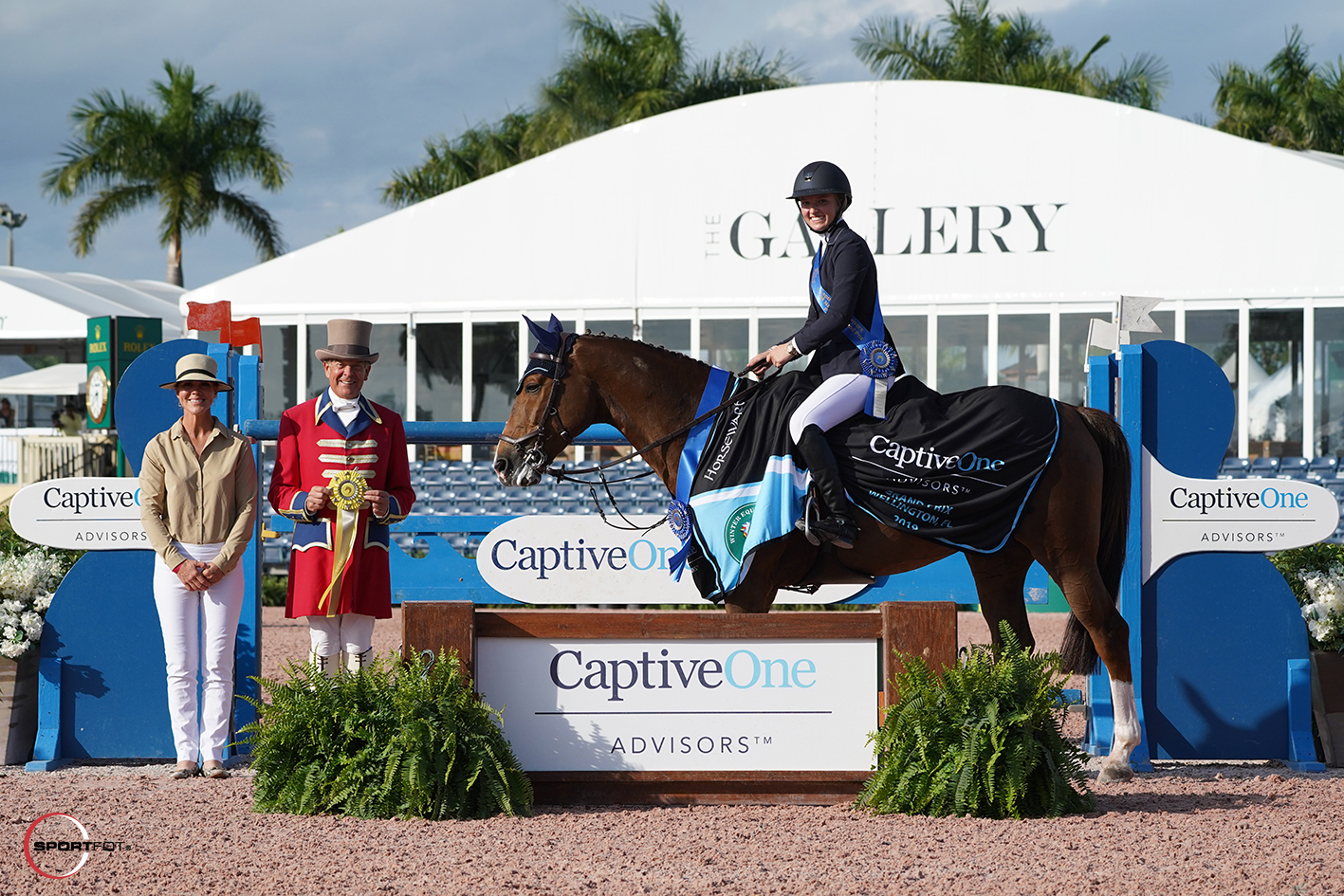 "Everything has fallen into place and it's a nice feeling going into the rest of the year," she said. "I think I have a very special horse in Fasther and I'm looking forward to the future with him. Hopefully this is the first of many wins for him."
With the Winter Equestrian Festival having run its course, the 2019 ESP Spring Circuit will kick off April 3, 2019. Equestrian Sport Productions thanks all who were involved in making the 2019 Winter Equestrian Festival a success and welcomes everyone back for the 2020 circuit next January.
Final Results: $50,000 CaptiveOne Advisors 1.50m Grand Prix
1 FASTHER: 2010 KWPN gelding by Vigo d'Arsouilles x Farmer
LILLIE KEENAN (USA), Chansonette Farm, LLC: 0/0/36.688
2 TOSCA DE L'ESQUE: 2007 Selle Francais mare by Cardento x Apache d'Adriers FABIO LEIVAS DA COSTA (BRA), Bonne Chance Farm LLC: 0/0/38.580
3 CHACCOLETTE: 2009 Oldenburg mare by Chacco Blue
LILLIE KEENAN (USA), Chansonette Farm LLC: 0/0/39.649
4 ORSO DEL TERRICCIO: 2008 SI gelding by Indoctro x Can Can Del Terriccio
DIEGO PEREZ BILBAO (ESP), Victoria Vargas D'Agostino: 0/0/41.273
5 KAPRICE: 2010 BWP mare by Echo van't Spieveld x Carthago
KENT FARRINGTON (USA), Tanma Corp. & Kent Farrington: 0/0/46.954
6 ALMA Z: 2007 Oldenburg mare by Chacco-Blue x Pablo
CORMAC HANLEY (IRL), Heathman Farm, LLC: 0/4/38.763
7 LIBERTY SON 2: 2003 DSP gelding by Clooney x Lord Z
CAITLIN CREEL (USA), Caitlin Creel: 1/83.101
8 CAROLA BH: 2007 KWPN mare by Dutch Capitol x Goodtimes
SOPHIE GOCHMAN (USA), Gochman Sport Horses, LLC: 4/75.924
9 CASHEW CR: 2008 Holsteiner gelding by Cassini II x Quinar
ALEX MATZ (USA), D.D. Matz: 4/76.139
10 DY ZENTO: 2008 KWPN gelding by Zento x Goodtimes
DAVID BLAKE (IRL), Pine Hollow Farm: 4/76.335
11 OUT OF IRELAND: 2006 Anglo European mare by Lougherne Connaught x Amiro M
LAURA CHAPOT (USA), The Edge & Laura Chapot: 4/76.437
12 S & L COCODRILLE: 2008 BWP gelding by Emerald van't Ruytershof x Kashmir van Schuttershof
SARH SCHEIRING (USA), S & L Farms: 4/77.728
Photo Credit: Photos © Sportfot, Official Photographer of the Winter Equestrian Festival. These photos may be used only in relation to this press release and must include photo credit.