For Immediate Release
Summer Grace and Emily Riden for Jennifer Wood Media, Inc.
Wellington, FL – February 22, 2019 – Brazil's Eduardo Menezes and H5 Caruschka 2 outpaced a field of 52 entries to win the $36,000 Bainbridge 1.45m Classic CSI 5* on Friday, February 22, during Week 7 of the Winter Equestrian Festival (WEF) in Wellington, FL.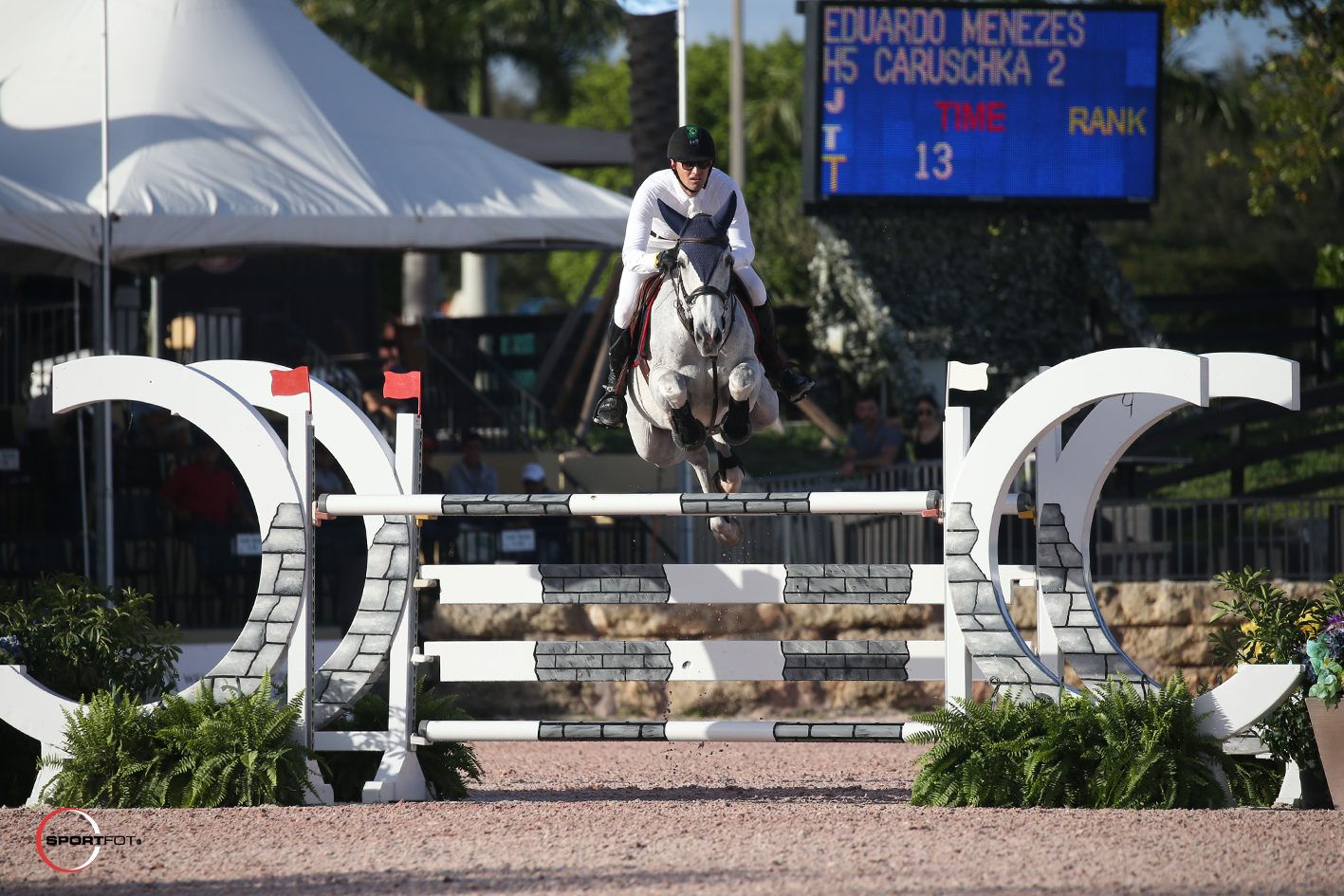 Featured highlights still to come at the Palm Beach International Equestrian Center (PBIEC) during WEF Week 7 include the $391,000 Palm Beach Equine Clinic Grand Prix CSI 5* on Saturday, February 23 beginning at 7 p.m., and the $72,000 CaptiveOne Advisors 1.50m Classic and $50,000 Dutta Corp/Guido Klatte Grand Prix CSI 2* on Sunday, February 24. WEF continues through Sunday, March 31, with 12 weeks of top hunter, jumper, and equitation competition.
In Friday's featured speed class, the early time to beat over the Anthony D'Ambrosio-designed course had been set at 64.00 seconds by Marilyn Little (USA) and Clearwater, but when Menezes and H5 Caruschka 2 entered the ring during the second half of the class, they made short work of the course, shaving more than two seconds off of Little's time to take over the lead in 61.90 seconds.
That time would hold up through the remaining 13 entries to give Menezes the win, while Ireland's Daniel Coyle and his own Leilani would narrowly edge out Little to take second with a time of 63.78 seconds, giving third place to Little and Clearwater, owned by Karen O'Connor.
"She's a great speed horse; that's her specialty," said Menezes of H5 Caruschka 2, a mount he has had for seven years. "When the course suits her, and we manage to clear a couple of wide oxers, she's difficult to beat!"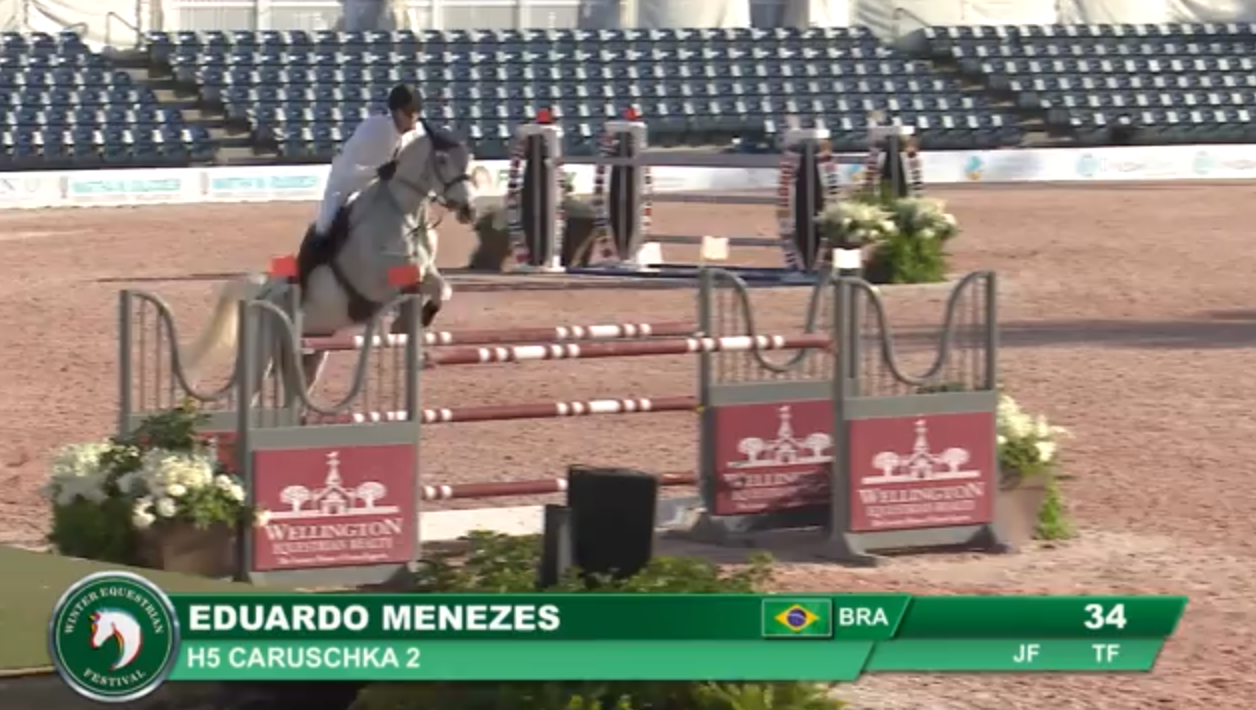 Friday's course undoubtedly well suited the 15-year-old Oldenburg mare, owned by H5 Sport Horses LLC, with opportunities to leave out strides playing to her advantage.
"She has a huge stride, and when you have options to take those strides out in the lines, that's always good for her," explained Menezes. "When you don't have many options, and you need to slow it down, she has such a big stride that she ends up slower than some other horses.
"She's a special mare," continued Menezes, who plans to aim the mare at the Bainbridge 1.45m speed classes during Weeks 9, 11, and 12. "This is a great season for her because of these Bainbridge classes, these 1.45m speeds; that's her comfort zone."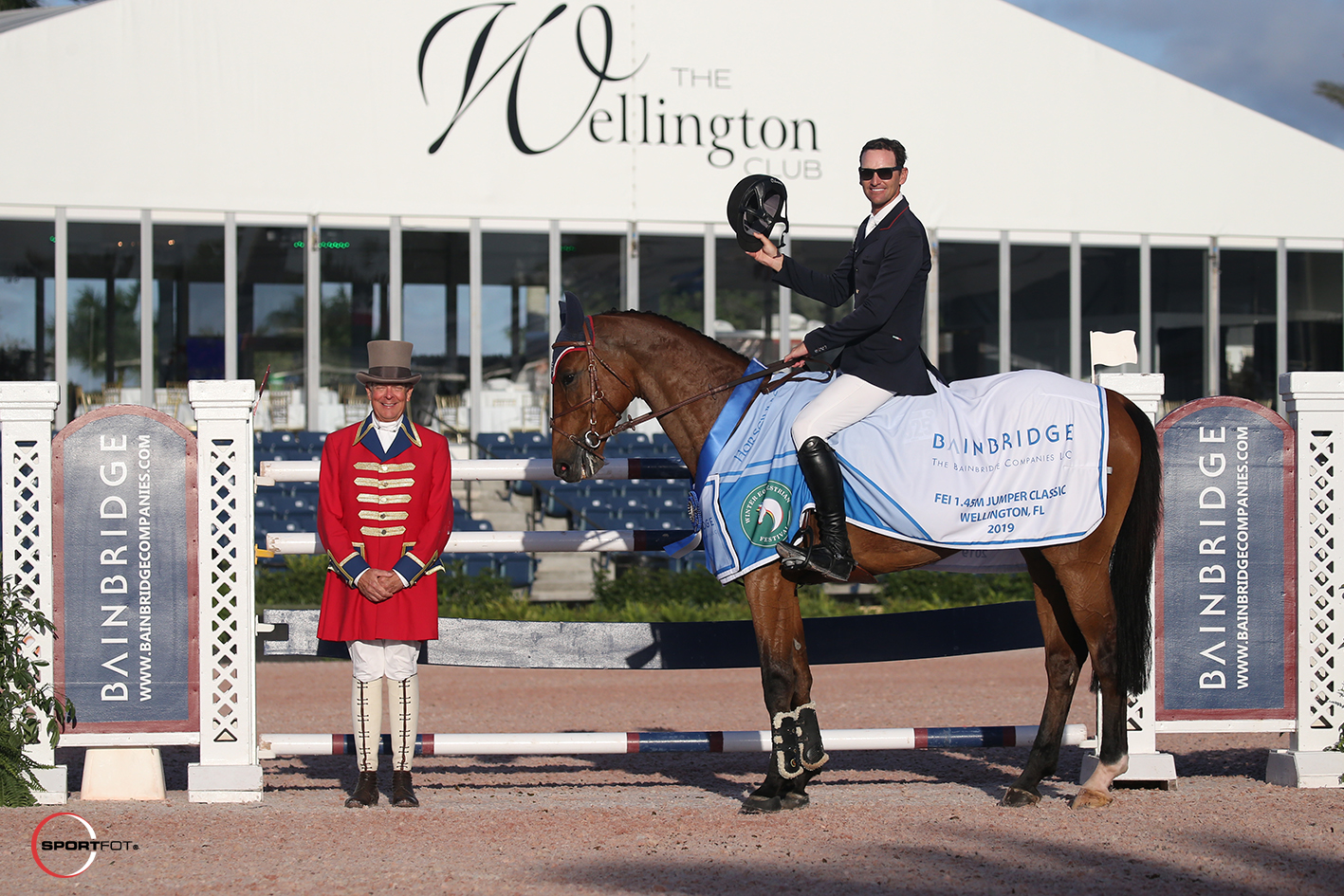 Final Results: $36,000 Bainbridge 1.45m CSI 5* Final Results
1 H5 CARUSCHKA 2: 2004 Oldenburg mare by Caspar x Continue
EDUARDO MENEZES (BRA), H5 Sport Horses LLC: 0/61.90
2 LEILANI: 2010 Oldenburg mare
DANIEL COYLE (IRL), Daniel Coyle: 0/63.78
3 CLEARWATER: 2007 Holsteiner gelding by Clearway x Come On
MARILYN LITTLE (USA), Karen O'Connor: 0/64.00
4 FINALLY Z: 2010 Zangersheide mare by Figaro C x Darco
PETRONELLA ANDERSSON (SWE), Stephex Stables: 0/65.67
5 DELINQUENT JX: 2007 SHBGB gelding by Darco x I Need You
WILTON PORTER (USA), Sleepy P Ranch LLC: 0/65.77
6 Z DIAMANTY: 2007 Holsteiner mare by Diamant de Semilly x Cor de la Bryere
ERYNN BALLARD (CAN), The Z Group, Javier Salvador Stables, & Diamante Atelier: 0/66.10
7 FARRERO: 2010 gelding by Boss x Indorado
RODRIGO PESSOA (BRA), Hillside Farm LLC: 0/66.16
8 RMF CHACCO TOP: 2009 Hanoverian stallion by Chacco Blue x Graf Top
WILLIAM WHITAKER (GBR), Rushy Marsh Farm LLC: 0.66.20
9 CEITASI: 2010 Westphalian mare by Caretello B x Cavalier
ERYNN BALLARD (CAN), Ilan Ferder: 0/66.69
10 DUTSBOY: 2008 KWPN gelding by Veron x Lux
DARRAGH KENNY (IRL), Stone Hill Farm: 0/71.53
11 CESSNA 24: 2009 Hanoverian mare by Contagio x Elba 
GEORGINA BLOOMBERG (USA), Gotham Enterprizes, LLC.: 0/71.59
12 CALL ME NUMBER ONE: 2004 Westphalian stallion Cornet Obolensky x Landadel
RICHIE MOLONEY (IRL), Equinimity, LLC: 0/74.63
Marcus Au and It's Top Del Maset Win Week Seven USHJA Jumping Seat Medal
The Equine Tack & Nutritionals ring at the Palm Beach International Equestrian Center kicked off a full day of equitation competition with the USHJA Jumping Seat Medal. Boca Raton, Florida resident Marcus Au bested a field of 36 top equitation riders to take the win with It's Top Del Maset.
All combinations contested the over-fences portion of the medal, and the top 12 competitors were invited to return to the ring for a test on the flat. Riders were asked to show power and control with requests to demonstrate movements such as the working trot sitting and the working counter-canter.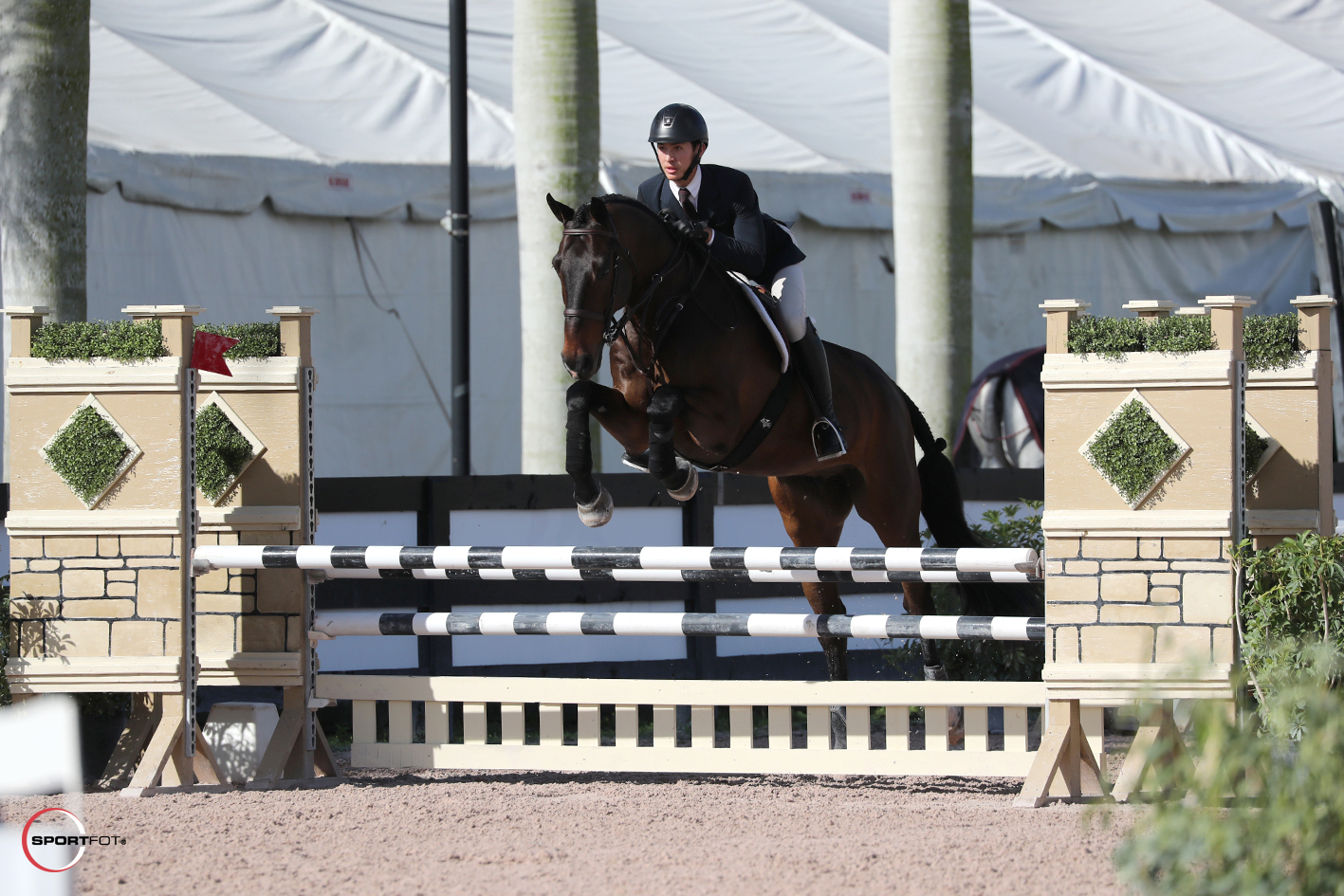 Au is a working student for Carriage Hill Farm of Delray Beach, FL, and began his time there around the same time that the 10-year-old Selle Francais gelding (Indret Del Maset) was imported as a sales horse.
"My trainer, Jane Fennessey, gave me the ride on him shortly after I became a working student," Au said. "He became my project, and the goal was for me to help her get him into the show ring."
"He seems to be doing quite good at it," he added, "but with him still being somewhat green to the equitation ring, my goal today was just to produce a smooth round and have a nice flow to all of the fences. Getting a win on top of that was a bonus."
Au began his working student career the way that many equestrians do, as a necessity to gain experience on a variety of horses in and out of the show ring
"I can't afford to have my own horse or a string of horses, so I'm very fortunate to get to ride the group of horses that I have from Jane and her clients," Au explained. "I hope to be able to continue doing the equitation on whatever horse Jane has available for me, and I'm so grateful for all of the opportunities provided through our farm."
Week 7 of the 2019 Winter Equestrian Festival will see weekend competition starting Saturday at 8 a.m. The daytime events will feature top national hunter, equitation, and jumper classes while the "Saturday Night Lights" event will highlight the $391,000 Palm Beach Equine Clinic Grand Prix CSI 5*.