For Immediate Release
Alice Collins for Jennifer Wood Media, Inc.
Wellington, FL — March 21, 2018 — Daniel Bluman believes he is riding "one of the fastest horses in the world" and he proved that he could just be right by chalking up the fastest time of the 117 starters in the $6,000 FEI Bainbridge 1.40m class on the opening day of week 11 on Wednesday, March 21, at the 2018 Winter Equestrian Festival (WEF).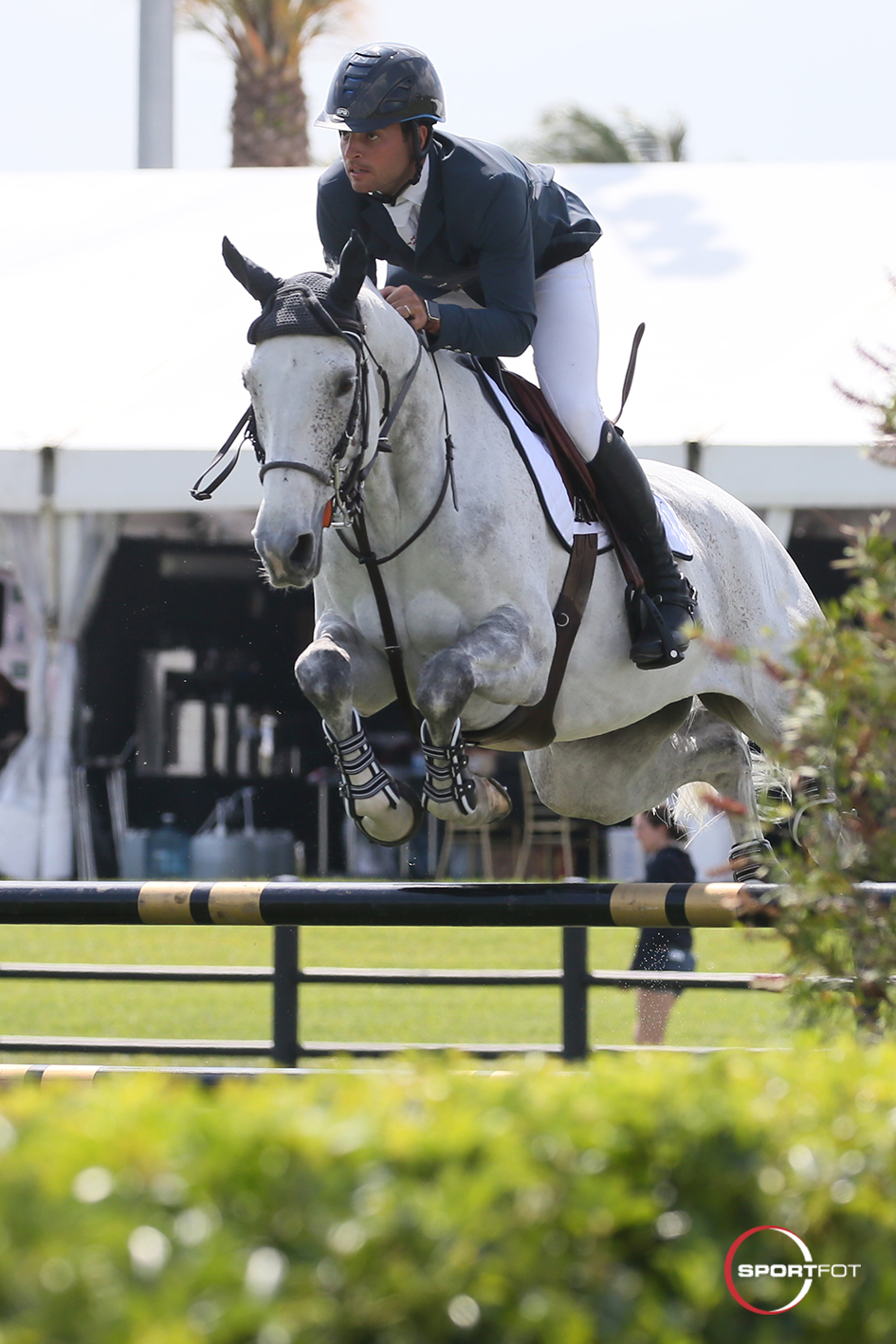 Highlights of the upcoming week 11, sponsored by CaptiveOne Advisors on March 21-25, include the $205,000 CaptiveOne Advisors Grand Prix CSI 4* at 11 a.m. on the grass derby field at Equestrian Village (13500 South Shore Blvd.) and the $132,000 Hollow Creek Farm 1.50m Classic Final at 6:30 p.m. in the WEF International Arena on Saturday, March 24, as well as the George H. Morris Excellence in Equitation on Friday, March 23, at 5 p.m. in the WEF International Arena and the $50,000 Hermés Under 25 Grand Prix Series Final at 12 p.m. at the grass derby field on Sunday, March 25. WEF hosts hunter, jumper, and equitation competition until April 1 and offers more than $9 million in prize money.
Show jumpers once again crossed the road to Equestrian Village (home to the Adequan® Global Dressage Festival) to jump on the immaculate grass derby field.
Riding Sam Wight's Esmee, a nine-year-old Berlin x Voltaire mare who is new to his team, Bluman flew around course designer Olaf Petersen Jr.'s track clear to break the beam in 63.45 seconds — nearly 1.5 seconds faster than any of the chasing pack.
Due to the number of starters, the class was subject to a California split, meaning that despite Leslie Howard (USA) and Donna Speciale only clocking the second fastest time, she too was the recipient of a blue sash and ribbon.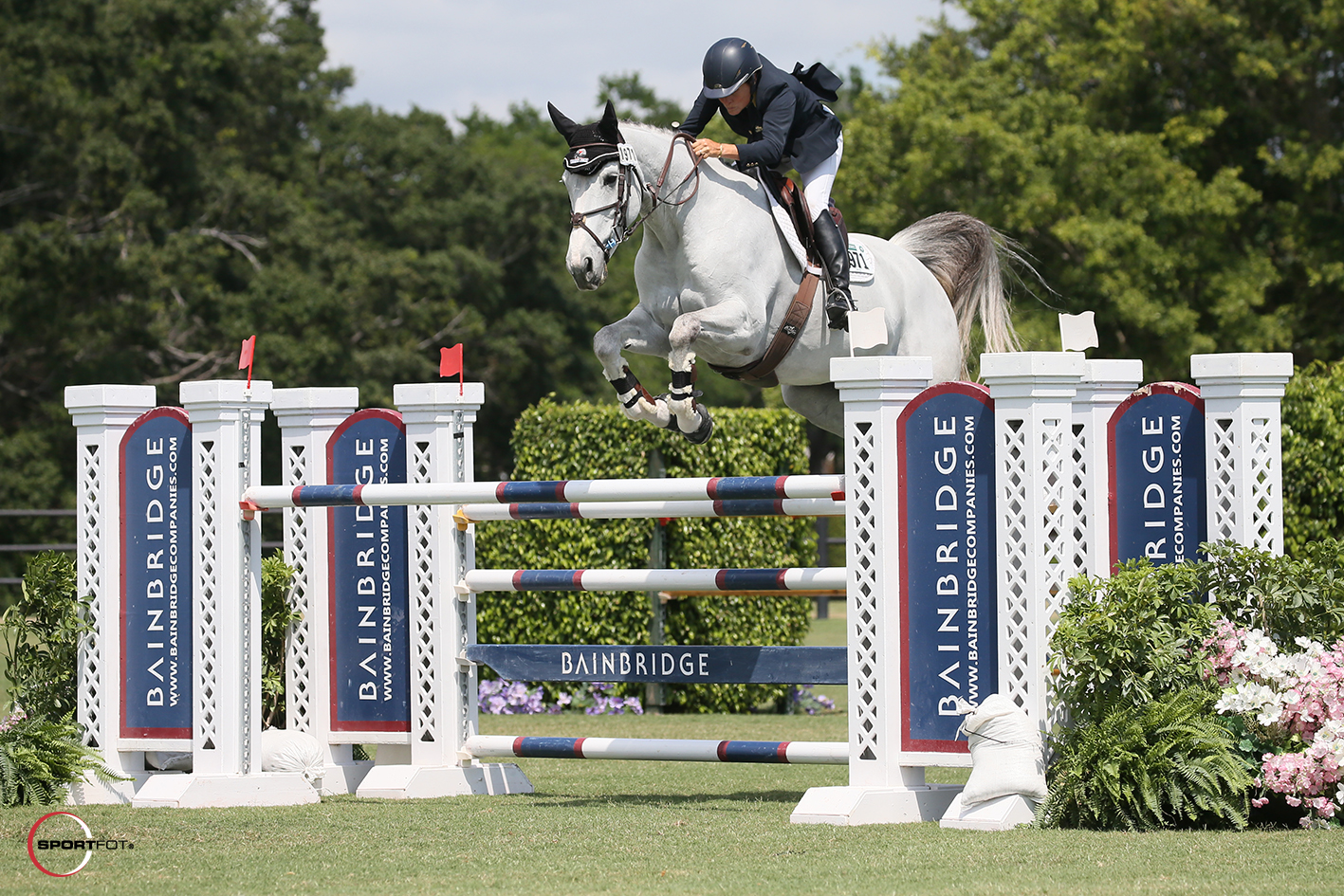 Bluman, who has represented Colombia at two Olympic Games but who now rides for Israel as part of the nation's newly-forming elite equestrian squad, said: "I think Esmee is for sure one of the fastest horses in the world. We bought her a few months ago and she's jumped five classes since she arrived in the States, winning four of them, so she has a pretty good record.
"She's naturally fast, has a big stride and is super careful; she's just a dream of a speed horse and I'm lucky to have her," added the 28-year-old. "We bought her in Belgium and she's a super mare, very easy to ride. She's super careful and fast, so I just go to the ring, make my plan and normally when things go decently, we have a nice shot at winning because she's so fast."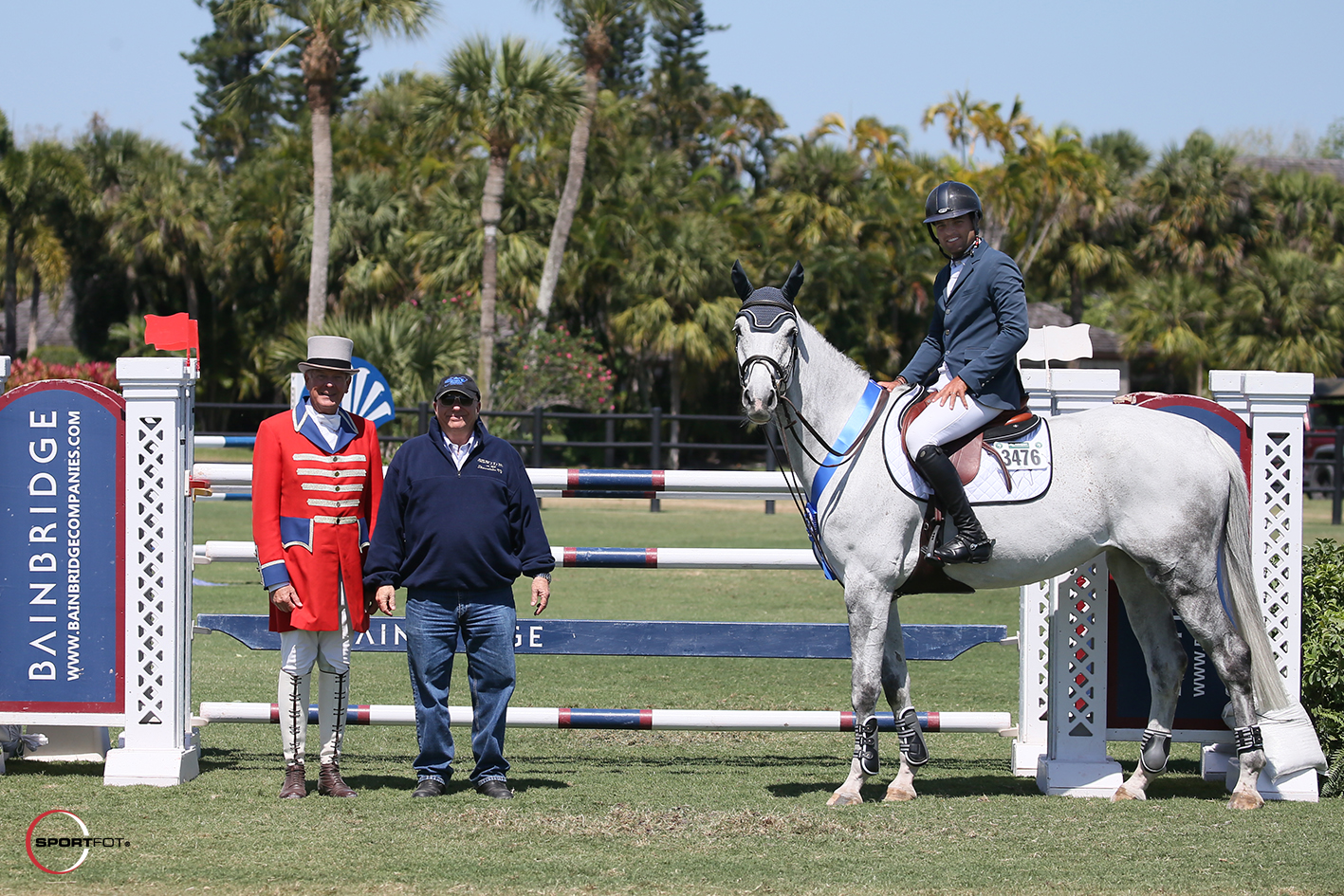 He attributes her blistering speed to being "a quick mover with a big stride; a combination you don't get to see very often in speed horses. She's not a big horse but she has a very big stride, very fast feet, and the jumps come easy.
"She's all about game; she knows when she goes into the ring what she needs to do and it's in her nature to be good, so I can't take much of the credit. That's why I really think she's one of the fastest horses in the world."
Based in Wellington for the WEF season, Bluman also calls New York and Belgium home, too.
Howard is another to traverse the globe in her competition quest, spending winters in Wellington and the rest of the year split between Connecticut and Calgary.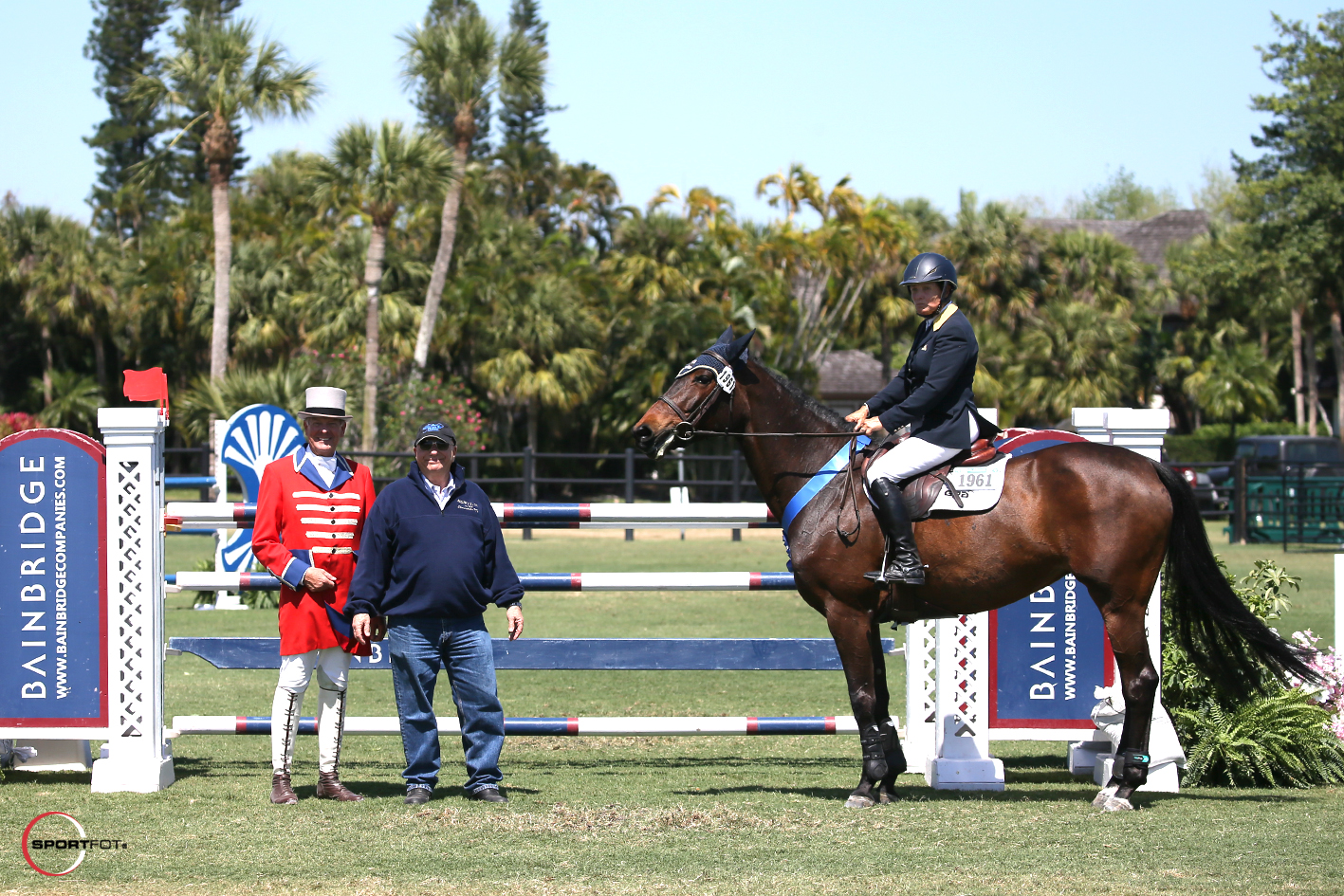 Of her winning ride, Laure Sudreau's Cavalier x Concorde mare Donna Speciale, she said: "This is my third year with her and she's always been a winner. This year she's moving up to 1.60m and I'm very fortunate to have her."
Action at Equestrian Village (home to the Adequan® Global Dressage Festival), in week 11 continues tomorrow, Thursday, with the $70,000 Equinimity WEF Challenge Cup Round 11. Back on the main grounds of the Palm Beach International Equestrian Center, the winner will be pinned in the USEF Talent Search 2* class.
Final Results: $6,000 FEI Bainbridge 1.40m Jumpers
SECTION A
1 ESMEE: 2009 warmblood mare by Berlin x Voltaire
DANIEL BLUMAN (ISR), Melissa Wight: 0/63.45
2 CYBEL II: 2008 Irish Sport Horse mare by Varo x Lancer
LAURA CHAPOT (USA), Mary Chapot: 0/65.80
3 BELLA DONNA: 2006 KWPN mare by Gentleman x Latano. ERYNN BALARD (CAN), Sagamore Farms: 0/66.82
4 HEROS: 2007 Belgian warmblood gelding by Canadian River x Clinton
IAN MILLAR (CAN), AMMO Investments: 0/68.78
5 CASHMIR Z: 2002 BWP gelding by Flamenco De Semilly x Lugano Van La Roche
GIANNI GABRIELLI (ARG), Gianni Gabrielli: 0/69.66
6 CHAVENTYNO: 2006 Oldenburg gelding by Chacco Blue x Aventyno
TODD MINIKUS (USA), Legacy Stables LLC: 0/70.74
7 ORAGE Z: 2209 Zang mare by Ogano Sitte x Toulonn
PETER JORDAN (USA), Outland Farms LLC: 0/71.25
8 CALIFORNIA 62: 2004 Holsteiner mare by Cassini I x Galant Vert
ANDREW RAMSAY (USA), The California Group: 0/72.00
9 LESSON PEAK: 2006 Holst gelding by Lord Z Z x Cashandcarry
BEN ASSELIN (CAN), Attache Stables Ltd: 0/72.30

10 DARLING: 2004 Westf mare by Cornet Obolensky x Gralshuter
AINSLEY VINCE (CAN), The Darling Group: 0/73.17
SECTION B
1 DONNA SPECIALE: 2008 KWPN mare by Cavalier x Concorde
LESLIE HOWARD (USA), Laure Sudreau: 0/64.97
2 LINCOURT GINO: 2003 Irish Sport Horse gelding by Gino III x Graf Magna
ALEJANDRO KAROLYI (VEN), Monica Carrera: 0/66.76
3 PELE: N/A
ANNIE PHILLIPS (USA), Oakridge Farm: 0/68.36
4 ELVARO: 2009 KWPN stallion by Calvaro Z x Heartbreaker
EDUARDO MENEZES (BRA), H5 Stables: 0/69.33
5 MALBEC: 2009 gelding
LISA CARLSEN (CAN), Lisa Carlsen: 0/70.13
6 COLOURFUL LADY: 2010 Holst mare by Casall x Accord II
CAPT. BRIAN COURNANE (IRE), Glenbeigh Farm LLC: 0/70.78
7 TOSCA DE L'ESQUE: 2007 Selle Francais mare by Cardento x Apache d'Adriers
FABIO LEIVAS DA COSTA (BRA), Bonne Chance Farm LLC: 0/71.7
8 TYROL D'ANTO: 2007 Selle Français gelding by L'Arc De Triomphe
ALEXA LOWE (USA), Weslands Farms: 0/72.13
9 CATUNGEE: 2006 Holsteiner gelding by Contact Me x Liatos
CATHERINE TYREE (USA), Mary Tyree: 0/72.89
10 LIVESTREAM 2: 2010 OLD gelding by Lordanos x Landadel
BEN ASSELIN (CAN), Attache Stables: 0/73.38
Photo Credit: Photos © Sportfot, Official Photographer of the Winter Equestrian Festival. These photos may be used only in relation to this press release and must include photo credit.