For Immediate Release
Lindsay Brock and Summer Grace for Jennifer Wood Media, Inc.
Wellington, FL – March 17, 2019 – The tenth week of the Winter Equestrian Festival (WEF) came to an end with a win for Spain's Diego Perez Bilbao in the $36,000 CaptiveOne Advisors 1.50m Classic CSI 3* riding Helios. WEF continues with two remaining of the 12 consecutive weeks of world-class competition through March 31, 2019 at the Palm Beach International Equestrian Center in Wellington, FL.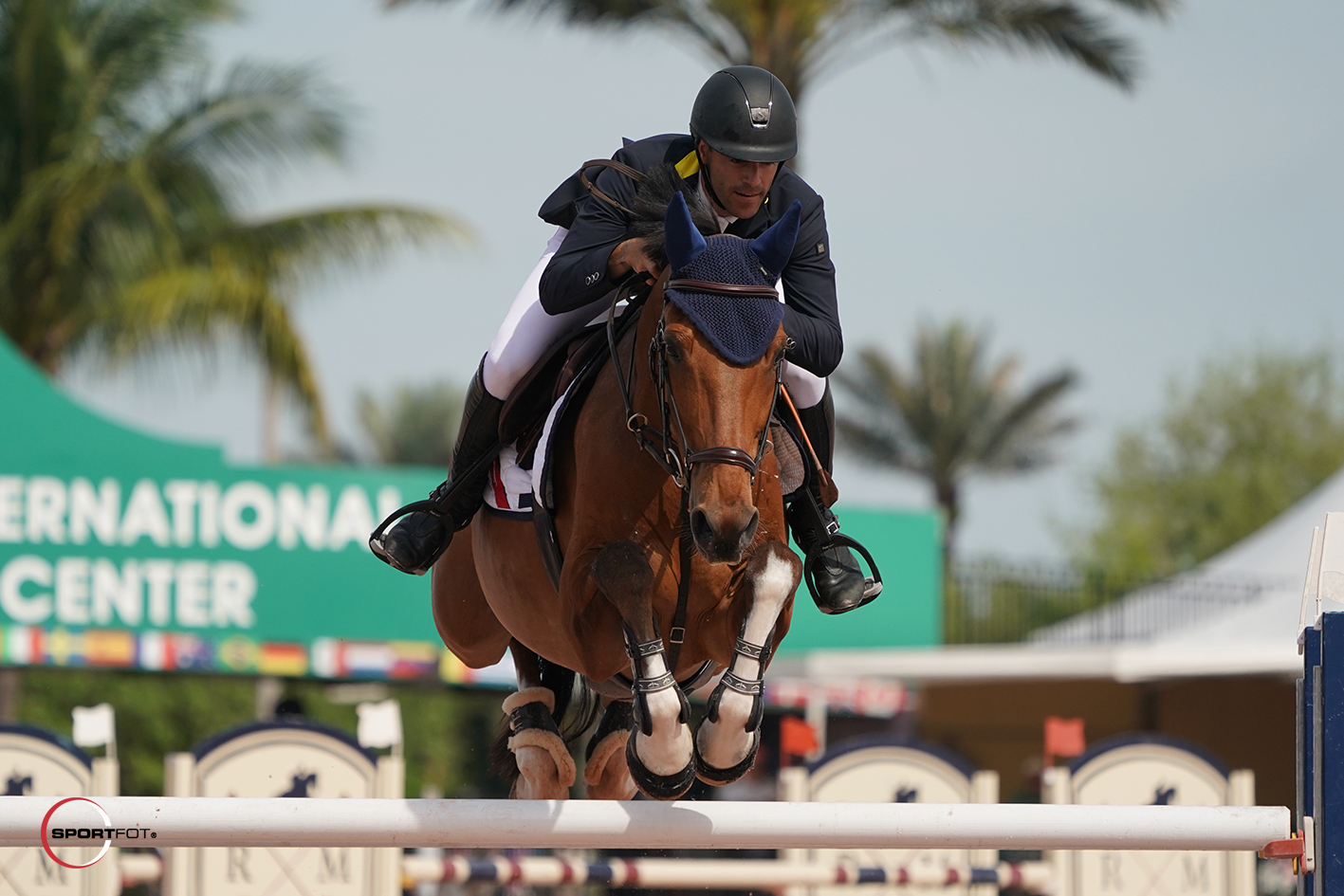 Coming up at WEF, Week 11 presented by Wellington Agricultural Services features the $209,000 Wellington Agricultural Services Grand Prix CSI 4* on the Derby Field at Equestrian Village, as well as the $134,000 CaptiveOne Advisors 1.50m Jumper Series Final CSI 4* during "Saturday Night Lights" in the International Arena on Saturday, March 23. Week 11 closes out with the $50,000 Hermès Under 25 Grand Prix Series Final on the Derby Field at Equestrian Village on Sunday, March 24.
Michel Vaillancourt (CAN) set the track for the $36,000 CaptiveOne Advisors 1.50m Classic CSI 3* and saw 13 horses advance to the jump-off from a starting field of 63. Bilbao took the win with a double-clear performance in 34.79 seconds, a full second faster than USA's Katherine Dinan riding Tarioso Mancais for Grant Road Partners, LLC. 
"He has all the talent in the world; super careful, so easy to ride, and really balanced. He could be a superstar," said Bilbao of Helios, a 12-year-old Belgian Warmblood gelding (Couleur-Rubin x Grandeur) in partnership between Hugo Matheson Drummond and Adrienne Sternlicht's Starlight Farms, LLC. "Sometimes his mind is not one of a fighter, but today after the second fence I knew he was fighting for me and we could take some risks."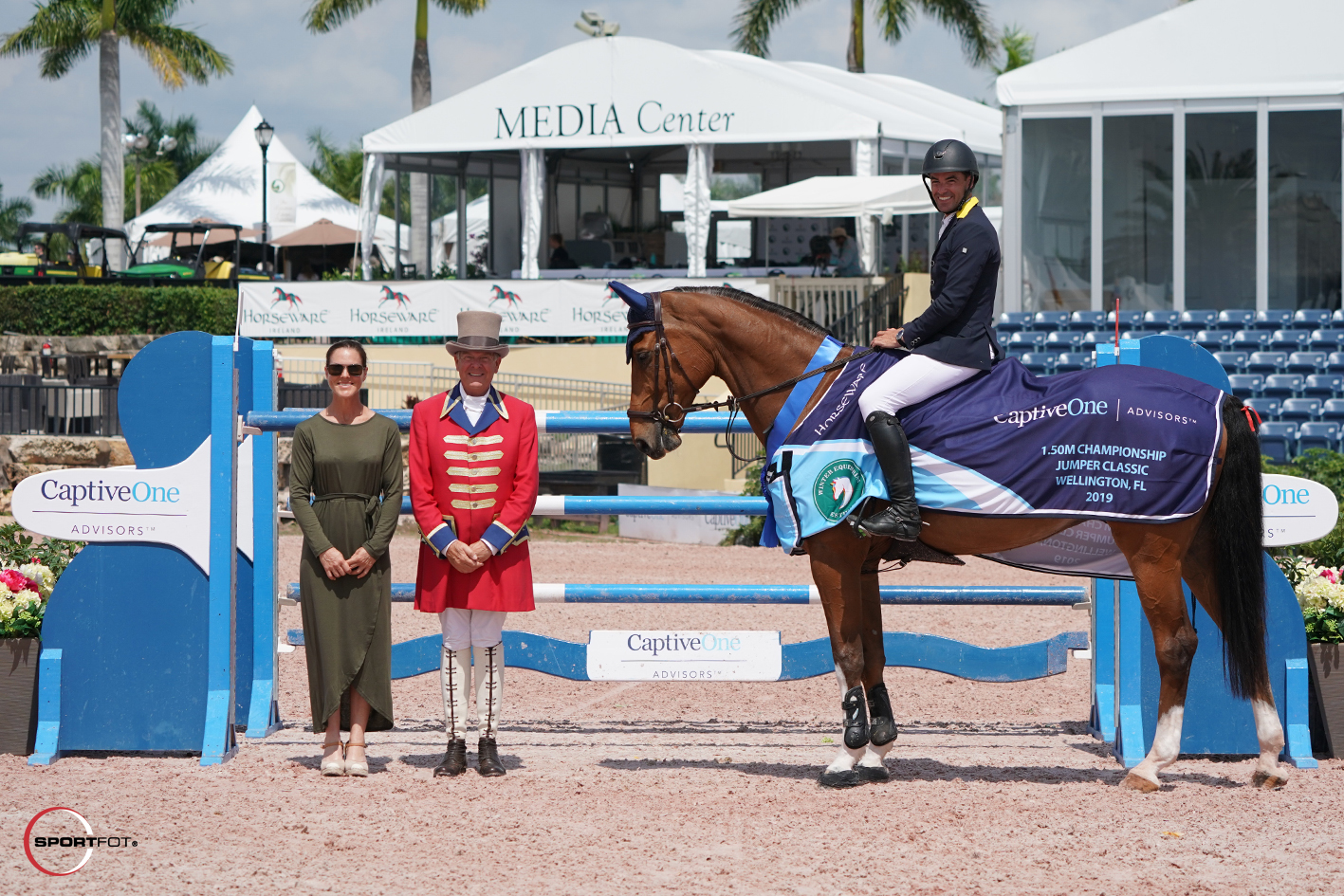 Bilbao, a former rider for Belgium's François Mathy, got the leg up on Helios more than a year ago when Sternlicht approached him about competing the horse in Europe. Now, Bilbao works with Venezuela's Victoria Vargas and is based in Wellington while competing at WEF for the first time.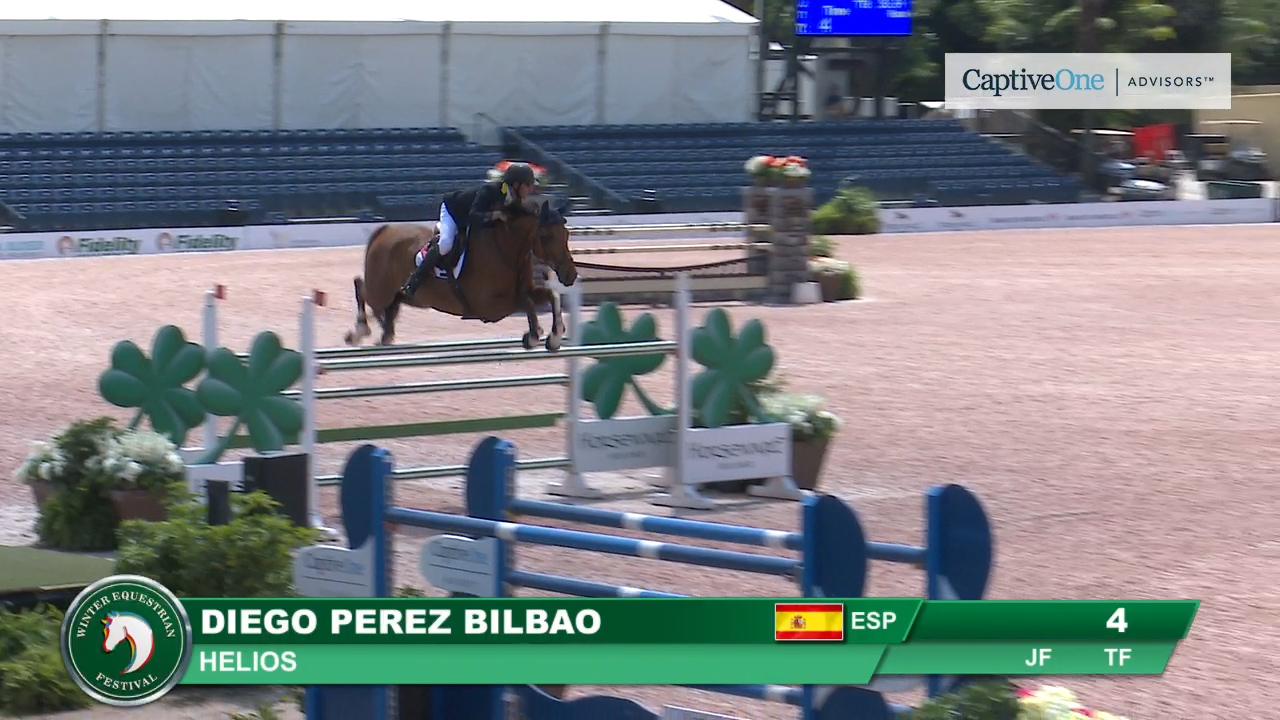 "I'm loving it," said the 32-year-old rider of his experience in Wellington. "This win is important for me because no one knows me here and I wanted to get a good result. I'm so happy with my horse."
Taking third behind Bilbao and Dinan, Gabriela Reutter (CHI) piloted Atticus Diamant to a time of 35.90 seconds for owner Juan Reutter, while Markus Beerbaum (GER) finished fourth aboard Daylight VDL, owned by Daylight Group, in 36.28 seconds. Rounding out the top five, Emil Hallundbaek (DEN) stopped the clock at 36.64 seconds riding Dazermie for Ecurie François Mathy.
Final Results: $36,000 CaptiveOne Advisors CSI 3* 1.50m Classic
1 HELIOS: 2007 Belgian Warmblood gelding by Couleur-Rubin x Grandeur
DIEGO PEREZ BILBAO (ESP), Starlight Farms LLC: 0/0/34.79
2 TARIOSO MANCIAIS: 2007 Selle Français gelding by Arioso du Theillet x First Bride
KATHERINE DINAN (USA), Grant Road Partners LLC: 0/0/35.78
3 ATTICUS DIAMANT: 2009 Selle Français gelding by Diamant de Semilly x Vas Y Donc Longane
GABRIELA REUTTER (CHI), Juan Reutter: 0/0/35.90
4 DAYLIGHT VDL: 2008 KWPN gelding by Baloubet du Rouet x Stakkato
MARKUS BEERBAUM (GER), Daylight Group: 0/0/36.28
5 DAZERMIE: 2008 KWPN mare by Asemie x Hamlet
EMIL HALLUNDBAEK (DEN), Ecurie François Mathy: 0/0/36.64
6 COOL HAND LUKE 3: 2009 Holsteiner gelding by Cascari x Quick Nick 4
EMIL HALLUNDBAEK (DEN), Lisa Schranz: 0/0/36.82
7 FANTAST: 2005 BWP gelding by Toulon x Rubens du Ri d'Asse
ADRIENNE STERNLICHT (USA), Starlight Farms LLC: 0/4/34.35
8 RANDON PLEASURE: 2005 Selle Français mare by For Pleasure x Quidam de Revel
FABIO LEIVAS DA COSTA (BRA), Bonne Chance Farm: 0/4/34.55
9 CAPTAIN: 2007 KWPN mare by Verdi x Ahorn
CONOR SWAIL (IRL), BB Gingras Equestrian Ltd.: 0/4/34.59
10 CHUCK BERRY 8: 2007 Hanoverian gelding by Chacco Blue x Watzmann
OLIVIA CHOWDRY (USA), Atlas Equine Holdings LLC: 0/4/35.27
11 DOLITAIRE CHAVANNAISE: 2009 SBS mare by Cicero Z x Voltaire
ZOE CONTER (BEL), Stephex Stables: 0/4/38.48
12 KENWOOD: 2010 BWP gelding by Ogano Sitte x Kashmir van Schuttershof
ADAM PRUDENT (USA), Plain Bay Sales: 0/8/34.90
Alexa Elle Lignelli and Cassie Warren Split Children's Hunter Younger Champion Title 
On the final day of WEF Week 10, 31 young horse-and-rider combinations contested the course set in the FarmVet ring for the Children's Hunter Younger division. Due to the high volume of entries, the division was divided into a California Split format, which allowed two young riders to be named champion and two more reserve. The first champion title was awarded to Cassie Warren and the second tricolor ribbon was given to Alexa Elle Lignelli. 
Warren and Whipstick Farm, Ltd's Capo Di Capi took top-three placings in four out of the five division classes to land on a total of 30 points for the section A champion ribbon. She and the 11-year-old Dutch Warmblood gelding (Sir Corland x Jokatosa) earned two firsts, a second, and a third. 
While Capo was originally purchased as Warren's new equitation mount, the pair have been getting a feel for one another in the hunter ring throughout circuit.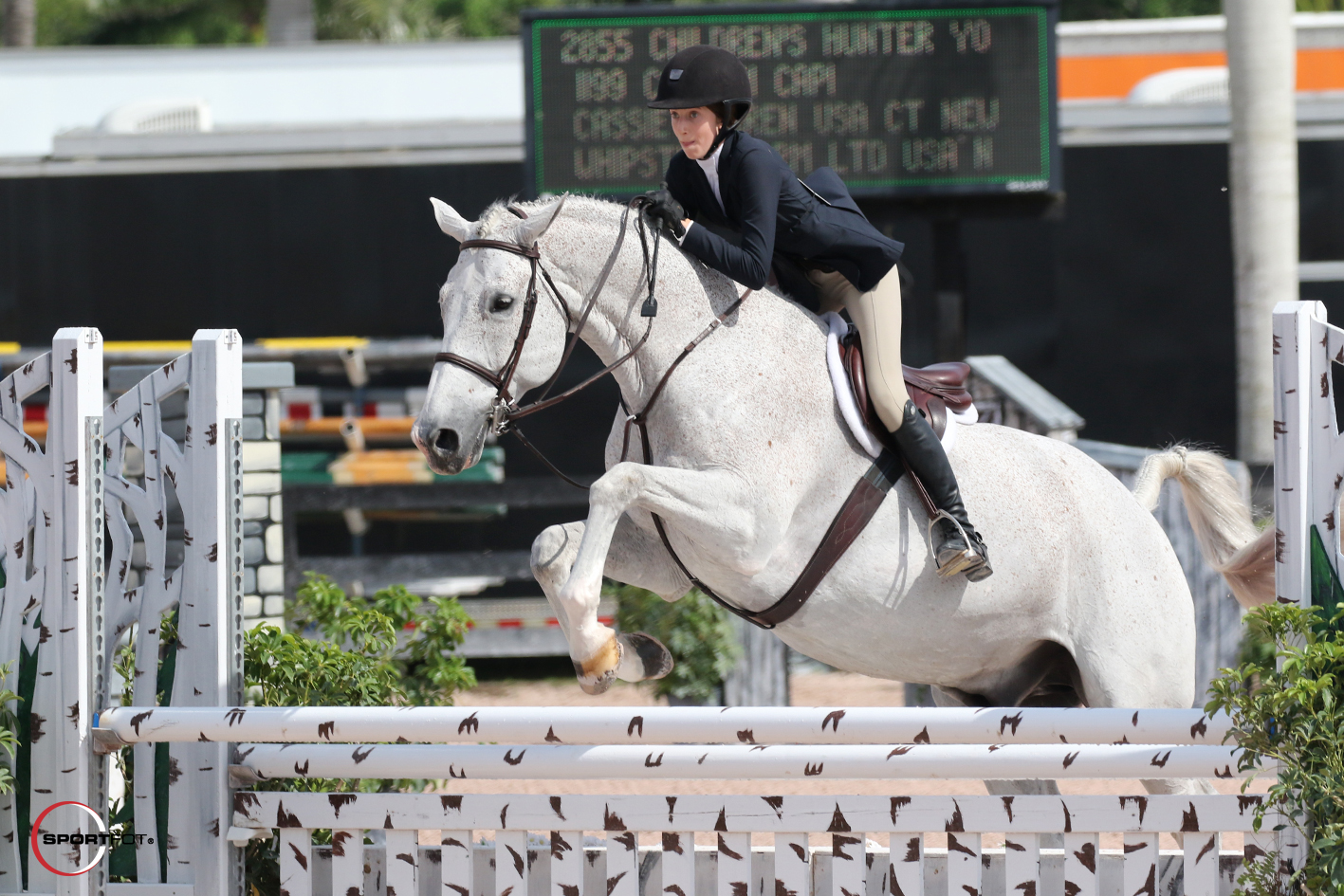 "We got him around October with plans to start doing some of the more competitive equitation classes," Warren explained. " We've put him in the hunters just so we can learn each other's style of going and it's been working out very well for us! He's got a great rhythm and an adorable jump.
"It felt great to have won in such a competitive division today," she continued. "He has already taught me so much, and I'm looking forward to continuing to compete him in the Children's Hunters as well as the THIS Medal." 
Lignelli piloted the Piccolino Farm, LLC's Pop Rocks to a first, a second, and two third places which secured them the second-highest total of 24 points. She and the 12-year-old Dutch Warmblood gelding (Verdi x Ufarna 2) were paired up by the same farm that Lignelli procured her first pony from, which she knew meant the two would be a good match.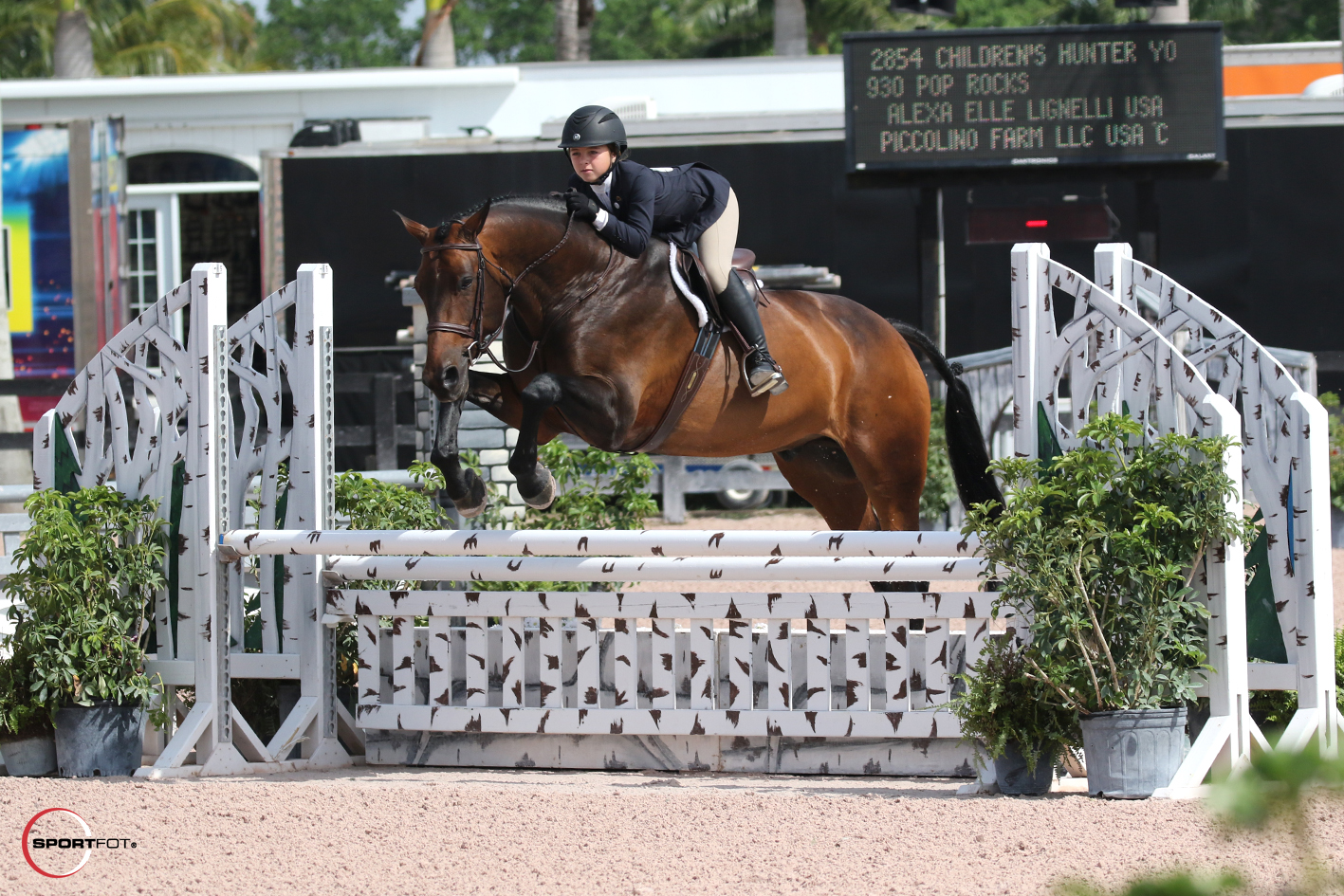 "When we found Pop Rocks from the same people we found my wonderful first pony, Mr. Knightly, from, I knew it was a good sign," Lignelli said. "For me, the most important part about riding is having a strong bond with your partner and that connection will always be noticeable to the judge even if you don't have the fanciest horse.
"I really enjoy competing in this division because I get to ride with a lot of my friends," she continued. "We have a good time even though it is competitive." 
Lignelli and Pop Rocks also found success in the equitation ring together this weekend as the pair won their first THIS National Children's Medal together. 
The reserve champion ribbons were split between Alexander Alston and Taje Warrick, both of whom finished on a total division score of 20 points. Alston and Alston Alliance, LLC's 11-year-old Warmblood gelding *Cash* earned a trifecta of first, second, and third places. AM Sport Horses South, Inc's eight-year-old Belgian Warmblood gelding (Phin Phin x Cassiopea), Bon Ami, and Warrick produced the 20 point score by receiving one first, a second, and two fourths. 
The penultimate week of competition at the 2019 Winter Equestrian Festival will kick off Wednesday, March 20, with top national hunter, jumper, and equitation competition as well as international competition at the four-star level. 
Photo Credit: Photos © Sportfot, Official Photographer of the Winter Equestrian Festival. These photos may be used only in relation to this press release and must include photo credit.