For Immediate Release
Kate Pettersen and Sabrina Brashares for Jennifer Wood Media, Inc.
February 12, 2021 – Wellington, FL – Hot off his grand prix win on Sunday during the fourth week of the 2021 Winter Equestrian Festival (WEF), Daniel Deusser (GER) jumped back into the winners circle in WEF 5, this time aboard Kiana Van Het Herdershof, owned by Stephex Stables, in the $37,000 Bainbridge 1.45m Classic CSI5* on Friday, February 12, in the International Arena at the Palm Beach International Equestrian Center (PBIEC).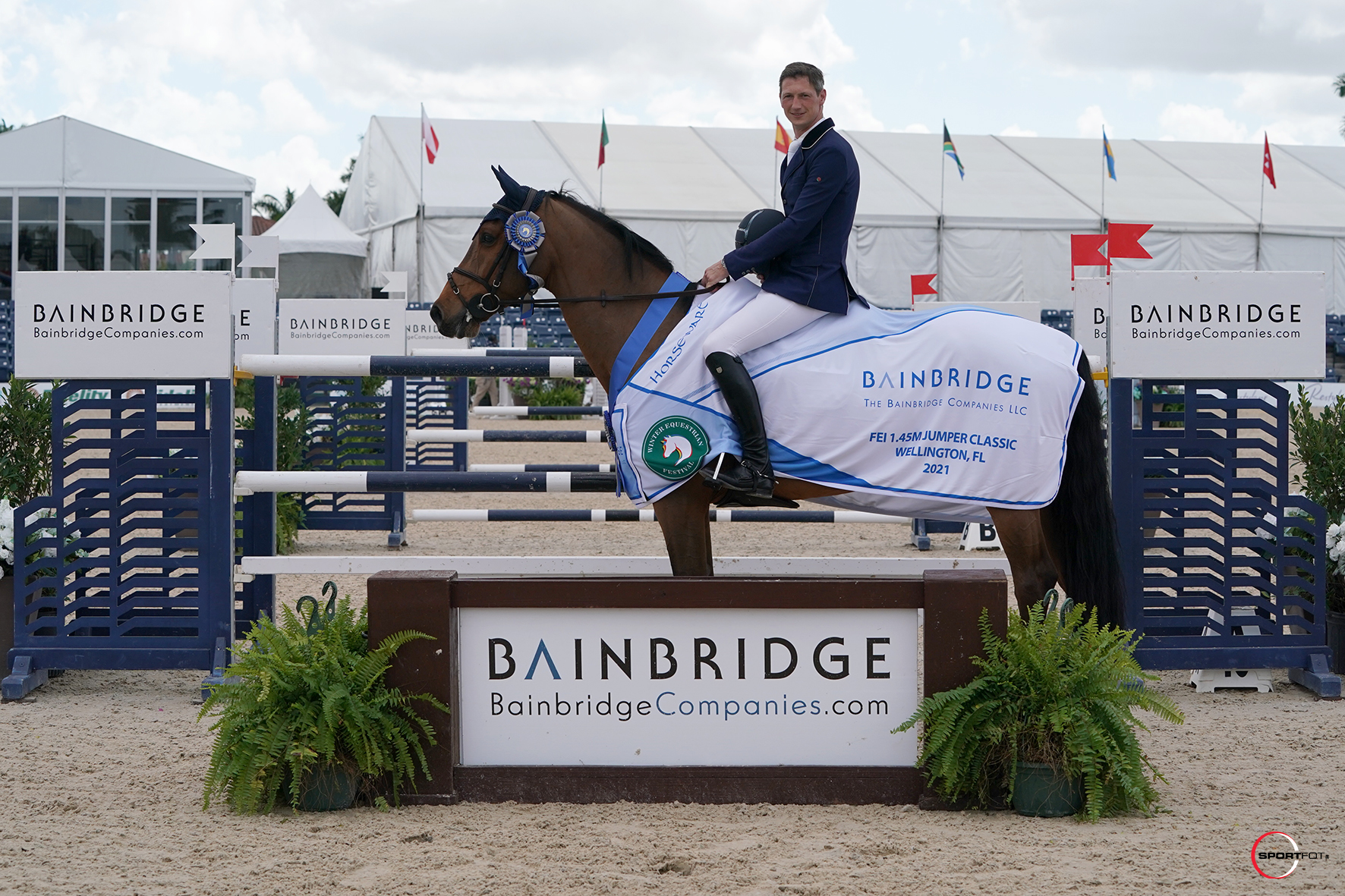 Competition is underway at WEF for the first CSI5* of the winter circuit, sponsored by Douglas Elliman Real Estate, with a concurrent CSI2* running as well, sponsored by Restylane. Up next it's an exciting Saturday night under the lights with the $401,000 Douglas Elliman Real Estate Grand Prix CSI5* in the International Arena followed by an action-packed Sunday lineup with the $73,000 CaptiveOne Advisors 1.50m Classic and the $50,000 Restylane Grand Prix CSI2*.  Feature classes are available both live and on demand using the livestream.
The speed track on Friday set by Kelvin Bywater (GBR) challenged a total of 49 combinations and featured 14 jumping efforts. Deusser and the 11-year-old BWP mare by Toulon x Starlight VD Hemelseschoot gave it a good run, finishing with the fastest time of the day in 59.54 seconds.
"I had two horses and with the first one, the goal was to get a good ribbon," said Deusser. "Kiana Van Het Herdershof is naturally very fast and a little bit crazy. She's already won a few classes like this one, so with her, it was our plan to try to win the class."
Watch their winning round here!
Harrie Smolders (NED) and Une De L'Othian, a 13-year-old Selle Français mare by Conterno Grande x Cento owned by Evergate Stables, LLC, took home a red ribbon in the class, finishing second in 60.81 seconds. Representing Canada, Erynn Ballard piloted Ronja, a 10-year-old Swiss Warmblood mare by Conteur x Ranga owned by Ilan Ferder, to a third-place finish, stopping the timers in 61.86 seconds.
Deusser, who captured his last victory on the grass Derby Field at Equestrian Village aboard Killer Queen VDM, went on to say he thoroughly enjoys the chance to jump in the International Arena.
"It's a very great ring to ride in," he said. "It's big enough, there are really nice fences, the flowers, the decoration; it's a nice feeling to ride in the International Arena."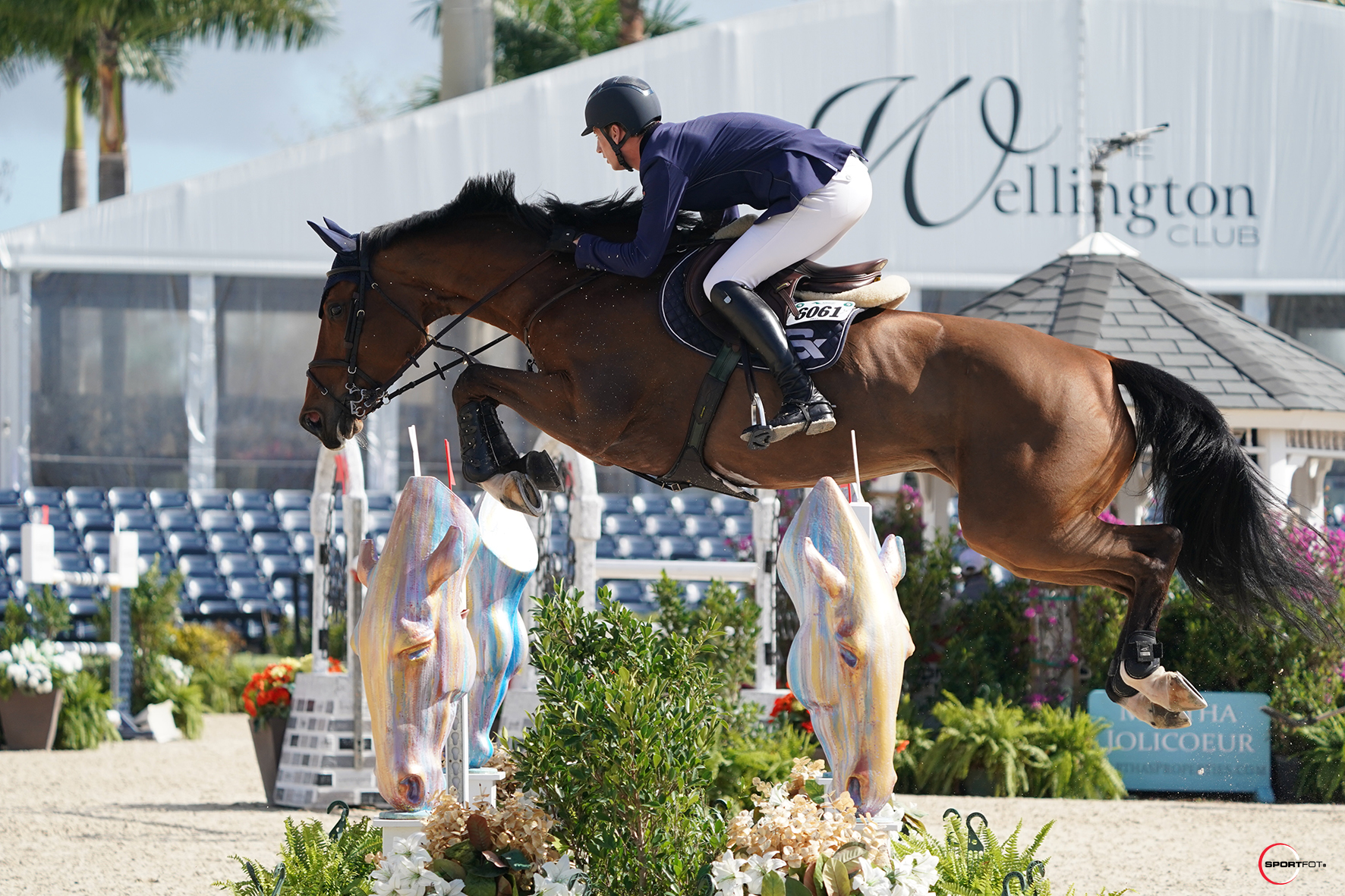 Deusser, currently ranked third in the world, has expressed his excitement to be back at WEF for the first time in four years and considers his competitors some of the best in the world. On Saturday night, he'll jump under the lights in the $401,000 Douglas Elliman Real Estate Grand Prix CSI5*, a class he's circled in the calendar as one he's hoping to win.
"I don't see a big difference in the level of competition here compared to Europe," he said. "We have top international riders here, and the level is exactly the same. I will ride Killer Queen Saturday night. She showed last week that she's in good shape and showed yesterday with a nice round in the WEF. She's jumped under the lights before so I'm quite comfortable about tomorrow."
Final Results: $37,000 Bainbridge 1.45m Classic
1. KIANA VAN HET HERDERSHOF: 2010 BWP mare by Toulon x Starlight VD Hemelseschoot
DANIEL DEUSSER (GER), Stephex Stables: 0/59.54
2. UNE DE L'OTHAIN: 2008 Selle Français by Conterno Grande x Cento
HARRIE SMOLDERS (NED), Evergate Stables, LLC: 0/60.81
3. RONJA: 2011 ZVCH mare by Conteur x Ranga
ERYNN BALLARD (CAN), Ilan Ferder: 0/61.86
4. INDRA VAN DE OUDE HEIHOEF: 2008 Belgian Warmblood mare by Casantos x Action-Breaker
SHANE SWEETNAM (IRL), The Blue Buckle Group: 0/62.43
5. DONJO: 2008 KWPN gelding by Zirocco Blue VDL x Ahorn
HYDE MOFFAT (CAN), Ariel Grange: 0/63.11
6. VICTORIO 5: 2006 Hanoverian stallion by Uccello x Graf Top
ABIGAIL MCARDLE (USA), Victorio Equine Group, LLC: 0/64.43
7. VITAL CHANCE DE LA ROQUE: 2009 Selle Français gelding by Diamant De Semilly x Image Du Chateau II
CONOR SWAIL (IRL), Adeline Hecart and Conor Swail: 0/65.30
8. CORNER POCKET Z: 2012 Zangersheide gelding by Cornet Obolensky x La Belle
ERYNN BALLARD (CAN), The Z Group: 0/65.58
9. VIENNA: 2011 Hanovarian mare by Valentino x Leena J
TIFFANY FOSTER (CAN), Artisan Farms, LLC: 0.65.86
10. CASALLVANO: 2009 Holsteiner gelding by Casall x Silvana\
DANIEL DEUSSER (GER), Camilla Hamann and Philipp Widmayer: 0/67.50
11. ITALY HDH: 2013 KWPN gelding by Cream On Top x Elegance
BERTRAM ALLEN (IRL), Ballywalter Stables: 0/68.39
12. ORAFINA: 2012 KWPN mare by For Fashion x Corofina
KENT FARRINGTON (USA), KENT FARRINGTON, LLC: 0/70.02
Jim Ifko and Un Diamant Des Forets Fly High in the $37,000 Restylane 1.45m Qualifier CSI2*
On Friday afternoon, Jim Ifko (CAN) piloted Un Diamant Des Forets, owned by Eventyre Farms, to a fast and fault-free jump-off round to capture the $37,000 Restylane 1.45m Qualifier CSI2*. Ifko and the 13-year-old Selle Français stallion by Diamant De Semilly x Grace Des Forets, flew across the finish line in 33.74 seconds.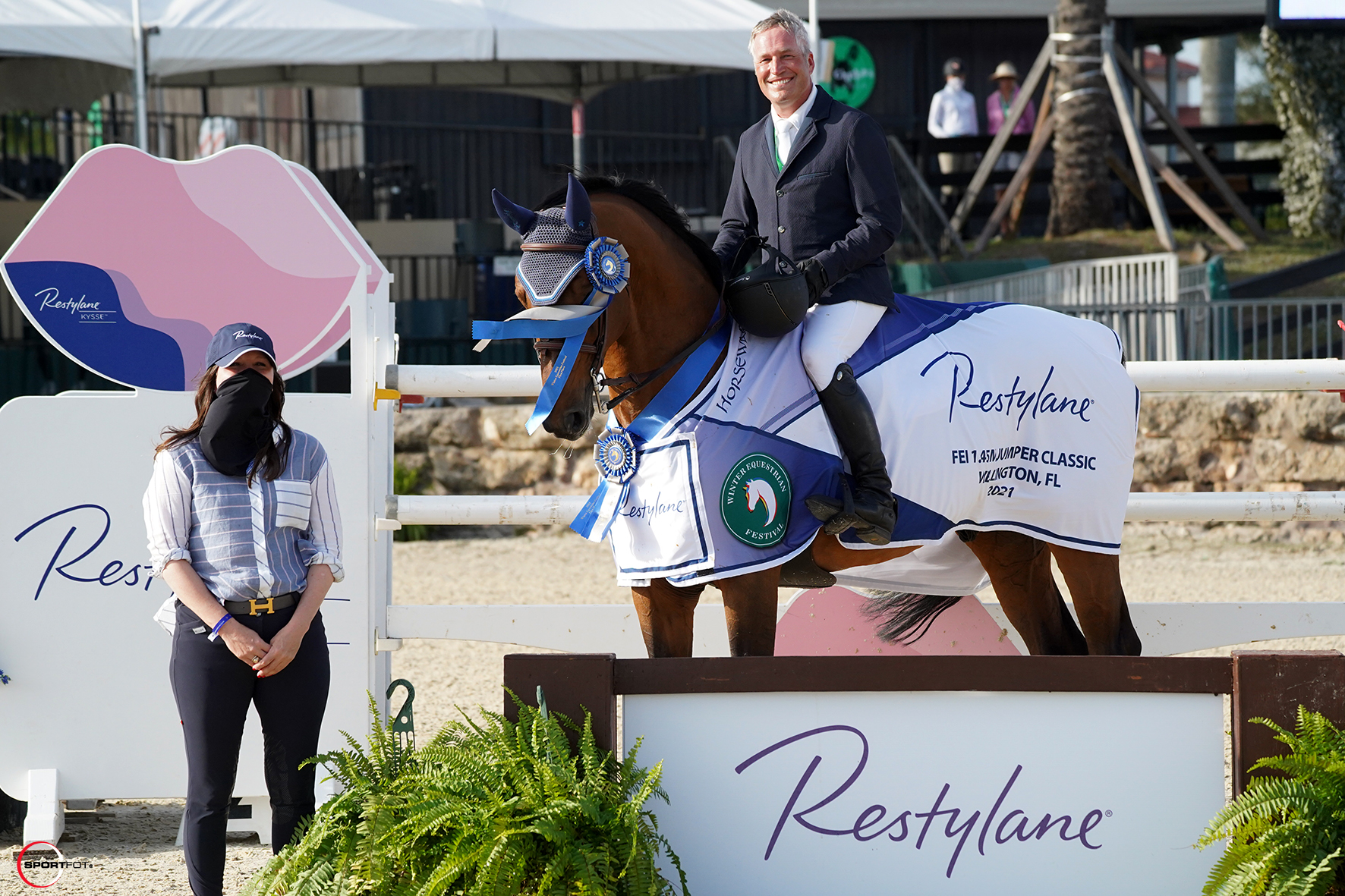 "When you have that many [10] in the jump-off in a class like this, you know that you have to be fast if you want to have a chance," said Ifko. "He's so fantastic for the jump-off, especially when it comes to making shorter turns and being able to jump something on an angle. He's so competitive that you can come in on an incredibly sharp angle, and he has no problem. He never doubts it or questions what you're doing. The bigger the challenge, the better it is for him. We had a good plan and fortunately we were able to execute it and it turned out great."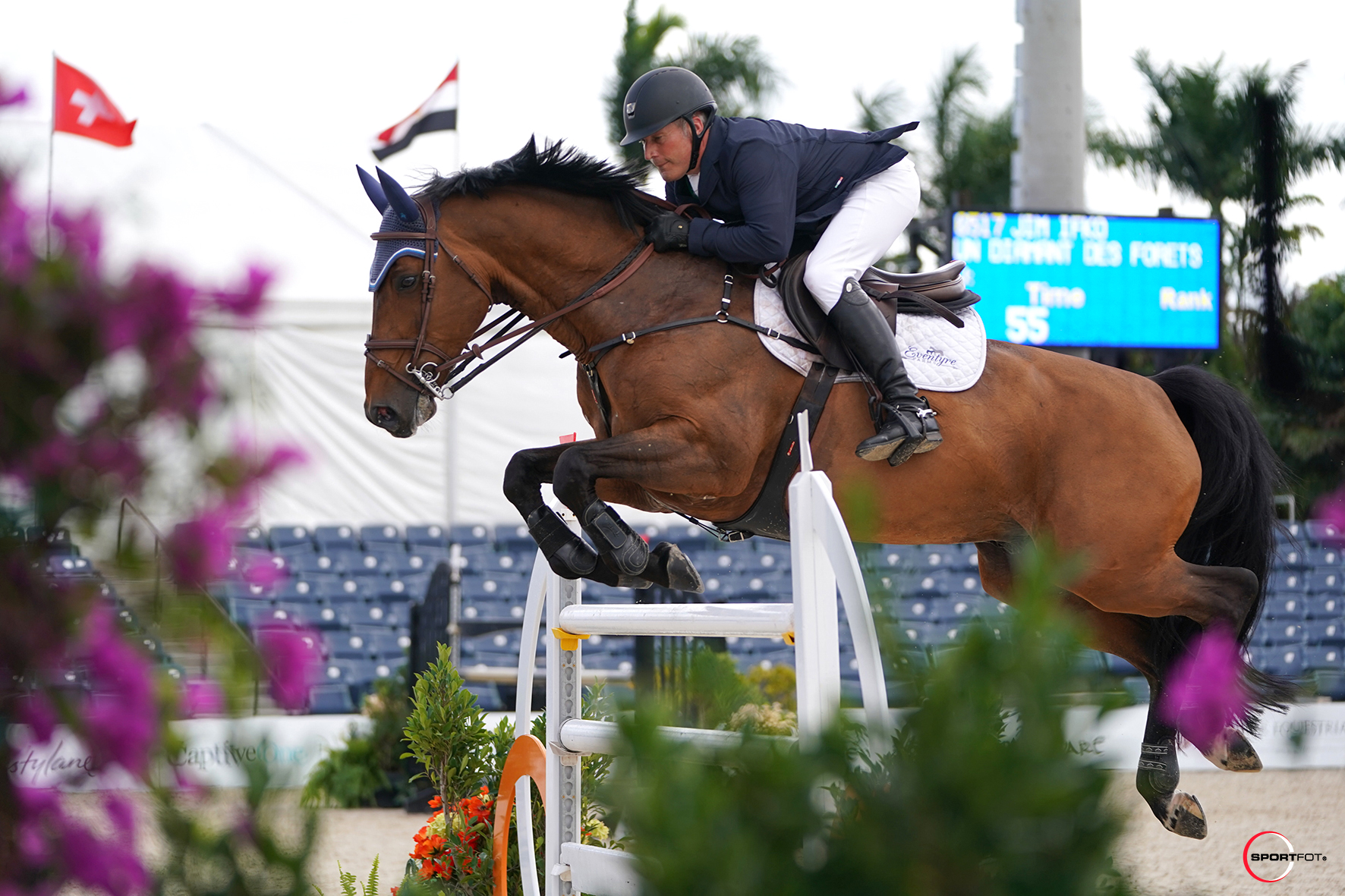 Ifko has been fortunate enough to have the ride on the stallion for seven years and knows him quite well.
"The thing that I've always loved about him since day one is his competitiveness," he said. "He's always been such a fighter and a strong competitor. In the beginning, the only question was whether or not he had enough scope for the bigger classes, but as we developed him through the years, he continued to meet each challenge and stepped up nicely. He's amazing, and it has been a fantastic journey so far."
Watch the winning jump-off here!
They're certainly off to a hot start as the pair is showing for the first time this week after a lengthy break due to the pandemic. With potential travel restrictions traveling from Canada making their plans uncertain, Ifko and his team arrived in Wellington just a few short weeks ago and returned to the ring for WEF 5.
"I think both me and 'Monty' were itching to get back in the show ring," said Ifko. "We haven't been to a competition since the spring in Langley. It's so fantastic that we're able to do this back here in a safe way and with fantastic competition."
With 10 combinations qualifying for the jump-off, there wasn't much room for error as the top six combinations finished fault-free. Carly Anthony (USA) and Hera De Landette II, owned by Portfolio Horses, LLC, finished just off the leading pace in a time of 34.34 seconds. Fractions behind them was Lorcan Gallagher (IRL) and Storiall Blue, owned by Heathman Farm, LLC, who finished third, stopping the clock at 34.44 seconds.
Debbie Bass and Carat Earn the Tricolor Ribbon in the 2'9" WEF Adult Amateur Hunter Division
On Friday, 16 horse-and-rider combinations competed for the championship title in the WEF 2'9" Adult Amateur Hunters in Ring 12. In the end, Debbie Bass rode her own Carat to top honors in the division after earning two firsts and a second-place ribbon.
Gates Mills, OH, resident Bass has been partnered with Carat for the past two years and trains with Christopher Payne and David Belford at New Hope LLC. Bass originally purchased Carat as her practice horse, but the gelding proved to be a great competitor as well.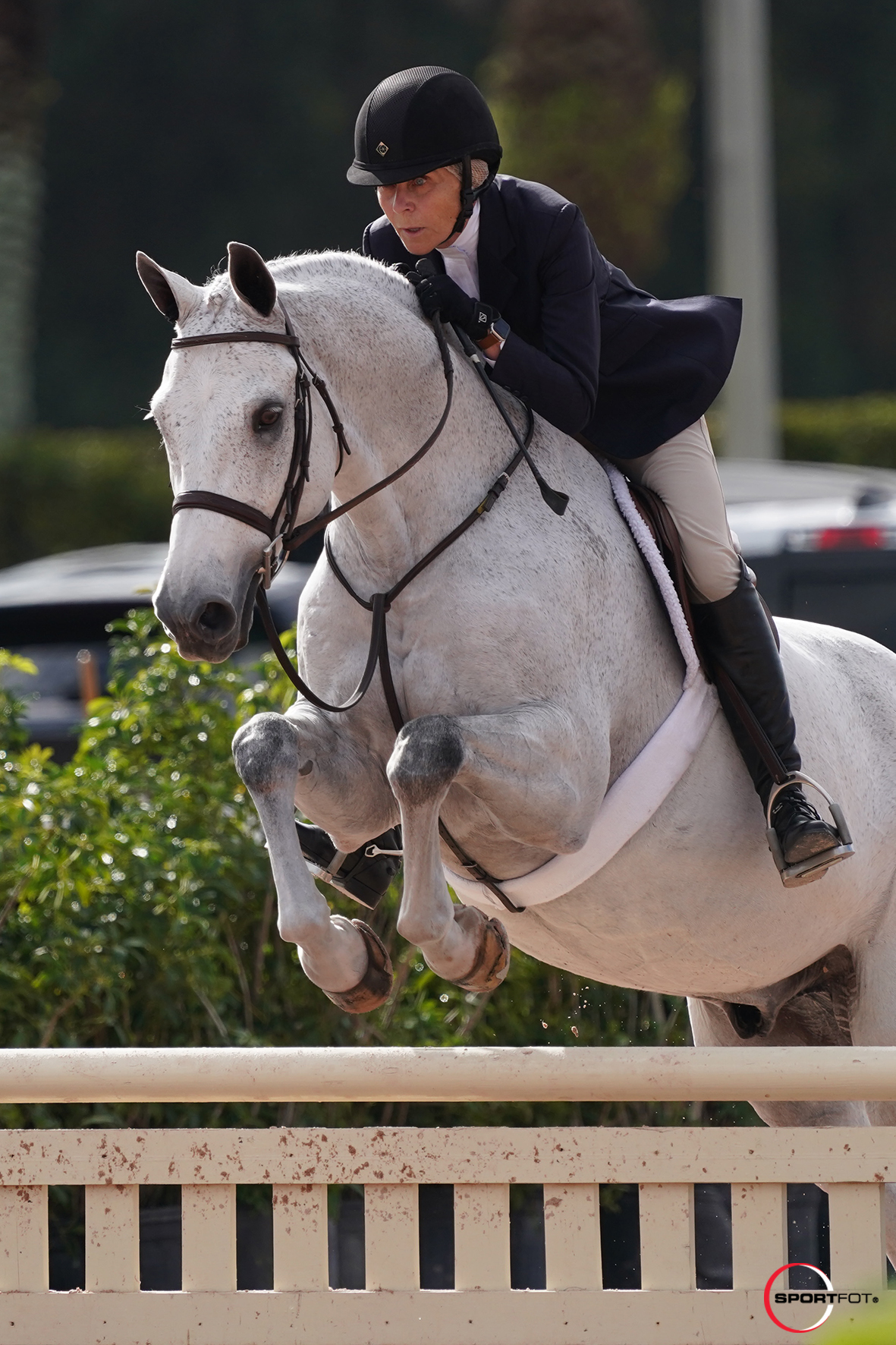 "He is great in the 2'9" Adult Amateurs and the 3' Adult Amateurs," said Bass of the 14-year-old Warmblood gelding. "We even went to Capital Challenge, and he was so good and got great scores. He was a diamond in the rough, which are always the best!"
The duo was definitely one to watch in this division, earning high scores on the first day of competition to take home first and second place over fences. The pair also won the under saddle to put them at the top of the division.
"Yesterday was stellar, and we got scores of 89 and 87.5," commented Bass. "Today I was not as on it and even jumped the wrong first jump, but that's being an amateur and always having to work on consistency."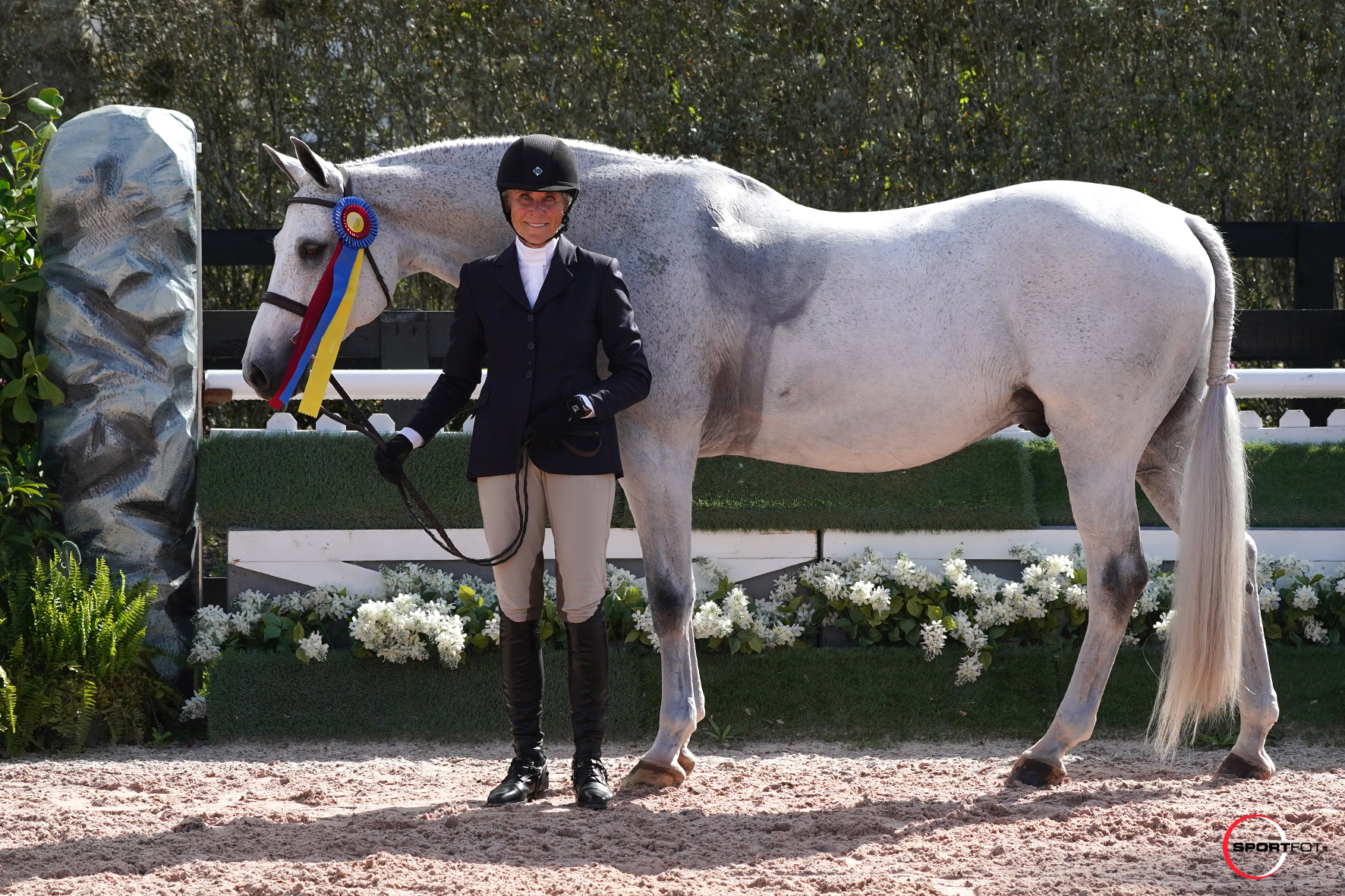 Bass and Carat aim to move back up to the 3' Adult Amateur Hunter division at some point this year. For now, the pair is happy to be back showing at WEF and hopes to continue their success in the 2'9" Adult Amateur Hunters this season.
"One of my favorite things about showing at WEF is the quality of the competition. It definitely makes you up your game," explained Bass.
Janice Cannizzo and her own Lozada received reserve champion in the WEF 2'9" Adult Amateur Hunters. Cannizzo, of Lake Worth, FL, rode Lozada to first, third, fourth, and sixth place finishes.
Saturday's competition will feature the $401,000 Douglas Elliman Real Estate Grand Prix CSI5* under the lights in the International Arena. The Small Junior Hunter 3'6" 16-17 will also take place in the Rost Arena.