For Immediate Release
Emily Riden and Summer Grace for Jennifer Wood Media, Inc.
Wellington, FL – March 1, 2019 – For the second time in a row, David Oberkircher (USA) rode Upper to an Under 25 grand prix victory at the Winter Equestrian Festival (WEF) in Wellington, FL, this time topping the $36,000 Hermès Under 25 Semi-Final Grand Prix CSI U25 on Friday, March 1, at the Palm Beach International Equestrian Center (PBIEC). Earlier in the day, another repeat WEF winner, Kristen Vanderveen (USA), topped the $36,000 Douglas Elliman Real Estate 1.45m Classic CSIO4* riding Bull Run's Divine Fortune.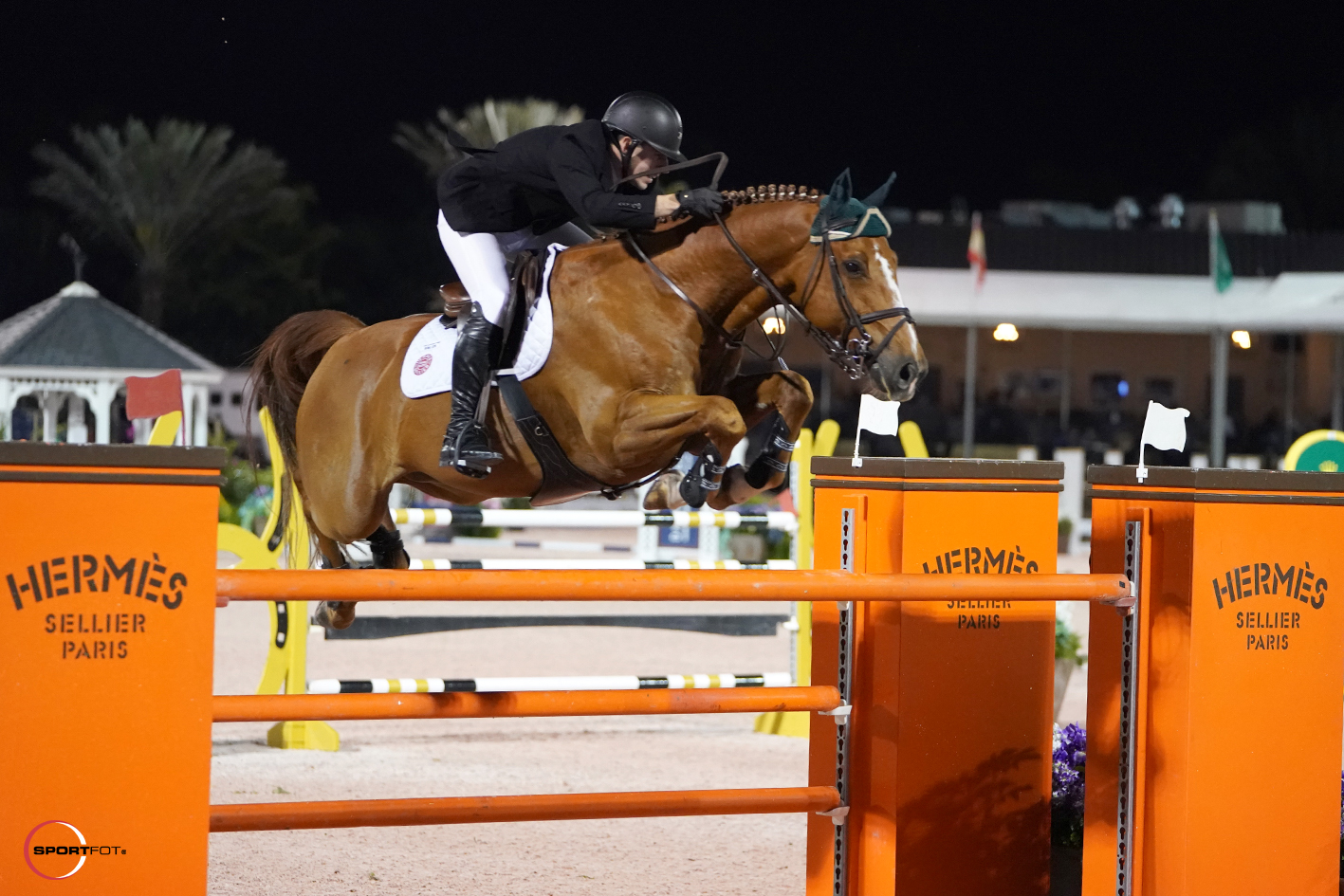 The remainder of the eighth week of WEF, sponsored by Lugano Diamonds, will feature the $150,000 Nations Cup CSIO4* on Saturday, March 2, beginning at 7 p.m., and the $209,000 Grand Prix CSIO4* presented by Lugano Diamonds on Sunday, March 3, at 1 p.m.
David Oberkircher and Upper topped a field of 46 entries to win the $36,000 Hermès Under 25 Semi-Final Grand Prix CSI U25, marking the pair's second consecutive Hermès Under 25 Grand Prix Series victory after having also won the $25,000 Hermès Under 25 Grand Prix during week six of WEF.
On their way to the win, Oberkircher and the 11-year-old Selle Francais gelding owned by Southfields Farm, LLC, were one of six entries to qualify to jump off over the Steve Stephens and Nick Granat-designed short course. As the second to return, Oberkircher set a time to beat of 35.10 seconds that would prove untouchable through the remainder of the class. Coming the closest for second place was Ireland's Daniel Coyle, who stopped the clock in 36.19 seconds aboard his own CHS Krooze. Finishing in third with a time of 36.22 seconds was Ailish Cunniffe (USA) riding Baloucento 2, owned by Whipstick Farm Ltd.
"It's been amazing!" said 23-year-old Oberkircher. "I did the series last year. I had some good results, but I was just looking to improve this year and maybe jump a few more clear rounds. To come out on top two weeks in a row has been amazing. My horse has been feeling great and jumping great, so I'm thrilled.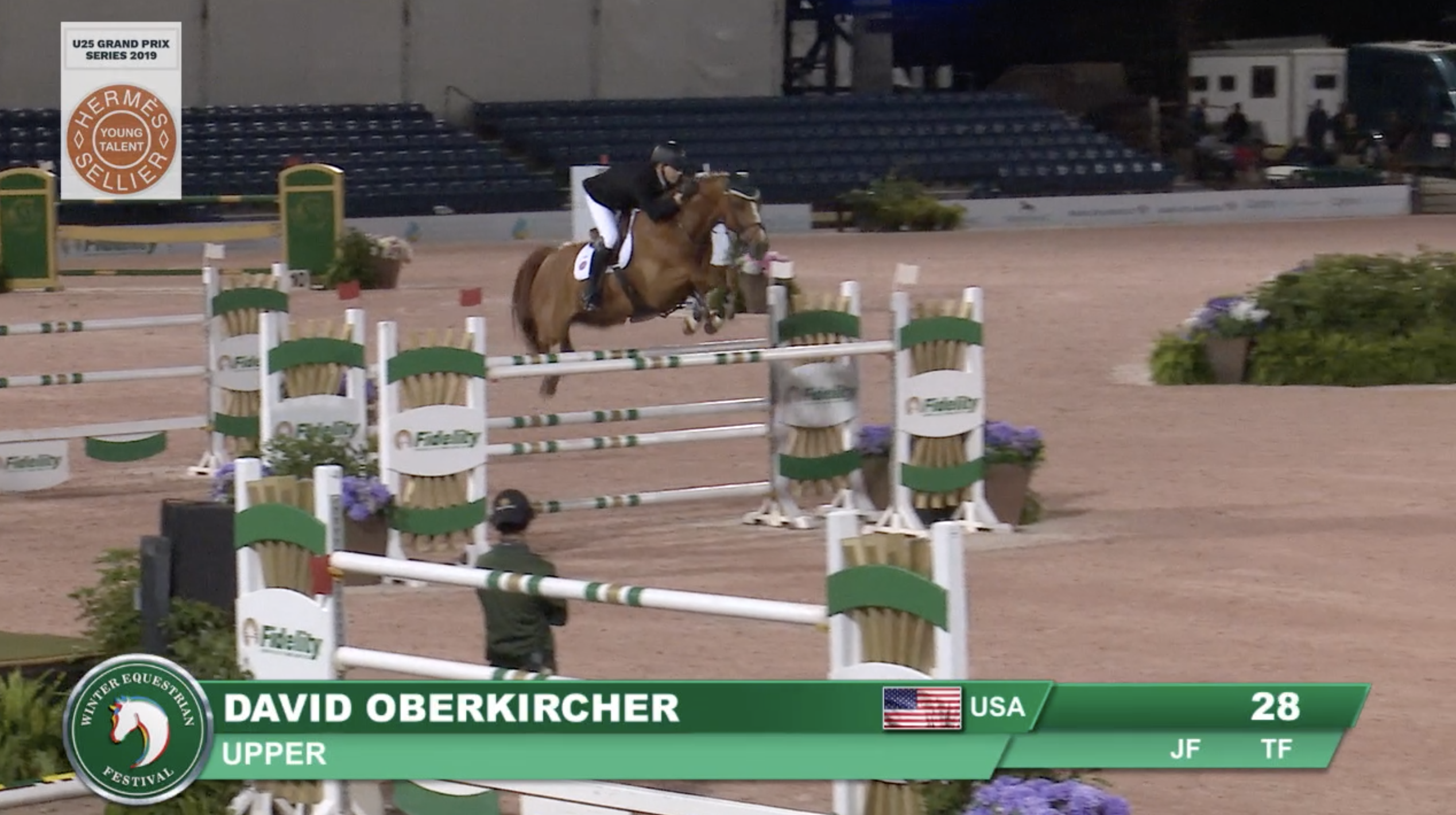 Click here to watch their winning jump-off!
"I have a slower moving horse, but he's got a massive stride, so I just basically had to do the least amount of strides possible everywhere [in the jump off]," said Oberkircher. "I ended up doing six home where most did seven, so that's probably where I got them. But it was very close!"
With only a second separating Oberkircher and Coyle, Coyle was happy with his runner-up finish aboard his relatively new mount, CHS Krooze.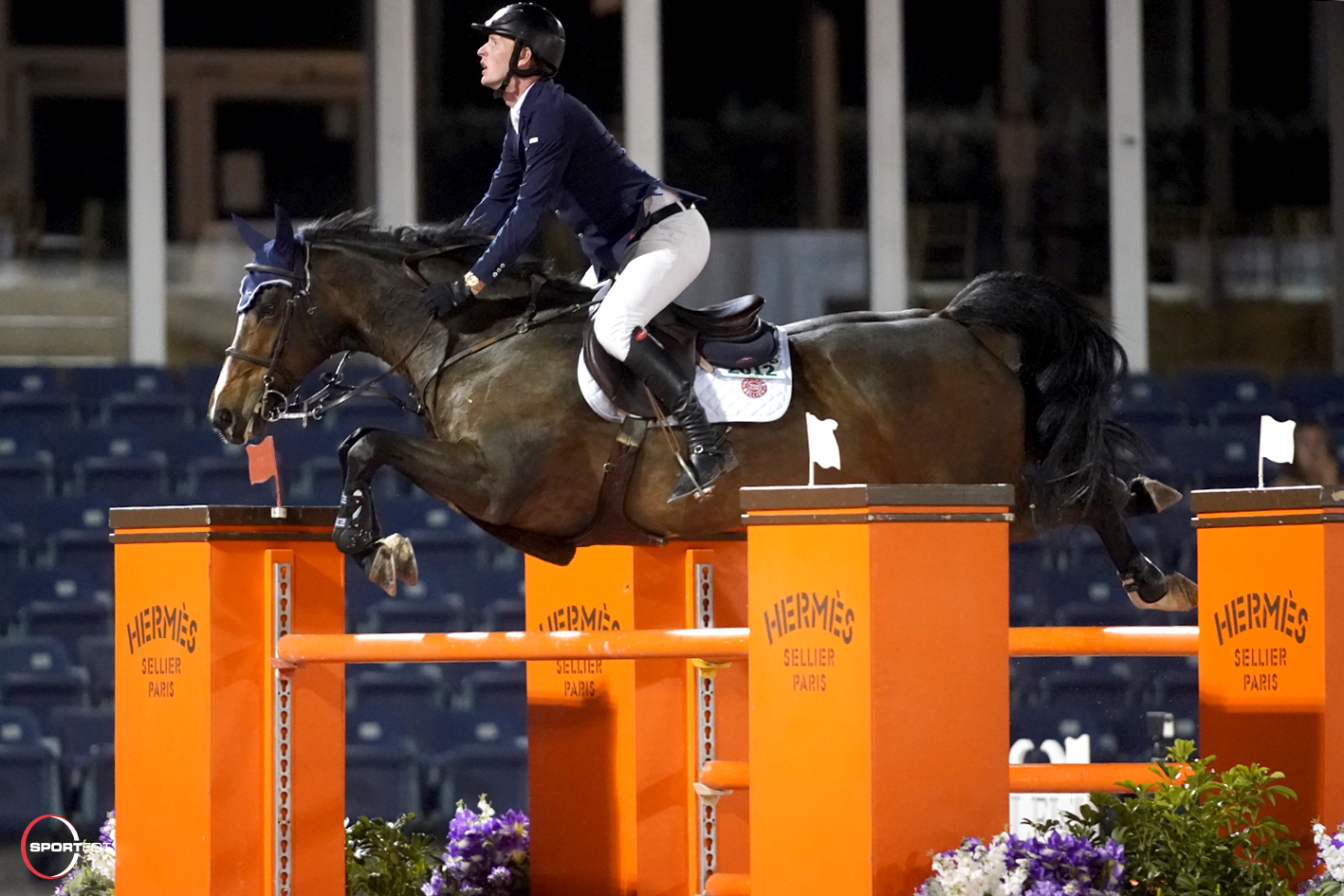 "These guys were brilliant," said Coyle of Oberkircher and Cunniffe. "The horse I have tonight is one of my own horses; it's a little new to me. I walked the course and thought 'This is big,' so I'm very happy. This is the first big step for [CHS Krooze], and she really came through so I'm excited for her.
"She's not everybody's cup of tea," continued Coyle in speaking of the nine-year-old Irish Sport Horse mare. "She's just special in lots of ways – like if a horse canters past her or somebody spooks her or even tractors or simple things. For me, when horses jump as good as she does though, the rest you put up with. When I've put pressure on to ask her to do a little more, she's always done it so much better, which is always the sign of a good horse. Like I say, she's not the simplest, but the jump is there. I'll just take my time until I have something in the end!"
Cunniffe, who led the Hermès Under 25 Grand Prix Series standings coming into the night, was also happy with her Friday night performance aboard her partner of two years, Baloucento 2.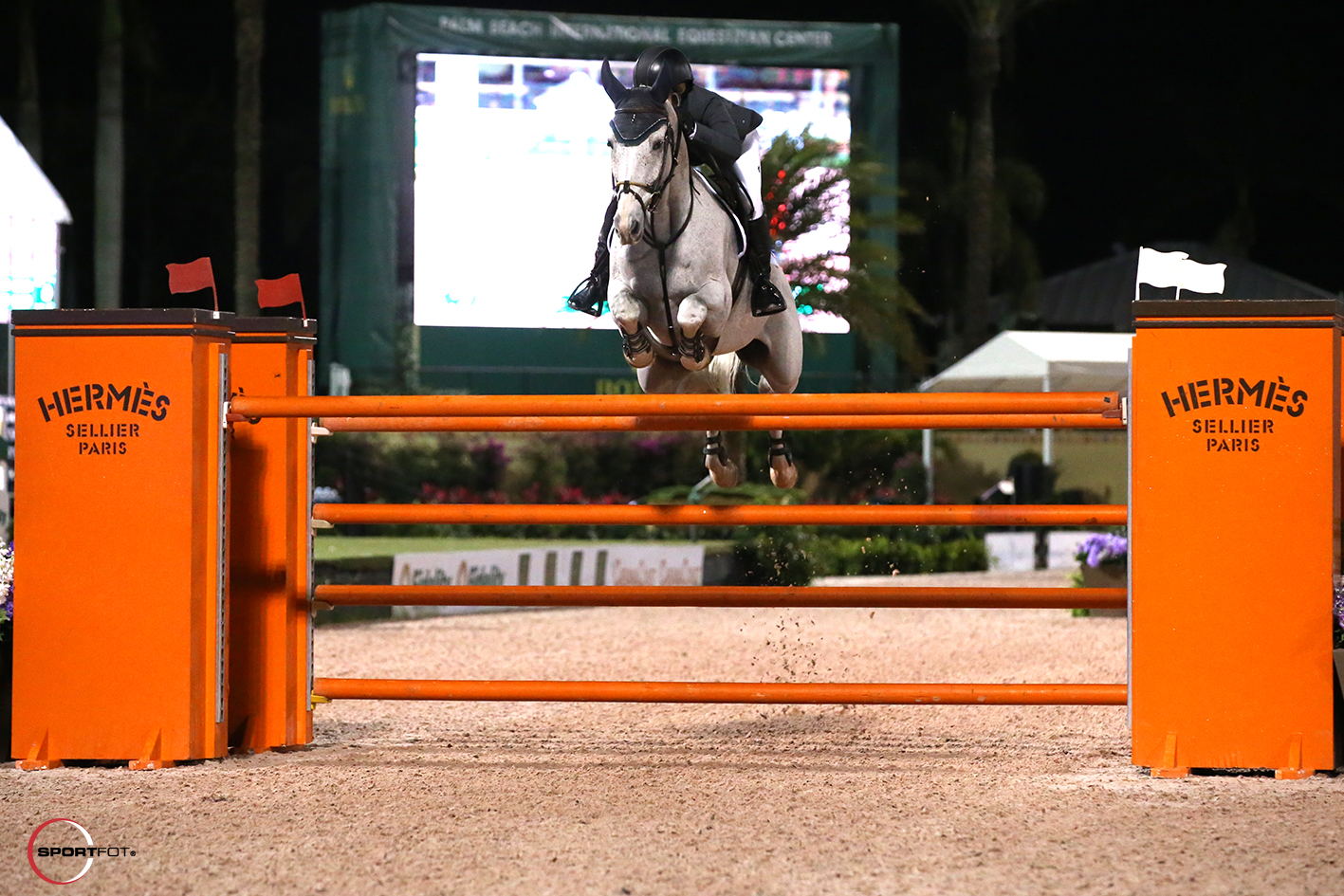 "I felt a little pressure coming into tonight for sure, but my horse jumped great," said Cunniffe, 21. "He loves big atmospheres; he's great on the field, great under the lights. He was really consistent last year, and he's been even more consistent this year. I went for it in the jump-off, but I was a little wide in places; these boys got me beat!"
All three riders will look to contest the $50,000 Hermès Under 25 Grand Prix Series Final during WEF Week 11. For Oberkircher, who purchased Upper a year and a half ago, he will also be looking to step up into more CSI 2* and CSI 3* competition, while also juggling a full-time job as a financial analyst with Freddie Mack.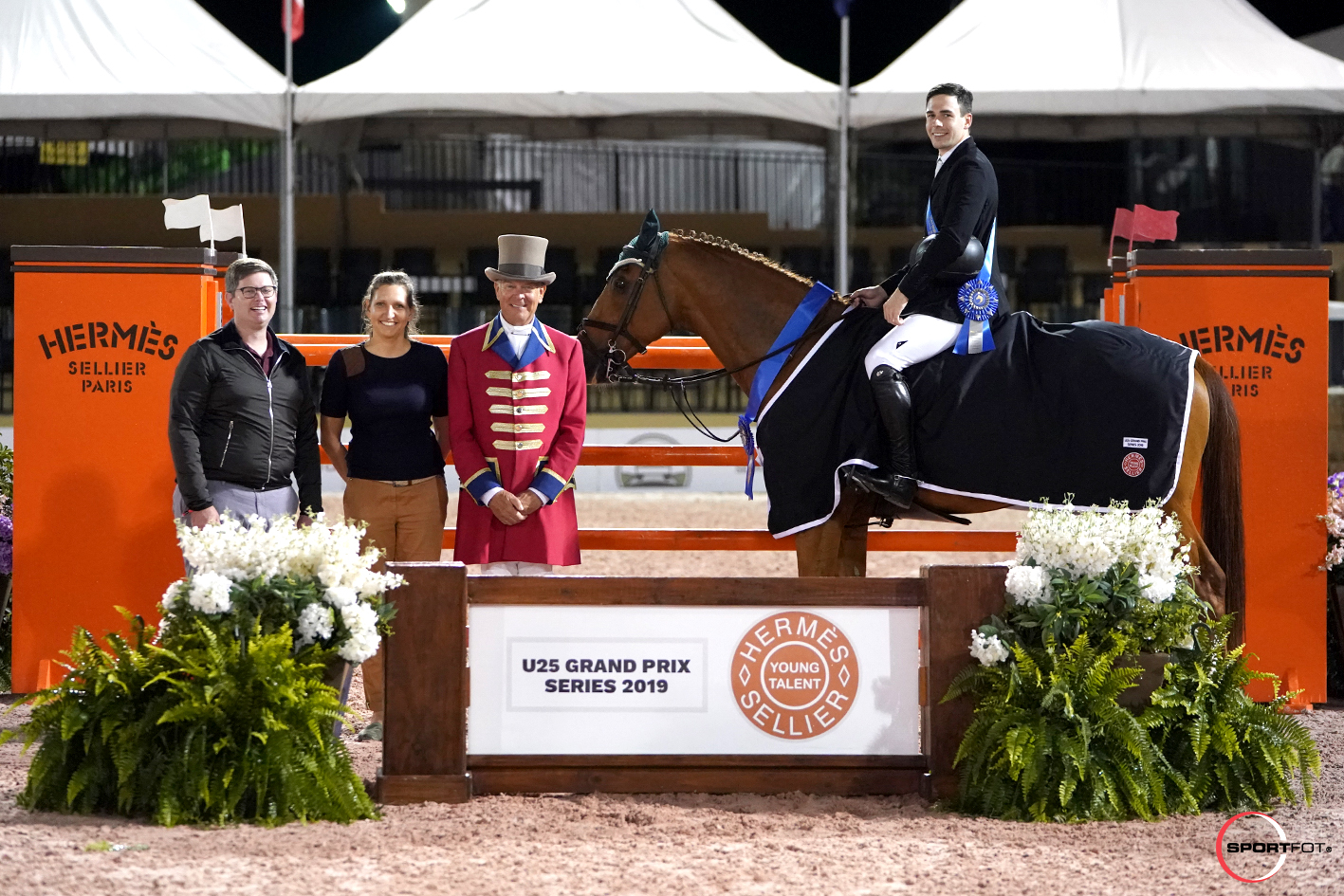 "He's a very reliable horse," said Oberkircher of Upper. "He's so brave and solid. I can point him at any jump, any distance, and he's going to go and try his hardest. As an amateur like myself, it's a good horse to sit on."
Final Results: $36,000 Hermès U25 Semi-Final Grand Prix
1 UPPER: 2008 Selle Francais gelding by Diamant de Semilly x Nadir de San Patrignano
DAVID OBERKIRCHER (USA), Southfields Farm LLC: 0/0/35.10
2 CHS KROOZE: 2010 Irish Sport Horse mare by Kroongraaf
DANIEL COYLE (IRL), Daniel Coyle: 0/0/36.19
3 BALOUCENTO 2: 2005 Oldenburg gelding by Baloubet du Rouet x Cento
AILISH CUNNIFFE (USA), Whipstick Farm Ltd: 0/0/36.22
4 H5 QUANTADOR 3: 2008 Westphalian gelding by Quinta Real x Cornet Obolensky
CARLOS HANK GUERREIRO (MEX), H5 Stables: 0/4/34.48
5 THALIE D'ANJOU: 2007 Selle Francais mare by Airborne Montecillo x Qredo de Paulstra
DAISY FARISH (USA), Jose Pablo Salgado: 0/4/35.56
6 CAROLA BH: 2007 KWPN mare by Dutch Capitol x Goodtimes
SOPHIE GOCHMAN (USA), Gochman Sport Horses LLC: 0/4/35.99
7 ZARTOES: 2004 KWPN mare by Lupicor x Ferro
JESSICA FREYE (GER), Santana Stables LLC: 1/75.20
8 AZILIS DU MESNIL: 2010 Selle Francais mare by Tinka's Boy x Jarnac
SYDNEY SHULMAN (ISR), Jill Shulman: 1/76.33
9 BUKATO: 2006 KWPN by Ukato x Jasper
JACOB POPE (USA), Treesdale Farms: 1/76.95
10 DYNAMO: 2003 Belgian Warmblood gelding by Skippy II x Lys de Darmen
CLAIRE SCHREDER (USA), Ceahorse LLC: 4/70.97
11 DOLLAR GIRL 46: 2009 Hanoverian mare by Dollar du Murier x Escudo I
JESSICA MENDOZA (GBR), Jessica Mendoza: 4/71.23
12 EDISON: 2004 BWP gelding by Winner x Gentleman
SAMANTHA WIGHT (USA), Melissa Wight: 4/73.16
Kristen Vanderveen and Bull Run's Divine Fortune Speed to $36,000 Douglas Elliman Real Estate 1.45m Classic CSIO4* Victory
It was a race to the finish for 43 competitors in the $36,000 Douglas Elliman Real Estate 1.45m Classic CSIO4* on Friday afternoon over a course designed by Steve Stephens and Nick Granat (USA). There were eight clear rounds in a speed format, and the fastest of those was Kristen Vanderveen (USA) on Bull Run's Divine Fortune, who finished in a time of 62.43 seconds for victory.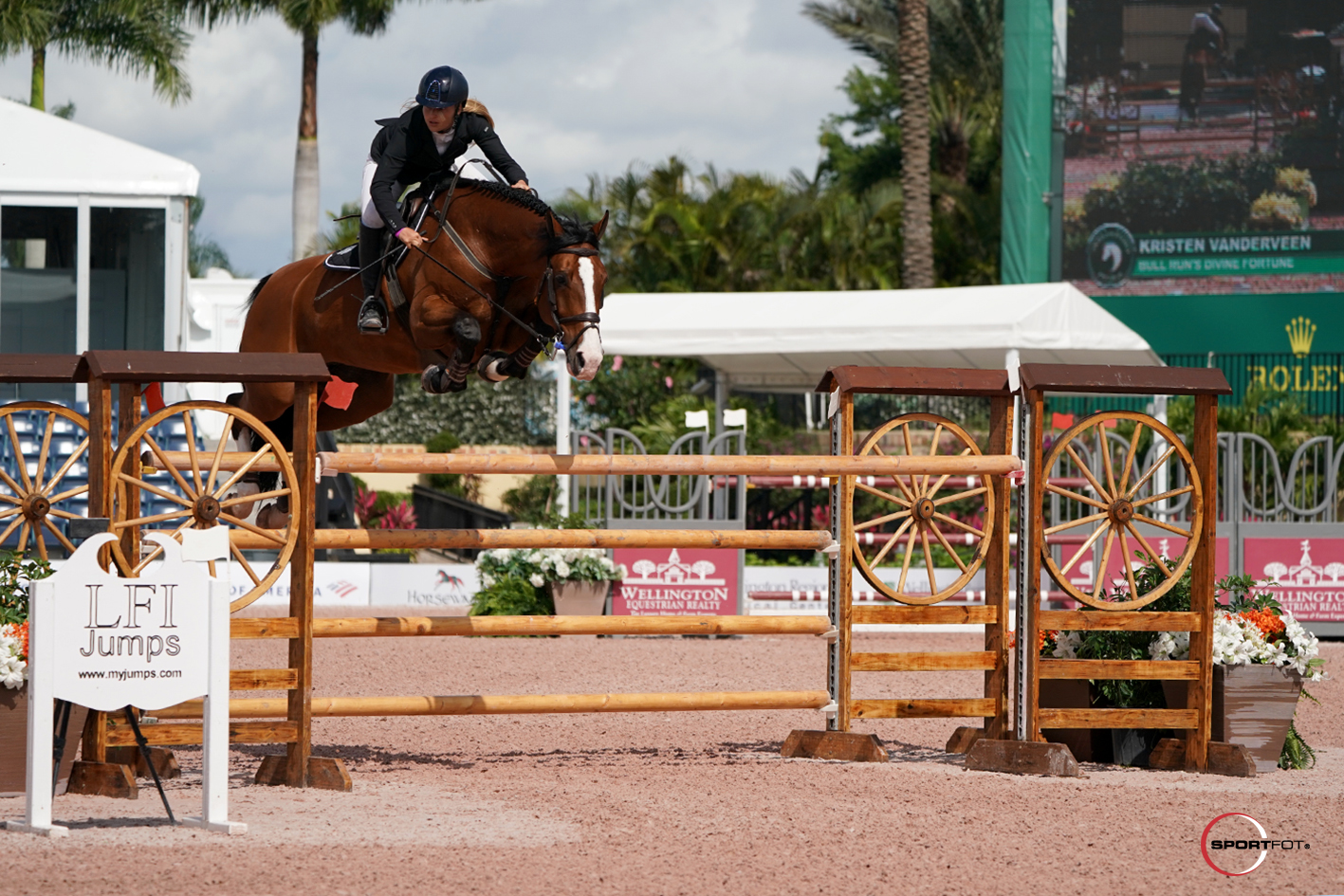 It was a sweep for the ladies in the top five spots in the class. Zoe Conter (BEL) and Stephex Stables's Dolitaire Chavannaise were second in 63.12 seconds, while Eve Jobs (USA) rode her own Limbridge to third in 64.45 seconds. Lauren Hough (USA) and her own Joblesse were fourth in 64.94 seconds, and Petronella Andersson (SWE) rounded out the top five with Stephex Stables's Bacardi 188 in a time of 65.11 seconds.
This was the sixth FEI ranking class win at the 2019 WEF for Vanderveen, which she has accomplished on four different horses. These classes mean a lot for the 29-year-old rider.
"I find it really important to have a good speed horse like her to keep you consistently in the points so that we can even get into the shows we want to go to, to give us the opportunity to jump the big grand prix," said Vanderveen, who is currently ranked 73rd in the world.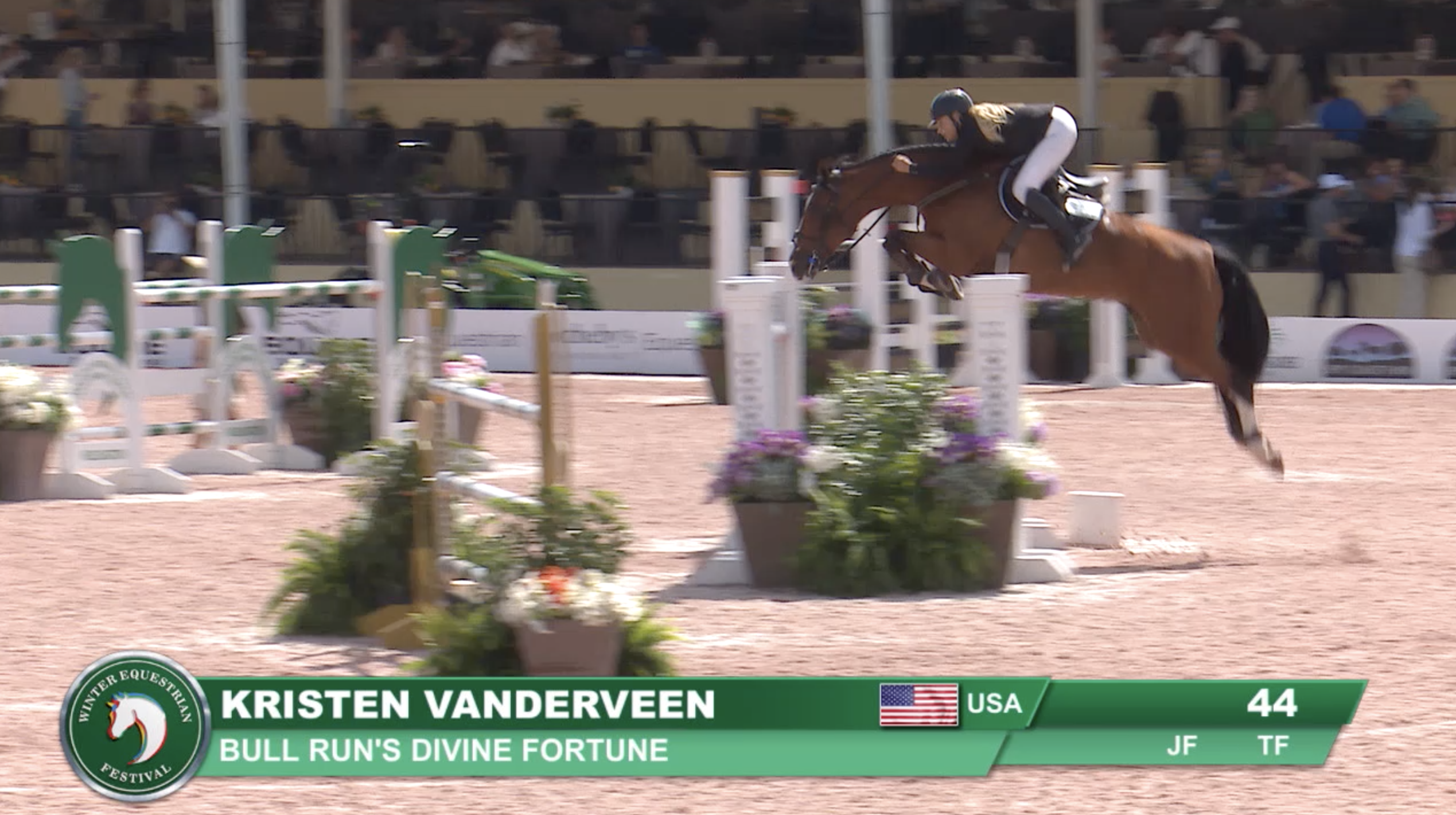 Click to watch their winning round!
Vanderveen said of the 10-year-old KWPN mare by Padinus x Caruso, "She's such a fighter. She's the best horse to have in those speed classes; she's always going to give one hundred percent. You never wonder if she's coming out not ready to go. She's ready to go every time. For me, she's a brilliant 1.45m speed horse. That's her job on my string. You can bring her anywhere."
But while she turns it on in the show ring, "Fortuna" is "relaxed and like a school horse" at home.
"She's a bit on the pudgy side and everyone makes fun of her because she looks like a fat pony and she acts like a fat pony," Vanderveen described. "All the kids ride her during the week. She's very simple, and we enjoy her. She doesn't take too much high-tech training. She's always had that mindset.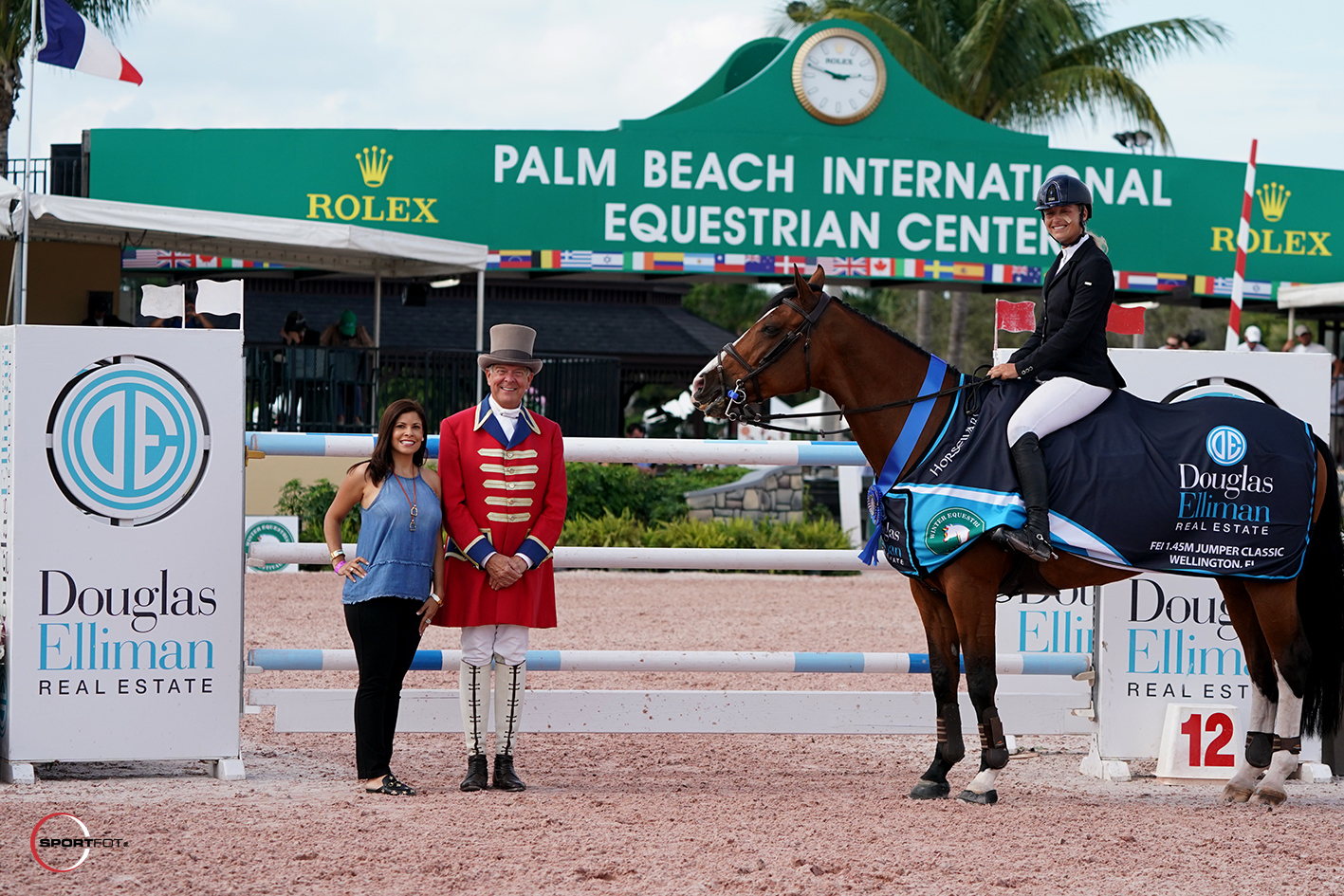 "An amateur had her before me," she continued. "She's one of those special types of horses that can handle an amateur ride and when you get to have a professional ride, she thrives and can do some big things. But it's nice to know I could make a mistake trying to win the class and she'd never hold a grudge against me. She'd just try again the next time."
Final Results: $36,000 Douglas Elliman Real Estate 1.45m Classic CSIO4*
1 BULL RUN'S DIVINE FORTUNE: 2009 KWPN mare by Padinus x Caruso
KRISTEN VANDERVEEN (USA), Bull Run Jumpers Six LLC: 0/62.43
2 DOLITAIRE CHAVANNAISE: 2009 SBS mare by Cicero Z x Voltaire
ZOE CONTER (BEL), Stephex Stables: 0/63.12
3 LIMBRIDGE: 2009 Holsteiner stallion by Limbus x Cambridge
EVE JOBS (USA), Eve Jobs: 0/64.45
4 JOBLESSE: 2009 BWP mare by Clinton I x Wanderbursch II
LAUREN HOUGH (USA), Lauren Hough: 0/64.94
5 BACARDI 188: 2006 KWPN gelding by Andiamo x No Limit
PETRONELLA ANDERSSON (SWE), Stephex Stables: 0/65.11
6 LORD PIZARRO: 2010 Hanoverian gelding by Lord Pezi x Stakkato
ENRIQUE GONZALEZ (MEX), Enrique Gonzalez: 0/65.54
7 COSA NOSTRA: 2010 Oldenburg mare by Conthargos x Quintender
ALBERTO MICHAN (ISR), Daniel Michan: 0/66.48
8 KAPRICE VAN'T ROOSAKKER: 2010 BWP mare by Echo van't Spieveld x Carthago
KENT FARRINGTON (USA), Tanma Corp. & Kent Farrington: 0/70.95
9 CROWN 5: 2005 Holsteiner gelding by Cassini I x Lord
GEORGINA BLOOMBERG (USA), Gotham Enterprizes LLC: 1/72.16
10 QUITO 36: 2005 Westphalian gelding by Quidam's Rubin x Weinberg
ISABEL SANCHEZ (DOM), Isabel Sanchez: 1/72.56
11 FREESTYLE DE MUZE: 2005 Belgian Warmblood gelding by Lord Z x Cento
RICHIE MOLONEY (IRL), Equinimity LLC: 1/74.23
12 CHELA LS: 2004 La Silla mare by Chapultepec LC x Tlaloc La Silla
ASHLEE BOND (ISR), Little Valley Farms: 2/77.81
Low Adult Amateur Hunter Section A Championship Goes to Joan Ehrhart and Coachella
After seeing a total of 30 horse-and-rider combinations navigate the course in the Rost Arena at the Palm Beach International Equestrian Center, judges ultimately awarded both over fences first place ribbons to Joan Ehrhart of Wellington, FL, and Coachella. The two victories, along with another second place, was enough to secure the pair the champion ribbon for the Low Adult Amateur Hunter Section A division during Week 8 of the 2019 Winter Equestrian Festival.
Ehrhart rode the 17-year-old Warmblood gelding for the ownership of Sloan Hopson and trains with her daughter, Jane Ehrhart.
"I had an injury that I was coming back from and Jane leased me a horse and just took me on as a customer," she explained. "We keep it very professional, but she is the best trainer I've ever had because she is a very good teacher."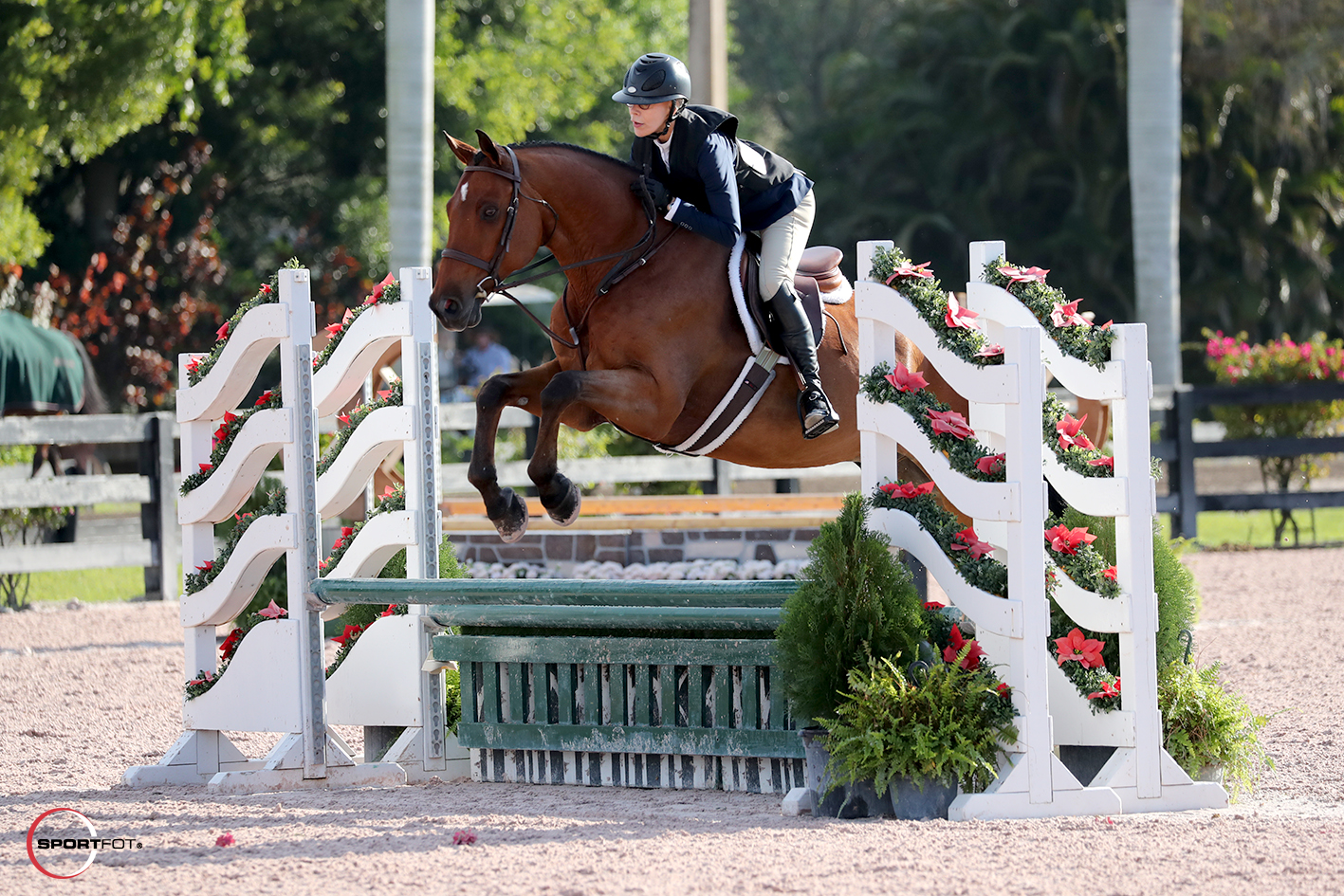 According to Ehrhart, she and Coachella have only been partnered since December of 2018, but the gelding has been vital in her transition into the Low Adult Amateur Hunter division. "He's an amazing jumper and he has such a long stride that the distances come up easily even in the longer lines. Last year I did the 2'6" USHJA [division], but it was time to move up and he has been such an important part of that."
"I'm so happy to have won in such a large division," Ehrhart added. "The adrenaline is rushing but maybe by Sunday I'll calm down!"
Kathryn Haeffner and her own five-year-old Zangersheide mare, Creme De La Crème, completed the division with a first and two seconds for the reserve champion title.
The 2019 Winter Equestrian Festival will resume competition on Saturday, March 2, with the day's highlights including the $50,000 CaptiveOne Advisors 1.50m Grand Prix and the $150,000 Nations Cup.