For Immediate Release
Lindsay Brock and Sabrina Brashares for Jennifer Wood Media, Inc.
Wellington, FL – March 14, 2020 – Ireland's Darragh Kenny scored a victory in the $137,000 Horseware Ireland Grand Prix CSI3* on Saturday, March 14, to conclude a banner season at the Winter Equestrian Festival (WEF) in Wellington, FL.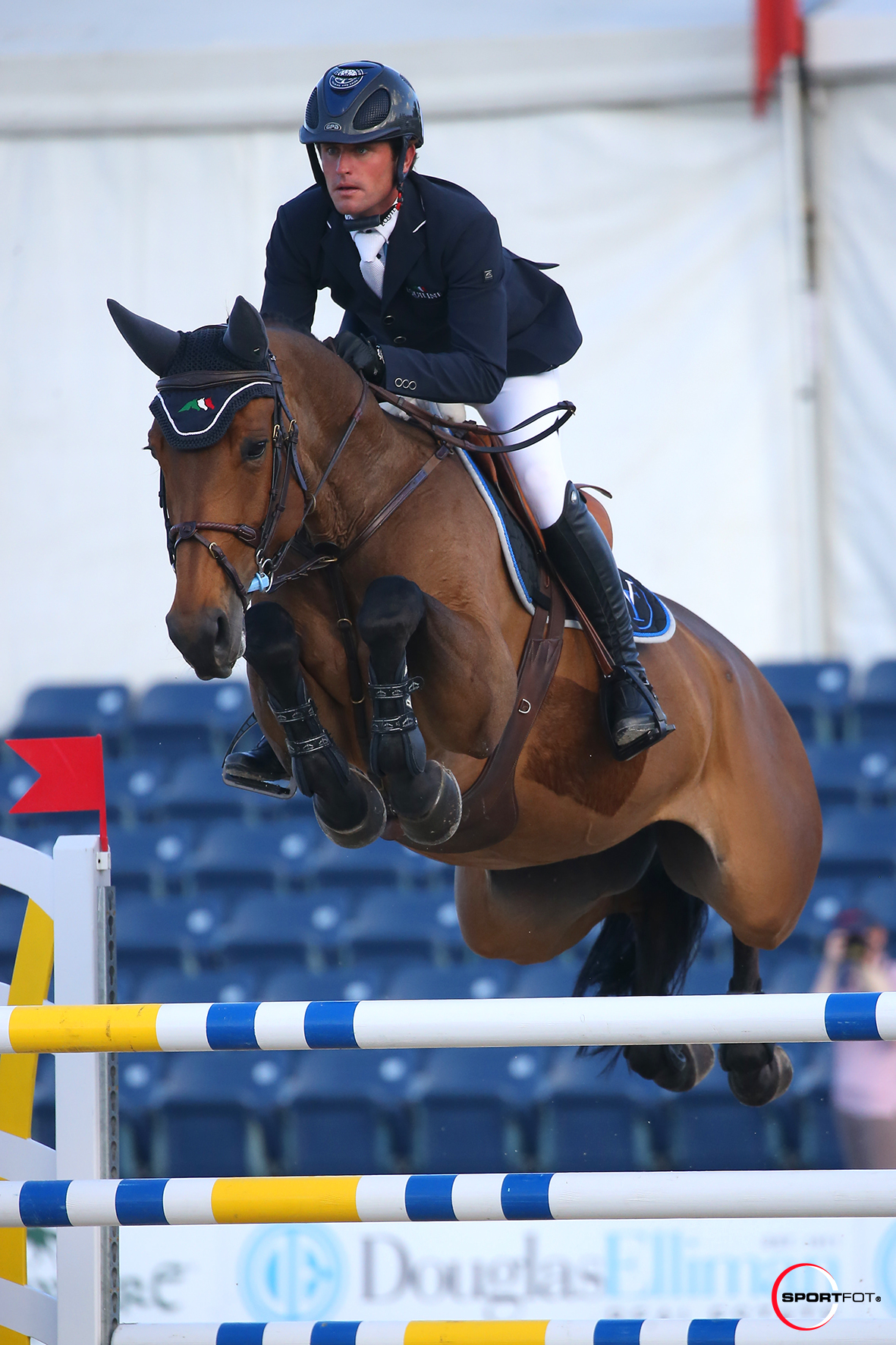 The 10th week of WEF competition at the Palm Beach International Equestrian Center (PBIEC), sponsored by Horseware Ireland, runs through March 15 and is recognized by the Fédération Equestre Internationale (FEI) as a CSI3*. Remaining highlights of the week include the $37,000 CaptiveOne Advisors 1.50m Classic on Sunday to conclude the 2020 season.
Canadian course designer Michel Vaillancourt built a track for 45 starters with 12 advancing to the tie-breaking jump-off. Returning near the end of the jump-off round, Kenny and Scarlett du Sart Z, owned by Vlock Show Stables LLC, broke the timers in 33.54 seconds to claim the lead and bump Israel's Sydney Shulman into the runner-up position. Shulman and J-Boston S.E, a horse she owns together with her mother Jill, posted a time of 33.96 seconds.
"I've been very lucky – I had a good winter and all the horses went very well," said Kenny of his season at WEF. "I had a great feeling coming into this winter because I have an incredible group of horses, and I'm very lucky that I have those horses."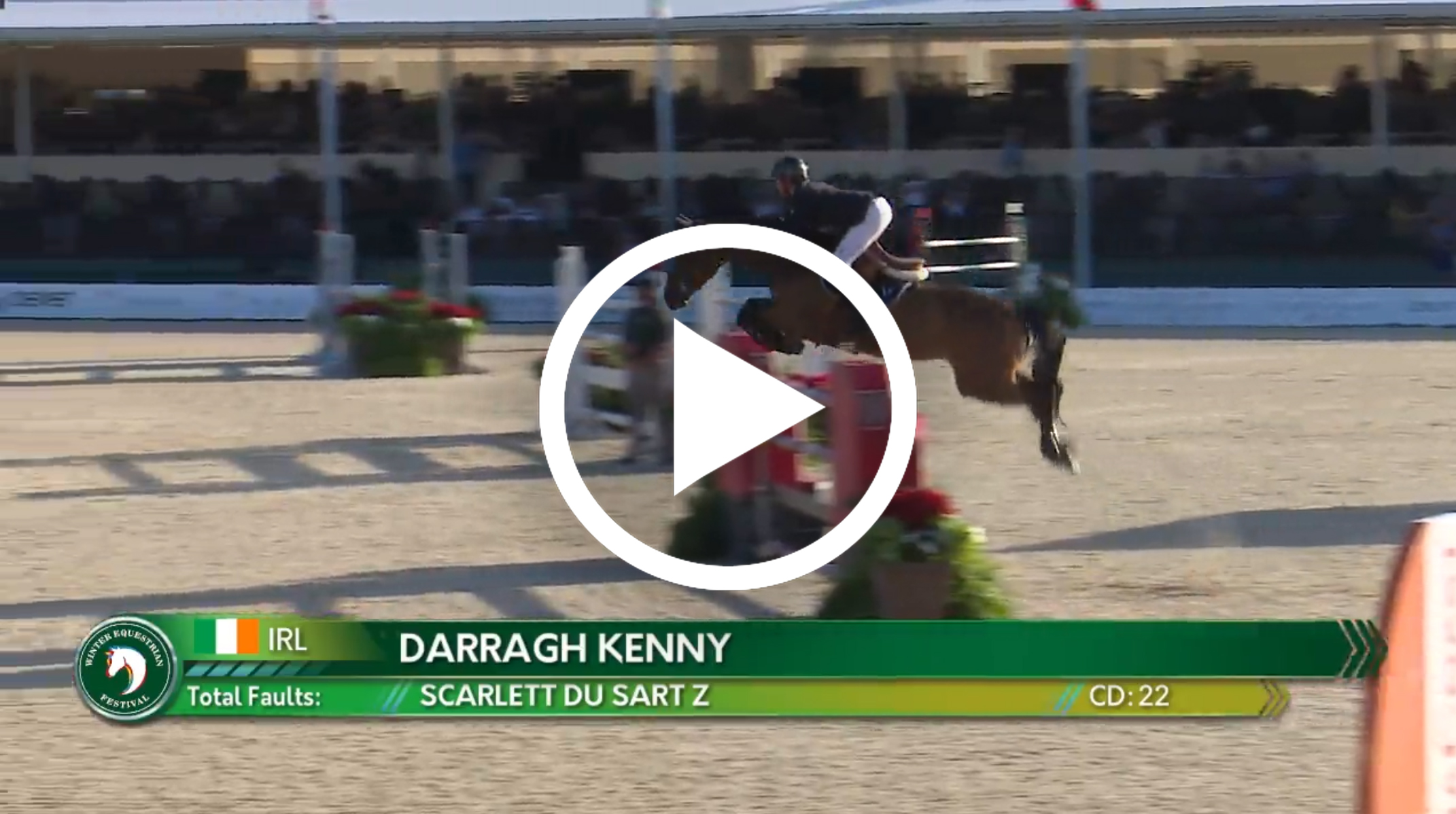 Kenny got the ride on Scarlett du Sart Z, a 10-year-old Zangersheide mare (Stakkato de hann x First Bride), during the horse's seven-year-old year. He has high hopes for the mare's future, saying, "This is a mare that Teddy Vlock and his owner bought for me, and we've been slowly producing her. She's really starting to turn a corner, and I think she's an incredibly talented horse that will end up jumping at the highest level.
"I didn't get to see Sydney go, but Hardin [Towell] said to me that she was very fast so I was going to have to do everything to beat her," continued Kenny. "I was lucky I got a good shot to the third-to-last jump, which meant I could do seven to the second to the last, which I think was less than everyone else and where I won it."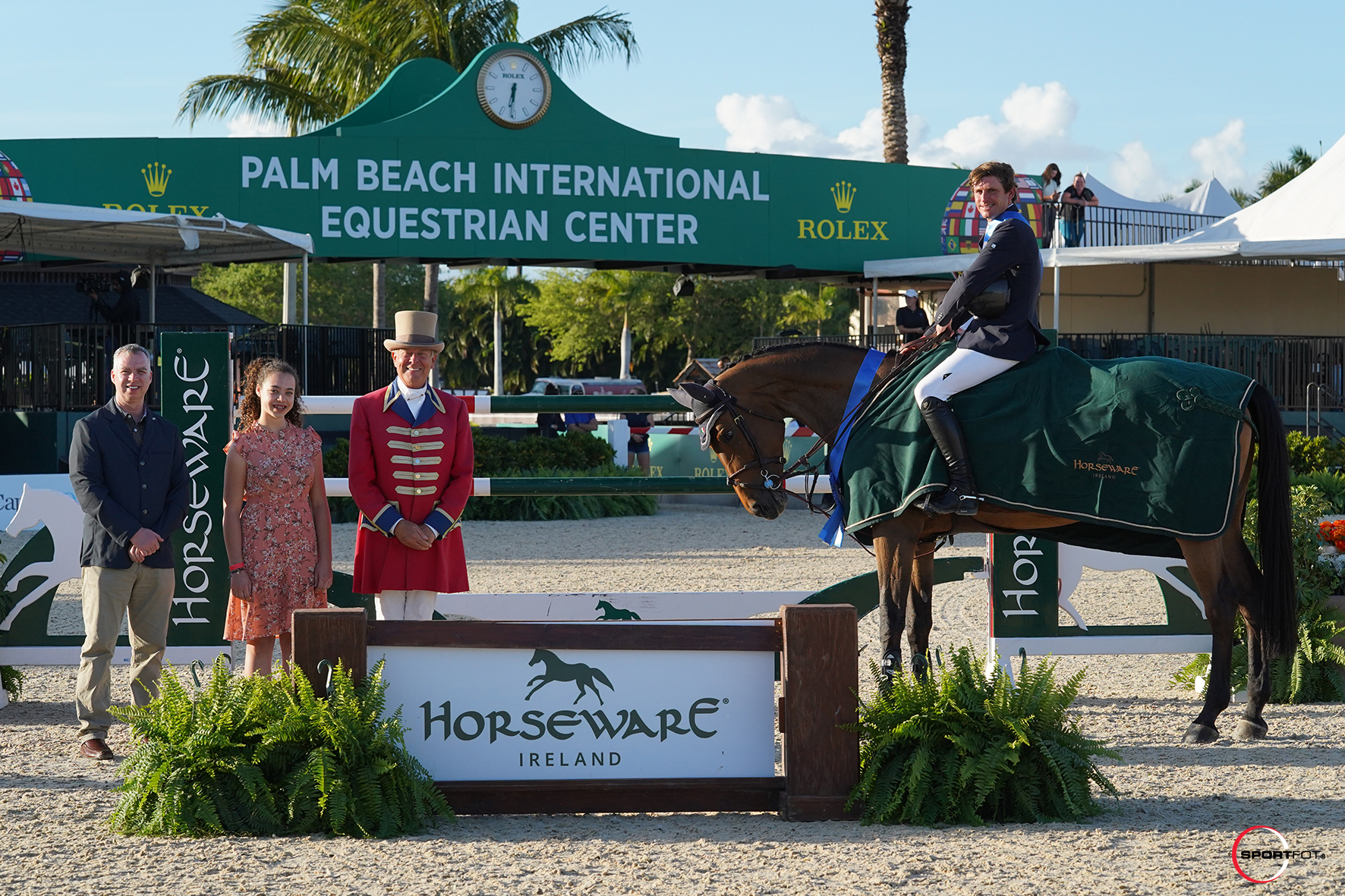 Shulman celebrated three months of hard work on Saturday after picking up the ride on J-Boston S.E in December. Her normal ride is slightly more unconventional, so it took her some time to get comfortable with the new mount.
"He is as normal and lovely as can be, but my other horses are a little more wild, so it was harder for me to get used to him," she laughed. "He's absolutely great. Ilan Bluman was doing him in a couple bigger classes in the fall when I saw him. He caught our eye and we've gotten to know each other very well."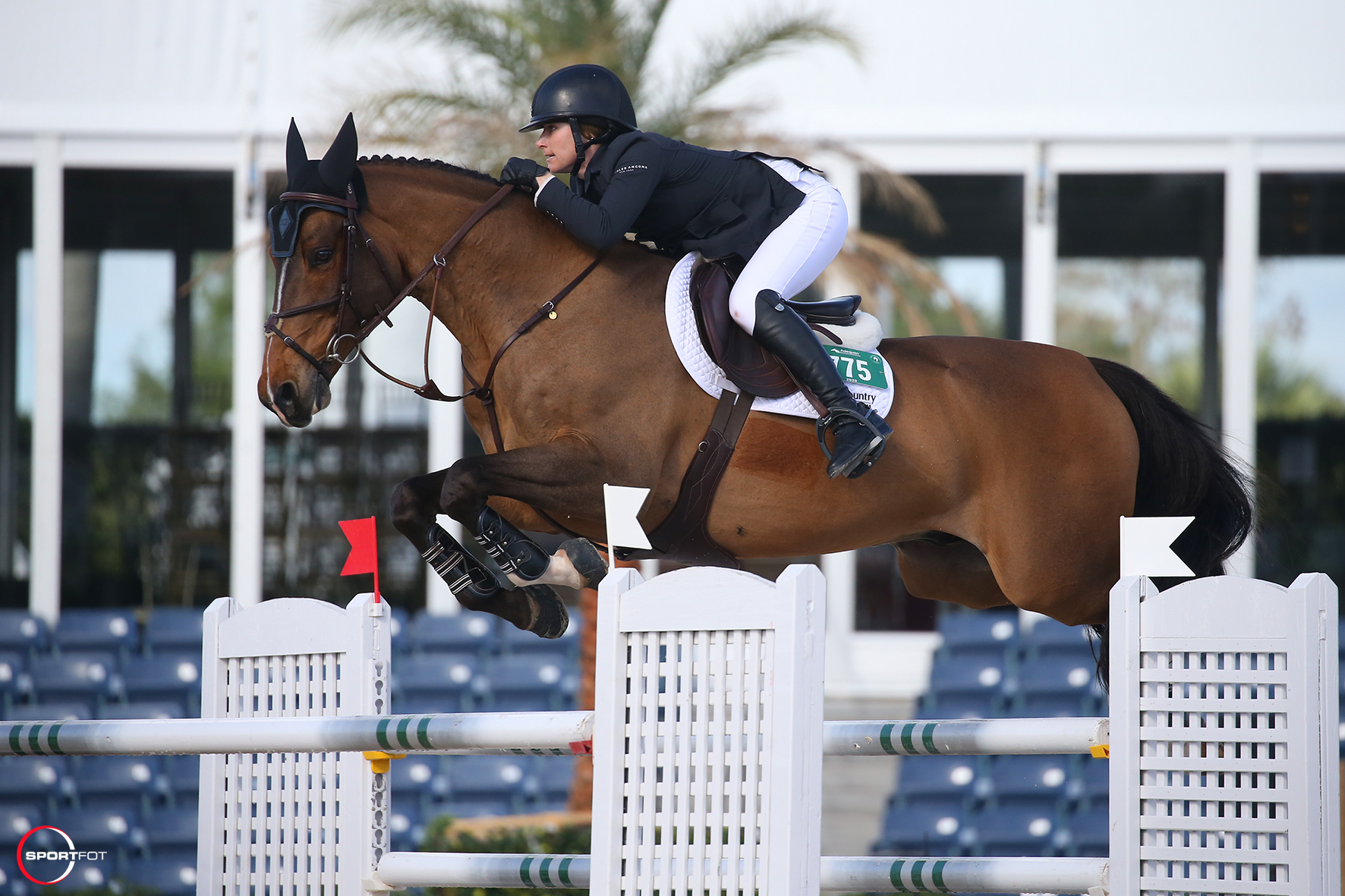 Of her season at WEF, which included the overall title in the Hermès Under 25 Grand Prix Series, Shulman said, "I'm very happy, this season was great. I think all four of my horses finished in the top three of an FEI class this circuit. That's amazing, and I'm thrilled with that! It was a great winter, and I am very thankful to my team at Back Country Farm, my sponsors and John Roche. It takes a huge village to make sure the horses stay happy, sound, and keep me where I'm supposed to be."
Rounding out the podium, Spencer Smith (USA) finished third riding Theodore Manciais, owned by Torrey Pines & Ashland Farm. Together they stopped the clock at 33.54 seconds.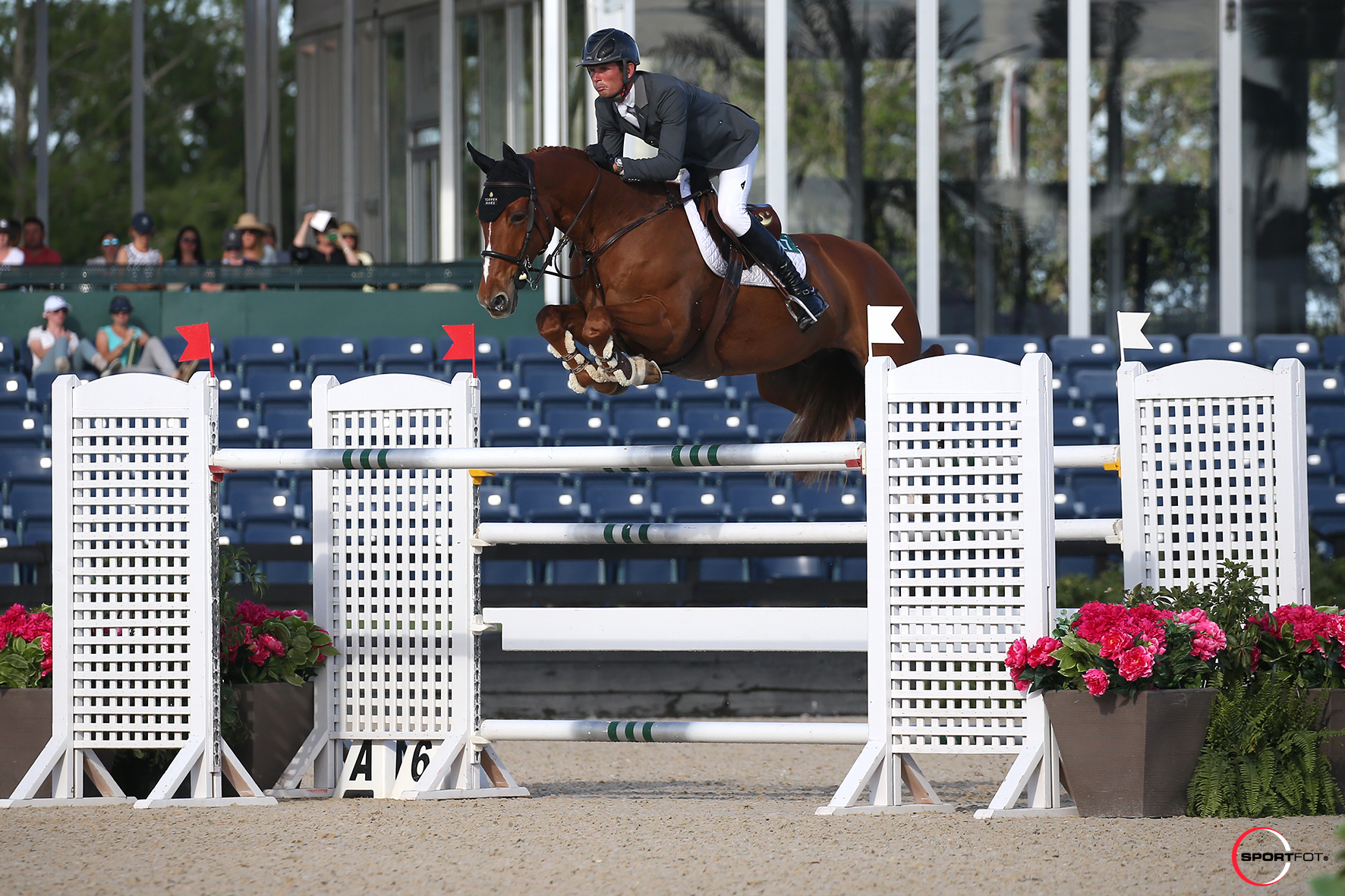 "He's a horse that I've had for a few years now and he's been very successful for me," said Smith, who is a Wellington local and had his whole family cheering him on from the stands. "It's a nice thing to get a good result at home. This horse has done a lot for me. I thought we had a good round the first round, but we left a little bit of a window and these guys are so fast that they beat you if you do that."
Placing fourth, and earning the Martha Jolicoeur Leading Lady Rider Award for week 10, Beezie Madden (USA) piloted Garant, owned by Abigail Wexner, to a time of 34.94 seconds. Flo Norris (GBR) capped the top five riding Con Pleasure 5 in 36.62 seconds for owner Cisca Norris.
Final Results: $137,000 Horseware Ireland Grand Prix CSI3*
1 SCARLETT DU SART Z: 2010 Zangersheide mare by Stakkato de hann x First Bride
DARRAGH KENNY (IRL), Vlock Show Stables LLC: 0/0/33.54
2 J-BOSTON S.E.: 2009 BWP gelding by Boris van het Kluizebos
SYDNEY SHULMAN (ISR), Jill & Sydney Shulman: 0/0/33.96
3 THEODORE MANCIAIS: 2007 Selle Français gelding by Kashmir van Schuttershof
SPENCER SMITH (USA), Torrey Pines & Ashland Farm: 0/0/34.87
4 GARANT: 2011 KWPN gelding by Warrant x C'est La Vie
ELIZABETH MADDEN (USA), Abigail Wexner: 0/0/34.94
5 CON PLEASURE 5: 2009 Westphalian gelding by Contendro 1 x Funny Fasion
FLO NORRIS (GBR), Cisca Norris: 0/0/36.62
6 CASALL: 2005 Holsteiner gelding by Casall ASK x Capitol I
ALI WOLFF (USA), Blacklick Bend Farm: 0/4/35.29
7 CHANCE STE HERMELLE: 2008 SBS mare by Calvaro x Hemmingway
MICHAEL MORRISSEY (USA). QBS Equestrian LLC: 0/4/35.88
8 TULARA COLMINE: 2010 Warmblood stallion by Colman x Quinar
GEORGINA BLOOMBERG (USA), Gotham Enterprizes, LLC: 0/4/37.90
9 CAYANI SN: 2010 SWB gelding by Cayado 3 x Voltaire
BLISS HEERS (USA), Team Philippaerts: 0/4/46.60
10 GRAFTON: 2006 Selle Francais gelding by Calvaro x Vondeen
HYDE MOFFATT (CAN), Ariel Grange: 0/8/34.52
11 GALAN S: 2006 Belgian Warmblood gelding by Indoctro x Calypso d'Herbiers
BEAT MANDLI (SUI), Grant Road Partners LLC: 0/8/37.08
12 CATOKIA 2: 2007 Westphalian mare by Catoki x Coriall
RODRIGO LAMBRE (BRA), Mario Onate: 0/12/3923
Sofia Maskowitz and Samantha Takacs Ride to Top Honors in THIS Children's Medal 14 and Under
Equitation riders took on Ring 6 on Saturday morning to compete for the blue ribbon in the THIS Children's Medal 14 and Under class. Due to the large number of entries, the medal was held in a California Split format with Sofia Maskowitz and Samantha Takacs riding to the top of the class. Maskowitz rode Quantum Chanel to a first-round high score of 84 and remained in the lead during the test. Takacs and her mount Cooper moved up one spot during the test, after a first-round score of 82.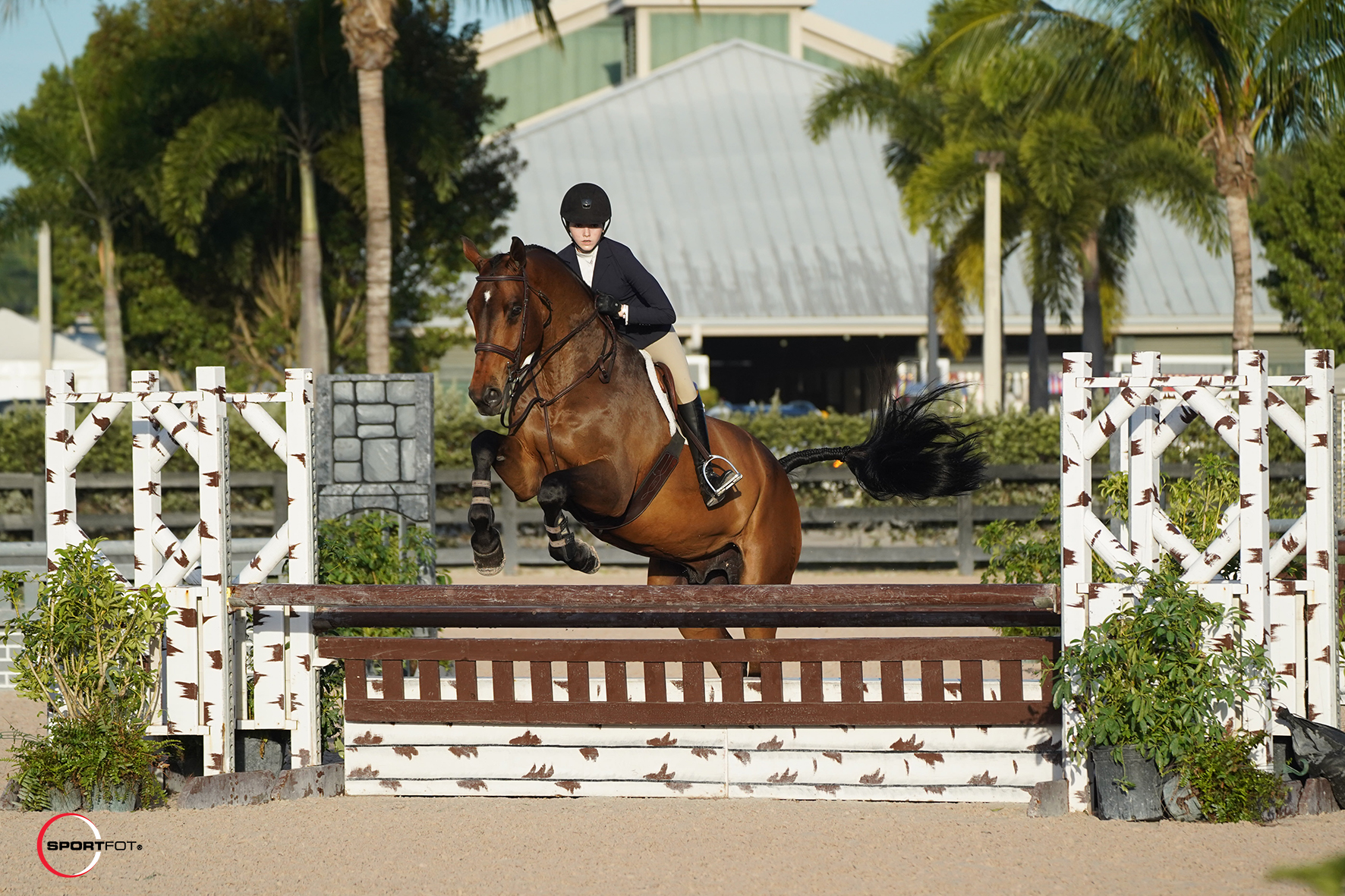 Maskowitz, of Freehold, NH, has been partnered with her equitation mount, Quantum Chanel, for only a couple months. The pair, trained by Laura Bowery, stayed on top of the class through the first round of 44 entries and the test. Maskowitz described that she is still working on figuring out the 12-year-old Hanoverian gelding by Quality, so she was extremely pleased with her first round.
"I thought it was one of my best rounds I've ever had with him. He was just great and everything was the same. It couldn't have been better!" Maskowitz commented. "He's the sweetest horse and tries his hardest for me every time, no matter what the situation is."
Maskowitz and Quantum Chanel, owned by Elizabeth Deupree, were the last of eight riders to test in the medal. After watching several riders successfully complete the test, Maskowitz knew that she would have to put in a solid, consistent ride to win the class.
"I judged it based on how everyone else did. I tried to stay on the same route as everyone else but also make it my own," Maskowitz explained.
By the end of the year Maskowitz hopes to move up to the 3'6" equitation classes with Quantum Chanel. Next year, Maskowitz's plan is to attend indoors and all of the equitation finals.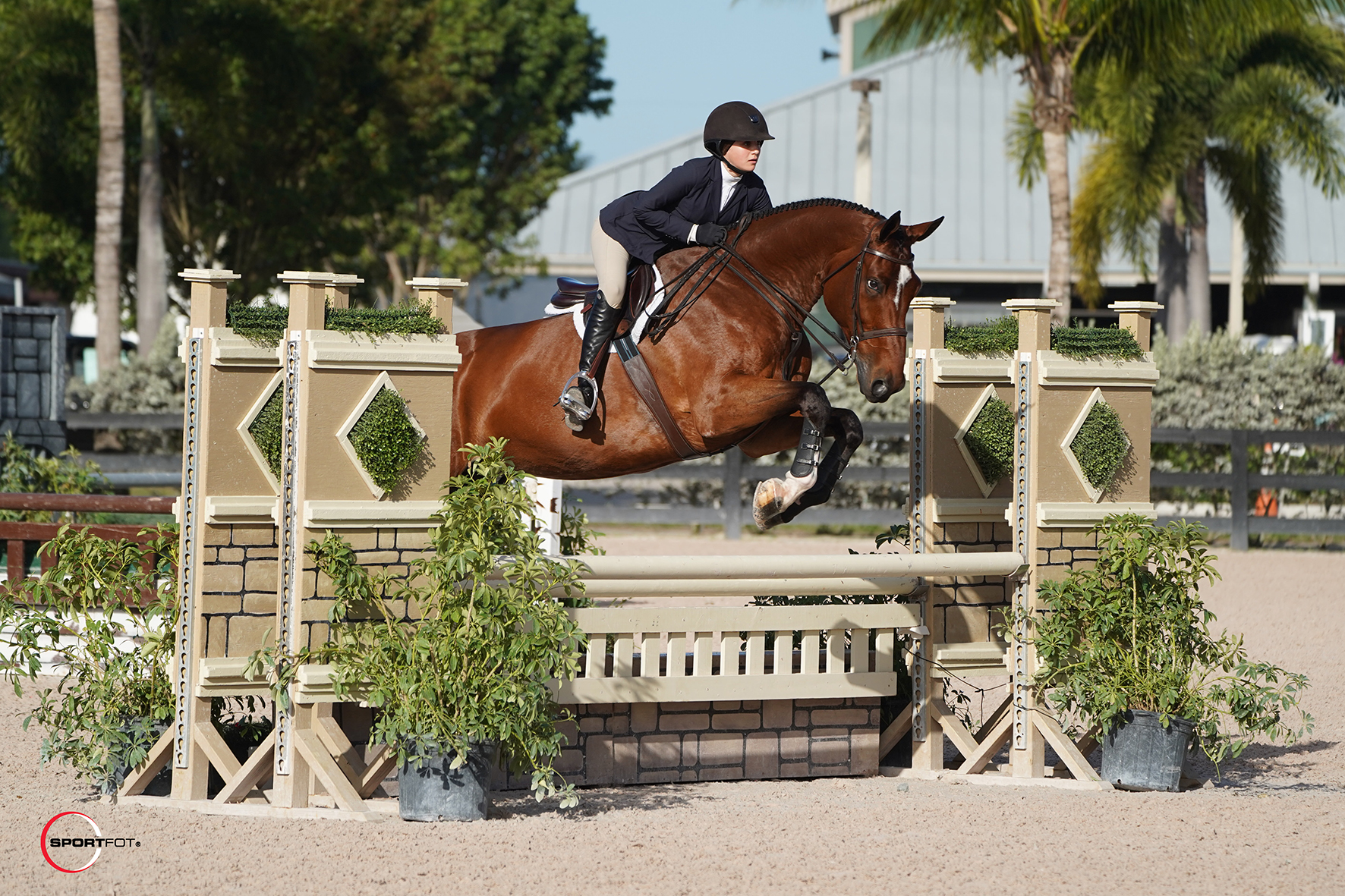 Takacs, of Oldwick, NJ, and her horse Cooper also put in two consistent rounds in the medal to earn the blue ribbon in their section. The duo has been working together since last spring, with the help of New Hope, LLC, as well as Findlay's Ridge, LLC. Takacs loves the eight-year-old KWPN gelding's big stride and sweet personality.
"I was really happy with my ride because this circuit has kind of been like a building circuit with him since he is green. It was really awesome to end it with such a good round," Takacs described.
After the first round, Takacs and Cooper were sitting in second place, but put in a beautiful, smooth test to move up one spot.
"I was trying to have a consistent, strong ride. Obviously, I wanted to keep my place or move up," Takacs said of her test.
Takacs has four junior years left and she plans to make the most of them with Cooper. The pair hopes to continue successfully showing in the equitation and hopefully move up to the 3'6" equitation classes soon.
"I want to keep him through the rest of my junior years so we can grow up together and do the equitation together since we are both kind of new to it!" Takacs commented.
Second place in Section A went to Hannah Famulak aboard Emily Sukert's Liv. Famulak, of New York, NY, and Liv received a first round score of 79. Section B second-place honors went to Emma Hechtman, of Tampa, FL, and her horse To the Point. The duo earned a first-round score of 78.
For full results, visit www.PBIEC.com.
Photo credit: Photos © Sportfot, official photographer of the Winter Equestrian Festival. These photos may be used only in relation to this press release and must include photo credit.