For Immediate Release
Kate Pettersen, and Sabrina Brashares for Jennifer Wood Media, Inc.
Wellington, FL – March 20, 2021 – Darragh Kenny (IRL) and Vertige De Galarzacs, owned by Morning Star Sporthorses, LLC, dashed to the top of podium in the $37,000 CaptiveOne Advisors 1.50m Classic CSI3* on Saturday, March 20, in the International Arena at the Palm Beach International Equestrian Center (PBIEC) in the tenth week of the 2021 Winter Equestrian Festival (WEF).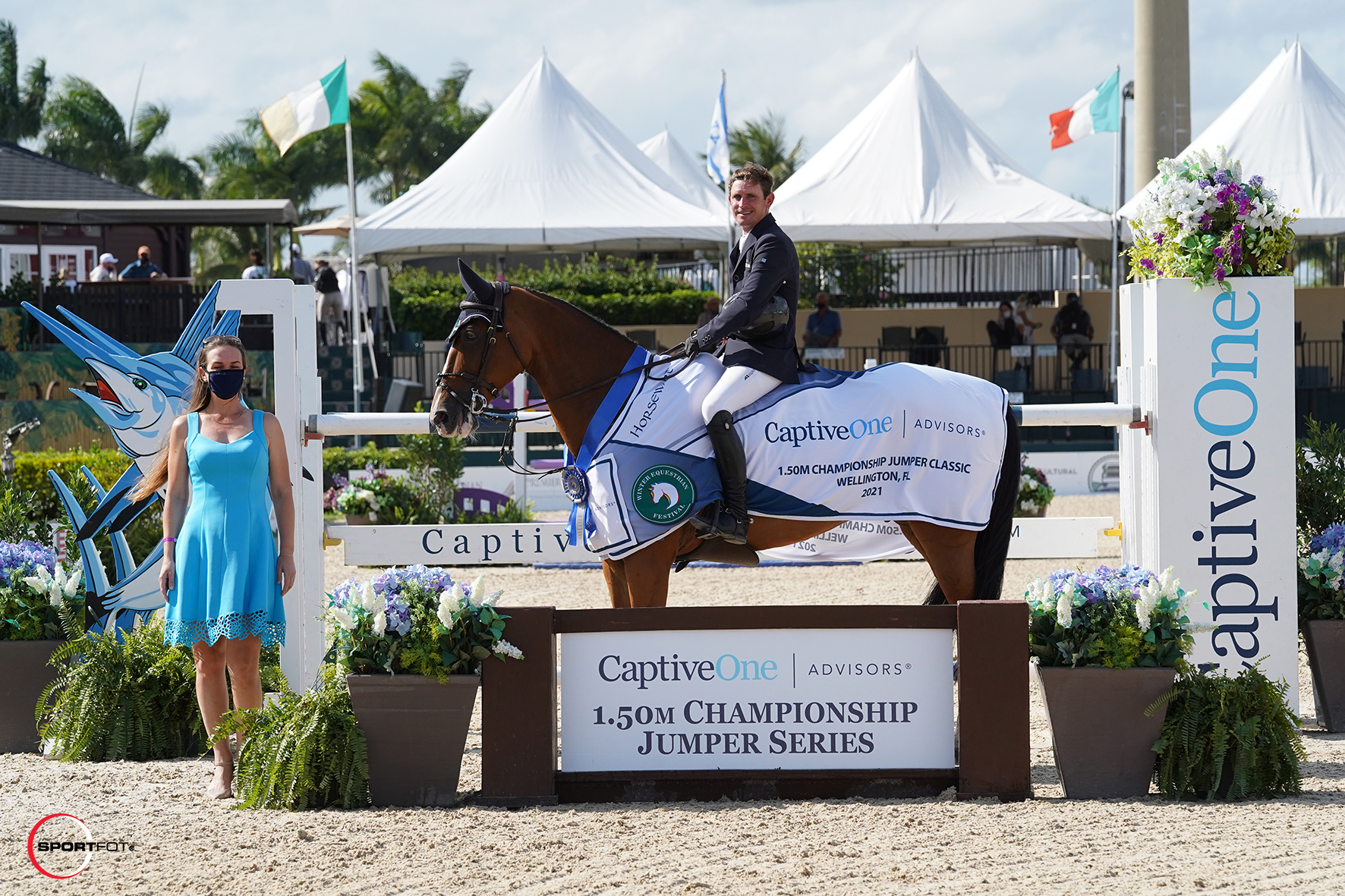 WEF 10 concludes on March 21 with three-star competition in the International Arena, sponsored by Horseware Ireland. It's an action-packed Sunday schedule that features the $50,000 Hermès Under 25 Final as well as the $137,000 Horseware Ireland Grand Prix CSI3*. Feature classes are available free live and on-demand on the livestream.
A total of 79 entries contested the first round of competition with just nine qualifying for the second round. First to return in the jump-off, Shane Sweetnam (IRL) and Ideal, owned by Sweet Oak Farm and Seabrook, LLC, set the tone for the rest of the contenders, executing the 1.50m shortened course set by Michel Vaillancourt (CAN) with ease. Sweetnam and the nine-year-old Swedish Warmblood gelding by Cardento 933 x Paskitt posted the time to catch of 36.67 seconds.
Both Kenny and Martin Fuchs (SUI) qualified two horses to return for the jump-off, and it was Fuchs who posted the second double clear round of the day with Conner 70, owned by Thomas Fuchs. The second-ranked rider in the world guided the 10-year-old Holsteiner gelding by Connor 48 x Cosimo around the course, crossing the timers in 37.10 seconds.
After finishing on four faults with his first entry, Kenny capitalized on the luxury of multiple mounts, making adjustments according to how he felt the track rode, to capture the win aboard Vertige De Galarzacs. Kenny and the 12-year-old Selle Français gelding by Quaprice Bois Margot x Si Tu Viens stopped the clock at an impressive 35.69 seconds to win by nearly one full second.
Watch the winning jump-off here!
"It made a big difference," said Kenny of the advantage of already riding the jump-off course with his first mount. "With the first horse I did six strides up the first line thinking that maybe it would be too long to do five [strides]. I ended up too short to the next oxer and had the back rail, so with the second horse I did five strides up the first line and stayed a bit wider. It worked out better."
In the end, the only three double-clear efforts of the day reigned supreme on the podium, as Sweetnam held on for the second-place finish while Fuchs landed in third.
For Kenny, the partnership with Vertige De Galarzacs, known as "Vince" in the barn, is fairly new, having acquired the ride from Karrie Rufer of Morning Star Sporthorses just four weeks ago.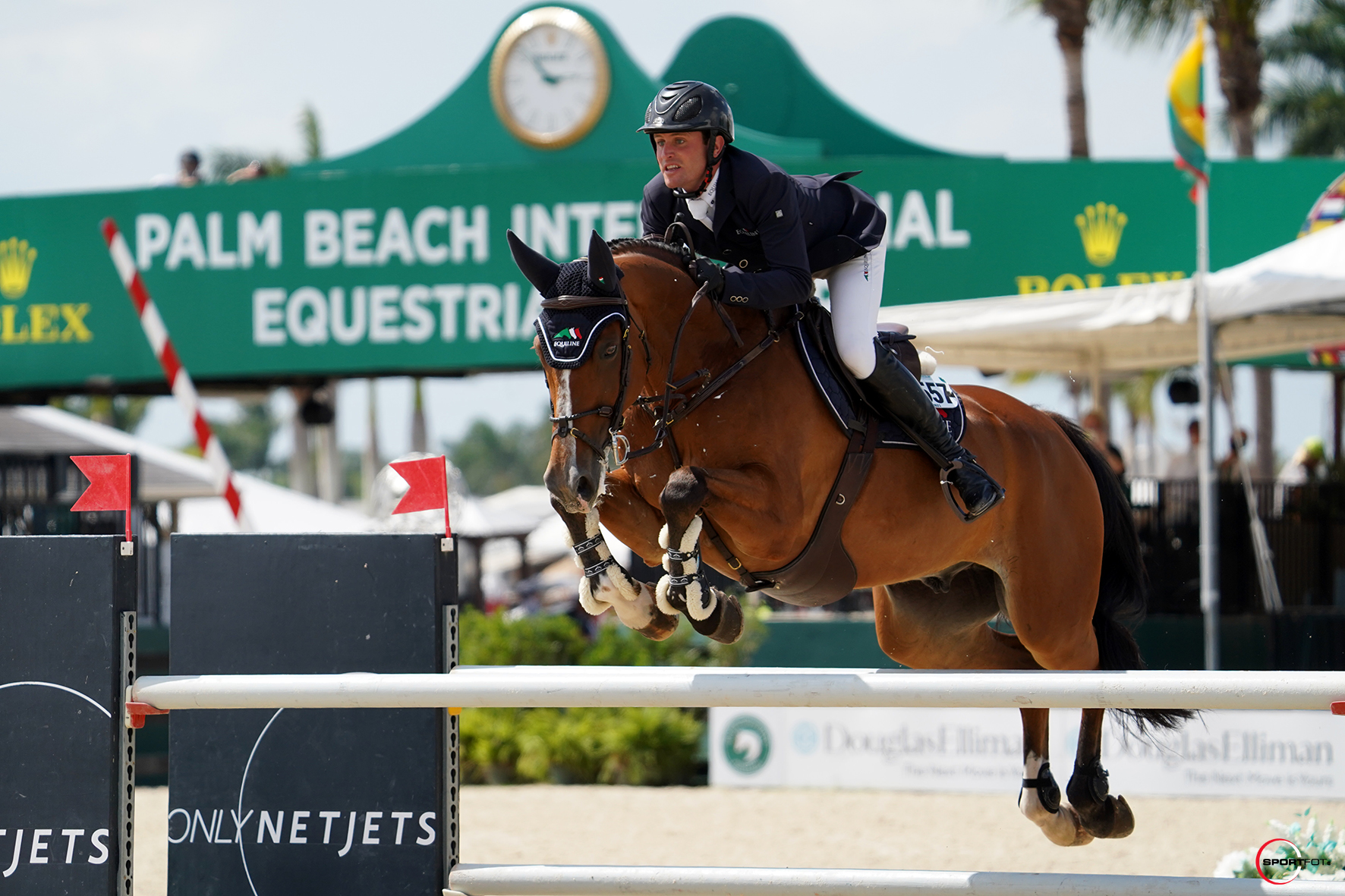 "He's a very talented horse," said Kenny. "He has his own technique a little bit, but he wants to be very careful. He's really, really scopey, and I think he's going to be a really good horse. At the start, he didn't know me, so we just took a week to get used to each other, but now it seems to be really good.
"Shane's horse is also a little bit green," continued Kenny. "His horse was a little bit difficult to turn, so I think the difference was just a matter of picking up a little bit of time here and there."
Rufer had originally purchased the gelding to campaign herself but decided handing over the reins to Kenny, ranked ninth in the world, would be a better fit.
"I bought him a little over a year ago from Enda Carroll at Ashford Farm," said Rufer. "He's super honest, has as a really good heart, great character, and is very, very scopey. That's what immediately attracted me to him.
"The horse is amazing, but not necessarily my natural ride," she continued. "He needs a little bit more of a strong, seat-driven ride, and I thought Darragh would be a good fit for him. He's an easy choice to pick when you look at top riders who really get the horses on their side. Clearly it worked."
Vertige De Galarzacs will have some well-deserved rest for WEF 11 and will be back in the International Arena to jump during WEF 12.
Sophia Studd (DEN) rode Holsteins Matina, owned by Marie Botved Studd, to the win in the $1,000 Hermès Under 25 CSI3* speed on Saturday afternoon. The 18-year-old rider and her 12-year-old Danish Warmblood mare by Party Dance x Charmeur won with a clear round in 62.97 seconds. Studd will jump again on Sunday as she is set to go second in the starting order of the $50,000 Hermès Under 25 Final.
Final Results: $37,000 CaptiveOne Advisors 1.50m Classic
1. VERTIGE DE GALARZACS: 2009 Selle Français gelding by Quaprice Bois Margot x Si Tu Viens
DARRAGH KENNY (IRL), Morning Star Sporthorses, LLC: 0/0/35.69
2. IDEAL: 2012 SWB gelding by Cardento 933 x Paskitt
SHANE SWEETNAM (IRL), Sweet Oak Farm and Seabrook, LLC: 0/0/36.67
3. CONNER 70: 2011 Holsteiner gelding by Connor 48 x Cosimo
MARTIN FUCHS (SUI), Thomas Fuchs: 0/0/37.10
4. CICOMEIN VDL: 2007 KWPN mare by Chacco-Blue x Jus de Pomme
DARRAGH KENNY (IRL), HKC Collection, LLC: 0/4/34.84
5. CHA MU 4: 2010 Westphalian gelding by Cornado II x Rheinsberg
MARTIN FUCHS (SUI), Lee Sportpferde: 0/4/37.36
6. FLASH: 2010 KWPN gelding by Bustique x Next Joey
ALEX MATZ (USA), 5 Star Partners: 0/4/37.74
7. KALINKA DE KALVARIE: 2010 BWP mare by Mr Blue x Acord I
BEN MAHER (GBR), Poden Farms:  0/4/37.94
8. SINGULETTO: 2009 Holsteiner gelding by Singulord Joter x Ulikai
HILARY MCNERNEY (USA), Hilary McNerney: 0/8/41.77
9. MILLIONINMIND: 2007 ISH gelding by ARD VDL Douglas
EMILY WARD (GBR), Steven Barnes: 0/11/54.59
10. CHUCK 27: 2007 Hanoverian gelding by Cassus 2 x Ramiro's Son II
HILARY MCNERNEY (USA), Hilary McNerney: 1/75.05
11. HUNGRY HEART: 2012 SWB gelding by Baltimore 1178 x Loucaibo
JESSICA SPRINGSTEEN (USA), Stone Hill Farm:1/75.16
12. QUIBELLE: 2009 Hannoverian mare by Frh Quaid x Sherry
SPENCER SMITH (USA), Gotham Enterprizes, LLC: 1/75.18
Libbie Gordon and Montauk Earn the Tricolor Ribbon in the Large Junior Hunter 3'6" 16-17 Division
Libbie Gordon, of Statesville, NC, rode her own Montauk to the championship title in the Large Junior Hunter 3'6" 16-17 Division on Saturday in the Rost Arena. The pair received 23.5 points in the division with two firsts, a fourth, a fifth, and a sixth place finish.
Gordon and Montauk, trained by Ashland Farms, secured another tricolor ribbon after also receiving the championship honors during week five of WEF. Although the 12-year-old Warmblood gelding is still fairly new to the hunter discipline, he and Gordon are always a pair to watch when they enter the show ring.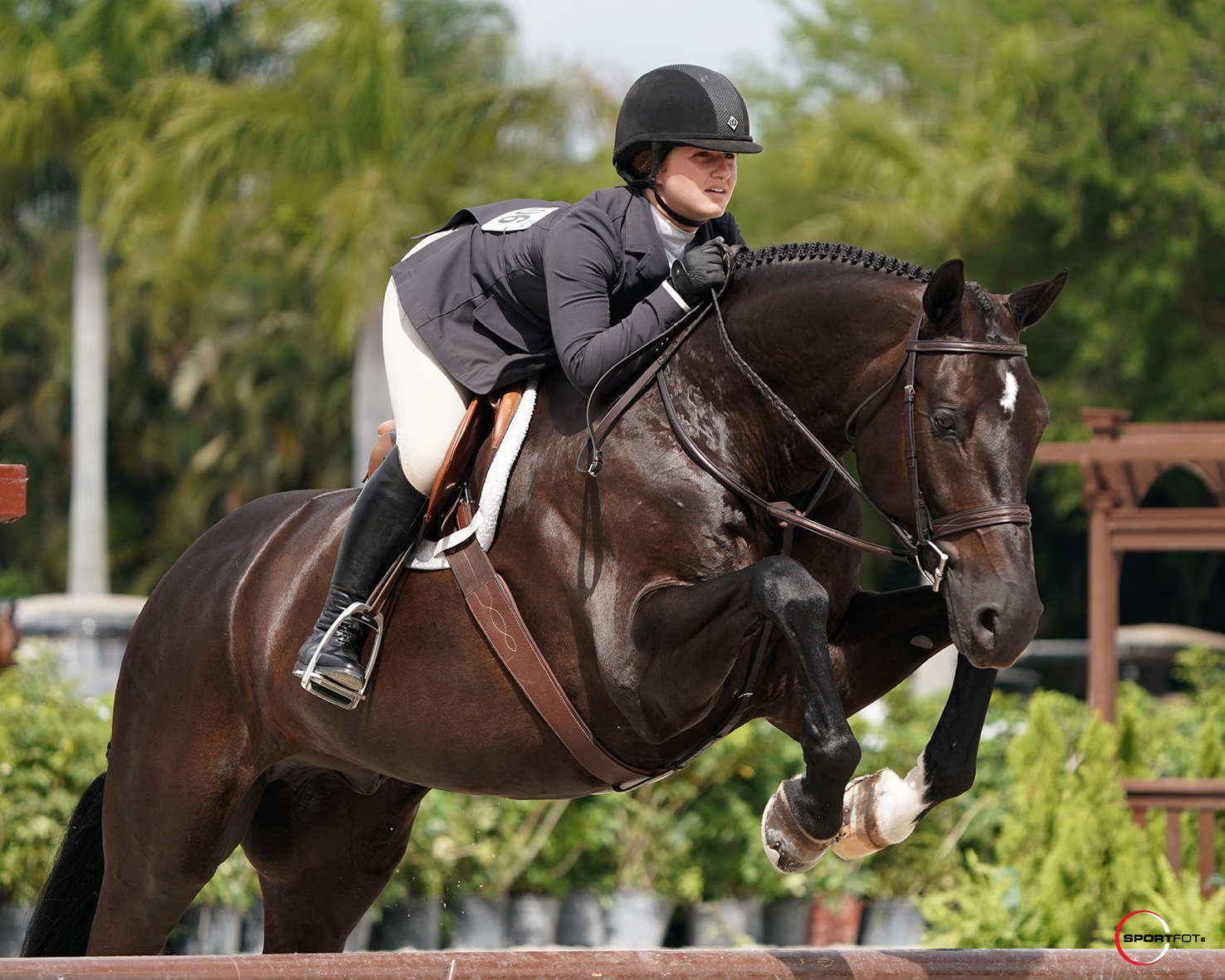 "I got him during indoors of 2019 after he had just been imported by Ashland Farms," explained Gordon. "He had been doing the jumpers in Europe for a while and when he came over, my trainers, Ken and Emily Smith, thought he would make a great hunter so I tried him. I ended up falling in love with him, and we've been working on 'junior hunter-ing' ever since!"
The pair caught the judge's eye and dominated the second day of the division. Gordon's smooth, confident ride and Montauk's impressive jump resulted in the duo claiming two blue ribbons in both over fences classes.
"He went amazing today," described Gordon. "He was so relaxed, and that really allowed him to jump up to me. He was nice and smooth across the ground so when he got to the base of the jump, he just fired off. I love his jump. It just gives you the best feeling in the air."
After WEF, Gordon is looking forward to continuing her mount's successful hunter career.
"I want to keep being consistent and putting in good rounds," commented Gordon. "He hasn't done the junior hunters, or even the hunters at all, for very long so hopefully by being consistent we'll end up at indoors and Devon."
Reserve champion was earned by Isha Swani and Shadowfax Equestrian LLC's Snippet. Swani, of Ponte Vedra Beach, FL, rode Snippet to two seconds, two thirds, and a fourth place ribbon.
Show jumping competition will continue on Sunday with the $50,000 Hermès Under 25 Series Final as well as the $137,000 Horseware Ireland Grand Prix CSI3* in the International Arena. The Children's Hunter Younger division will come to an end in FarmVet Ring 7.