Darragh Kenny and Red Star D'Argent Win $130,000 Grand Prix CSI 3* at WEF 6
3'3" Hunters Garner WCHR Week Championships
For Immediate Release
Lauren Fisher and Lindsay Brock for Jennifer Wood Media, Inc.
Wellington, FL – February 19, 2016 – Ireland's Darragh Kenny was the winner of Friday night's $130,000 Grand Prix CSI 3* aboard a brand new mount, Red Star D'Argent, during week six at the 2016 Winter Equestrian Festival (WEF). Competing under the lights in the International Ring at The Stadium at Palm Beach International Equestrian Center (PBIEC), Kenny topped a three-horse jump-off over Laura Chapot (USA) and ISHD Dual Star in second, and Sayre Happy (USA) aboard Ludwig's Joker B in third.
While hunters take center stage on the main show grounds for World Championship Hunter Rider (WCHR) week, the international jumpers get a fresh change of scenery competing in both the Global International Ring and the Derby Field at The Stadium through Sunday. The feature "Saturday Night Lights" event will be the $100,000 WCHR Peter Wetherhill Palm Beach Hunter Spectacular on Saturday, February 20, starting at 6:30 p.m.
The $10,000 Artisan Farms U25 Welcome, sponsored by EnTrust Capital, and the $35,000 Suncast® 1.50m Championship Jumper Classic will both be held on the derby field at The Stadium on Saturday. The $25,000 Artisan Farms U25 Grand Prix, sponsored by EnTrust Capital, as well as the $50,000 WEF 6 National Grand Prix, will both be held on the derby field at The Stadium on Sunday. The 12-week WEF circuit runs through April 3 offering more than $9 million in prize money.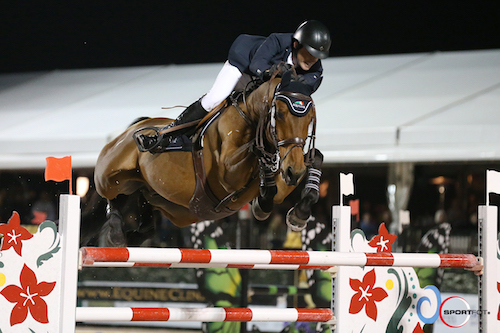 Richard Jeffery (GBR) set the course for 42 starters in Friday night's grand prix with only three clear rounds for the jump-off. Sayre Happy qualified her mount Ludwig's Joker B, but had a refusal at the second fence in the short course and chose to retire after her horse lost a shoe. Laura Chapot jumped next with Mary Chapot's ISHD Dual Star, completing a clear round in 39.48 seconds. Last to go, Darragh Kenny and Red Star D'Argent clocked in two-tenths of a second faster to take the win in a time of 39.27.
Kenny just recently got the ride on Red Star D'Argent, an 11-year-old Selle Francais gelding by Quick Star. The horse was previously shown under Spain's Sergio Alvarez Moya and is now competing with Kenny to be sold. Red Star arrived in the U.S. in the beginning of January, and Kenny has taken his time to get to know his new mount over the last several weeks before stepping up to Friday night's grand prix.
"My relationship with him is very new," Kenny detailed. "He was formerly ridden by a very good friend of mine, Sergio Moya. We had talked about the horse coming this winter for me to ride a little bit. He came about five or six weeks ago, and I have just really been getting to know him the last few weeks. He has jumped a lot of good rounds, but has had an unlucky jump down. Today he was fantastic. This was the first grand prix I have jumped him in. I have jumped some WEF (Challenge Cups) and some 1.50m (classes). I did not feel 100% comfortable that I knew him, that I had the right bridle, and everything like that. This week, he felt fantastic. He was really unlucky in the WEF, but fantastic today."
"The idea is to sell the horse, and that is why he came here for me to ride and show," Kenny continued. "I have had a lot of horses come and go lately. Some have gotten sold, some have gone to other people, and it does not really bother me because I am trying to produce new horses all of the time so that they can get sold and I can have horses to ride at the top level. The last few weeks I have been very unlucky, so to get this win is really great."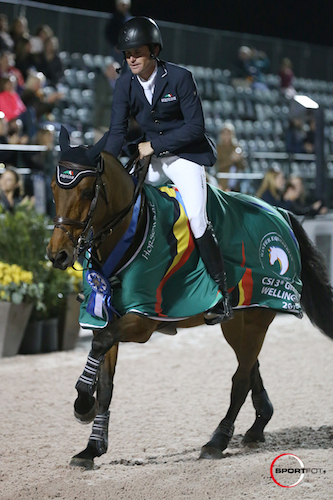 Darragh Kenny and Red Star D'Argent enjoy their victory gallop.
Commenting on his jump-off round, Kenny said, "I did not actually watch Laura. I know that Laura is an extremely fast rider, and the horse is a super horse. I had one of my friends, Hardin (Towell), watch her. He said that you basically just have to go for it and see what happens."
"The horse is very easy to turn, and he jumps even better when you turn him back up to jumps," Kenny continued. "He really tries and is really careful, with good technique, so it makes it easy to turn really short with him."
Knowing that Red Star turns so well, Kenny had planned to show the horse in Friday night's grand prix in the smaller arena at The Stadium for the last four weeks.
"I had the aim of jumping him this week. I think this venue suited him," Kenny said. "He is agile; he is good in a small ring. I knew it would be a careful course, (and) he is very careful."
Chapot thought she may have been able to take more risk in hindsight, but the rider was very pleased with her jump-off round aboard ISHD Dual Star.
"I thought she jumped fantastic tonight," Chapot stated. "I do not think she even came close to touching a rail. I think I just played it too safe in the jump-off. I probably should have made at least one of the inside turns, either after the double or to the last line. But with only three in the jump-off and the first one obviously being out, I wanted to put a little pressure on Darragh and not make a mistake. With the way my horse was jumping, I probably should have gone ahead and done that, and that would have made the difference."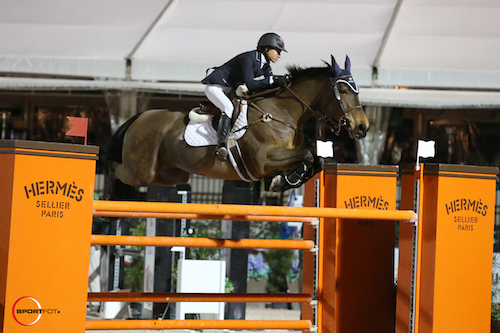 Laura Chapot and ISHD Dual Star
Although Sayre Happy had to retire from her jump-off round, the rider was happy with the way Ludwig's Joker B jumped on Friday night. The horse was double clear and fourth on Thursday and continued to jump well for his third place finish under the lights.
"My partner and I bought the horse to sell, and I do not think we knew he would be as good as he is," Happy noted. "I got this horse in July and just did some smaller 1.40m, 1.45m, and this is the biggest class I have jumped with him. The stop was my fault; I was a mile away. He tries his heart out every time, and he is a really fun horse."
Speaking of the night's course, Happy stated, "I honestly thought there were going to be a few more clear. Yesterday, the course I walked was what I rode. I watched a bunch of people go and thought, 'Oh my gosh, maybe I should change my plan.' But I stuck with it. Tonight I felt the same way. It kind of rode what he set when I walked it, and I stayed with my plan. I thought he did a great job."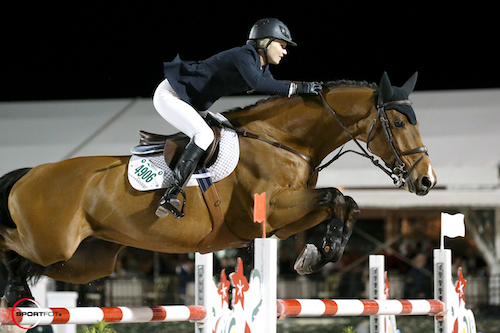 Sayre Happy and Ludwig's Joker B
Kenny also spoke of the course, noting, "When I walked the course, it did not look so difficult, but always in this ring, the jumps come up so fast. It ends up riding much more difficult. It suited a smaller horse with more blood. There were a lot of questions here and there about the numbers, but in the end I think he did a super job on the course."
Chapot, agreed, adding, "This ring rides a little bit more like an indoor ring, and after coming off riding in the International Arena, which is so wide open, it was difficult for horses to adjust that quickly. I thought he posed a lot of questions all throughout the course, and he had rails everywhere."
Along with the prize money for her third place finish Friday night, Sayre Happy was presented the award for Leading Lady Grand Prix Rider for her success in week six. The award is sponsored by Martha Jolicoeur of Douglas Elliman Real Estate in memory of Dale Lawler.
Junior Hunters Wrap WCHR Week Championships
Stephanie Danhakl wrote the perfect ending to a comeback story for her nine-year-old Warmblood gelding Quest in the culmination of the Osphos® 3'3" Amateur-Owner Hunter 18-35 division Friday. After much success with Danhakl's trainer Scott Stewart in First Year competition in 2014, Quest suffered a rare complication involving the veins in his hooves that required over a year of rest to completely regrow healthy hoof.
This week marked the two-year anniversary of his First Year championship at WEF with Stewart, and he celebrated it by carrying Danhakl to first and second over fences, fourth under saddle and a win in the handy on a score of 91 for champion in the 3'3" Amateur-Owner Division.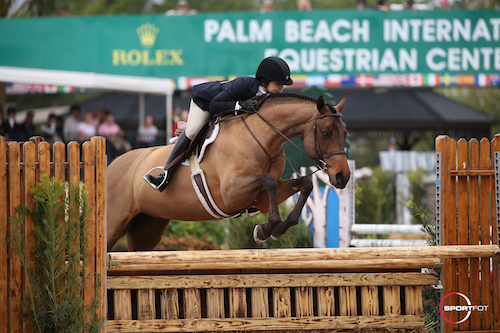 Stephanie Danhakl and Quest
"I have to credit my vet Haynes Stevens for getting Quest back to full health," said Danhakl. "After his First Year Championship his feet started getting sore, and we didn't really know what was wrong. Haynes was the only one who could figure out how to bring him back."
After over a year off, Quest returned in style and has been back in the show ring with Danhakl for the past few months.
"I'm happy to have him back – he's an amazing horse," she said. "He was phenomenal both yesterday and today. I never have to worry about him spooking, and I was confident about him showing in the International Arena. I really look forward to this week with the focus on the hunters. There is a lot of excitement in the air, and it is nice to be able to gallop around and really let out his stride."
Danhakl admits that her division is a competitive one with a lot of junior riders moving up into amateur competition, but she is happy to be kept on her toes.
Scoring first and third over fences and second under saddle, Vivian Yowan piloted Anytime, owned by Saddle Ridge, LLC, to reserve champion behind Danhakl.
In the Karina Brez Jewelry 3'3" Amateur-Owner 36 and Over Division, Daryl Portela and Winner, owned by Isalou, Inc., claimed champion after jumping to reserve honors during Week 5. Portela and Winner were first and fifth over fences, second in the handy, and third under saddle to clinch the tricolor.
"I had a great week," said Portela. "It's a tough division with a lot of good horses and a lot of good riders, but I feel very comfortable with [Winner]."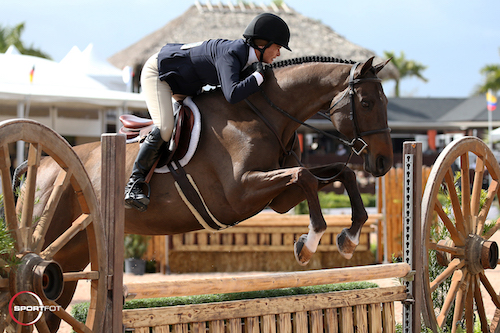 Daryl Portela and Winner
Portela has had the ride on the 13-year-old Warmblood gelding for four years after her trainer Jimmy Torano imported him.
"He didn't have much of a personality and had never done the hunters when I got him," she said, "but I started him right away. He developed a great personality and became very comfortable."
For Portela, having a chance to shine in the International Arena is a rare treat. "We never get to show in here. It's a long way around, but it's so exciting," she said.
Reserve champion honors in the Amateur-Owner 36 and Over 3'3" division was awarded to Lynn Seithel and her own Walk the Moon after a third place finish over fences and a blue ribbon in the handy.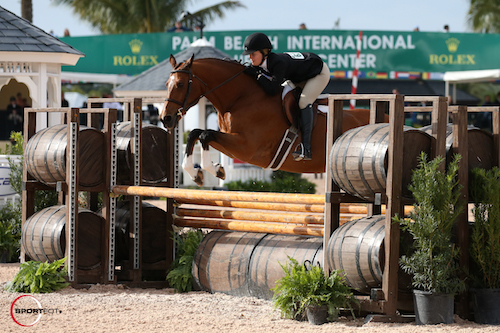 Lili Halterman and Genuine
The UHealth Ear Institute 3'3" Junior Hunter Division saw stiff competition during WCHR week and was split into two sections with Lili Halterman and her own Genuine taking champion in Section A and Mimi Gochman earning champion in Section B aboard Papyrus for owner David Gochman.
Seventeen-year-old Halterman is savoring her final season as a junior competitor at WEF and admits that earning champion during WCHR week was a special bonus.
"This season was most about having fun and enjoying being on my horses," she said. "I really enjoy big rings, but this ring especially."
Halterman and Genuine collected two first place finishes over fences, a second-place ribbon in the handy, and a win under saddle to secure champion honors.
"He has always been great," said Halterman of her 17-year-old Oldenburg gelding. "He always steps up and acts like a babysitter for me, and I have won a lot with him because of that."
Halterman also earned reserve champion honors in Section A on her own Cussini with a win in the handy, as well as second and sixth over fences.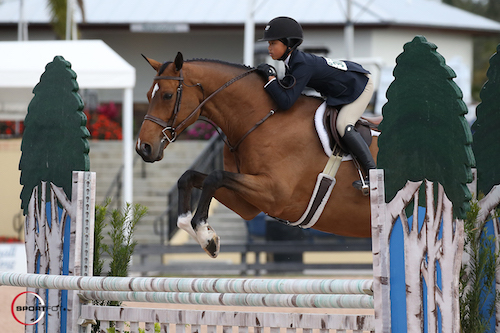 Mimi Gochman and Papyrus
Taking the Section B Championship, Gochman rode Papyrus to third over fences, adding to his second over fences and wins in the handy and under saddle earlier in the week with Emma Kurtz in the irons.
Gochman, 11, showed in the International Arena at WEF for the first time this week and did it on a new mount. Papyrus, a nine-year-old German Warmblood gelding is one of the youngest and most green horses Gochman has sat on. She only started riding him at the beginning of the winter season.
"I have to be a lot more gentle with him – he is always really cautious so I try to be really soft, which is new to me," said Gochman. "He took care of me out there today, and it was really a treat. It was fun to have the experience, but also to do well in the big ring. I'm proud that I could keep it together with a new, green horse."
Mimi's sister Sophie Gochman collected reserve champion in Section B with Last Man Darling, owned by David Gochman. She won Friday's over fences class after Emma Kurtz piloted Last Man Darling to fourth over fences and second under saddle earlier in the week.
Week six of the 2016 Winter Equestrian Festival continues on Saturday with more hunter and jumper action on both sides of the Palm Beach International Equestrian Center. For more information and full results, please visit www.PBIEC.com.
Final Results: $130,000 Grand Prix CSI 3*

1. RED STAR D'ARGENT: 2005 Selle Francais gelding by Quick Star
DARRAGH KENNY (IRL), Oakland Ventures & Sergio Alvarez Moya: 0/0/39.27
2. ISHD DUAL STAR: 2002 Irish Sport Horse mare by Quick Star x Concorde
LAURA CHAPOT (USA), Mary Chapot: 0/0/39.48
3. LUDWIG'S JOKER B: 2005 Oldenburg gelding by Ludwig von Bayern x Fierant XX
SAYRE HAPPY (USA), HC Sport Horses: 0/Ret.
4. FOR FREEDOM Z: 2005 Zangersheide gelding by For Pleasure x Baloubet du Rouet
KEEAN WHITE (CAN), Angelstone Partners: 1/82.15
5. COUP DE FOUDRE V: 2007 KWPN gelding by Vittorio x Voltaire
VALERIA SOKOLOVA (RUS), Valeria Sokolova: 2/86.94
6. PALOMA: 2006 Holsteiner mare by Canaletto S x Henzo de la Brasserie
PETER WYLDE (USA), Kathleen Kamine: 4/77.64
7. ALEX: 2004 Westphalian gelding by Arpeggio x Mon Cheri
AUDREY COULTER (USA), Copernicus Stables LLC: 4/78.90
8. LUCIFER V: 2006 Westphalian gelding by Lord Dezi x Grandeur
HARDIN TOWELL (USA), Jennifer Gates LLC: 4/79.44
9. HOMER DE REVE: 2007 Belgian Warmblood by Nabab de Reve x Heartbreaker
LORENZO DE LUCA (ITA), Stephex Stables & VDB Equestrian Stables: 4/80.33
10. ARON S: 2005 KWPN gelding by Tadmus x Karandasj
KENT FARRINGTON (USA), Alexandra Crown: 4/80.40
11. BOKAI: 2006 KWPN gelding by Up To Date x Ferro
HARRIE SMOLDERS (NED), Axel Verlooy: 4/80.42
12. PERLE DU MARAIS: 2003 Selle Francais mare by Diamant de Semilly
JORGE MATTE (CHI), Jorge Matte: 5/82.76
Photo Credit: Photos © Sportfot, An Official Photographer of the Winter Equestrian Festival, sportfot.com. These photos may be used only in relation to this press release and must include photo credit.