For Immediate Release
Jennifer Wood and Summer Grace for Jennifer Wood Media, Inc.
Wellington, FL – January 26, 2019 – The 2019 Winter Equestrian Festival (WEF) hosted its third "Saturday Night Lights" event on January 26 under rainy skies, but it did not dampen the level of competition seen in the $134,000 Adequan® Grand Prix CSI 3*. Darragh Kenny (IRL) and Classic Dream came away with the win in the highlight class of WEF 3.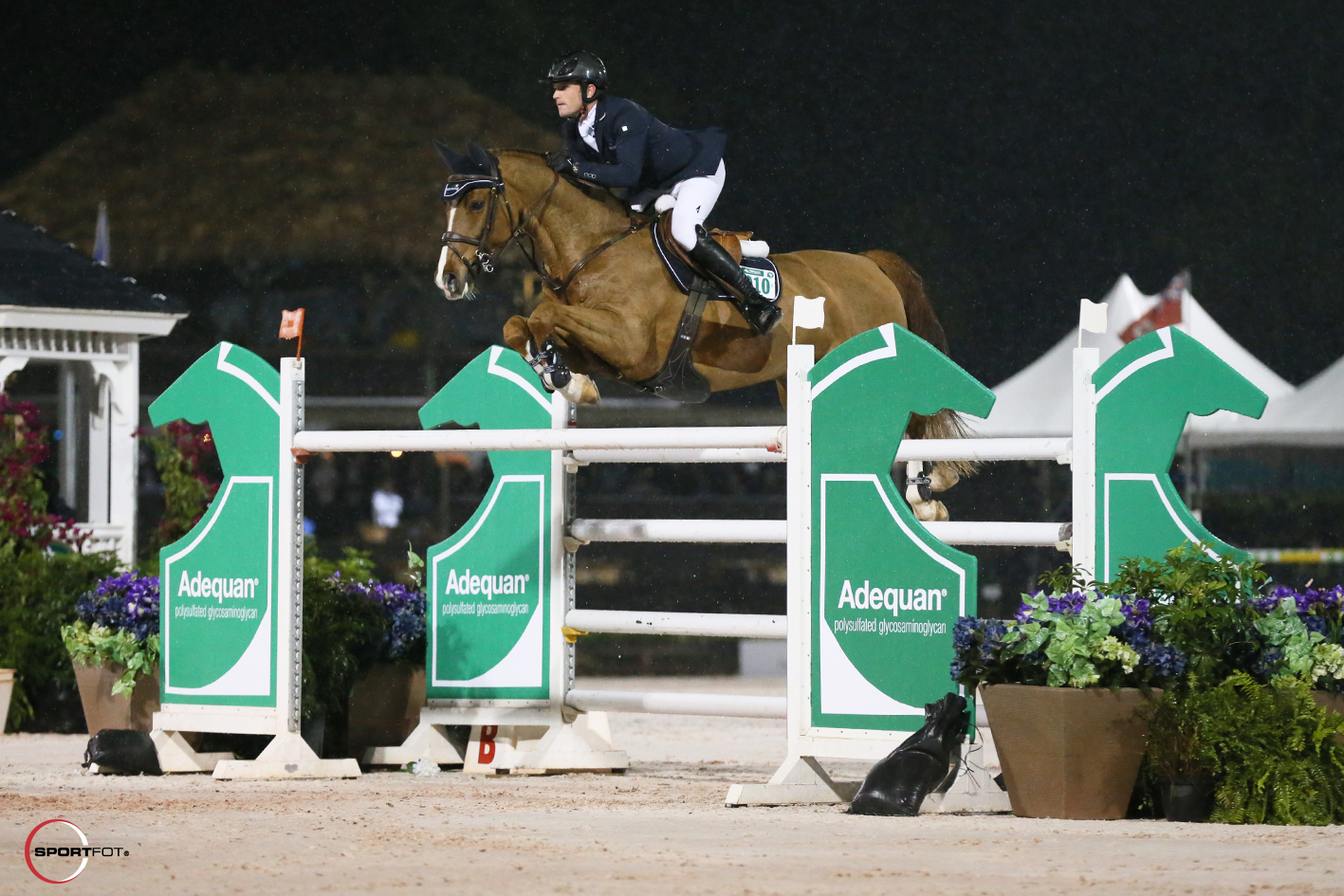 The third week of WEF concludes on Sunday, January 27, with the $36,000 CaptiveOne Advisors 1.50m Championship Jumper Series Classic. The 12-week WEF circuit features hunter, jumper, and equitation competition and continues through March 31, 2019, at the Palm Beach International Equestrian Center in Wellington, FL.
The first rider went to post an hour earlier than the usual Saturday night start time due to expected inclement weather conditions. A total of 45 entries competed over a course designed by Peter Grant of Canada. Ten were clear in the first round to advance to the jump-off. Seven of those 10 were double clear, leading to a very fast second round for the top prize.
The first to go clear in both rounds was Juan Pablo Betancourt (COL) on his own Dreamer des Bergeries. They put in a solid trip in 51.78 seconds, which would slot them into seventh place. Sixth place went to Catherine Tyree (USA) on Mary & Joe Tyree's Catungee, who was clear in 45.38 seconds. Beat Mändli (SUI) and Grant Road Partners LLC's Galan S brought the leading time down to 45.36 seconds for fifth place.
Next into the ring was Kenny on Classic Dream, a nine-year-old German Sport Horse gelding by Colestus owned by Kenny and Ann Thompson. They blistered around the course with tight rollbacks in two spots on course to post a time of 42.42 seconds.
"I kind of just went!" said Kenny of his jump-off plan. "He hasn't done so many jump-offs. He has never jumped a grand prix like this before in his life, but he really wants to do a good job. I think I was lucky. I got a really good turn back to the Rolex [jump] and to the wall, and he just tries to miss the jumps, so for me it is easy if I don't screw it up."
Kenny purchased Classic Dream as a six-year-old with World Champion rider Jos Lansink, who then sold his share to Ann Thompson. "This is a really amazing result for us because we bought the horse when he was six, and we have produced him the whole way along," said Kenny. "I think we are both really excited about the horse. Today he showed that he has a lot of quality and ability, and I think we are just going to take our time."
Following him in the ring was Beezie Madden (USA) on Abigail Wexner's Chic Hin D Hyrencourt, who stopped the timers in 44.20 seconds for third place. Adrienne Sternlicht (USA) and Toulago, owned by Starlight Farms 1 LLC, placed fourth in 44.60 seconds.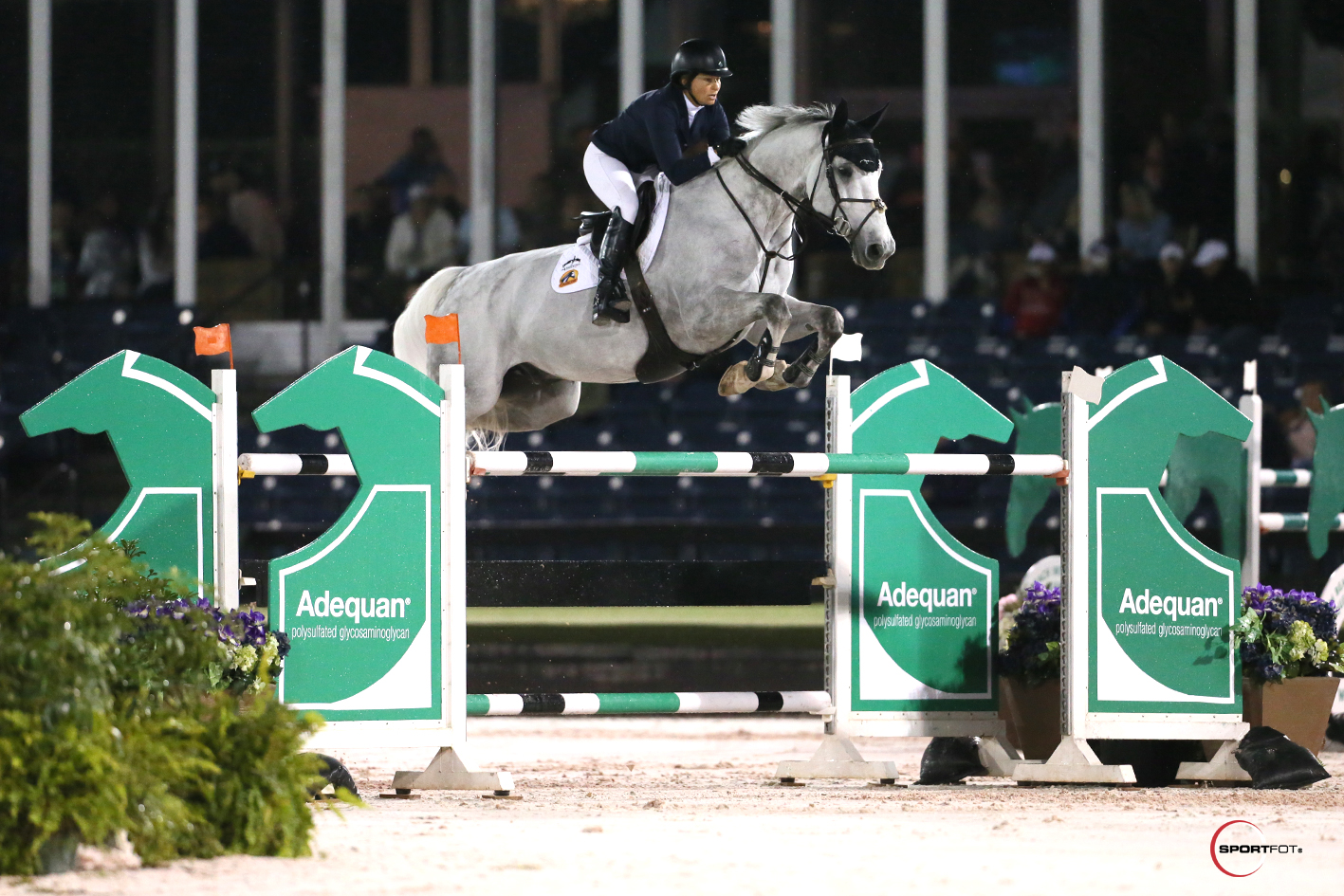 Madden and Chic Hin D Hyrencourt competed in last week's "Saturday Night Lights" grand prix, where Madden said he was impressed under the lights and "kind of a victim of a not very good ride on my part."
"But tonight, he came back and was fantastic," said the four-time Olympic medalist of the 11-year-old SBS gelding by Taran de la Pomme x Elanville. "I was really happy with the way he reacted to coming back under the lights. I thought he was good enough in the first round to take a shot in the jump-off. When I saw Darragh's tracks to the Rolex jump, I thought, 'I'm not sure that I can go that tight!' He's getting there, and we're forming a partnership. I'm really happy."
This is the pair's fifth top-three finish in a FEI ranking class. "He has a lot of quality," said Madden. "He's quite a careful horse. He's big and scopey, but sensitive at the same time. Again, it's going to be all about getting a partnership together with him, but I think he has all the qualities I hope for in a championship-type horse."
Kent Farrington (USA) and Baltic Star 2, owned by Tanma Corp. and Farrington, came the closest to Kenny, but their time of 43.23 seconds fell just short of the win.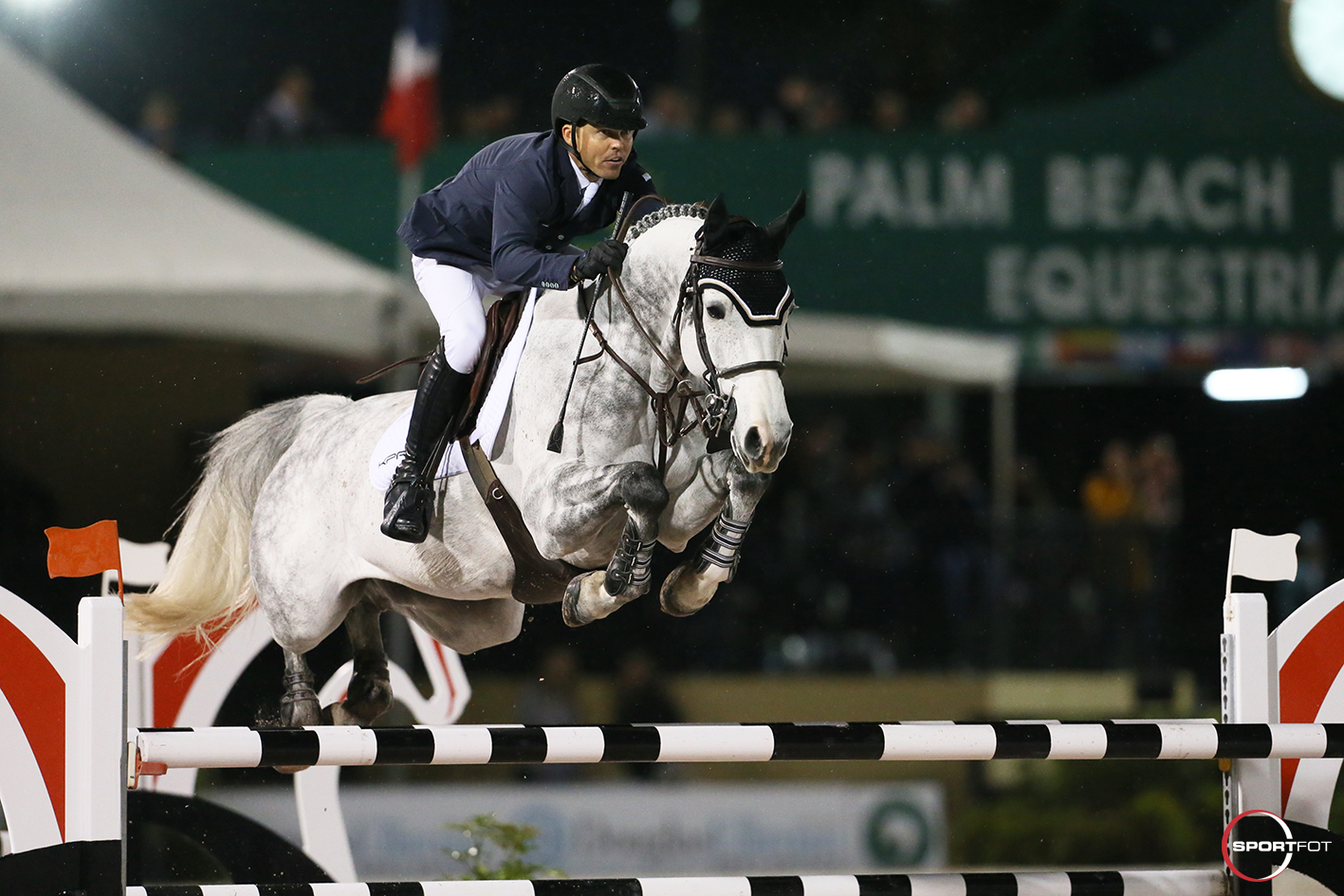 "I think similar to Darragh, this is a horse that I have had for quite a few years," said the Olympic team silver medalist of his 10-year-old Hanoverian gelding by Bacardi. "I got him when he was a young horse turning seven, and I produced him along the way. He is 10 this year, but I missed most of last year with him from my injury. He jumped the two-star grand prix here last year and then took until September off. I think a lot of the horse, and I think he is going to win a lot of things. We just have to get our steering a little better than it was tonight, but we still gave it a good try anyway."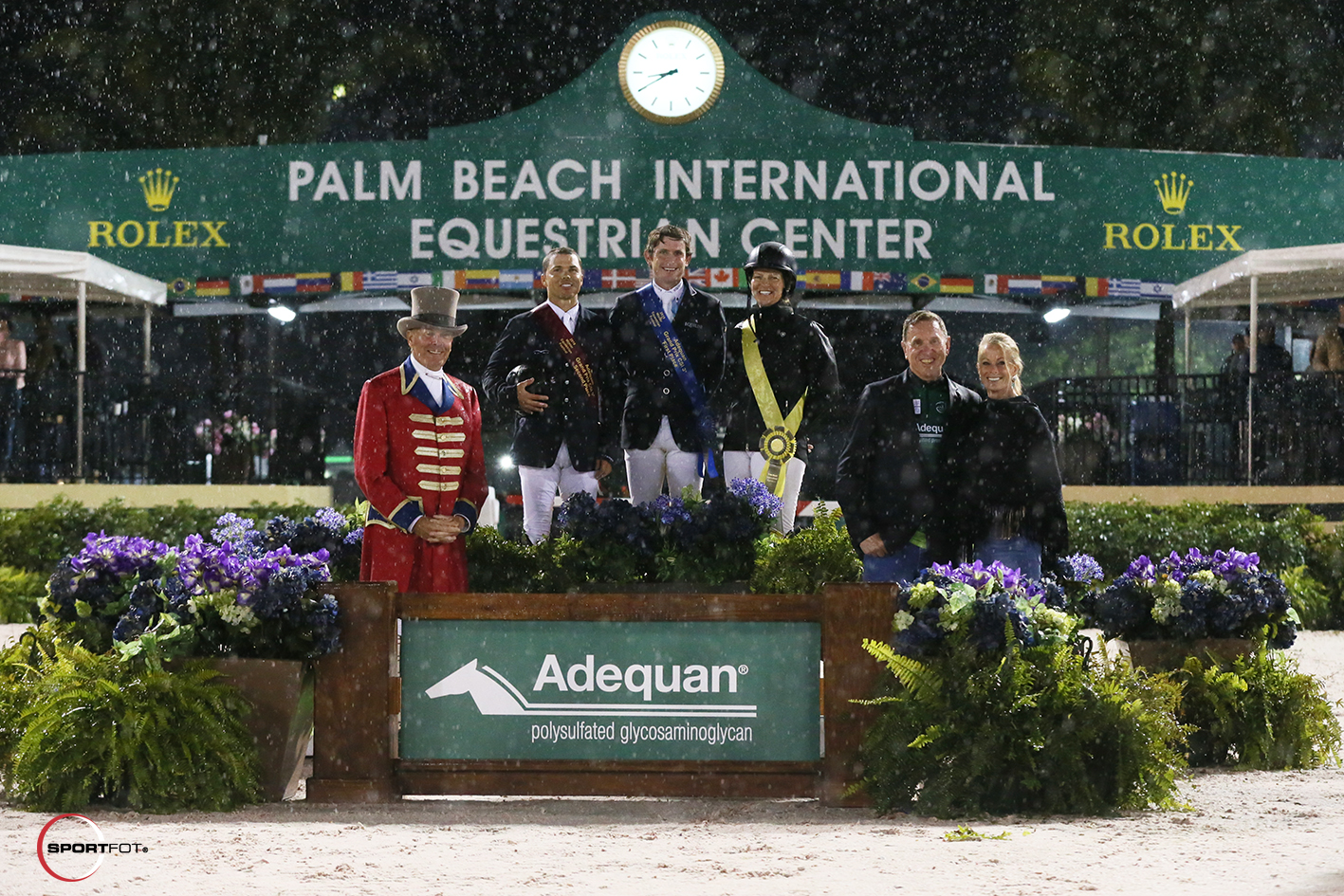 Allyn Mann, Director of Strategic Partnerships of Adequan®, stated, "We're just honored to be part of this and to be able to support, whether it's dressage or jumping, at this level. It's just wonderful to be here. We are thankful that we can do this and thankful that it doesn't always rain!"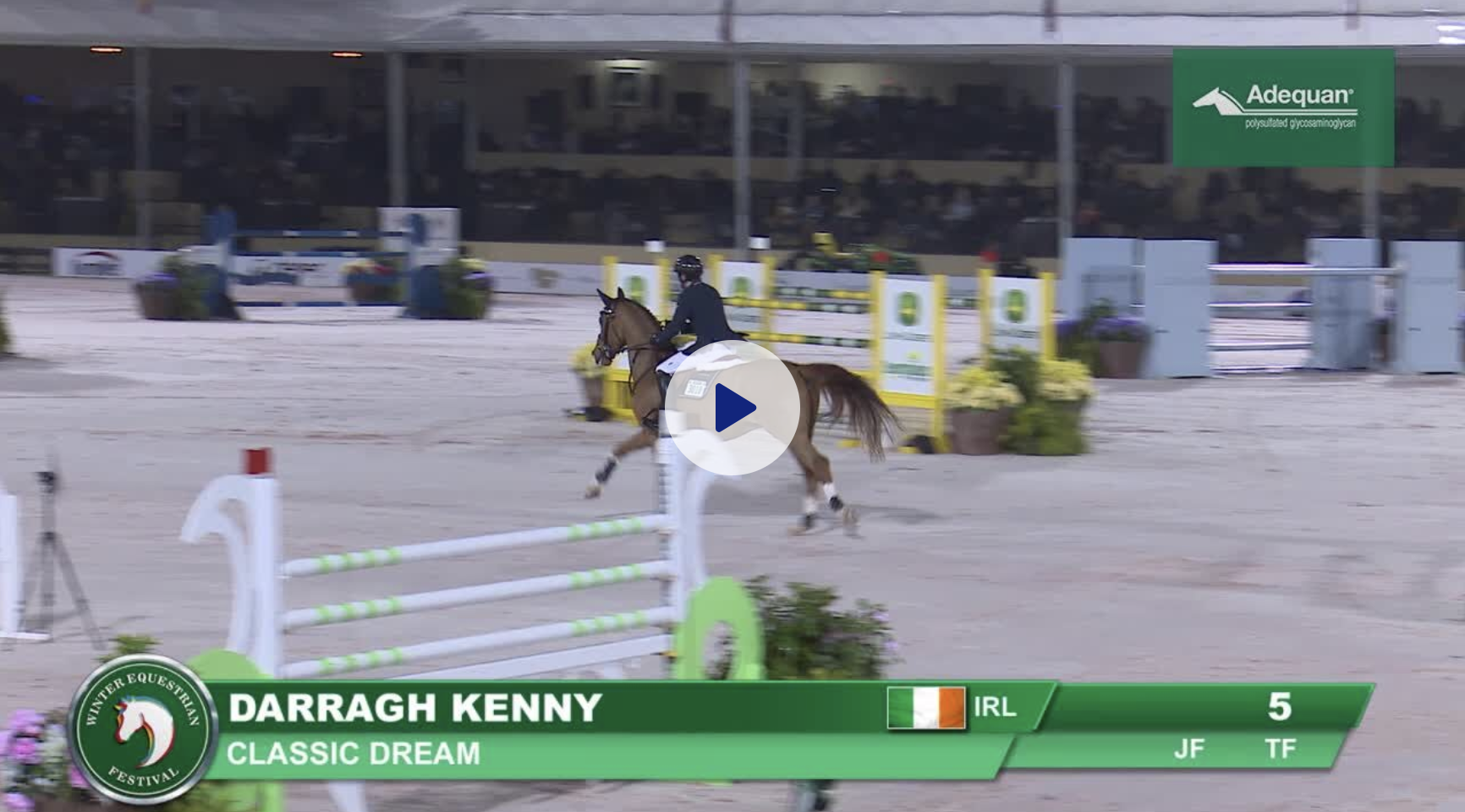 Final Results: $134,000 Adequan® Grand Prix CSI 3*
1 CLASSIC DREAM: 2010 German Sport Horse gelding by Colestus x Inster Graditz
DARRAGH KENNY (IRL), Darragh Kenny and Ann Thompson: 0/0/42.42
2 BALTIC STAR 2: 2009 Hanoverian gelding by Bacardi x Chalan
KENT FARRINGTON (USA), Tanma Corp. and Kent Farrington: 0/0/43.23
3 CHIC HIN D HYRENCOURT: 2008 SBS gelding by Taran de la Pomme x Elanville
BEEZIE MADDEN (USA), Abigail Wexner: 0/0/44.20
4 TOULAGO: 2005 Oldenburg gelding by Toulon x Carthago ZIsa
ADRIENNE STERNLICHT (USA), Starlight Farms 1 LLC: 0/0/44.606
5 GALAN S: 2006 Belgian Warmblood gelding by Indoctro x Calypso d'Herbiers
BEAT MANDLI (SUI), Grant Road Partners LLC: 0/0/45.364
6 CATUNGEE: 2006 Holsteiner gelding by Contact Me x Liatos
CATHERINE TYREE (USA), Mary & Joe Tyree: 0/0/45.38
7 DREAMER DES BERGERIES: 2009 Belgian Sport Horse gelding by Ugano Sitte x Oberon du Molin
JUAN PABLO BETANCOURT (COL), Juan Pablo Betancourt: 0/0/51.787
8 H5 CHAGANUS: 2008 Oldenburg gelding by Chacco Blue x Carthago
EDUARDO MENEZES (BRA), H5 Stables: 0/4/43.512
9 COUNT ME IN: 2007 Hanoverian gelding by Count Grannus x Sherlock Holmes
BETH UNDERHILL (CAN), Sandy Lupton: 0/4/47.246
10 SKARA GLEN'S MACHU PICCHU: 2007 KWPN gelding by Silverstone x Matterhorn
PAUL O'SHEA (IRL), Skara Glen Stables: 0/7/58.458
11 UNCLE BLUE: 2008 Swedish Warmblood gelding by Chacco Blue x Robin Z
SPENCER BRITTAN (USA), Spencer Brittan: 1/85.62
12 DON'T TOUCH DU BOIS: 2009 Belgian Sport Horse mare by Kashmir van Schuttershof x Indoctro
DAVID BLAKE (USA), Pine Hollow Farm: 4/80.89
Jef Lauwers Sweeps the Competition to Claim Champion in the Adequan® Amateur-Owner Hunter 3'3" 18-35 Division
Competition wrapped up in the Rost Arena on Saturday with the Amateur-Owner Hunter 3'3" 18-35 division returning to contest for championship honors in their final two over-fences classes. Having earned the blue ribbon in all three classes the previous day, Jef Lauwers of Magnolia, TX, sealed the victory by displaying another winning round as well as earning fifth place in the last class.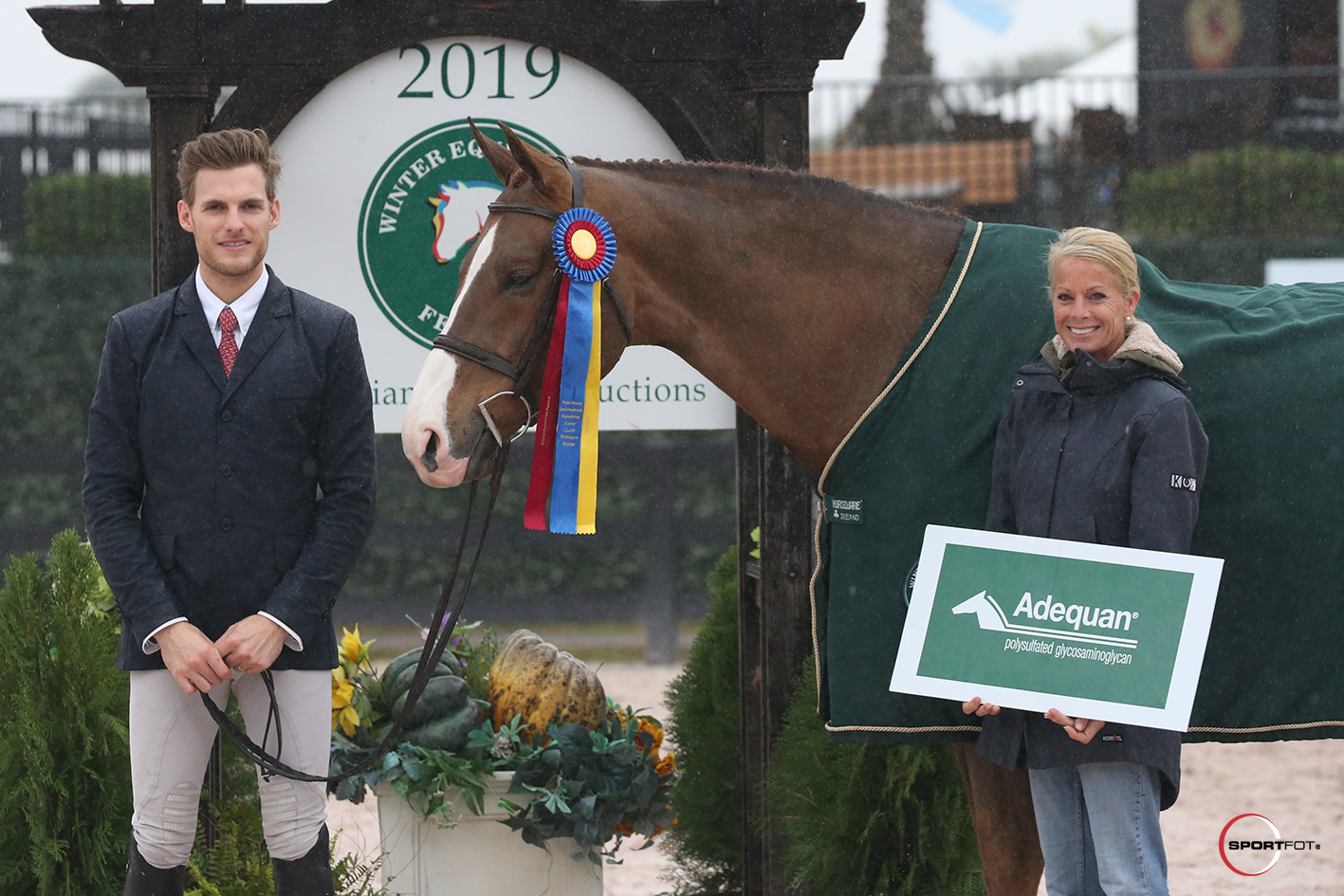 Lauwers piloted trainer Peter Pletcher's 14-year-old Oldenburg gelding (Sir Donnerhall x Glorious Lady), Sutherland, to four out of five possible first place ribbons and was uncatchable for the champion title with over 40 points accumulated. The reserve went to Caroline Gibson with the Shadyside Farm's 15-year-old Hanoverian mare, Gia.
While he appears completely comfortable in the hunter ring, Lauwers spent most of his riding career in Europe where he lived and only began riding hunters several years ago. He now lives in Texas and trains full-time with hunter veteran, Peter Pletcher.
"Where I was raised in Belgium, we don't have hunter style riding so this is only my third year riding in the hunters," he explained. "I started in the jumpers when I was younger because that is the normal thing to do in Europe, but for me, personally, the hunters are more fun."
Lauwers credits all of his success as a hunter rider to Pletcher and of course, to his equine partner Sutherland.
"Peter is the best influence I've had because he brings out the best in me and in Sutherland every day," he said. "We thrive off of the teamwork and this horse has taken me from the Adult Amateur Hunters all of the way to where I am now."
While Lauwer has shown across the country including the prestigious Hampton Classic and the Washington International Horse Show, he says WEF is one of his favorite venues.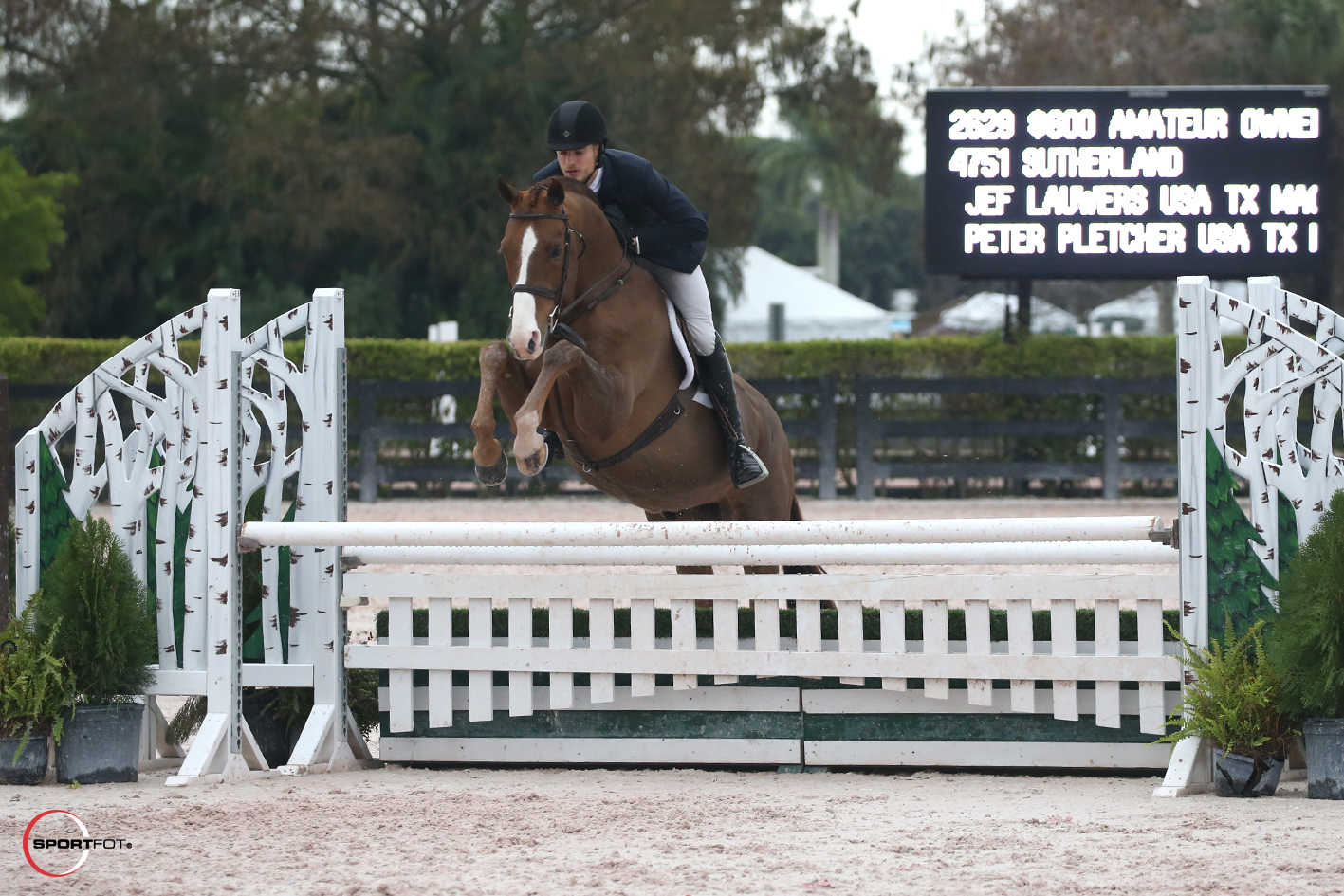 "WEF is incredible because it is 12 weeks of competition and the competition is just as tough as the week before," Lauwer stated. "There is a diverse group of both younger and more experienced riders all showing together and it's exciting to be included in that."
Competition at the 2019 Winter Equestrian Festival will continue Sunday, January 27, and will feature the $36,000 CaptiveOne Advisors 1.50m Championship Jumper Series Classic in the International Arena.