Wellington, FL – February 24, 2022 – The seventh week of the Winter Equestrian Festival (WEF), sponsored by Lugano Diamonds, featured international five-star and two-star jumper competition on Thursday, February 24, at the Palm Beach International Equestrian Center in Wellington, FL. Thursday's highlight was the $75,000 Adequan® WEF Challenge Cup Round VII CSI5* which was won by Daniel Deusser (GER) and Scuderia 1918 Tobago Z. WEF runs for 13 weeks from January 5 – April 3, 202,2 and hosts a variety of international jumper classes as well as nationally-rated hunter, jumper, and equitation competition.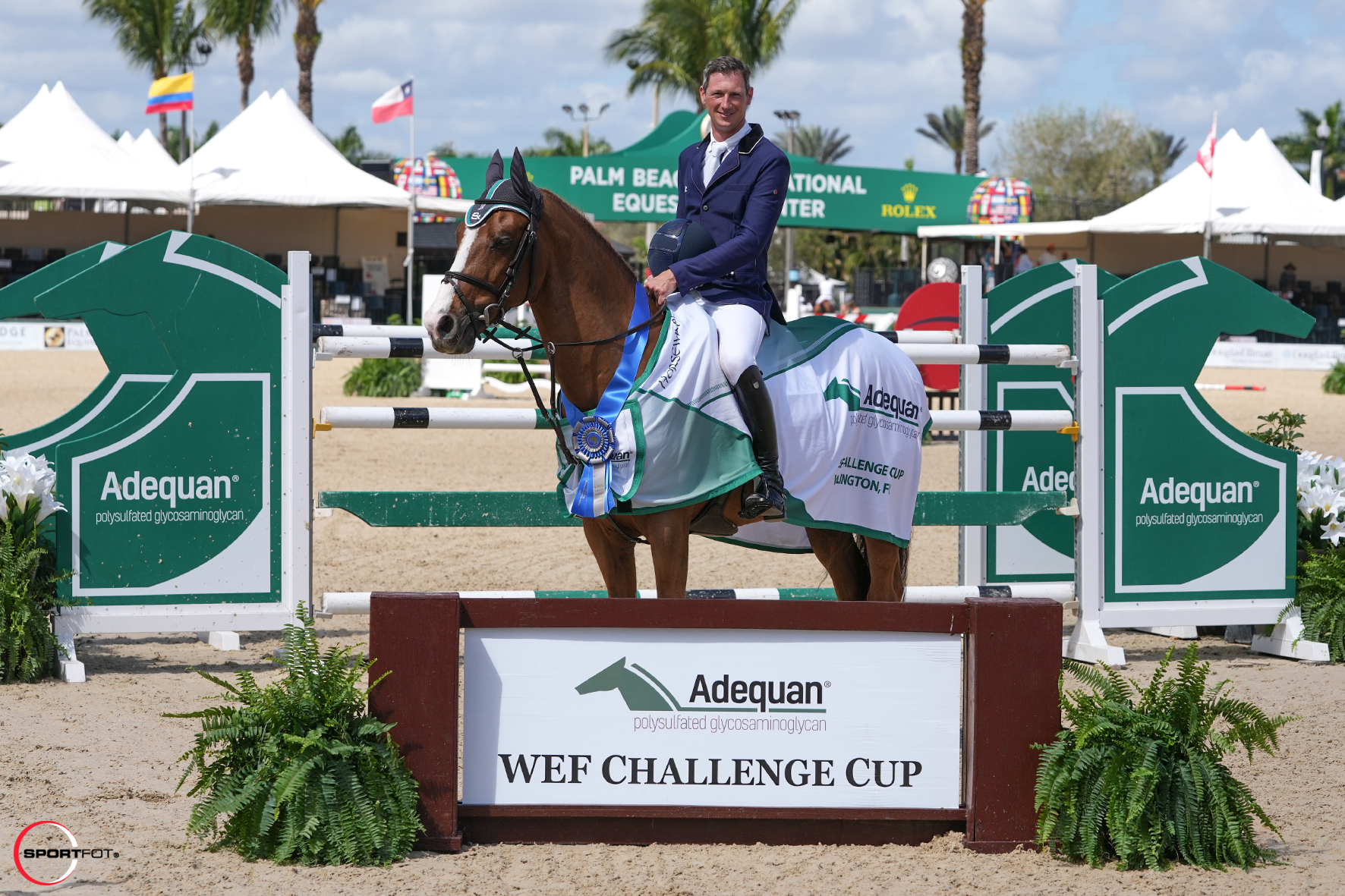 Fifty-seven of the world's elite show jumping combinations set out to contest Anthony D'Ambrosio's (USA) first-round track in hopes that they would qualify for the jump-off and subsequently, the $406,000 Lugano Diamonds Grand Prix CSI5* on Saturday, February 26, at 7 p.m. Of the 18 nations represented in the opening field, only 10 combinations from six of those countries landed a spot for the short track. That field then went from 10 to nine returning as Sergio Alvarez Moya (ESP) made the decision to save his jumps for another day.
Ireland's Shane Sweetnam led off the return field and immediately put out a challenge to the remaining riders as he and Alejandro, owned by Sweet Oak Farm, Spy Coast, and Seabrook, produced another clean round in 38.25 seconds. Always an exciting pair in a jump-off, Deusser and Scuderia 1918 Tobago Z entered third and overthrew Sweetnam by clocking in almost a second faster at 37.42 seconds. Those following put forward their best efforts but as the final horse stopped the clock, it was obvious Deusser and the 14-year-old Zangersheide stallion (Otangelo x Mr Blue) gelding had succeeded.
Watch Daniel Deusser's winning jump-off here!
"I chose this horse for today because he is in very good shape again," explained Deusser. "He had a few months off last year, and then when we jumped him here for the first time two weeks ago, he showed us he was feeling good."
WEF is the first international competition for the Stephex and Scuderia 1918's gelding since they competed at CHI Geneva in November of 2021.
"After the first round, I had such a good feeling about the ride that I actually was really trying to win when I went in for the jump-off," added Deusser. "He is a very flexible horse, and he doesn't care if you turn him short so the jump-off was quite nice for me. I thought the course designer did a good job today; it was tricky and difficult enough, and the time allowed was short but not impossible."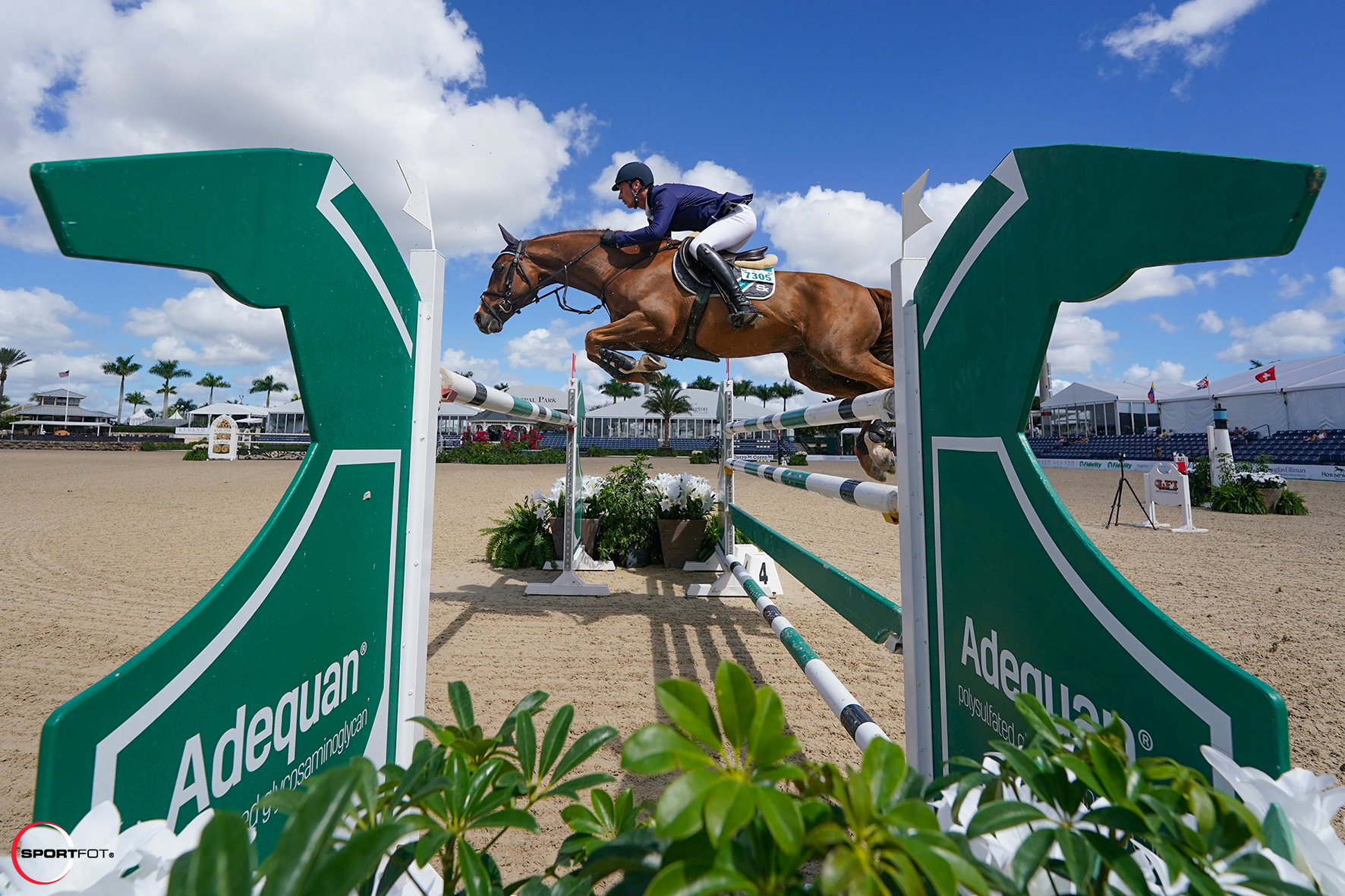 Scuderia 1918 Tobago Z will also be Deusser's mount for the main event on Saturday night.
"He leaves for Europe next week so this will probably be his last show of the season in the States," said Deusser. "He seems to be in a pretty good mood, so the plan is to use him for the grand prix as well."
Lorenzo de Luca (ITA) and his partner, the Poden Farms' 12-year-old KWPN gelding F One USA (Toulon x Tangelo Van De Zuuthoeve) missed the mark by mere milliseconds but managed to take home the second-place title. The duo stopped the clock with a time of 37.55 seconds which then bumped Sweetnam into third. Sweetnam's performance with Sweet Oak Farm, Spy Coast, and Seabrook's 13-year-old Rheinländer gelding (Acorado's Ass x Continue) remained good enough to secure the final spot of the victory gallop.
Final Results: $75,000 Adequan WEF Challenge Cup Round VII
1. SCUDERIA 1918 TOBAGO Z: 2008 Zangersheide stallion by Otangelo x Mr Blue
DANIEL DEUSSER (GER), Stephex and Scuderia 1918: 0/0/37.42
2. F ONE USA: 2010 KWPN gelding by Toulon x Tangelo Van De Zuuthoeve
LORENZO DE LUCA (ITA), Poden Farms: 0/0/37.55
3. ALEJANDRO: 2009 Rheinländer gelding by Acorado's Ass x Continue
SHANE SWEETNAM (IRL), Sweet Oak Farm, Spy Coast, and Seabrook:  0/0/38.25
4. DICAS: 2009 Rheinländer gelding by Diarado x Cassini I
MARGIE GOLDSTEIN-ENGLE (USA), Storm Ridge Show Horses, Garber, and Gladewinds: 0/0/40.98
5. EL BALOU OLD: 2012 OS stallion by Eldorado vd Zeshoek x Balou du Rouet
DAVID O'BRIEN (IRL), Chansonette Farm LLC: 0/0/41.40
6. QUIBELLE: 2009 Hannoverian mare by FRH Quaid x Stakkato
SPENCER SMITH (USA), Gotham Enterprizes, LLC: 0/0/43.55
7. GINGER-BLUE: 2011 KWPN mare by Plot Blue x Royal Bravour
BEN MAHER (GBR), Jane Forbes Clark: 0/4/39.35
8. KASPER VAN HET HELLEHOF: 2010 BWP stallion by Emerald x Nabab de Reve
MCLAIN WARD (USA), Grant Road Partners GMBH: 0/4/39.77
9. H&M KIRLO VAN DEN BOSRAND: 2010 BWP gelding by Cardento 933 x Utrillo vd Heffinck
SAMUEL HUTTON (GBR), Abdel Saïd: 0/4/40.44
10. ALAMO: 2008 KWPN gelding by Ukato x Equador
SERGIO ALVAREZ MOYA (ESP), Sergio Alvarez Moya: 0/WD
11. CHADELLANO PS: 2011 OS gelding by Chacco-Blue x Centadel
EMANUELE CAMILLI (ITA), Emanuele Camilli: 1/74.38
12. HESTER: 2005 BWP gelding by Wandor Van De Mispelaere x Palestro vd Begijnakker
LUCY DESLAURIERS (USA), Lisa Deslauriers: 4/69.32

Ashley Vogel Victorious in $6,000 Palm Beach Equine Clinic 1.45m CSI2*
The International Arena welcomed 23 horse-and rider-combinations on Thursday morning to navigate a course set by Anthony D'Ambrosio (USA) for the $6,000 Palm Beach Equine Clinic 1.45m CSI2*.
With blue skies above, it was Ashley Vogel aboard Lucy In The Sky who donned the blue sash with a time of 62.65 seconds in the speed class as the fastest of seven clear rounds.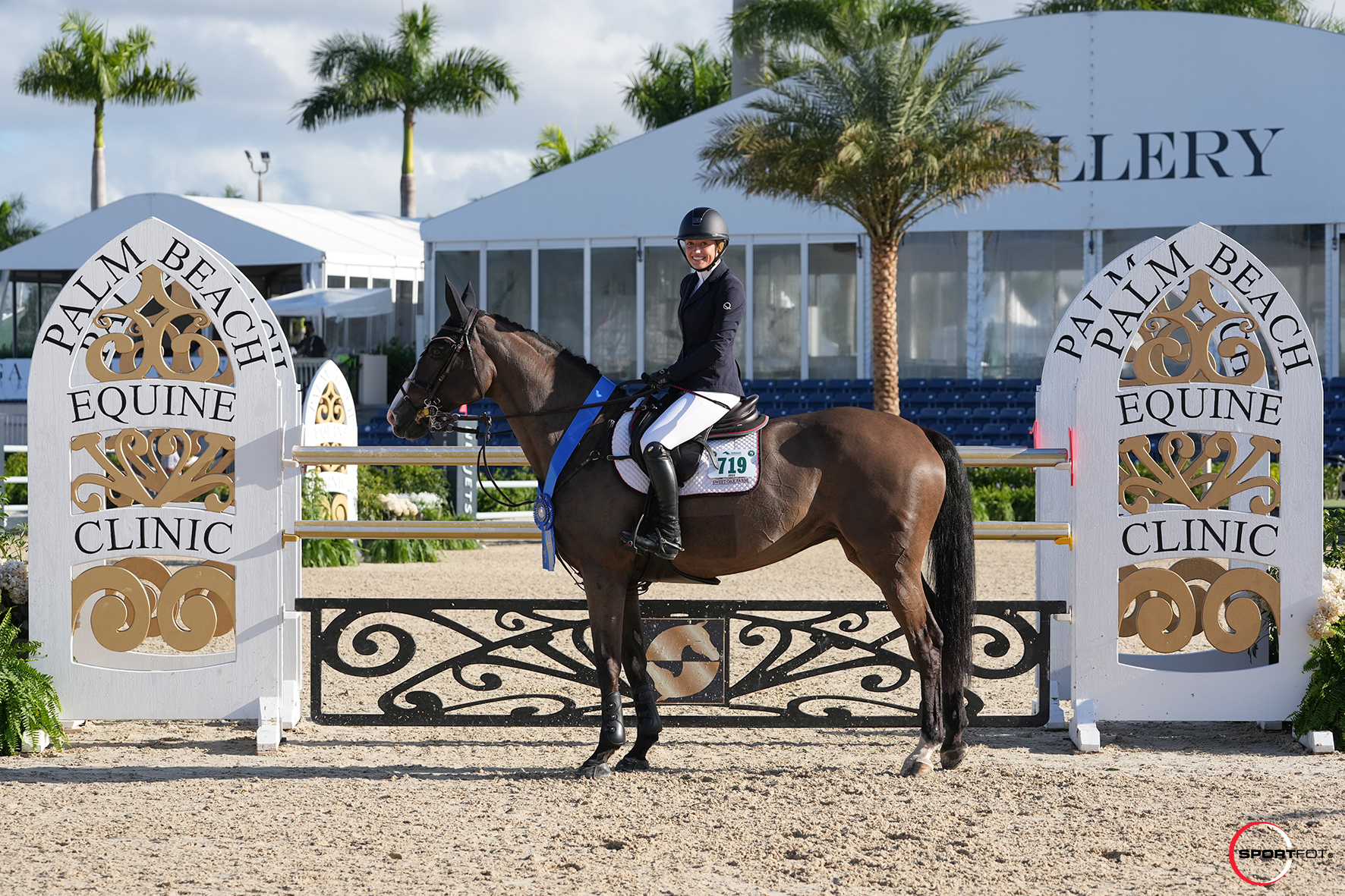 "I thought it was a really good course," said Vogel, of Wellington, FL. "There were only so many clear, and people were getting results even with four faults, so I think the course was challenging enough."
The difficulty of the course left unique opportunities for Vogel and Lucy In The Sky. "There were lots of rollbacks, and there were places in the course to be really tight and neat," noted Vogel. "She's naturally very fast across the ground too, so I think that helped.
"There was also a line against the left side of the ring on the outside that was a little shadowy," she continued. "It was tall and square coming in which I think caught a lot of horses, but she jumped it great. I'm really happy with her."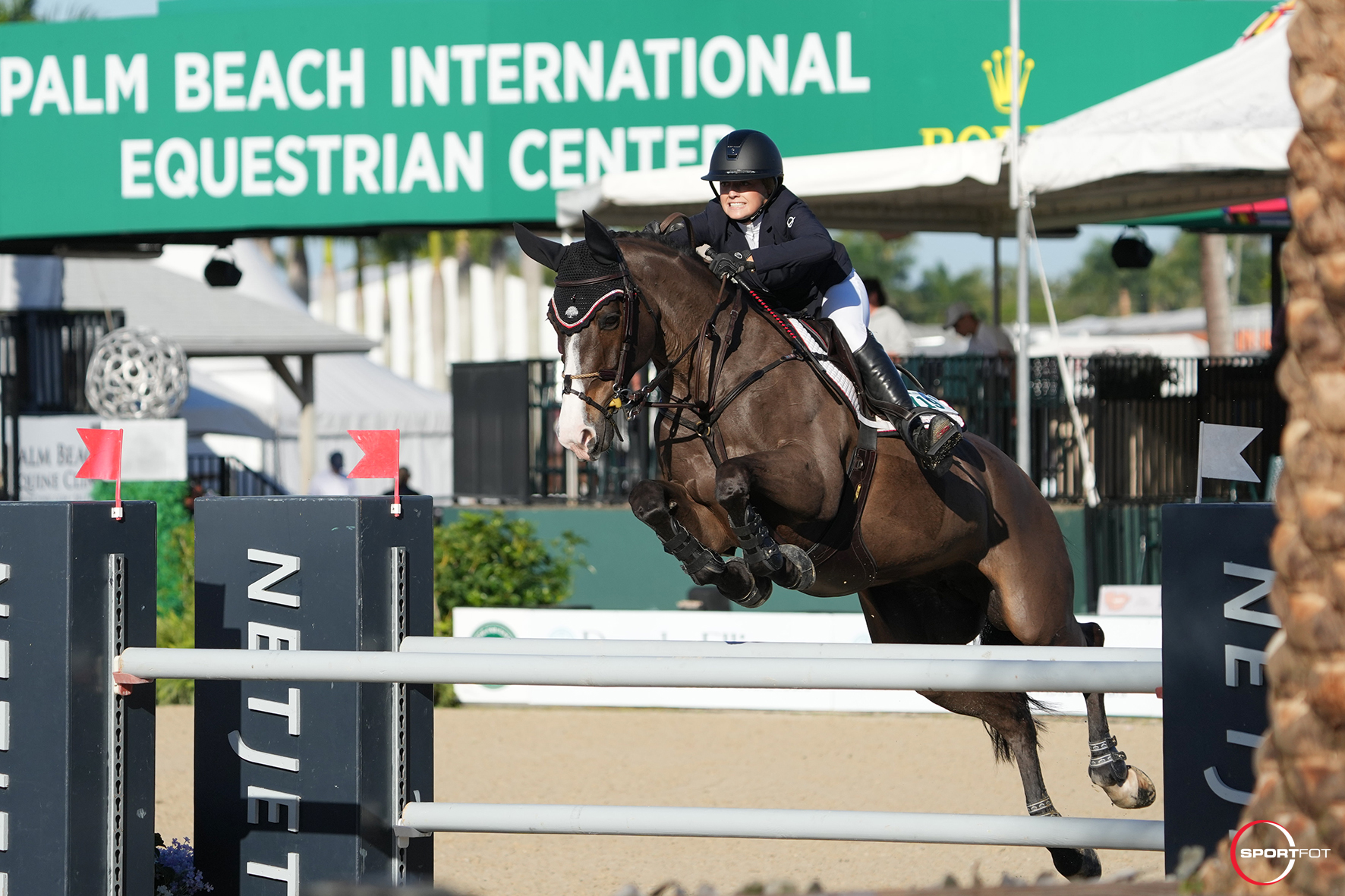 Lucy In The Sky (or "Lulu" as she's known in the barn) is a 13-year-old Swedish Warmblood owned by Vogel who has some history with the mare.
"She was my first high junior jumper to be competitive with," said Vogel. "She's the horse I've had in my group the longest, so we have a very special connection. She's really neat, has a huge heart, and tries really hard for me out there."
Already showing success at higher levels, Vogel intends to continue their partnership going forward. "In the last year and a half, I've gotten a lot of results on her, some speed classes and things, and now I'm starting to step up into some of the FEI classes and she's really excelling," she said. "I believe I'll be doing some more speeds throughout circuit though, some 1.40m classes, some 1.45m, and hopefully we'll see some more results and mileage for both of us, so I'm really excited for that."
The second-place ribbon went to Quentin Judge (USA) riding HH Qualido owned by Double H Farm with a time of 63.01 seconds, and Maria Costa (USA) rounded out the top three on her own Iceman B SFN with a time of 66.58 seconds.
Final Results: $6,000 Palm Beach Equine Clinic 1.45m CSI2*
1. LUCY IN THE SKY: 2009 Swedish Warmblood mare by Tornesch x Quantum
ASHLEY VOGEL (USA), Ashley Vogel: 0/62.65
2. HH QUALIDO: 2008 Hanoverian gelding by Quicksilber x Calido
QUENTIN JUDGE (USA), Double H Farm: 0/63.01
3. ICEMAN B SFN: 2013 KWPN gelding by Mylord Carthago*HN x Corland
MARIA COSTA (USA), Maria Costa: 0/66.58
4. BYZANCE MAIL: 2011 Selle Français mare by Iowa 960 x Carthago
LACEY GILBERTSON (USA), Seabrook LLC: 0/68.07
5. QUINTAGO VA: 2007 Holsteiner gelding by Quidam de Revel x Capitol I
UMA O'NEILL (USA), O'Neil Show Jumping LLC: 0/68.20
6. CASIANO: 2014 Anglo European gelding by Casino Berlin
LAUREN HOUGH (USA), Chandler Meadows: 0/71.24
7. URVOSO DU ROCH: 2008 Selle Français gelding by Nervoso x Grand D'Escla
TOM WACHMAN (IRL), Coolmore Show Jumping: 0/71.77
8. JERSEY GIRL: 2010 Swedish Warmblood mare by Careful x Turban Rose
REBECCA CONWAY (USA), Hilington Farm: 4/63.97
9. HAITIE: 2012 KWPN mare by Cayado 3 x Cassini II
SANDRA DALMAN (USA), Dalman Show Jumping: 4/67.42
10. CHAPEAU PS Z: 2014 Zangersheide stallion by Comilfo Plus Z x Calato Z
LUIS PEDRO BIRABEN (ARG), Miguel Madero & Luis Pedro Biraben: 4/72.80
11. VALENTINO TUILIERE: 2009 Selle Français gelding by Diamant de Semilly x Silvio
DARRAGH KERINS (IRL), Eve Jobs: 4/72.99
12. CARMEN DE BONNIERES: 2012 Selle Français mare by Kannan*GFE x Socrate de Chivre
CONOR O'REGAN (IRL), Sabine Cooper: 8/67.44

Chesapeake Takes Command in TRM Green Hunter 3'
Over in the Rost Ring, Chesapeake and rider Jef Lauwers, of Magnolia, TX, took a commanding lead in the Green Hunter 3' division sponsored by TRM.
The pair accrued 32 total points over five classes including first-, second-, and a third-place finishes over fences, and they won the under saddle.
Chesapeake is a six-year-old Westphalian owned by Shaw Johnson Price and trained by Peter Pletcher, who had glowing reviews of the young chestnut gelding.
"We bought him right before we came down for circuit, so this is only his fifth show," said Pletcher. "He's straight forward, has a super brain, and is a beautiful mover. We're super happy with him."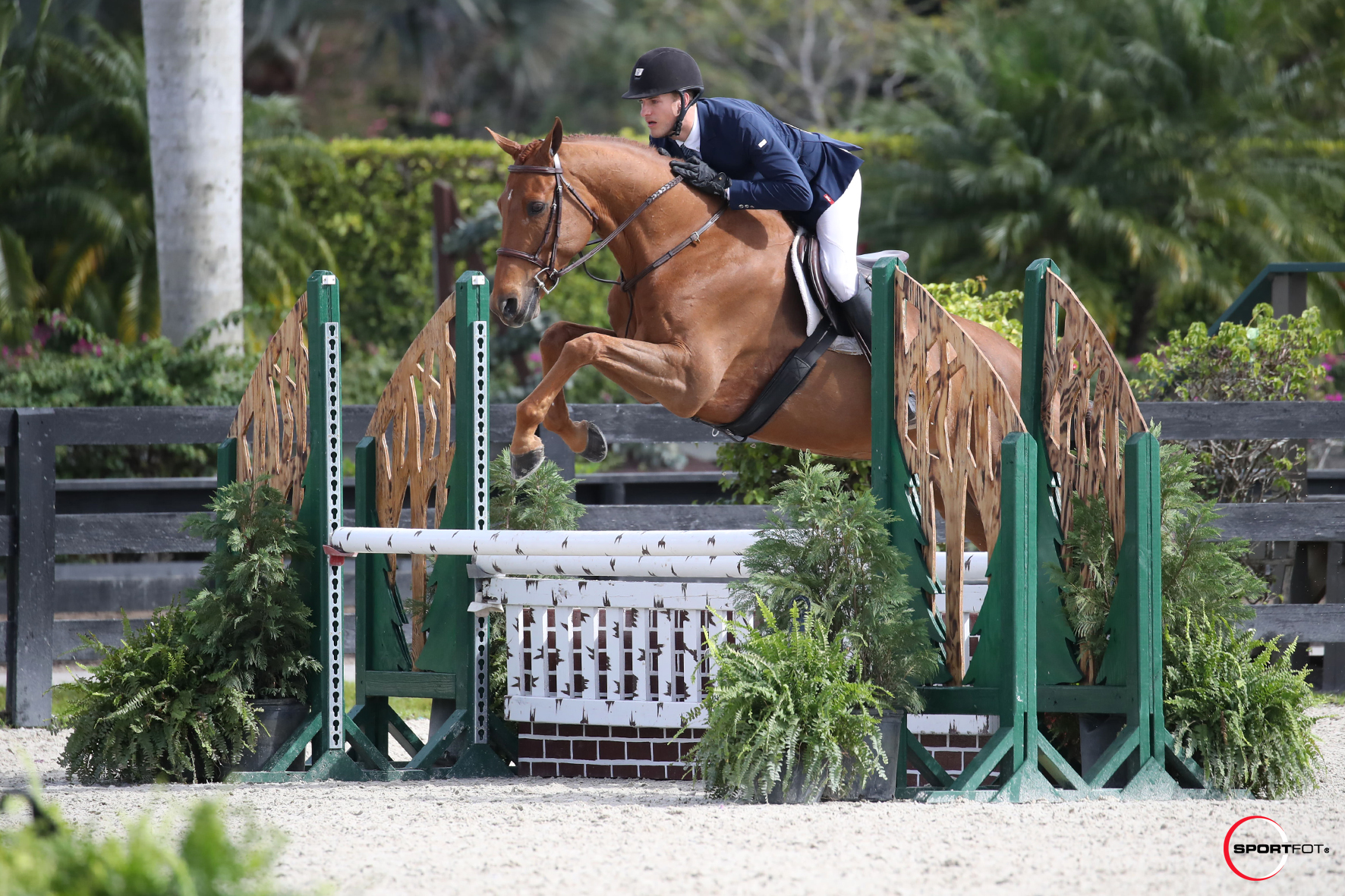 Pletcher went on to note that his amateur owner is starting to show him in the adult division and gave an equally positive description of Chesapeake's personality.
"He's calm and cool; nothing surprises him," said Pletcher. "He's really just a great amateur horse."
Of the 28 horse-and-rider combinations who returned for day two of the division, the reserve champion ribbon, with 24 total points, went to So Special owned by Paula Horton and with Victoria Colvin in the irons.