For Immediate Release
Summer Grace and Amanda Picciotto Feitosa for Jennifer Wood Media, Inc.
Wellington, FL – January 20, 2022 – Another full day of premier sport at the 2022 Winter Equestrian Festival (WEF) kicked off Thursday with international jumpers getting their first chance to contest the grass. The Derby Field at Equestrian Village will play host to a variety of FEI jumper classes during WEF 2, sponsored by Hygain Feeds. The day culminated in the $37,000 Douglas Elliman Real Estate 1.45m feature event and celebrated Daniel Coyle (IRL) as the class victor aboard Tienna, owned by Ariel Grange.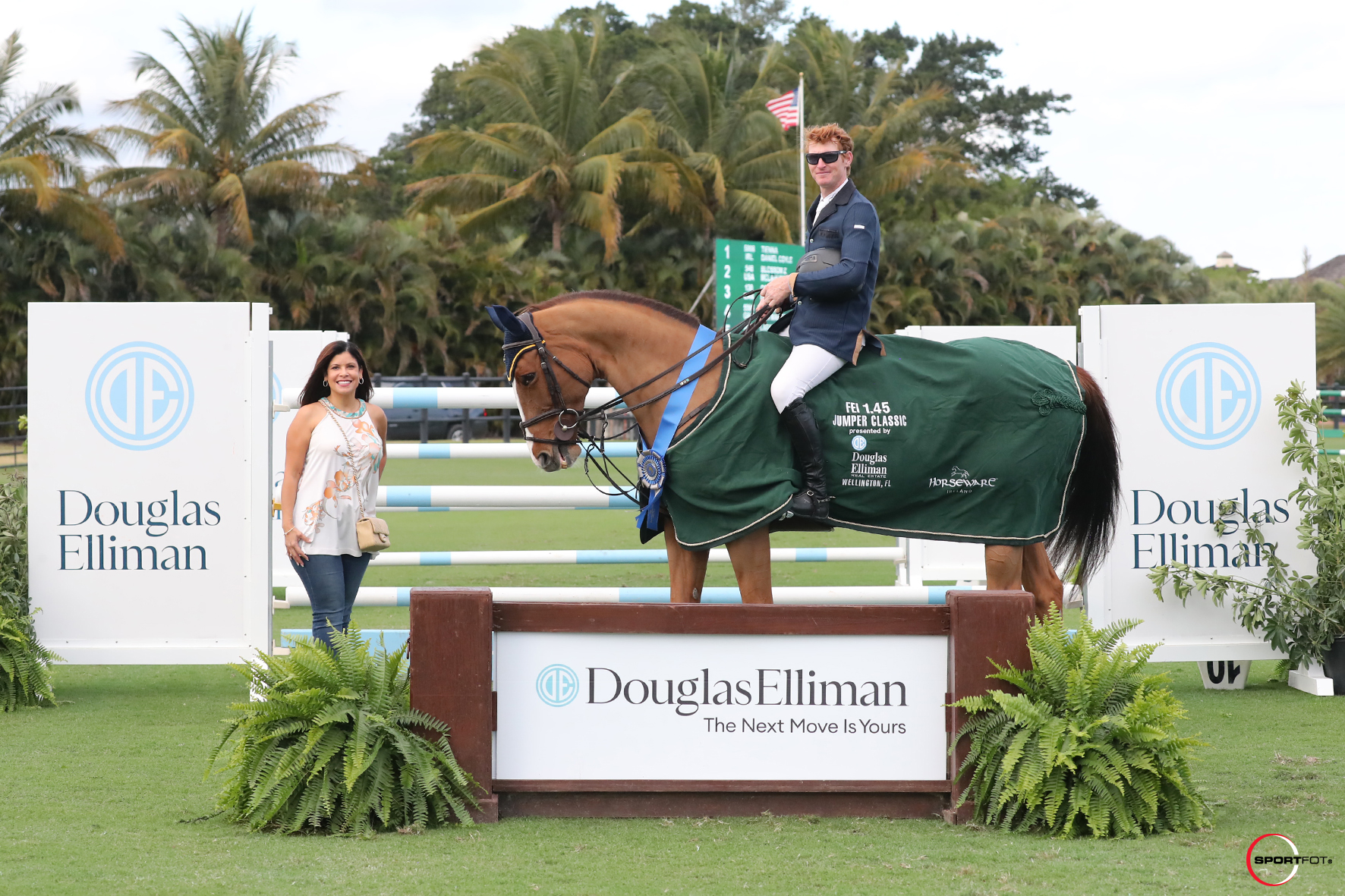 Fifty-nine combinations showed up to contest Oscar Soberon's (USA) speed track but none were able to catch Daniel Coyle's blazing time of 65.56 seconds. The lead changed hands various times at the start of the class as the athletes determined their best plan of action. McLain Ward (USA) picked up the lead fairly early in the day in a time of 66.30 seconds and held on to it for a majority of the class until Coyle and Tienna managed to shave a little less than a second off.
Ward maintained the second-place position aboard Wyndmont, Heller, and Ward's 12-year-old Zangersheide mare Blossom Z (Balou Du Rouet x Cleopatra Z). Canada made its way on to the podium as Erynn Ballard entered the field as the second to last to compete and laid down a performance good enough to earn her and Comedie De Talma, Ilan Ferder and Esperanza Imports 10-year-old Selle Francais mare (Kannan x Contender), third place in a final time of 66.65 seconds.
"Ariel and I had talked about when we wanted to start her, and we came to the conclusion of this week," explained Coyle. "It is always nice to start on the grass because it is a long winter.
"She is very competitive as you can see," he continued of the 14-year-old Canadian Sport Horse mare (For Pleasure x Polydox). "Everything just showed up lovely today, and she is just naturally so very fast. It was a great feeling going through the finish and seeing our time because I knew McLain had set a hard time to beat."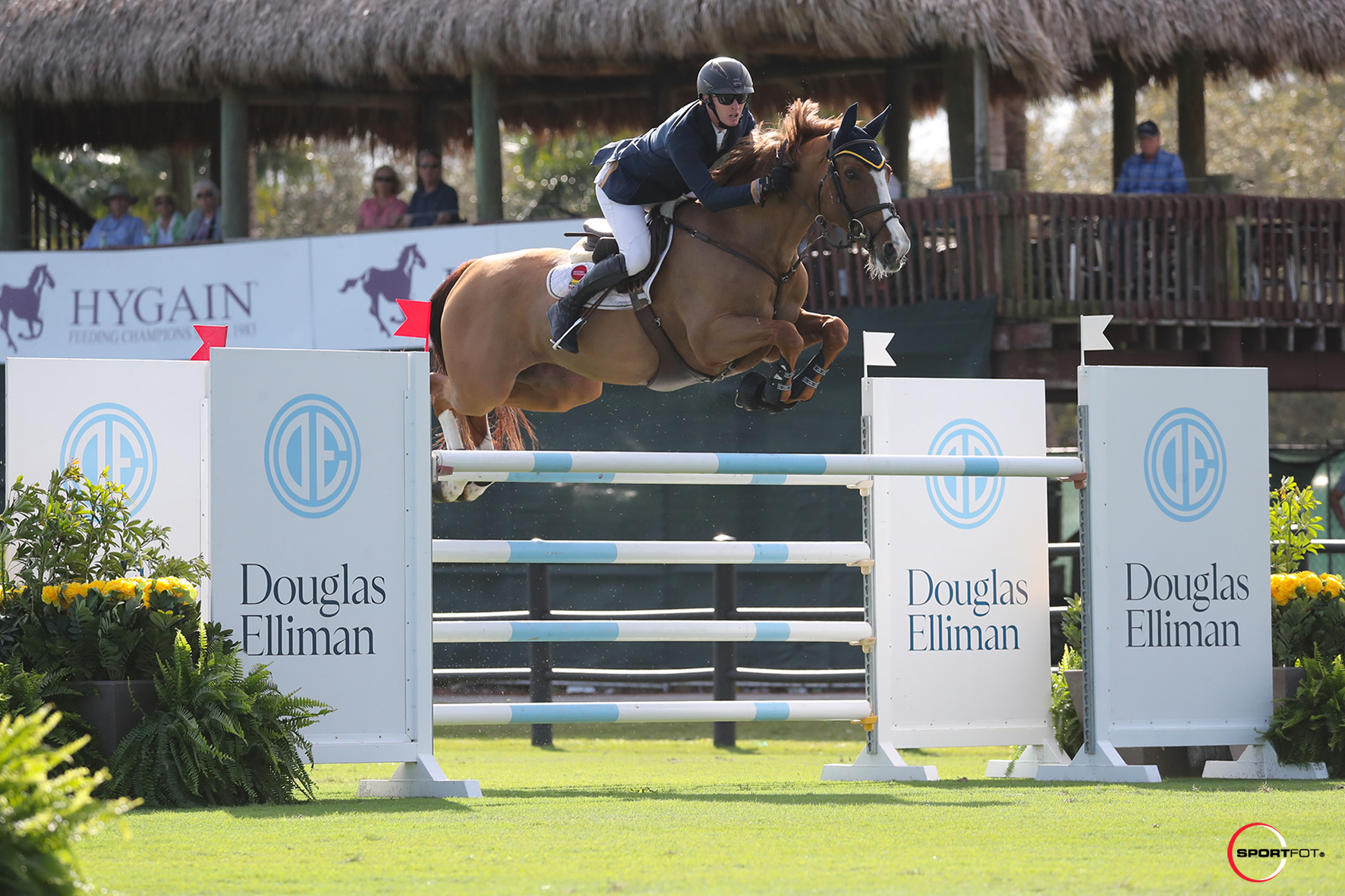 Coyle started riding Tienna when the mare was eight years old, and this win was extra special as he explained that an injury had previously forced a break for two years. This was their first time back in FEI competition.
"When I first began riding her, I knew she was by far the most talented horse I had ever ridden, and we kind of grew in our careers together," he fondly recalled. "I've been lost without her for the past two years, and I can't put into words how glad I am to have her back."
Competition debuted on Thursday with the $6,000 Bainbridge Companies 1.40m Classic which ultimately saw veteran Margie Engle (USA) and Virginia Bartholomay's 10-year-old Oldenburg gelding Cesna M (Check In 2 x Furiella) top the field of 69 entries.
Final Results: $37,000 Douglas Elliman Real Estate 1.45m Classic
1 TIENNA: 2008 Canadian Sport Horse mare by For Pleasure x Polydox
DANIEL COYLE (IRL), Ariel Grange: 0/65.56
2 BLOSSOM Z: 2010 Zangersheide mare by Balou Du Rouet x Cleopatra Z
MCLAIN WARD (USA), Wyndmont, Susan Heller and McLain Ward: 0/66.30
3 COMEDIE DE TALMA: 2012 Selle Français mare by Kannan x Contender
ERYNN BALLARD (CAN), Ilan Ferder and Esperanza Imports:0/66.65
4 TIC TAC: 2003 SBS stallion by Clinton x Panama Du Seigneur
BEN MAHER (GBR), Jane Forbes Clark: 0/66.92
5 LAFAYETTE VAN OVERIS: 2011 BWP gelding by Kashmir van Schuttershof x Tauber van het Kapelhof
ADRIENNE STERNLICHT (USA), Starlight Farms 1 LLC: 0/67.16
6 MAESTRO VICA V/D ARK: 2012 BWP stallion by Lordanos x Hearbreaker
NATALIE DEAN (USA), Marigold Sporthorses, LLC: 0/67.38
7 H.BIG ACTION: 2012 KWPN Stallion by Action-Breaker x Big Star
EDUARDO MENEZES (BRA), Eduardo Menezes: 0/67.88
8 BERDIEN: 2011 Zangersheide mare by Bustique x Querlybet Hero
MOLLY ASHE CAWLEY (USA), Louisburg Farm: 0/70.22
9 VALENTINO V Z: 2009 Zangersheide stallion by Verdi x Converter
MARIA COSTA (USA), Ravello Farms, LLC: 0/70.43
10 CASALL: 2005 Holsteiner gelding by Casall ASK x Capitol I
ALI WOLFF (USA), Blacklick Bend Farm: 0/71.41
11 FLEURETTE: 2009 Selle Francais mare by Verdi Tn x Concorde
NICOLETTE HIRT (USA), Iron Horse Equestrian: 0/72.59
12 GLEN: 2011 KWPN Stallion by Zirocco Blue VDL x Uthalina-M
JONATHAN MC CREA (USA), Windsor Show Stables: 0/73.85

Cathleen Driscoll and Flotylla Finish on Top in National Grand Prix Qualifier
It was a big day for national jumper competition with 93 entries contesting the Nick Granat-designed course for the $10,000 Douglas Elliman Real Estate National Grand Prix Qualifier 1.45m. Cathleen Driscoll (USA) rode Don Stewart's Flotylla straight to the top.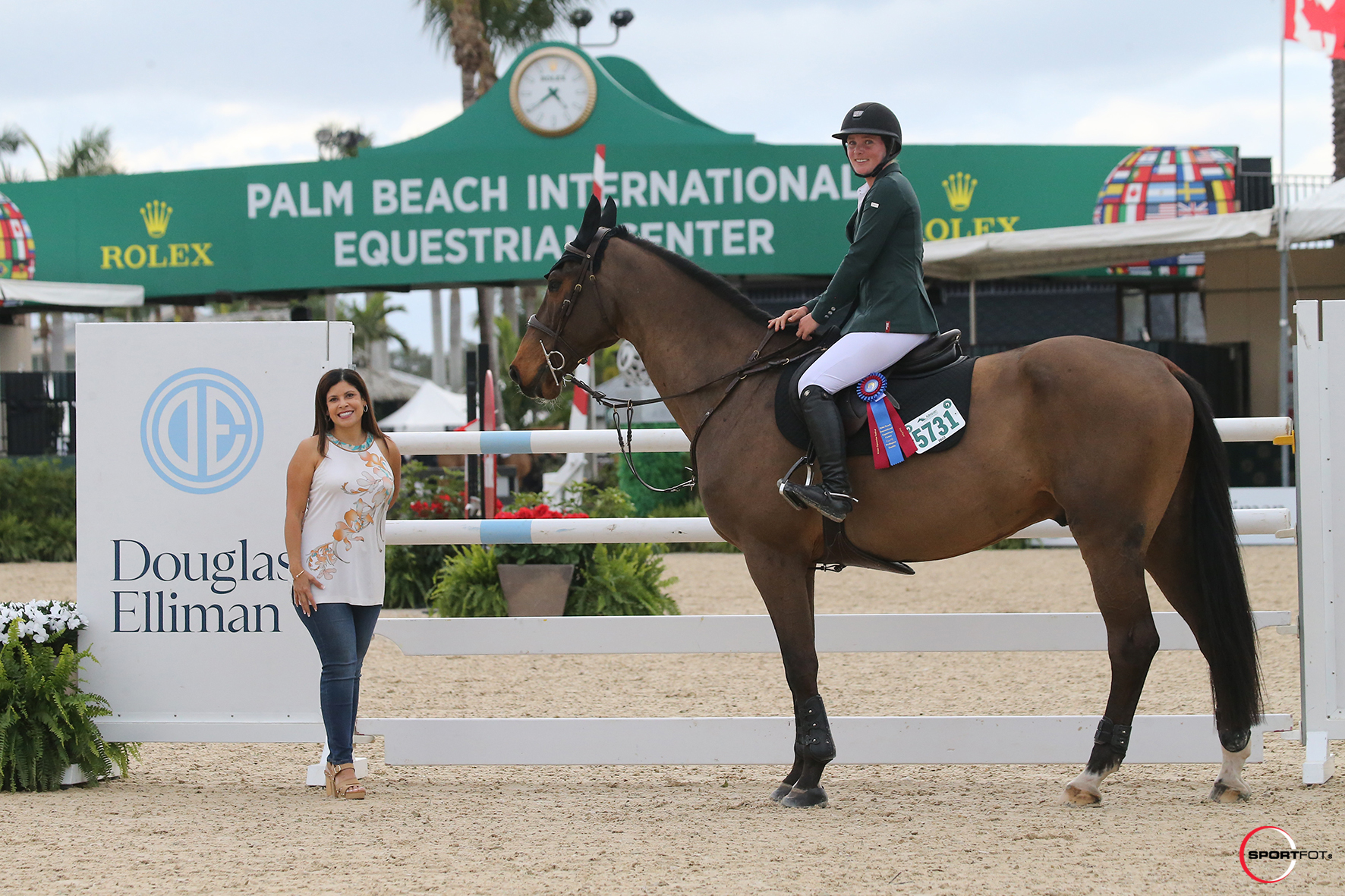 The top finishers from this class will advance to Saturday night's $50,000 Marshall & Sterling/Great American Insurance Group Grand Prix.
A tight time allowed definitely played a factor today with 10 riders accruing time penalties alone and many others picking up additional jumping faults. Just 12 combinations managed to jump clear.
Raleigh Hiler (USA) withdrew from the jump-off, which left 11 pairs to contest the short course.
The first clear in round one and first into the jump-off was Shane Sweetnam (IRL) aboard James Kann Cruz, owned by Gizmo Partners LLC. They jumped clear once more and set the time to beat at 32.610 seconds. It took a few more rides before Driscoll jumped the second clear of the day with Flotylla. They also went clear in the jump-off, setting the new time to beat at 30.804 seconds. Following Driscoll, those that tried to chase her time succumbed to jumping faults, and those that settled for a nice clear were just not quick enough.
When the dust settled, it was Driscoll and Flotylla who came home with the win ahead of Sweetnam who finished second. Zoe Conter (BEL) rode Stephex Stables's Dawa de Greenbay Z to third place in 33.676 seconds.
Driscoll, originally from Elk Mills, MD, rides with the Prudents at Plain Bay Sales based primarily in Middleburg, VA. She got the ride on Flotylla in October after the mare's previous rider Olivia Chowdry. Since then, Driscoll and Flotylla have been getting to know each other, coming together for a ninth-place finish in last week's $30,000 CP National Grand Prix and winning the qualifier today.
"We've been building up a partnership. I've done maybe four or five shows with her, and I feel like I'm really in a good place now," said Driscoll.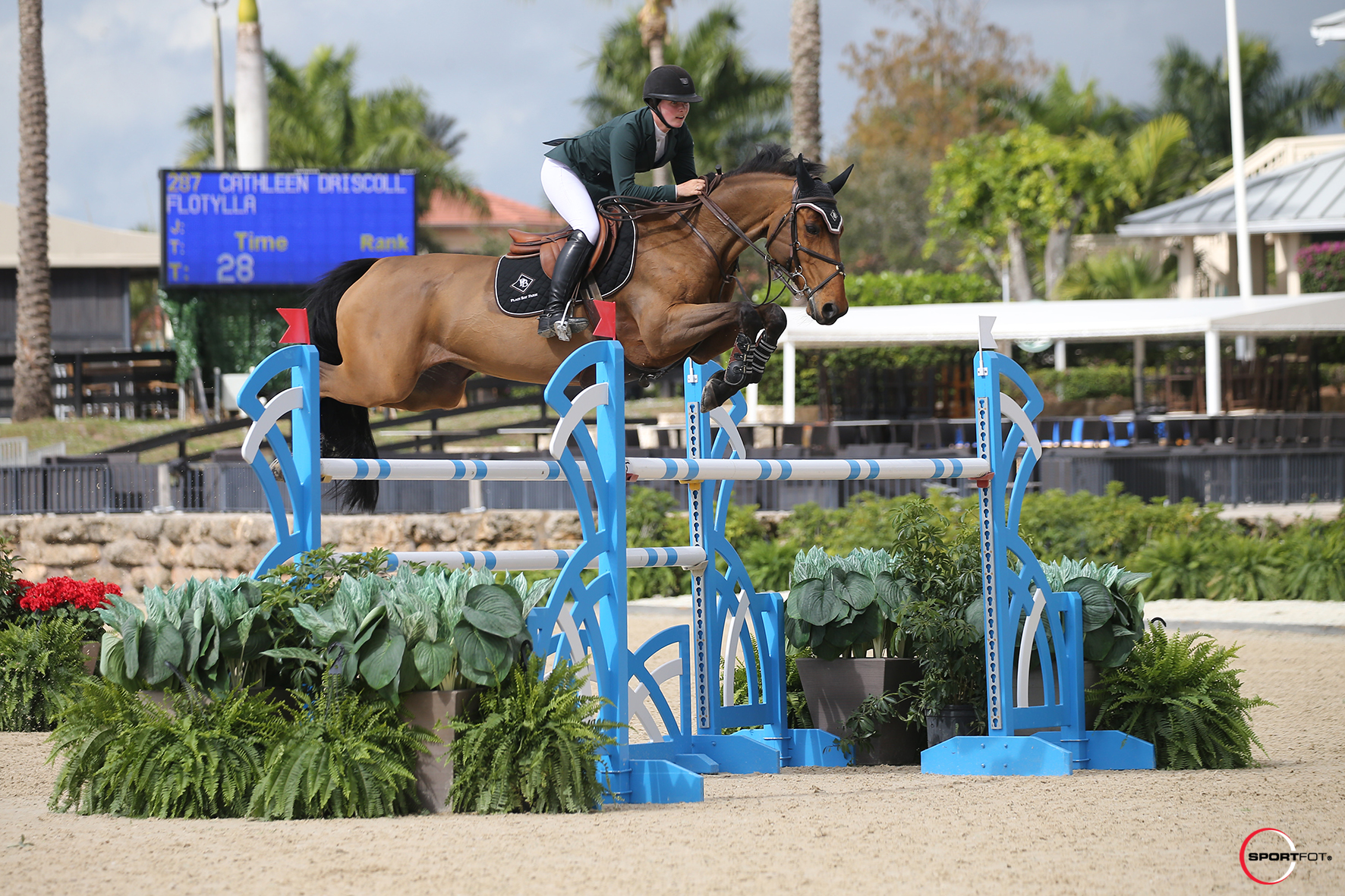 Flotylla, an 11-year-old Polish Sport Horse mare by Alvaro 121 x Bajou du Rouet, is very workmanlike.
"She's a real competitor in the ring, and she has that same personality back in the barn," continued Driscoll. "She wants to go in the ring and do a good job, and then go home."
A tight time allowed and a big course just meant business as usual for Flotylla, so Driscoll used the mare's quickness and carefulness to her advantage.
Driscoll explained, "She has a big stride, and she's a little bit aggressive, so I thought the lines worked to my favor, that I was able to let her kind of hunt on down there and just flow around."
Driscoll is now focused on the "Saturday Night Lights" feature class, the $50,000 Marshall and Sterling/Great American Insurance Group National Grand Prix.
"I think it's going to be a great class for [Flotylla]. I'm so glad they're putting this national grand prix under the lights. I think it's a fantastic opportunity for young horses and ones that are stepping up to get that experience in the stadium with the atmosphere and the crowd," commented Driscoll.
Earlier in the day Lorenzo de Luca (ITA) rode Poden Farms's Dirka de Blondel to the win in the $6,000 Bainbridge Companies 1.40m jumper class. Driscoll scored another top finish, this time aboard Plain Bay Farm's Django, finishing in second place. Rounding out the top three was Juan Carlos Garcia (ITA) who rode Habab-W, owned by Neil Jones Equestrian Inc.
Final Results: $10,000 Douglas Elliman National Grand Prix Qualifier 1.45m
1 FLOTYLLA: 2011 Polish Sport Horse mare by Alvaro 121 x Bajou du Rouet
CATHLEEN DRISCOLL (USA), Donald Stewart: 0/0/30.804
2 JAMES KANN CRUZ: 2013 Irish Sport Horse gelding by Kannan
SHANE SWEETNAM (IRL), Gizmo Partners LLC: 0/0/32.61
3 DAWA DE GREENBAY Z: 2012 Zangersheide stallion by Diarado x Schilling ET
ZOE CONTER (BEL), Stephen Stables: 0/0/33.676
4 EXPRESS BLUE GP DU BOIS MADAME: 2010 Belgian Warmblood gelding by Ultra Blue J x Zeus
CAITLYN CONNORS (USA), Caitlyn Connors LLC: 0/0/34.499
5 DEZ' OOKTOFF: 2008 KWPN gelding by Colandro x Lys Rouge
ROBERTO TERAN TAFUR (COL), Roberto Teran Tafur: 0/0/35.301
6 HALEY: 2012 KWPN mare by Quality Time TN x Manhattan
LAURA KRAUT (USA), Cherry Knoll Farm Inc: 0/4/29.791
7 BAHIRA S: 2010 Oldenburg mare by Balou du Rouet
MCKAYLA LANGMEIER (USA), Rafferty Farm LLC: 0/4/29.934
8 CORNET'S CAMBRIDGE: 2012 Oldenburg gelding by Balou du Reventon x Cambridge 8
NICHOLAS DELLO JOIO (USA), The Berry Group LLC: 0/4/30.552
9 CASCALRETTO: 2012 Holsteiner gelding by Casall x Calando I
VANESSA HOOD (USA), Take Two LLC: 0/4/31.730
10 CAROLA BH: 2007 KWPN mare by Dutch Capitol x Goodtimes
SOPHIE GOCHMAN (USA), Gochman Sport Horses LLC: 0/4/36.296
11 PEWIT DEZOITO: 2013 Anglo European gelding by A Pikachu de Muze x Werther
ADRIENNE STERNLICHT (USA), Starlight Farms 1 LLC: 0/8/30.888
12 CASSINA 64: 2009 Oldenburg mare by Collado x Lacantus
RALEIGH HILER (USA), Kurt Hiler: 0/WD

Hannah Isop Pilots Braven to His First WEF Championship
Up-and-coming superstar hunters got the day started in the Equine Tack and Nutritionals Ring 6 in the Pre-Green Hunter 3 & 4 Year Old division. Hannah Isop of Pawling, NY, guided Tracy Freels's Braven to the championship title after winning the over fences and under saddle classes on Thursday.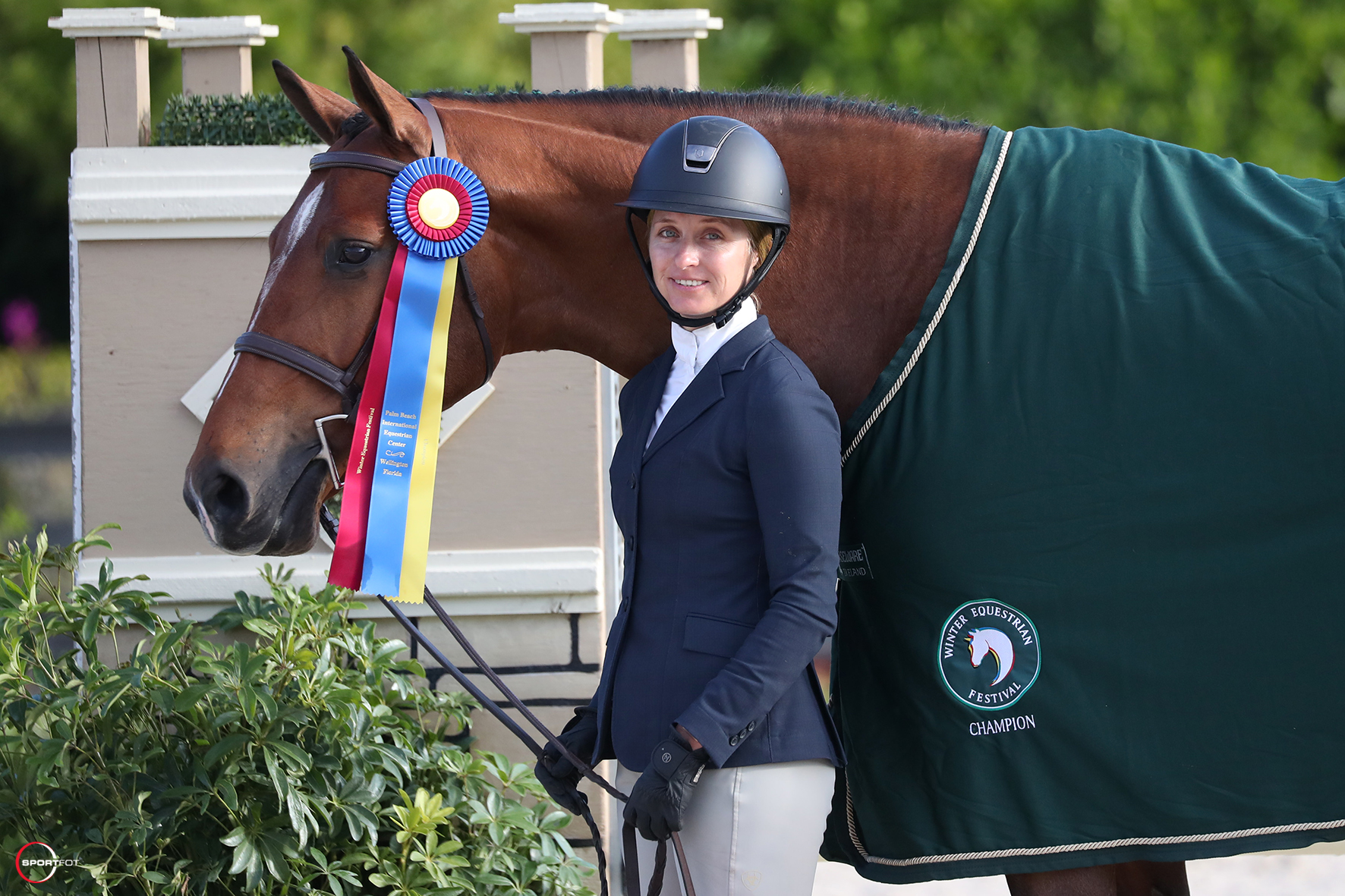 The division got underway on Wednesday with two over fences classes. Havens Schatt had scores of 83 and 84 with her horse Cruise, a four-year-old Holsteiner gelding by Levisto, to top the judge's card in both classes. Hannah Isop and Braven were close behind them for second-place finishes.
Thursday was Braven's day to shine, as he scored an 86 for the win in the over fences class and strutted to the top of the under saddle for the championship. Cruise and Schatt finished with the reserve championship honor.
Isop was beaming with pride following Braven's performance.
"I was so proud of him yesterday, but he definitely took more of a deep breath today, and he was relaxed. I thought because he was relaxed, he really jumped better," she said.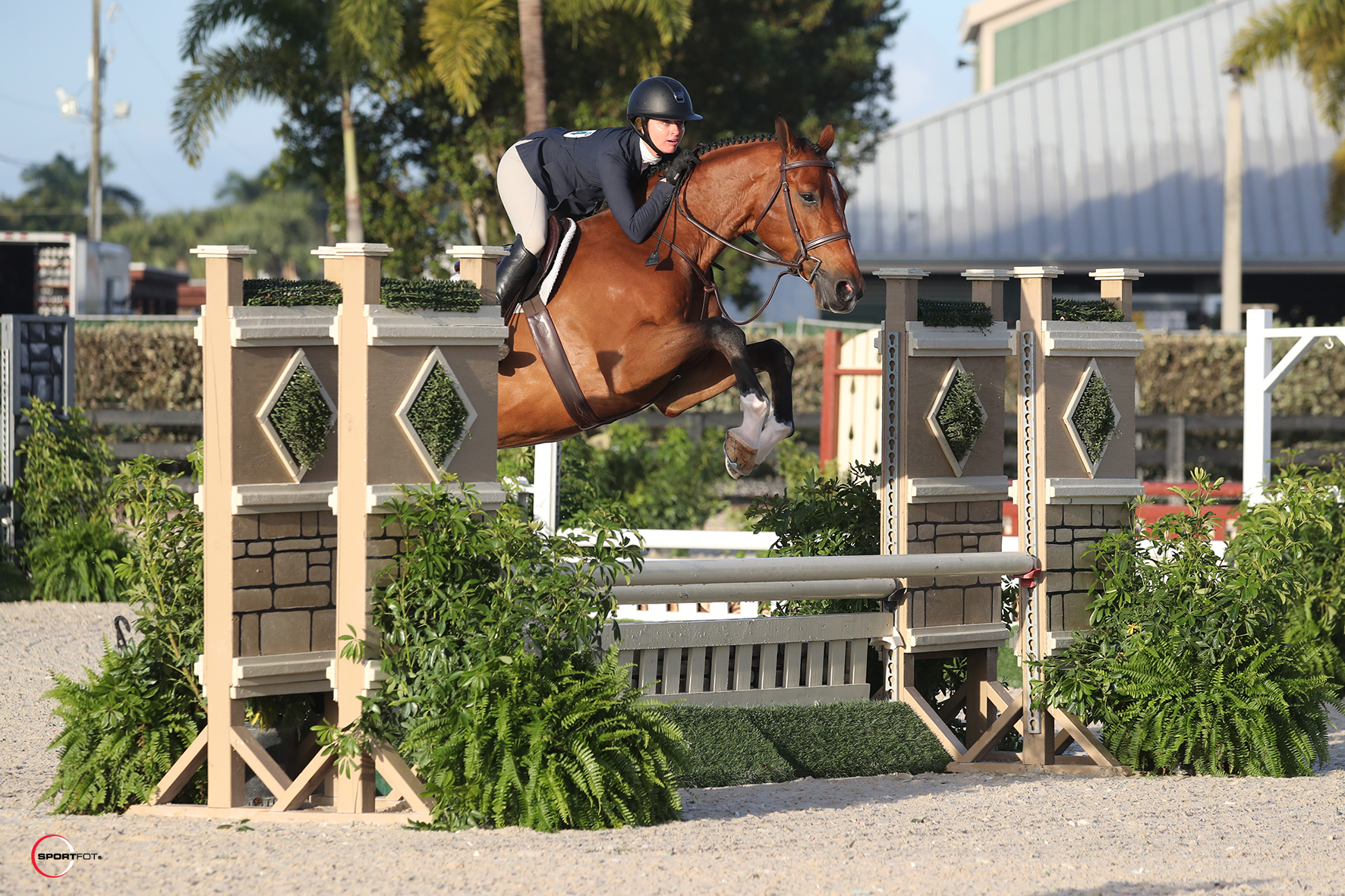 Braven, a now four-year-old, was imported from the Czech Republic as a coming three-year-old by Isop's aunt Tracy Freels, who works with Isop at their family's Harkaway Farm in Brewster, NY. Braven had just been started under saddle two weeks prior, so Isop and Freels only got to see video of Braven free-jumping and walking and trotting a bit under tack in an indoor arena.
"It was love at first sight," recalled Isop.
Since his arrival stateside, Braven has been under Isop's and Freels's tutelage.
Isop noted, "We've really had him from the start. From first jumps to first horse shows to first champion ribbon at WEF. He went around like he was 20 years old. I think I was smiling the whole way around. He's our baby, so we're so proud!"
Braven seems to have been born with his winning personality, charming everyone with his laidback, puppy-dog demeanor.
"He came like that," commented Isop. "I remember him getting off the truck from quarantine, and he just immediately started eating grass like, 'Okay, no big deal.'"
For now, Braven has baby-sized goals on his way to International Hunter Derby stardom.
"His goals are just to get mileage and get used to the horse show atmosphere," explained Isop. "We really want to go slow, because he's showing us he does all the things really well."
National competition continues tomorrow featuring the $1,000 DJS Lövsta Future Challenge 7 Year Old Jumpers class first to go in the Mogavero Arena and the WIHS Equitation Jumper Phase class in the Equine Tack and Nutritionals Ring 6 in the afternoon.
International competition tomorrow is highlighted by the $37,000 Adequan® WEF Challenge, which serves as the qualifying class for the $140,000 Hygain Feeds Grand Prix CSI3* on Sunday, January 23. Horses competing in the U25 division have their FEI jog tomorrow as they gear up for the $25,000 Hermès Under 25 Grand Prix also taking place on Sunday.