For Immediate Release
Jennifer Wood and Summer Grace for Jennifer Wood Media, Inc.
Wellington, FL —  March 10, 2019 —  On the final day of week 9 of the 2019 Winter Equestrian Festival, international jumpers contested classes in the five-star and two-star divisions in the International Arena of the Palm Beach International Equestrian Center in Wellington, FL. Taking the win in the $72,000 CaptiveOne Advisors 1.50m Classic was McLain Ward (USA) on HH Gigi's Girl, while Samantha Cohen (USA) and Carmen won the $50,000 Griffis Residential Grand Prix CSI 2*.
Week 10 of WEF, presented by Horseware Ireland, is on March 13-17 and features the $134,000 Horseware Ireland Grand Prix CSI 3* as part of the "Saturday Night Lights" series on Saturday, March 16.
Samantha Cohen Speeds to First Grand Prix Victory
Forty-five entries lined up for the chance to be named the winner of the $50,000 Griffis Residential Grand Prix CSI 2*. Of those 45, 10 went on to increase their chances by qualifying for the jump-off, and there were six double clear rounds.
The fastest of those was 18-year-old Samantha Cohen riding Carmen (a 12-year-old KWPN mare by Whitesnake x Corland), who stopped the timers in 37.56 seconds to take the victory as the first ones into the jump-off.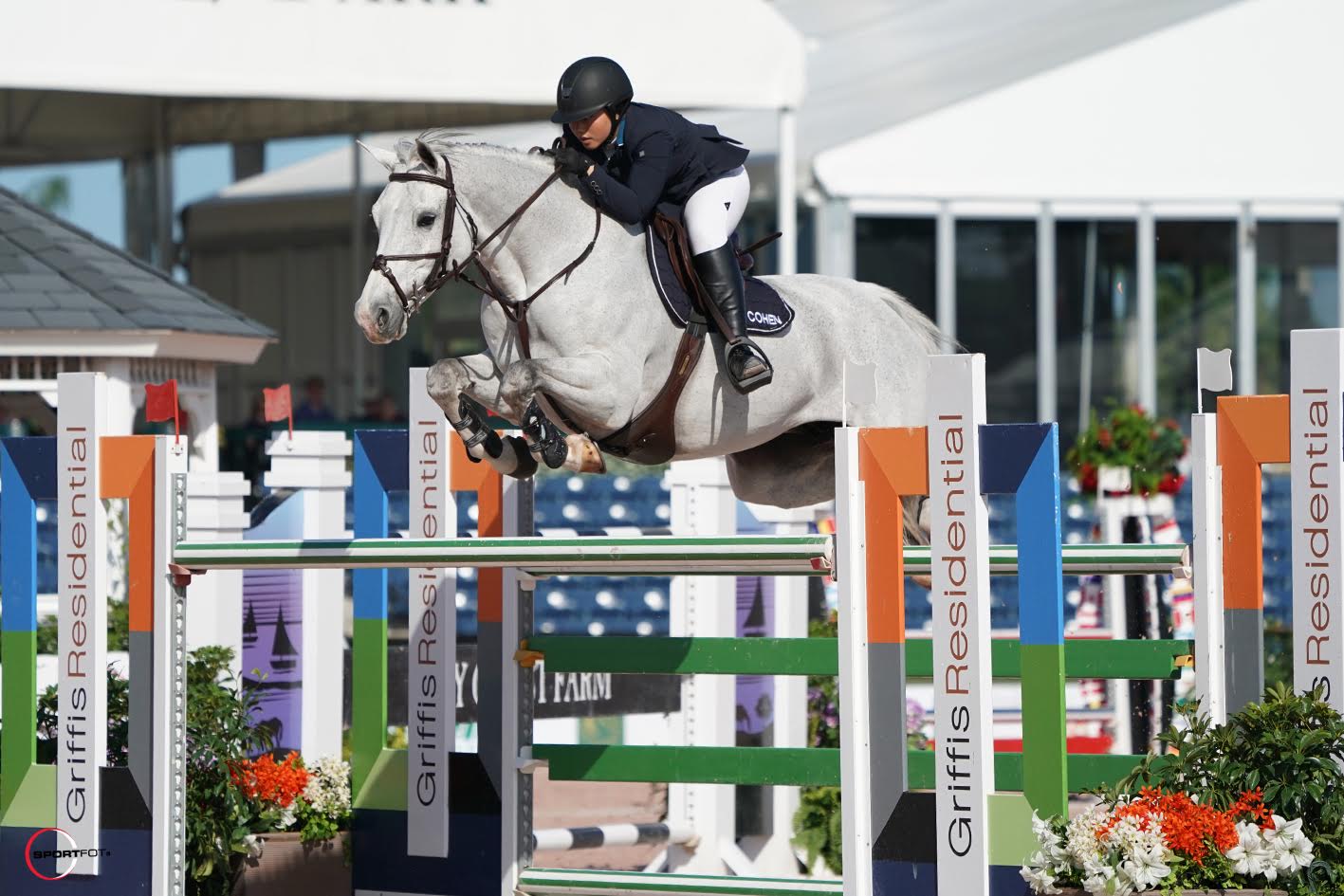 "I was first to go and nine were after me, with so many fast riders. I just wanted to go in and give it my best shot," said Cohen of her jump-off ride. "She's really quick around the turns, and she's deceptively fast. She doesn't ever look like she's really running. I was really happy when I came out, but I was not sure it would hold."
The spot in the jump-off track that Cohen thought most about was the double combination and making sure Carmen was prepared for the vertical to oxer combination.
"I wanted to gallop away [from the previous fence] and then take my time really getting her on her hind end for that," she explained. "I didn't want her to dive into 'a'. That was, for me, the trickiest part. She is just a genius on the turns. She's right there with me, and I knew that's where I could get my time."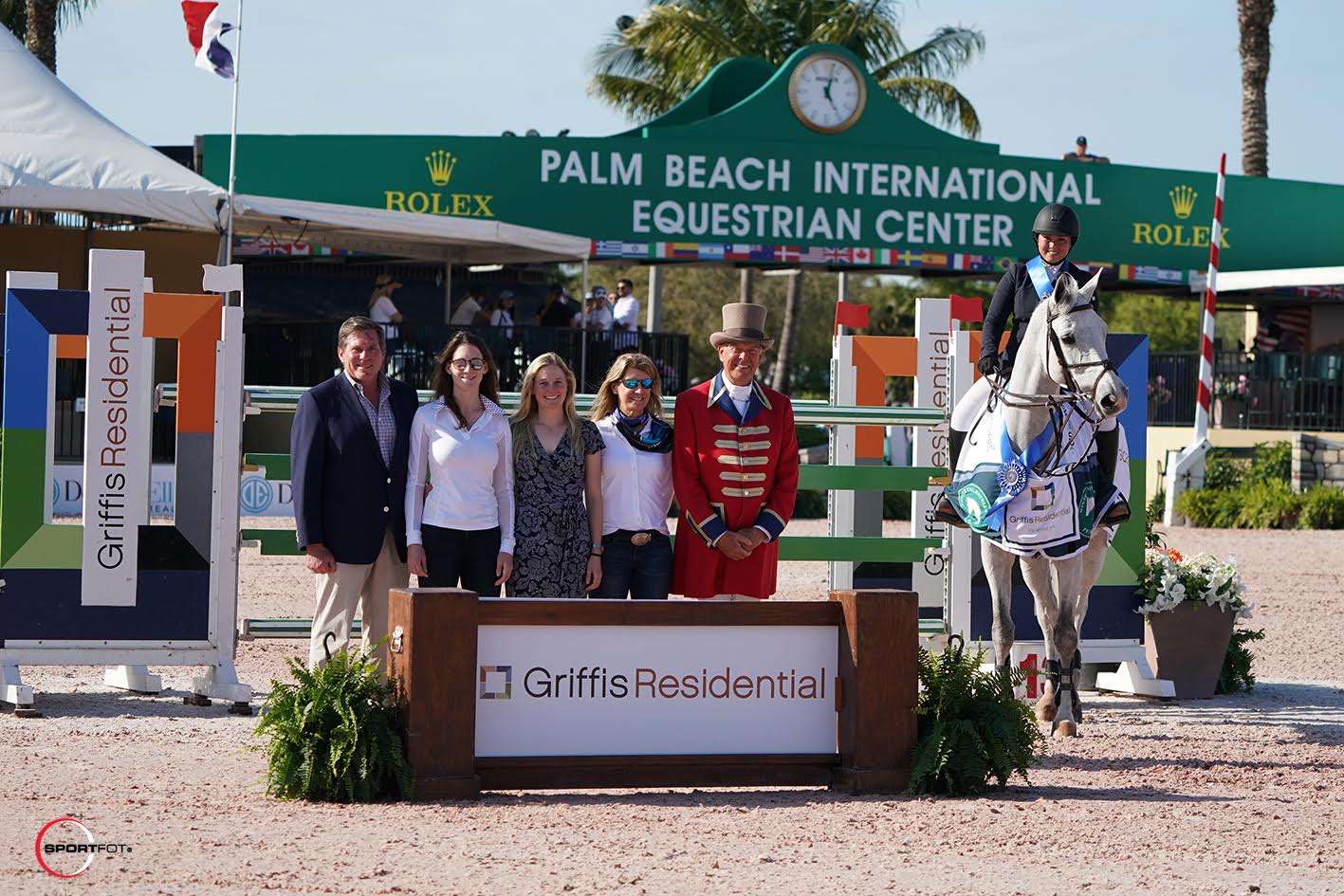 Cohen spends the summers competing in two-star and three-star competitions with her trainers, Laura Kraut and Nick Skelton. "This is my first grand prix win, so I'm really excited," she said. "I've jumped a lot of big tracks with her, so I was really confident going in and knew I could do it."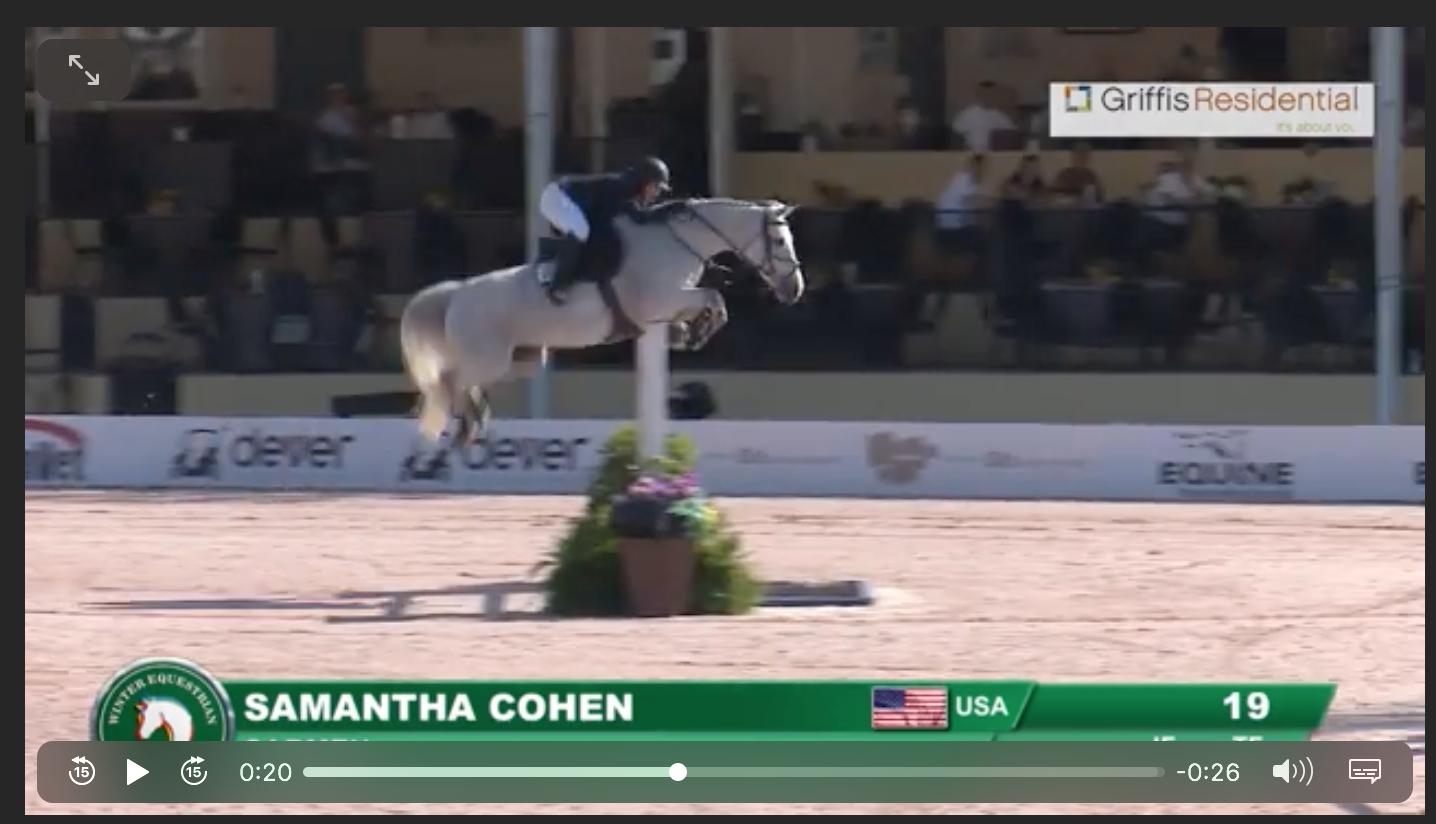 Coming closest in time to Cohen was 28-year-old Carly Anthony (USA) riding Clochard, owned by Neil Jones Equestrian Inc. They were clear in 38.73 seconds for second place.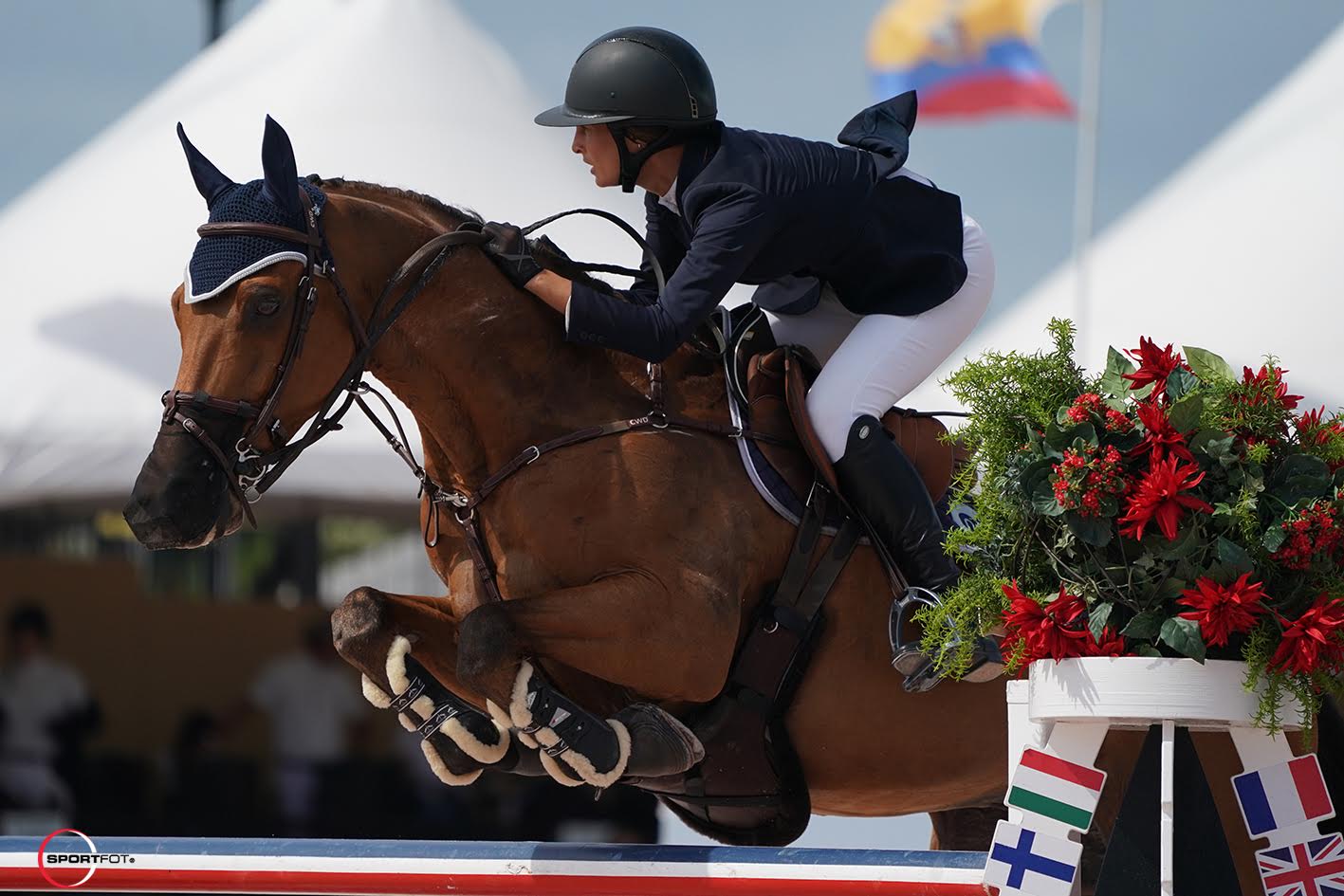 "Clochard is naturally fast, so starting with a good pace, sticking to it, and staying tight in the turns as possible, I usually end up in the top three,"said Anthony. "I had a bit of luck today coming into the double; he rubbed that quite hard coming into 'a'. I didn't have the tight enough turns that Sam did today. She outrode me; she rode incredibly. I was quite pleased with Clochard, how he jumped, how he was responding. In the end, for me to be second, that was on me. He'll win every day."
Anthony earned the ride on Clochard, an 11-year-old Belgian Warmblood stallion by Kasmir van Schuttershof x Cascadeur, a year ago and is the professional rider for Neil Jones Equestrian Inc. She noted that riding Clochard is like "driving a sports car, a Ferrari, top quality."
She continued, "I don't think there are many like him. He is competitive. He goes into the ring and you instantly feel his energy change. You can go into any class and feel that you have a chance of winning, even if you don't ride that well. I've made mistakes and we've still won. He's quite an incredible horse."
Third place went to Rodrigo Pessoa (BRA) on Hillside Farm's Farrero. They had a time of 38.92 seconds.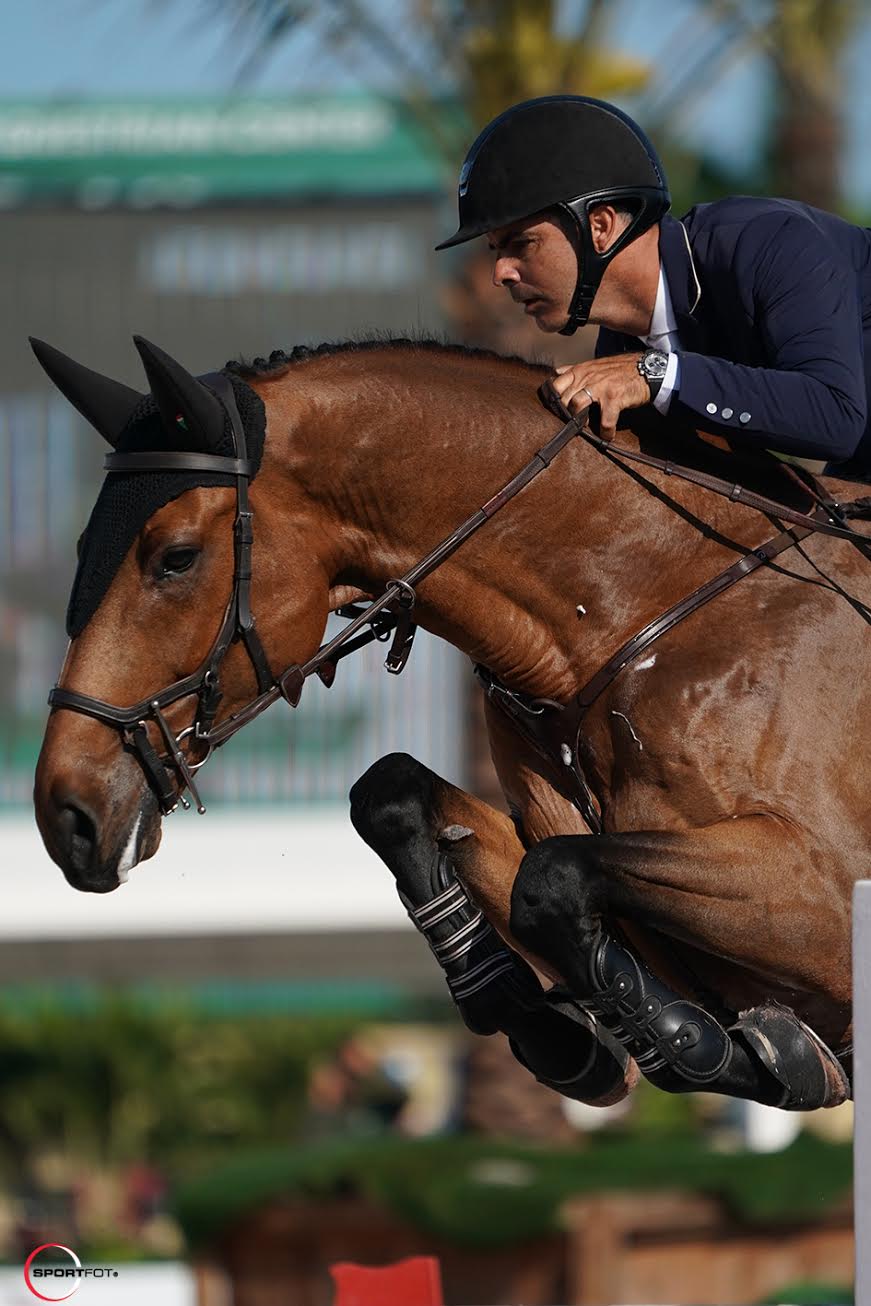 "I thought Samantha was really spot on," said Pessoa. "Every time out of the turn she was really smooth, and she was really tight. I thought she had laid it out pretty nicely. I think in retrospect I was a little bit wide from one to two. I wanted to jump number two straight to get on to the double. That's where I left the door open a little bit, and maybe the rollback to the liverpool was not as tight as I should have done."
Pessoa only started riding Farrero in November of 2018. The nine-year-old Dutch Warmblood gelding by Boss x Indorado belongs to his student Coco Fath. They started competing in the 1.30m at WEF in January and have progressed steadily over the weeks.
"He's very, very careful and a very generous horse," he described. "He's fairly easy to ride. He's been great and jumping a lot of clears. He's progressed really well. He's extremely careful, which is very nice because he takes care of the jumps and you don't have to worry about that. You just have to steer and keep him in good gear, and that's it."
Final Results: $50,000 Griffis Residential Grand Prix CSI 2*
1 CARMEN: 2007 KWPN mare by Whitesnake x Corland
SAMANTHA COHEN (USA), Samantha Cohen: 0/0/37.56
2 CLOCHARD: 2008 Belgian Warmblood stallion by Kasmir van Schuttershof x Cascadeur
CARLY ANTHONY (USA), Neil Jones Equestrian Inc.: 0/0/38.73
3 FARRERO: 2010 Dutch Warmblood gelding by Boss x Indorado
RODRIGO PESSOA (BRA), Hillside Farm Inc.: 0/0/38.92
4 SKARA GLEN'S PARA BELLUM: 2011 KWPN gelding by Singulord Joter x Indorado
PAUL O'SHEA (IRL), Skara Glen Stables: 0/0/40.39
5 DAISY: 2008 KWPN mare by Excenel V x Timeless
MEREDITH MICHAELS-BEERBAUM (GER), Artemis Equestrian Farm LLC: 0/0/40.79
6 CARACHO 14: 2009 Holsteiner gelding by Dobel's Cento  Acodetto
LUCY DAVIS (USA), Old Oak Farm: 0/0/44.09
7 RANDON PLEASURE: 2005 Selle Francais mare by For Pleasure x Quidam de Revel
FABIO LEIVAS DA COSTA (BRA), Bonne Chance Farm: 0/4/40.36
8 CASCO 11: 2009 Holsteiner gelding by Caspar x Colman
LAUREN TISBO (USA), Tequestrian Farms LLC: 0/4/40.37
9 PRESTIGIOUS: 2007 Westphalian gelding by Con Cento x Corofino
MADISON GOETZMANN (USA), Madison Goetzmann: 0/8/35.85
10 ALL IN: 2005 KWPN gelding by Aachen x Indoctro
KATHERINE STRAUSS (USA), Katherine Strauss LLC: 0/8/42.98
11 PRADO K: 2003 Westphalian gelding by Prado x Dynast
BLISS HEERS (USA), Bridgeside Farms LLC: 1/80.29
12 VAN SCHIJNDEL'S DOUBLE BEE: 2008 KWPN mare by Lord Z x Tangelo van de Zuuthoeve
ANNA DRYDEN (USA), Double Meadows Farm LLC: 1/80.43
McLain Ward and HH Gigi's Girl Speed to Victory in $72,000 CaptiveOne Advisors 1.50m Classic
Out of 42 entries competing over a course set by Alan Wade of Ireland, 16 were clear to contest the jump-off. Riding out of the second position in the jump-off order, Olympic team gold medalist Ward and HH Gigi's Girl put in a blazing fast time of 33.36 seconds that couldn't be caught. There were seven double clear rounds in the class.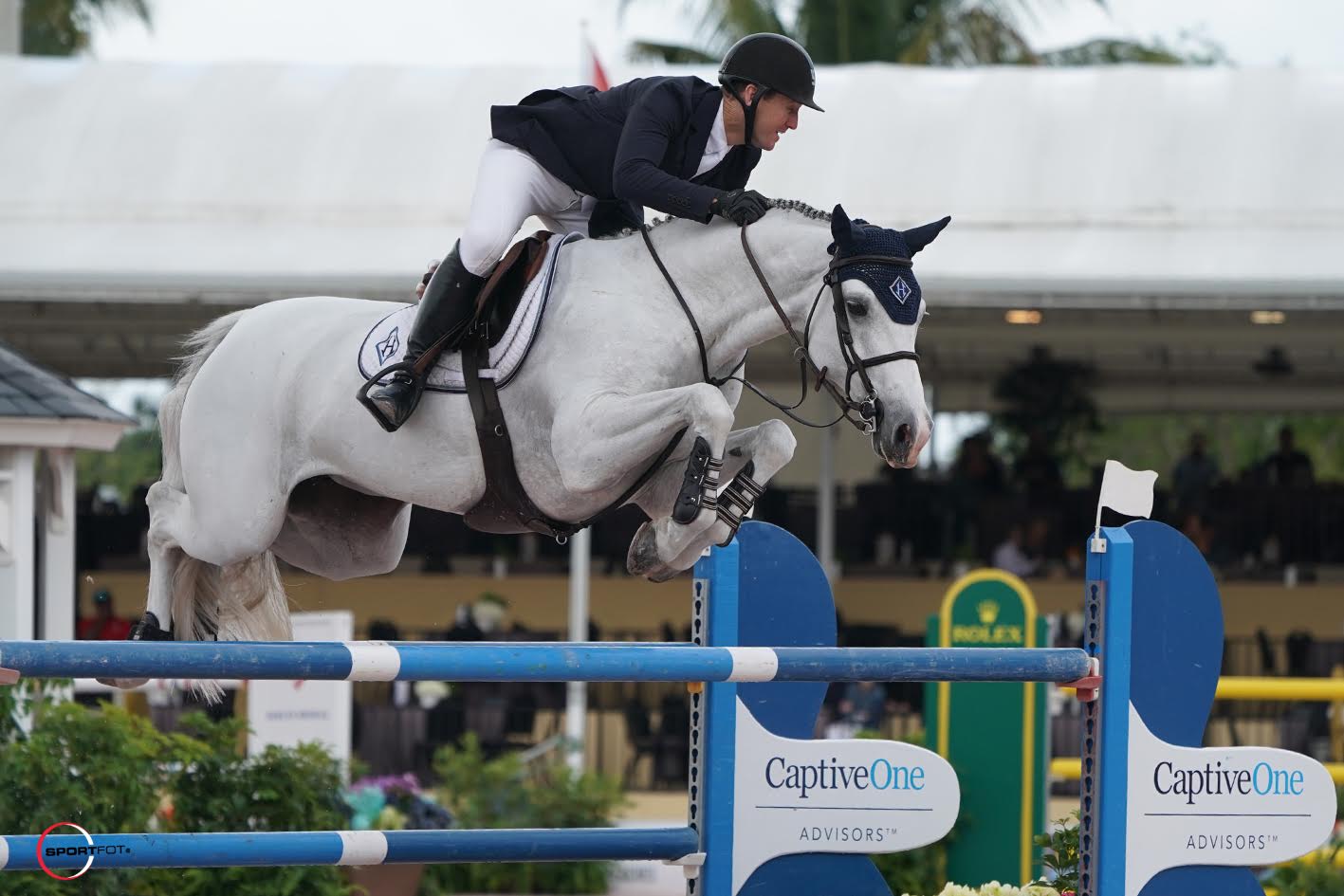 Coming closest was William Whitaker (GBR) on RMF Echo, owned by Rushy Marsh Farm LLC. They were clear in 34.51 seconds. Third place went to Erynn Ballard on Ilan Ferder's Ceitasi, who had a time of 34.89 seconds.
"The jump-off was actually set up pretty nice for her; it was a good track for her strength," said Ward of the 11-year-old KWPN mare by Vingino x Celano. "She was great. She jumped a nice first round. On Thursday, it was not the round we wanted in the WEF [Challenge Cup], but she came back really strongly today. In a jump-off like that with a large number and very fast ones and very good prize money, everyone is trying hard. It doesn't matter if you go first or last, you have to try and do the best round you can."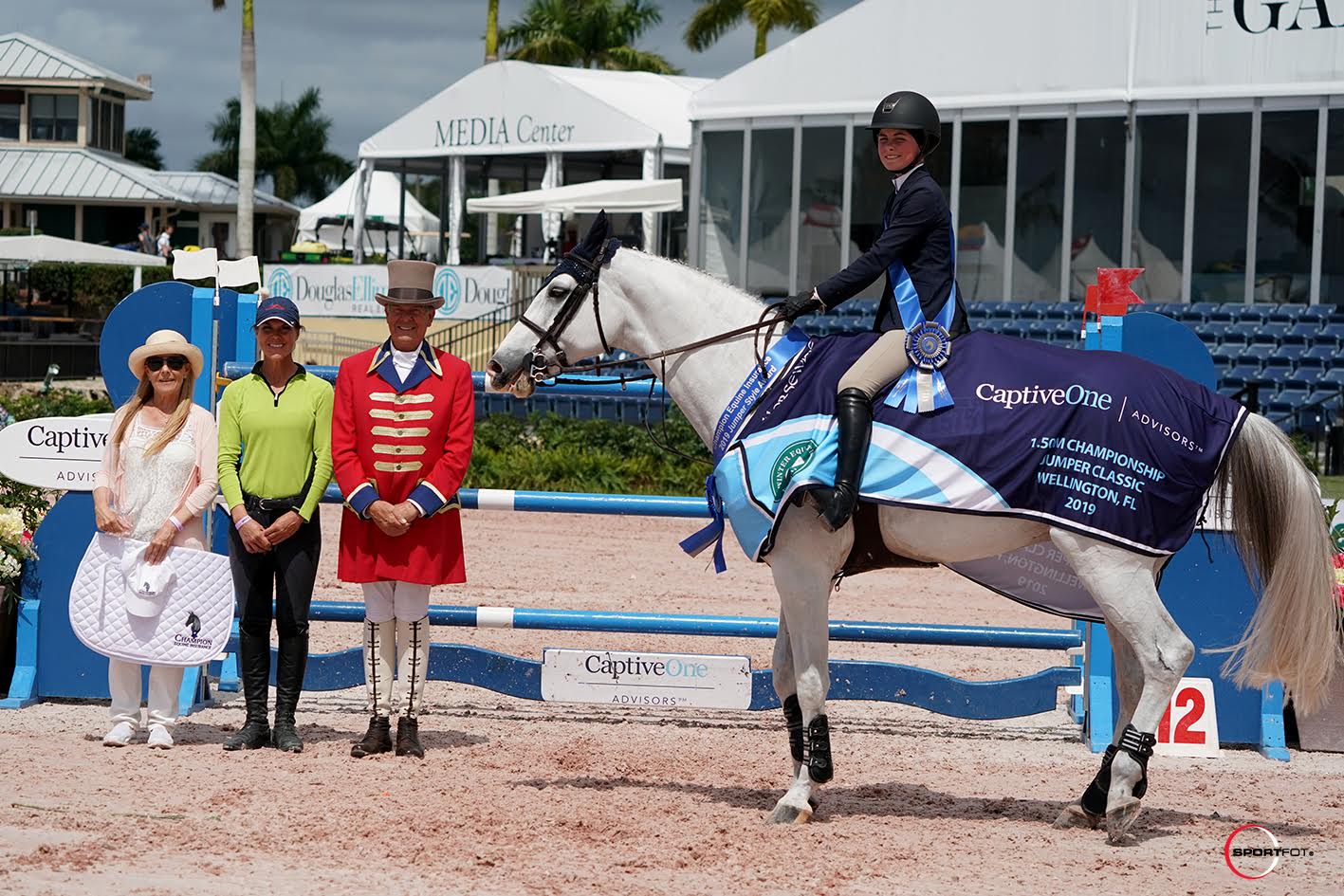 "This is her fourth week of competition this circuit, and we've had the program we planned," he continued. "She's actually been very consistent and a little bit unlucky. It was great to have it all come together nicely today. She's a very good jumper, a very careful horse. We've been lucky to have some great results and nice wins on her. She's been a very good grand prix horse."
Along with her 1.50m win, HH Gigi's Girl was named the Champion Equine Insurance Jumper Style Award winner, presented by Laura Fetterman.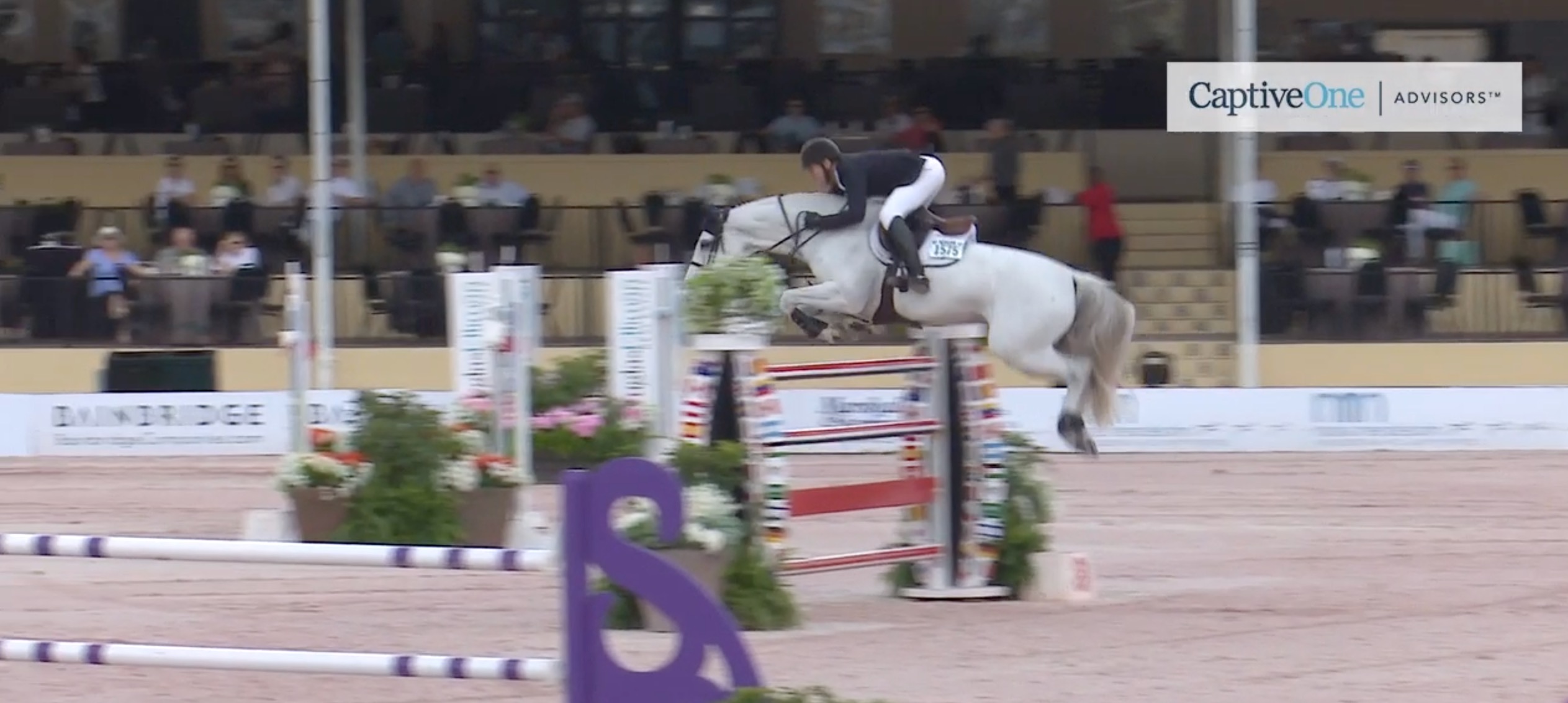 Final Results: $72,000 CaptiveOne Advisors 1.50m Classic
1 HH GIGI'S GIRL: 2008 KWPN mare by Vingino x Celano
MCLAIN WARD (USA), Double H Farm: 0/0/33.36
2 RMF ECHO: 2004 BWP gelding by Virus de Laubry x Feo
WILLIAM WHITAKER (GBR), Rushy Marsh Farm LLC: 0/0/34.51
3 CEITASI: 2010 Westphalian mare by Caretello B x Cavalier
ERYNN BALLARD (CAN), Ilan Ferder: 0/0/34.89
4 H5 JUST THE MUSIC: 2009 BWP gelding by Tornedo FCS x Quidam de Revel
CARLOS HANK GUERREIRO (MEX), H5 Stables: 0/0/35.20
5 FINALLY Z: 2010 Zangersheide mare by Figaro C x Darco
PETRONELLA ANDERSSON (SWE), Stephex Stables: 0/0/35.20
6 BRIGHTON: 2006 KWPN gelding by Contendro II x Quick Star
TIFFANY FOSTER (CAN), Artisan Farms LLC: 0/0/36.36
7 SKYHORSE: 2007 Belgian Warmblood gelding by Calvaro x Quidam de Revel
lLILLIE KEENAN (USA), Chansonette Farm LLC: 0/0/36.52
8 CHARMEUR: 2007 KWPN gelding by Numero Uno x Gelha's VDL Emilion
SERGIO ALVAREZ MOYA (ESP), Alvarez Moya Horse SL: 0/4/33.19
9 KAREL VDB: 2010 Belgian Warmblood gelding by Darco x Corland
MARTIN FUCHS (SUI), SPCS: 0/4/33.63
10 CASALL: 2005 Holsteiner gelding by Casall ASK x Capitol I
ALI WOLFF (USA), Blacklick Bend Farm: 0/4/34.65
11 CHACANNO: 2007 Oldenburg gelding by Chacco-Blue x Kannan
RODRIGO LAMBRE (BRA), Mario Onate: Â 0/4/36.16
12 SUPER CHILLED: 2008 Irish Sport Horse gelding by Gelvin Clover
KEVIN BABINGTON (IRL), Debra Wycoff: 0/4/37.73
Julia McNerney Cracks the Code to Take the Title of Champion for the Equiline Adult Amateur Hunter Younger (Sec. B)
Competitors in the Adult Amateur Hunter Younger (Sec. B) lined up for competition on Sunday, March 10 in the Rost Arena at the Palm Beach International Equestrian Center. Nineteen horse-and-rider combinations later, Santa Monica, CA resident Julia McNerney was named the week's champion aboard Crack.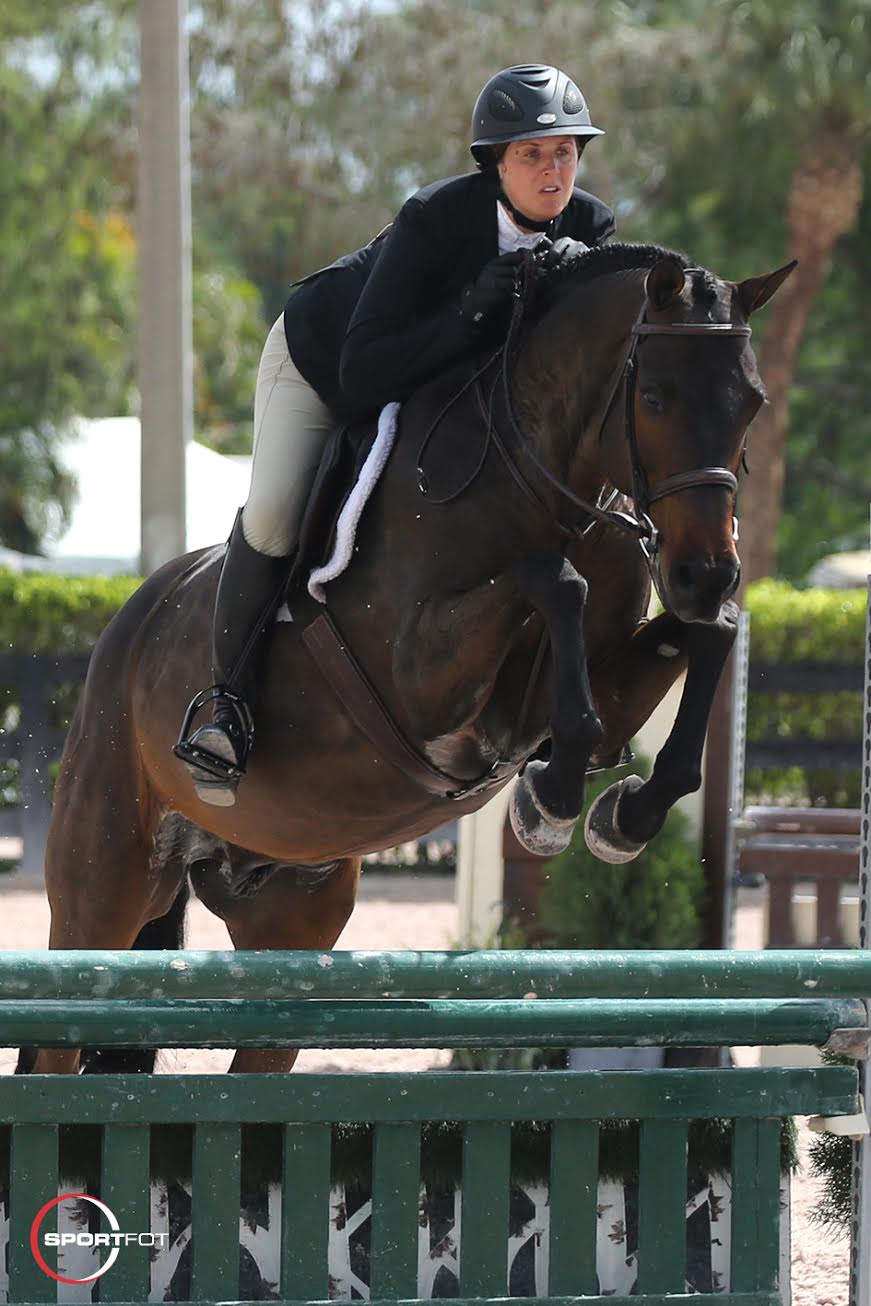 The pair placed four points total ahead of the week's reserve champions after winning three of the five division classes and ending on a total of 30 overall points.
McNerney lives full-time in California while Crack stays with Milestone Farm and trainer Havens Schatt for the duration of the year, and she says the win is especially exciting for her as she is unable to practice during the week.
"We are just getting some of our rust out still, so I'm very happy with this weekend," she explained. "Milestone does an absolutely incredible job with their program, and this win feels hard-earned as we've definitely had a few ups and downs this circuit."
"He's just so smooth and he's got an amazing rhythm," she continued, describing the 11-year-old Warmblood gelding. "When I am able to stick with his rhythm he really shines, and I'm very lucky that we have been able to get into the show ring at least four or five weekends this year."
Catherine Cowie of New York, NY, rode to 26 overall points to earn the reserve champion in the division aboard her own nine-year-old Oldenburg mare (Carenzo x Hauot Stuibuch Lanciana), Willow. She and the mare concluded the week on two first places, a third, and a fourth.
Week 10 of the 2019 Winter Equestrian Festival will resume with three-star level international competition as well as national hunter, jumper, and equitation divisions on Wednesday, March 13.