For Immediate Release
Lindsay Brock for Jennifer Wood Media, Inc.
Wellington, FL – January 15, 2020 – Charlie Jayne (USA) opened the first week of international competition at the 2020 Winter Equestrian Festival (WEF) with a win riding Tou La Moon in the $6,000 Bainbridge 1.40m CSI2* at the Palm Beach International Equestrian Center in Wellington, FL, on Wednesday, January 15.
WEF continues through March 29, 2020 with 12 consecutive weeks of world-class competition and $13 million dollars on offer. The second week of competition at WEF is sponsored by NetJets and recognized as a CSI2* by the Fédération Equestre Internationale (FEI). The week's featured event is the $73,000 NetJets Grand Prix CSI2* during "Saturday Night Lights" on January 18, at 7 p.m. in the International Arena.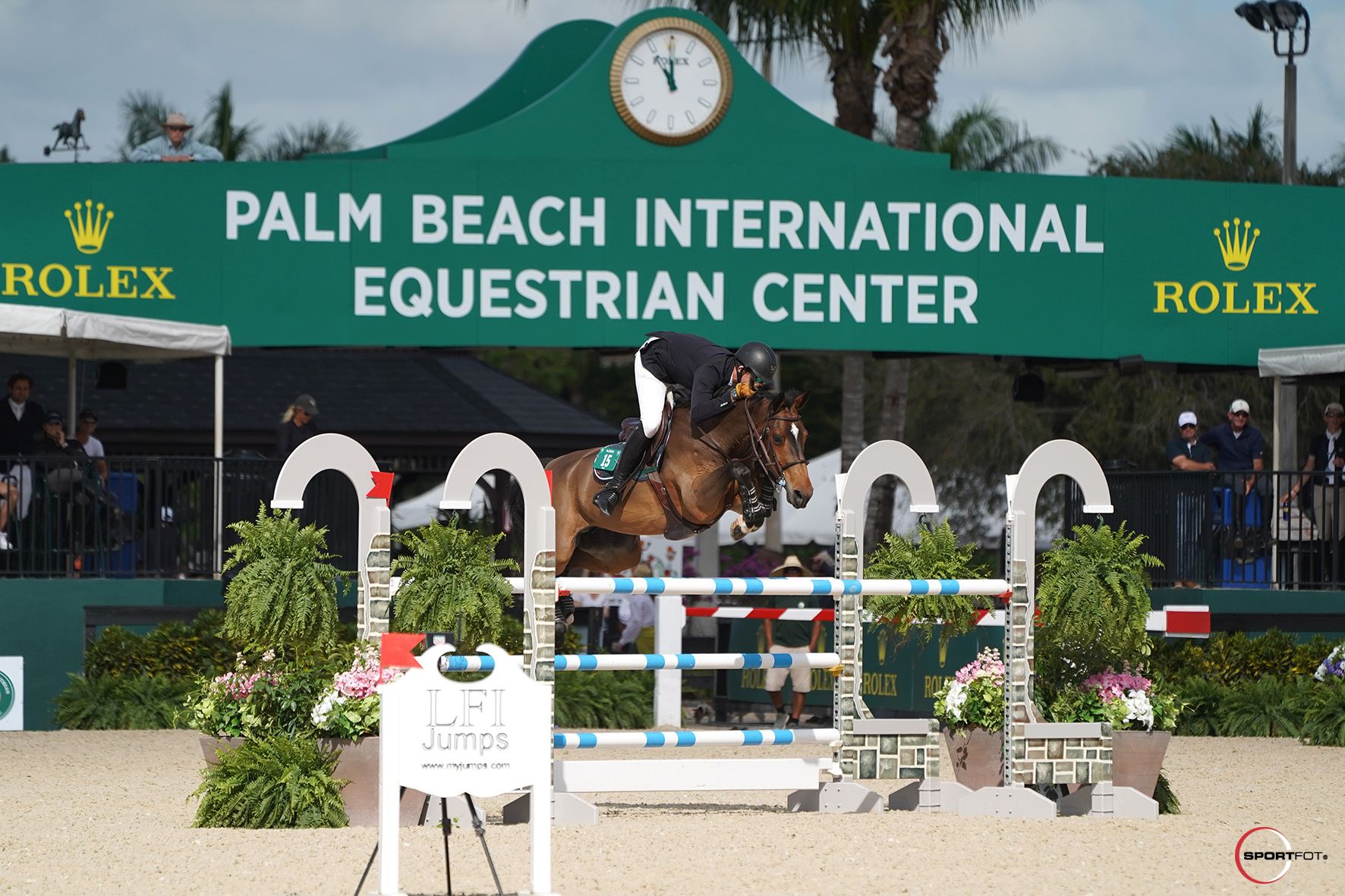 Jayne appeared in the middle of a 97-horse field over a two-phase course set by course designer Oscar Soberon (MEX). Tou La Moon, a 12-year-old Belgian Warmblood mare (Toulon x Skippy II) owned by Alex Jayne and Maura Thatcher, carried Jayne clear over the first phase and stopped the clock with more than a second to spare in 27.80 seconds over runner-up Stella Manship (USA) riding Dundalk, owned by Elan Farm.
"I am going on my fifth year with this horse, and she is really starting to peak at the higher level," said Jayne, who found Tou La Moon as a five-year-old from her breeder Wilfred Cerpentier in Belgium. "Last year, she jumped probably 10 national grand prix and FEI ranking classes, and won four, so she's really on a heater."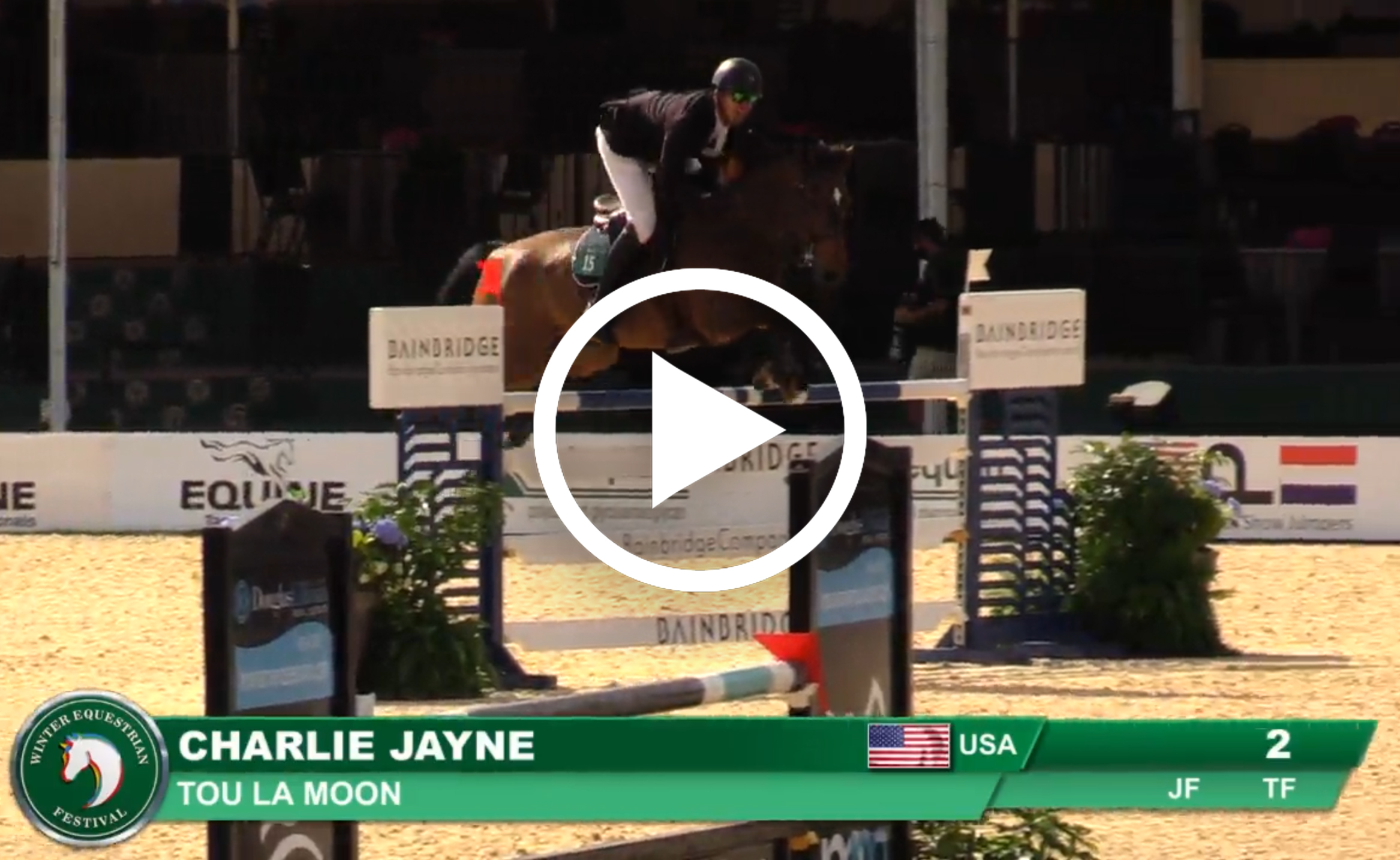 Jayne's goal is to ride Wednesday's momentum through the week and compete Tou La Moon in the $73,000 NetJets Grand Prix CSI2* on Saturday.
"I thought this would be a nice class for her because she likes the open pace," said Jayne. "I feel like the less I do the better she is. She's very good at turning inside. She isn't the biggest horse, but she has a huge stride. Today was all about doing one less in the lines, and she does it quite easy."
With his two most seasoned horses jumping well, Jayne is optimistic that his season will continue to be marked with success. "It feels good to start the week off with a win. There were a lot of entries, and it was a very competitive field. We will build on that from here!"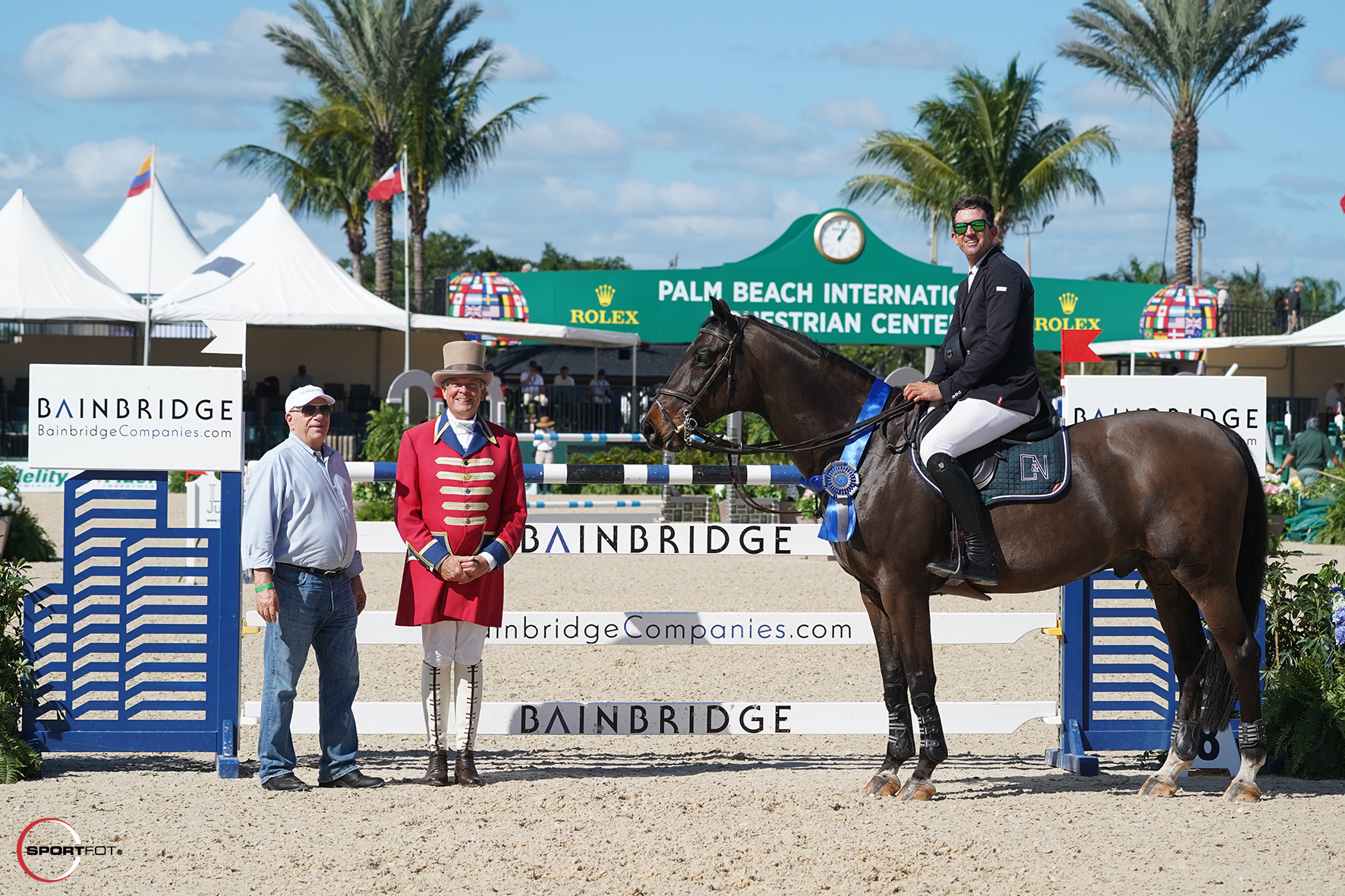 Behind Manship's time of 29.22 seconds, the USA's Molly Ashe Cawley took third aboard Van de Emma in 29.49 seconds for owner Oakridge Farm. Ireland's Capt. Brian Cournane was fourth riding Colourful Lady, owned by Glenbeigh Farm LLC, in 29.83 seconds, while Rebecca Conway (USA) capped the top five in 30.34 seconds on Con Coleur for owner Blue Hill Farm, LLC.
Also winning in the International Arena at WEF on Wednesday, Mario Deslauriers (CAN) topped the $8,000 Douglas Elliman 1.45m riding Cloud 39, owned by Wishing Well Farm LLC, and U.S. Olympic team gold medalist McLain Ward claimed the $6,000 1.40m riding Errol, owned by Sagamore Farms, to close out the day.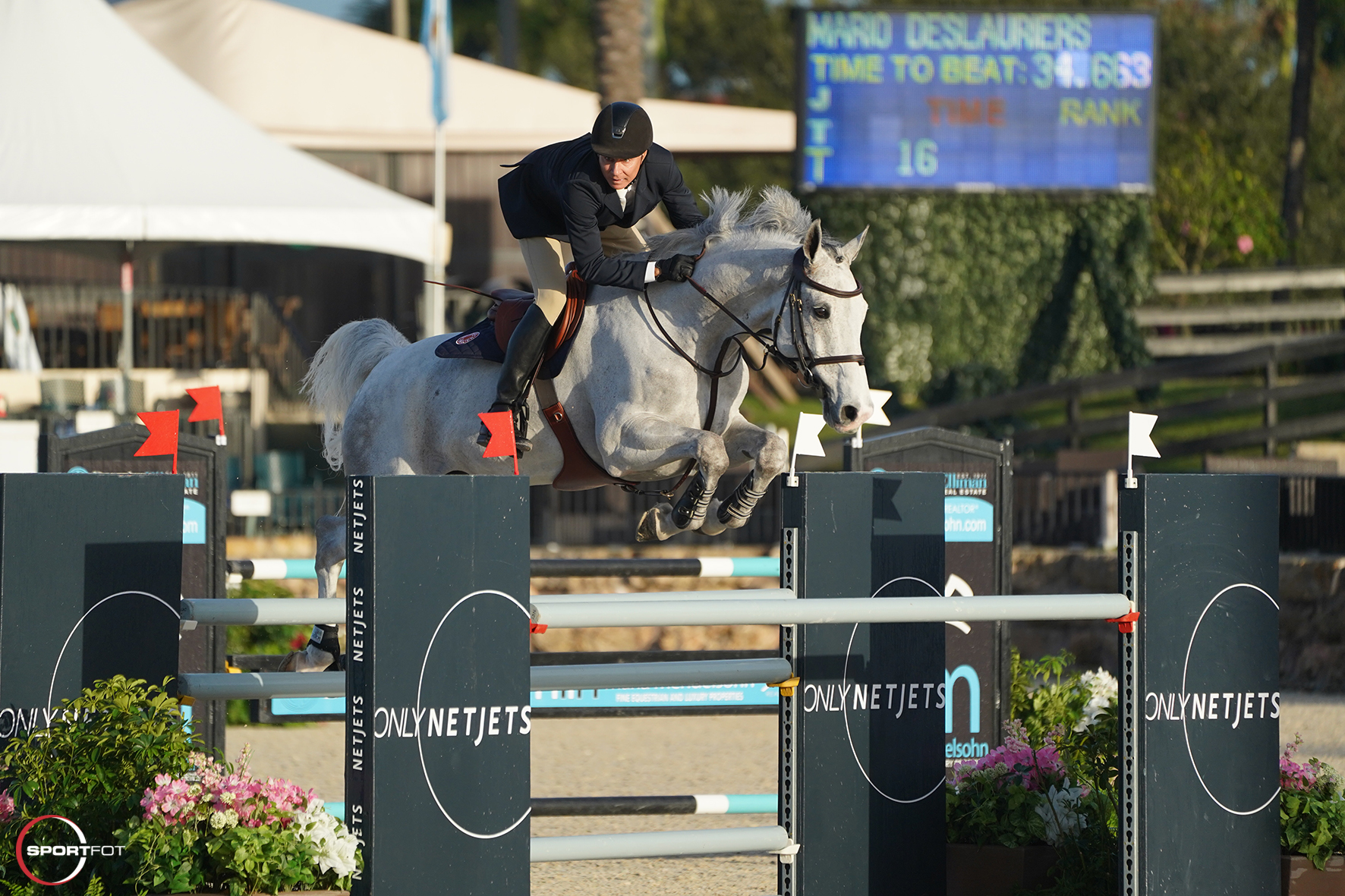 Competition at the 2020 WEF continues on Thursday with the $37,000 Equinimity WEF Challenge Cup Round 2 in the International Arena and the crowning of the Equine Tack Green Hunter 3'9" champion. For full results, visit www.PBIEC.com.
Final Results: $6,000 Bainbridge 1.40m CSI2*
1 TOU LA MOON: 2008 Belgian Warmblood mare by Toulon x Skippy II
CHARLIE JAYNE (USA), Alex Jayne & Maura Thatcher: 0/0/27.80
2 DUNDALK: 2005 ISH gelding by ARD VDL Douglas x Horace
STELLA MANSHIP (USA), Elan Farm: 0/0/29.22
3 VAN DE EMMA: 2008 Dutch Warmblood mare by Van de Vivaldi x Almiro Z
MOLLY ASHE CAWLEY (USA), Oakridge Farm: 0/0/29.49
4 COLOURFUL LADY: 2010 Holsteiner mare by Casall x Acord II
CAPT. BRIAN COURNANE (IRL), Glenbeigh Farm LLC: 0/0/29.83
5 CON COLEUR: 2009 Hanoverian gelding by Contendro I x Couleur Rubin
REBECCA CONWAY (USA), Blue Hill Farm, LLC: 0/0/30.34
6 CAPTAIN JACK: 2009 BWP stallion by Der Senaat 111 x Franco
CAMERON HANLEY (IRL), Poden Farms: 0/0/30.37
7 CRUNCHY NUT 15: 2010 Holsteiner gelding by Cannavaros x Con Air
LUIS FRANCISCO ESPINOSA LOPEZ (COL), Roberto Gonzalez Alcala: 0/0/30.42
8 DONTEZ: 2008 Dutch Warmblood gelding by Verdi x Wolfgang
FREDDIE VAZQUEZ (PUR), G6 Holdings and Freddie Vazquez: 0/0/30.53
9 MARCIANO MVF: 2011 Zangersheide gelding by Stakkato x Leberoi H
HEATHER CARISTO-WILLIAMS (USA), Stephanie Bulger: 0/0/31.28
10 GOTICO DI CA' SAN GIORGIO: 2011 gelding
MARIA SCHAUB (USA), Evergate Stable LLC: 0/0/32.21
11 BRINDIS BOGIBO: 2006 KWPN gelding by Grand Pilot I x Pacific
ANDREW WELLES (USA), Itasca Group LLC: 0/0/32.28
12 LEGOLAS TER WILGEN: BWP stallion by Emmerton x Chin Chin
EMILIE CONTER (BEL), Stephex Stables: 0/0/32.45
Photo Credit: Photos © Sportfot, Official Photographer of the Winter Equestrian Festival. These photos may be used only in relation to this press release and must include photo credit.