For Immediate Release
Lindsay Brock and Summer Grace for Jennifer Wood Media, Inc.
Wellington, FL – January 10, 2019 – Brazil's Celso Ariani won the first round of the Equinimity WEF Challenge Cup at Palm Beach International Equestrian Center in Wellington, FL, on Thursday, January 10. The Winter Equestrian Festival (WEF) continues with 12 consecutive weeks of world-class competition through March 31, 2019.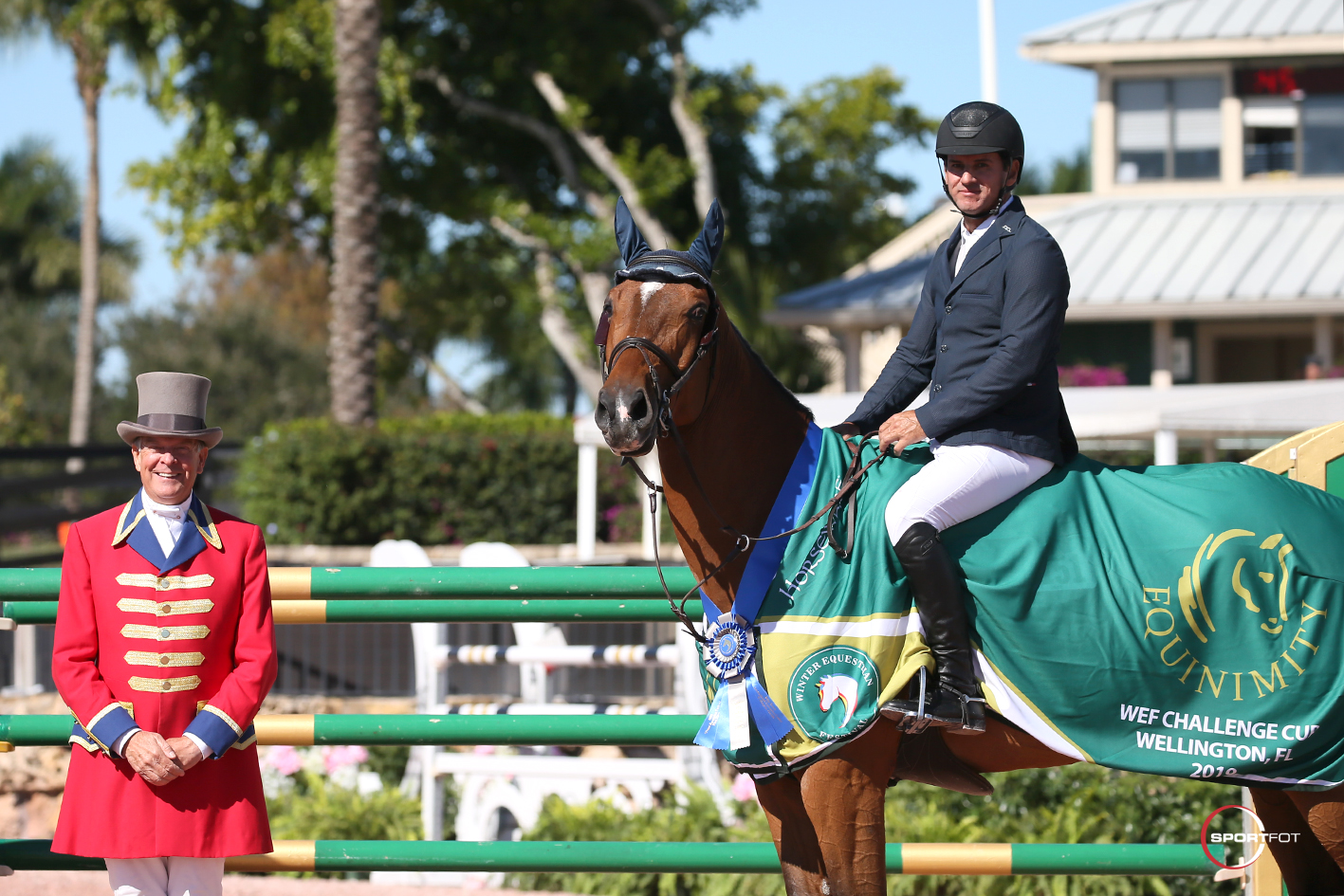 The first week of competition at WEF is sponsored by Wellington Regional Medical Center and features the crowd favorite $75,000 Battle of the Sexes, presented by Wellington Regional Medical Center, during "Saturday Night Lights" on January 12 at 7 p.m. in the International Arena.  
With their share of $35,000 on the line, Ariani's mount Ukulman de la Nutria was fast across the ground and careful over the fences to top a six-horse jump-off  over courses designed by Eric Hasbrouck of the United States. The pair will now focus on the $75,000 Rosenbaum PLLC Grand Prix, which takes center stage on Sunday, January 13.
From a starting field of 36, Ariani saved the best for last and posted the fastest double-clear time in 40.530 seconds as the final rider. He bumped Hunter Holloway (USA) and VDL Bravo S, owned by Hays Investment Corp., to second in 41.402 seconds. Peter Lutz (USA) rode Excellent to third for Bosch Sport Horses in 42.464 seconds, while Christine McCrea (USA) settled for fourth aboard Jarcobond van den Oude Eik, owned by Candy Tribble, with a single rail in 45.043 seconds in the tie-breaker. Ireland's Conor Swail rounded out the top five by riding Koss van Heiste for Eadaoin Collins to an eight-fault jump-off performance in 42.238 seconds.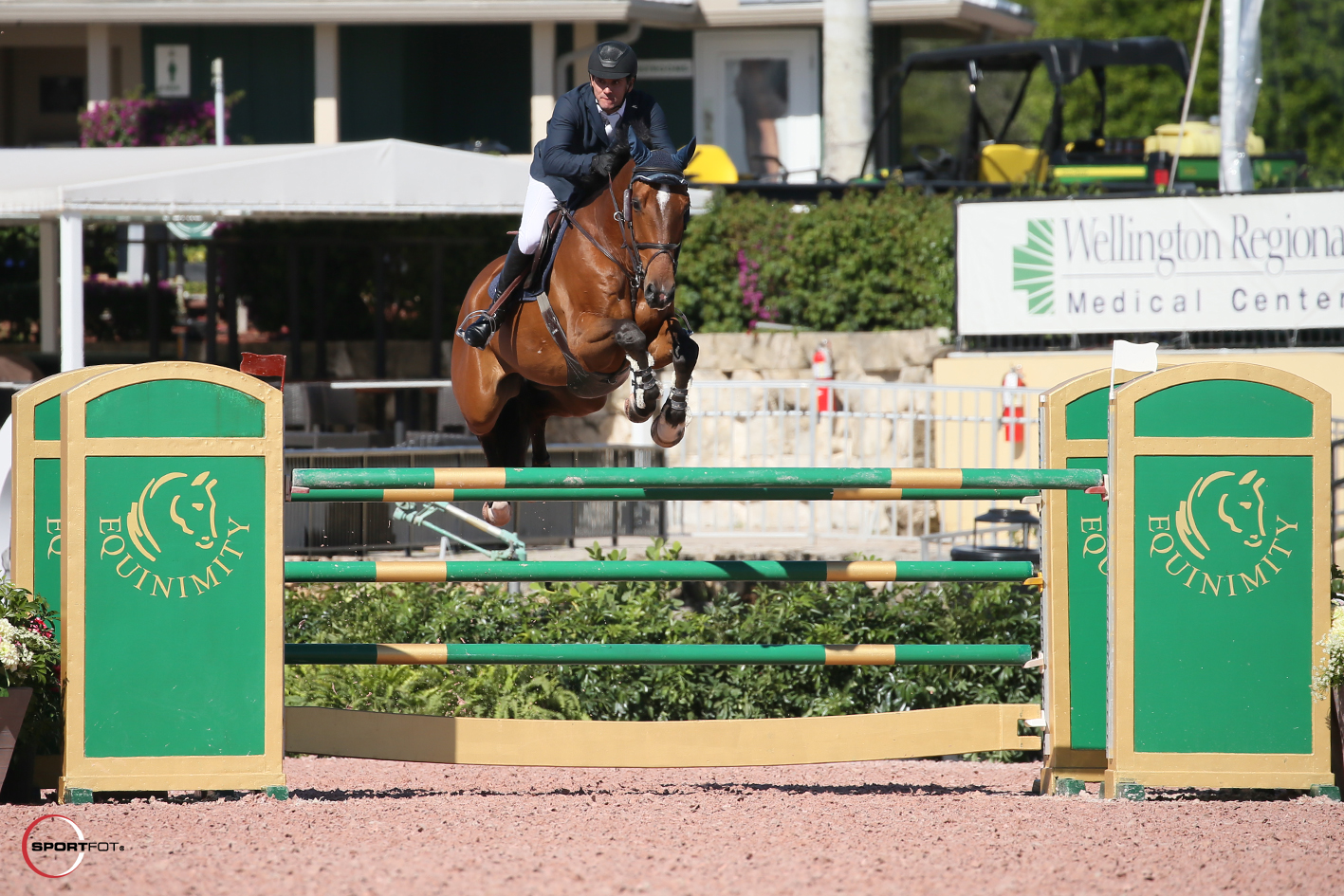 After a late start to the mount's career in the show ring, Ariani got the ride on Ukulman de la Nutria, a 2008 Selle Français gelding by Quick Star, two years ago. The horse was not broke until his seven-year-old year, but is quickly making up for lost time.
"He is from Mexico and it's the system there to break them at five or six, but for some reason he was in pasture for a little longer," said Ariani. "I was very happy with his results over the last year and I have a lot of expectations for him. I believe he can become a very important horse.
"He has a huge stride and I was confident in the jump-off because it was a long track," continued Ariani. "The last line was seven or eight [strides], but I believed he could do it in six and he did!"
Ariana now calls Wellington home and has based his business here for three years, saying, "It's like Disney Land! The level and amount of good horses, riders, and sponsors is amazing."
Also winning in the International Arena at WEF on Thursday, Carly Anthony (USA) claimed the $8,000 Douglas Elliman 1.45m riding Jana van d'Abdijhoeve and McLain Ward (USA) triumphed in the $6,000 Bainbridge 1.40m aboard Queen Jane.
Final Results: $35,000 Equinimity WEF Challenge Cup Round 1
1 UKULMAN DE LA NUTRIA: 2008 Selle Français gelding by Quick Star CELSO ARIANI (BRA), Ricardo Romero Garcia: 0/0/40.530
2 VDL BRAVO S: 2006 KWPN gelding by Ephepe For Ever x Chellano Z HUNTER HOLLOWAY (USA), Hays Investment Corp.: 0/0/41.402
3 EXCELLENT: 2009 KWPN gelding by Cicero Z van Paemel x Ahorn
PETER LUTZ (USA), Bosch Sport Horses: 0/0/42.464
4 JARCOBOND VAN DEN OUDE EIK: 2009 BWP gelding by Vagabond de la Pomme x Darco CHRISTINE MCCREA (USA), Candy Tribble: 0/4/45.043
5 KOSS VAN HEISTE: 2009 Belgian Warmblood gelding by Breemeersen adorado x Contact vd heffinck CONOR SWAIL (IRL), Eadaoin Collins: 0/8/42.238
6 TRADITION DE LA ROQUE: 2007 Selle Français mare by Kannan x Oberon du Moulin MCLAIN WARD (USA), Kessler Show Stables: 0/15/52.916
7 DONJO: 2008 KWPN gelding by Zirocco Blue VDL x Ahorn
TIFFANY FOSTER (CAN), Ariel Grange and Tiffany Foster: 1/82.374
8 FRESCA LA QUADRA: 2010 KWPN mare by Carambole
ALONSO VALDEZ PRADO (PER), Alonso Valdez Prado: 2/83.449
9 EYECATCHER: 2009 KWPN mare by Harley VDL x Orthos MATTIAS TROMP (USA), Beyaert Farm, Inc.: 3/84.221
10 CHACCOLETTE: 2009 Oldenburg mare by Chacco Blue LILLIE KEENAN (USA), Chansonette Farm LLC: 4/79.433
11 EAX RUN RUN LS: 2008 CDLS gelding by Casall x Montebello La Silla ILAN BLUMAN (COL), Blue Star Investments: 4/81.721
12 LIROY 30: 2009 Brandenburg gelding by Levistano x King Kolibri TAYLOR LAND (USA), Pinetree Farms Inc.: 5/82.382
Scott Stewart Captures Championship in Equine Tack & Nutritionals Green Hunter 3'6" Aboard Bright Side
Scott Stewart returned to the Winter Equestrian Festival in winning form as he secured the championship in the Equine Tack & Nutritionals Green Hunter 3'6" division during Week 1. Stewart piloted new mount, Bright Side, to an easy victory as the pair were awarded two firsts, a third, and a fourth over their courses.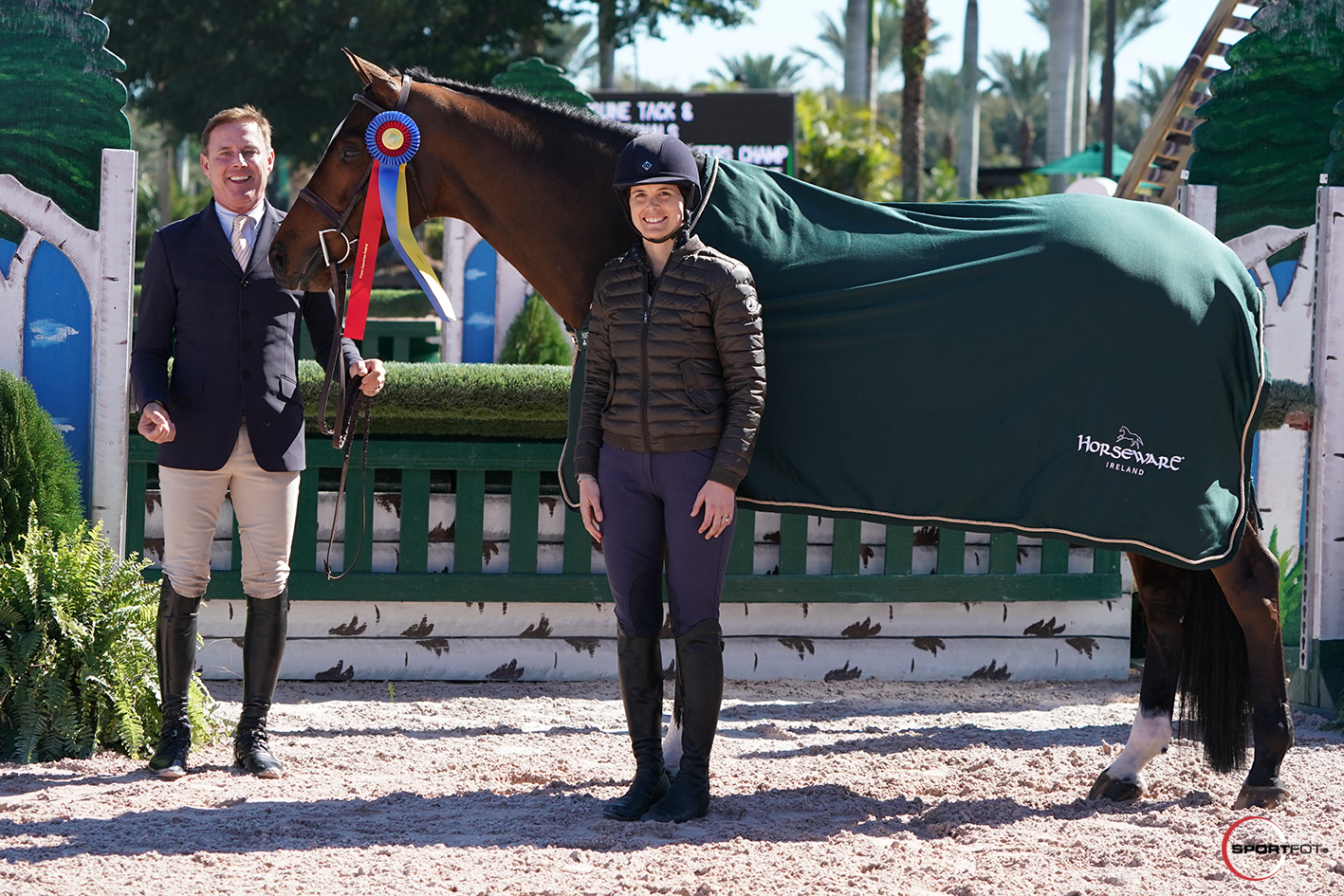 "We weren't sure we were going to show him this week, but he was so good in the warm-ups on Tuesday that we decided to jump right in," commented Stewart. "Since I don't know him very well, I just had to trust him. He went right out there and handled it exceptionally well."
Stewart, of Flemington, NJ, is new to the eight-year-old Dutch Warmblood gelding (Ultimo x Tiara), who was purchased as an Adult Amateur 3'6" horse for his client, Stephanie Danhakl, only several weeks ago. Previously owned by Mountain View West Farm, LLC, the gelding has extensive Adult Amateur and Performance Hunter placings on the west coast.
"He's naturally a very good jumper and very confident, so he's a great amateur horse," Stewart said of Bright Side.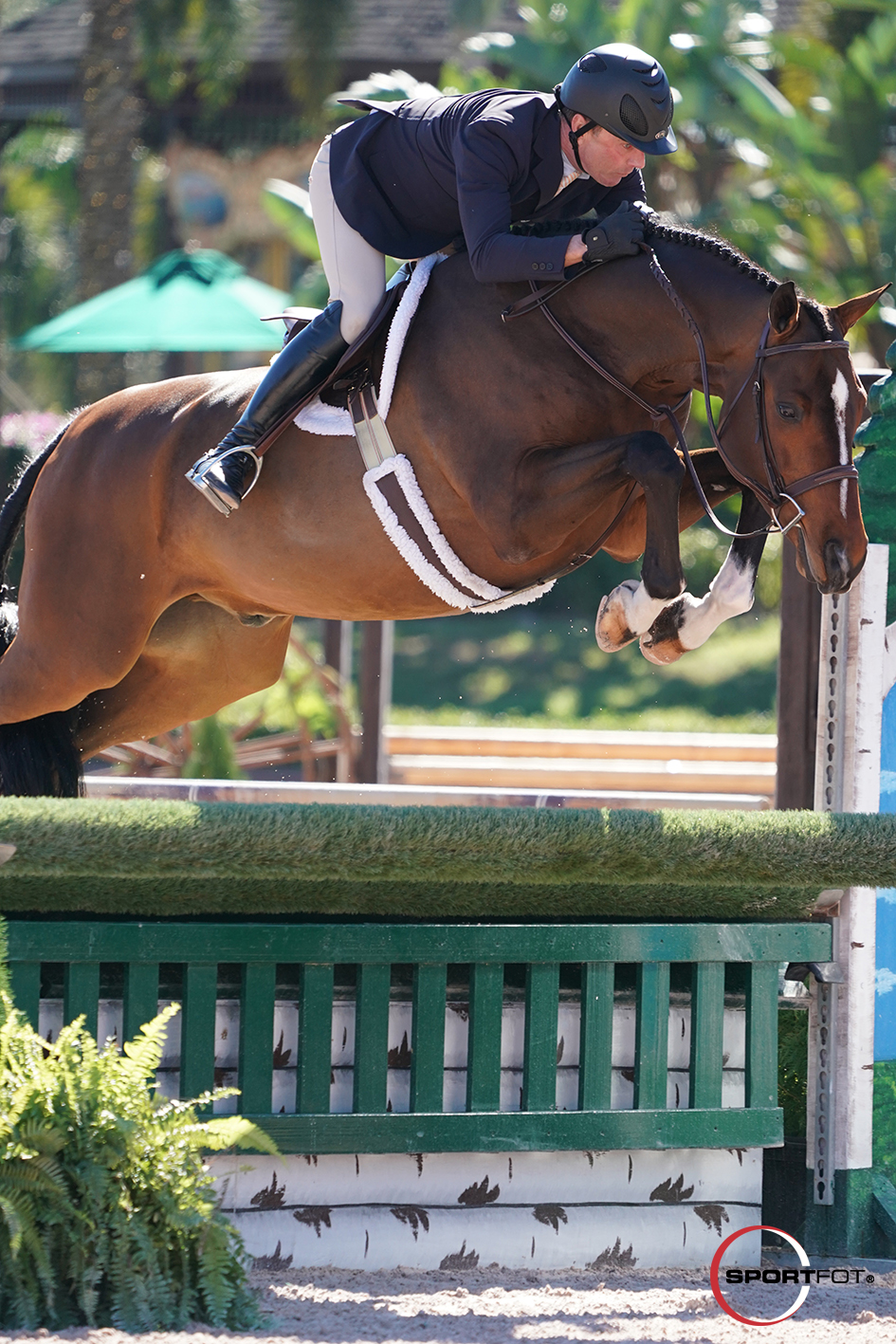 Hunter veteran Kelley Farmer and Larry Glefke's six-year-old mare Me Too produced two solid rounds to secure second place in both the Handy and Stake classes. The placings were high enough to earn the duo the reserve championship during opening week.
Competition at the 2019 Winter Equestrian Festival continues on Friday with the $6,000 Bainbridge 1.40m Speed Challenge taking place in the International Arena and crowning of Adult Amateur champions in the E.R. Mische Grand Hunter Field. For full results, visit www.PBIEC.com
Photo Credit: Photos © Sportfot, Official Photographer of the Winter Equestrian Festival. These photos may be used only in relation to this press release and must include photo credit.