For Immediate Release
Wellington, FL – December 4, 2021 – The highly-anticipated feature event of the Holiday & Horses CSI4* and the ESP Holiday Series as a whole took place on Saturday evening in front of the biggest crowd the facility has seen since the 2020 Winter Equestrian Festival was stopped in Mid-March due to the COVID-19 pandemic. With the Palm Beach International Equestrian Center (PBIEC) now open to general spectators, the 39 elite contenders in the $214,000 Holiday & Horses Grand Prix CSI4*, presented by the Palm Beach County Sports Commission, gave the crowd a perfect welcome back to the horse show, enhanced thanks to the masterful course designs of Anthony D'Ambrosio (USA). Galloping to the top of the leaderboard as the night's big winners, Catherine Tyree (USA) and her own BEC Lorenzo edged out the competition to conclude the evening with the coveted first prize and the lion's share of the prize money.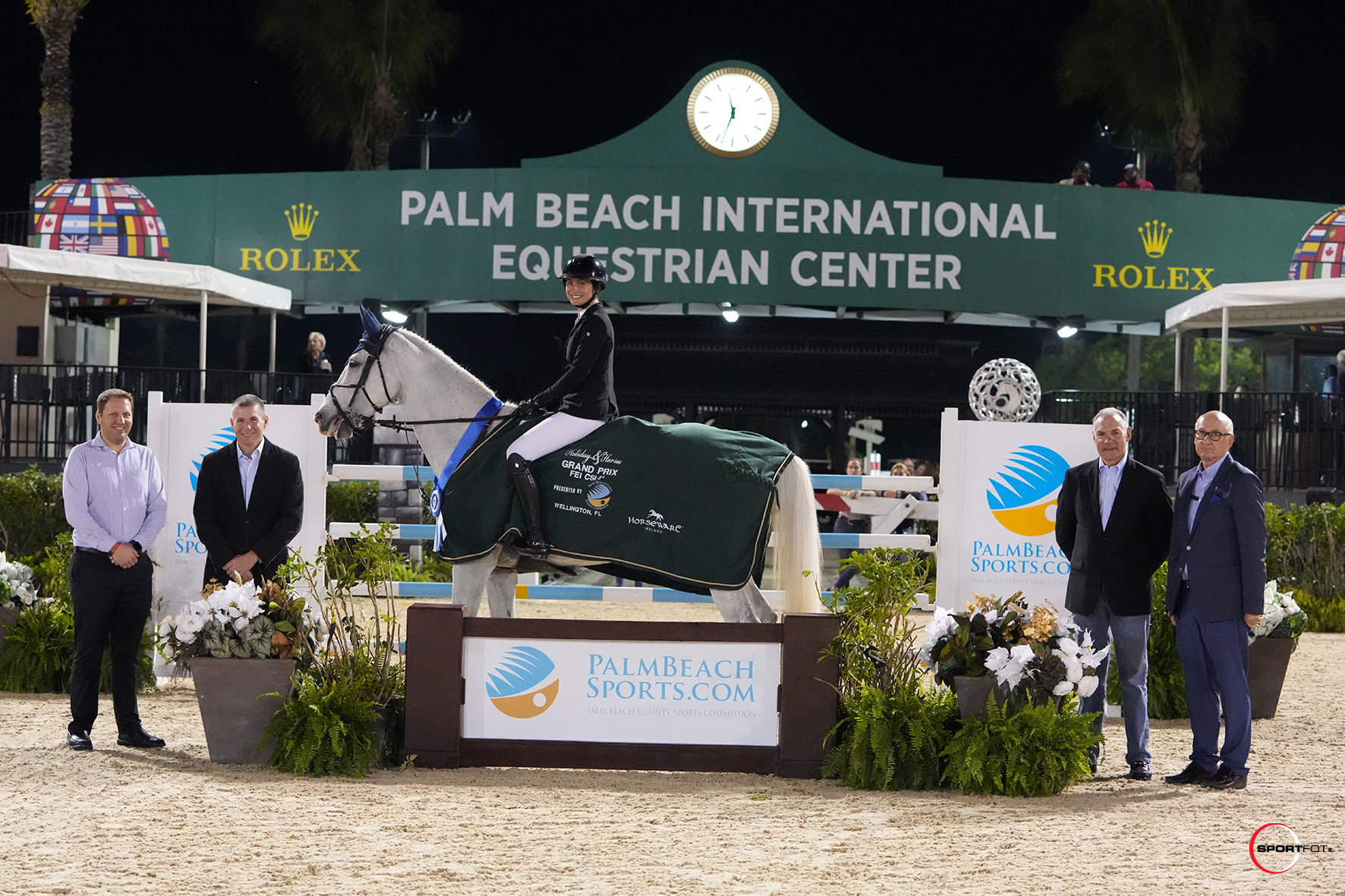 "I've had BEC Lorenzo since the end of his 7-year-old year, and he is 11 now, so four years. We started at the 1.25m level, so his first big classes were our first together. We have a lot of experience together, but we just started jumping the big classes, like CSI4* classes, about 18 months ago," Tyree remarked following her win. "We really took our time to perfect a few things and to develop him. It's been an absolute dream to work with him. It's the story everybody wants when you get a young horse – to develop them and bring them to this level and hope they're successful. He is such a good competitor and loves what he does."
The class showcased an international field of entries representing 13 countries, including the United States, Brazil, Israel, the Dominican Republic, Ireland, Great Britain, Argentina, Colombia, Venezuela, Denmark, Mexico, Canada, and Switzerland. D'Ambrosio created a pattern of 14 fences in the first round, which ultimately saw six partnerships leave all the rails in their cups to advance to the jump-off. The first half of the competition featured just a single clear pair, Brooke Kemper (USA) and Caroline Blum's Arpeggi, until the 24th duo, when Tanner Korotkin (USA) and Volo's Diamond, owned by Sandalwood Farms, forced a jump-off. The pace picked up soon after that, with four more partnerships, including Tyree and BEC Lorenzo, crossing the finish line without faults to earn a spot in the tie-breaker round. The time-allowed proved to be a factor, with three further pairs clearing all the fences but falling victim to a single time fault.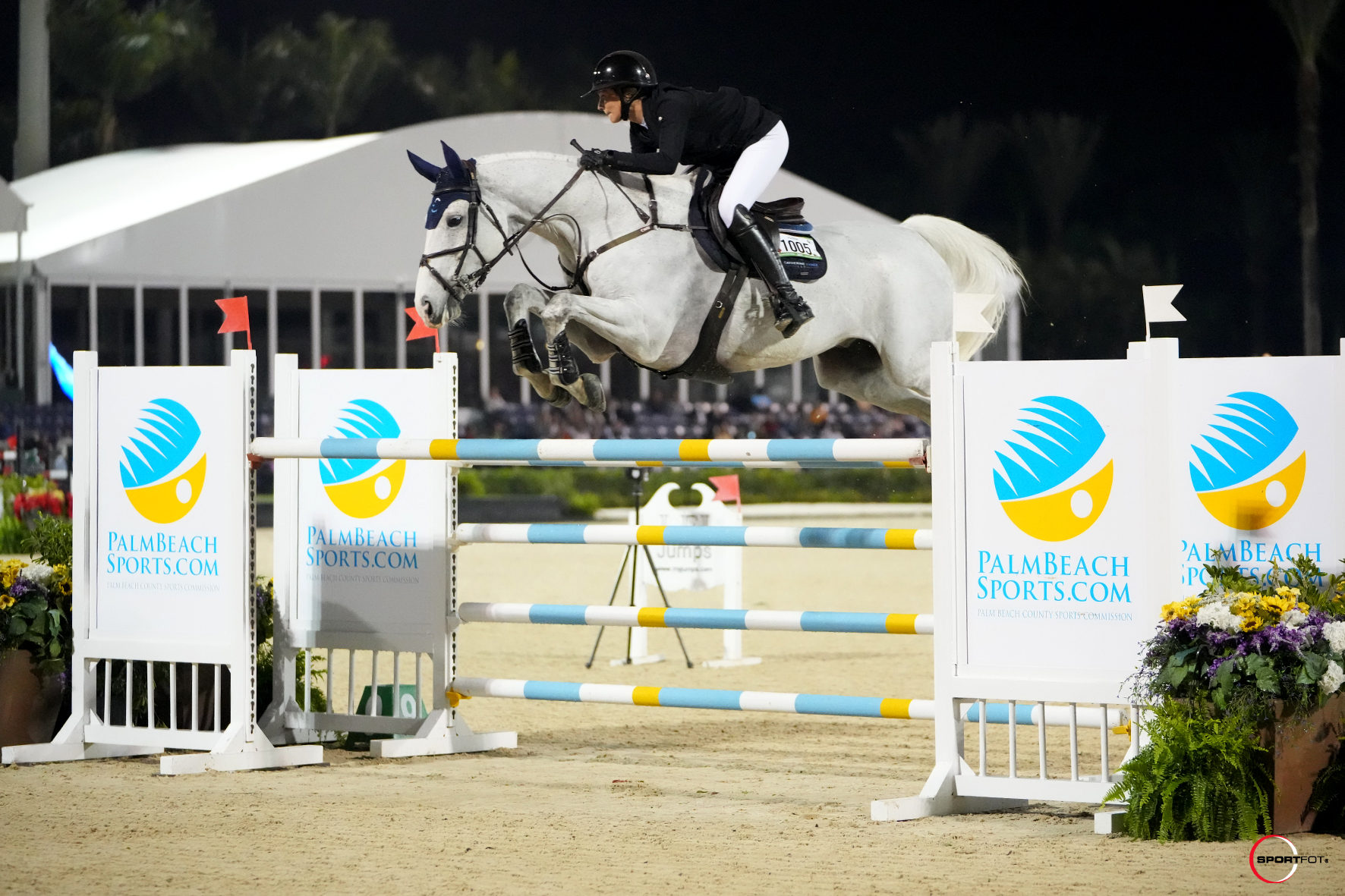 "I definitely thought the course today was a bit challenging. The time was a bit snug, and all of the lines were open, which ended up catching a few people. I was able to use that to my advantage. I watched the first part of the class, so I knew which parts were tricky, and I tried to focus on riding my horse, my strides, and my plan, and not get too caught up in what was going on out there," Tyree commented. "I had three very fast people behind me in the jump-off, so I really didn't know if I did enough. There was an inside turn in the jump-off that didn't look great when I went in, so I opted to go fast and around, and I got lucky to be able to get a good gallop."
Trimmed to eight fences, the jump-off course offered a series of inside turn options, which resulted in various tracks from competitors. As the third team to enter the ring in the second round of riding, Tyree and BEC Lorenzo, a 2010 Irish Sport Horse gelding by Livello x Guidam, had a shot to take over the lead with no double-clear finishers yet, and the combination took advantage of the opportunity with a swift trip without penalties in 39.17 seconds to emerge as the frontrunners. Two of the remaining three challengers managed to finish the course without lowering any fences and within half of a second of the leading time, but they could not quite match Tyree's and BEC Lorenzo's efforts, solidifying them as the winners of the $214,000 Holiday & Horses Grand Prix CSI4*, presented by the Palm Beach County Sports Commission.
Click above to watch the winning jump-off ride!
With a double-clear time of 39.64 seconds, Shane Sweetnam (IRL) and Karlin Van't Vennehof, 2010 BWP mare by Fantomas De Muze X Quasimodo Vd Molendreef that is co-owned by Seabrook LLC and Sweetnam, nabbed the runner-up honors. One-hundredth of a second slower, Beat Mändli (SUI) and Grant Road Partners LLC's Dijon Terdoorn Z, a 2011 Zangersheide gelding by Diamant de Semilly x Lord Z, rounded out the podium placings in a time of 39.65 seconds as the final double-clear duo.
"I want to say thank you to everyone at North Run, especially John Brennan and Missy Clark. We've worked together for 10 years now, starting with the equitation and high juniors, and now making it all the way up to this level," Tyree praised. "His groom, Ally Bradley, has been with BEC Lorenzo ever since he's been here. This really goes out to them; I just take credit for the 80 seconds in the ring, but it's truly a combination of hard work from behind the scenes."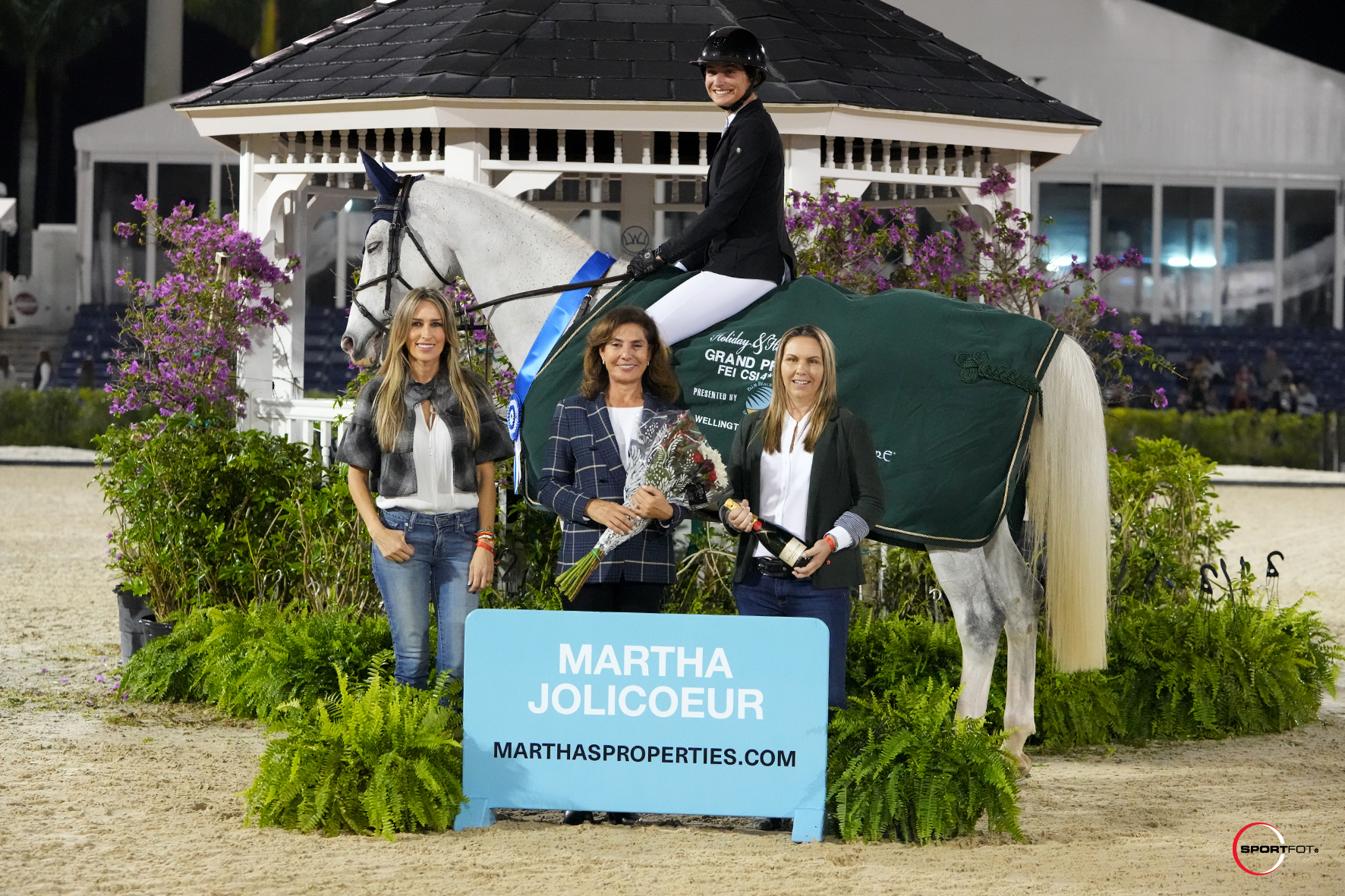 Following the conclusion of the class, the Martha Jolicoeur Leading Lady Rider Award was presented to Tyree and Lorenzo, who claimed the title thanks to their victory in the grand prix, combined with an eighth-place finish in the $50,000 Premier Equestrian Grand Prix Qualifier CSI4* on Thursday.
Earlier in the day, Leslie Howard (USA) and Donna Speciale, owned by Peter Howard and Laure Sudreau, topped a field of 36 exhibitors in the $5,000 CabanaCoast 1.35m Jumper Stake. The duo galloped to a double-clear jump-off time of 34.67 seconds, the quickest of a large group of ten double-clear pairs. Sydney Shulman (ISR) and Andrew Welles LLC's Conquista D' Oz nabbed second place after crossing the finish line in 35.10 seconds, followed by Kyla Makhloghi (USA) aboard Rosemont Farm Inc.'s Hurry Up B in 35.75 seconds, just fractions of a second off the pace.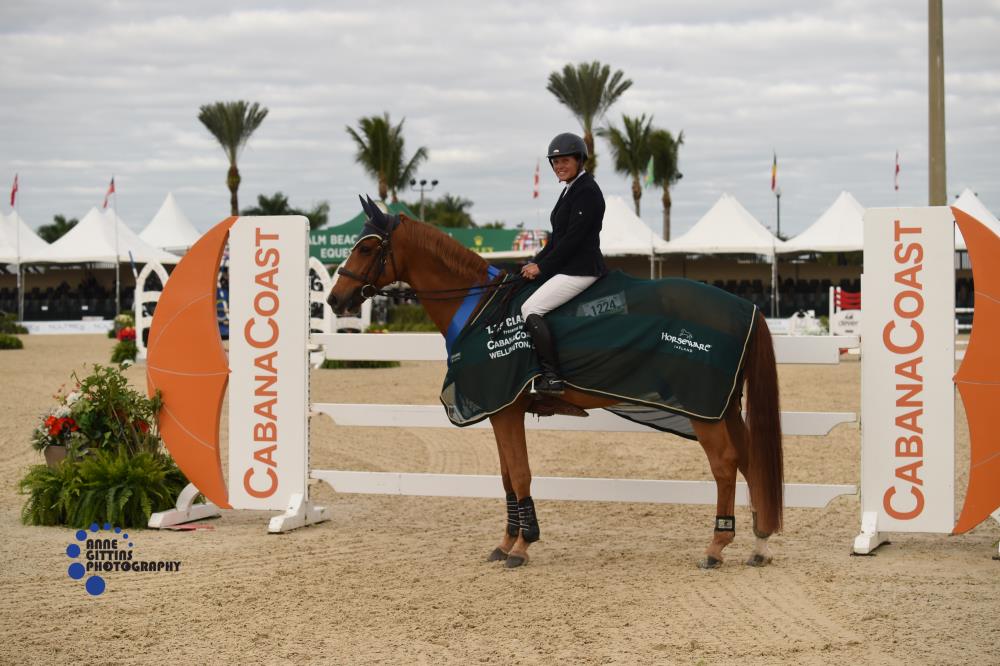 The ESP Holiday & Horses CSI4* will continue for just one more day of equestrian action. Following the conclusion of the event on Sunday, the ESP Holiday Series will feature four subsequent shows, culminating with the ESP Holiday Finale from December 29, 2021 – January 2, 2022, ahead of the 2022 Winter Equestrian Festival.
Full Results: $214,000 Holiday & Horses Grand Prix CSI4*, Presented by the Palm Beach County Sports Commission
1. BEC LORENZO: 2010 Irish Sport Horse gelding by Livello x Guidam
CATHERINE TYREE (USA), Mary Tyree: 0/39.178
2. KARLIN VAN 'T VENNEHOF: 2010 BWP mare by Fantomas De Muze X Quasimodo Vd Molendreef
SHANE SWEETNAM (IRL), Seabrook LLC and Shane Sweetnam: 0/39.647
3. DIJON TERDOORN Z: 2011 Zangersheide gelding by Diamant de Semilly x Lord Z
BEAT MANDLI (SUI), Grant Road Partners LLC: 0/39.65
4. LADRIANO Z: 2008 Zangersheide gelding by Lawito x Baloubet du Rouet
DANIEL BLUMAN (ISR), Over the Top Stables LLC: 0/4/38.886
5. ARPEGGI: 2010 Westphalian gelding by Arpeggio x Lancer III
BROOKE KEMPER (USA), Caroline Blum: 0/4/41.481
6. VOLO'S DIAMOND: 2011 Oldenburg gelding by Stakkatol x Baloubet Du Rouet
TANNER KOROTKIN (USA), Triple S Group and Shane Sweetnam: 0/4/42.42
7. H5 CHACCOPHANIE: 2011 Oldenburg mare by Chacco-Blue x Grand Step
CARLOS HANK GUERREIRO (MEX), H5 Sport Horses LLC: 1/78.12
8. COMTESS 202: 2011 Westphalian mare by Comme Il Faut 5 x Pilot
SANTIAGO LAMBRE (MEX), Mario Onate: 1/78.78
9. HAMILTON: 2011 Holsteiner gelding by Quadros x Zerlina I
TIFFANY FOSTER (CAN), The Hamilton Group: 1/79.62
10. ELUNA CL Z: 2012 Zangersheide mare by Emerald x Naluna Van 't Roelerhof Z
ELIZA LEHRMAN (USA), Five Way Farm, LLC: 4/73.69
11. H5 QUINTOL: 2005 Oldenburg gelding by Quintender x Cento
EDUARDO MENEZES (BRA), Eduardo Menezes: 4/75.13
12. ABC QUANTUM CRUISE: 2009 Irish Sport Horse gelding by Obos Quality x Cruising
HECTOR FLORENTINO (DOM), Ronnie Beard & Wyndmont: 4/76.02
To view the ESP Holiday Series Prize List, please click HERE.
Photo credit ©Sportfot and ©Anne Gittins Photography. These photos may only be used once in relation to this press release with proper credit.