For Immediate Release
Lindsay Brock, Sabrina Brashares, and Emily Randolph for Jennifer Wood Media, Inc.
Wellington, FL – February 13, 2020 – Brazil's Yuri Mansur bested four Irish jump-off contenders to take the top spot in the $37,000 Equinimity WEF Challenge Cup Round 6 CSI3* during week six at the Winter Equestrian Festival (WEF) on Thursday, February 13.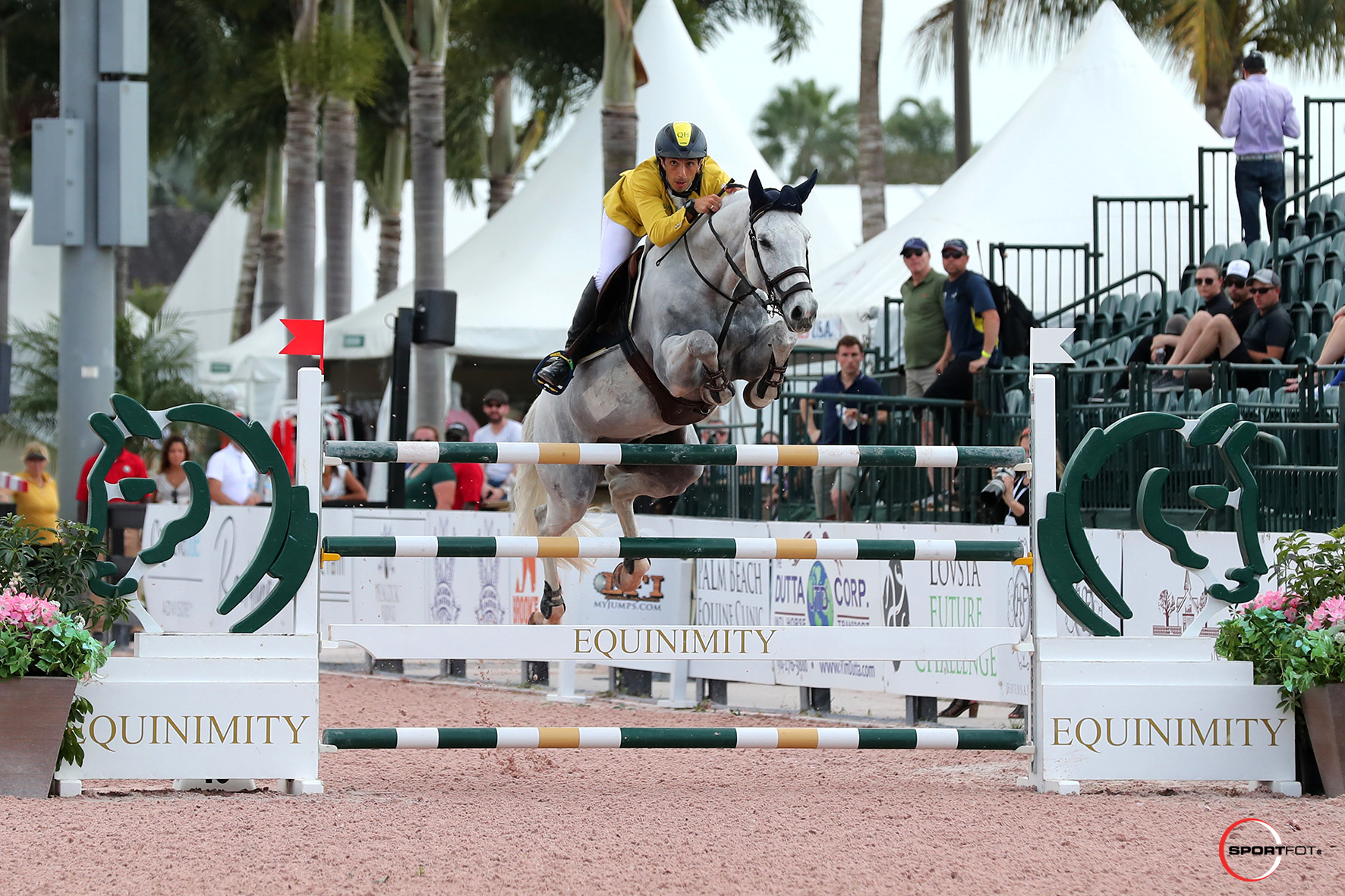 WEF continues through March 29 at the Palm Beach International Equestrian Center (PBIEC) in Wellington, FL, with 12 consecutive weeks of world-class competition and $13 million dollars on offer. The sixth week of competition runs February 12-16, and features World Championship Hunter Rider (WCHR) events, as well as CSI3* jumper competition.
Highlights of the week include the $137,000 Grand Prix CSI3* at 7 p.m. in the Global International Arena at Equestrian Village on Friday, February 14, and the $100,000 WCHR Peter Wetherill Palm Beach Hunter Spectacular on Saturday, February 15, at 6:35 p.m. in the International Arena during "Saturday Night Lights." Sunday, February 16, will welcome the $25,000 Hermès Under 25 Grand Prix and $25,000 CP Grand Prix, on the grass Derby Field.
From a starting field of 44, six horses advanced from a technical first round to the tie-breaking jump-off built by course designer Ana Catalina "Catsy" Cruz Harris (MEX). It was a face-off between Irish riders for the top call before Mansur and his mount Everglade Santo Antonio saved the best for last, breaking the timers in 37.03 seconds to win by fractions of a second over Darragh Kerins (IRL) riding Carlos JD Z. Kerins set the pace as the trailblazer in the jump-off with a time of 37.76 seconds.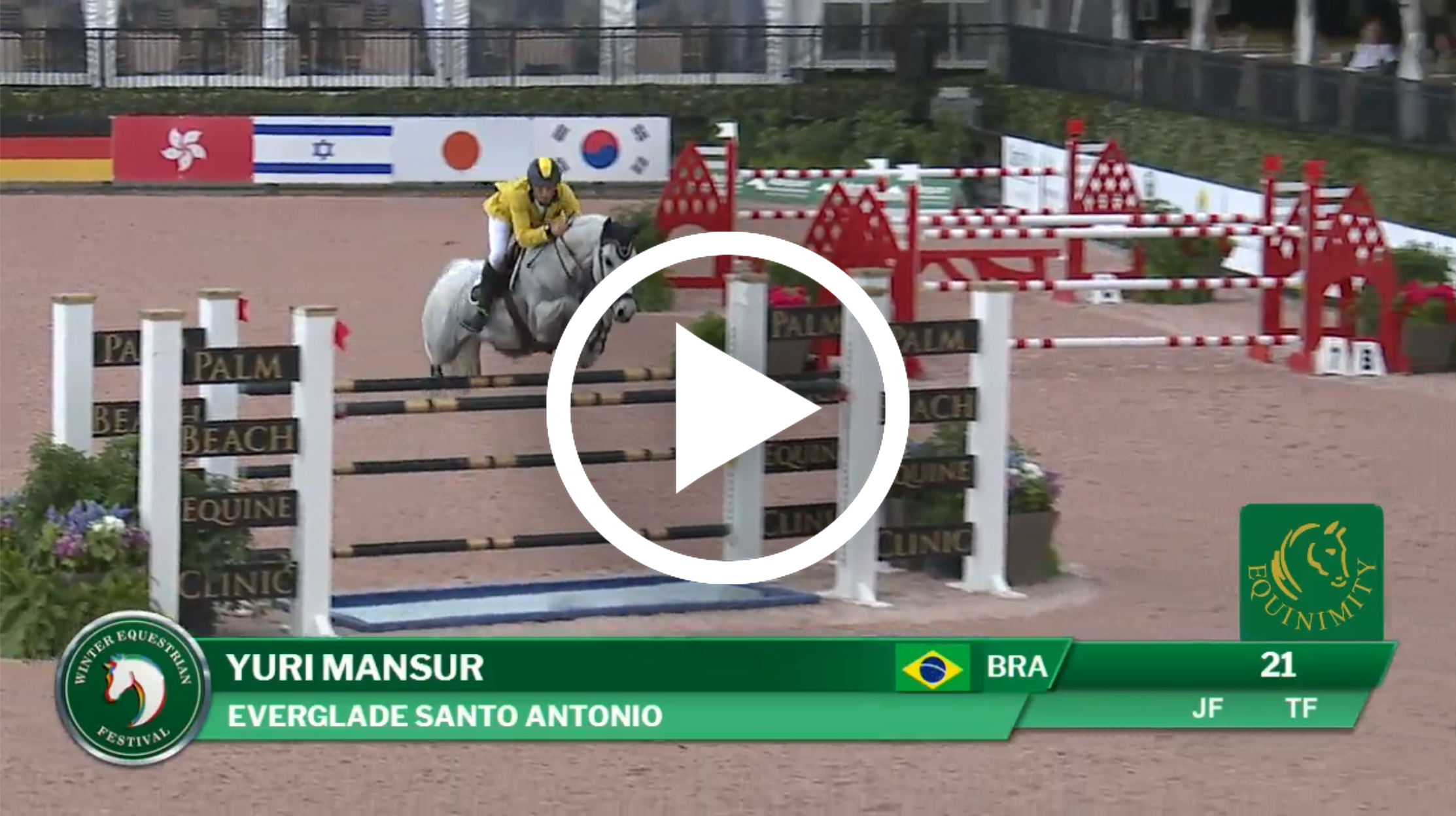 Billy Twomey (IRL) took third riding Chat Botte E.D., owned in partnership with Sue Davis, with a time of 39.34 seconds, while Darragh Kenny (IRL) finished fourth on a single rail in 35.45 seconds. Conor Swail (IRL) rounded out the top five riding GK Coco Chanel with a four-fault performance over the short course in 36.94 seconds for owner Vanessa Mannix. Wednesday's victor and 2012 U.S. World Cup champion Rich Fellers qualified Kimberly Bruce's Ninou 2 for the jump-off but elected not to return and settled for sixth place.
Mansur began his partnership with Everglade Santo Antonio, an 11-year-old Dutch Warmblood gelding (Clinton x Voltaire) in August 2019. They got to know each other in the 1.20m and 1.25m ranks before quickly stepping up to the international scene.
"I have not had him that long, and he was sent to me by an English rider to sell," said Mansur of how he got the ride. "Straight away I realized that he is a nice horse. I never imagined he would be as good as he is, but I knew he was going to be good. He was quickly going in the right direction, and already in the indoor season [this fall] he was jumping fantastic."
Over the past several months, Mansur and Everglade Santo Antonio picked up top placings at CSI5* competitions in Oslo, Norway, Lyon, France, and Stuttgart, Germany.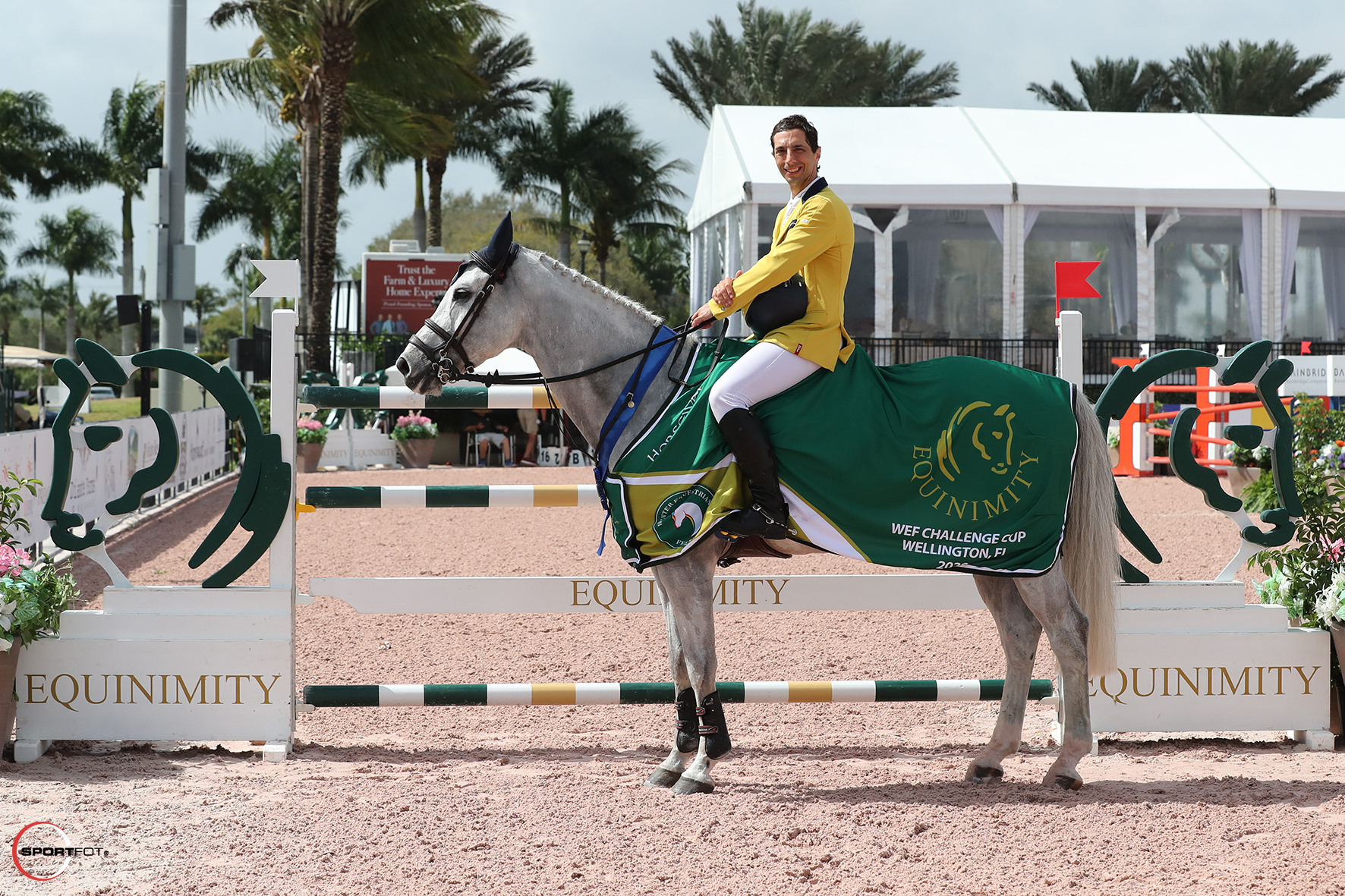 "When I arrived here, he was a bit surprised coming from the indoor circuit, but today he was perfect again," noted Mansur. "I think in the future he can do some really big classes!"
Of his plan for the jump-off track in the Global Ring and Equestrian Village, Mansur noted, "For me, this ring was an advantage because I am coming off the indoor circuit so I was at home here. It was not a speed jump-off, so the strategy was to do the same strides as the rider before me but try to go quicker to the last fence and that's what we were able to do."
For full results, visit www.PBIEC.com.
Final Results: $37,000 Equinimity WEF Challenge Cup Round 6 CSI3*
1 EVERGLADE SANTO ANTONIO: 2009 KWPN gelding by Clinton x Voltaire
YURI MANSUR (BRA), Yuri Mansur: 0/0/37.03
2 CARLOS JD Z: 2009 Zangersheide gelding by Canturo x Baloubet
DARRAGH KERINS (IRL), NRG Farm LLC: 0/0/37.76
3 CHAT BOTTE E.D.: 2008 Zangersheide stallion by Casall x Darco
BILLY TWOMEY (IRL), Sue Davis and Billy Twomey: 0/0/39.34
4 SCARLETT DU SART Z: 2010 Zangersheide mare by Stakkato de hann x First Bride
DARRAGH KENNY (IRL), Vlock Show Stables LLC: 0/4/35.45
5 GK COCO CHANEL: 2008 Holsteiner gelding by Clarimo x Lerano 2
CONOR SWAIL (IRL), Vanessa Mannix: 0/4/36.94
6 NINOU 2: 2008 Oldenburg gelding by Nintender x Danibou
RICH FELLERS (USA), Kimberly Bruce: 0/WD
7 CATINKA 25: 2009 Oldenburg mare by Catoki x Luxano
VANESSA MANNIX (CAN), Vanessa Mannix: 1/77.25
8 VAN DE EMMA: 2008 Dutch Warmblood mare by Van de Vivaldi x Almiro Z
MOLLY ASHE CAWLEY (USA), Oakridge Farm: 1/77.39
9 CALLAS: 2008 Holsteiner mare by Casall x Coriano
ANNABEL REVERS (USA), Beechwood Stables LLC: 1/77.50
10 AMARIT D'AMOUR: 2009 Westphalian gelding by Ashby x Damiani
LORENZO DE LUCA (ITA), Stephex Stables: 4/73.50
11 CAYANI SN: 2010 SWB gelding by Cayado 3 x Voltaire
BLISS HEERS (USA), Bridgeside Farms LLC: 4/73.69
12 TULARA COLMINE: 2010 Warmblood stallion by Colman x Quinar
GEORGINA BLOOMBERG (USA), Gotham Enterprizes, LLC: 4/74.02
Hunter Competition Takes Center Stage on Day Two of WCHR Week
Amanda Steege and Lafitte de Muze started off the second day of World Championship Hunter Rider (WCHR) week at WEF with a championship in the Antarès Sellier High Performance Hunter division.
Professional, junior, and amateur hunter riders are in the spotlight for WCHR week, with the annual $100,000 United States Hunter Jumper Association (USHJA)/WCHR Peter Wetherill Palm Beach Hunter Spectacular set to take place Saturday night in the International Arena. The first classes on Thursday morning in the E.R. Mische Grand Hunter Ring were the under saddle and the concluding over fences round of Antarès Sellier High Performance Hunters. Steege rode eight-year-old Lafitte de Muze, owned by Cheryl Olsten, to win both the under saddle and over fences class to secure the championship title.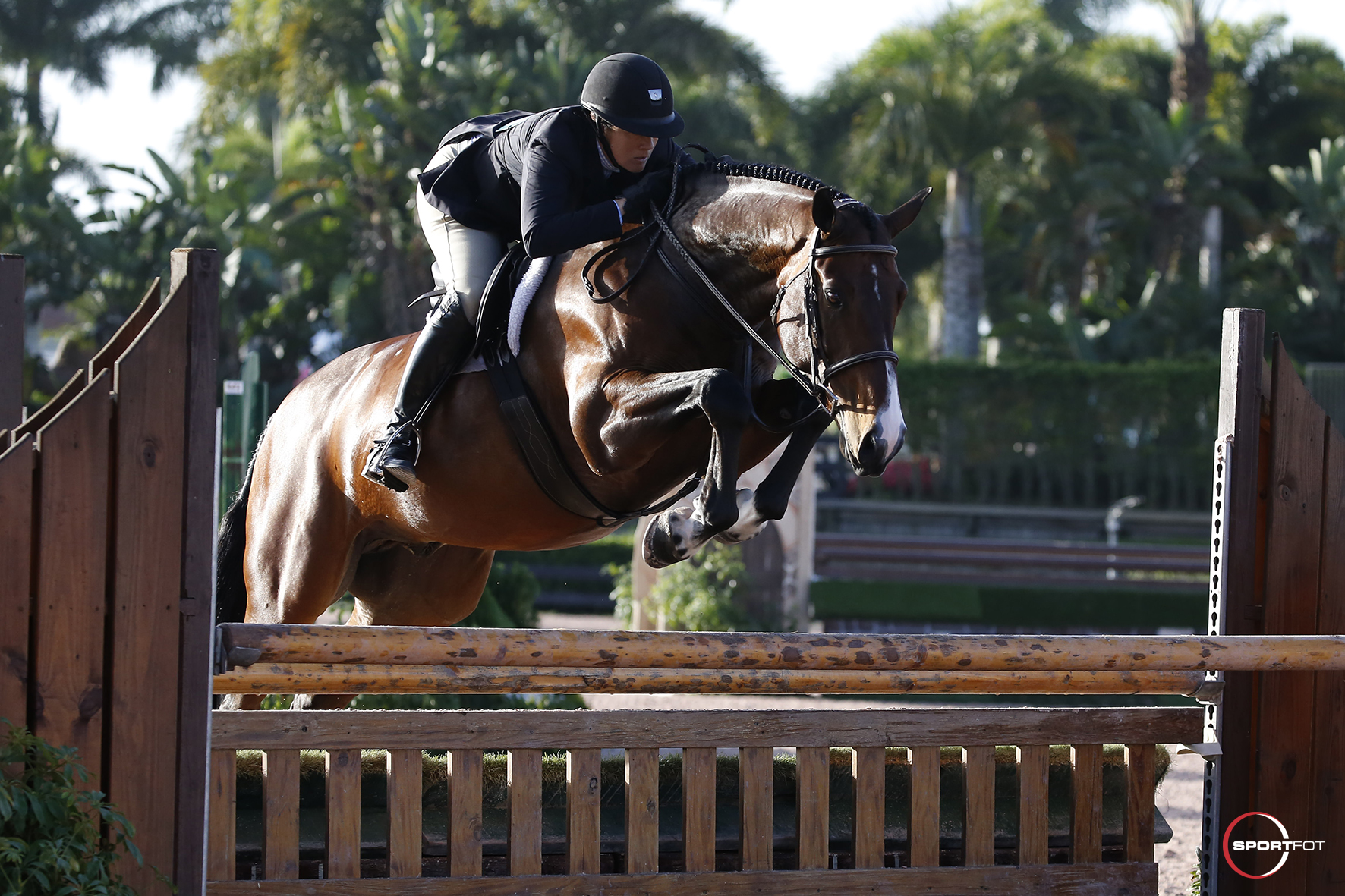 "He knew just as much as I did that we had to win that class," said Steege of Lafitte de Muze, who was recently named the 2019 USHJA Hunter Horse of the Year. "From the moment I got on him today, he was totally focused and on it. I don't think he put a foot wrong in the class."
Reserve champion in the Antarès Sellier High Performance division went to hunter veteran Elizabeth Towell Boyd aboard Carento. Boyd and Carento, owned by Sherri Crawford, received a first, third, fifth, and sixth place ribbon.
The next division to take place in the E.R. Mische Grand Hunter Ring was the High Performance Conformation. Scott Stewart and Private Life took home the tri-color ribbon by winning three out of five classes. This was Private Life's first show back since the National Horse Show, and he will probably not show again until the Devon Horse Show.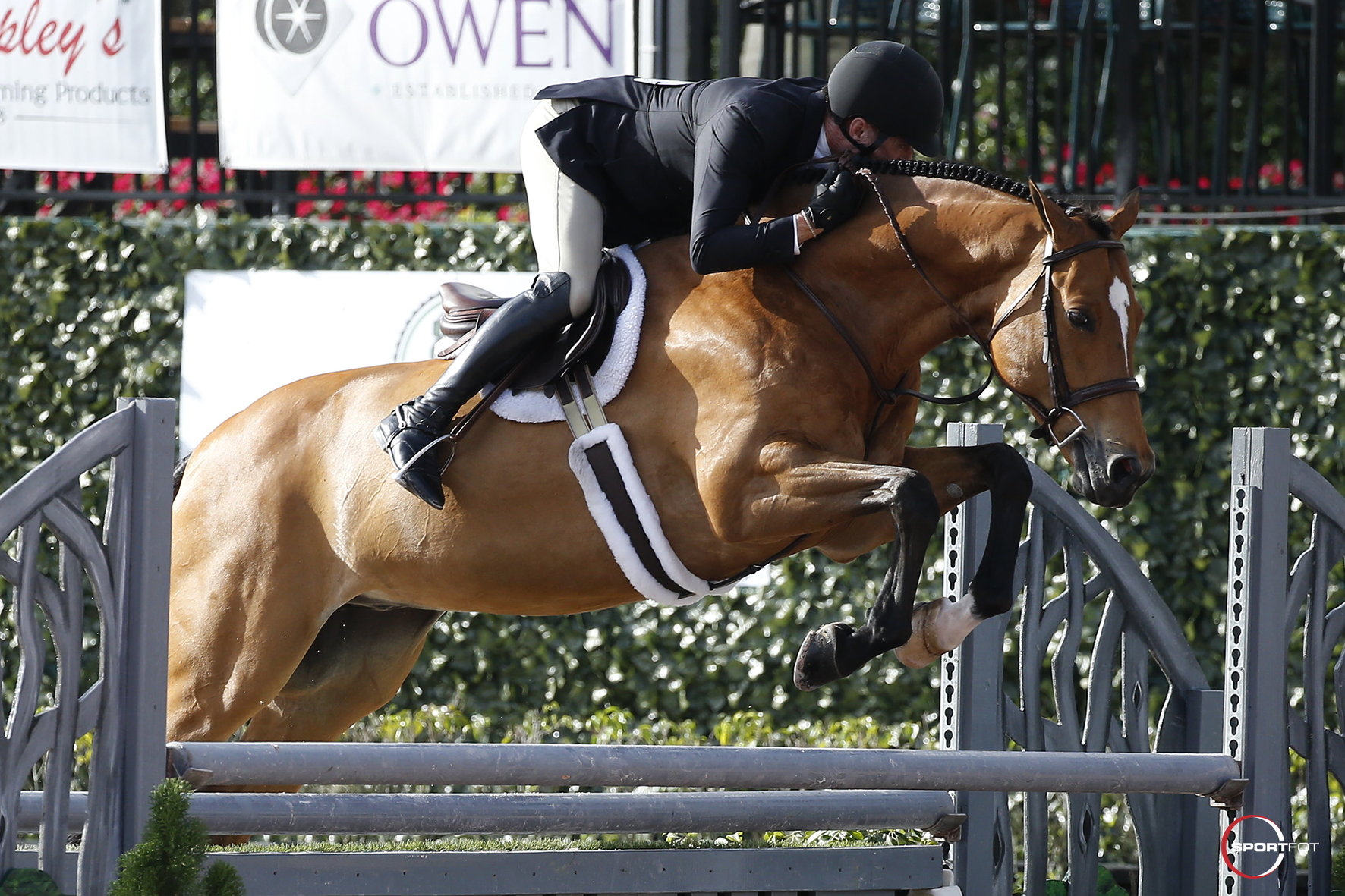 "Private Life is really trustworthy and always the same. He's very simple to ride, and he's a good jumper," Stewart said of the nine-year-old gelding owned by Dr. Betsee Parker. "We plan to try to peak for this week, so it means a lot to be champion."
Taking reserve champion in the High Performance Conformation division was Erynn Ballard and Musashi D Wuellebos, owned by Skymaster LLC. Ballard and Musashi D Wuellebos received a first, second, fifth, and two seventh-place ribbons to earn their title.
Following the High Performance Conformation in the E.R. Mische Grand Hunter Ring was the Equine Tack & Nutritionals Green Hunter 3'9" division. Geoffrey Hesslink and Luminosity took top honors in the division, receiving first, second, and fifth place. Hesslink has had Luminosity, owned by Sabrina Hellman, since last summer and plans to show the gelding in the Second Year Green divisions as well as some hunter derbies.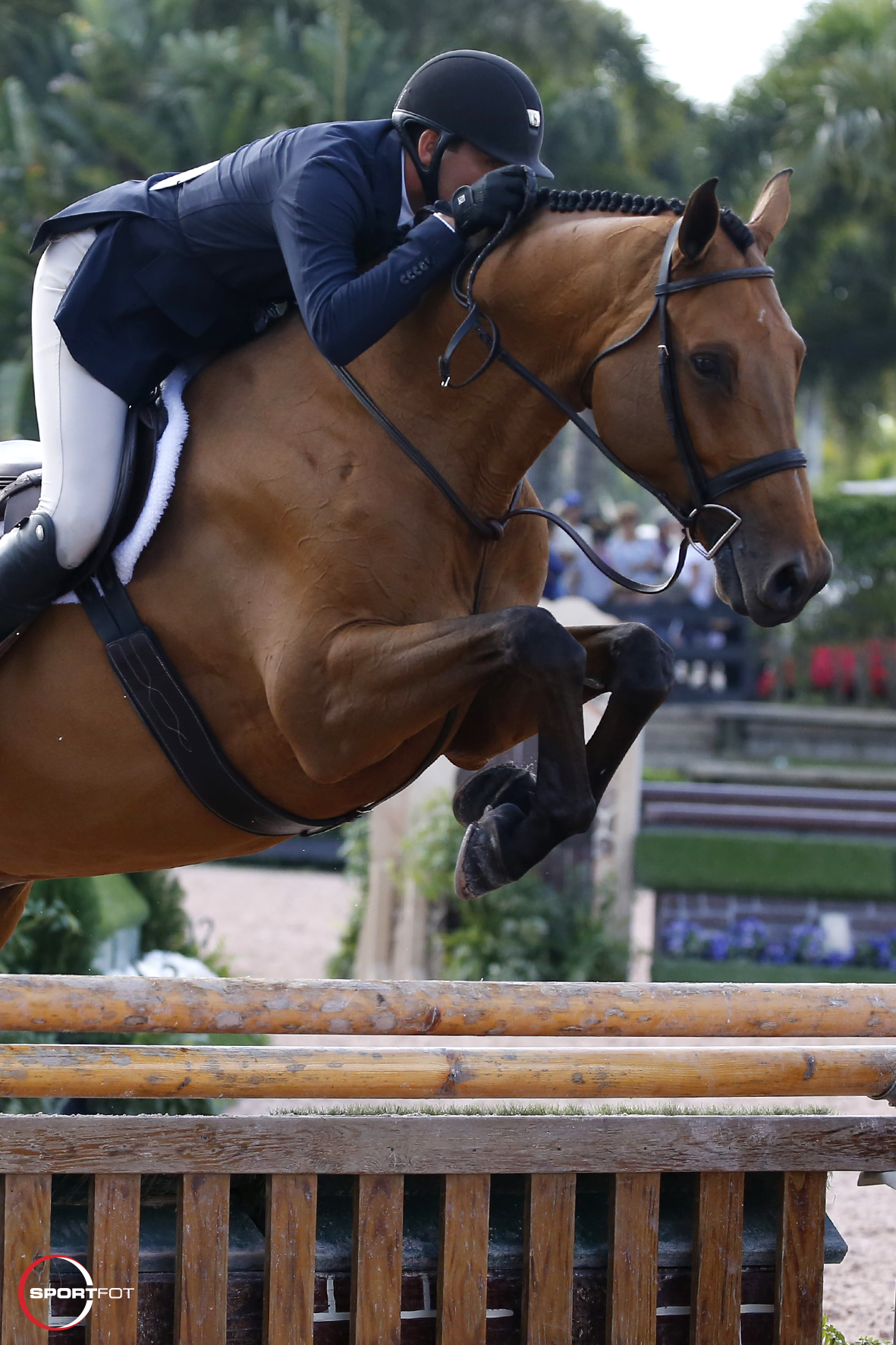 "Yesterday he walked into the International Arena and acted like he owned the place," Hesslink described. "I broke my leg last summer and had a really bad accident, so I was out for indoors and all the big shows. Since I've come back, I've sort of felt in a little bit of a rut and haven't gotten the results that I have wanted, so this is so special," Hesslink said of being champion during WCHR week.
Holly Orlando rode Park City to reserve in the Equine Tack & Nutritionals Green Hunter 3'9" division. Orlando and Park City, owned by Privet Farm, LLC, earned a second, two thirds, and a fourth place.
Scott Stewart claimed his second championship of the day in the Green Conformation Hunter division with Charlemagne in the E.R. Mische Grand Hunter Ring. The pair won the model, the under saddle, and an over fences class with a high score of 92. Charlemagne is a six-year-old stallion owned by Dr. Betsee Parker. "This is his third show, and he was champion the other two times as well. Today he went his best; he just got better each time," Stewart explained.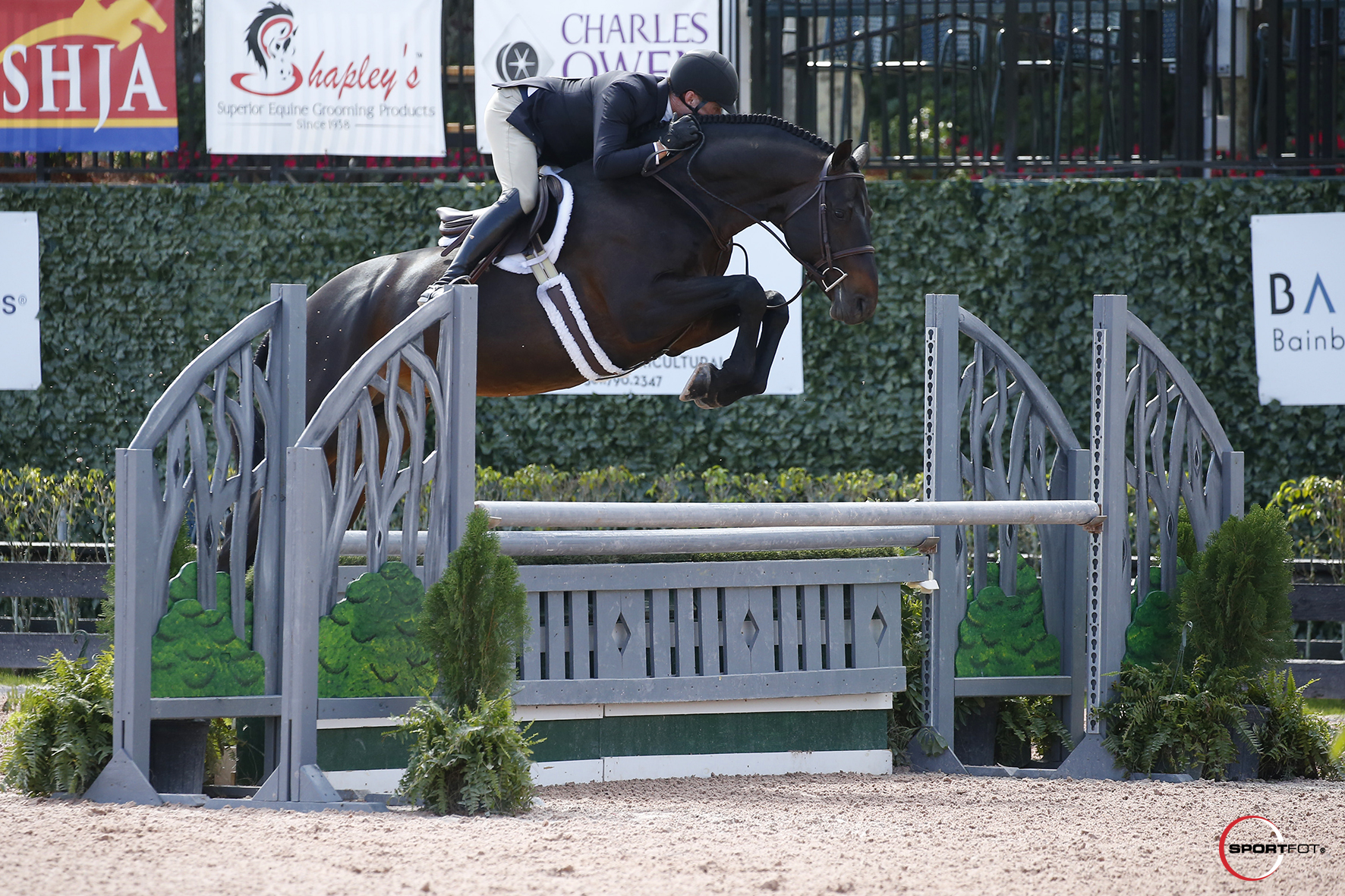 Reserve champion went to Laena Romond and Traveller, owned by Catherine Cowie. Romond and Traveller placed with two seconds, a third, a fifth, and an eighth in the division.
Hunter competition also took place in the International Arena, with more than 40 horse-and-rider combinations in the Equine Tack & Tutritionals Green Hunter 3'6" division. The large number of entries resulted in the class being pinned following the California split format. The champions of Section A were Kelley Farmer and In Writing. Farmer and In Writing, owned by Larry Glefke and Wendy Hofmeister, won the under saddle and received two firsts in the over fences classes.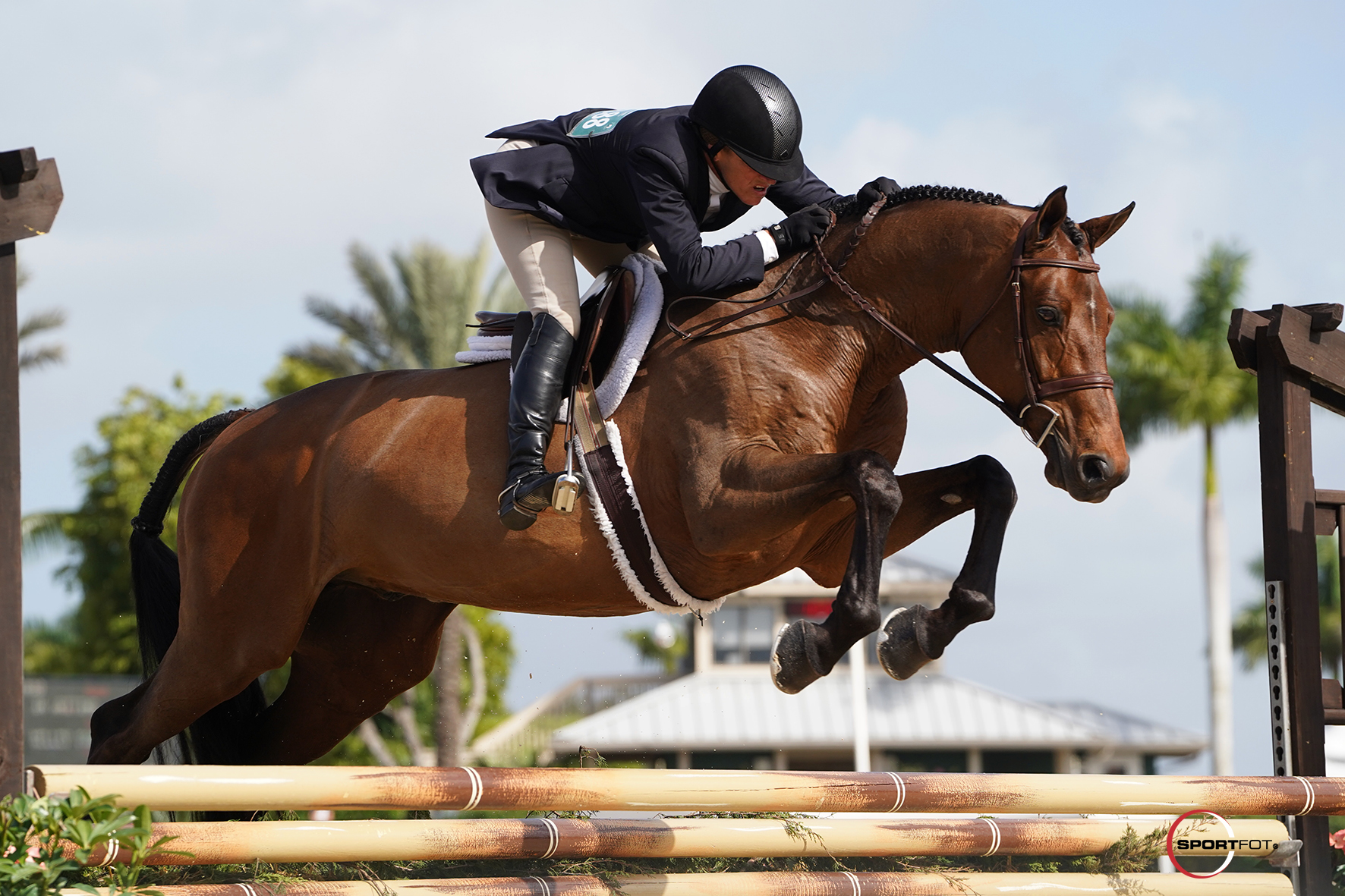 "This is a great week; it's so nice to be able to showcase the hunters," Farmer explained. "I love riding in the International Arena. You can actually put the reins down and gallop. He was so stridey, scopey, and athletic out there."
The Section B championship honor went to Kate Conover and Isabella Griffin's Heaven's Dream. The pair also won their section of the under saddle and earned a third and two fourths over fences. Conover imported Heaven's Dream and has had the opportunity to catch-ride the horse for owner Griffin and Makoto Farms.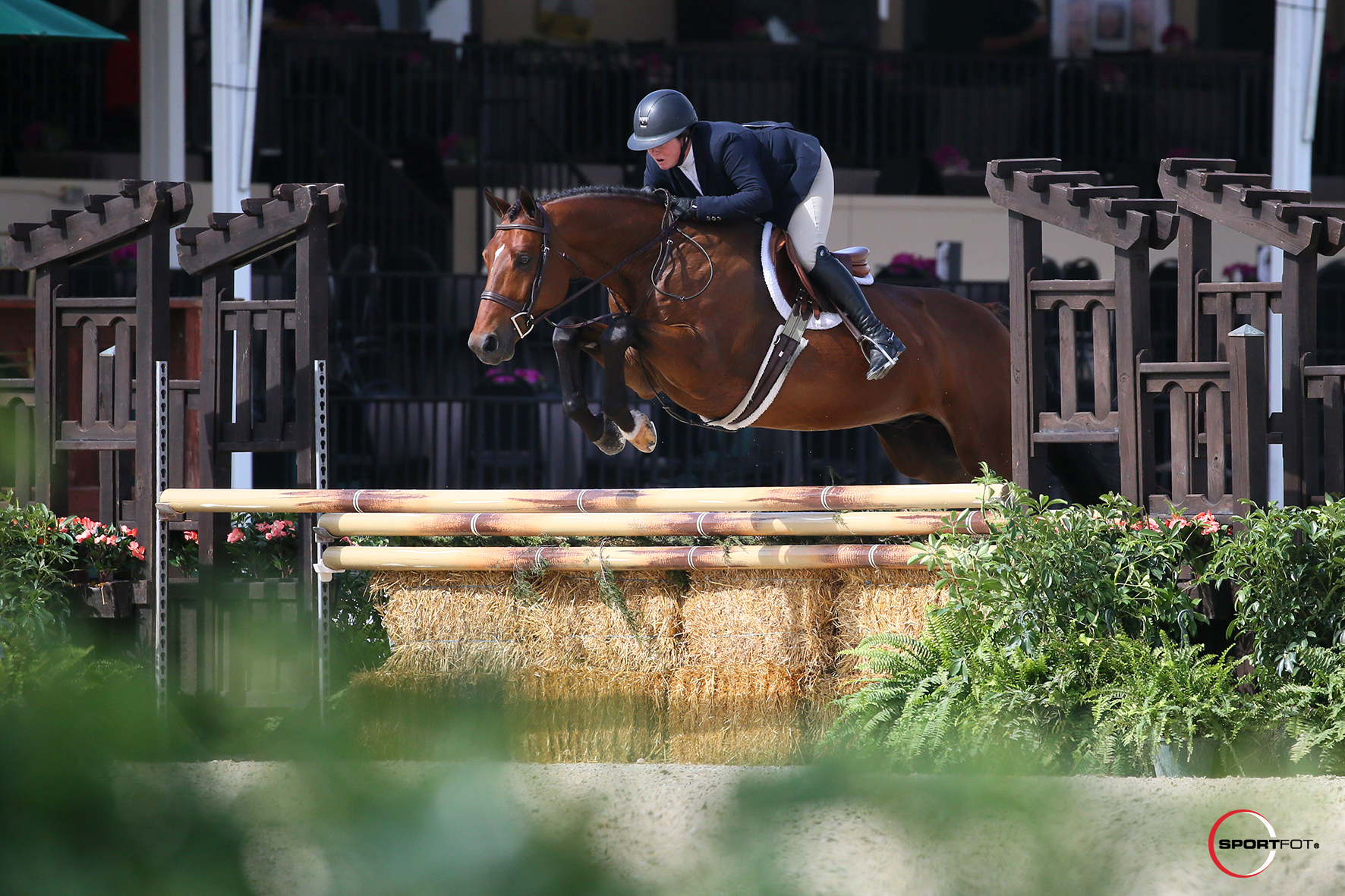 "He has a big stride and a lot of scope. He can still be green in places; sometimes with the atmosphere he will look around a little bit, but once he gets his eyes on the jump he's all business," Conover said of the 10-year-old gelding. "I haven't shown here during WCHR week since I was a junior, so to come back and have this success means a lot!"
The reserve champion of Section A was Scott Stewart with For Always. Stewart and For Always, owned by Rivers Edge, claimed a first and third in the division. Daisy Farish and Ashland Farm's Montauk claimed reserve champion of Section B. The pair earned two second-place ribbons for the title.
The tri-color ribbon for the Young Hunter 3'6" division went to up-and-coming professional Jef Lauwers and Calipso. Lauwers rode Calipso to two firsts and a second in the International Arena. Calipso, owned by Johnnie Martin-Carey, was imported last summer after catching the eye of both Lauwers and his partner Peter Pletcher.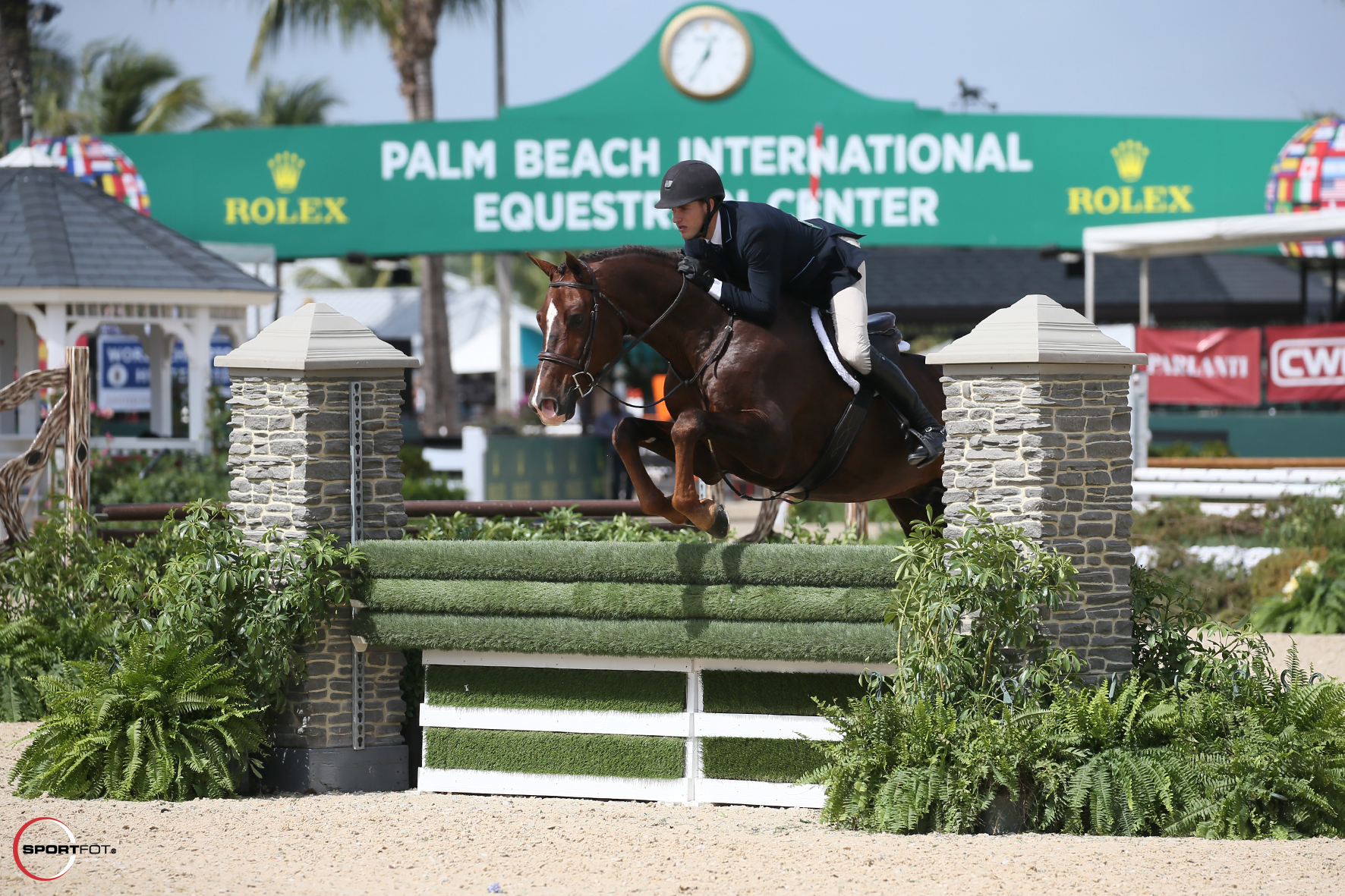 "He's incredible," said Lauwers of the six-year-old Holsteiner. "He's so big-strided, and he feels so mature."
Not far behind in points were Abby Funk and Asteri who earned the reserve championship. Funk and Aster, owned by MMK Equestrian LLC, received a first, second, fourth, and fifth place in the division.
Tiffany Morrissey riding Sebastian and Courtney Lenkart aboard Lightful received the California-split championship honors in the FarmVet 3'3" Performance Hunters. Both horse and rider combinations were also champions last year in the FarmVet 3'3" Performance during WCHR week.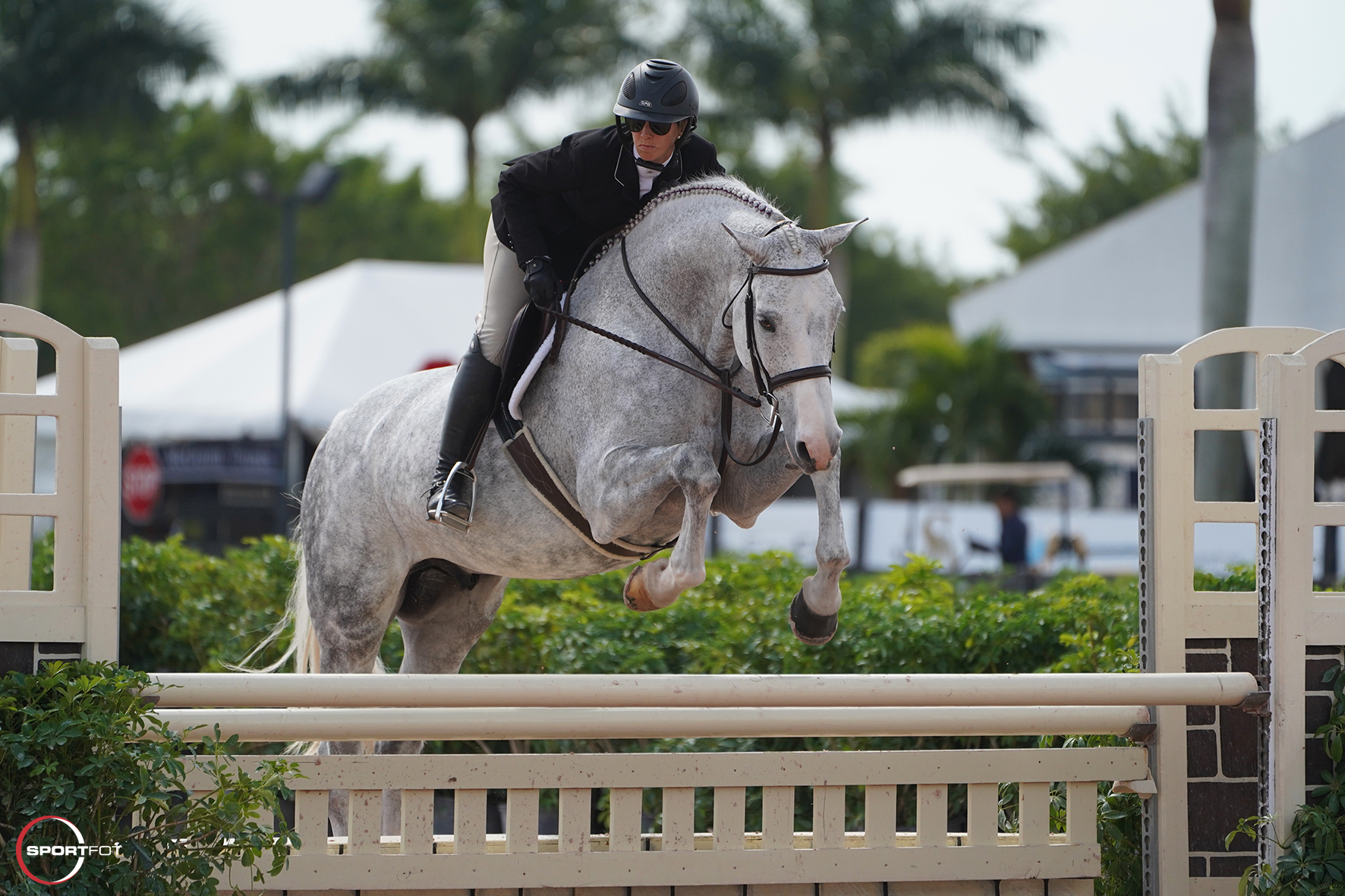 Morrissey and Stacey Shore Werner's Sebastian earned two firsts and an eighth place. Morrissey has taken over the reins on the nine-year-old gelding from the owner, who is currently about to have a baby.
"He always wants to win! I have a chance every day, which is nice," Morrissey said of Sebastian.
Lenkart rode Lightful to a first, second, and fourth place to secure the other championship. Lenkart has been partnered with Lightful for three years and this is the pair's second year showing in the performance hunters.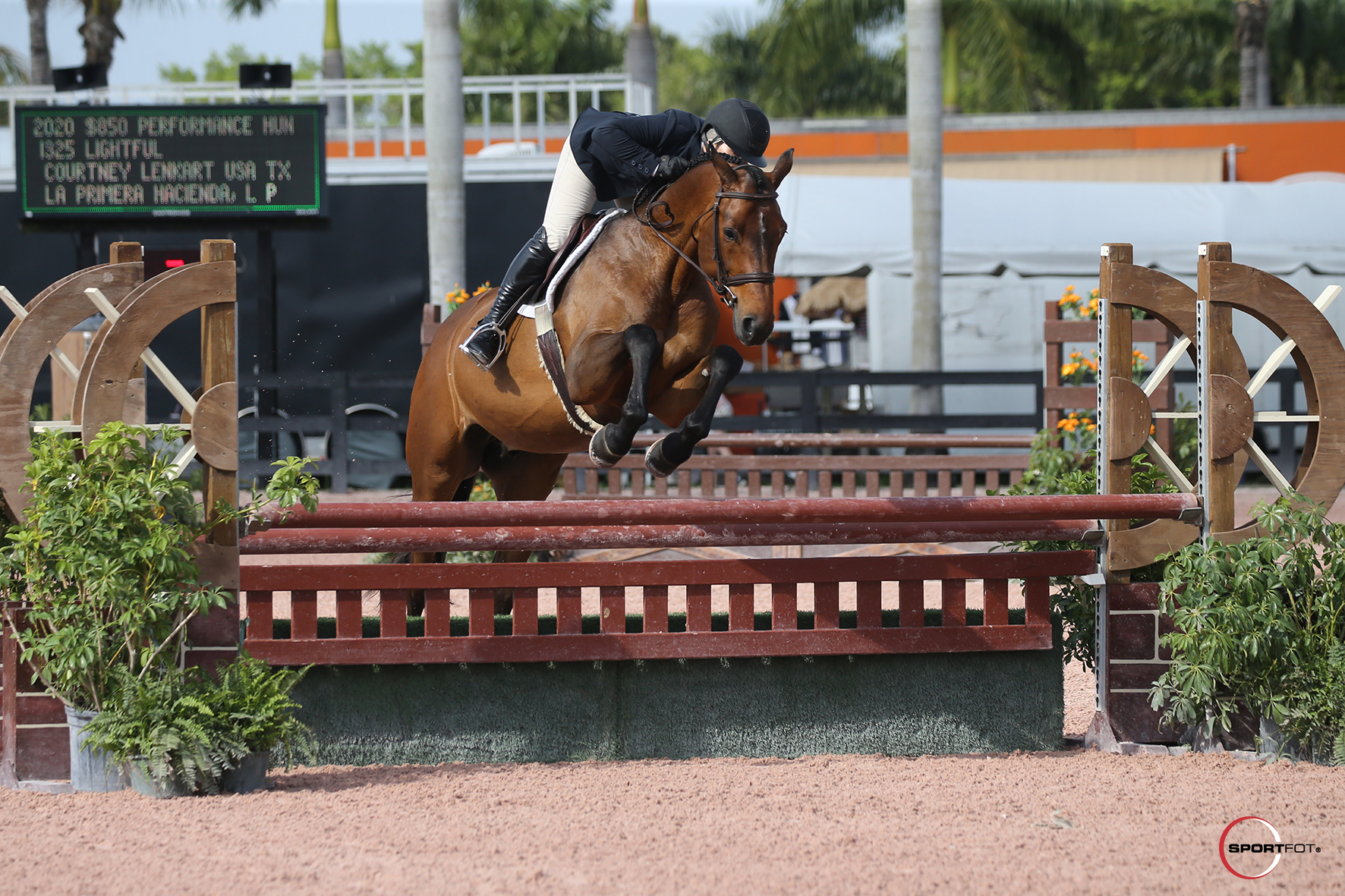 "He is so easy and quiet, he's very straightforward," said Lenkart of the eight-year-old gelding owned by La Primera Hacienda, LP.
Reserve champion of the first section went to Victoria Colvin and Adelina. Colvin rode Adelina, owned by Arriana Boardman, to a first and third-place finish. Geoffrey Hesslink and Shadowfax Equestrian LLC's Stately were also reserve champion in the FarmVet 3'3" Performance Hunter division. This pair received a first, second, and seventh to earn the reserve title.
The final division of the day, the Equitan Performance Hunter 3'6," saw 123 entries contest the class in the International Arena, with the California-split Section A championship ultimately going to Scott Stewart and Fun.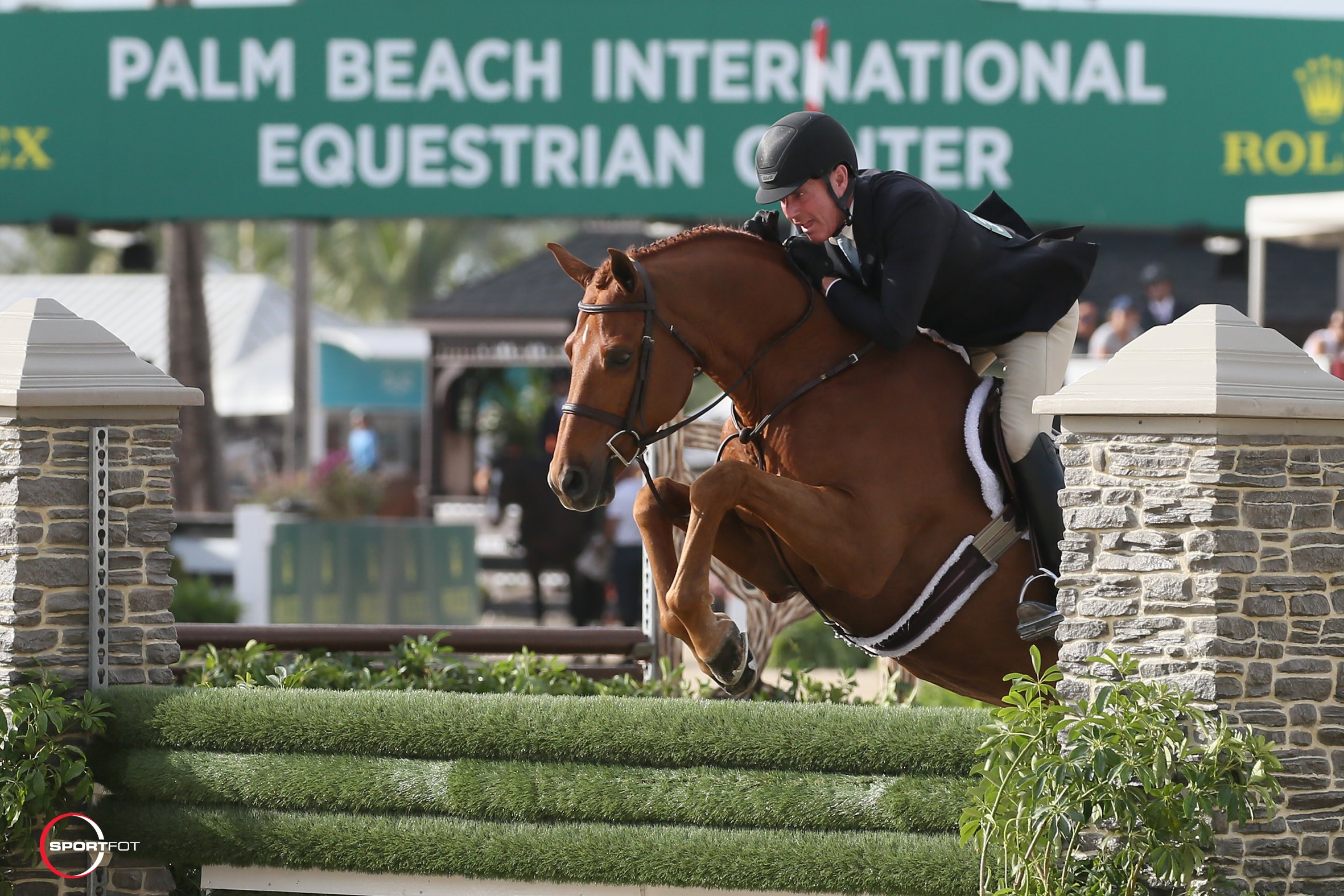 Stewart and the 10-year-old Dutch Warmblood gelding earned wins in Section B of both the handy and the stake rounds on their way to the Section A division tricolor.
The determination of the Section B championship came down to a tie between Kate Conover with Small Affair and Victoria Colvin aboard Private Practice, with the championship winner to be decided in a hack off on Friday morning, February 14.
For full results, visit www.PBIEC.com.
Photo credit: Photos © Sportfot, official photographer of the Winter Equestrian Festival. These photos may be used only in relation to this press release and must include photo credit.