For Immediate Release
Kate Pettersen, Kimberlyn Beaudoin, and Sabrina Brashares for Jennifer Wood Media, Inc.
February 5, 2021 – Wellington, FL – Bliss Heers (USA) and Antidote De Mars owned by Bridgeside Farm, LLC, found their way to the top of the podium in the $50,000 Adequan® WEF Challenge Cup Round 4 CSI4* on the grass Derby Field at Equestrian Village on Friday, February 5, as part of the 2021 Winter Equestrian Festival (WEF).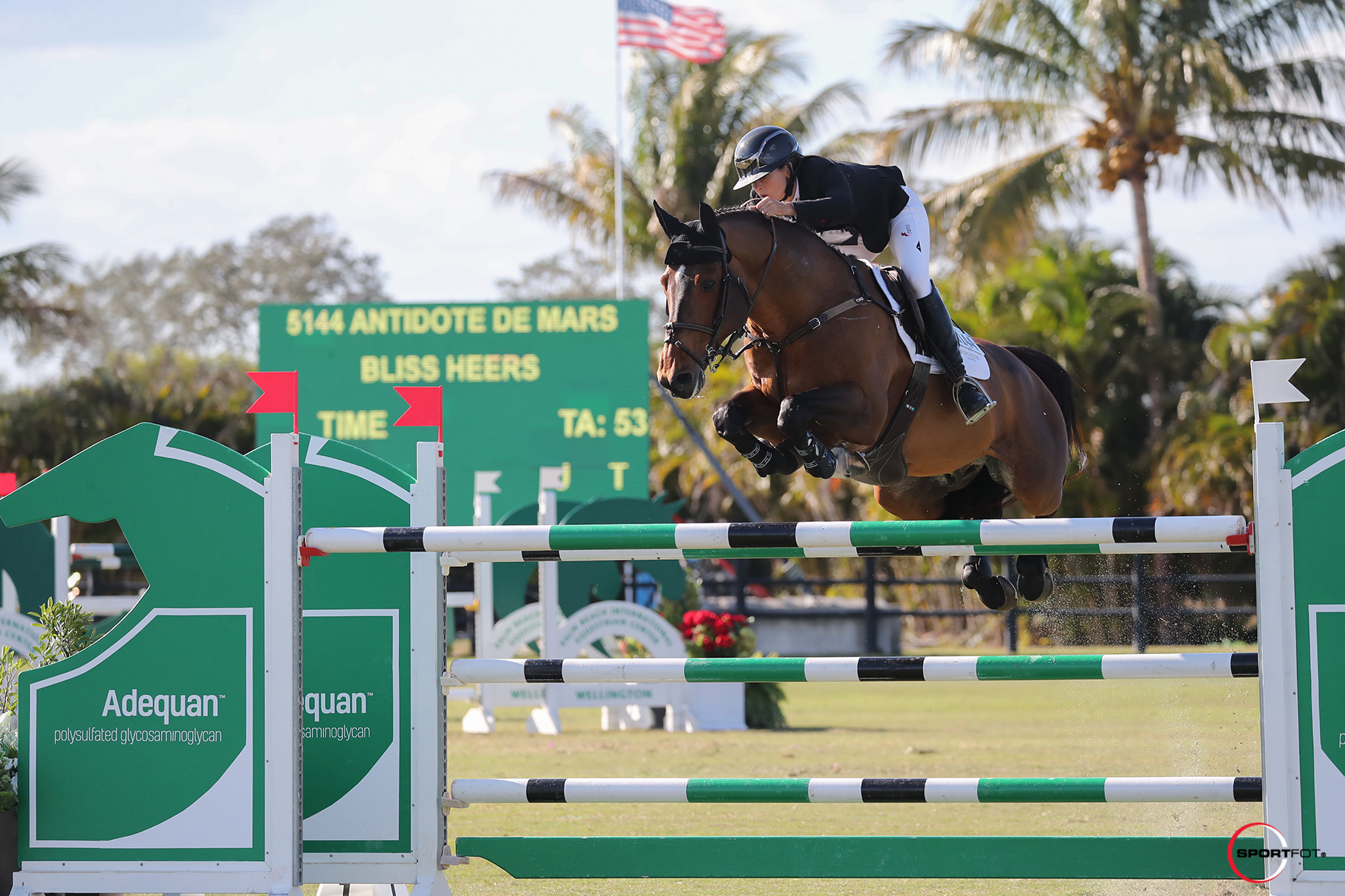 As the Marshall & Sterling/Great American Insurance Group CSI4* week rolls on, Saturday's schedule features the $37,000 CaptiveOne Advisors 1.50m Classic on the Derby Field followed by the Great Charity Challenge, presented by Fidelity Investments® taking place in the International Arena at the Palm Beach International Equestrian Center (PBIEC) on Saturday night. The week's finale comes on Sunday with the $50,000 Palm Beach Equine Clinic 1.45m Grand Prix CSI2* followed by the $214,000 Marshall & Sterling/Great American Insurance Group Grand Prix CSI4*, both set to go on the Derby Field. Don't miss a minute of the action and catch all feature classes for free on the livestream.
A field of 68 contested the Adequan® WEF Challenge Cup Round 4, looking to punch their ticket into Sunday afternoon's $214,000 Marshall & Sterling/Great American Insurance Group Grand Prix CSI4*. With 16 jumping efforts in the first round, a total of 15 entries mastered the track set by Anderson Lima (BRA) to qualify for the jump-off, with two combinations opting not to return. In the subsequent round, Heers and the 11-year-old Selle Français stallion by Diamant de Semilly x Jarnac emerged victorious in a time of 38.98 seconds.
Click to watch Bliss' winning round!
"Antidote is extremely fast," said Heers. "I don't worry too much about leaving out strides; I try to just get in a rhythm and where I have to make adjustments, I have to make adjustments. It's kind of the way the cookie crumbles on this field. I just do my best, focus on making good turns, and the rest is going to fall into place when you're going that fast."
The 34-year-old rider spoke fondly of her partner in the ring, singing his praises for being such a solid teammate. When asked what makes him so special, the answer was simple.
"Everything," she said with a giant smile across her face. "For me the most incredible part is his mind. He's scopey, talented, careful, and brave, but the best part is, he's just the kindest soul. He's very intelligent and never wants to put a foot wrong. I'm incredibly grateful for him."
The competition gave it a good effort to try to catch the day's leading lady, but it couldn't be done. Daniel Deusser (GER) came closest aboard the Stephex Stables entry Killer Queen VDM. He and the 11-year-old BWP mare by Eldorado Vd Zeshoek x Derly Chin De Muze stopped the clock at 39.23 seconds. Laura Kraut (USA) and Fleurette, owned by St. Bride's Farm, gave it a solid run as well, as she and the 12-year-old Selle Francais mare crossed the finish line in 39.55 seconds.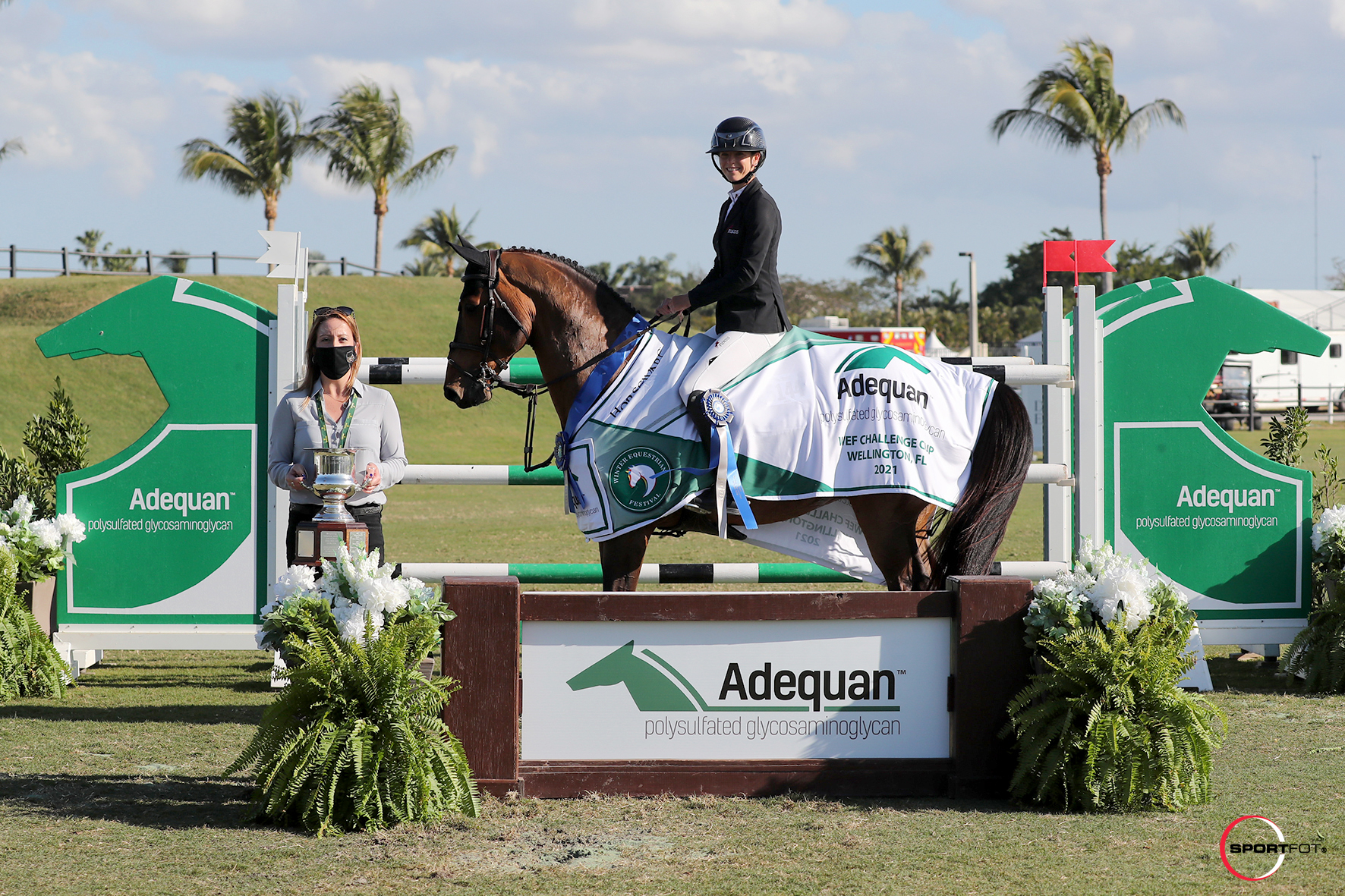 Heers has spent a large part of her career based across the pond in Europe. It's her third year competing at WEF, and Friday's win marked the first of her career during the winter circuit, making the victory even sweeter on home turf.
"It's definitely extra special and really exciting for me," she said. "To win anywhere is a big deal but to be home and to have the European crowd here, it's a great feeling."
On Saturday, many international riders will compete in the $37,000 CaptiveOne Advisors 1.50m Classic on the Derby Field as Lima continues to set technical and exciting tracks to test a talented field some of the world's top competitors. And, according to Friday's winner, he's doing a great job thus far.
"I thought the course designer did an amazing job," said Heers. "If you saw the number of four faulters across the field, it was a very good class. Most of the horses jumped very well and for a field that included some of the top 30 riders in the world, it was very impressive to see how well the course designer did. I couldn't imagine he was disappointed with the turnout based on the number of faults and how many clears he had."
Following the class, Heers also received the Barry Louise Lane Memorial Trophy, established in 2003, in loving memory of Barry by her family and friends.
Final Results: $50,000 Adequan® WEF Challenge Round 4 CSI4*
1. ANTIDOTE DE MARS: 2010 Selle Français stallion by Diamant de Semilly x Jarnac
BLISS HEERS (USA), Bridgeside Farms, LLC: 0/0/38.98
2. KILLER QUEEN VDM: 2010 BWP mare by Eldorado Vd Zeshoek x Derly Chin De Muze
DANIEL DEUSSER (GER), Stephex Stables: 0/0/39.23
3. FLEURETTE: 2009 Selle Francais mare by Verdi Tn x Concorde
LAURA KRAUT (USA), St. Bride's Farm: 0/0/39.55
4. LITTLE MAGIC D'ASSCHAUT: 2011 BWP gelding by Back Gammon x Inschallah II Van't Asschaut
HENRIK VON ECKERMANN (SWE), Camp PB B.V:0/0.40.26
5. PALOMA: 2006 Holsteiner mare by Canaletto S x Henzo de la Brasserie
LAUREN HOUGH (USA), Kathleen Kamine: 0/0/41.50
6. BALOUTINUE: 2010 Hanoverian gelding by Balou du Rouet x Landor S
ADAM PRUDENT (USA), Plain Bay Farm: 0/4/38.08
7. BENNYS LEGACY: 2008 Oldenburg gelding by Lupicor x Acordia
ADRIENNE STERNLICHT (USA), Starlight Farms, LLC: 0/4/39.39
8. DUBAI: 2008 KWPN gelding by Cardento 933 x Ozella
SAMUEL PAROT (CHI) Samuel Parot: 0/4/40.07
9. DON JUAN VAN DE DONKHOEVE: 2009 SBS stallion by Bamako de Muze x Heartbreaker
JESSICA SPRINGSTEEN (USA), Stone Hill Farm: 0/4/40.14
10. KOSS VAN HEISTE: 2009 Belgian Warmblood gelding by Breemeersen adorado x Contact vd heffinck
CONOR SWAIL (IRL), Dalco Ltd: 0/4/40.88
11. CONTAGIOUS: 2009 German Sport Horse gelding by Contagio x For Keeps
MCLAIN WARD (USA), Beechwood Stables LLC: 0/4/40.91
12. COSA NOSTRA: 2010 Oldenburg mare by Conthargos x Quintender
ALBERTO MICHAN (ISR), Alberto Michan: 0/4/43.11
Wilton Porter and Diamonte Darco Dominate in the $37,000 Palm Beach Equine Clinic 1.45m Qualifier CSI2*
Wilton Porter (USA) and Diamonte Darco, owned by Sleepy P Ranch, LLC, opened Friday's schedule with a win in the $37,000 Palm Beach Equine Clinic 1.45m Qualifier CSI2* on the Derby Field at Equestrian Village. A total of 74 entries came forward to challenge the work of Anderson Lima (BRA) which featured 13 obstacles in the first round and 8 efforts in the shortened jump-off track. Of the seven countries represented in the second round, it was the host nation United States that came out on top.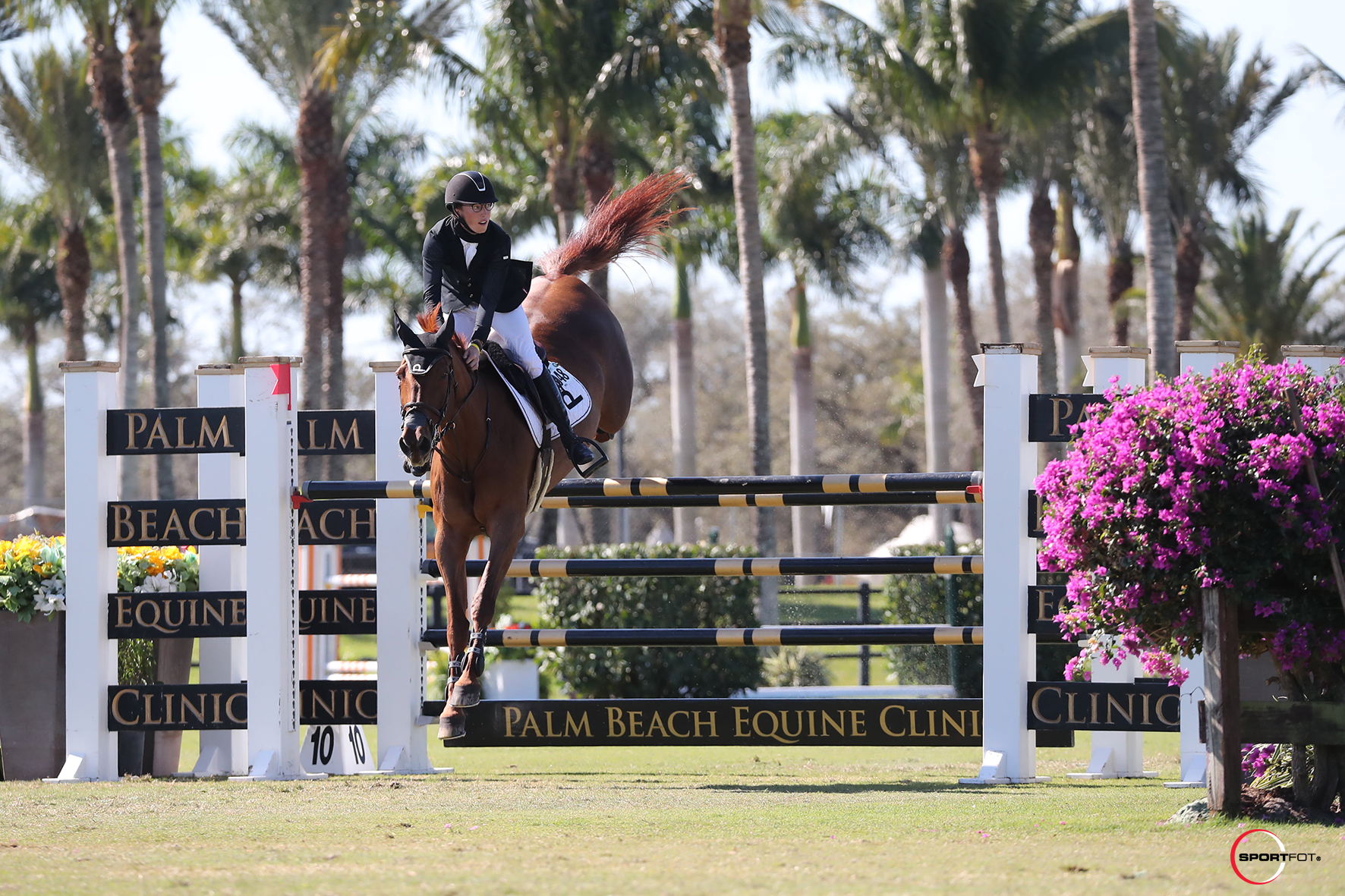 "I thought the course designer did a great job today," said Porter. "I think he had just the right number of clear with 13 and I thought it was a difficult course. My horse 'Bridget' is really experienced. She's 16 years old this year and she's been in our family for a long time, so she handled it well."
The 27-year-old spoke fondly of his partner, the talented mare by Unbelievable Darco x Kriska, with whom he won individual gold at the 2014 Adequan®/FEI North American Young Rider Championships.
"She's such a fighter," he said. "She doesn't have the most textbook technique but she's always fighting to jump the jumps clear and she gets the job done year after year."
Porter also echoed sentiments of top international riders Ben Maher (GBR) and Eric Lamaze (CAN) who found success on the turf during WEF 2 with veteran mounts, who benefit from additional opportunities this season to jump on the stellar footing at Equestrian Village.
Click to watch Wilton's winning round!
"I think it's awesome," said Porter. "Especially for my mare but also for any horse. Having more opportunities to jump on the grass keeps them fresher throughout the season. Every time you come out here it's as if you're in a new venue. Normally her [Diamonte Darco] main classes are the shows on the grass and now that there are four weeks on the schedule, she can do a little bit more."
Just five hundredths of a second behind the class winner, 18-year-old Irish rider Max Wachman piloted the 12-year-old gelding Lazzaro Delle Schiave, owned by Coolmore Show Jumping, to a runner-up finish in 43.17 seconds. Rounding out the podium in third place was Anna Beth Athey (USA) aboard her own Nat King Cole, an 11-year-old Swedish Warmblood mare, stopping the clock in 43.87 seconds.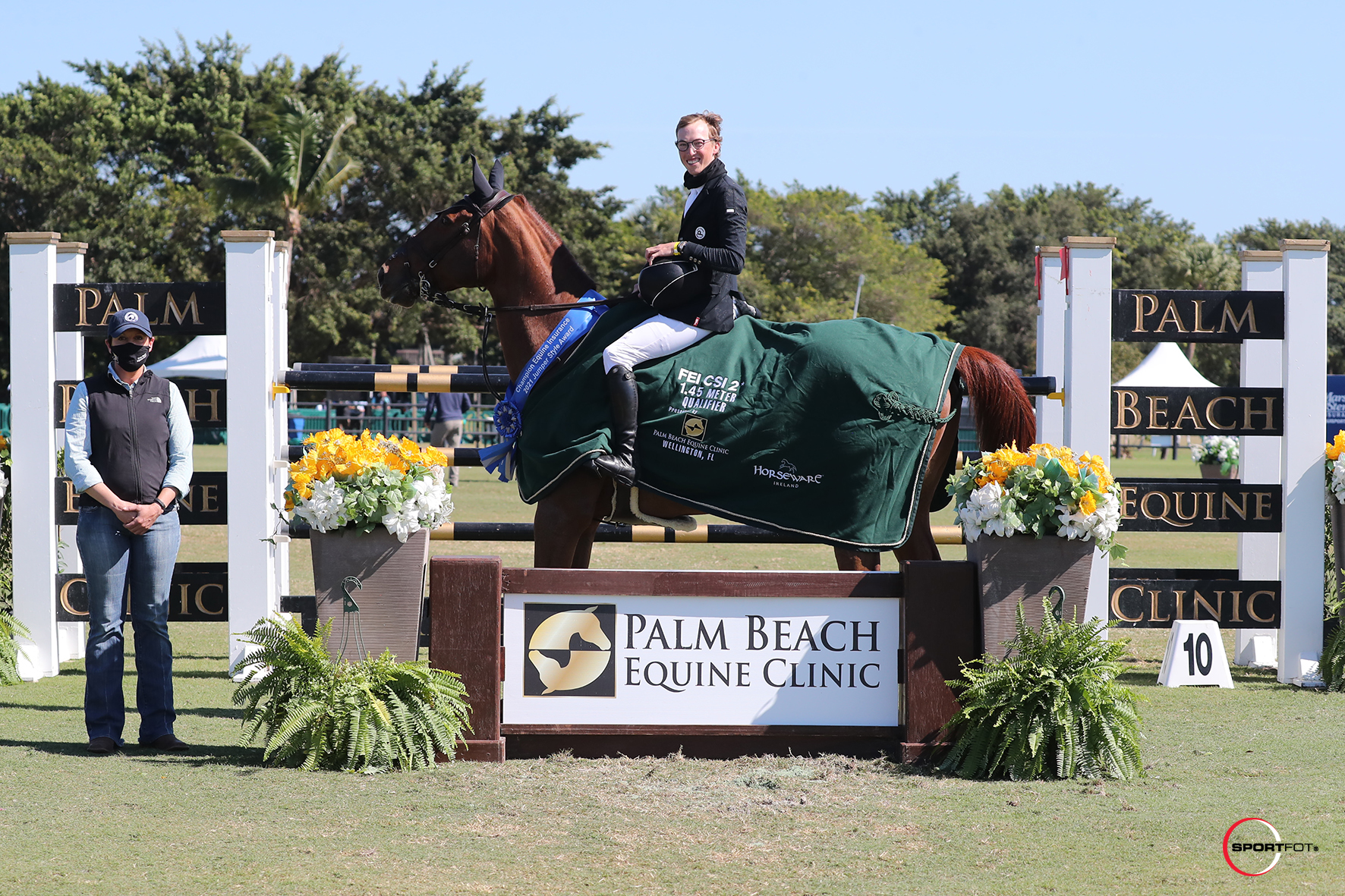 This season Porter is shifting his focus to a string of up-and-coming horses he's working to develop but is happy to have Bridget in the lineup to jump some of the CSI2* grand prix classes. He's also excited to be helping his brother Lucas, who has a string of horses for the higher level.
"It's a good dynamic," said Porter about working with his younger brother. "We're definitely teammates. He trained me today and I'll help him in the CSI4* qualifier. I think neither one of us could do it without the other."
Final Results: $37,000 Palm Beach Equine Clinic 1.45m Qualifier CSI2*
1. DIAMONTE DARCO: 2005 SHBGB mare by Unbelievable Darco x Kriska
WILTON PORTER (USA), Sleepy P Ranch, LLC: 0/0/43.12
2. LAZZARO DELLE SCHIAVE: 2009 SI gelding by Acodetto 2 x Georgia S
MAX WACHMAN (IRL), Coolmore Show Jumping: 0/0/43.17
3. NAT KING COLE: 2010 SWB gelding by Diamant De Revel x Bonny M
ANNA BETH ATHEY (USA), Anna Beth Athey: 0/0/43.87
4. JET BLUE: 2011 KWPN gelding by VDL Zirocco Blue x Cindoctro-d
CARLY ANTHONY (USA), Portfolio Horses, LLC: 0/0/44.72
5. GERDINIEKE: 2011 KWPN mare by Bacardi VDL x Cornieke
JOHN PEREZ (COL), Daniel Rihan Salum: 0/4/42.53
6. CASANOVA 499: 2011 Holsteiner gelding by Clarimo x Wencke
JESSICA MENDOZA (GBR), Carly Day: 0/4/42.54
7. FOOTLOOSE HX: 2010 KWPN mare by Bustique x Camillo Z
ALI WOLFF (USA), Claudia Harrison-Guess: 0/4/42.86
8. FAVORITA DE MUZE: 2011 SBS mare by Bamako De Muze x Hieperdepiep De Muze
LAUREN CROOKS (USA), Maud Christal: 0/4/43.74
9. MEADOW VALE CRUISE: 2011 gelding by S Creevagh Ferro Ex Siebe x Tullibards Pretty Young Thing
DIEGO PEREZ BILBAO (ESP), Wyndmont: 0/4/44.00
10. L'ARTISTE DE TOXANDRA: 2011 BWP gelding by Toulon x Donnatella Van De Zelm
IOLI MYTILINEOU (GRE), Elia Construction SA: 0/4/45.35
11. VATSON SITTE: 2005 SBS stallion by Cardento x Casa Sitte Z
KERRY MCCAHILL (USA), Kerry Anne, LLC: 0/4/45.42
12. BIBLOU DU PERRON: 2011 Selle Français gelding by Old Chap Tame x Jenny de la Cense*hn
STEVEN BLUMAN (ISR), Steven Bluman: 0/18/61.13
$25,000 Hermès U25 Grand Prix Series Team Event Welcomes Win for Mendoza, Moffitt, Debney, and Mytilineou
In the $25,000 Hermès U25 Grand Prix Series Team Event, team Baywatch took the victory with an impressive final score of zero. The team was composed of Jessica Mendoza (GBR) and I-Cap CL Z, owned by Jessica Mendoza (0,0); Emily Moffitt (GBR) and Light Blue, owned by Poden Farms (0,0); Ioli Mytilineou (GRE) and Caiam D'Ivraie, owned by Elia Construction SA (0,0); and Grace Debney (GBR) and Boheme De La Roque, owned by Temple Equestrian, LLC (4,0).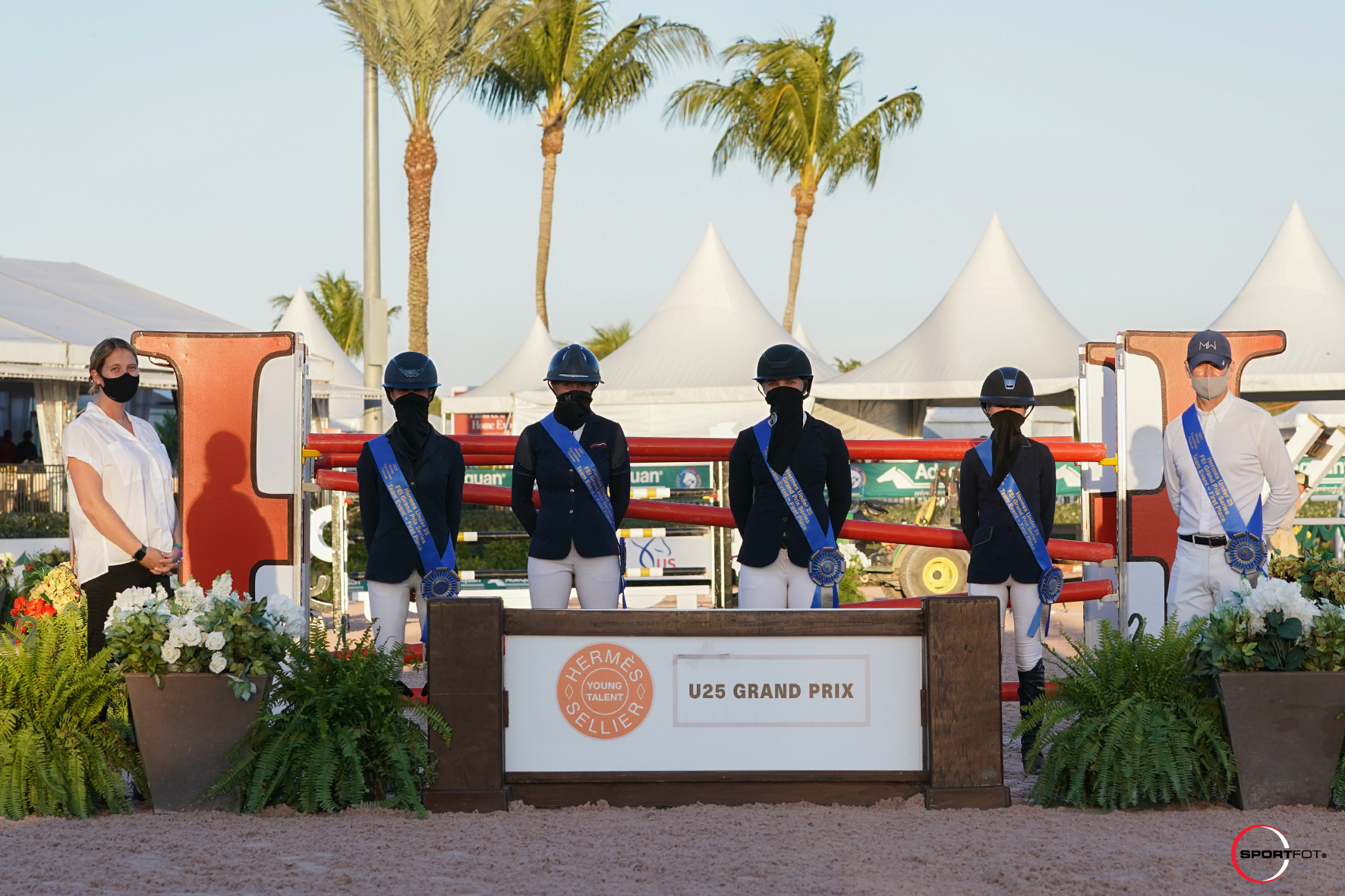 "It's really great to do this team," began Mendoza. "I've competed in this event several times, and this is my last year in [the under 25 division]. This year I used a green horse, and I thought this would be a good experience to be here and go into the ring with a Nations Cup format. I thought that was great, and it was nice to be a part of such a good team."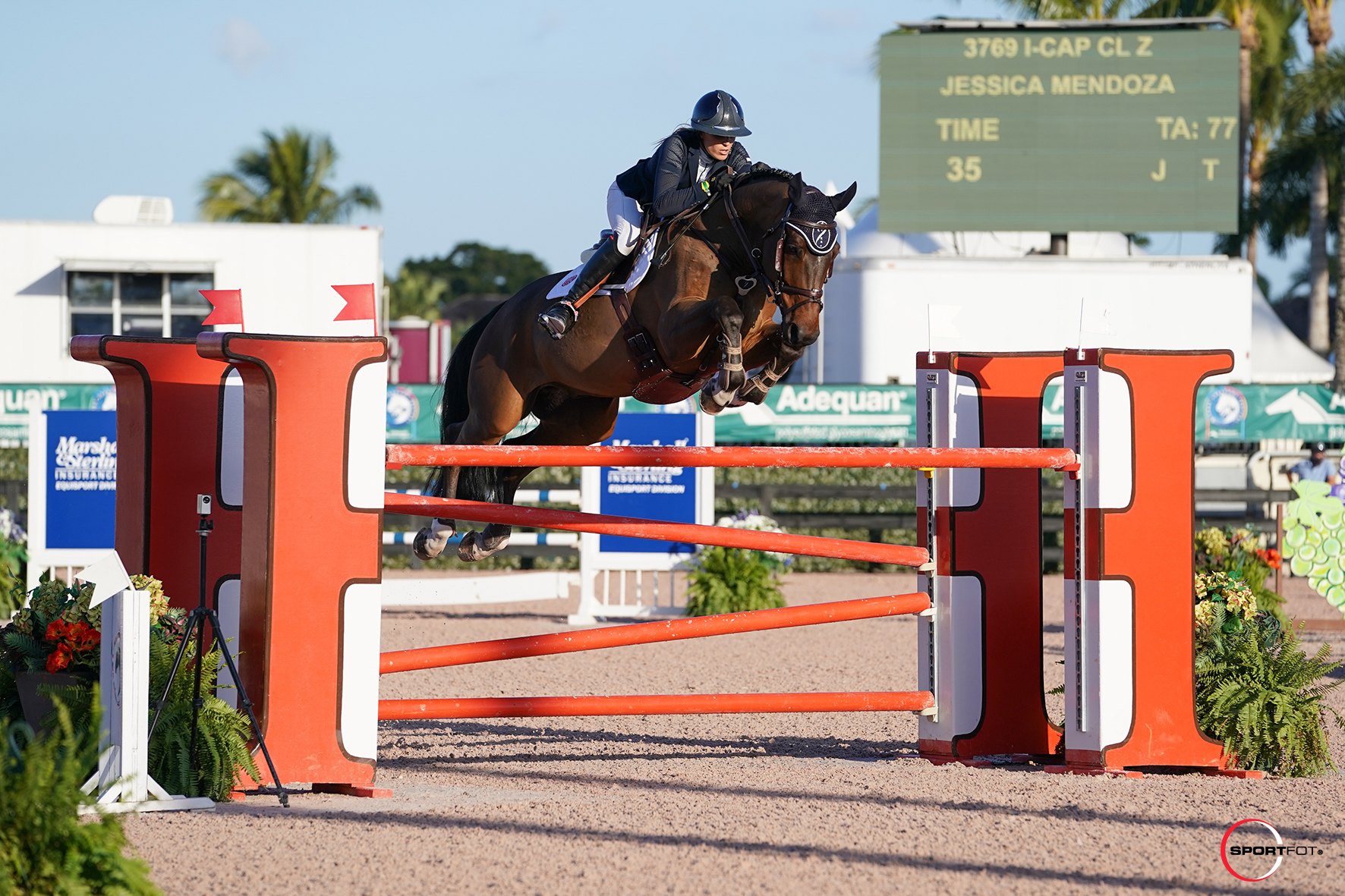 It is 16-year-old Debney's first season riding in the U25 series. She noted her excitement for the series and credited her horse for their solid day's performance. "It means so much to be on a team like this and to have this opportunity," she explained. "These are three other amazing riders on this team, and this season is my first time competing in the U25 series. It's cool to ride on the team with them and experience this type of team format."
Debney continued, "My horse is the quietest horse in the barn, and when she gets to the show ring she's all business and wants to jump clear as much as I do, so I was really proud of her today. She was amazing."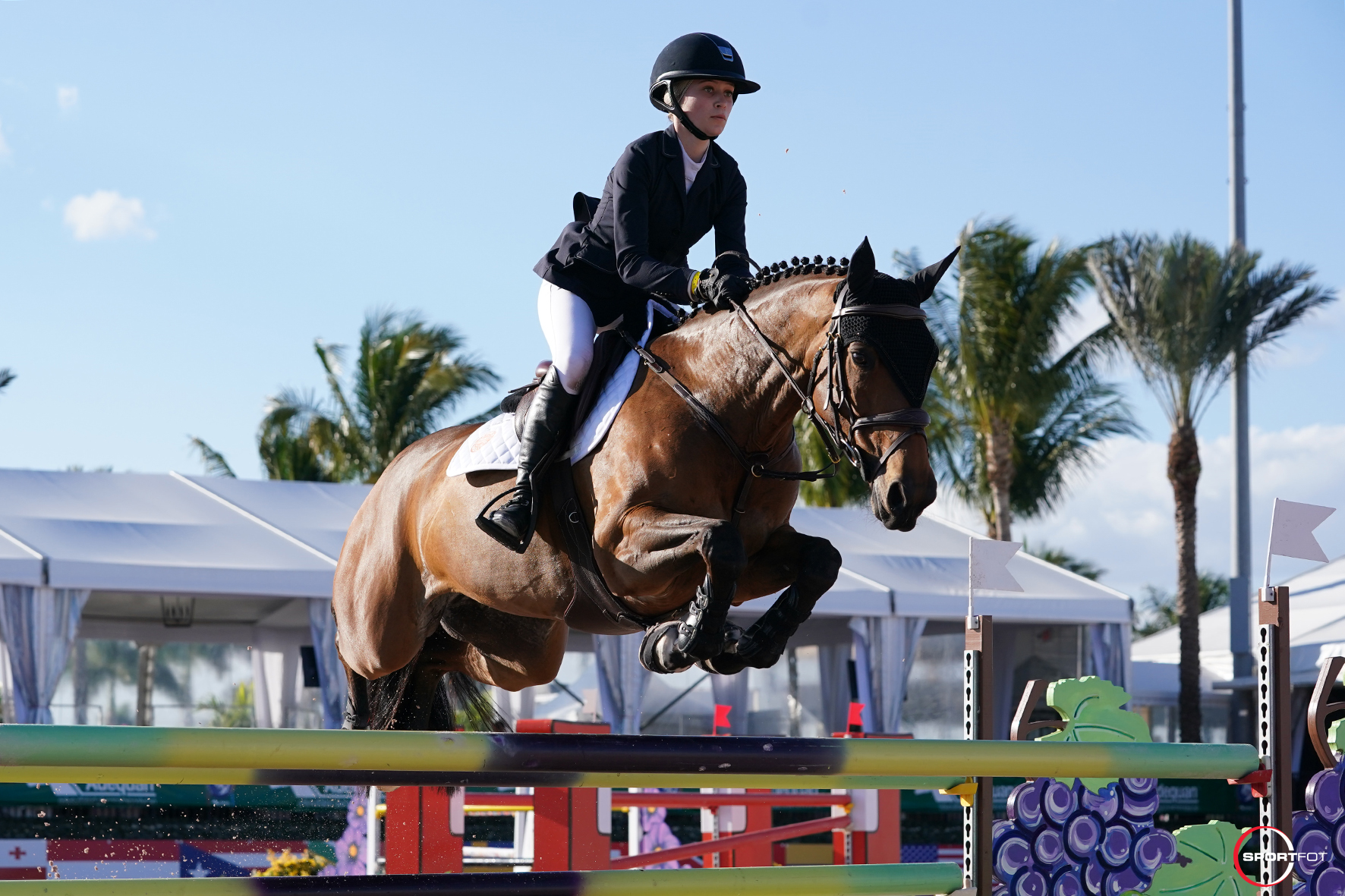 Chef d'Equipe McLain Ward also credited Debney and the entire team's hard work and determination. "They did great, and their win is very exciting. They're four top young riders and pretty seasoned in competition. Grace (Debney) was on a new horse that I helped sell to her. Her trainer Sam Schaefer has worked with me for the last several years, so it's nice to be able to bring some experience to the table to help her bring a clear round to the team. She handled it beautifully, so it was a good afternoon."
It's Ioli Mytilineou's first season competing in Florida, and she is grateful for the opportunity to participate in more team events and gain that experience with her peers in the U25. "To me it's a great experience to be on this team," noted the 23-year-old. "I'm from Greece so I haven't done many team events, plus it's my first time in Florida. I'm liking it so far; I've got a win under my belt and I'm ready to go home now! Being a part of such a great team was awesome. It's a big class, and there is a lot of talent out here."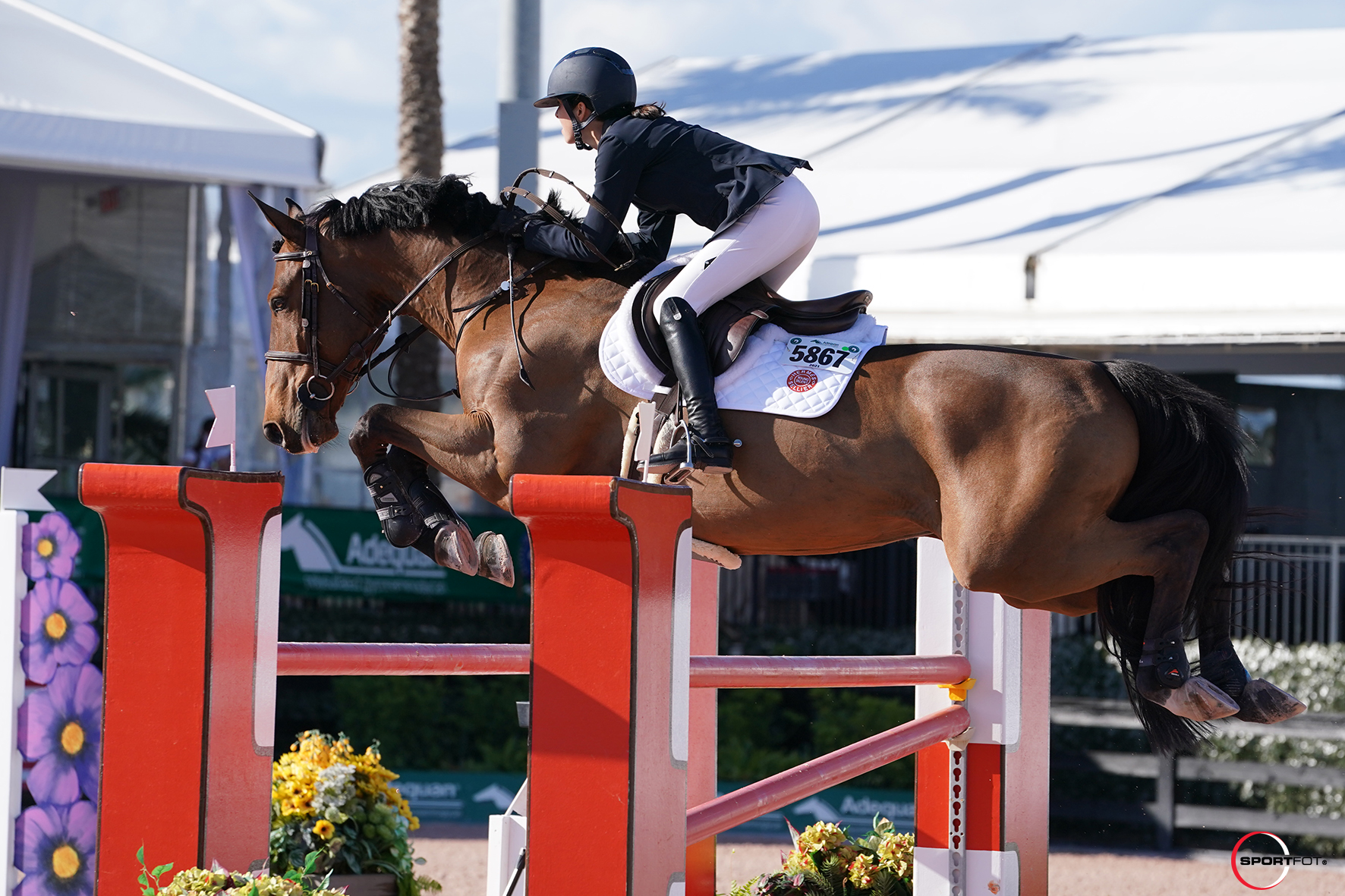 Moffitt, 22, was also on a green horse like Mendoza and admitted her pride in her mount and his performance. "I have a super green horse," she concluded. "This was his third 1.45m ever, and I was so proud of him. I'm a sucker for a team event. It's such a fun experience, and I'm lucky to be a part of such a great team, especially because it's all girls. I have to throw that in there! It's one of my favorite events, and I try to participate in it every year."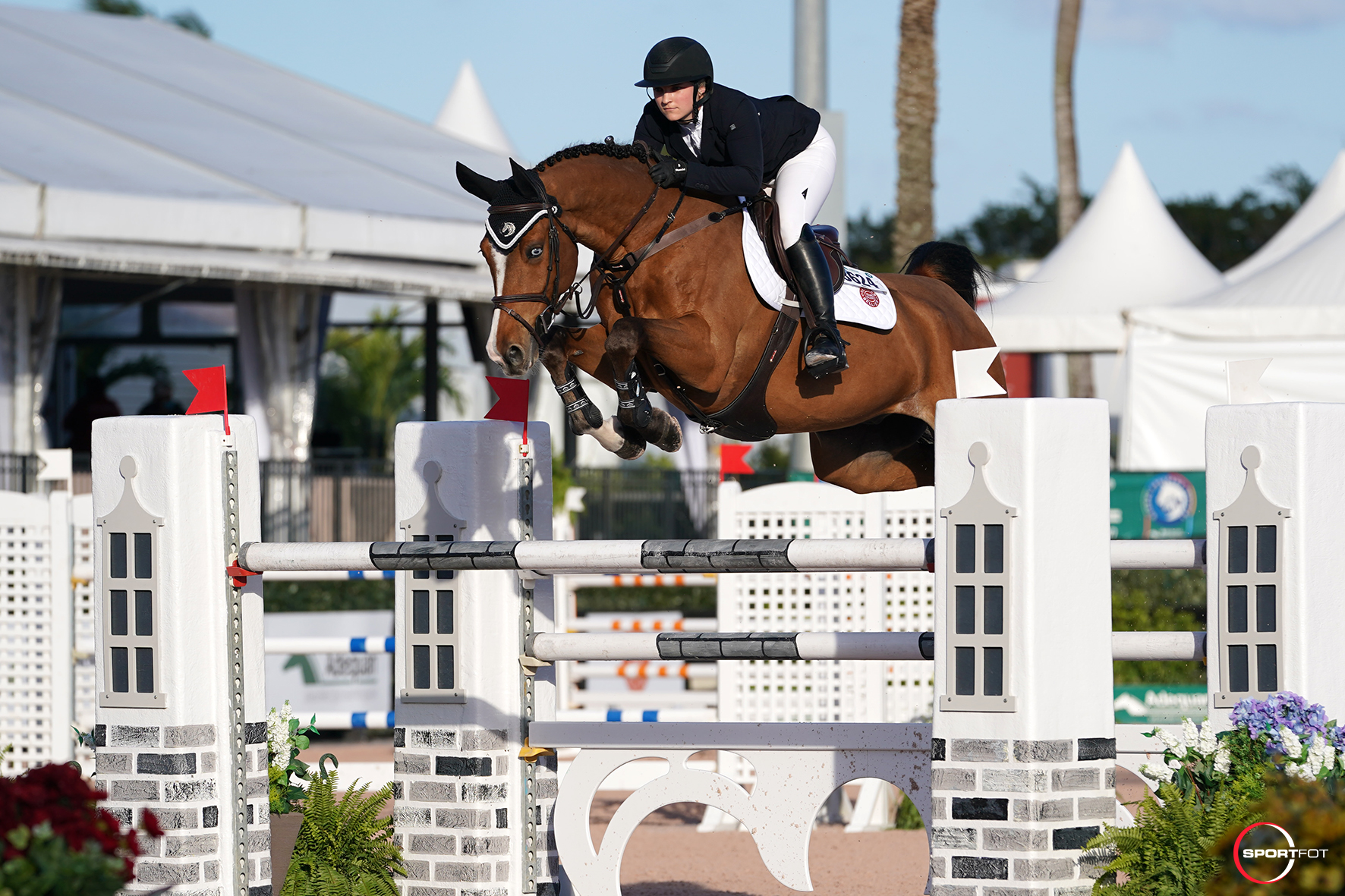 Second place in the $25,000 Hermès U25 Grand Prix Series Team Event went to The Chiefs, consisting of team members Lucy Deslauriers (USA) and Billy De Beaufour owned by Luja, LLC (0,0), Carlos Hank Guerreiro (MEX) and H5 Market Irminka owned by H5 Stables (0,0), Zoe Conter (BEL) and Dolitaire Chavannaise owned by Stephex Stables (4,0), and Eugenio Garza Perez (MEX) and Contago owned by El Milagro (0,0).
Third place was a three-way tie, and was awarded to Heathman Farm team of Delaney Hamill (USA), Ty Simpson (USA), Daniel Cyphert (USA), and Stella Stinnett (USA); Team Madden with riders Kelli Cruciotti Vanderveen (USA), Samantha Wight (USA), Audrey Schulze (USA), and Maria Brugal (USA); and Connect 4 with Flo Norris (GBR), Maya Nayyar (USA), Alessandra Volpi (USA), and Tanimara Macari (MEX).
Final Results: $25,000 Hermès U25 Grand Prix Series Team Event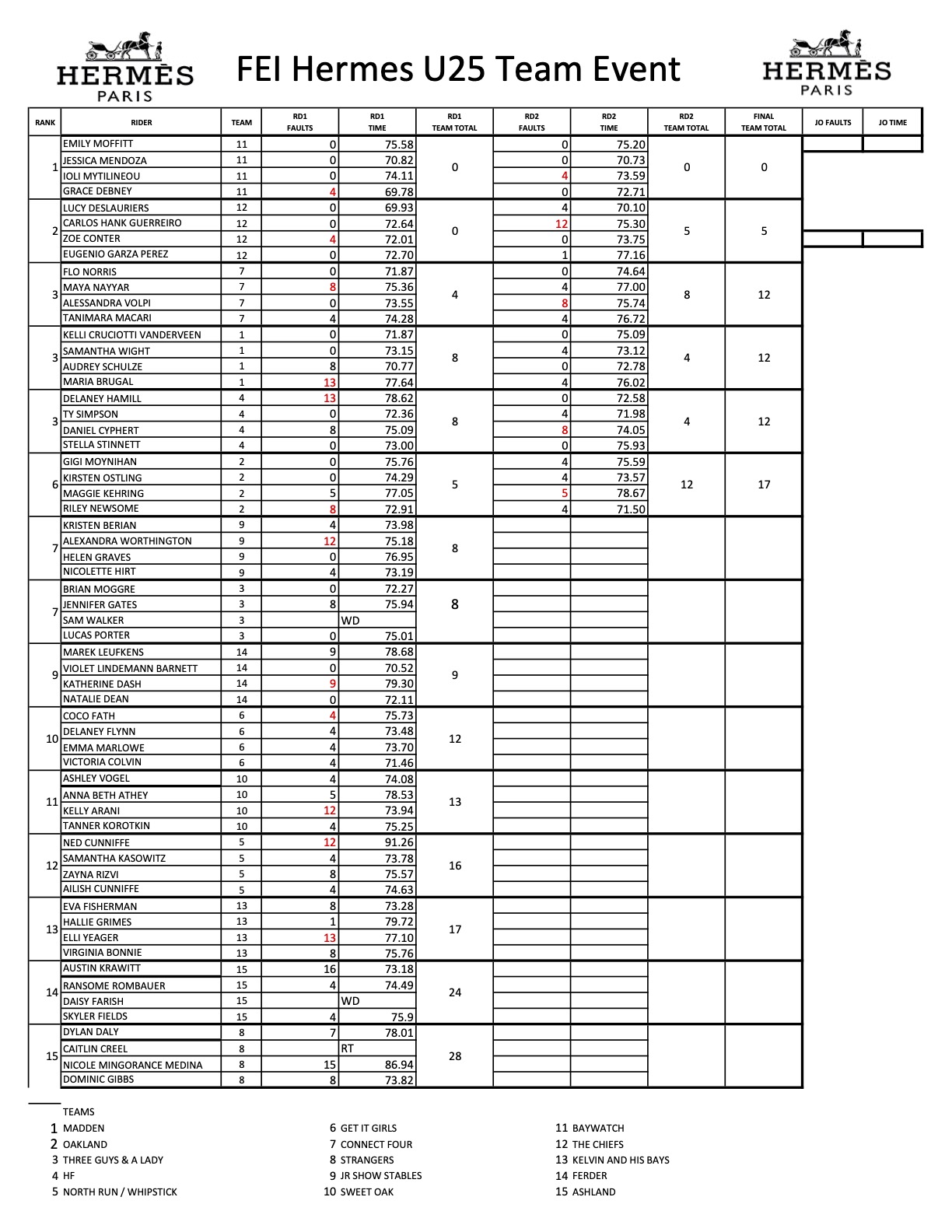 John French and Queen Celeste Take Top Honors in the $25,000 USHJA International Hunter Derby Hunt & Go

Hunters took center stage on Friday in the International Arena for the $25,000 USHJA International Hunter Derby Hunt & Go. The class had 62 riders, and in the end it was John French and Pony Lane Farm's Queen Celeste who took home the blue ribbon with a classic round score of 190 and a handy score of 182.5, for a total combined score of 372.5.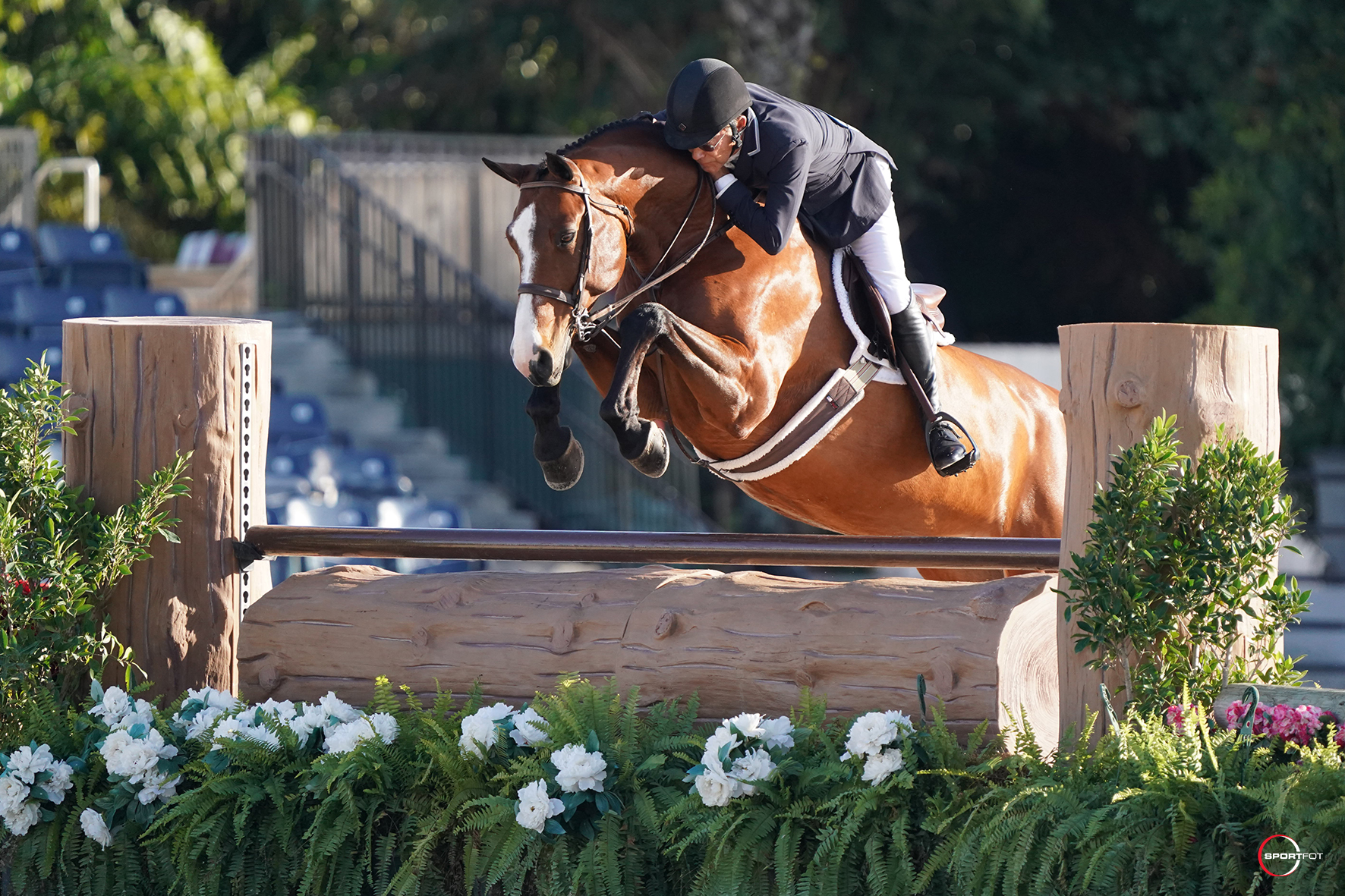 The class was held in a Hunt & Go format, with the first eight jumps being the classic round and the last six jumps of the course counting as the handy phase. The course was designed by Andy Christiansen and included four high option fences and a trot jump.
French, of San Juan Bautista, CA, has been riding and helping owner Kelsey Cruciotti with Queen Celeste for the past two months. Cruciotti mainly shows the mare in the younger Amateur-Owner Hunters, but French decided to take over the reins for a derby.
"I haven't done a derby in a while, and I asked if I could ride her," explained French. "They said, 'Yes, we usually don't have very good luck with derbies but if you want to do it, it's up to you!' It worked out perfect. She got to go in the big ring, and I thought the course was interesting and different."
Click to watch John's winning round!
After French went on his first mount, Ocean Road, he decided to do a last-minute bridle change with Queen Celeste, to ensure that they would be ready for the handy portion. The post-and-rail fence nine and ten proved to be a tough spot for many competitors, but French and Queen Celeste rode the track with ease.
"She has an amazing front end. To me, she felt really smooth and I know her jumping style," said French of the 10-year-old Holsteiner mare by Cassini I. "A lot of horses had problems with the post-and-rail or the out of the combination, but I know I don't have to worry about that. She might be looky a little bit, and I just have to give her the confidence. I know her jumping style is always going to be a 10."
The pair received two scores of 95 in the classic round and then chose two high options in the handy phase to earn scores of 91.5 and 91.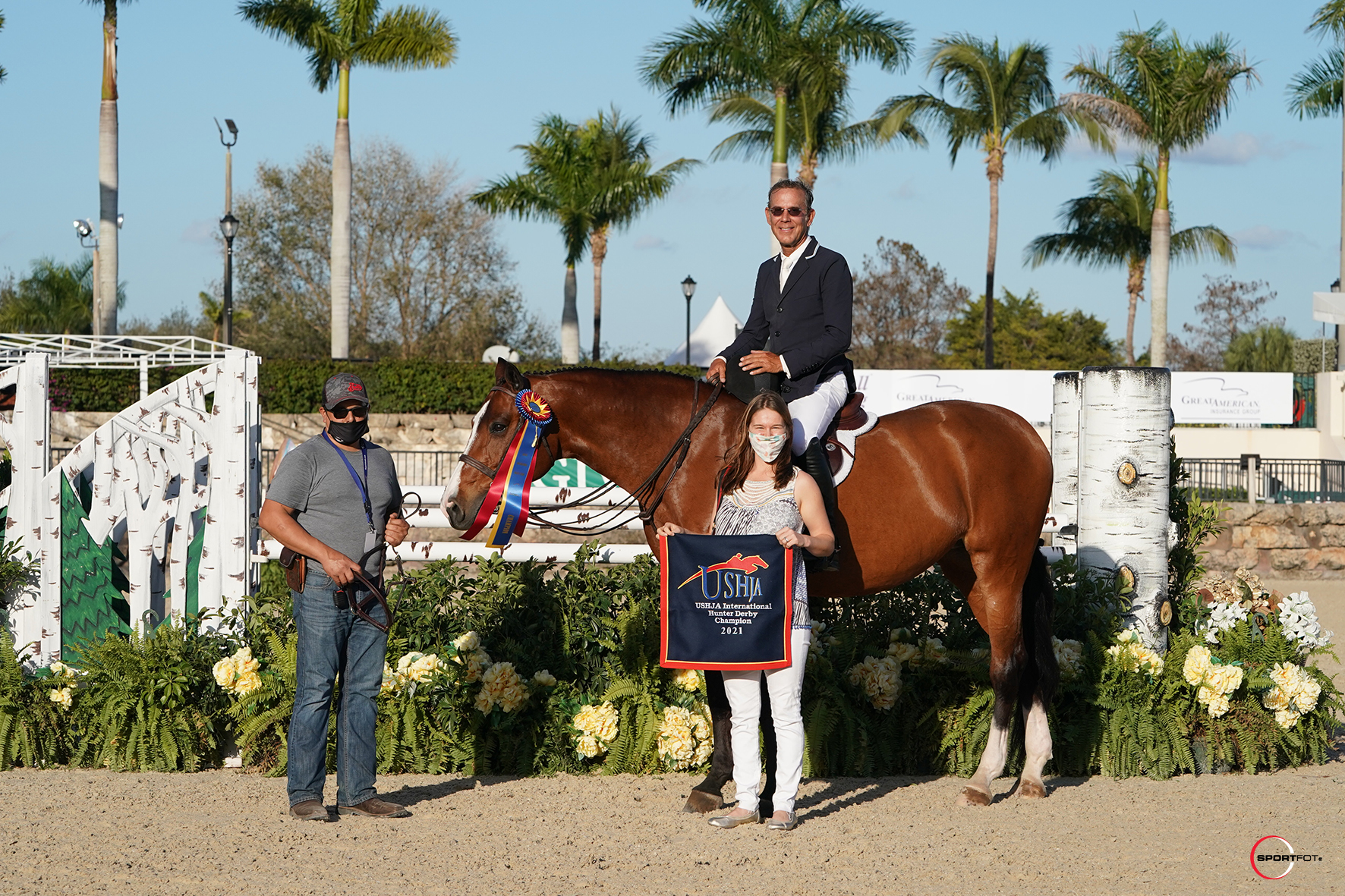 "Pretty much everybody made the inside turn to the trot fence and there was the inside to the post-and-rail, how tight could you turn back, but there wasn't anything crazy that you had to do in the handy," commented French. "I liked it for that reason, that it was really a jumping contest."
Second place honors went to Jennifer Hannan, of Wakefield, RI, and Kensel, LLC's Mindful. Hannan and Mindful are not strangers to the winner's circle of this class, having been victorious the past two years. The pair earned scores of 191 and 179.5, for a total score of 370.5. Hannah Isop, of Pawling, NY, rode Victoria Hart's Believe to a third place finish. The duo received scores of 182.5 in the classic round and 187 in the handy round for a total score of 369.5.
Saturday will have more hunter and jumper competition with the $37,000 CaptiveOne 1.50m CSI4* on the Derby Field at Equestrian Village. The Great Charity Challenge, presented by Fidelity Investments, will take place in the International Arena under the lights. The Amateur-Owner 3'3" 36 and Over champion will be crowned in the E.R. Mische Grand Hunter Ring.
Final Results: $25,000 USHJA International Hunter Derby Hunt & Go
1 Queen Celeste / John French / Pony Lane Farm
190.00 / 182.50 | 372.50
2 Mindful / Jennifer Hannan / Kensel, LLC
191.00 / 179.50 | 370.50
3 Believe / Hannah Isop / Victoria Hart
182.50 / 187.00 | 369.50
4 Rolo / Augusta Iwasaki / Ariya Nathu
186.00 / 183.00 | 369.00
5 Carento / Elizabeth Towell Boyd / Sherri Crawford
188.00 / 176.00 | 364.00
6 Charismo / Penny Lombardo / Joyce L Kutcher
183.75 / 179.75 | 363.50
7 Attendu De Lannois Z / Augusta Iwasaki / Ashland Farms
180.00 / 183.00 | 363.00
8 Bacchus / Michael Britt-Leon / Kelly Sims
175.50 / 183.00 | 358.50
9 Avatar Z / Victoria Colvin / William Lyles
181.00 / 173.00 | 354.00
10 Olympic Fire / Jennifer Hannan / Jennifer Hannan
175.00 / 177.00 | 352.00
11 Glorieus / Courtney Lenkart / La Primera Hacienda, LP
184.50 / 166.50 | 351.00
12 Kilkenny / Keri Kampsen / Michelle Guardino-Dettelbach
180.00 / 169.00 | 349.00