For Immediate Release
Alice Collins and Sabrina Brashares for Jennifer Wood Media, Inc.
Wellington, FL – January 30, 2020 – Action in week four of the 2020 Winter Equestrian Festival (WEF) continued on the grass Derby Field at Equestrian Village (home to the Adequan® Global Dressage Festival) for the second day, with the $73,000 Equinimity WEF Challenge Cup Round 4 CSI4* on Thursday, January 30. Irish rider Bertram Allen continued his winning streak, leading the class of 54 on Ballywalter Stables' GK Casper and making it two wins from two starts in two days on the turf.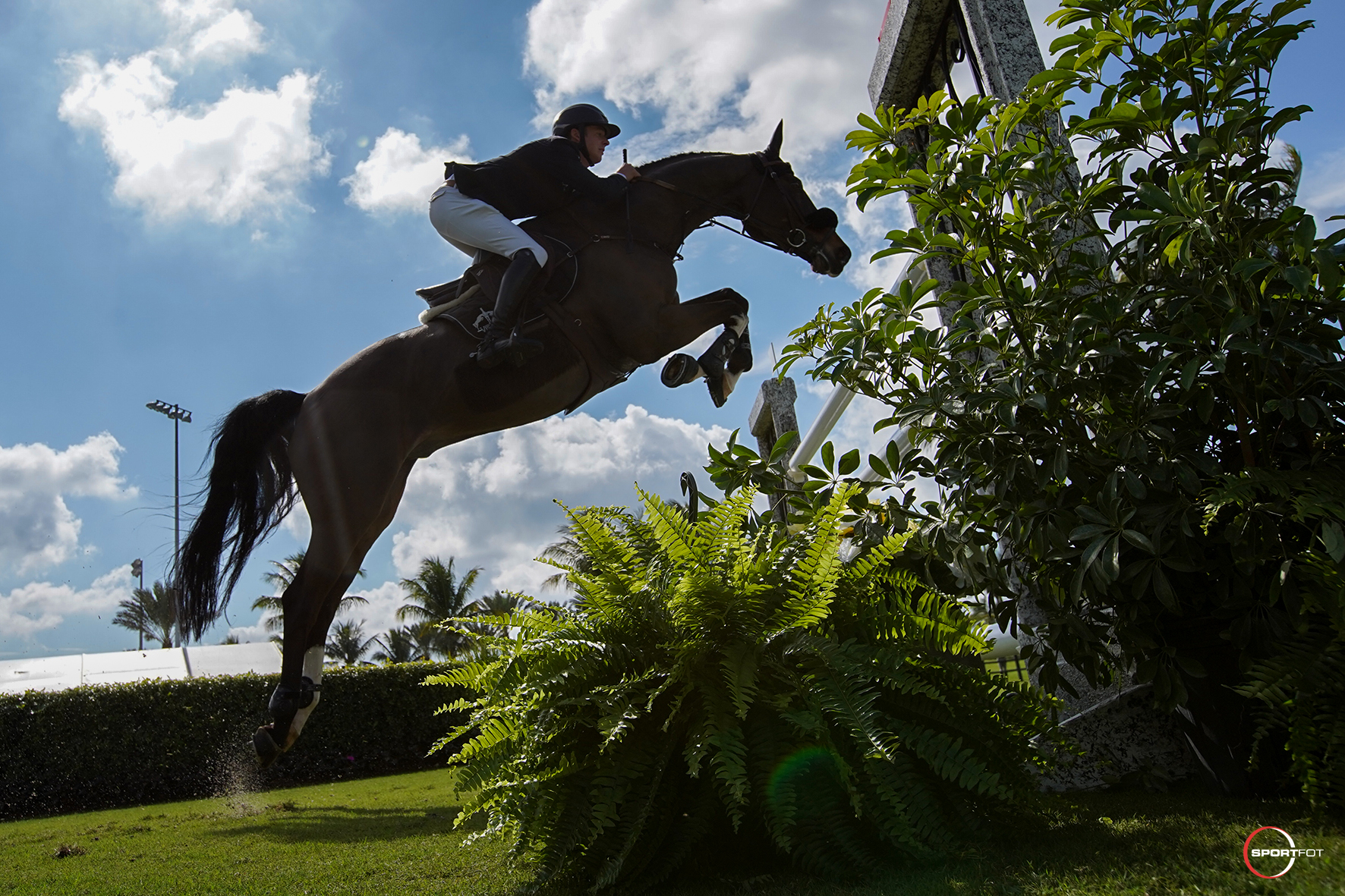 WEF continues through March 29, at the Palm Beach International Equestrian Center in Wellington, Florida, with 12 consecutive weeks of world-class competition and $13 million dollars on offer. The fourth week of competition at WEF, sponsored by Marshall & Sterling Insurance/Great American Insurance Group and recognized as a CSI4* by the Fédération Equestre Internationale (FEI), runs January 29 through February 2. Highlights include the $73,000 CaptiveOne Advisors 1.50m Classic and $25,000 Hermès Under 25 Team Event on Friday, and the $214,000 Marshall & Sterling Insurance/Great American Insurance Group Grand Prix CSI4* on Saturday. The Great Charity Challenge, presented by Fidelity Investments® will take place during "Saturday Night Lights" at 7 p.m. in the International Arena.
Eight combinations made it through to the jump-off over course designer Anderson Lima's (BRA) testing track. All eight jumped clear in the second round, so it all came down to speed to determine the finishing order. Allen, who had the benefit of being last to go, broke the beam in 39.00 seconds, with home rider Natalie Dean and Marigold Sporthorses LLC's Jewel De Kwakenbeek nipping at their heels in a time of 39.02 seconds. Britain's Amanda Derbyshire rode Gochman Sport Horses LLC's Luibanta BH into third in 39.28 seconds.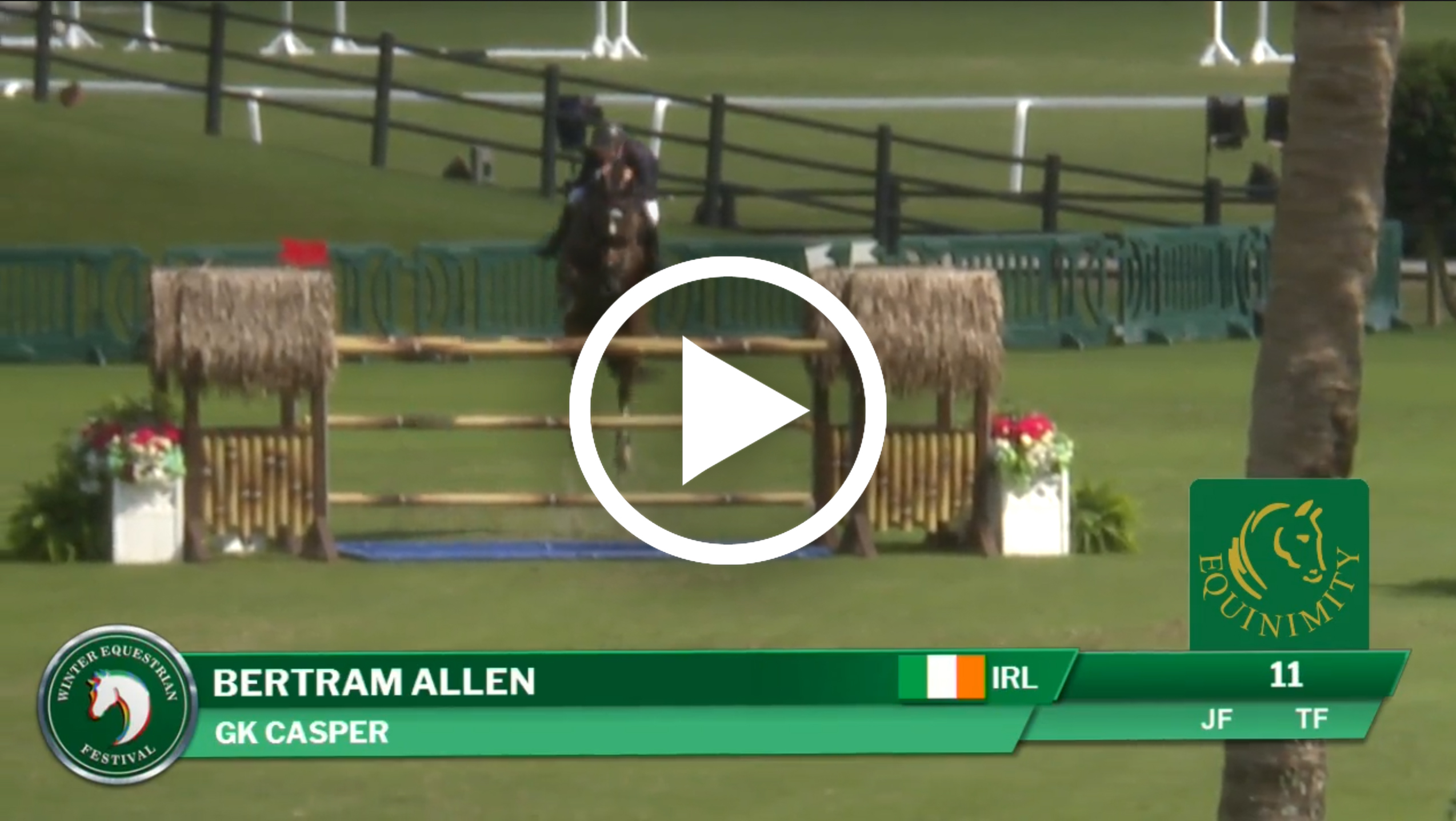 "It's a good start and long may it continue," said Allen, 24. "I'm chuffed; he's a good horse this one and very, very careful so you can really ride him at the jumps and normally he doesn't have too many down."
In the jump-off, Allen started at a blistering pace, taking a big pull mid-way round the course.
"I wasn't getting there on the stride that I wanted, and so I had to add one, but that's okay," explained Allen. "I wanted to win this class, but it wasn't a class to take a crazy stupid risk in, so I said I'd just do as good as I can. It was very close, but thankfully it was good enough for today."
GK Casper is no stranger to North America, having been here in 2019. "I did a trip at the back end of last year to America and Canada and he was very good," added Allen. "He won the World Cup class in Toronto and, since then, I haven't campaigned him too hard. This is the first week back up and at it and he feels great, so hopefully now he's in for a good few weeks."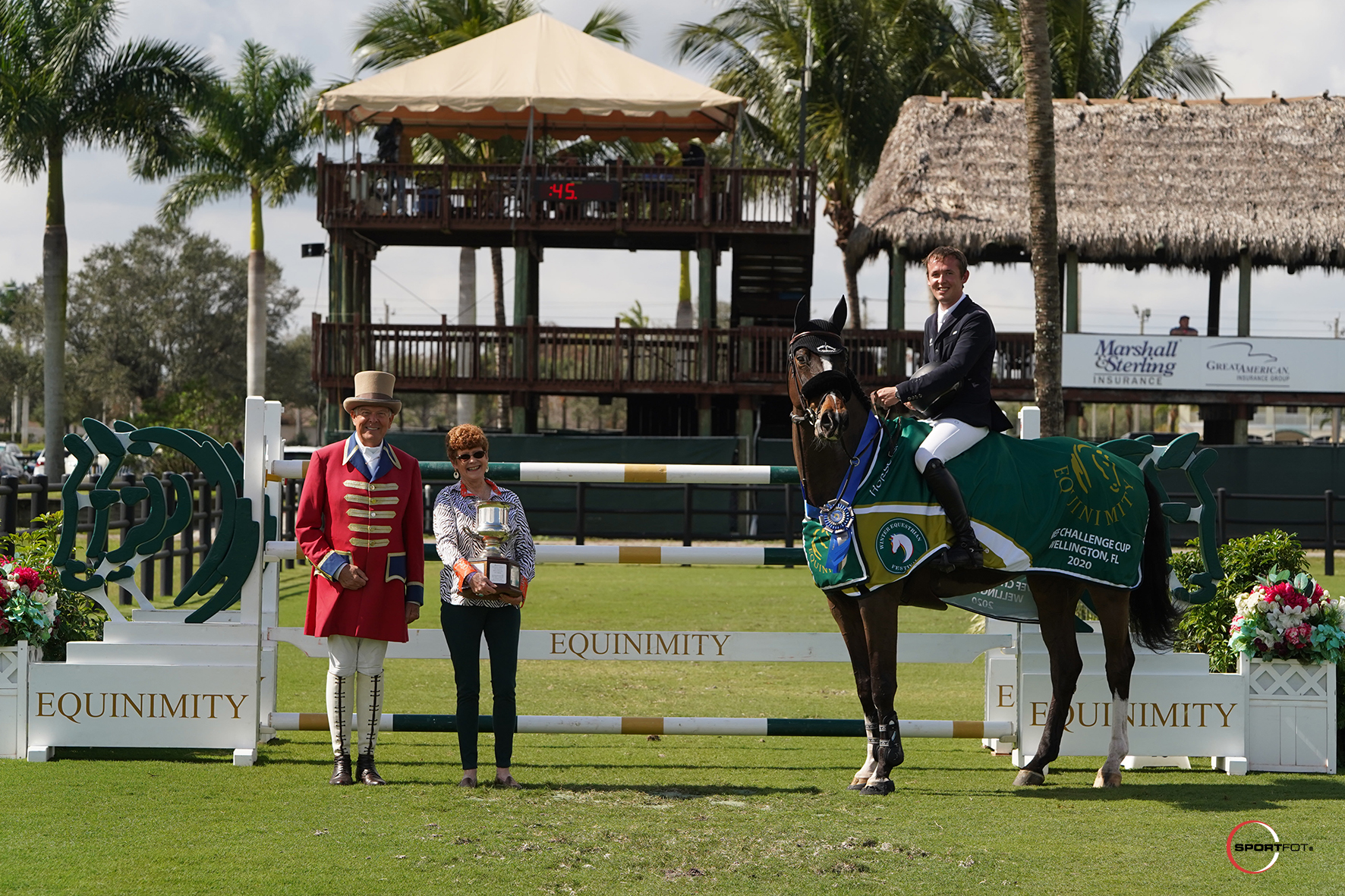 Allen, who has ridden the 12-year-old gelding by Canto 16 since he was six, added, "We know each other inside out. He's taken a bit longer to get to the top level, but he seems to be getting there now. He's a cheeky bugger but he's bold and he knows he's good and has a big character, which is nice."
Allen is spending two weeks in Florida with the three horses he has shipped over for the season, before returning home to Germany for a week to campaign his others. In Wellington, his "really good groom" Marlen Schannwell and friend William Hickey will keep working the horses in his absence.
Fourth-placed Brazilian Eduardo Menezes also clocked a time of under 40 seconds on Magnolia Mystic Rose, an 11-year-old mare by Zirocco Blue. He was closely followed by Kent Farrington (USA) on his own and Robin Parsky's talented mare Gazelle, who posted a time of 40.07 seconds.
In the International Arena at WEF on Thursday, Laura Chapot (USA) went one-two-three in the Bainbridge Companies 1.40m Speed Challenge. She won aboard Calafornia, took second on Shooting Starr and swept the podium riding Out Of Ireland. For full results, visit www.PBIEC.com.
Final Results: $73,000 Equinimity WEF Challenge Cup Round 4 CSI4*
1 GK CASPER: 2008 Holsteiner gelding by Canto 16 x Quantum
BERTRAM ALLEN (IRL), Ballywalter Stables: 0/0/39.00
2 JEWEL DE KWAKENBEEK: 2009 BWP gelding by Cicero Z x Quidam De Revel
NATALIE DEAN (USA), Marigold Sporthorses LLC: 0/0/39.02
3 LUIBANTA BH: 2008 Irish Sport Horse mare by Luidam x Abantos
AMANDA DERBYSHIRE (GBR), Gochman Sport Horses: 0/0/39.28
4 MAGNOLIA MYSTIC ROSE: 2009 BRSH mare by Zirocco Blue x Majorca Tok
EDUARDO MENEZES (BRA), Haras Mystic Rose: 0/0/39.51
5 GAZELLE: 2006 Belgian Warmblood mare by Kashmir van Schuttershof x Indoctro
KENT FARRINGTON (USA), Kent Farrington & Robin Parsky: 0/0/40.07
6 VOLAGE DU VAL HENRY: 2009 Selle Français mare by Quidam De Revel x Cassini I
JESSICA SPRINGSTEEN (USA), Stone Hill Farm: 0/0/40.16
7 LADY LOU: 2008 Irish Sport Horse mare by Lord Z x Caesario
BILLY TWOMEY (IRL), Sue Davis & Billy Twomey: 0/0/40.78
8 DAVEAU: 2008 KWPN gelding by Zento x Glennridge
JONATHON MILLAR (CAN), Millar Brooke Farm Ltd: 0/0/43.37
9 BORN TO BE PICOBELLO Z: 2009 Zangersheide gelding by Berlin x Carthago Z
SCOTT KEACH (AUS), Southern Cross Equestrian, LLC: 1/82.19
10 BULL RUN'S RISEN: 2006 KWPN gelding by Utopie x Indoctro
KRISTEN VANDERVEEN (USA), Bull Run Jumpers, Inc: 1/82.93
11 GO EASY DE MUZE: 2006 BWP gelding by Vigo d'Arsouilles x For Pleasure
DARRAGH KENNY (IRL), Kerry Anne LLC: 1/83.25
12 DOUGIE DOUGLAS: 2005 Irish Sport Horse gelding by VDL Douglas x High Roller
KATHERINE DINAN (USA), Grant Road Partners LLC: 1/84.15
Kelley Farmer Pilots Undaunted to the Green Hunter Conformation Championship
The Green Hunter Conformation division came to a close on Thursday in the E.R. Mische Grand Hunter Ring with Kelley Farmer and Undaunted earning champion. The pair received two firsts, three seconds, and one third-place ribbon.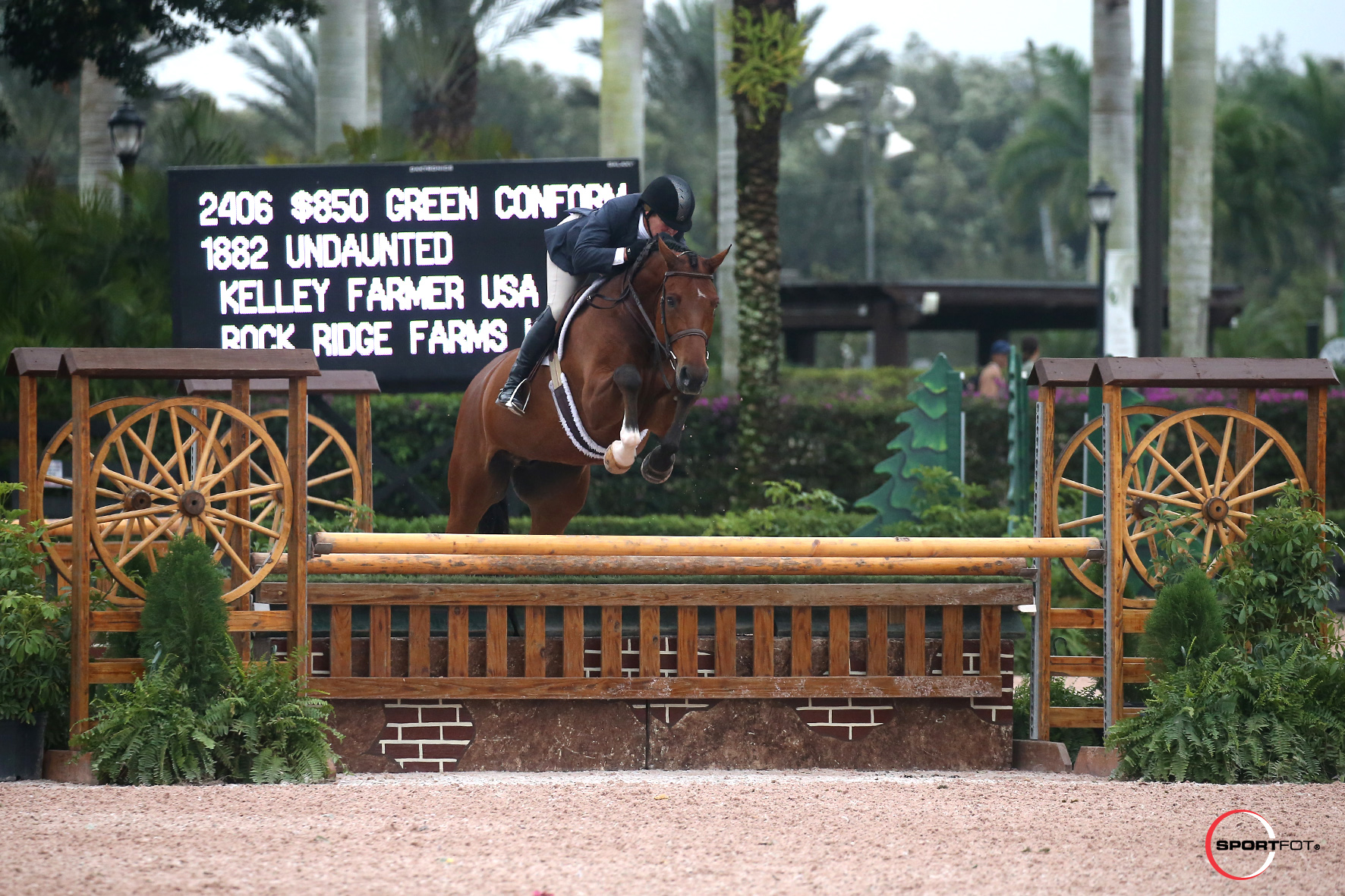 Undaunted, owned by Rock Ridge Farms, has just recently started his hunter career in the United States. He was purchased in Europe and came to the U.S. in the Fall of 2019. Farmer began showing Undaunted during the ESP Holiday Series at the Palm Beach International Equestrian Center. "He's such a good horse and has been champion every time out except once," Farmer explained.
Farmer, of Wellington, FL, and Undaunted, and eight-year-old Dutch Warmblood gelding by Van Gogh, won both the model and the under saddle to put them at the top of the division. "He is one of those horses that you notice when he walks into the ring because he's got a gorgeous way of going," Farmer described.
The pair will continue to compete in the Green Hunter Conformation classes for the remainder of the Winter Equestrian Festival. Eventually, Undaunted will begin to show in the junior hunter divisions as well. Farmer, who is enjoying showing the gelding, also hopes to qualify for Devon with Undaunted. "He's a blast to ride and it's also really nice when you have one that moves that well," Farmer commented.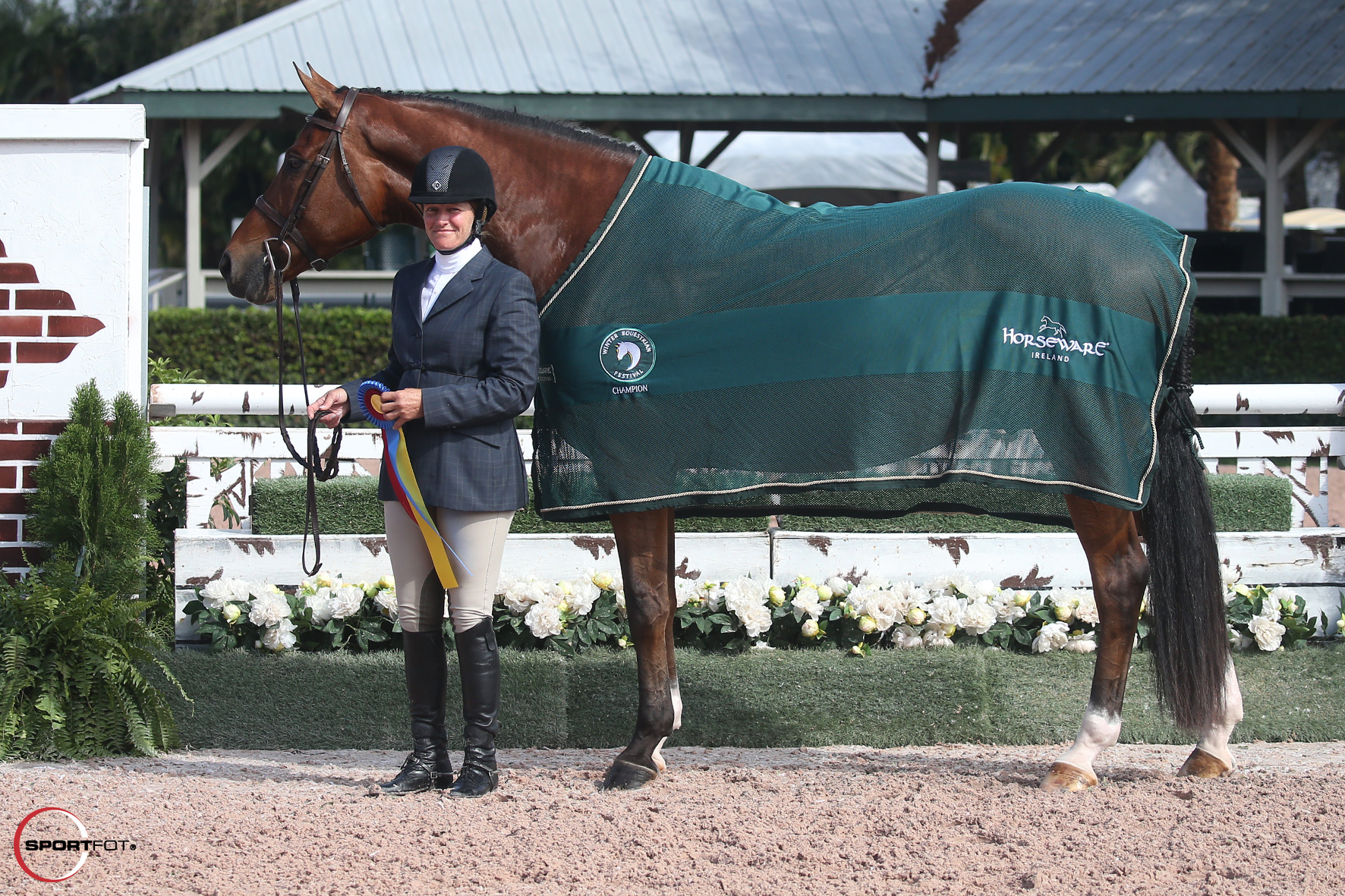 Farmer is looking forward to the rest of the circuit and is also happy to be showing at WEF for another year. "I've been showing here since I was a little kid! We travel to a lot of different shows but when you come back here it's just different. They really run the horse show properly," Farmer said.
Reserve champion in the Green Conformation Hunter division went to Julie Curtin, of Woodstock, GA, and Commentary. Curtin and Commentary, owned by Amy Perez, received two firsts, two seconds, and two thirds to earn reserve.
Hunter competition will continue on Friday with the $15,000 USHJA International Hunter Derby Hunt and Go in the International Arena beginning at 1:30 p.m.
Photo credit: Photos © Sportfot, official photographer of the Winter Equestrian Festival. These photos may be used only in relation to this press release and must include photo credit.