For Immediate Release
Lindsay Brock for Jennifer Wood Media, Inc.
Wellington, FL – March 11, 2020 – Ireland's Bertram Allen clinched the $37,000 Douglas Elliman Real Estate 1.45m CSI3* riding Lafayette van Overis to open the tenth week of the Winter Equestrian Festival (WEF) in Wellington, FL, on Wednesday, March 11.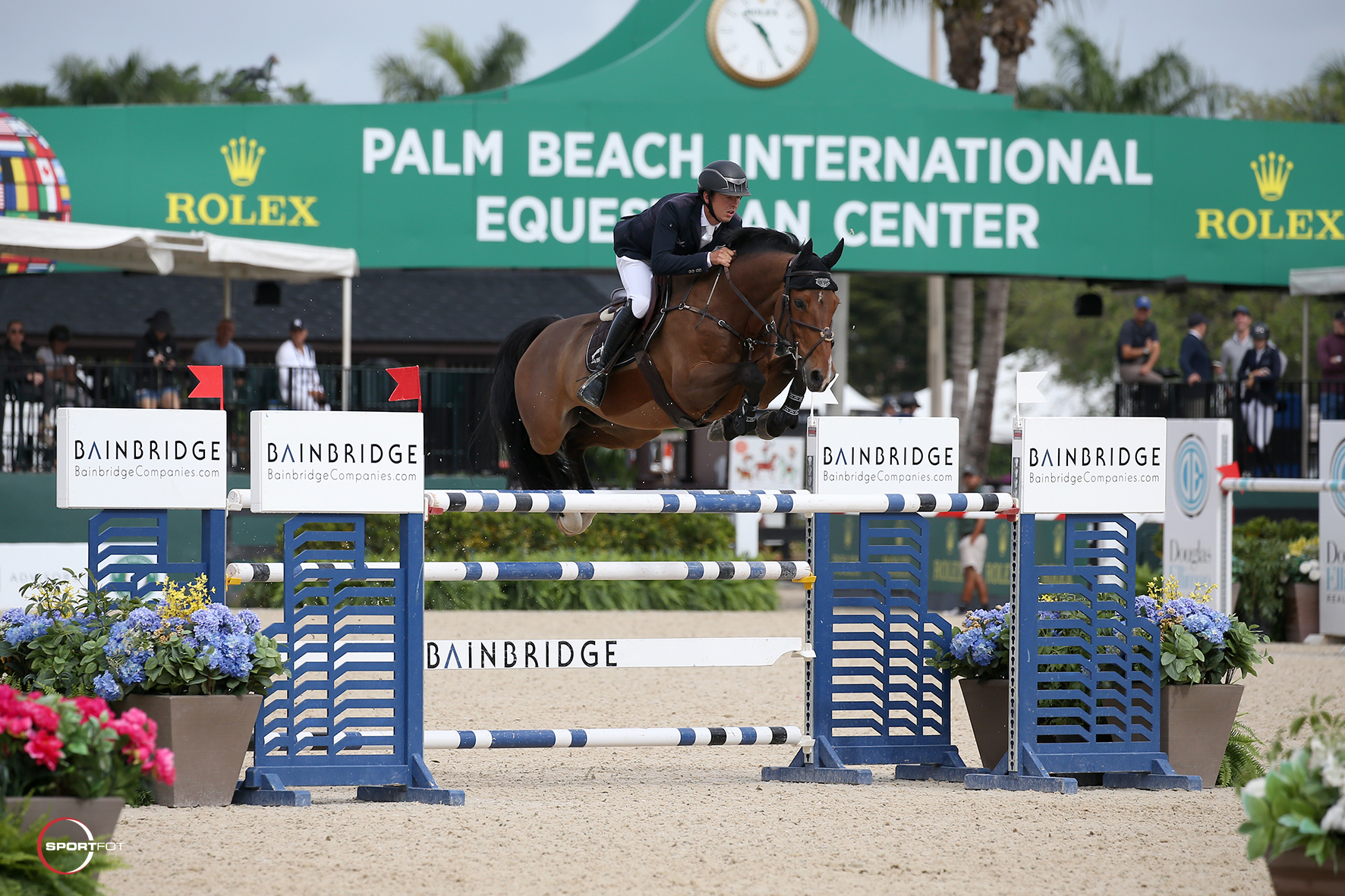 WEF continues at the Palm Beach International Equestrian Center (PBIEC) through March 29, 2020, with 12 consecutive weeks of world-class competition and $13 million dollars on offer. The tenth week of competition, sponsored by Horseware Ireland, runs through March 15 and is recognized by the Fédération Equestre Internationale (FEI) as a CSI3*. Highlights of the week include the $37,000 Equinimity WEF Challenge Cup Round 10 CSI3* on Thursday, the $137,000 Horseware Ireland Grand Prix CSI3* on Saturday, and the $37,000 CaptiveOne Advisors 1.50m Classic on Sunday.
Allen continued a streak of 1.45m victories at WEF with another win over tracks set by course designer Michel Vaillancourt (CAN). Seventy horses contested the two-phase course, but Allen and his quick gelding could not be caught. They stopped the clock at 32.68 seconds, which proved to be less than a half a second faster than runner-up Natalie Dean (USA) riding Ceitasi.
After competing in a CSI3* FEI Jumping World Cup™ qualifier over the weekend, Allen was planning to give Lafayette van Overis an easy ride, but the nine-year-old Belgian Warmblood gelding (Kashmir van Schuttershof x Tauber van het Kapelhof) had other plans.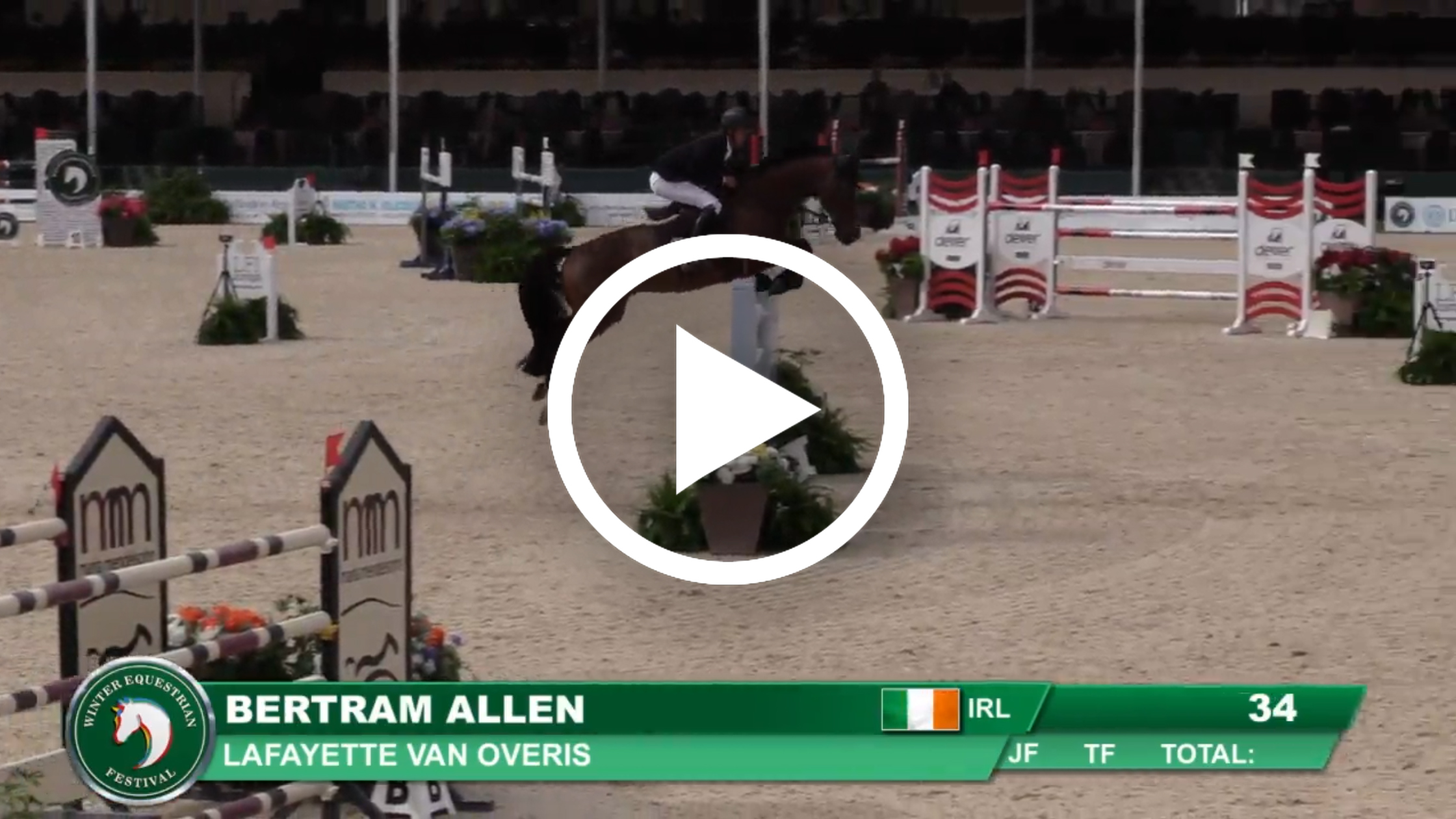 "He was very relaxed, and straight away won this easily," said Allen of his Ballywalter Stables-owned mount. "I wasn't sure if I was going to go full speed, but because it was a two phase, I could see how he was feeling and he felt very good.
"He is so naturally fast," continued Allen. "There were people doing more galloping or less strides, but I did not want to do that with him today. I thought I would do as good a round as I could, and see where that left us. Because he's so fast, he was able to get out on top."
Allen is two weeks away from the end of his first season at WEF, and will soon return to Europe with a talented string, saying, "They are all feeling good, and on good form. I have been planning for this week, and overall this has been a great trip for me and all the horses; they have progressed so well."
Lafayette van Overis has been the ride of Allen's since the summer of 2019, and he is eager to produce the horse further. "I put him up and down the levels a bit, but he is very comfortable at this 1.45m level," he said. "My goal is to get him this competitive at 1.50m, and then we will see where he goes."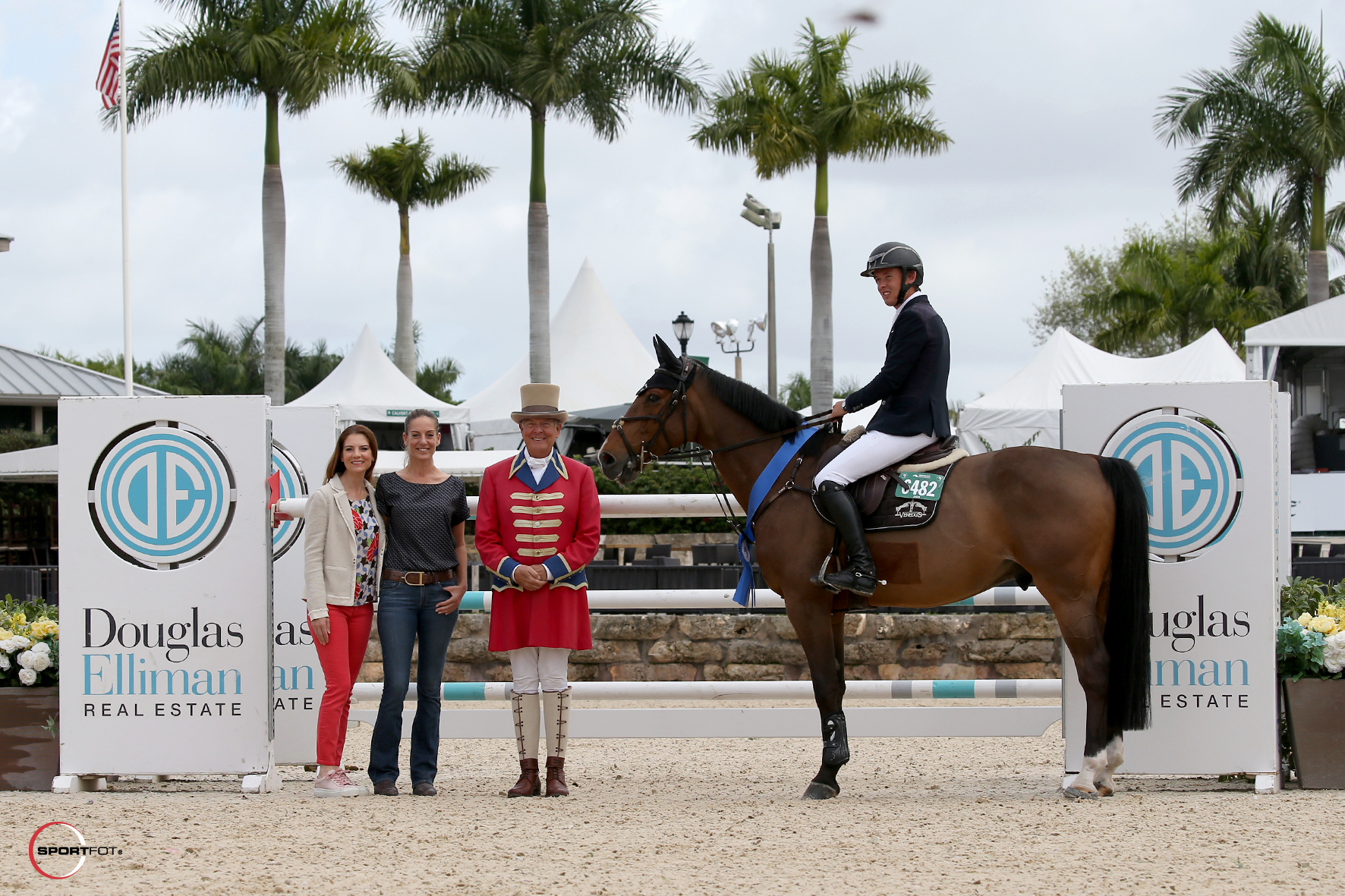 Dean finished in second for owner Marigold Sporthorses LLC, with a time of 32.68 seconds, while Jordan Coyle (IRL) capped the top three in 32.70 seconds aboard Picador for owner Elan Farm. Abigail McCardle (USA) was fourth in 33.42 seconds on I&H Boogy Woogy, owned by Parot Horses LLC, and Sam Walker (CAN) rounded out the top five in 33.75 seconds riding Coralissa for owner Marbill Hill Farm.
Also earning wins in the International Arena on Wednesday, Olivia Chowdry (USA) topped the $6,000 Bainbridge Companies 1.40m CSI3* riding Balkana du Tillard, owned by Atlas Equine Holdings, LLC, and Darragh Kenny (IRL) claimed the $6,000 Bainbridge Companies 1.40m riding Cicomein VDL for owner HKC Collection LLC.
Final Results: $37,000 Douglas Elliman Real Estate 1.45m CSI5*
1 LAFAYETTE VAN OVERIS: 2011 BWP gelding by Kashmir van Schuttershof x Tauber van het Kapelhof
BERTRAM ALLEN (IRL), Ballywalter Stables: 0/0/32.46
2 CEITASI: 2010 Westphalian mare by Caretello B x Cavalier
NATALIE DEAN (USA), Marigold Sporthorses, LLC: 0/0/32.68
3 PICADOR: 2007 AES gelding by Lupicor x Concorde
JORDAN COYLE (IRL), Elan Farm: 0/0/32.70
4 I&H BOOGY WOOGY: 2006 gelding by Faldo x Ginus
ABIGAIL MCARDLE (USA): Parot Horses LLC: 0/0/33.42
5 CORALISSA: 2010 Holsteiner mare by Com Air x Corrado I
SAM WALKER (CAN), Marbill Hill Farm: 0/0/33.75
6 B ONCE Z: 2004 Zangersheide mare by Baloubet du Rouet x Lavaletto
LUCAS PORTER (USA), Sleepy P Ranch: 0/0/34.22
7 CASAKTIE: 2009 Holsteiner mare by Cascari x Caresino
YURI MANSUR (BRA), Yuri Mansur: 0/0/34.54
8 DUBLIN: 2007 Deusches Reitpferd gelding by Cobra x Calido
JESSICA MENDOZA (GBR), Windsor Farms: 0/0/34.68
9 EASY GIRL: 2011 Oldenburg mare by Conthargos x Nintender
RODRIGO LAMBRE (BRA), Mario Onate: 0/0/34.95
10 H5 ELVARO: 2009 KWPN stallion by Calvaro F.C. x Heartbreaker
EDUARDO MENEZES (BRA), H5 Sport Horses LLC: 0/0/34/96
11 CADANS Z: 2009 Zangersheide mare by Carosso VDL x Navarone
ADRIENNE STERNLICHT (USA), Starlight Farms 1, LLC: 0/0/35.01
12 SOORY DE L'HALLALI: 2006 Selle Français mare by For Pleasure
ZOE CONTER (BEL), Stephex Stables: 0/0/35.64
For full results, visit www.PBIEC.com.
Photo credit: Photos © Sportfot, official photographer of the Winter Equestrian Festival. These photos may be used only in relation to this press release and must include photo credit.