For Immediate Release
Kate Pettersen and Sabrina Brashares for Jennifer Wood Media, Inc.
January 22, 2021 – Wellington, FL – It was a winning Friday afternoon for Ireland's Bertram Allen who piloted the talented nine-year-old Irish Sport Horse gelding Pacino Amiro to a top finish on Friday, January 21, in the $37,000 Adequan® WEF Challenge Cup Round 2 CSI3* at the Winter Equestrian Festival (WEF).
There's plenty of international show jumping still to come this week on the Derby Field at Equestrian Village at Palm Beach International Equestrian Center as part of CSI3* competition. Saturday features the Saturday's $37,000 CaptiveOne Advisors 1.50m Jumper Classic and $10,000 Hermès U25 Welcome, and the action doesn't slow down Sunday with the $137,000 Restylane Grand Prix CSI3* followed by the $25,000 Hermès U25 Grand Prix. All feature classes will be available to watch for free on the livestream.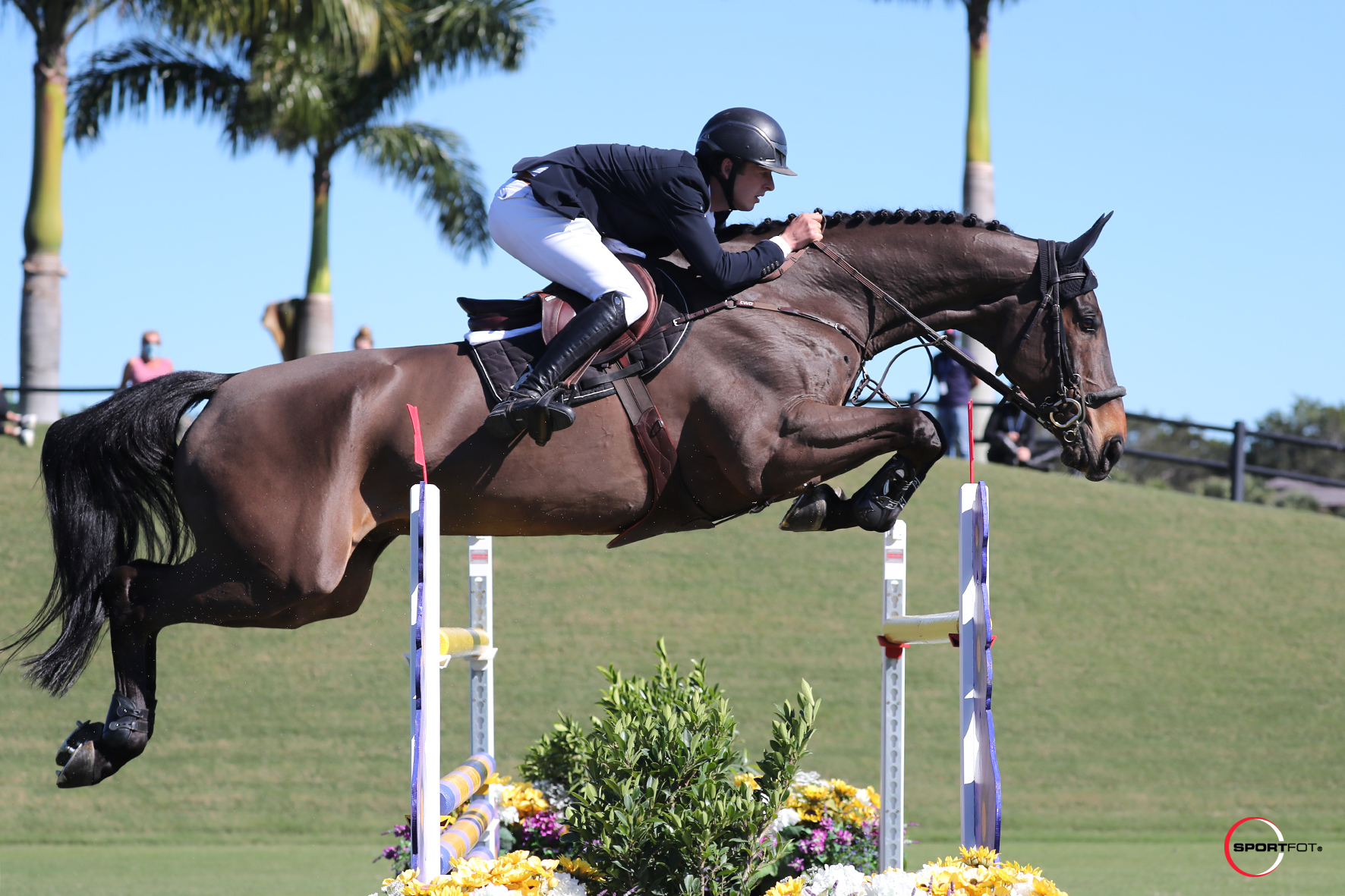 Friday's class had a starting field of 78 entries contest the track set by course designer Oscar Soberon (USA) with a total of 12 electing to return for the jump-off. In the second round, many combinations opted to do nine strides to the final fence on course, but Allen and the gelding owned by Aiden McGregory moved swiftly in eight strides to fly over the final oxer and cross the finish line in 39.72 seconds.
"I thought it was a good, tough class, and it was quite a long track in the jump-off," he said. "My guy is a little bit inexperienced; you could see that at the start of the jump-off but the more he went, the better he got. I could use his big stride in the big arena, so it worked well for me. He's only nine so he's only stepping up to this level but he's a very genuine, kind horse that's always trying do the right thing."
Watch Bertram Allen and Pacino Amiro in their winning jump-off round!
U.S. rider Paris Sellon put forth a clear effort over the shortened track aboard the 12-year-old Oldenburg mare Anna Jo for Willow Grace Farm, finishing just over a second off the lead in a time of 40.77 seconds. With the first double clear effort of the day, Enrique Gonzalez (MEX) and his own 14-year-old mare Chacna held on for a third-place finish, stopping the timers at 42.40 seconds.
Like Thursday's 1.45m winner Sydney Shulman, Allen had only great things to say about the quality of the footing and opportunity to jump on the derby field.
"The field is fantastic. I love it," he said. "The ground and everything is really, really good and the horses love it. It's beautiful. In two weeks, we're back out here, so I'm going to skip next week just to make sure I can jump as much as I can on the grass. I think it's brilliant."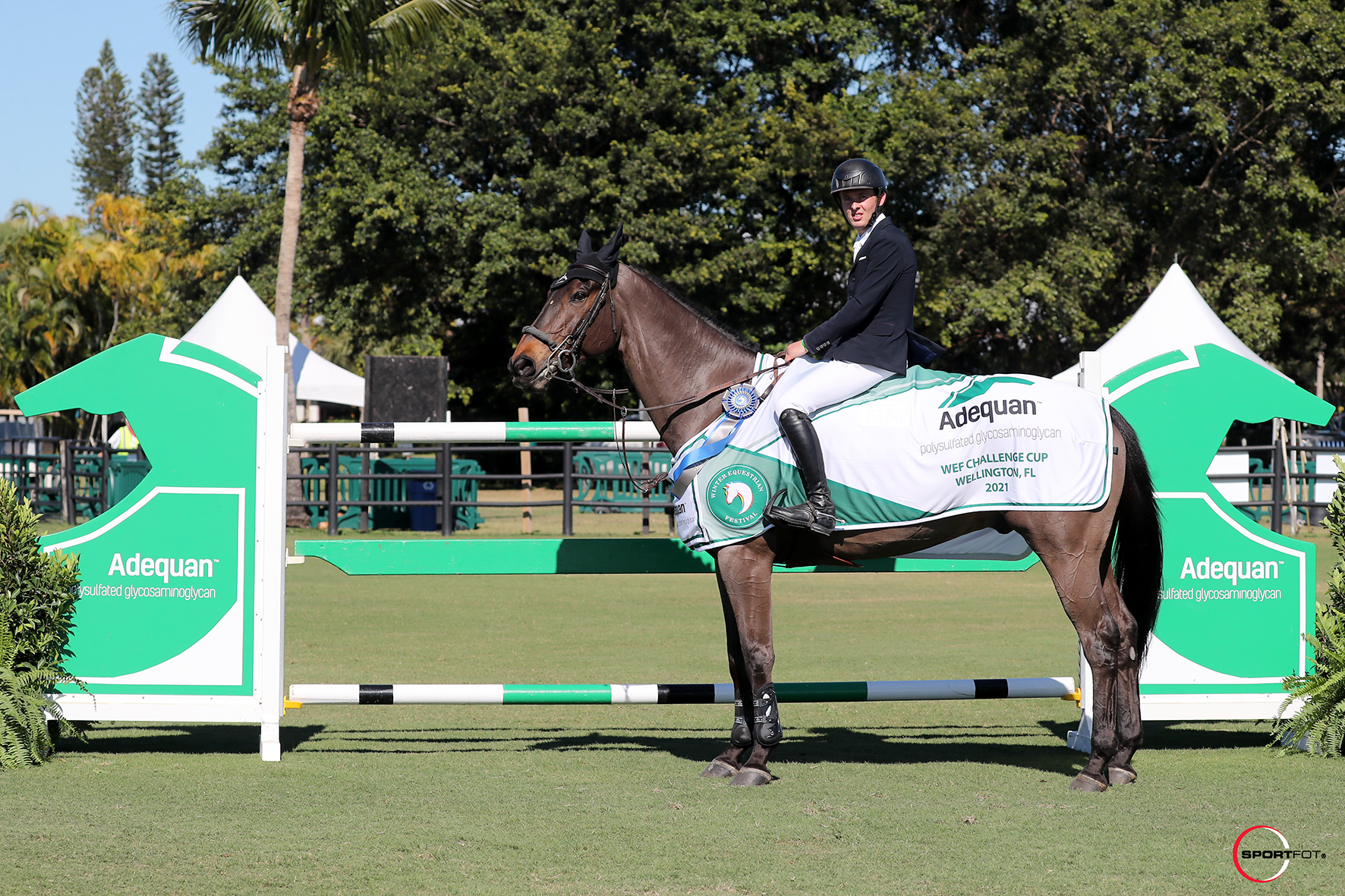 Allen will continue to campaign at WEF for the remainder of the winter circuit with his focus on the talented young gelding to continue to develop in international competition.
"Obviously there's not much happening in Europe, so we said we'd come over here again," he said. "We were here last year, and we're just going to take it week by week. Pacino Amiro is probably going to be my best horse, so I'll just try to develop him up to the CSI5* shows hopefully."
Final Results: $37,000 Adequan® WEF Challenge Cup Round 2
1. PACINO AMIRO: 2012: Irish Sport Horse gelding by Pacino x Carnone Dancing Queen
BERTRAM ALLEN (IRL), Aiden McGregory: 0/0/39.72
2. ANNA JO: 2009 Oldenburg mare by Acodetto 2 x For Pleasure
PARIS SELLON (USA), Willow Grace Farm: 0/0/40.77
3. CHACNA: 2007 Hanoverian mare by Chacco-Blue x Narew XX
ENRIQUE GONZALEZ (MEX), Enrique Gonzalez: 0/0/42.40
4. GOLDWIN: 2012 BWP gelding by Emrald x Divine Idylle GTW De Tinmont
LAURA KRAUT (USA), Stars and Stripes: 0/0/42.73
5. CATINKA 25: 2009 Oldenburg mare by Catoki x Luxano
VANESSA MANNIX (CAN), Vanessa Mannix: 0/0/43.79
6. BALOU DU REVENTON: 2006 Oldenburg stallion by Cornet Obolensky x Georgia
BRIAN MOGGRE (USA), Ann C Thompson: 0/0/44.23
7. ZILTON SL Z: 2011 Zangersheide gelding by Zirocco Blue Vdl x Utopie
MICHAEL DUFFY (IRL), Katherine Duffy: 0/4/39.98
8. C HUNTER: 2007 Zangersheide stallion by Cassini II x Corland
LUCAS PORTER (USA), Sleepy P Ranch, LLC: 0/4/41.13
9. PALOMA: 2006 Holsteiner mare by Canaletto S x Henzo de la Brasserie
LAUREN HOUGH (USA), Kathleen Kamine: 0/4/41.29
10. DIAMONTE DARCO: 2005 GBSH mare by Unbelievable Darco x Unknown
WILTON PORTER (USA), Sleepy P Ranch, LLC: 0/4/43.01
11. AKUNA MATTATA: 2008 Holsteiner mare by Quinar x Landwind II
NICOLE SHAHINIAN-SIMPSON (USA), Silver Raven Farms: 0/4/43.58
12. MR. EUROPE: 2009 KWPN gelding by Mr. Blue x Z-Liva Rv
KARRIE RUFER (USA), Morning Star Sporthorses, LLC: 0/4/44.25
Dominic Gibbs and Cent 15 Earn a Victory in the Platinum Performance USEF Show Jumping Talent Search 2*
The Platinum Performance USEF Show Jumping Talent Search 2* took place on Friday morning in Ring 6 with 26 riders competing for the top honors. In the end, Dominic Gibbs and Mountain King Ranch LLC's Cent 15 impressed the judges in both the over fences and flat phases of the class to take home the blue ribbon.
Gibbs, of Colorado Springs, CO, has become a popular name to watch for in the equitation classes with his partner Cent 15. The pair is going into their third WEF season together under the tutelage of Beacon Hill Show Stables.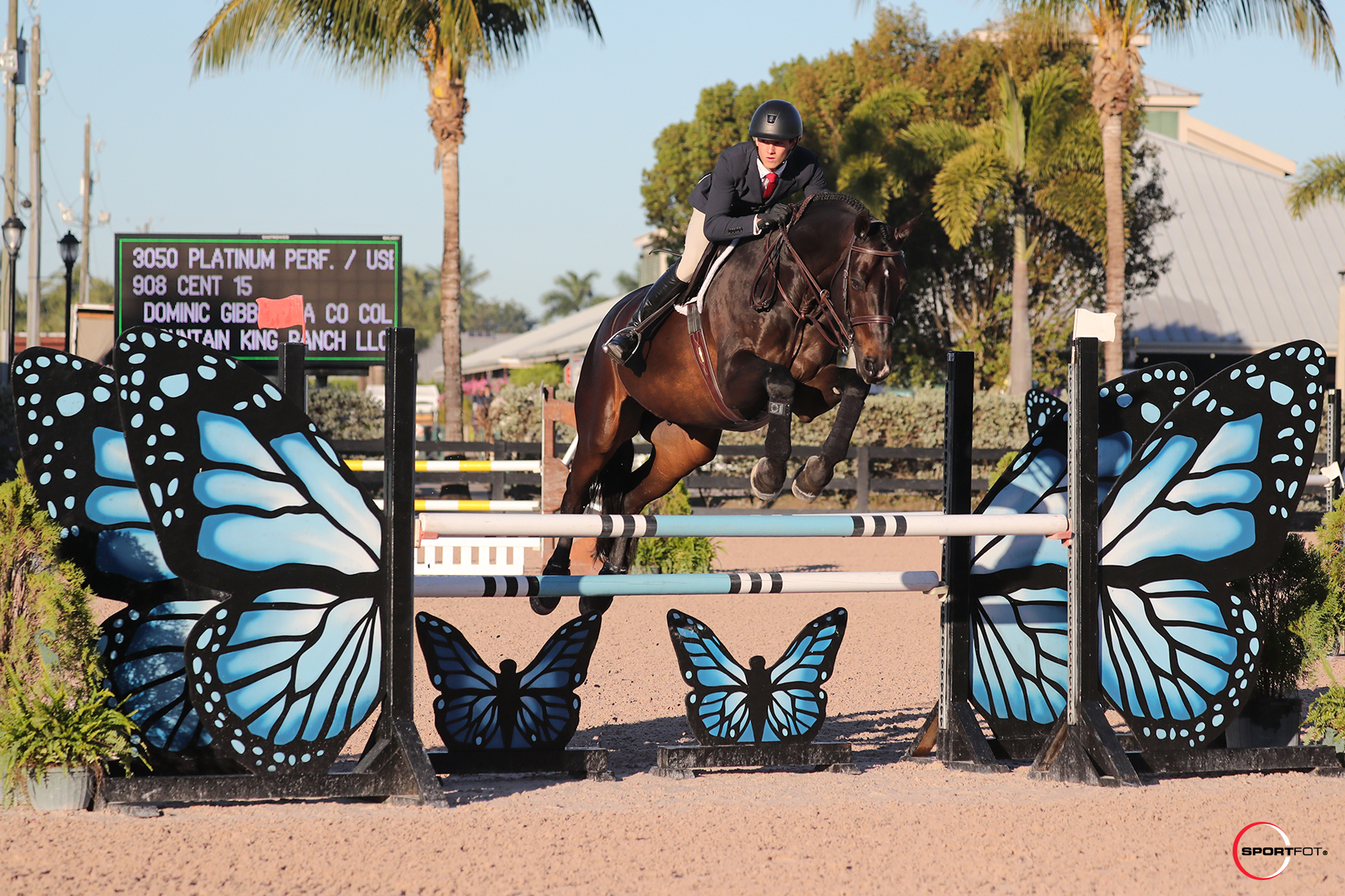 "My mom and I brought him over from Europe, originally thinking he would be my high junior jumper, but he told us that he likes the equitation," commented Gibbs of the 13-year-old Hanoverian gelding by Carenzo. "He has been a wonderful mount for me and has taken me from being an average 3'3" rider to a very seasoned 3'6" rider. He's been a great help for me in my equitation career and a wonderful partner to have."
All riders were asked to complete the over fences portion of the class and the top 12 combinations then returned for a flat phase. Although Gibbs described his mount as a little "spicy" in the first round, the judges were still very pleased with the performance.
"It's one of his first shows out, and I'm glad to see his enthusiasm so early in the season!" described Gibbs. "We have many more weeks to go so I'm glad he was happy to be showing."
Gibbs is determined to continue his equitation success and assure that he qualifies for all of the year-end finals.
"My main focus with Cent 15 is also to place well in the WEF Equitation Challenge during Week 11," he explained. "Mainly I just want to keep him happy, healthy, and at the top of his game. I hope that this is a signal for a good year to come!"
Second-place honors went to Eva Fisherman, of Brookline, MA, and Boldly Stated, owned by Can We Keep It? LLC. Hollis, NH, resident Amira Kettaneh and Leigh Kettaneh's Automatic rode to a third place finish in the class.
Competition will continue on Saturday with the $37,000 CaptiveOne 1.50 Jumper Classic, the Hermès Under 25 Welcome and the Hermès Under 25 1.40 classes taking place on the grass Derby Field at Equestrian Village. For hunter competition, the Amateur-Owner Hunter 3'3" 36 and Over will come to an end with the naming of the champion in the E.R. Mische Grand Hunter Ring.