For Immediate Release
Kate Pettersen, Kim Beaudoin, and Sabrina Brashares for Jennifer Wood Media, Inc.
January 24, 2021 – Wellington, FL – It was a thrilling finish for the final day of the second week of FEI competition at the 2021 Winter Equestrian Festival (WEF) as Olympic team gold medalist Ben Maher (GBR) and the 18-year-old stallion Tic Tac, owned by Jane Forbes Clark, edged the competition by just one one-hundredth of a second to take top honors in the $137,000 Restylane Grand Prix CSI3* on Sunday, January 24.
Competition continues next week at the Palm Beach International Equestrian Center (PBIEC) as part of 13 weeks of show jumping at the WEF. The schedule is jam packed with a stellar roster of classes including the Bainbridge Companies 1.40m Jumpers on Wednesday, the Douglas Elliman Real Estate 1.45m Jumpers on Thursday, Friday's $37,000 Adequan® WEF Challenge Cup Round 3, the CaptiveOne Advisors 1.50m Classic on Saturday, and the $137,000 NetJets Grand Prix CSI3* to wrap up the week on Sunday afternoon. Spectators can watch all the feature classes for free on the livestream.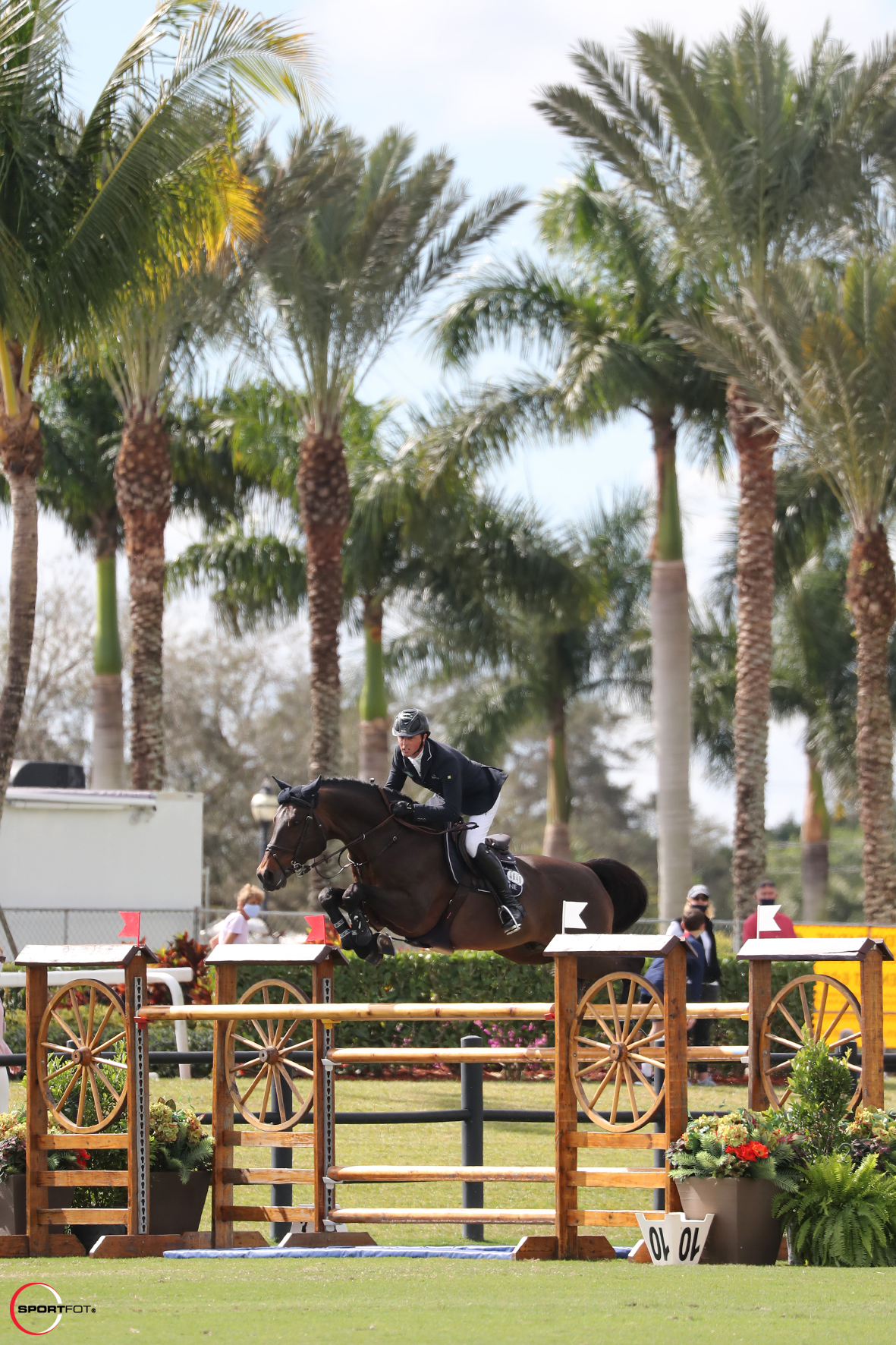 On the derby field at Equestrian Village, a total of 45 entries entered the ring to tackle the course designed by Oscar Soberon (USA) with 12 qualifying to return for the jump-off. Maher executed the track flawlessly aboard the SBS stallion by Clinton x Panama Du Seigneur, leaving all eight obstacles in their cups to secure the win in a blistering time of 43.56 seconds, just one one-hundredth of a second ahead of Canada's Eric Lamaze.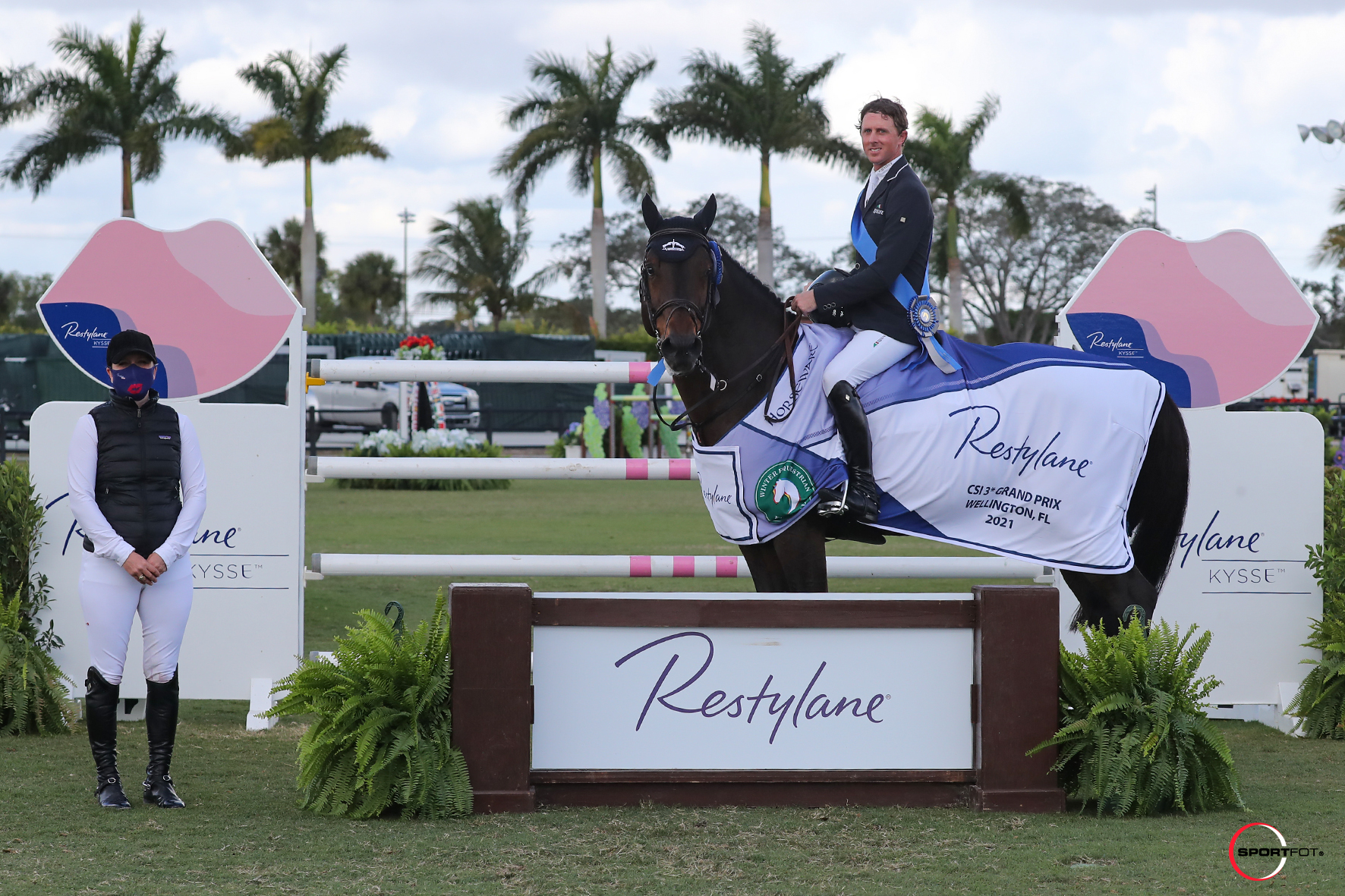 "It was my lucky day, and sometimes it just happens like that," he said with a big smile. "Eric is one of the fastest riders in the world, and he was on a great horse, so I think I had the luck of the draw. I was also on an experienced horse. Tic Tac is 18 and doesn't come out very often, but he gives me great confidence and he did everything right for me today."
Watch Ben Maher and Tic Tac in their winning jump-off round, brought to you by Premier Equestrian.
It certainly came down to the wire with some of the world's best riders giving the shortened course their best shot. Olympic gold medalist Lamaze also had a veteran partner for the test, finishing a close second aboard 18-year-old Fine Lady 5 for Artisan Farms and Little Creek Investments, in a time of 43.57 seconds.
"Fine Lady is naturally very fast," said Lamaze. "I've had a few classes where we went too fast and paid for it, and I asked myself, 'Why did I go so fast?' I was trying to keep a good rhythm. I knew who was coming behind me; Ben is one of the best riders in the world. I knew I rode a fast course."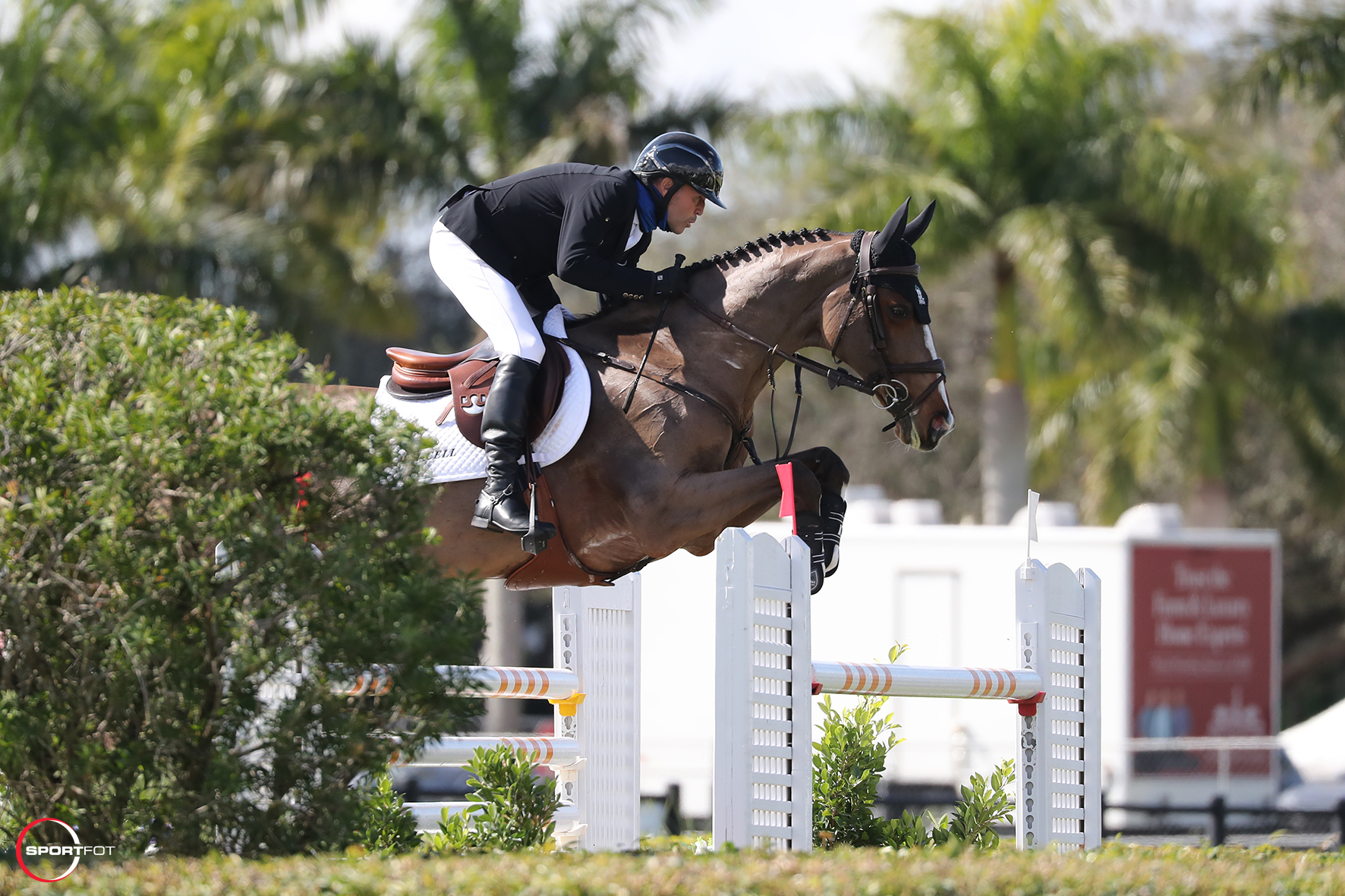 Rounding out the top three was another rider known to be quite speedy, Conor Swail (IRL), with 13-year-old Holsteiner mare GK Coco Chanel for Vanessa Mannix. The pair gave it a solid try, keeping all the jumps up in a time of 44.04 seconds to slide into third place.
"I thought the track was good today," said Swail. "It was a little different from some of the other competitions we've been jumping in, less numbers down the lines, but it was creative, and we got a very good result. It wasn't huge, but it was challenging, so I have to give the course builder credit for that!"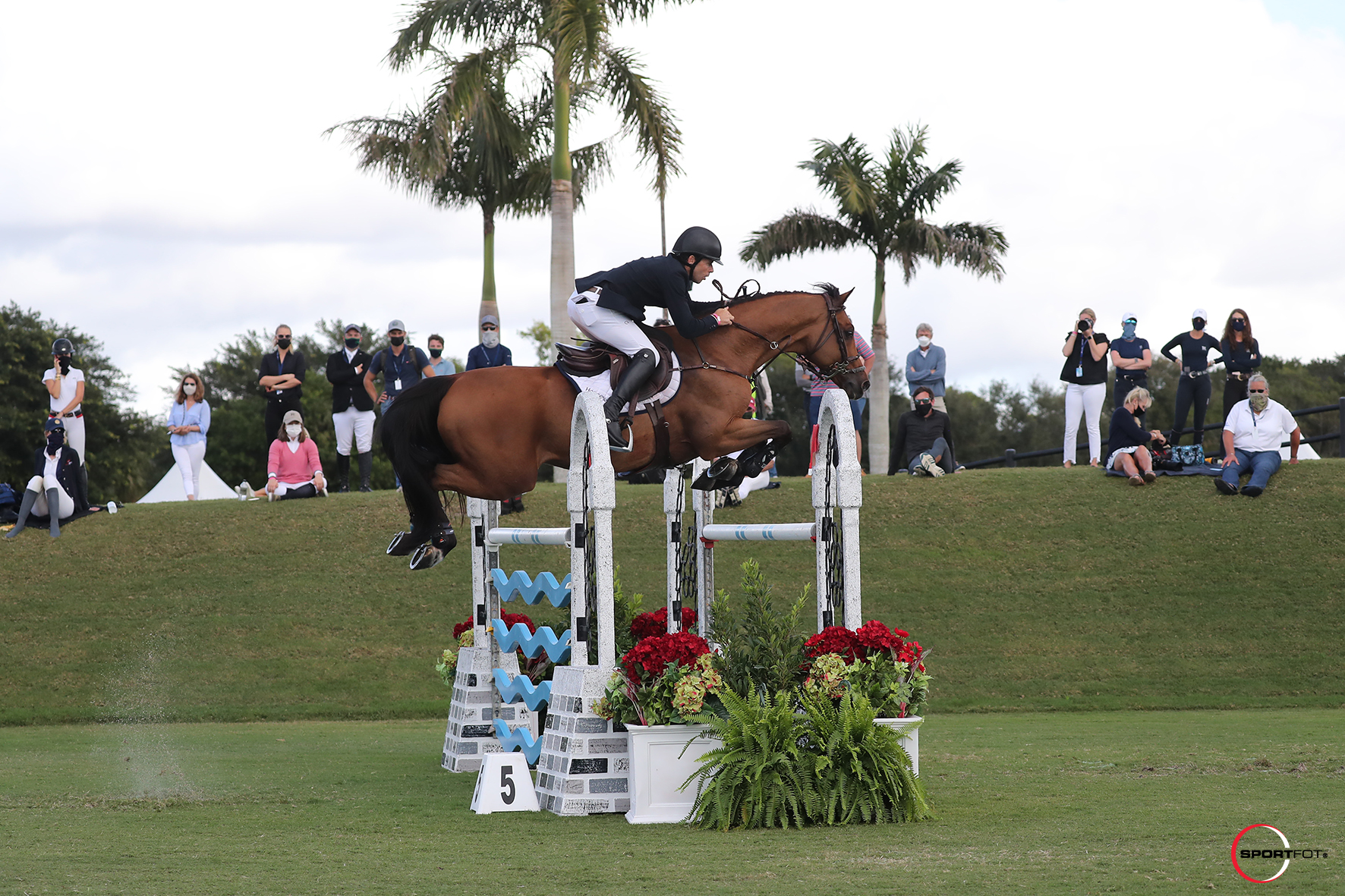 Like many of the riders competing this week, Maher spoke highly of the opportunity to jump on the stunning derby field, noting the change of scenery from the International Arena at PBIEC as a great way to keep the horses fresh through a lengthy competition schedule.
"For me, the grass arena here is one of the best grass arenas there is in the world," he said. "That's why I picked this week to bring a horse of Tic Tac's age over here. They're great conditions. I thought it was a great course, and it was nice to see some new jumps out here this year. It's so refreshing and great to be over here."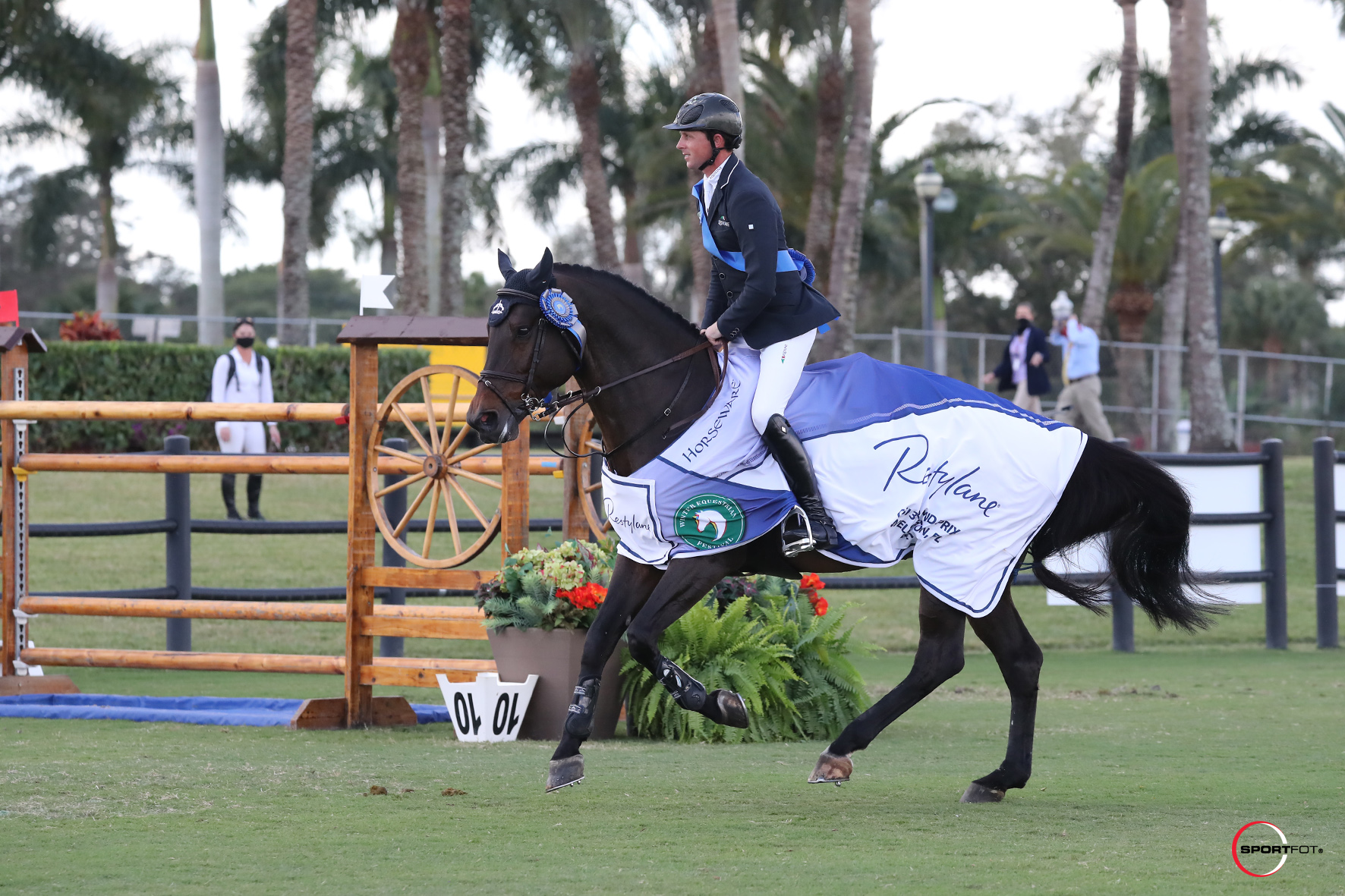 Having already had some success at WEF this winter, including a win in $6,000 Douglas Elliman Real Estate 1.45m Jumpers during WEF 1, Lamaze echoed Maher's praise of the turf track.
"I think they should have as many competitions out here as they can," he said. "It is the best footing in the world, the horses love jumping here, and for me that's real show jumping out there. We appreciate all of the effort that is made to keep us safe from COVID. These are difficult times, so we should all be grateful for that."
Final Results: $137,000 Restylane Grand Prix CSI3*
1. TIC TAC: 2003 SBS stallion by Clinton x Panama Du Seigneur
BEN MAHER (GBR), Jane Forbes Clark: 0/0/43.56
2. FINE LADY 5: 2003 Hanoverian mare by Forsyth x Drosselklang II
ERIC LAMAZE (CAN), Artisan Farms and Little Creek Investments: 0/0/43.57
3. GK COCO CHANEL: 2008 Holsteiner gelding by Clarimo x Lerano 2
CONOR SWAIL (IRL), Vanessa Mannix: 0/0/44.04
4. GOLDWIN: 2012 BWP gelding by Emrald x Divine Idylle GTW De Tinmont
LAURA KRAUT (USA), Stars and Stripes: 0/0/44.64
5. CHACNA: 2007 Hanoverian mare by Chacco-Blue x Narew XX
ENRIQUE GONZALEZ (MEX), Enrique Gonzalez: 0/0/45.38
6. AKUNA MATTATA: 2008 Holsteiner mare by Quinar x Landwind II
NICOLE SHAHINIAN-SIMPSON (USA), Silver Raven Farms: 0/0/46.20
7. COCOLINA: 2011 Oldenburg mare by Conthargos x Carolina
NATALIE DEAN (USA), Marigold Sporthorses, LLC: 0/0/46.53
8. EMMERTON: 2009 KWPN gelding by Silvio I x Artuna
DARRAGH KENNY (IRL), SHL Farm: 0/0/46.65
9. ZAIA DI SAN GIOVANNI: 2009 mare by Cornet Obolensky
MAC CONE (CAN), Chadburn Holdings, Inc: 0/0/49.02
10. COLESTINA H: 2010 German Sport Horse mare by Colestus x Cardenio 2
DANIEL BLUMAN (ISR), Blue Star Investments: 0/4/45.52
11. CADIZ: 2010 KWPN gelding by Vigo D'arsouilles x Bardesther
CIAN O'CONNOR (IRL), Ronnoco Jump Ltd: 0/4/48.49
12. KAMILLA D: 2011 SCSL mare by Kashmir von Schuttershof x Canturo*Bois Margot
ERYNN BALLARD (CAN), Erynn Ballard: 0/4/48.55
Ashley Vogel Marks Another Win in the $25,000 FEI Hermès U25 Grand Prix
The U25 riders took to the Derby Field at Equestrian Village on Sunday afternoon to contest the first $25,000 Hermès U25 Grand Prix, and the class of 55 welcomed 10 back for the jump-off on the Oscar Soberon-designed course. The U25 Series will return for WEF 4 with the $25,000 Hermès U25 Grand Prix Series Team Event.
Notching their second U25 victory of the week, Ashley Vogel (USA) and her 2009 Zangersheide mare Bellissimo Z (Bamako de Muze x C'est Elle Z) flew through the jump-off timers in 39.10 seconds, solidifying the blue ribbon during their first week ever competing on the Derby Field.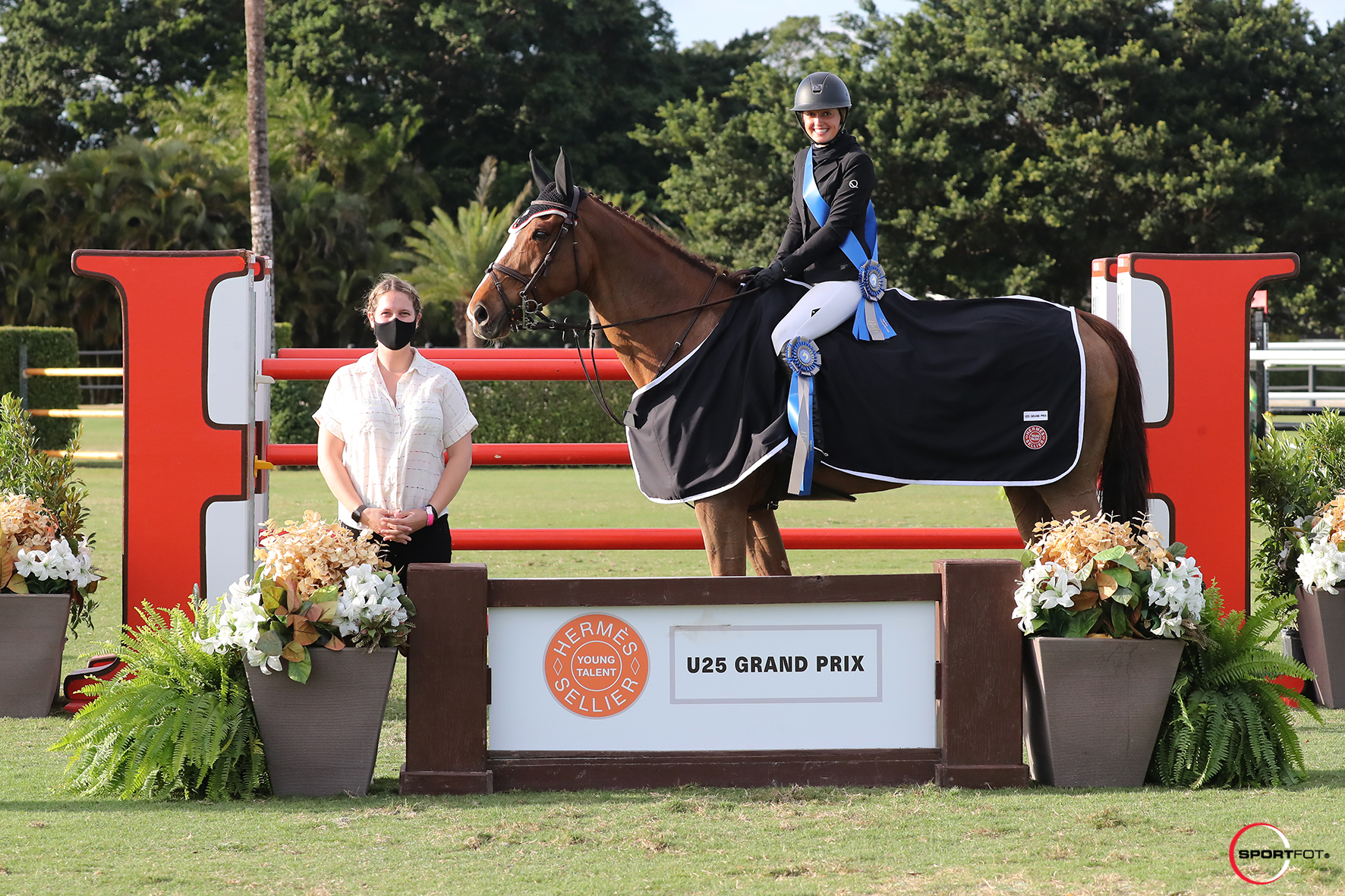 Trailing just behind the duo was Lucy Deslauriers (USA) aboard the Luja LLC's 2011 Selle Francais gelding Billy de Beaufor (Allegreto x HH Rosine De Beaufor), finishing with 39.43 seconds on the clock. Third place went to the USA's Tanner Korotkin and Deauville S, a 2006 Holsteiner gelding (Diamante de Semilly x Touch of Class) owned by Castlewood Farm Inc., who concluded their jump-off in 40.56 seconds.
"Bellissimo Z was jumping incredibly today," Vogel began, "just like yesterday. Yesterday was a good warmup for her. I wasn't expecting a win to happen twice, but she's amazing and I'm really lucky to have her! I haven't really jumped FEI before 'Bell,' so getting in the ring with her, it's just a great confidence builder. She knows what she's doing, and that really helps going into a jump-off with a lot of fast horses. In the jump-off, she's naturally quick on her feet, so I hunted a little bit and had a lot of confidence in her so I know that she will leave the ground even if there are small gaps. She jumped great."
Watch Ashley Vogel and Bellissimo Z in their winning jump-off round, brought to you by Premier Equestrian.
It was also the pair's first week ever jumping on the grass field together, and Vogel enjoyed the experience overall. "I think it's cool getting a chance to jump on the grass," said Vogel. "It's different and new, and it's my first time jumping out here, so I have really enjoyed it. Clearly my horse has too!"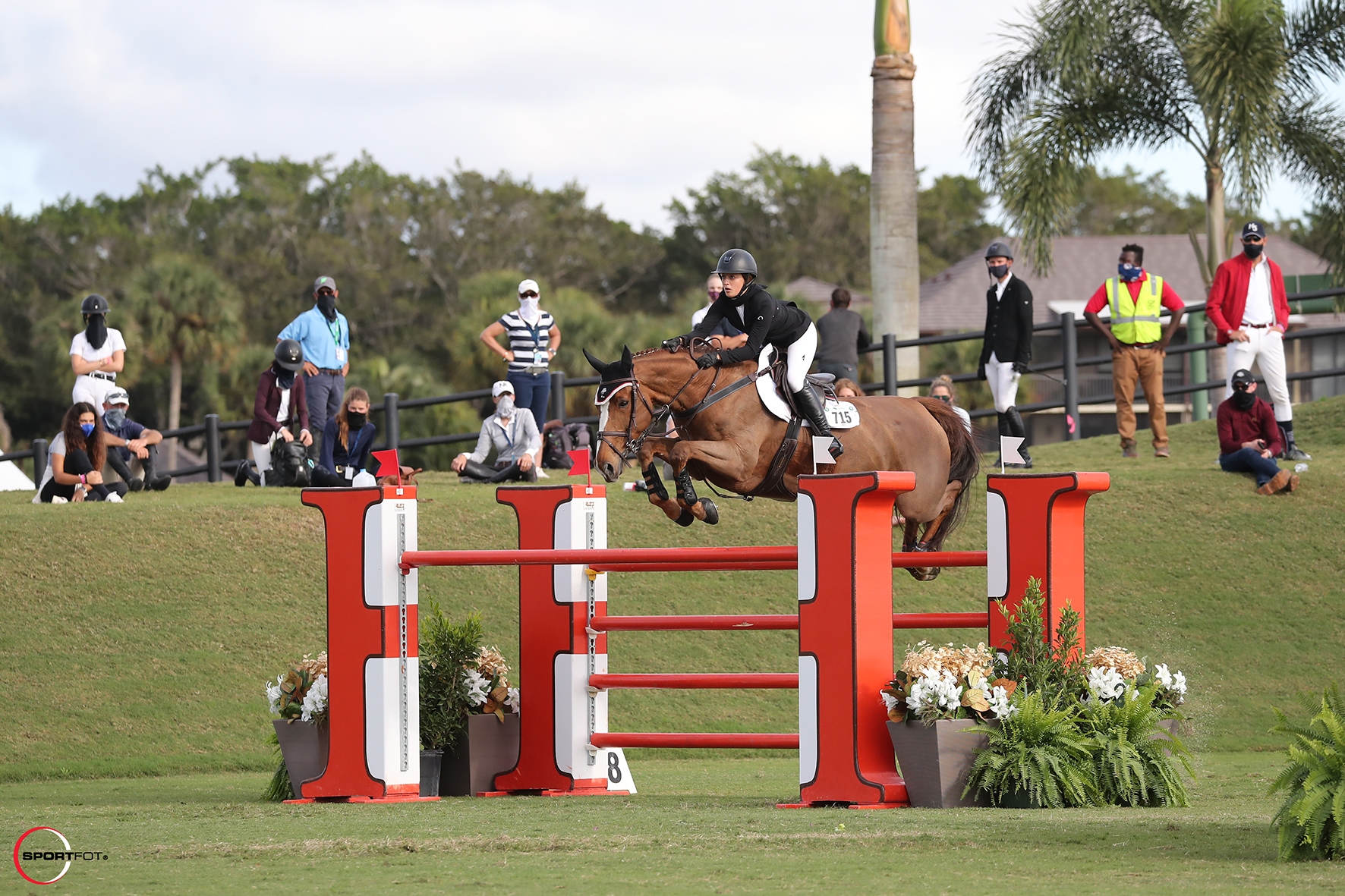 While Saturday's welcome class didn't go the way Deslauriers planned, she used it as a learning experience and rode through Sunday's course with a solid game-plan. "He was great today," stated Deslauriers. "We've been building up to the FEI level and doing some ranking classes, and we will try to be competitive throughout this series through WEF. We didn't have our best day yesterday, and that was definitely a wakeup call, but I just tried to regroup and put in a confident effort today, and I was really happy with how it turned out."
Going into the jump-off Deslauriers knew she was up against some quick competition. She explained, "The plan was to be as fast as I could and keep the jumps up. I knew Ashley was coming behind me, and she's been really consistent on that horse and it has a huge stride. I tried to use my horse's foot speed a little bit rather than his stride to make up time, but I definitely got lucky in a few places and he helped me out."
Third place finisher Korotkin held the lead for the majority of the class and credited his experienced partner Deauville S for the day's accomplishments. "My horse is incredible," he admitted. "He showed a couple of years ago with Laura Kraut and he's been all over the world, so he's got a ton of experience. He's got a unique brain and his own style of going, but he knows where he's going and is always heading toward the next jump. In the jump-off I was planning on being as quick as possible and we got a little lost, but he's a great horse and is giving me a ton of experience."
Korotkin also expressed his appreciation for the Under 25 Series as a whole. He concluded, "It's a great series because it gives so many young riders a great experience going into a bigger level, showing against competitors that are our own age. Then, when we head into the five-star ring, we're more prepared to do so."
Final Results: $25,000 FEI Hermès U25 Grand Prix
1. BELLISSIMO Z: 2009 Zangersheide mare by Bamako de Muze x C'est Elle Z
ASHLEY VOGEL (USA), Ashley Vogel: 0/0/39.10
2. BILLY DE BEAUFOR: 2011 Selle Francais gelding by Allegreto x HH Rosine De Beaufor
LUCY DESLAURIERS (USA), Luja LLC: 0/0/39.43
3. DEAUVILLE S: 2006 Holsteiner gelding by Diamante de Semilly x Touch of Class
TANNER KOROTKIN (USA), Castlewood Farm Inc.: 0/0/40.56
4. E CLINTON: 2009 KWPN gelding by Clinton x Amonika
LUCAS PORTER (USA), Sleepy P Ranch LLC: 0/0/41.46
5. DUNDEE: 2008 KWPN gelding by Lupicor x Capricette T.D. Z
MAREK LEUFKENS (NED), Dundee Group: 0/0/41.96
6. DYNAMO: 2003 Belgian Warmblood gelding by Skippy II x Veritas
CLAIRE SCHREDER (USA), Ceahorse LLC: 0/0/44.81
7. HOLSTEINS MATINA: 2009 Danish Warmblood mare by Party Dance x Mont Clarissa
SOPHIA STUDD (DEN), Marie Botved Studd: 0/4/38.76
8. NEKTARINA B: 2005 Holsteiner mare by Nekton x Rescue
ZAYNA RIZVI (USA), Windsor Show Stables: 0/4/41.56
9. COACH: 2008 Holsteiner gelding by Con Air x M-Stuttgart
KATHERINE STRAUSS (USA), Katherine Strauss LLC: 0/8/45.03
10. PRESTIGIOUS: 2007 Westphalian gelding by Con Cento x Iduna VI
MADISON GOETZMANN (USA), Madison Goetzmann: 0/12/41.84
11. S.I.E.C. LARISSA: 2011 Oldenburg mare by Livello x Contessina
NICOLETTE HIRT (USA), Iron Horse Equestrian: 1/87.40
12. KAFKA DU PRINTEMPS: 2010 Belgian Warmblood gelding by Nabab de Reve x Hysterique Du Printemps
HELEN GRAVES (USA), Helen Graves: 1/88.58
Mark Bluman and Noortje Vd Windheuvel Victorious in the $30,000 CP Grand Prix
It was a day of firsts for Mark Bluman (ISR) as he and his mount, the eight-year-old Noortje Vd Windheuvel owned by Over The Top Stables, LLC, flew to the top of the podium in the $30,000 CP Grand Prix, their first grand prix class together. They were also first to go in the starting order, first to return in the jump-off, and as luck would have it, they ended the class in first place with a double-clear effort in a time of 42.784 seconds.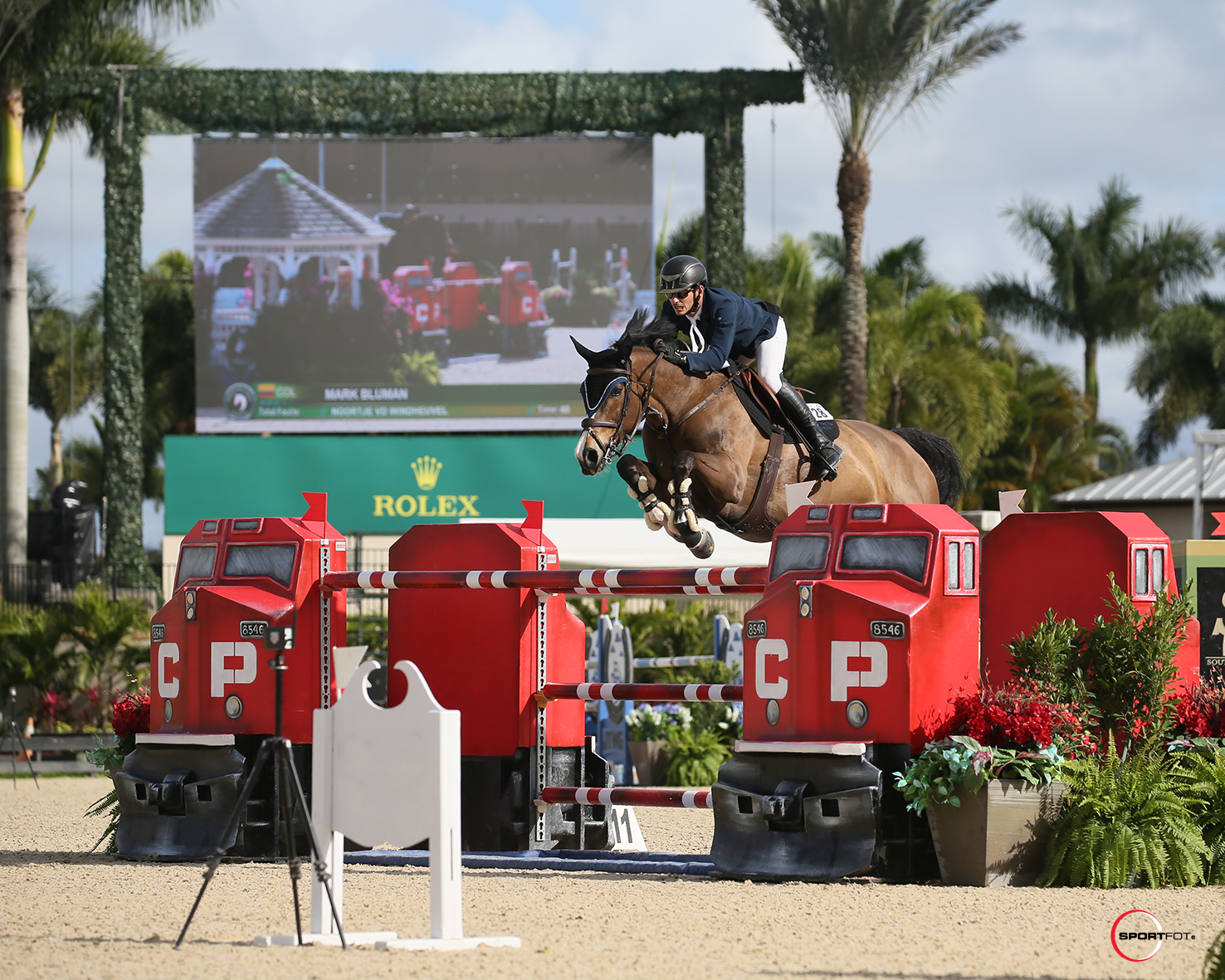 "Since we got her I've been saying that she [was] one of the most talented seven-year-olds I've ever ridden," he beamed. "She has a great attitude, she's quiet, and she always wants to do a good job for you. She's fast, scopey, and has all the qualities to be a real grand prix horse."
The Belgian Warmblood mare by Farfleu De Muze x Calista Vd Windheuvel showed those aforementioned qualities as they raced around the shortened course with authority to solidify the win.
Watch Mark Bluman and Noortje Vd Windheuvel in their winning jump-off round, brought to you by Premier Equestrian.
Just off the mark in a time of 43.319 seconds was Enrique Gonzalez (MEX) with his own 14-year-old mare Centarew, leaving the jumps in their cups for a second-place finish. U.S. rider Nicholas Dello Joio piloted Gelvera for Hi Hopes Farm, LLC, into third position with a double clear round, stopping the timers in 44.037 seconds.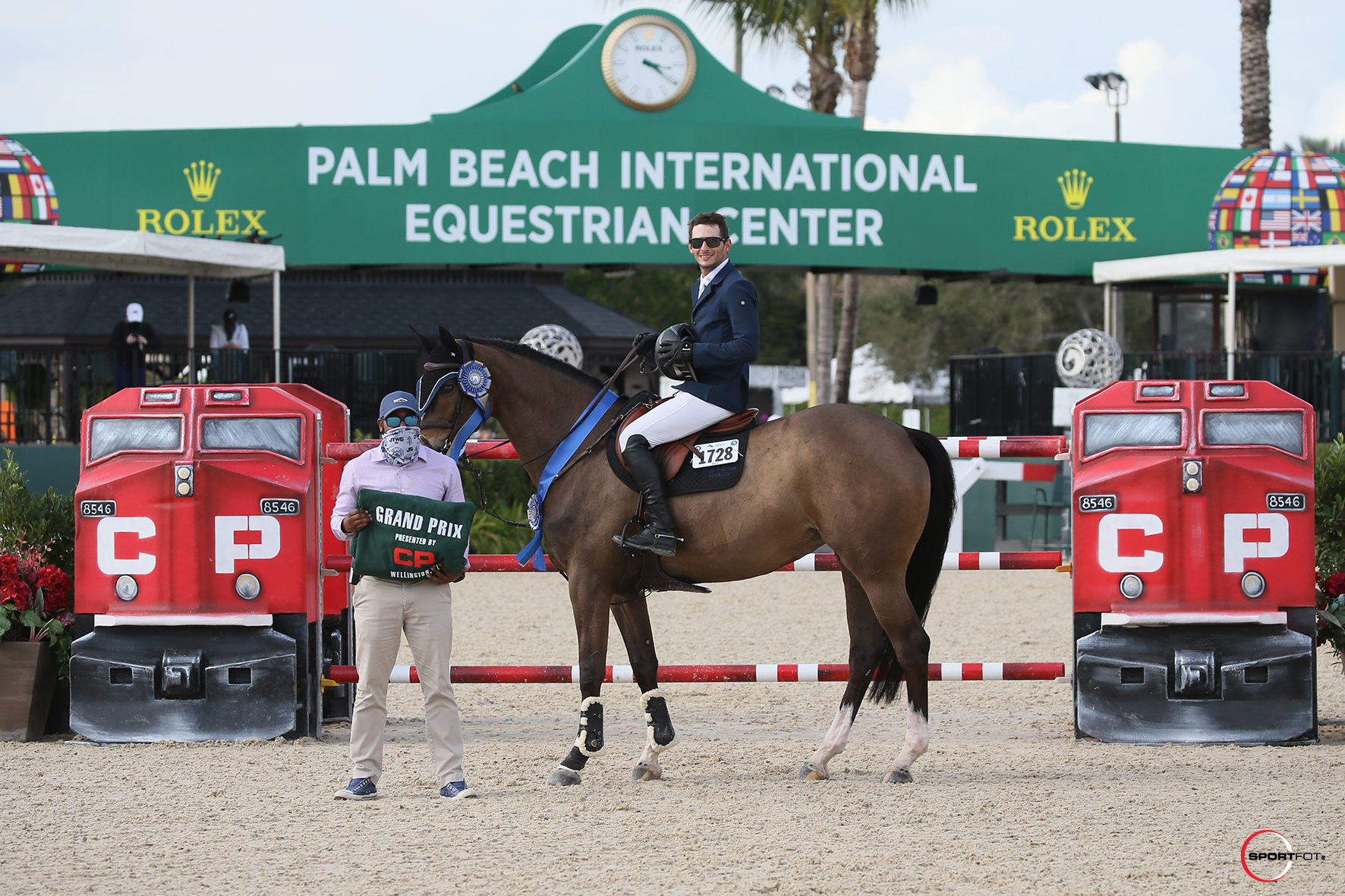 Bluman plans to continue his campaign at WEF with the talented mare in his string, hoping to continue to jump grand prix classes as she gains more experience. After that, he'll hand the reins over to her new owner for what is shaping up to be a bright future ahead.
"We've had her in the barn since the beginning of her seven-year-old year and just recently a student of mine bought her," he said. "I'm still producing her a little bit, and she'll take over the ride at the end of circuit."
Final Results $30,000 CP Grand Prix
1. NOORTJE VD WINDHEUVEL: 2013 mare by Farfleu De Muze x Calista Vd Windheuvel MARK BLUMAN (ISR), Over The Top Stables, LLC: 0/0/42.784
2. CENTAREW: 2007 Oldenburg gelding by Centadel x Darewa
ENRIQUE GONZALEZ (MEX), Enrique Gonzalez: 0/0/43.319
3. GELVERA: 2011 KWPN mare by Quality Time x Wunderful Vera
NICHOLAS DELLO JOIO (USA), Hi Hopes Farm, LLC: 0/0/44.037
4. KATINKA DREE BOEKEN: 2011 Hanoverian mare by King Kolibri x Dree Boeken's Piroschka
DANI G WALDMAN (ISR), Waldman Horses B.V. and Starwyn Sporthorses B.V.: 0/0/44.936
5. VERDICT DE KEZEG: 2009 Selle Français gelding by Diamant De Semilly x Hazelle De Rhuys
ERYNN BALLARD (CAN), Ilan Ferder: 0/4/41.344
6. MAESTRO VAN HET BINNENVELD: 2012 BWP stallion by Scendix x Carmen Z
VICTORIA BIRDSALL (USA), Ilan Ferder: 0/4/41.495
7. CALVA D'OR Z: 2009 WB stallion by Calvaro Z x Quinta V Z
NICHOLAS DELLO JOIO (USA), Rocking D Ranch: 0/8/46.823
8. CASSIUS VD BUNTE Z: 2010 Zangersheide gelding by Calvaro Z x Minerva
VICTORIA COLVIN (USA), Burkhard Metzger: 0/12/44.729
9. BUGATTI: 2006 KWPN gelding by Heartbreaker x Pilot
WILHELM GENN (GER), Eduardo Leon: 1/77.519
10. LIGHT BLUE 3: 2012 Oldenburg gelding by Light On x Cayenne
EMILY MOFFIT (GBR), Poden Farms: 1/77.745
11. VALENTINO V Z: 2009 Zangersheide stallion by Verdi x Converter
MARIA COSTA (USA), Ravello Farms, LLC: 2/78.280
12. LOVE: 2010 WB gelding by Heartbreaker x Anemoon
NORA GRAY (CAN), Molly Ohrstrom: 3/79.932
Rylynn Conway and Perseus YC are Victorious in the Junior Hunter 3'3" 15 and Under
Sunday marked the final day of hunter competition for the second week of WEF, and 12-year-old Rylynn Conway made sure to end on a high note in the Junior Hunter 3'3" 15 and Under division. Conway rode Perseus YC to champion after earning two firsts, two thirds, and a seventh place.
Conway, of Fair Haven, NJ, and Mountain King Ranch LLC's Perseus YC are a fairly new combination, having only been paired together for two months. Trained by Beacon Hill Show Stables, Conway and Perseus YC are already off to a successful start to their partnership.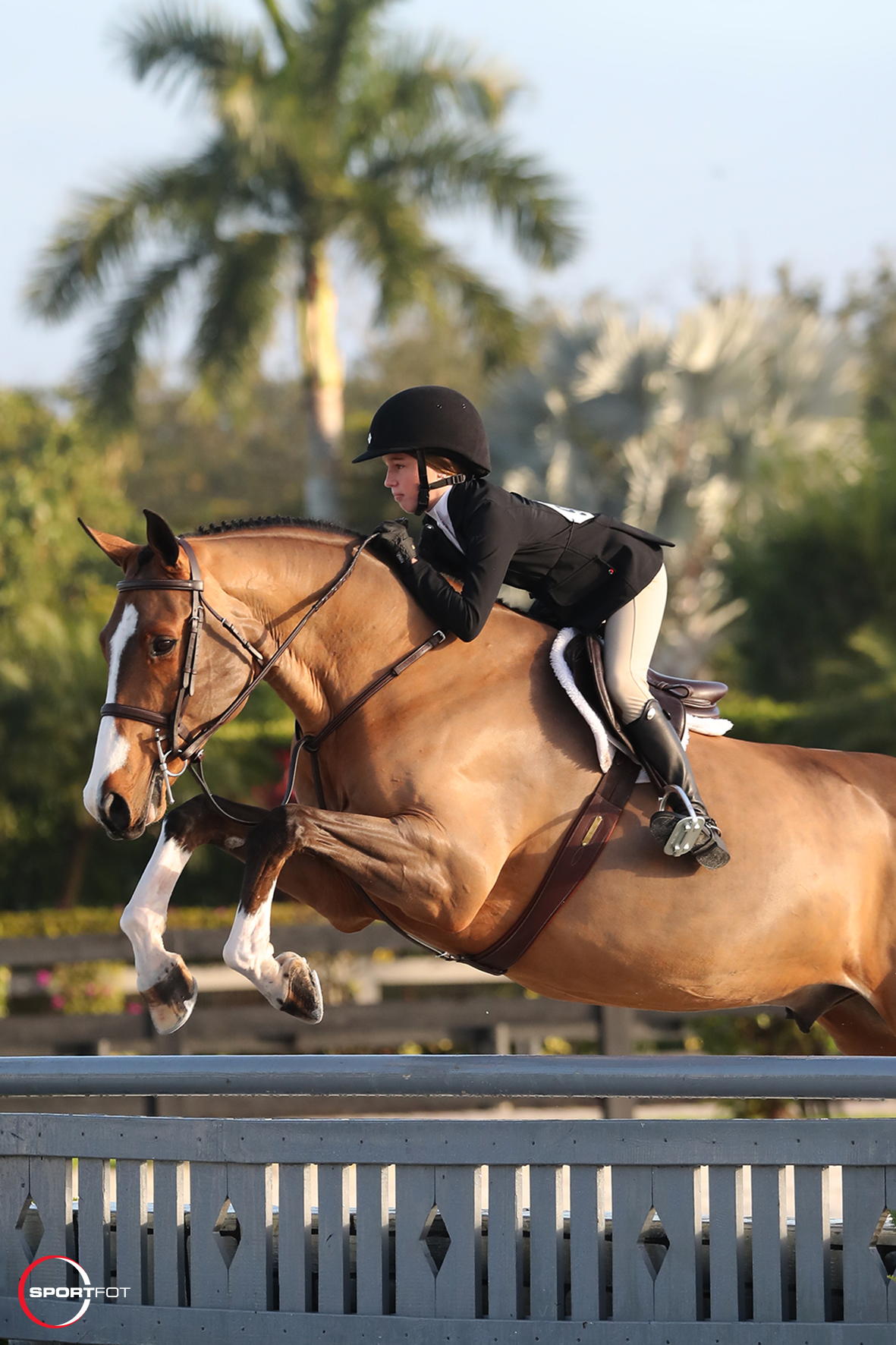 "He loves all people and his treats, which he gets a lot of since he's perfect," said Conway of the 12-year-old Hanoverian gelding by Paparazzo. "I love his jump and how he moves as well."
The division had a competitive 25 entries, and Conway stayed at the top of the class throughout both days of competition. The duo won the under saddle, as well as an over fences class with a score of 86.
"I thought my rounds were really good," explained Conway. "I think I stood out in the handy because I tried to make super tight turns."
Conway hopes to stay consistent and continue earning championships with Perseus YC in the Junior Hunter 3'3" 15 and Under division. This year is also Conway's first time showing at WEF, and she is thrilled that it is off to a great start.
"Everyone is so nice, and I really enjoy the competitive atmosphere," commented Conway regarding her favorite aspects of showing at WEF.
New York, NY, resident Clara Propp rode Aquitaine Equine's Inquisitive to the reserve champion title. The pair took home two firsts and a fourth place.
Hunter, jumper, and equitation competition will return on Wednesday, January 27, and continue through Sunday, January 31, for the third week of the Winter Equestrian Festival.