For Immediate Release
Kate Pettersen, Sabrina Brashares, and Summer Grace for Jennifer Wood Media, Inc.
Wellington, FL – February 20, 2021 – Seasoned hunter rider Amanda Steege guided Cheryl Olsten's Lafitte De Muze to top honors in the $50,000 WCHR Peter Wetherill Palm Beach Hunter Spectacular during "Saturday Night Lights" at the 2021 Winter Equestrian Festival (WEF).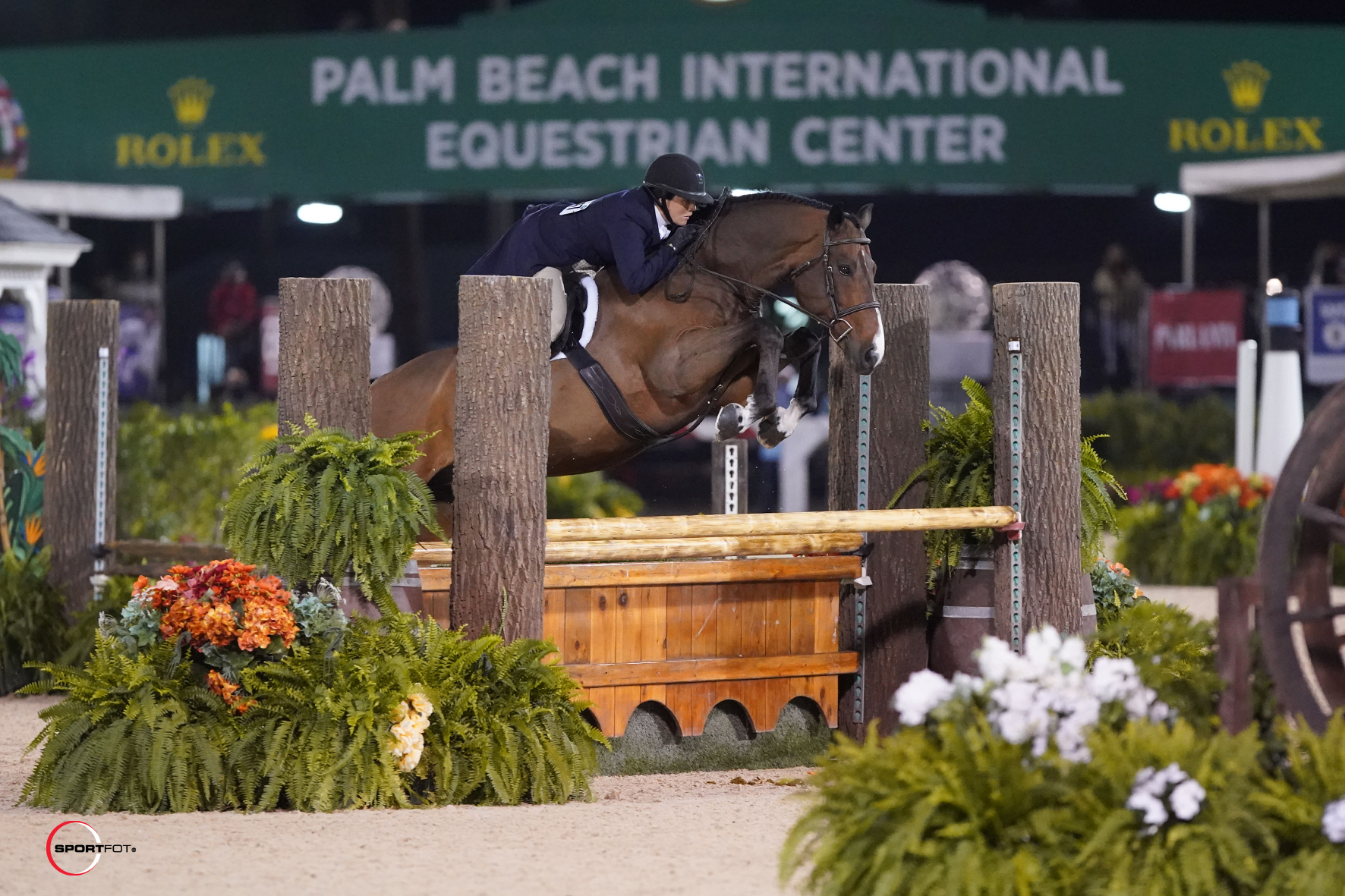 The sixth week of WEF features World Championship Hunter Rider (WCHR) classes along with CSI3* jumper events. Highlights for the final day of WEF 6 competition on Sunday, February 21, include the $137,000 IDA Development Grand Prix CSI3* on the Derby Field at Equestrian Village, as well as the $25,000 HermèsUnder 25 Grand Prix and the $25,000 CP National Grand Prix. Spectators can watch feature classes live and on demand for free using the livestream.
Thirty-three junior, amateur, and professional hunter riders took their turn over the track designed by Andy Christiansen. The course consisted of 12 elements and was offered at 3'6", 3'9", and the 4' height. After all riders completed the first course, the top 12 returned for a second classic round. Six judges split into three panels oversaw the class with panel one consisting of Mary Lisa Leffler and Chris Wynne, panel two being Rachel Kennedy and Sissy Wickes, and the final panel including Tom Brennan and Mark Jungherr.
Watch the winning round!
Eleventh to go, Laena Romond, of Brookfield, CT, and Catherine Cowie's Traveller took an early lead with a score of 89.66 and held onto the top spot for the remainder of the first round. Less than a full point behind Romond was Wellington, FL, resident Jimmy Torano aboard Isalou, Inc.'s Laskano with a score of 89.16. Steege, of Bedminster, NJ, and Lafitte De Muze were sitting in third place going into the second round with a score of 88.91. The top 12 riders who returned for the second round consisted of 10 professionals and two junior riders.
Tenth to come back in the order, Steege and the 10-year-old Belgian Warmblood by Darco showed off their handiness and rideability to receive a score of 88.83, which put the pair at the top of the leaderboard with an overall score of 177.74.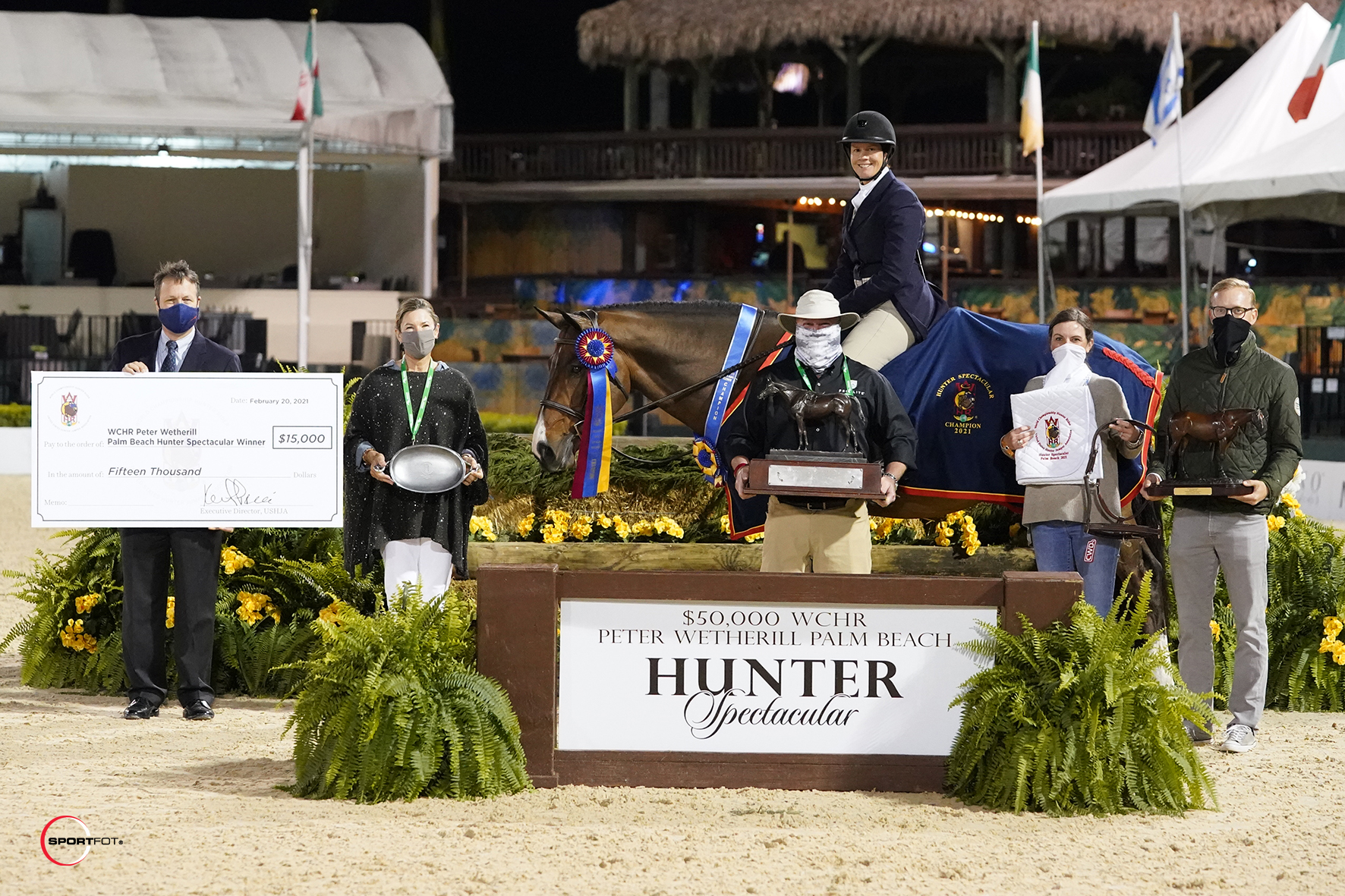 "My plan for round one was to just go as smoothly as I could and show off some galloping; I can trust that he's going to jump the jumps with amazing style so I was just trying to do my job the best way that I could," explained Steege. "For the second round, I did a different plan than the one we had decided when we walked it. Liza [Boyd] and I walked together with a few others, and we were not planning on doing some of the inside slices that we did. As we were watching people go and people started doing tighter turns and judges seemed to reward that, I actually phoned a friend. I called Tom Wright who was sitting in the stands literally as I was at the gate, and he helped me formulate a plan that he thought would be the best for Lafitte. I was happy that I was able to make it work."
Elizabeth Towell-Boyd and Gigi Manigault's Walk-Off finished the first round in tenth place and then received the highest second round score of 91 to finish in second overall. Their second round score combined with their first round score of 86.66 gave them a total score of 177.66. Unlike many of the horses in the class, this was Boyd's first time competing Walk-Off under the lights.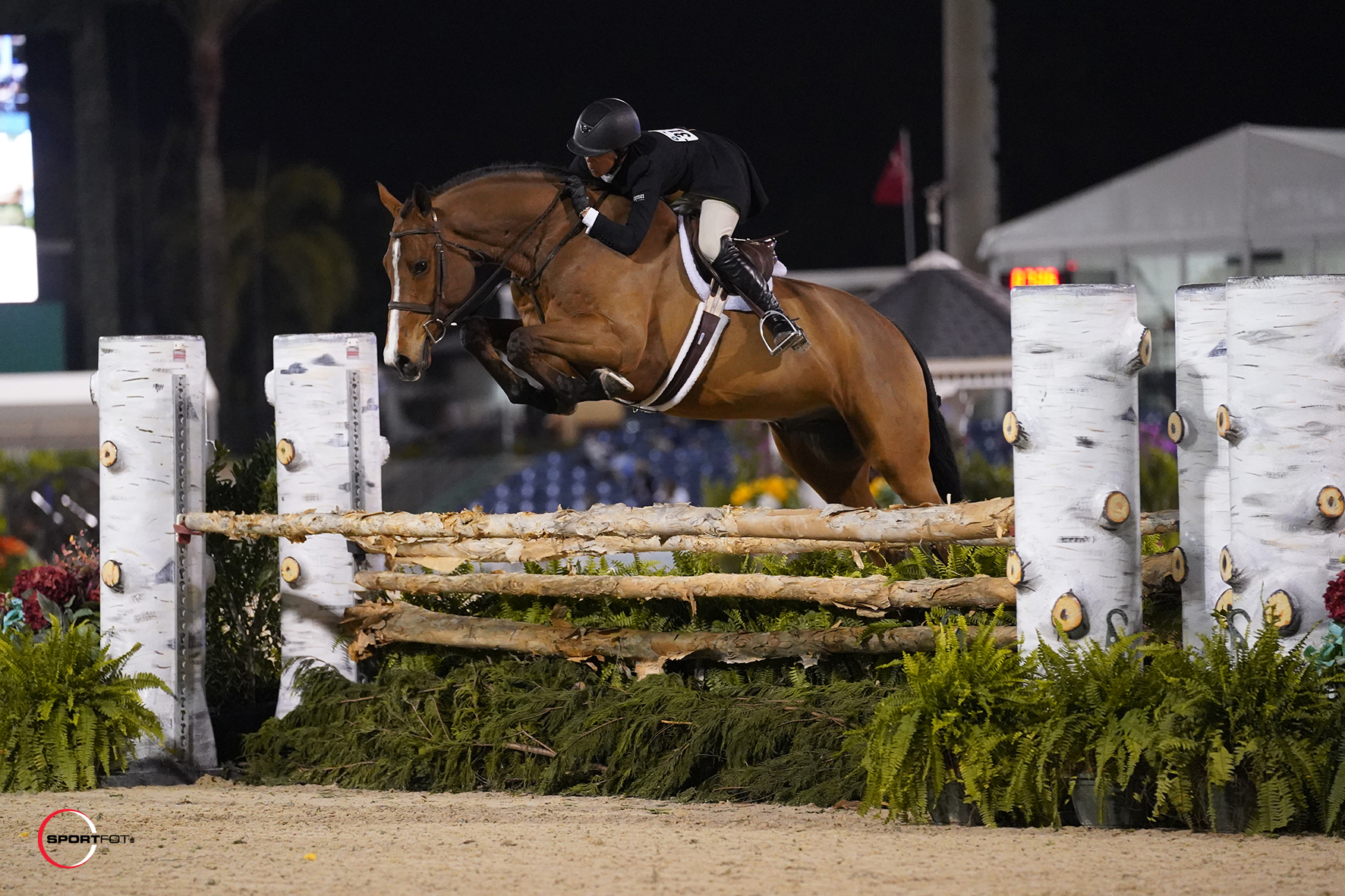 "My horse is honored to be second to a horse like Laffite," commented Boyd. "Being green the first round I was a little cautious, and then the second round arrived and I was in tenth place, and I thought, 'We'll just go for it,' and he really stepped up to the plate. He really proved to me that he's a derby horse in the making."
Third place honors were earned by Geoffrey Hesslink, of Shelbourne, VT, and Shadowfax Equestrian LLC's Bond. Hesslink rode Bond to a first round score 87.16 to put them in sixth. The duo received a second round score of 89.33 which put them right behind Steege and Boyd.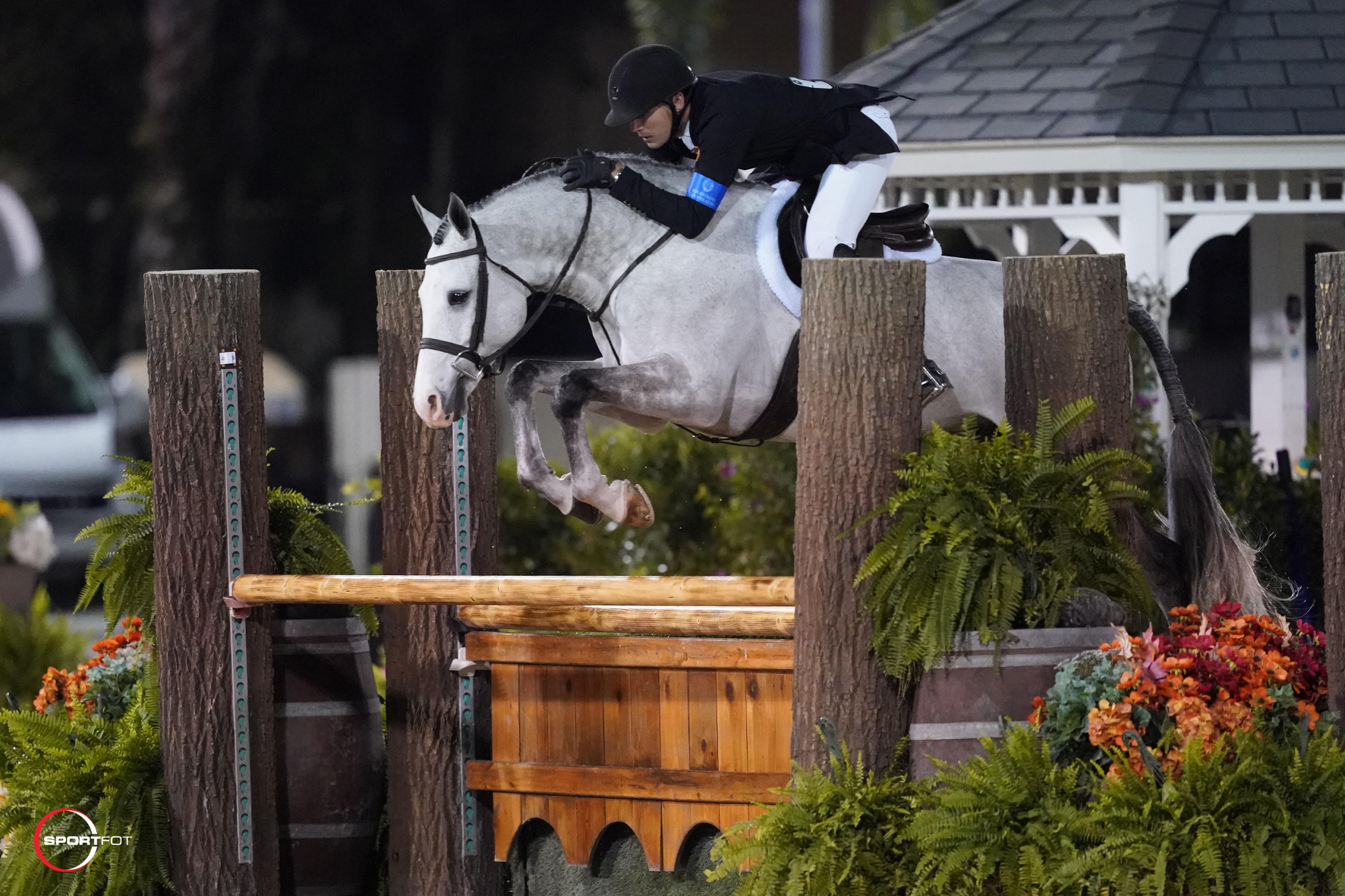 "Bond is lovely. He does the junior hunters with his rider Isha [Swani]," said Hesslink. "He's done this class twice with her so I knew he would be more than ready to do it. He's always game for anything so I just tried to put in a nice smooth round."
"I thought the course was great," continued Hesslink. "I like having more single jumps and there were a lot of those today, I thought it was nice that they also incorporated some trickier jumps that we haven't seen here in the past."
"It's a huge honor for him to have this class on his resume," said Steege, who placed second with Lafitte de Muze in the Hunter Spectacular in 2019. "It's a class that's very important to me every year and very important to his owner. Every year when we sit down and make his schedule, we plan his Florida season around this event to get to and to try to win. There are months of work that go into preparing for this class. This is a hard and stressful week; at first, you're just happy to be qualified and then for me, once I'm qualified I can take a breath and really go in there and show off. It's an experience that I'll never forget."
Click above to hear from the top three!
Final Results: $50,000 WCHR Peter Wetherill Palm Beach Hunter Spectacular
Horse, Rider, Owner
Round 1 total | Round 2 total | Overall total
1. Lafitte De Muze, Amanda Steege, Cheryl Olsten
88.91 | 88.83 | 177.74
2. Walk-Off, Elizabeth Towell-Boyd, Gigi Manigault
86.66 | 91.00 | 177.66
3. Bond, Geoffrey Hesslink, Shadowfax Equestrian LLC
87.16 | 89.33 | 176.49
4. Quimby, Grace Debney, Temple Equestrian LLC
86.16 | 89.33 | 175.49
5. Traveller, Laena Romond, Catherine Cowie
89.66 | 84.99 | 174.65
6. Charlemagne, Scott Stewart, Dr. Betsee Parker
85.66 | 88.33 | 173.99
7. Love Note, Scott Stewart, Richard Prant
86.53 | 85.33 | 171.86
8. Catch Me, Mimi Gochman, Gochman Sport Horses LLC
88.00 | 83.00 | 171.00
9. Laskano, Jimmy Torano, Isalou Inc.
89.16 | 81.00 | 170.16
10. After Hours, Vivian Yowan, Saddle Ridge LLC
87.00 | 83.00 | 170.00
11. Pritchard Hill, Evan Coluccio, Balmoral
86.83 | 71.00 | 157.83
12. Avatar Z, Victoria Colvin, Isabella Watson
88.50 | 51.66 | 140.16
Harley Stays Hot, Taking Top Honors in the $37,000 CaptiveOne Advisors 1.50m Classic CSI3*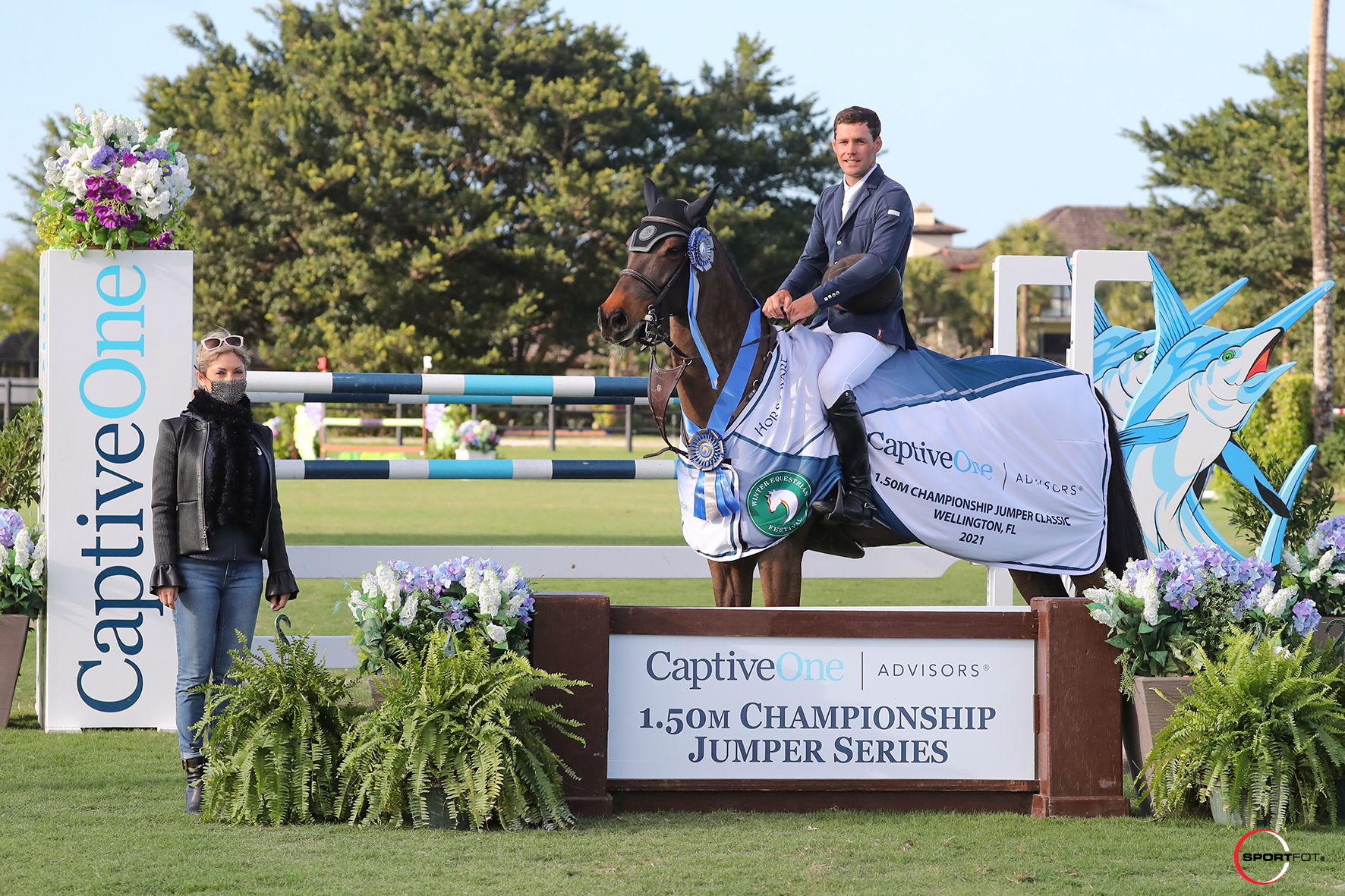 A successful week at WEF continued for Gavin Harley (IRL) and Corbawido PS, owned by Wolfstone Stables and Sales Inc, as they flew to the top of the podium in the $37,000 CaptiveOne Advisors 1.50m Classic CSI3* on the grass Derby Field at Equestrian Village.
A starting field of 66 was narrowed down to 16 for the jump-off, which featured eight jumping obstacles set by Catsy Cruz (MEX). Harley and the nine-year-old Polish Warmblood gelding by Cornet's Balou x Widolan, stuck to their plan and it paid off, finishing with a double-clear effort in 39.44 seconds.
"He's quite inexperienced at this level," said Harley. "It's kind of his first proper test, and he just keeps proving to us how good he really is. I started riding him at the end of his seven-year-old year and had a great summer on him last year. We gave him a bit of a break and started back with him for the winter circuit, and it has started off well. My trainers on the ground were giving me strict instructions to stick to my numbers and my plan, and it worked out."
Click to watching the winning ride!
A regular contender at WEF, Jessica Springsteen (USA) piloted Hungry Heart, owned by Stone Hill Farm, to a quick double-clear just off the mark, as she and the nine-year-old Swedish Warmblood gelding by Baltimore 1178 x Loucaibo took second place in 39.72 sesconds.
First to return in the second round, Daniel Deusser (GER) and Calisto Blue, owned by Stephex Stables, galloped effortlessly across the track to set the pace for the rest of the field, with a fault-free round in 39.99 seconds. He and the 14-year-old Oldenburg gelding by Chacco Blue x Con Air held the lead until the final few horses, ultimately landing them in third position.
Earlier in the week, Harley and Corbawido PS jumped to a second-place finish in the $1,000 Bainbridge Companies 1.40m Jumpers CSI3*. The 26-year-old rider also finished sixth in the Adequan® WEF Challenge Cup on Friday with Very Chic Du Tillard.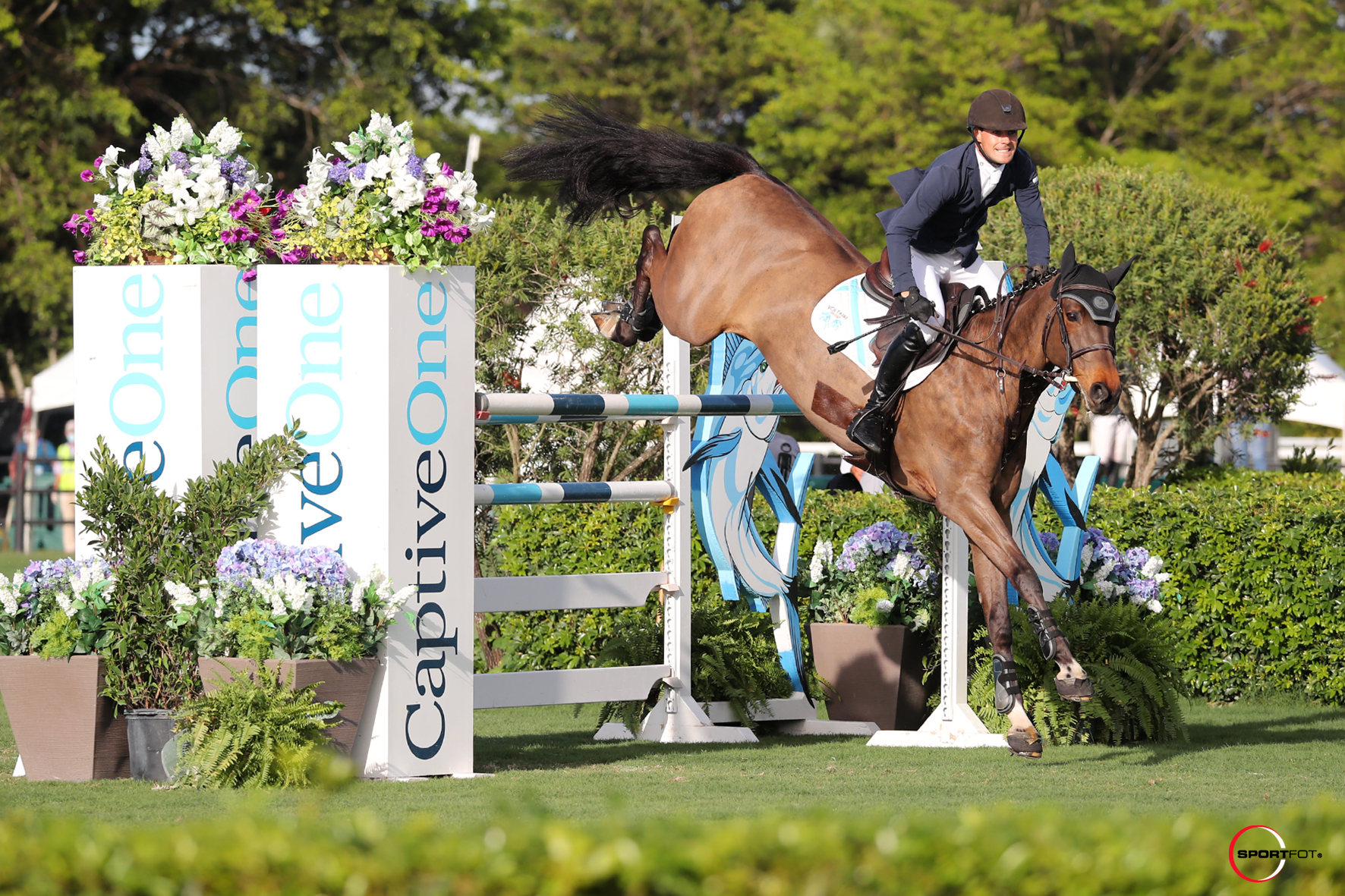 Harley, who was all smiles after the victory, will give Corbawido PS a much-deserved break next week after a pair of solid outings on the turf.
"He's a funny, funny character, and he's a fighter," he said. "He always wants to fight for you. It was a good experience to have him in here and other than the first day, today was his only class this week so we gave it a shot. He's only nine so we don't want to overdo it. He'll have a little break now, and we'll probably gear him back up again for something similar to this class next."
To open the day on the Derby Field, Tanner Korotkin (USA) and Deauville S, owned by Castlewood Farm Inc, captured the Hermès Under 25 Welcome speed class. Korotkin and the 15-year-old Holsteiner gelding by Diamant De Semilly x Lux Z topped the starting field of 66 entries, posting a time of 60.46 seconds.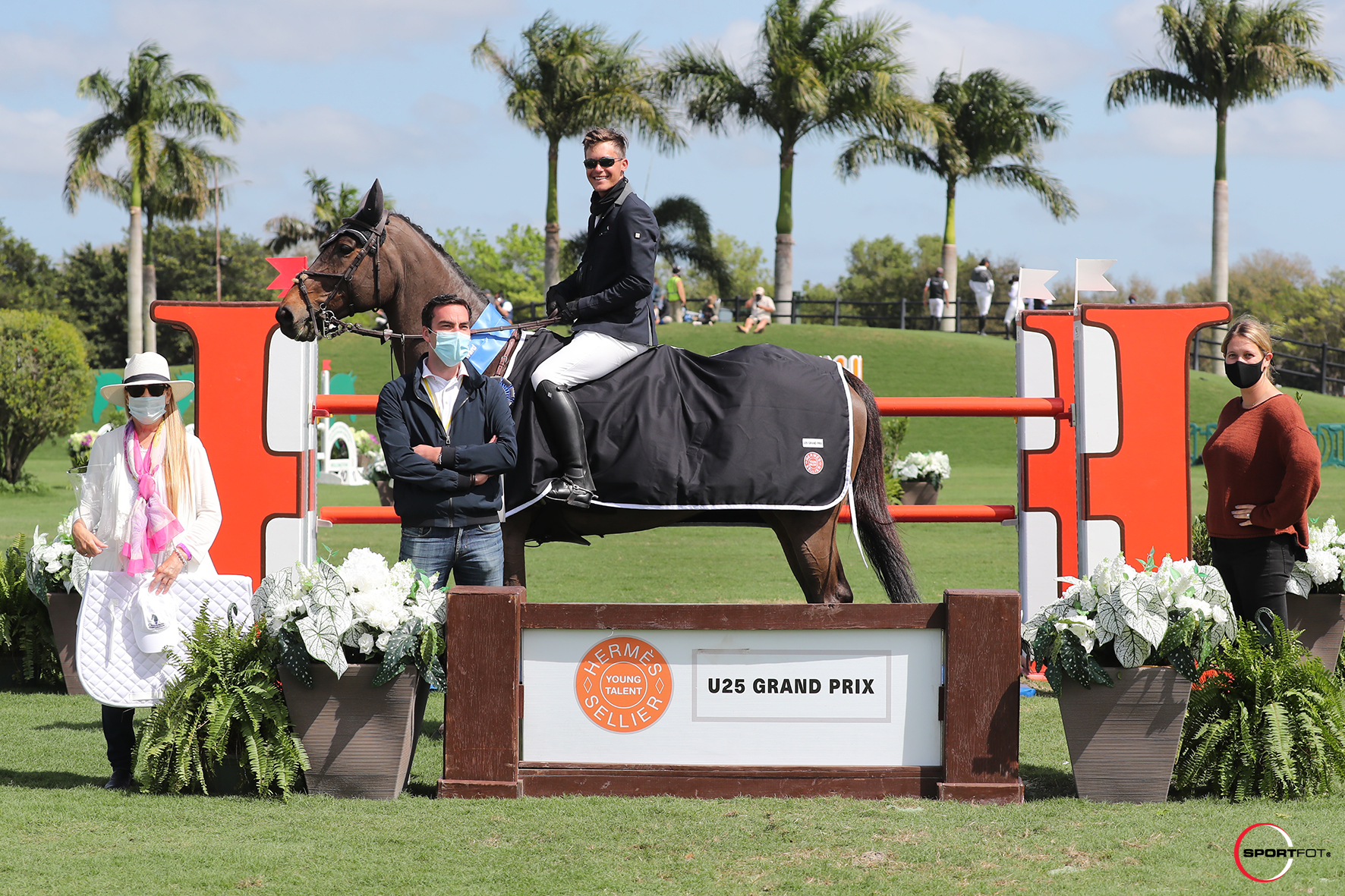 Korotkin also won the Hermès U25 Welcome and the Champion Equine Insurance Jumper Style Award, presented by Laura Fetterman, who made her 300th presentation of the award on Saturday.
Final Results: $37,000 CaptiveOne Advisors 1.50m Classic CSI3*:
1. CORBAWIDO PS: 2012 PZHK gelding by Cornet's Balou x Widolan
GAVIN HARLEY (IRL), Wolfstone Stables and Sales Inc: 0/0/39.44
2. HUNGRY HEART: 2012 SWB gelding by Baltimore 1178 x Loucaibo
JESSICA SPRINGSTEEN (USA), Stone Hill Farm: 0/0/39.72
3. CALISTO BLUE: 2007 Oldenburg gelding by Chacco Blue x Con Air
DANIEL DEUSSER (GER), Stephex Stables: 0/0/39.99
4. CATOKI'S SON Z: 2009 Zangersheide gelding by Catoki x Aldo du Reverdy
ERYNN BALLARD (CAN), Ilan Ferder: 0/0/40.64
5. MADIBA AG Z: 2012 Zangersheide gelding by Mylord Carthago*hn x Corland
SHANE SWEETNAM (IRL), Shane Sweetnam, Spy Coast Farm and Paul Tracy: 0/0/41.84
6. LINCOURT GINO: 2003 Irish Sport Horse gelding by Gino III x Graf Magna
ALEJANDRO KAROLYI (VEN), Monica Carrera: 0/0/45.11
7. INDRA VAN DE OUDE HEIHOEF: 2008 Belgian Warmblood mare by Casantos x Action-Breaker
SHANE SWEETNAM (IRL), The Blue Buckle Group: 0/4/38.27
8. LIGHTHOUSE GIRL: 2010 Westphalian gelding by Light On x Rockwell
SPENCER SMITH (USA), Michael Wittschier: 0/4/39.62
9. BELO HORIZANTE: 2008 Holsteiner gelding by Baloubet du Rouet x Clearway
DARRAGH KENNY (IRL), Oakland Ventures, LLC: 0/4/40.55
10. VITTORIO 12: 2011 Hannovarian gelding by Van Helsing x Carismo
CAPT. BRIAN COURNANE (IRL), Capt. Brian Cournane and Glenbeigh Farm, LLC: 0/4/42.21
11. F ONE USA: 2010 KWPN stallion by Toulon x Beat Me
EMILY MOFFIT (GBR), Poden Farms: 0/4/42.56
12. L'ARTISTE DE TOXANDRA: 2011 BWP gelding by Toulon x Donnatella Van De Zelm
IOLI MYTILINEOU (GRE), Elia Construction SA: 0/4/42.81
Hunters Competition Continues on the Main Stage Day Four of WCHR Week
The penultimate day of World Champion Hunter Rider (WCHR) week at the 2021 Winter Equestrian Festival launched competition in the International Arena with the stakes round for the Large Junior Hunter 3'6" 15 and Under division. "Hunter week" competition has featured top professional, junior, and amateur hunter riders taking center stage in the International Arena at the Palm Beach International Equestrian Center. Champions of many divisions throughout the week then qualify to compete in the pinnacle event, the $50,000 WCHR Peter Wetherill Palm Beach Hunter Spectacular.
After earning a total of 20.5 points, Kat Fuqua of Atlanta, GA, and her own Grand Remo were awarded the tricolor ribbon in the Large Junior Hunter  3'6" 15 and Under division. She and the nine-year-old Dutch Warmblood gelding picked up two first place ribbons as well as a sixth for the total leading points.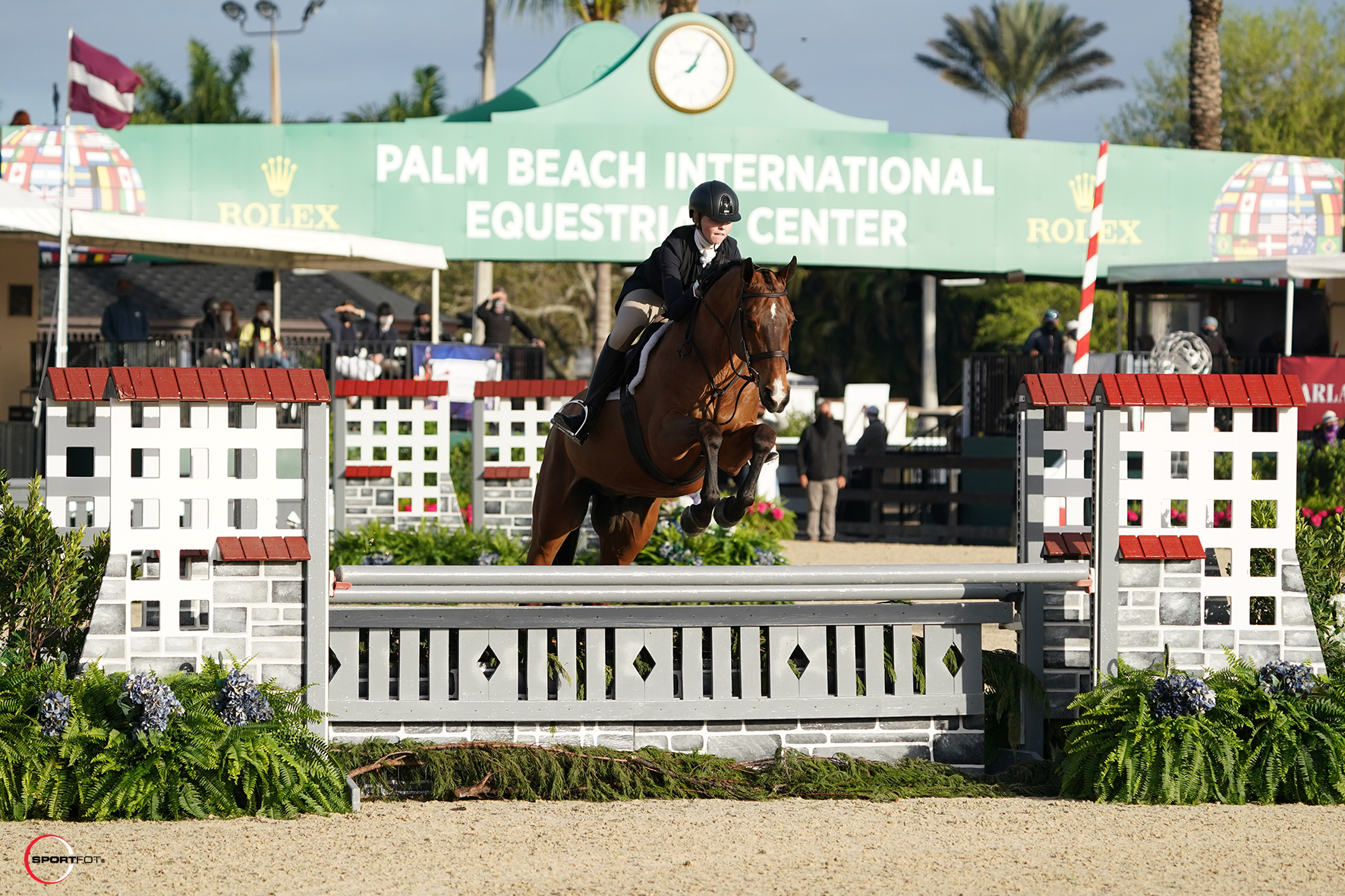 "This is probably my favorite horse that I have right now," said Fuqua. "I have really been working on getting more confident in my riding with him because he rides differently than some of my other horses and has a bigger stride, but this week went so much better than it did for us last year so that is very exciting and I am looking forward to tonight."
Reserve champion honors in the debut class of the day were awarded to Raina Swani of Ponte Vedra Beach, FL, and Trademark. Swani and the Shadowfax Equestrian LLC's nine-year-old Hanoverian gelding entry claimed the runner-up position with three second place ribbons and a total of 18 division points.
Immediately following the Large Junior Hunter 3'6" 15 and Under division, the 15 entries in the Small Junior Hunter 3'6" 15 and Under division were invited to contest the course set in the International Arena. Ultimately, Ella Bikoff added one more first place to her standings with Everwonder to produce the most points and take home the champion title. She piloted the Bikoff Equestrian LLC's nine-year-old Oldenburg gelding to a total of 18 points after earning a first, third, and two fourth places. With 17 points, Alexa Elle Lignelli and The Lignelli Family's 12-year-old Warmblood gelding Guggenheim secured the reserve champion after being awarded a first, second, and fifth.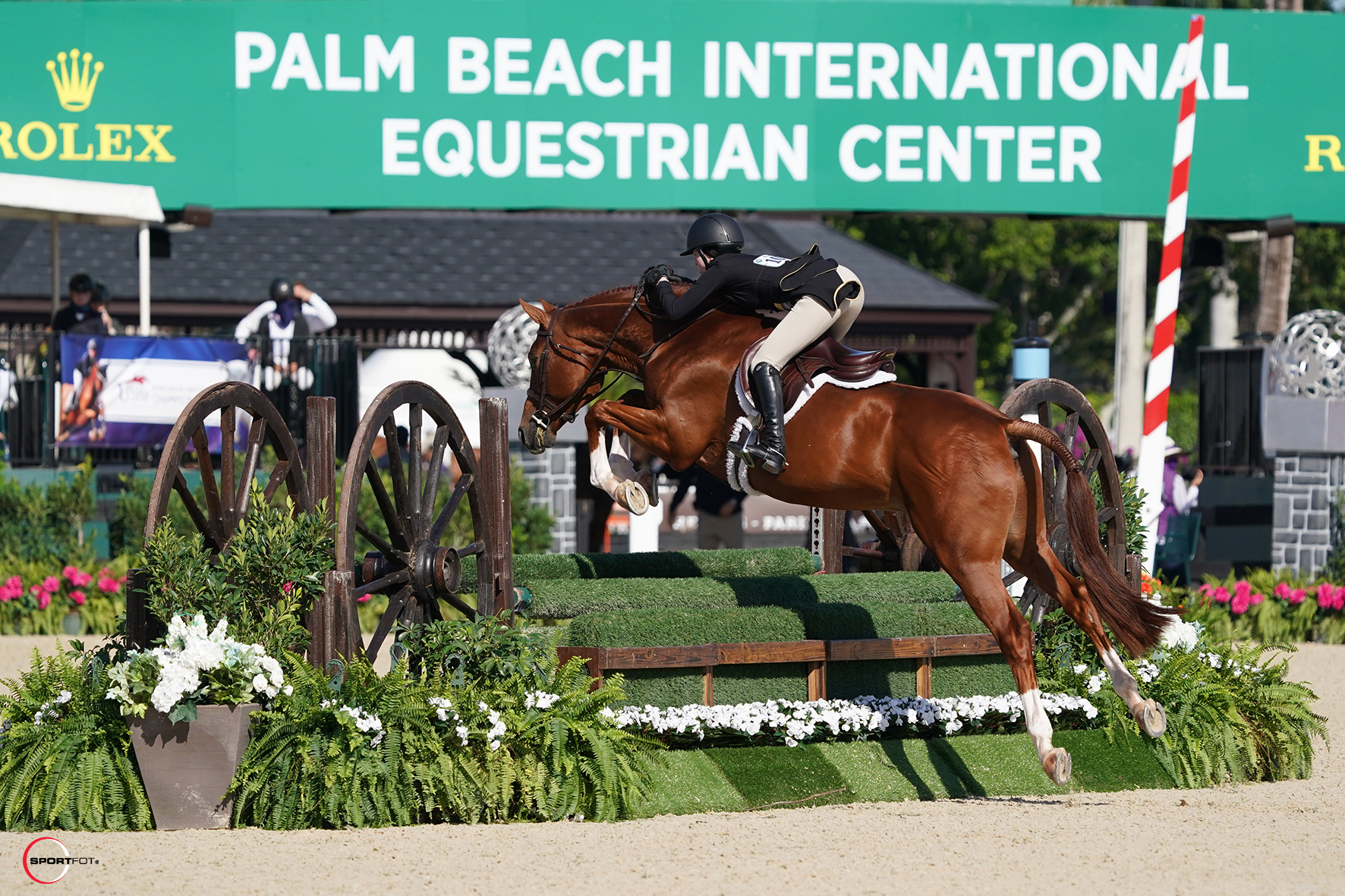 Of her mount, Bikoff said, "Everwonder is still a young, green horse, and this is the first season that I have been able to show him almost completely independently. Usually my trainer, Scott Stewart, rides him in the Performance Hunters, so we are a new pairing."
She continued, "This will be my first night class and the first time I've qualified for this event, so I am extremely excited and looking forward to my continued journey with him."
Thirty-three horse-and-rider combinations entered the Large Junior Hunter 3'6" 16-17, which was held in a California split format that crowned two champions. Augusta Iwasaki, of Calabasas, CA, and Small Social, owned by Iwasaki and Reilly, were awarded the Section A championship ribbon. The duo took home two firsts and two second place ribbons. Iwasaki and the coming 11-year-old Oldenburg gelding by Lordanos also received the Grand Junior Hunter Championship honors. Reserve champion for Section A went to Isha Swani, of Ponte Vedra Beach, FL, and Shadowfax Equestrian LLC's Unprecedented with a first, two thirds, and an eighth place ribbon.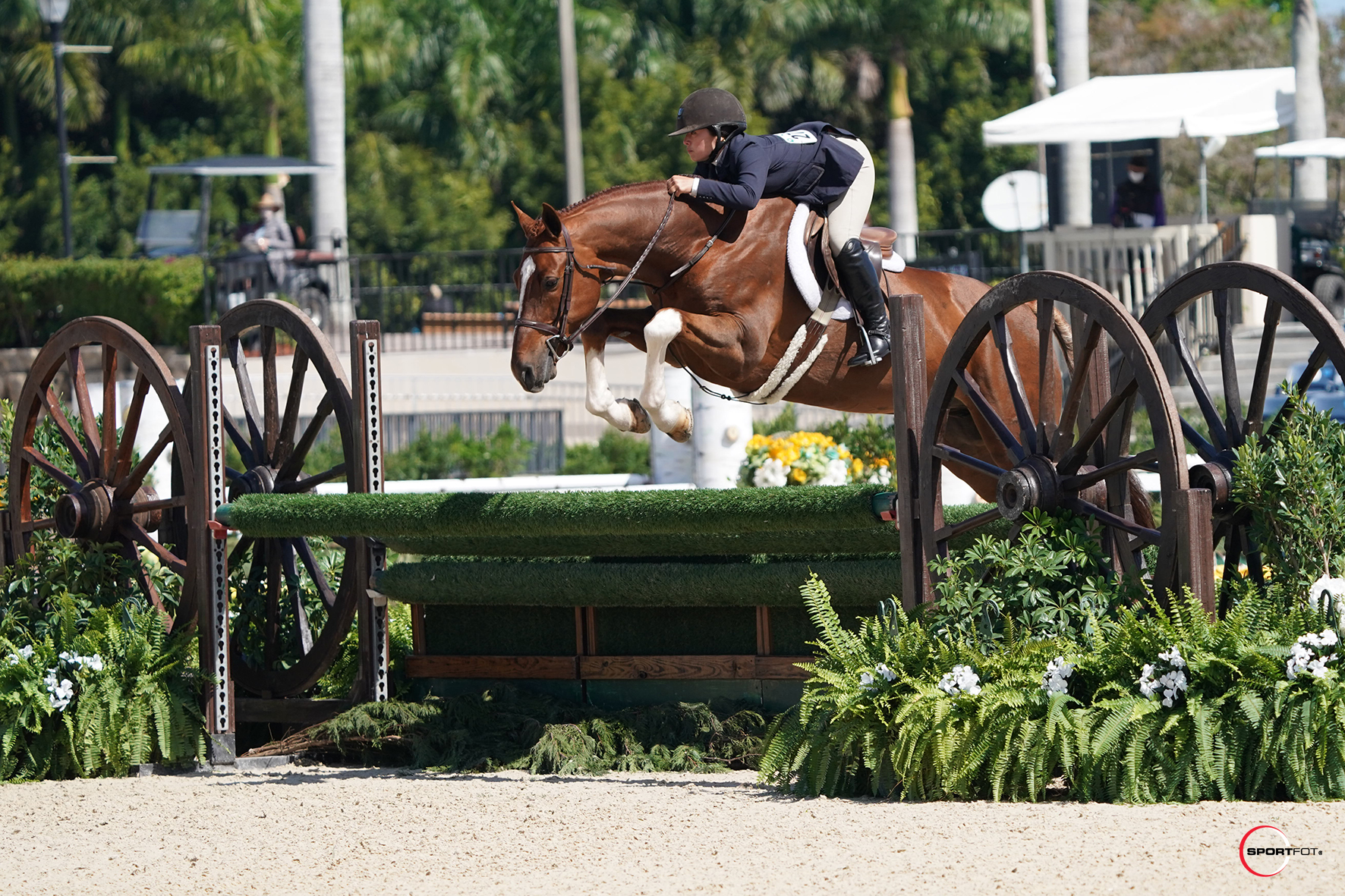 "The first time I showed him was in December at Thermal, and he was awesome," said Iwasaki, who went into her fifth Hunter Spectacular class on Saturday night. "He was so consistent this week which is really important, especially when there are only three jumping classes. He really stepped up this week. I look forward to trying to get into the night class every year. It's so fun and special for the hunters."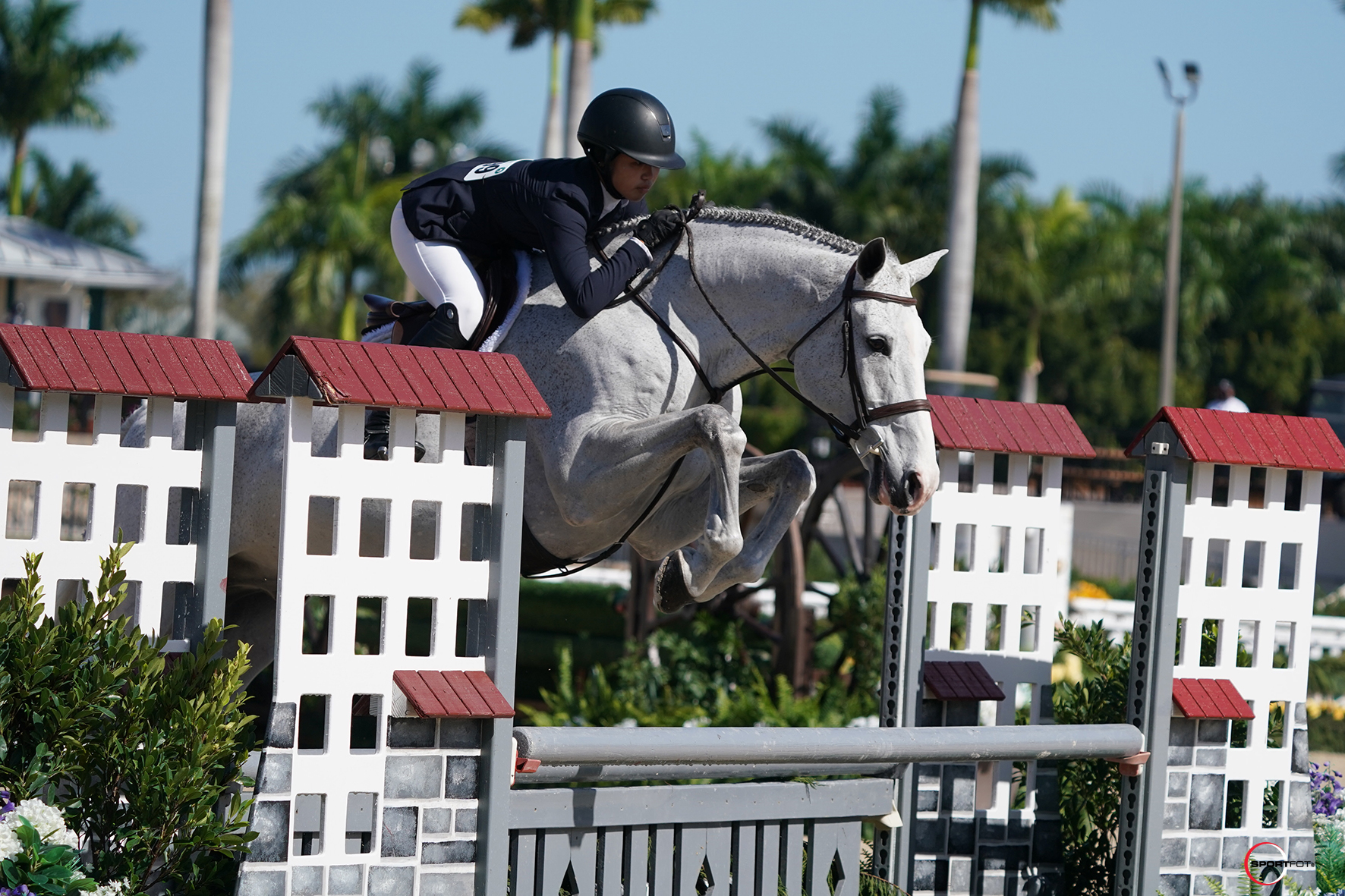 Gochman Sport Horses LLC's Catch Me earned his second championship of the week, this time with Mimi Gochman in the irons. Gochman, of New York, NY, guided the 14-year-old Holsteiner gelding by Casiro I to the Section B tricolor with two firsts and a second place finish. Swani also picked up reserve champion for Section B with Shadowfax Equestrian LLC's Curo. Swani and Curo received a first, as well as fourth, fifth, and seventh place ribbons.
"My mom has won everything on Catch Me, or 'Snoopy,' that she possibly could, and I think she wanted to see one of her kids show him," commented Gochman. "I think it is interesting for her to watch someone else ride him since she knows him so well, and they are such a good team. It's a great experience to get to ride a world-class horse like him and try to match Scott [Stewart] and my mom! I love how hunter week is so competitive. People come from all over, we get to go in the big ring, and hunters finally get a spotlight. It is just so grand, and Snoopy really rises to every occasion. To be champion and be able to hold it together was an honor."
The final class to go in the International Arena before the $50,000 WCHR Peter Wetherill Palm Beach Hunter Spectacular was the Small Junior Hunter 3'6" 16-17 division. Grace Debney, of Hampden, MA, rode Temple Equestrian LLC's Quimby to top honors and qualified the pair for Debney's first Hunter Spectacular class. Debney and Quimby earned a score of 91 to win the stake class as well as a first and two second place ribbons. Mimi Gochman piloted Rivers Edge's Sandstone to the reserve champion title. Gochman and Sandstone received a first and third in the division.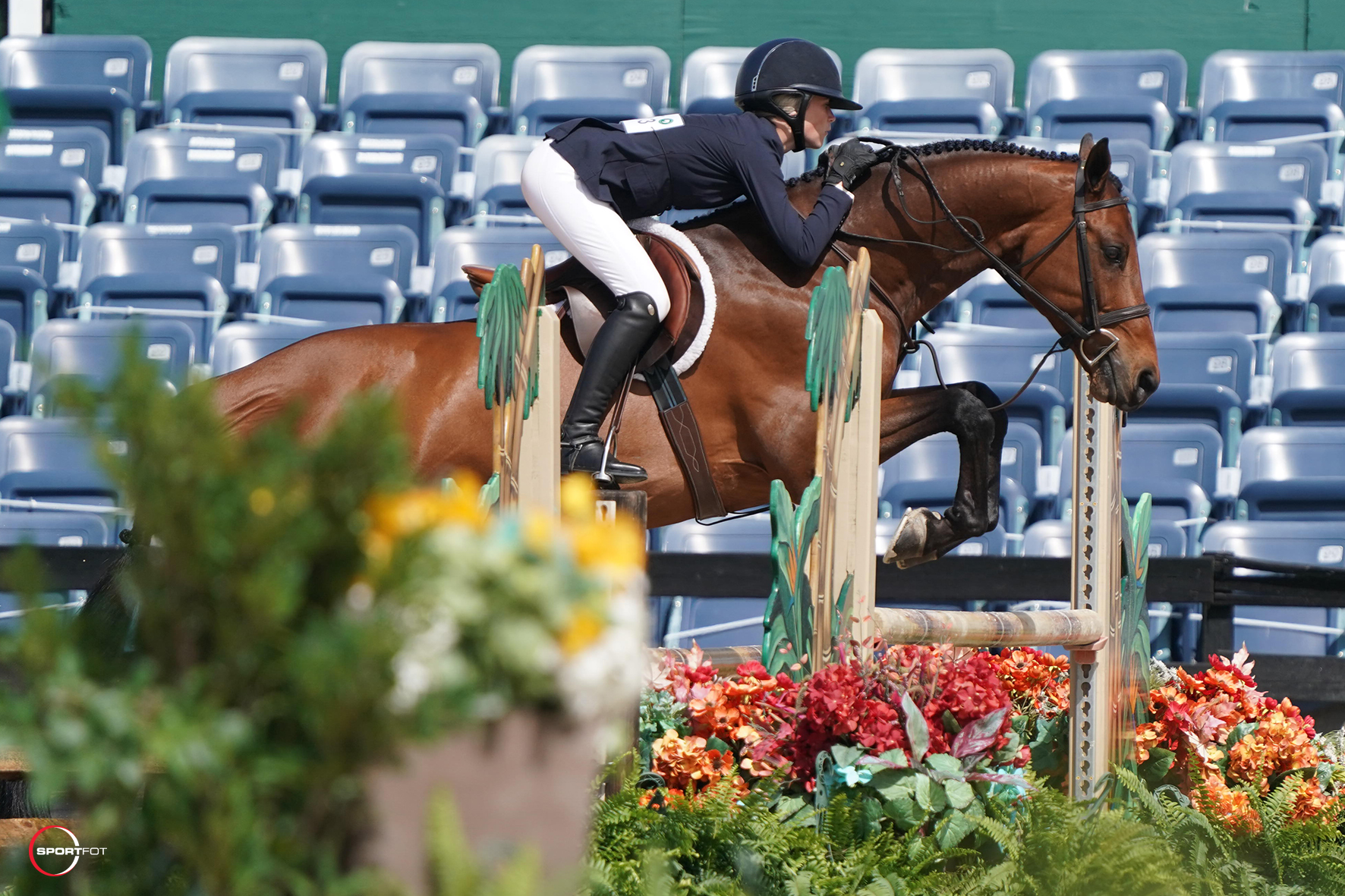 "I'm especially excited to do the night class on Quimby because I'm so confident on him," said Debney of the 10 Holsteiner gelding by Q Verdi. "He is actually my equitation horse, and we decided that he was going to play hunter this week since it's hunter week! I've had him for a little over two years, and we imported him as a seven-year-old. We both stepped into the equitation for the first time together, and I think that really made our partnership strong."
Longtime partners Kelly Tropin of New Canaan, CT, and Chablis added another champion victory to their collection as the pair topped the leaderboard in the Amateur-Owner Hunter 3'6" 18-35 division on Saturday morning. She and the 13-year-old Wurttemburger gelding owned by Libertas Farm LLC produced two winning rounds as well as a fifth place performance out of  28 entries to complete the division with a total of 21 points.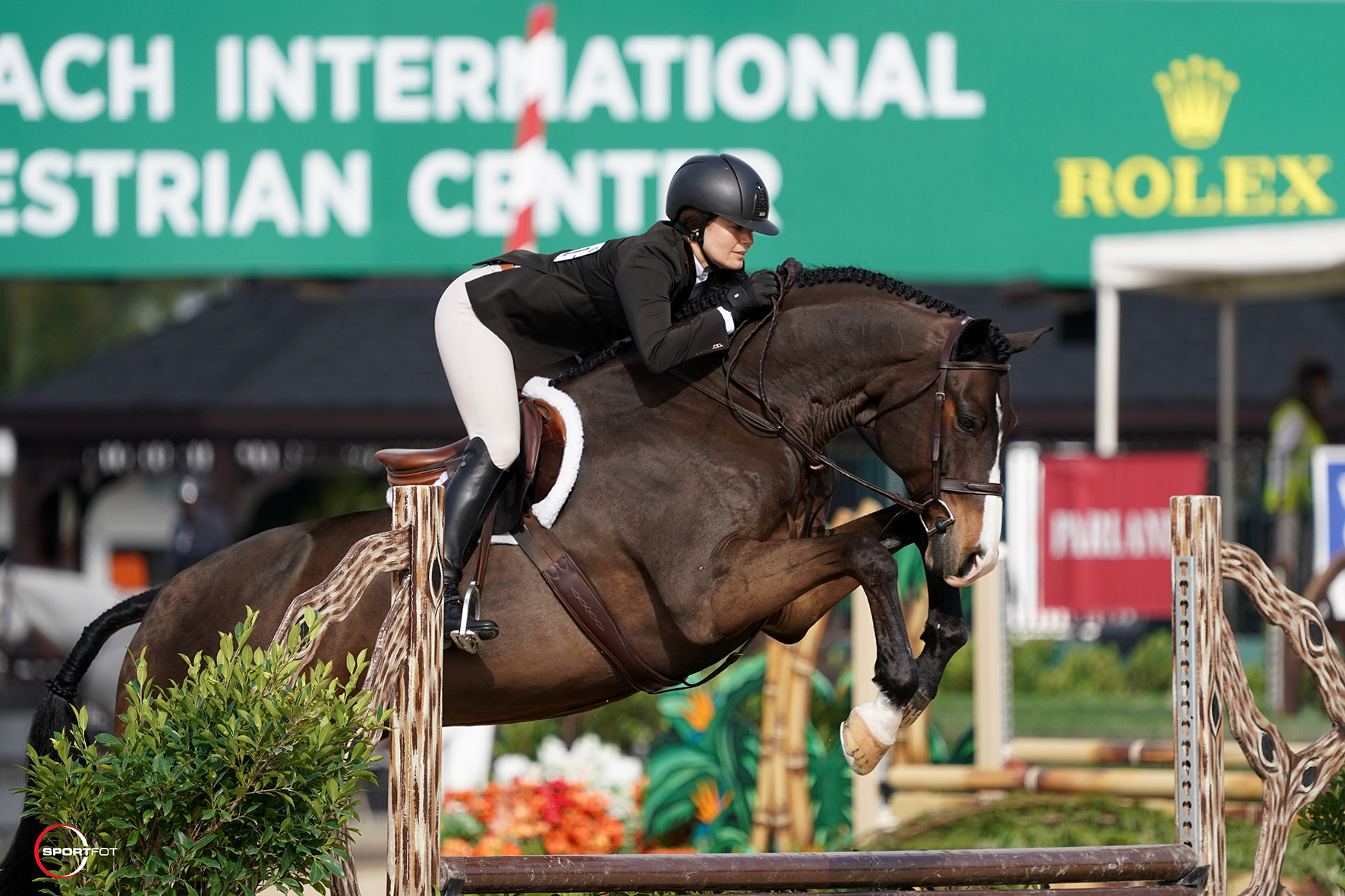 "Chablis and I have been partners for seven seasons now so I know him like the back of my hand," Tropin explained. "He is a truly fantastic horse because he is brave, brilliant, and knows when the competition is important. I am so grateful to have the horse that I do and to be able to compete, and I think because of  COVID we all appreciate these moments more so than ever before. To have the ability to do what I love at this time in the world is very special."
Stephanie Danhakl and her own 10-year-old Dutch Warmblood gelding Brightside were named the reserve champions on a total of 18 points with pinnings of a first and two thirds.
The second division to take place in the E.R. Mische Grand Hunter Ring on Saturday was the Amateur-Owner Hunter 3'6"36 and Over, sponsored by Hunt Ltd. John Ingram rode Koala, owned by John and Stephanie Ingram, LLC, to the tricolor ribbon after they earned a high score of 86 in the stake class. Ingram, of Nashville, TN, and the 13-year-old Swedish Warmblood gelding by Carmague also picked up a first and seventh in the division. Ellen Toon, of South Salem, NY, and JT Farm's Gabriel earned reserve champion with a first, second, fourth, and sixth place ribbon.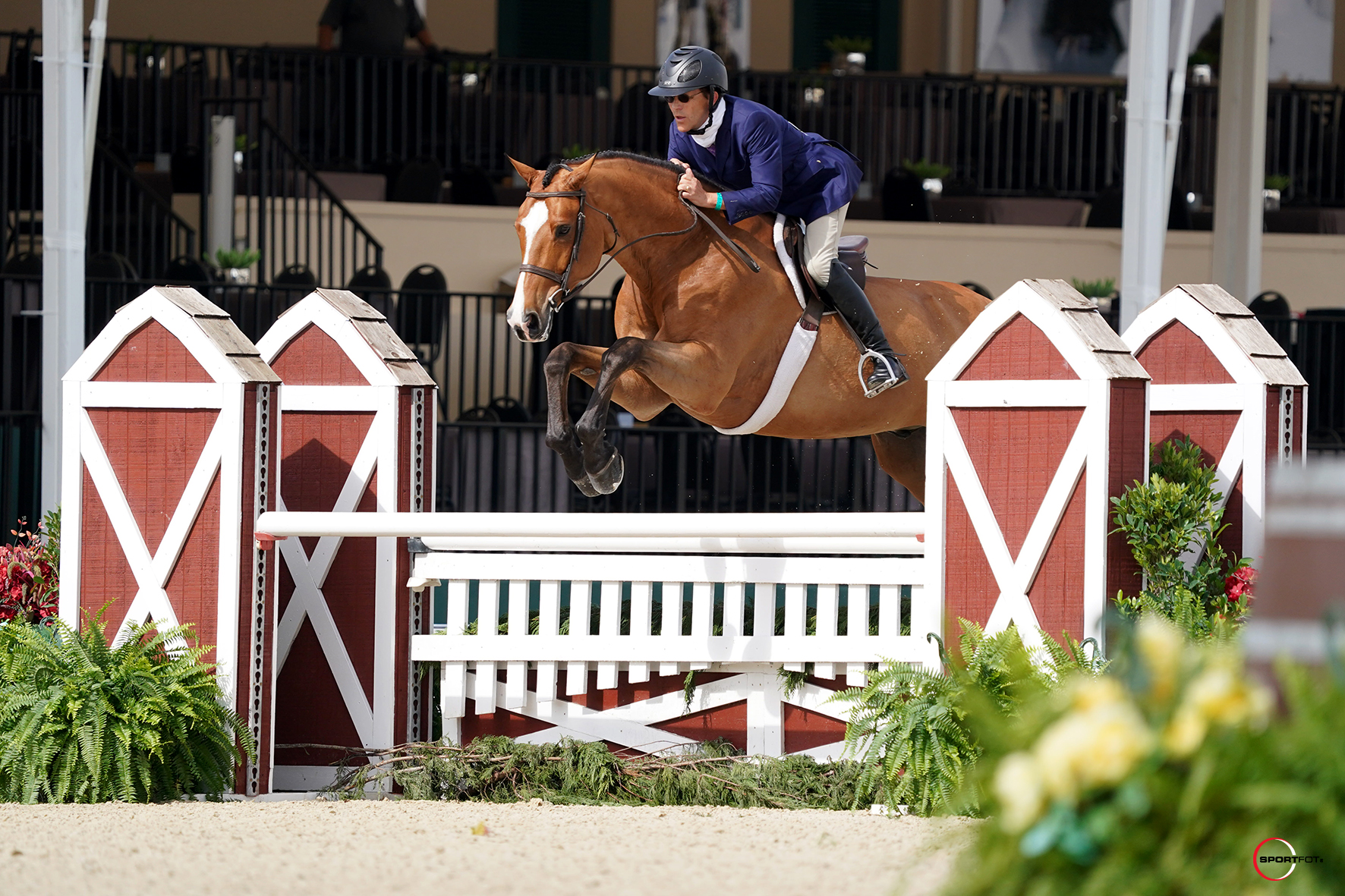 "We have had Koala for a couple years, but he was just coming back from an injury and this was only his second show back," explained Ingram. "There is no better week to be champion of a hunter division than week six, so I feel gratified and appreciative of our whole team. There are so many good horses and riders so to come out on top, especially week six, is very special."