For Immediate Release
Jennifer Wood Media, Inc.
Wellington, FL – February 1, 2018 – The fourth week of the 2018 Winter Equestrian Festival hosts jumpers on the grass derby field at the Equestrian Village at Palm Beach International Equestrian Center (PBIEC), show grounds of the Adequan® Global Dressage Festival. Amanda Derbyshire (GBR) and Gochman Sport Horses LLC's Luibanta BH were victorious in the $70,000 Equinimity WEF Challenge Cup Round 4. WEF continues through April 1 at PBIEC in Wellington, FL, and offers more than $9 million in prize money.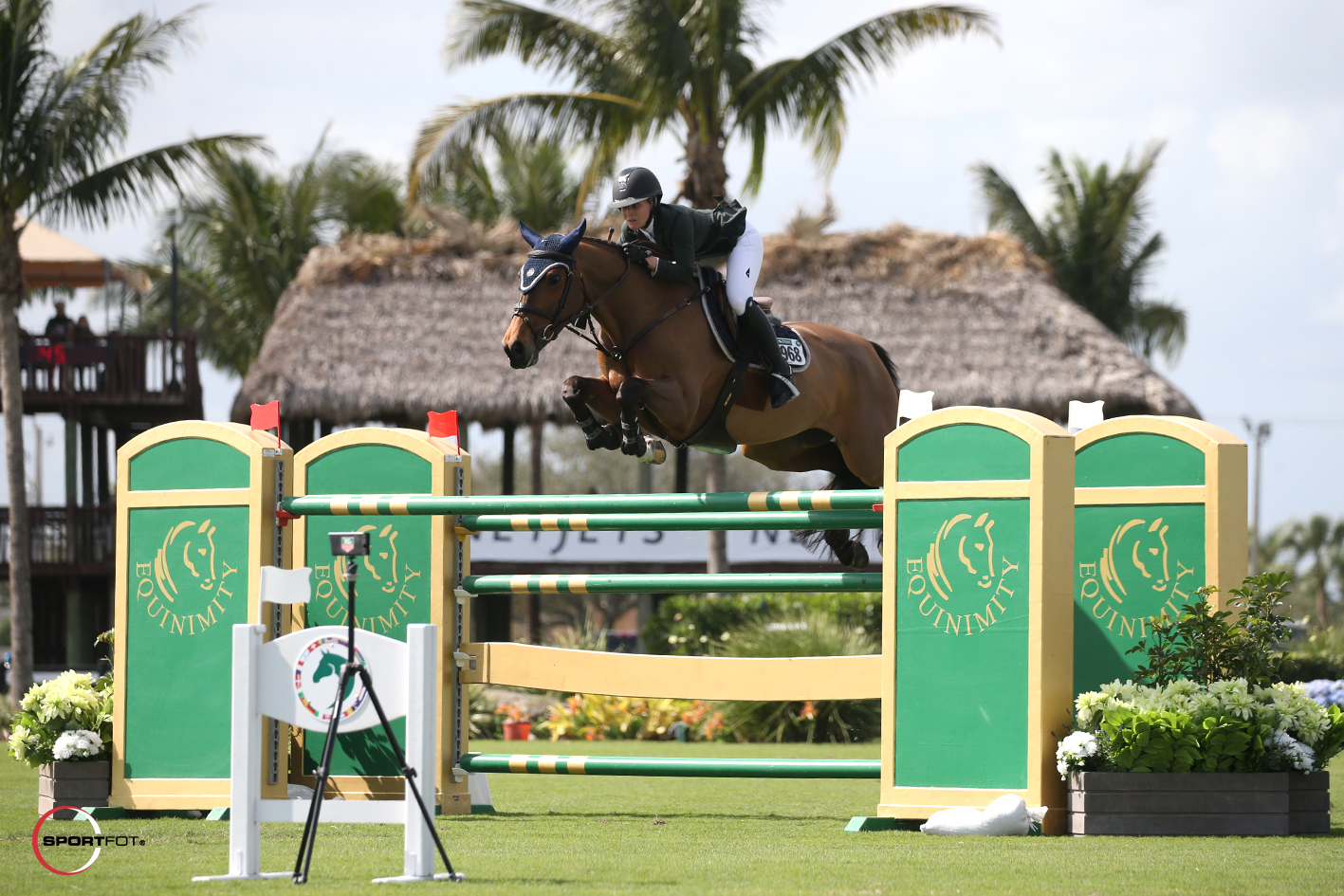 The fourth week of WEF, sponsored by NetJets, runs January 31-February 4 and features the $15,000 USHJA International Hunter Derby "Hunt and Go" on Friday, February 2, at 12 p.m. in the International Arena, the $205,000 NetJets Grand Prix CSI 4* on Saturday, February 3, at 11 a.m. on the grass derby field at Equestrian Village (home to the Adequan® Global Dressage Festival), and the Great Charity Challenge, presented by Fidelity Investments®, on Saturday evening at 6:30 p.m. in the International Arena.
Sixty-four entries contested today's WEF Challenge Cup, and 10 found the key to a clear round over Anderson Lima's (BRA) course on the grass. It was Derbyshire and Luibanta BH, a 10-year-old Irish Sport Horse mare by Luidam x Abantos, who blazed around the jump-off to win in 47.50 seconds.
Coming to final fence in the jump-off, Derbyshire had to add verbal encouragement for Luibanta BH.
"I planned seven strides to the last and I turned really tight into the double, which made her land a little shallow coming out," she said. "I decided to still try to do seven, so I was just telling her we could do it!"
Kevin Babington (IRL) and Debra Wycoff's Irish Sport Horse gelding Super Chilled finished second in 50.85 seconds, while Amber Harte (USA) and Cafino placed third with a time of 51.50 seconds.
Derbyshire kept the progression for Luibanta BH at a slower pace in the year and a half they have been together since she was found from Ellen Whitaker. She explained, "At the end of last summer she really stepped up to doing whatever grands prix we've asked of her. We're going to save her, and hopefully she'll last a long time."
Derbyshire (30), last competed and won with Luibanta BH at Liverpool CSI 4*, riding in a smaller indoor arena. Coming out to the giant grass field did not seem to have any adverse effects.
"She's a mare and she tries hard," said Derbyshire. "She's really fast because she's so easy to turn and so athletic and adjustable; even if you really let her go, she'll always come back to you, which is a huge advantage so I can open her up and then ask her to turn tightly."
For their victory, Derbyshire and Luibanta BH were presented with the Barry Louise Lane Perpetual Memorial Trophy, established in 2003 in the loving memory of Barry by her family and friends.
Derbyshire and Luibanta BH plan to compete at WEF 5 and hope to represent Great Britain in the Nations Cup during WEF 8 on Saturday, March 3.
Over at the WEF International Arena, Jose Roberto Reynoxo (BRA) had a banner day. He won the Douglas Elliman 1.45m Jumpers with Azrael W. In the Bainbridge 1.40m Speed Challenge, he piloted HSL Arisma, owned by Fabio Martin, to the win.
Final Results: $70,000 Equinimity WEF Challenge Cup Round 4
1 LUIBANTA BH: 2008 Irish Sport Horse mare by Luidam x Abantos
AMANDA DERBYSHIRE (GBR), Gochman Sport Horses LLC: 0/0/47.50
2 SUPER CHILLED: 2008 Irish Sport Horse gelding by Gelvin Clover
KEVIN BABINGTON (IRL), Debra Wycoff: 0/0/50.85
3 CAFINO: 2003 SWB gelding by Cardento 933 x Roderik 856
AMBER HARTE (USA), Take the High Road LLC: 0/0/51.50
4 CHICAGO HOF EVERSEM Z: 2008 Zangersheide gelding by Con Spirito R x Papillon Rouge
MATTIAS TROMP (USA), Swede Ventures LLC: 0/0/51.83
5 HH GIGI'S GIRL: 2008 KWPN mare by Vingino x Celano
MCLAIN WARD (USA), Double H Farm: 0/4/48.40
6 EMPERIO VAN'T ROOSAKKER: 2004 BWP gelding by Nabab de Reve x Chin Chin
EMANUELE CAMILLI (ITA), Alexandra Crown: 0/4/49.71
7 FEDOR: 2005 Belgian Warmblood gelding by Kashmir van Schuttershof x Orkaan
SCOTT KEACH (AUS), Southern Cross Equestrian LLC: 0/4/50.47
8 LUMINA: 2008 Westphalian mare by Lordanos x Pilot
ALEXANDRA PAILLOT (FRA), Paillot Equine Consulting Inc.: 0/4/53.25
9 LINCOURT GINO: 2003 Irish Sport Horse gelding by Gino III x Graf Magna
ALEJANDRO KAROLYI (VEN), Monica Carrera: 0/8/52.78
10 GRAFTON: 2006 Selle Francais gelding by Calvaro x Vondeen
CONOR SWAIL (IRL), Ariel Grange: 0/12/56.53
11 CERANO V/H DINGESHOF: 2007 KWPN gelding
DIEGO VIVERO (ECU), Javier Estrada: 1/83.27
12 LILLYFEE: 2003 Holsteiner mare by Limbus x Carthago Z
SUSAN HORN (CAN), Kingsfield Farm: 1/83.99
Victoria Colvin and Dragonstone Repeat Championship Performance in Pre-Green Hunter 3 & 4 Year Olds
Victoria Colvin and new partner, Dragonstone, owned by Bryan Baldwin, claimed their second championship win in the Pre-Green Hunter 3 & 4 Year Olds division on Thursday morning of WEF 4. The pair were first, second, and third over fences and first in the under saddle.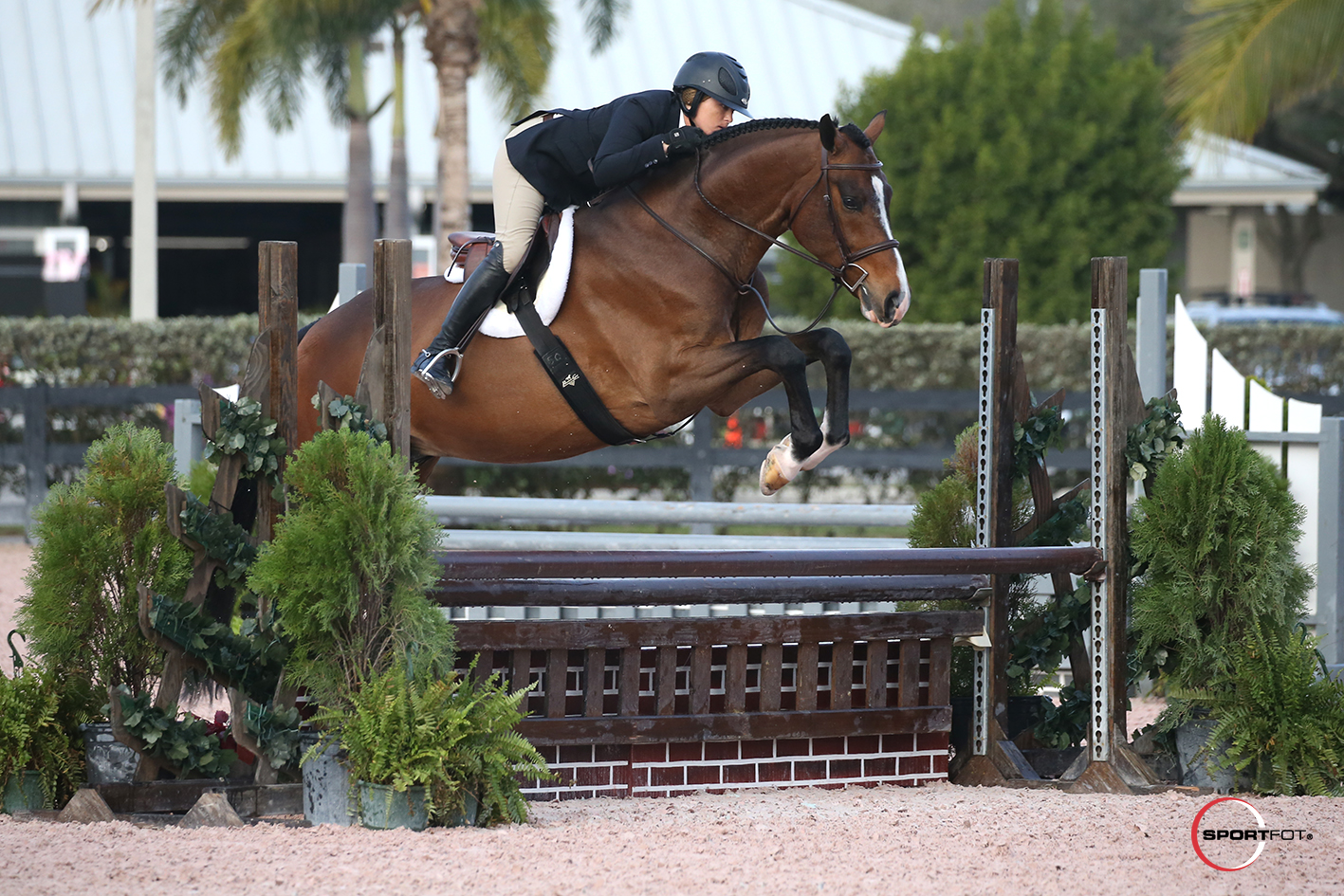 "This was my second time showing him," said Colvin. "The first time I showed him he was champion as well. I have only been riding him for a bit, but he really is the sweetest and easiest horse."
Colvin and the soon-to-be four-year-old were champion WEF 2 in the same division with a second in the under saddle and a first, first, and second over fences. The young professional, hailing from Loxahatchee, FL, commented that she was focused on sticking to the same game plan going into this week's competition.
"I was concentrating on keeping him straight in the lines," said Colvin. "That is really the hardest thing with him, but since he is a baby that's just about it. I am not positive of his plans for the weeks to come, but I'm sure he might take a week off and then show again."
Colvin added that, due to Dragonstone's age and simplicity in the ring, there is no rush to show the young gelding too much right now.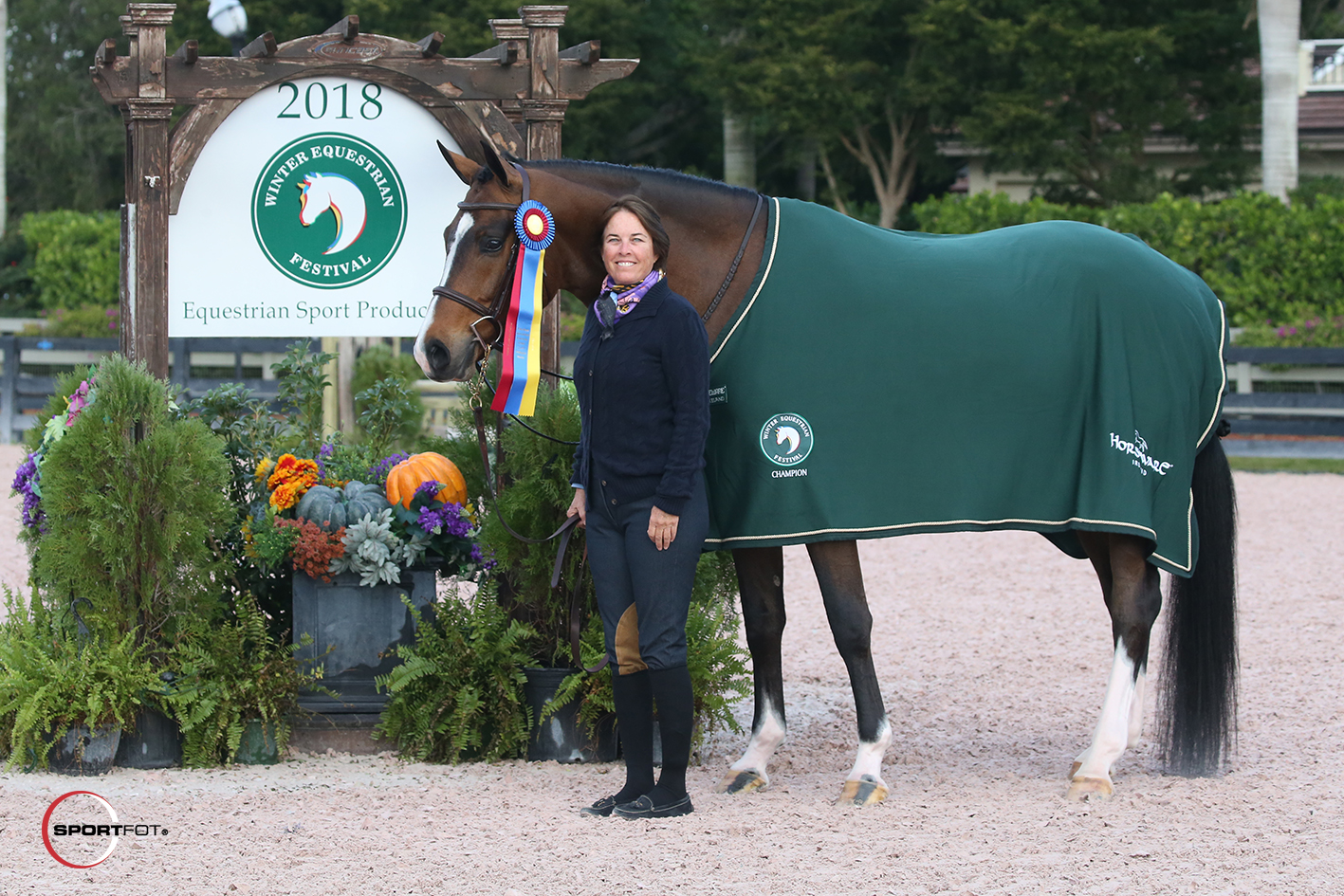 Robert Crandall was reserve champion aboard Unicato, owned by Jan Seawell, with a first, first, and second over fences and a fourth under saddle.
Action at WEF continues on Friday, February 2, with the $35,000 Hollow Creek Farm FEI 1.50m Classic on the grass derby field at 10 a.m., the $15,000 USHJA International Hunter Derby "Hunt and Go" in the WEF International Arena at 12 p.m., and the $25,000 Hermès Under 25 Team Event in the AGDF International Arena at 4 p.m.
Photo Credit: Photos © Sportfot, Official Photographer of the Winter Equestrian Festival. These photos may be used only in relation to this press release and must include photo credit.