For Immediate Release
Kate Pettersen, Kimberlyn Beaudoin, and Sabrina Brashares for Jennifer Wood Media, Inc.
Wellington, FL – February 19, 2021 – On the grass Derby Field at Equestrian Village, Ireland's Bertram Allen and Castlefield Vegas, owned by Martin Egan, finished in top form to take the victory in the $37,000 Adequan® WEF Challenge Cup Round 6 CSI3* on Friday, February 19, at the Winter Equestrian Festival (WEF).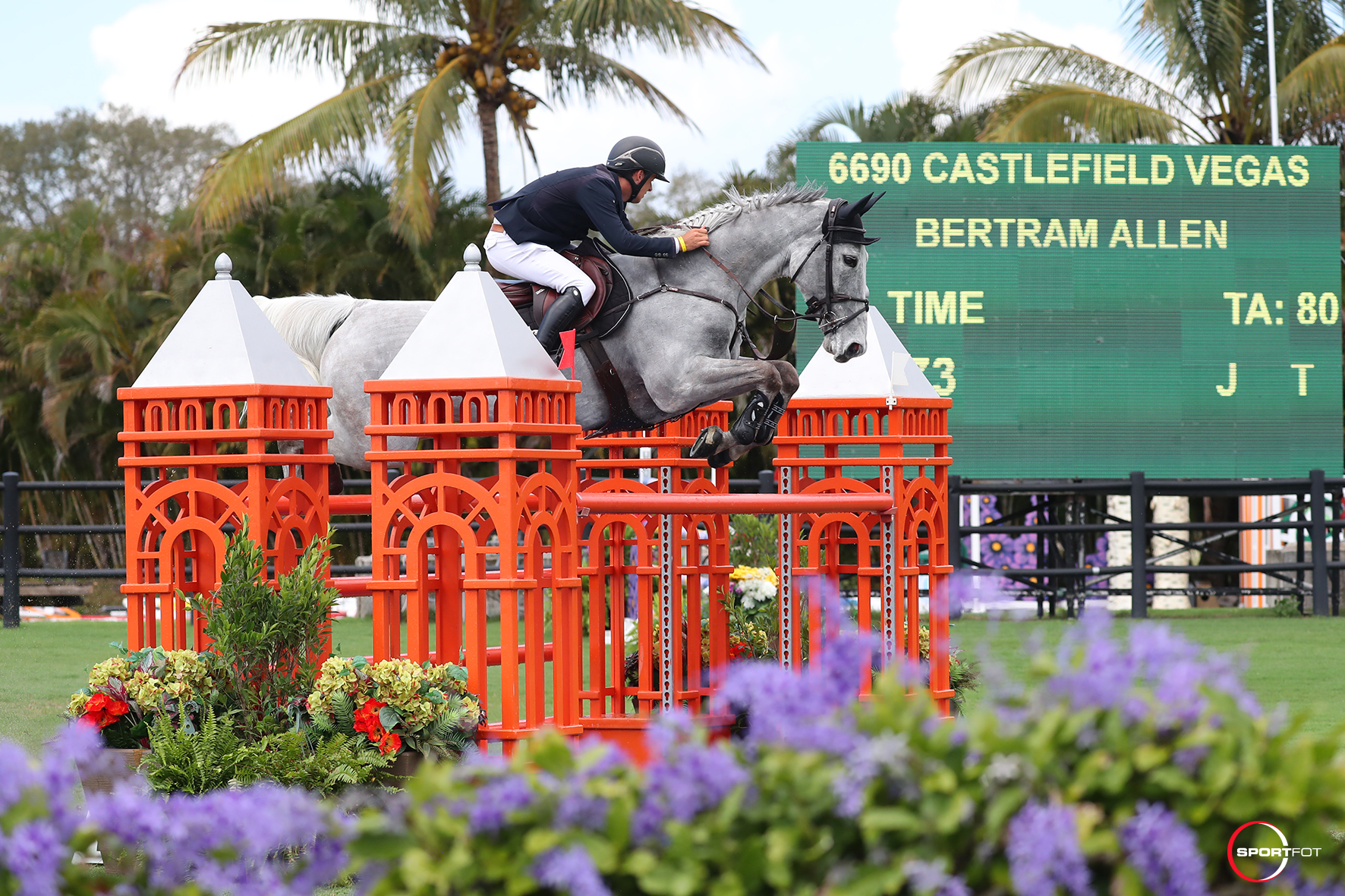 Saturday night of WEF 6 features the $50,000 WCHR Peter Wetherill Palm Beach Hunter Spectacular, February 20, under the lights in the International Arena and the $137,000 IDA Development Grand Prix CSI3* takes place Sunday, February 21, on the Derby Field at Equestrian Village. Competition wraps up Sunday on the Derby Field with the $25,000 Hermès Under 25 Grand Prix and the $25,000 CP National Grand Prix. Spectators can watch feature classes live and on demand for free using the livestream.
A field of 86 combinations challenged the class in hopes of qualifying for Sunday's $137,000 IDA Development Grand Prix CSI3*. Catsy Cruz (MEX) continued her duties as course designer for the week, setting the 1.50m with 16 jumping efforts, narrowing the field to 24 to qualify for the jump-off and 16 elected to return.
Watch the winning jump-off round!
Last to go in the order, Allen and the 11-year-old Irish Sport Horse gelding by Cassino x Lux Z posted the fastest time of the day, leaving all the jumps in their cups in 36.09 seconds.
"He's a very new horse to me," said Allen. "He arrived three weeks ago. I jumped him last week and he was very good, so it wasn't the plan to jump him this week but because he was so good, we decided to jump again. We thought he'd like the grass and he just seems to be getting better and better every round at the moment. He's very competitive, and he's a nice nature. He's very careful and always trying his best."
With an abundance of rain coming down during the late stages of the first round, there was a momentary delay in the action. Once the first round finished up, the savvy jump crew got to work, moving and resetting obstacles for the second round for the best possible footing. Riders had the chance to walk the adjusted track before the jump-off got underway.
"The field is great," said Allen. "There were a lot of starters today and with the rain, the grass held up super. No one was slipping or sliding, even in the jump-off after the rain."
It was less than a second separating the winner from the runner-up as Beezie Madden (USA) and her veteran partner Breitling LS, owned by Abigail Wexner slotted into second place. Madden and the 15-year-old Dutch Warmblood stallion by Quintero x Accord II put forth a double-clear effort in 37 seconds flat.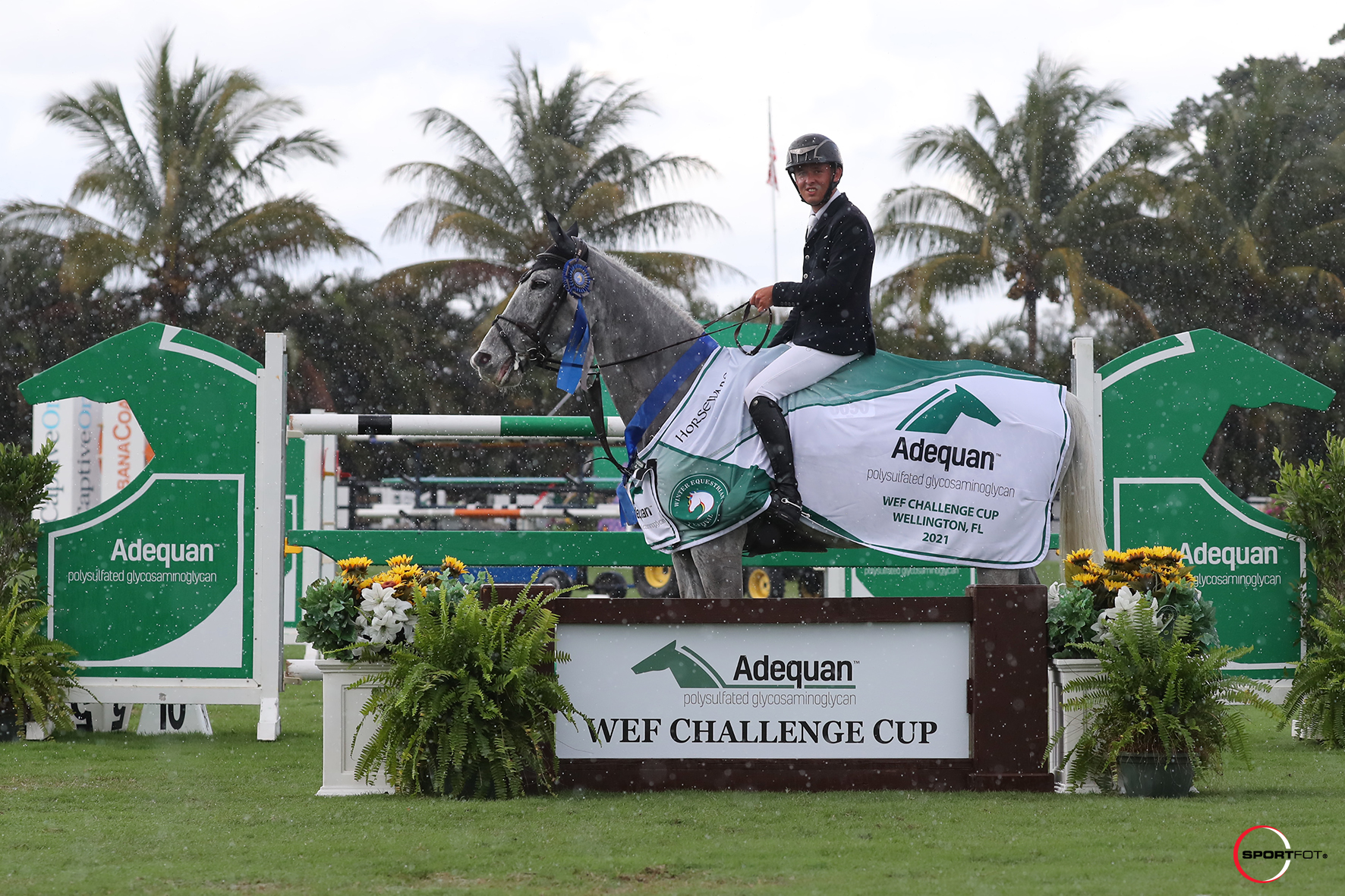 Paul O'Shea (IRL) piloted Skara Glen's Chancelloress, owned by Skara Glen Stables, to a third-place finish. O'Shea and the 12-year-old Dutch Warmblood mare by Chacco Blue x Balou du Rouet left all the rails up for a double-clear finish in 37.72 seconds.
Allen has already had success earlier in the winter circuit, winning the $37,000 Adequan® WEF Challenge Cup Round 2 aboard Pacino Amiro as well as a sixth place finish in the CSI5* grand prix during WEF 5.
"Pacino Amiro is only nine so it's great to be able to build him up here as well," said Allen of one of his top horses. "[Pacino Amiro and Castlefield Vegas are] both competing at a very high level and doing it well, so hopefully we'll have a good season if things keep going this well."
Natalie Dean (USA) and Dotcom D'Authiut wrapped up the day with a victory in the $1,000 Hermès U25 1.40m. Dean and the eight-year-old Selle Français mare, owned by Marigold Sporthorses, LLC, took the win in the speed class by more than three seconds, stopping the clock at 65.89 seconds.
Final Results: $37,000 Adequan® WEF Challenge Cup Round 6 CSI3*
1. CASTLEFIELD VEGAS: 2010 ISH gelding by Cassino x Lux Z
BERTRAM ALLEN (IRL), Martin Egan: 0/0/36.09
2. BREITLING LS: 2006 Dutch Warmblood stallion by Quintero x Accord II
BEEZIE MADDEN (USA), Abigail Wexner: 0/0/37.00
3. SKARA GLEN'S CHANCELLORESS: 2009 KWPN mare by Chacco Blue x Balou du Rouet
PAUL O'SHEA (IRL), Skara Glen Stables: 0/0/37.72
4. COULEUR VAN BERKENBROEK: 2006 Zangersheide mare by Couleur Rubin x Carthago Z
DANIEL RIHAN JR (MEX), Daniel Rihan Salum: 0/0/38.55
5. COUNTRY BOY: 2009 Oldenburg stallion by Carry Best x Quirinus
TANNER KOROTKIN (USA), Sandalwood Farms: 0/0/38.80
6. VERY CHIC DU TILLARD: 2009 Selle Français gelding by Diamant de Semilly x Quidam de Revel
GAVIN HARLEY (IRL), E2 Show Jumpers: 0/0/38.85
7. VALENTINO V Z: 2009 Zangersheide stallion by Verdi x Converter
MARIA COSTA (USA), Ravello Farms, LLC: 0/0/39.66
8. GK COCO CHANEL: 2008 Holsteiner gelding by Clarimo x Lerano 2
CONOR SWAIL (IRL), Vanessa Mannix: 0/0/40.74
9. DEZ OOKTOFF: 2008 KWPN stallion by Colandro x Lys Rouge
ROBERTO TERAN TAFUR (COL), Roberto Teran Tafur: 0/0/41.75
10. DONNA SPECIALE: 2008 KWPN mare by Cavalier x Concorde
LESLIE HOWARD (USA), Peter Howard and Laure Sudreau: 0/4/36.69
11. LAZY: 2011 BWP mare by Hickstead II x Cruising
ASHLEE BOND (ISR), Aurora Farms LLC: 0/4/37.21
12. JUST A GAMBLE: 2009 BWP mare by Toulon x Corofino
ADRIENNE STERNLICHT (USA), Starlight Farms 1, LLC: 0/4/38.66
Amateur and Junior Hunter Riders Take the Spotlight Friday on of WCHR Week at 2021 WEF

The third day of the World Championship Hunter Rider (WCHR) week featured junior and amateur 3'3" hunter divisions in the International Arena. Junior and amateur 3'6" hunter riders began their divisions today in order to compete for a spot in Saturday night's $50,000 WCHR Peter Wetherill Palm Beach Hunter Spectacular.
The Junior Hunter 3'3" 15 and Under division came to an end in the International Arena on Friday and was held in a California split format with two riders being named champion, and three riders earning the reserve title. Rylynn Conway, of Fair Haven, NJ, and Mountain King Ranch LLC's Perseus YC took home the champion ribbon for Section A of the division, after they earned a high score of 88 on Friday to win the stake class. Conway piloted the 12-year-old Hanoverian gelding by Paparazzo to two firsts and a second-place finish.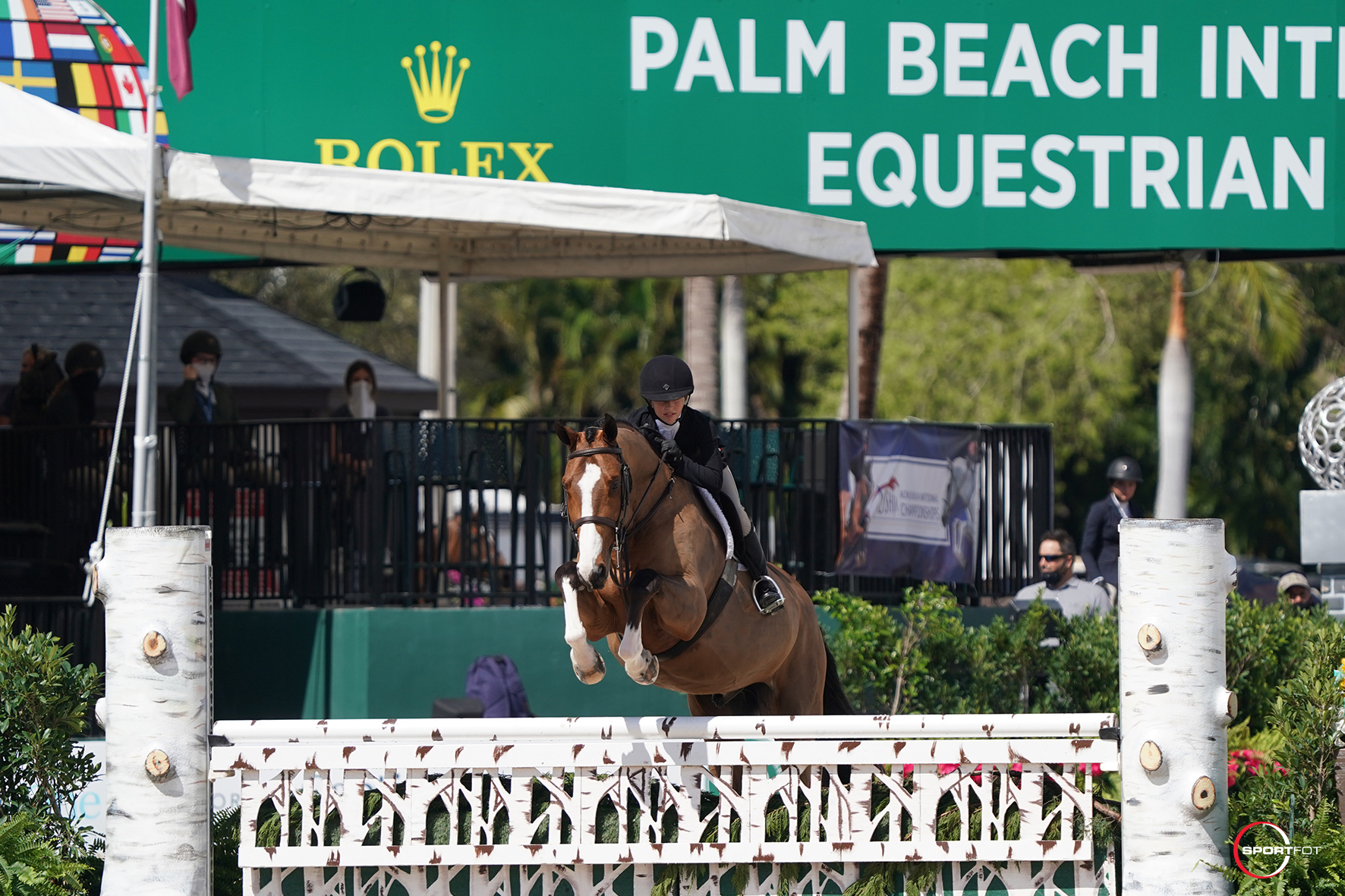 "My plan today [in the International Arena] was to go in and get a good pace from the start," explained Conway. "He felt great, and all of the jumps came up well. He stayed very consistent throughout the whole course which was really nice. He was amazing both days of the division."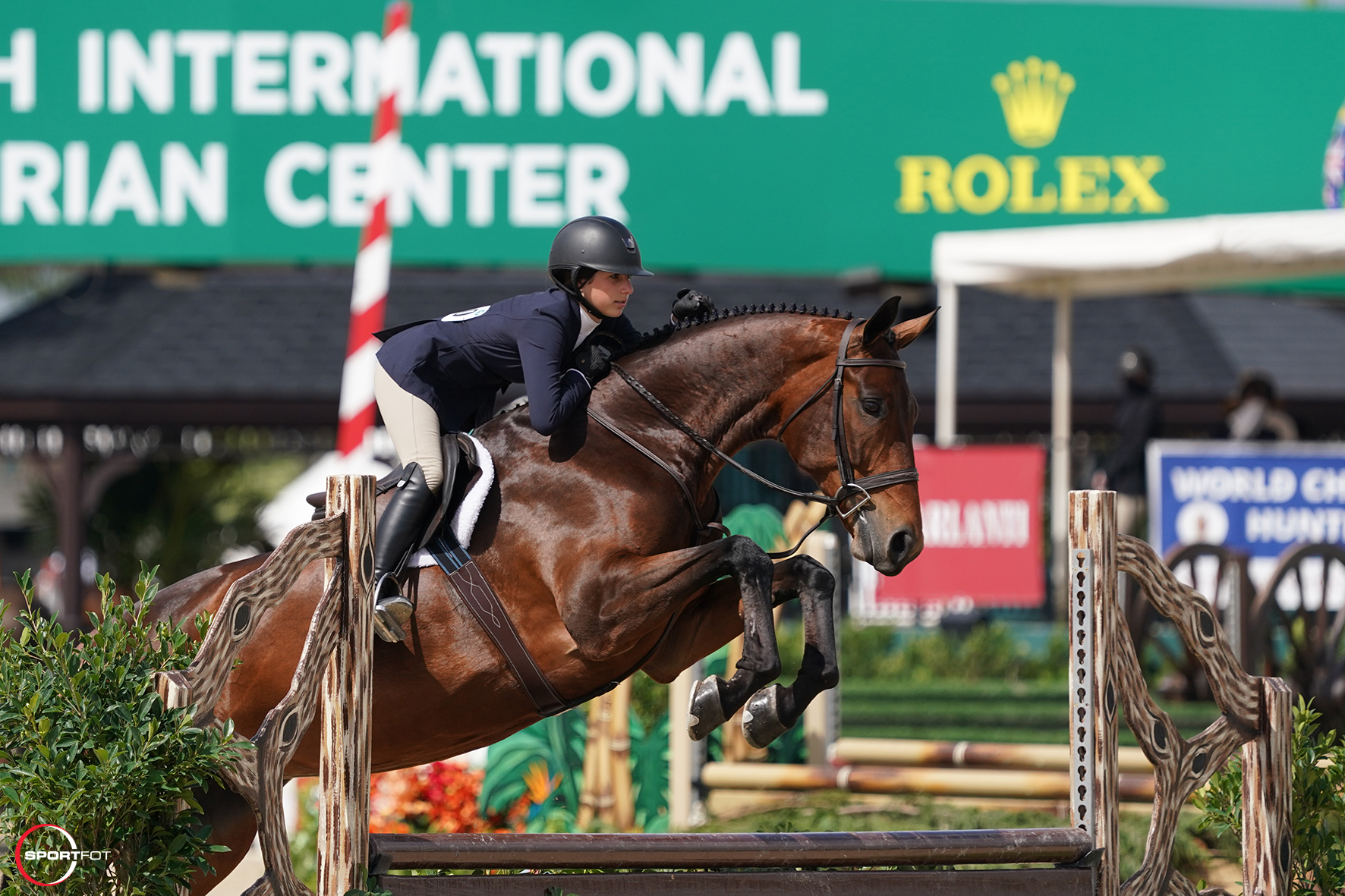 Section B Champion Clara Propp, of New York, NY, piloted Aquitaine Equine's eight-year-old Oldenburg mare by Furstenball, Arabesque, to the winning tricolor after receiving a score of 83.5 and a second-place rank in the stake. The pair also notched first, second, and third places.
"It is awesome to be named champion during Hunter Week," said Propp. "It's only happened to me once before, about five years ago in the children's ponies. It is such a great feeling, especially since I only started showing this horse a month ago. It's nice to accomplish so much early on, and I'm looking forward to seeing what she is going to be able to do. We couldn't have asked for better courses today. It's the International Arena; it's scary, it's big, she's a young horse, and handled it well, and I'm really happy with her."
The reserve champion title went to three separate horse-and-rider combinations. Nicholas Lopes, of Paget, Bermuda, and his own Casino 71 earned two firsts and two fifth place ribbons to receive reserve champion for Section A.  Riley McKesson, of Wellington, FL, and Emilia Richard, of Middlefield, CT, tied for reserve champion of Section B with 12 points each. McKesson piloted Katherine Pugliese's Cristiano to a first, fourth, and eighth place ribbon. Richard and Celeste Benson's 2010 Holsteiner gelding by Casiro I, Jonsnow, earned a first and fourth place ribbon.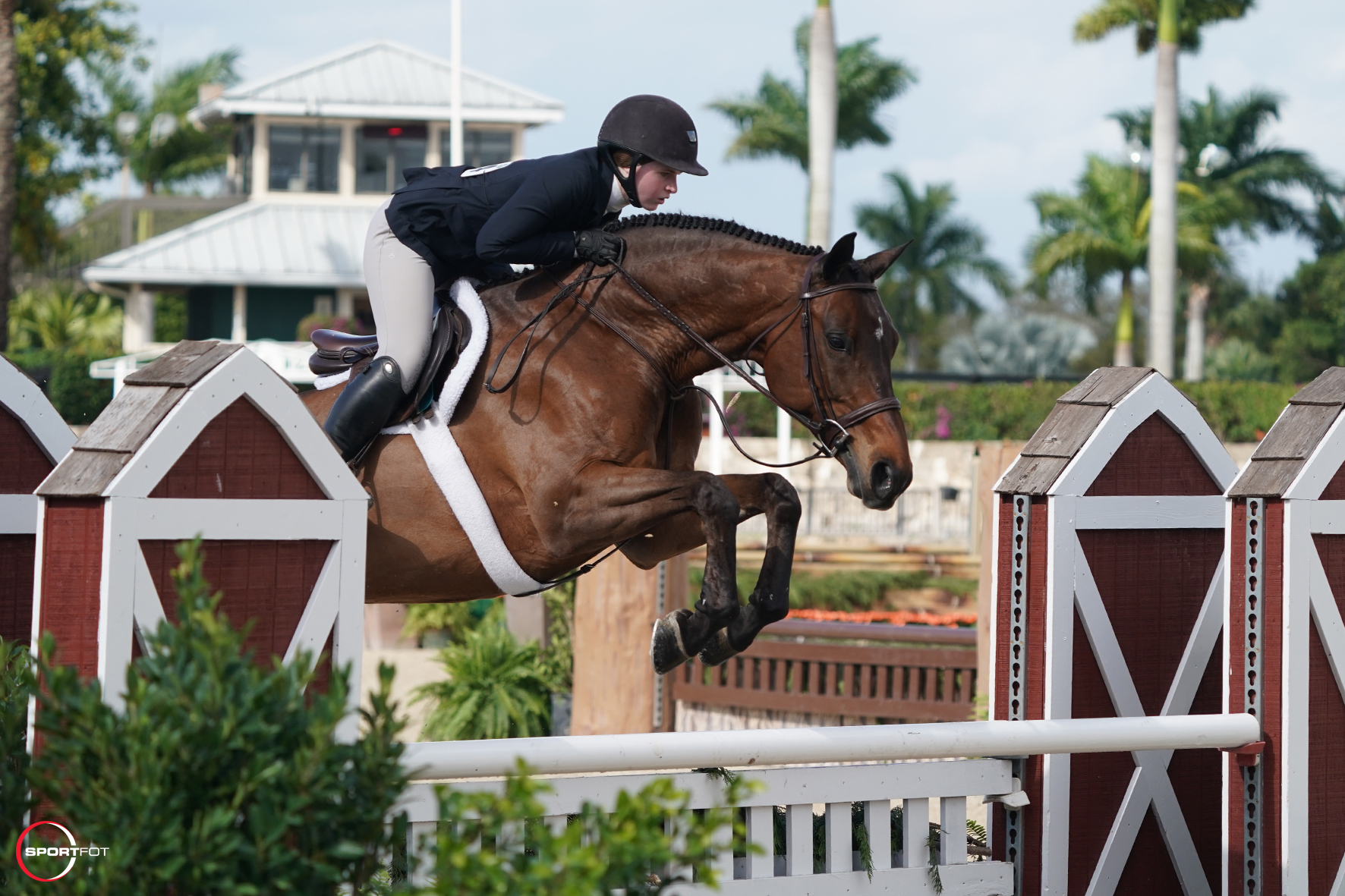 The Junior Hunter 3'3" 16-17 division ended with a three-way tie for champion between Claire Healy aboard Jade, Mia Wayne and Carson, and Olivia Rubin on Gomeri Della Caccia. After a hack-off, Claire Healy, of Cincinnati, OH, and Shaw Johnson Price's Jade were ultimately crowned champion. The pair earned first and eighth place ribbons in the division. The reserve champion title went to Olivia Rubin, of Wayland, MA, and her own Gomeri Della Caccia after they won the handy round.
"To be successful with her you really have to work with her and do it on her own terms. She is the epitome of a mare and also the most incredible horse," said Healy of the 12-year-old Belgian Warmblood mare by Stalypso. "We won the first class yesterday, and she was just amazing. Every time she goes in the ring she wants to win."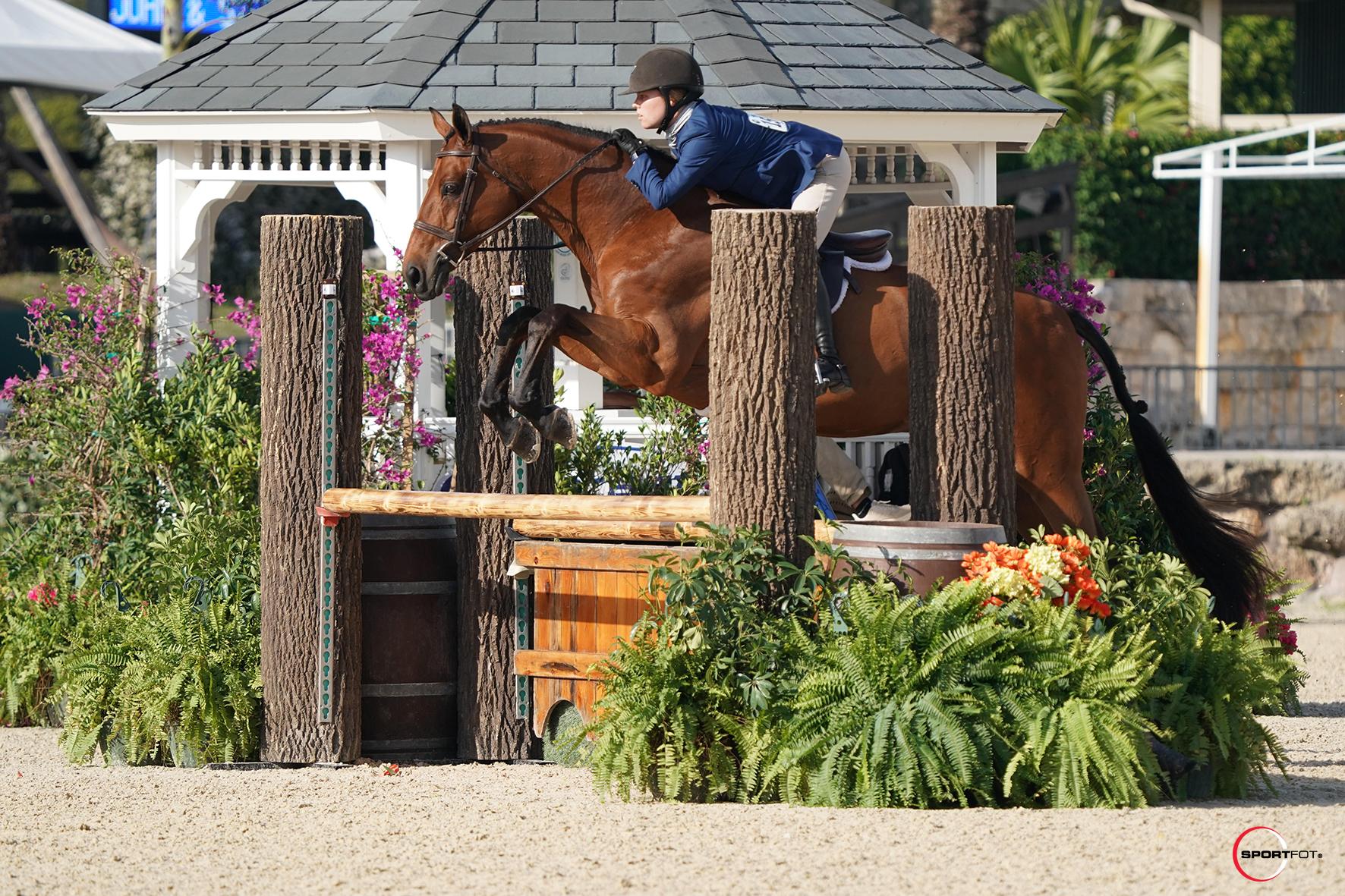 Martha Ingram, of Nashville, TN, piloted Airport 48, owned by John and Stephanie Ingram, LLC, to champion in the Amateur-Owner Hunter 3'3" 18-35 division, sponsored by Adequan®. Ingram and her longtime partner Airport 48, an 18-year-old Holsteiner gelding, earned two firsts and two second places to claim the tricolor ribbon. Last year's champions, Stephanie Danhakl and Enough Said, received reserve champion in the division this year. Danhakl, of Pacific Palisades, CA, and her own Enough Said earned two firsts, a second, and a seventh-place ribbon.
"I didn't have my best week last year, which was disappointing for me, but I did really well yesterday," commented Ingram. "I know the horse so well, and he is the best. He just turned 18 this year, but don't let age fool you – he's still very spunky! I can trust him to perform so it takes away a lot of the stress for me, and he is a blast to ride. It's nice to be able to loosen up in the International Arena."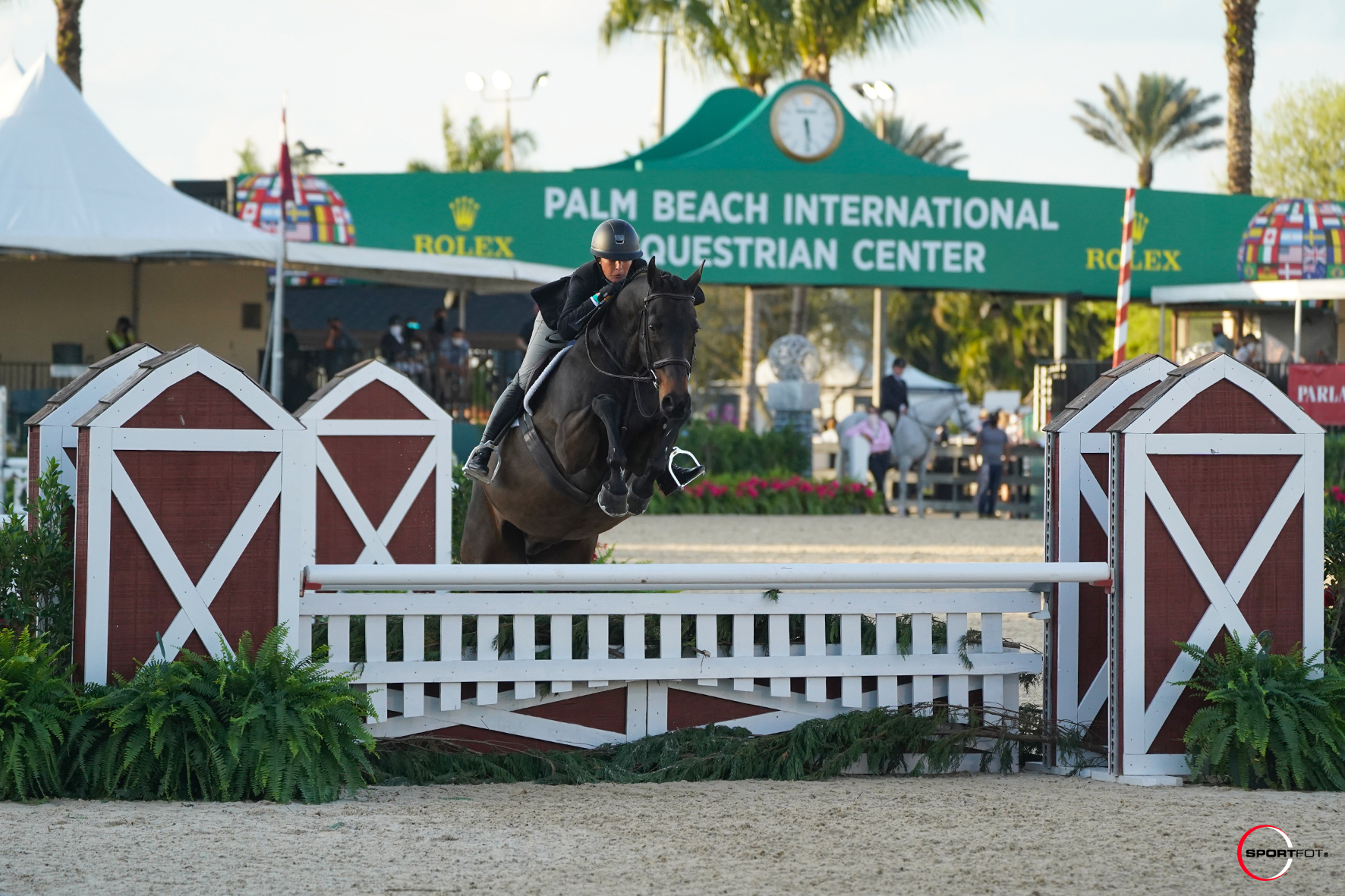 The Amateur-Owner Hunter 3'3" 36 and Over division wrapped up in the International Arena with Margot Peroni, of Califon, NJ, and her own Orlon being awarded the championship ribbon. Peroni and her 12-year-old German Sport Horse gelding by Olympic Fire scored an 88 on the first day of competition to win a class and also received a second and a fourth place. Gordonsville, VA, resident Cece Williamson rode her own Hideaway to reserve champion with first, third, seventh, and eighth place finishes.
"I've had him since he was two years old. I found him with my husband, who also rides, when we were in Germany," explained Peroni. "After we bought him, we brought him home and broke him ourselves, and he has now been with us for 10 years. He is the best. He can be quirky, and he is definitely a one person horse, but we adore him. Amanda [Steege] has really helped me put the polish on him, and he is just a horse of a lifetime."
The day ended in the International Arena with a victory for Brad Wolf, of Memphis, TN, and his own Sebastian in the competitive Amateur-Owner Hunter 3'3" Classic under the lights. Wolf and the 11-year-old Holsteiner gelding by Cancara earned a first round score of 86 and then received a second-round score of 87 to put them at the top of the class with an overall score of 173.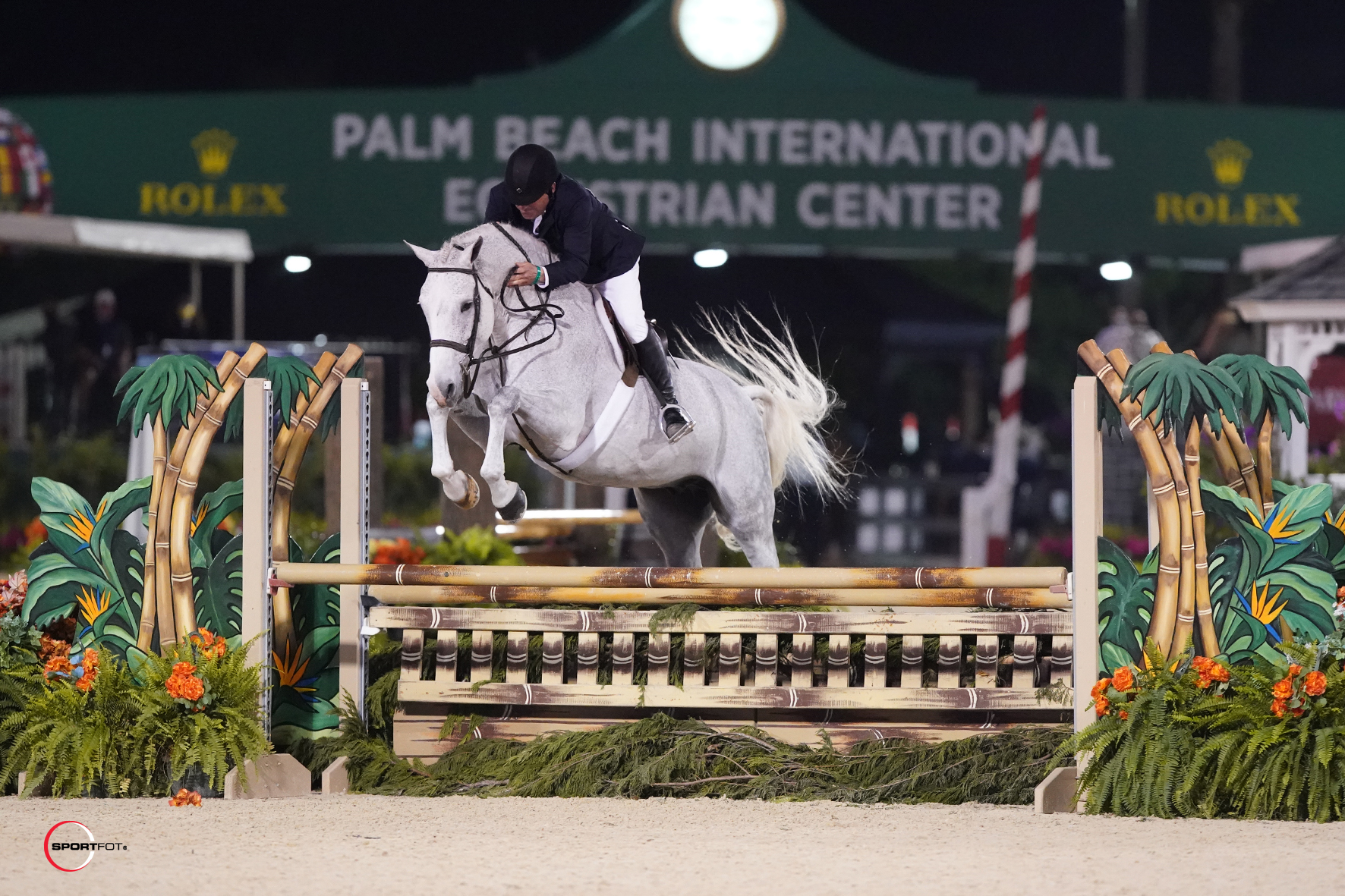 "I just got Sebastian at the beginning of circuit, and this is my fourth show with him," explained Wolf. "I've been trying to figure him out still. We have a few rough spots here and there, but he was so perfect tonight. I tried to stay in the same rhythm the whole second round, and luckily everything came up out of stride. He is brave and very easy to ride. You can really rely on him. This is his first time under the lights, and it didn't even faze him. He was great."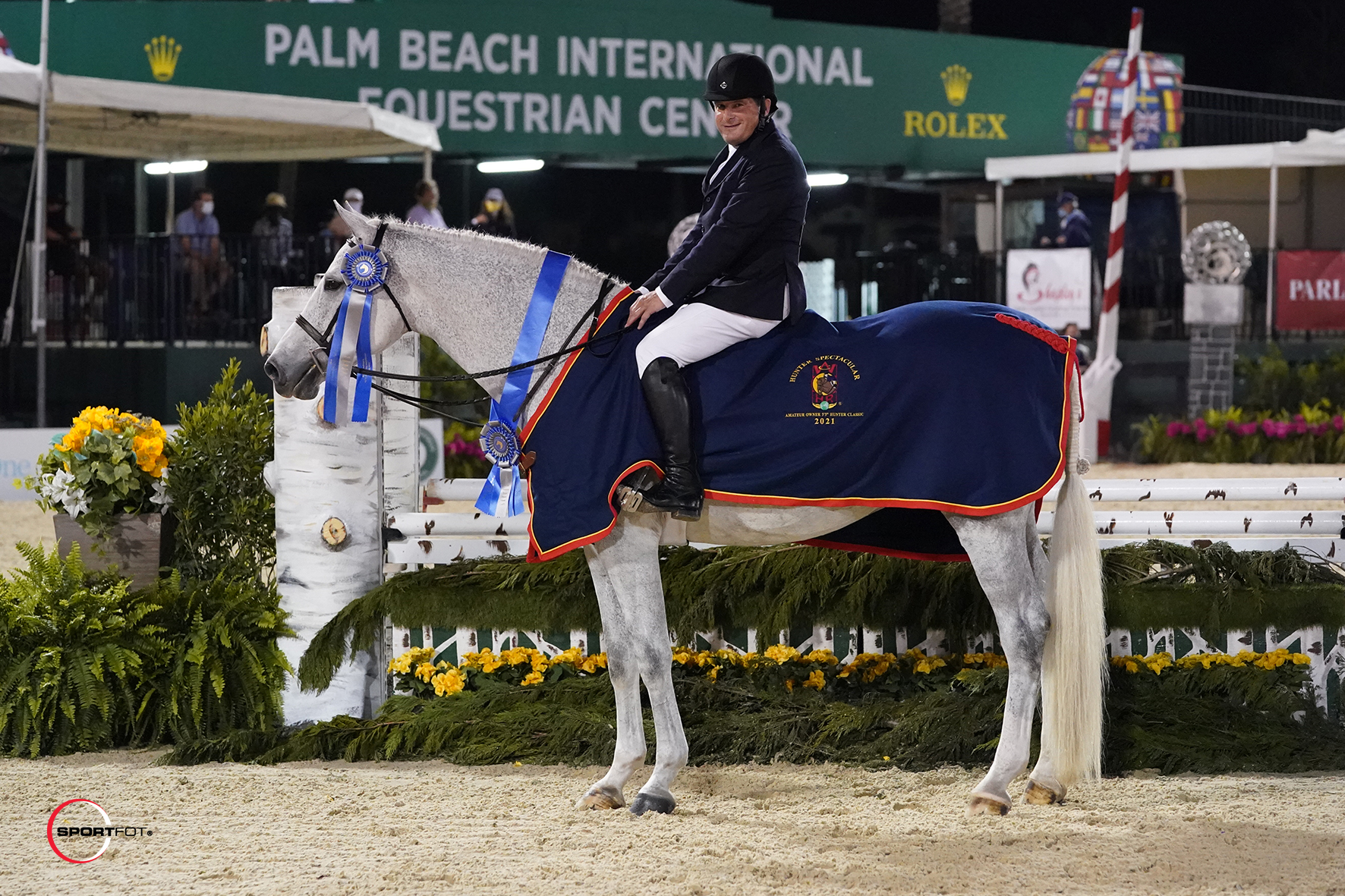 Second place honors went to Meghan A. Rohrbaugh, of Mechanicsburg, PA, piloting R & R Hunter Horses, LLC's Caristo to a total score of 169.5. New York, NY, resident Eliza Kimball and her own Vistano took home third place with an overall score of 168.75.