Wellington, FL – November 13, 2020 – The ESP Pre-Charity Show CSI3* returned to the Palm Beach International Equestrian Center (PBIEC) on Friday, November 13, with the first of its two major show jumping events of the week, the $37,000 Spy Coast Farm Grand Prix Qualifier CSI3*. The ESP Pre-Charity Show CSI3* continues through Sunday, November 15, and the $137,000 Noltrex®Vet Grand Prix CSI3* will be live-streamed starting at 8 a.m. EST on PBIEC.com.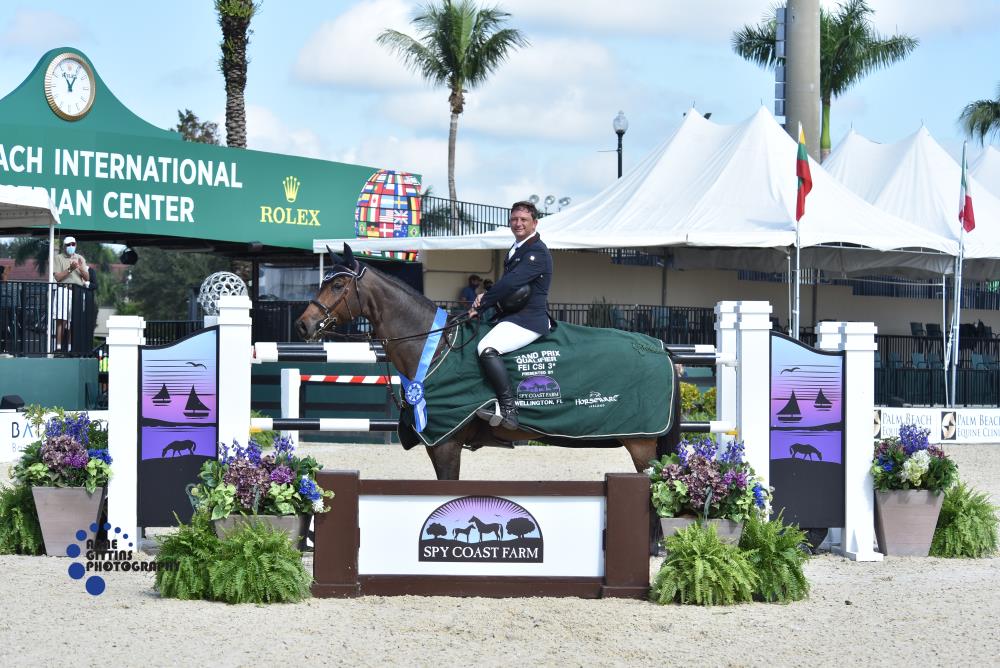 A starting order of 61 entries vied course designer Guilherme Jorge's (BRA) track for a share of the prize money, with Alberto Michan (ISR) and his own Cosa Nostra besting them all to emerge as the victors, marking Michan's second CSI3* win in two days. The winning partnership edged out second-place finishers Laura Kraut (USA) on St. Bride Farm's Confu and third-place pair Brian Moggre (USA) riding MTM Vivre Le Reve, owned by Major Wager LLC, by just fractions of a second.
"It feels fantastic! I am so happy, I can't describe it," remarked Michan after his second FEI victory for the week, having already won the $6,000 Palm Beach Equine Clinic 1.45m CSI3* aboard Loribri on Thursday. "It's cool to have a horse that is so talented and such a trier like Cosa Nostra. I am very grateful to my team for all the work they do for us to be in good shape and be able to perform well."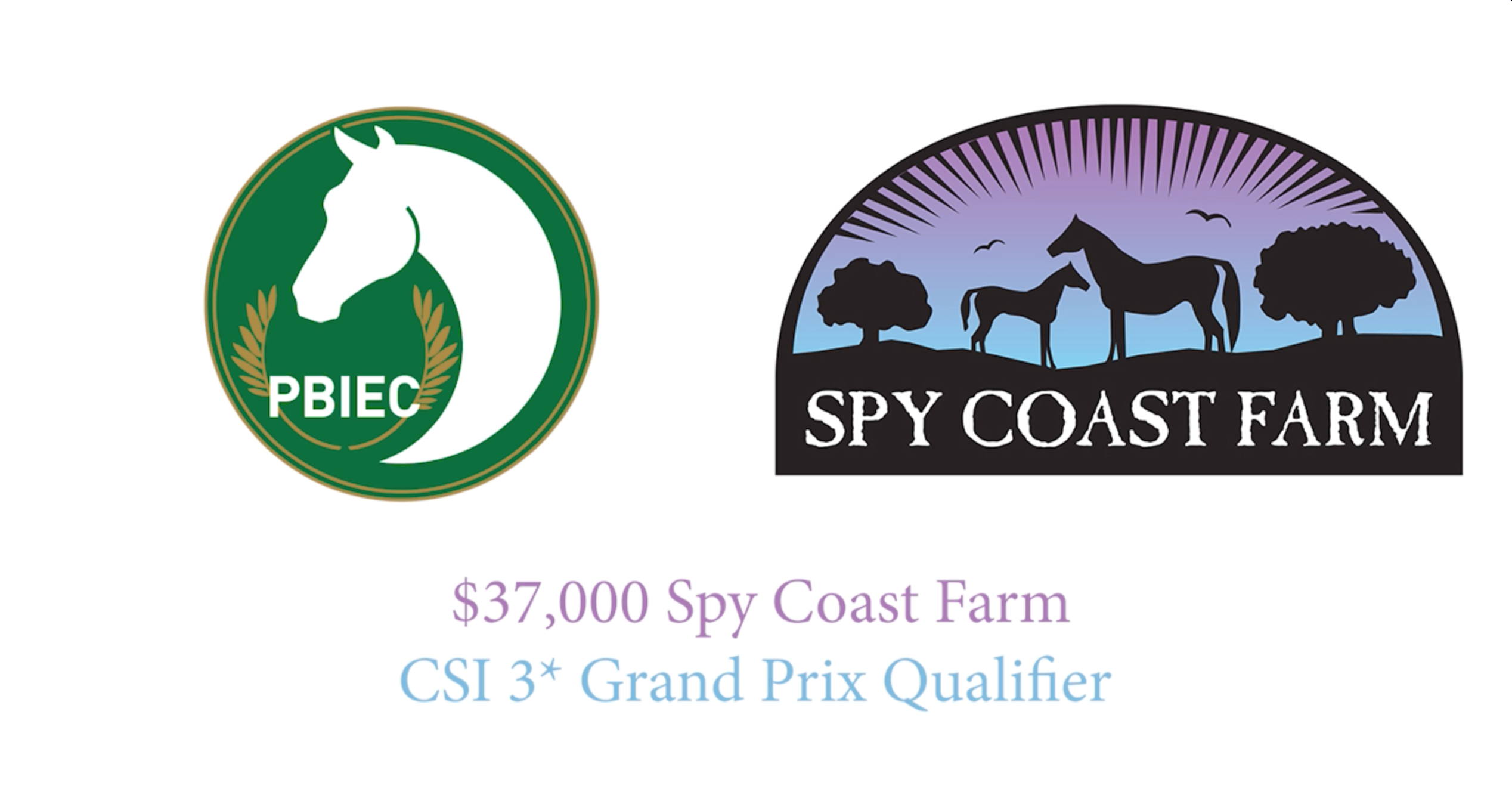 Jorge's 16-effort pattern for the first round separated the top performers from the rest of the pack as 10 pairs advanced to the jump-off. The list of eligible athletes included Kristen Vanderveen (USA), Margie Goldstein-Engle (USA), Leslie Howard (USA), Kraut, Spencer Smith (USA), Michan, Moggre, Hector Florentino (DOM), Gonzalo Guevara (COL), and Brittni Raflowitz (USA). Five additional challengers managed to keep all the rails in their cups, but fell victim to a single time-fault to keep them out of contention.
On the first-round track, Michan commented, "It was very technical, especially that line that came from fences three, four, five, and six. It was very hard to ride, and the horses had to be very concentrated and very careful. For me, that was the toughest. The time was also a big factor. There were a few spaces where you could gain a little time, and I think you had to keep that in mind and gallop your horse through those turns to be inside the time."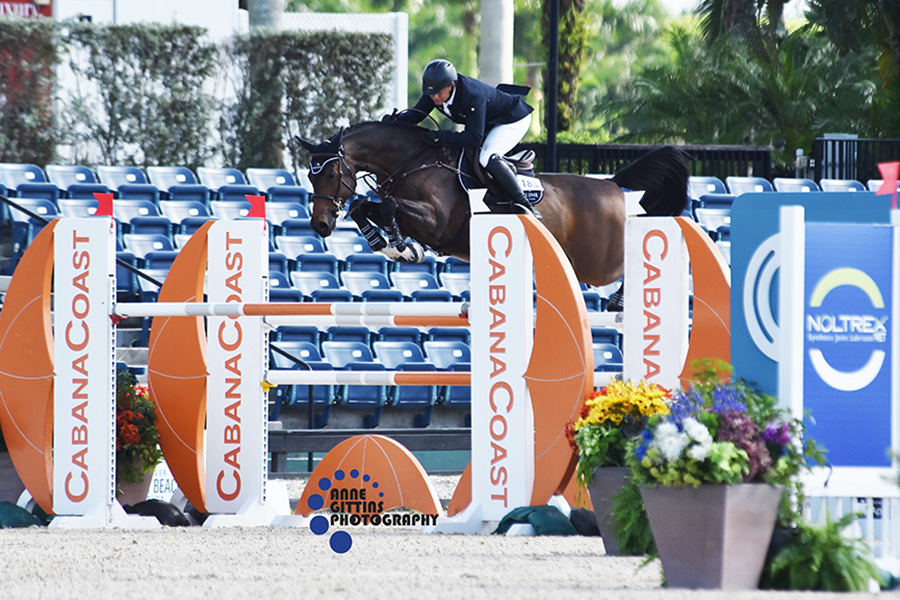 Third to go in the jump-off, Howard and Donna Especiale snagged the early lead over the short course as the first double-clear team, but were soon eclipsed by Kraut and Confu, who shaved almost a second off the clock to break the beam with no faults in 35.569 seconds. Midway through the pack, Michan and Cosa Nostra (Conthargos x Quintender), a 2010 Oldenburg mare, sliced milliseconds off of the frontrunners' time to jump to the lead, sitting on a quick, fault-free time of 35.145 seconds. Four more duos chased them down, but ultimately none could catch the quick combination. Kraut and Confu maintained the reserve spot with their time, and Moggre captured third place on MTM Vivre Le Reve in a time of 35.767 seconds.
"I saw Laura and she was very quick, like always," noted Michan. "I tried from fence one to grab a very good pace, and I think I sustained that pace through the course. I saw my turns and distances from the first distance up, so that helped me to not lose a lot of time. Our turns were nice and tight. We were up by a very, very little margin, but we were ahead of them."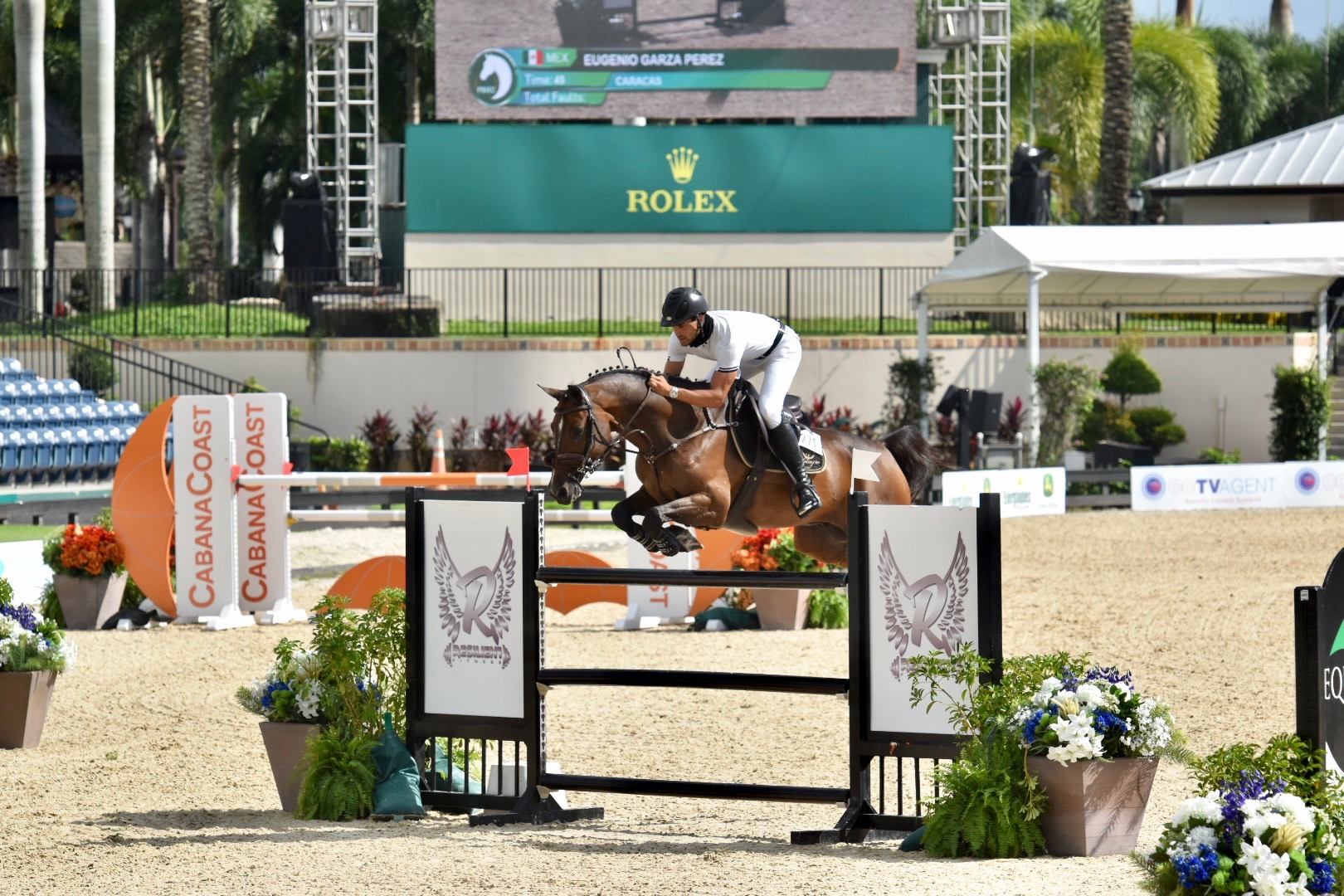 Later in the day, the $10,000 Bainbridge 1.40m Open Stake featured 38 entries in the International Arena. Horse-and-rider partnerships contested Jorge's course, which saw 17 duos successfully finish without any faults to move on to the jump-off round. Serving as the trailblazers with the first double-clear ride, Brianne Goutal-Marteau of New York, NY, and her own Tanael Des Bonnes set the early standard with a time of 35.313 seconds, which proved to be a speedy precedent as only three of the remaining 14 pairs topped it. Taking to the ring for the second time after a jump-off ride aboard Contago, Eugenio Garza Perez of Wellington, FL, had the advantage as the last to go and improved upon his earlier performance, this time with El Milagro's Caracas (Cachas x Cosimo).
Saving the best for last, Garza Perez and Caracas, a 2009 Holsteiner gelding, sliced enough time off the clock to power to the top of the leaderboard following a foot-perfect ride in 33.485 seconds, the only combination to break the 34-second mark. Kraut, of Royal Palm Beach, FL, added another top-three finish to her collection for the day with a second-place result on Diadem Du Thot, owned by Stars and Stripes, with a time of 34.256 seconds, and Rebecca Conway of Wellington, FL, rounded out the podium in a clear 35.025 second riding Con Coleur, owned by Blue Hill Farm, LLC.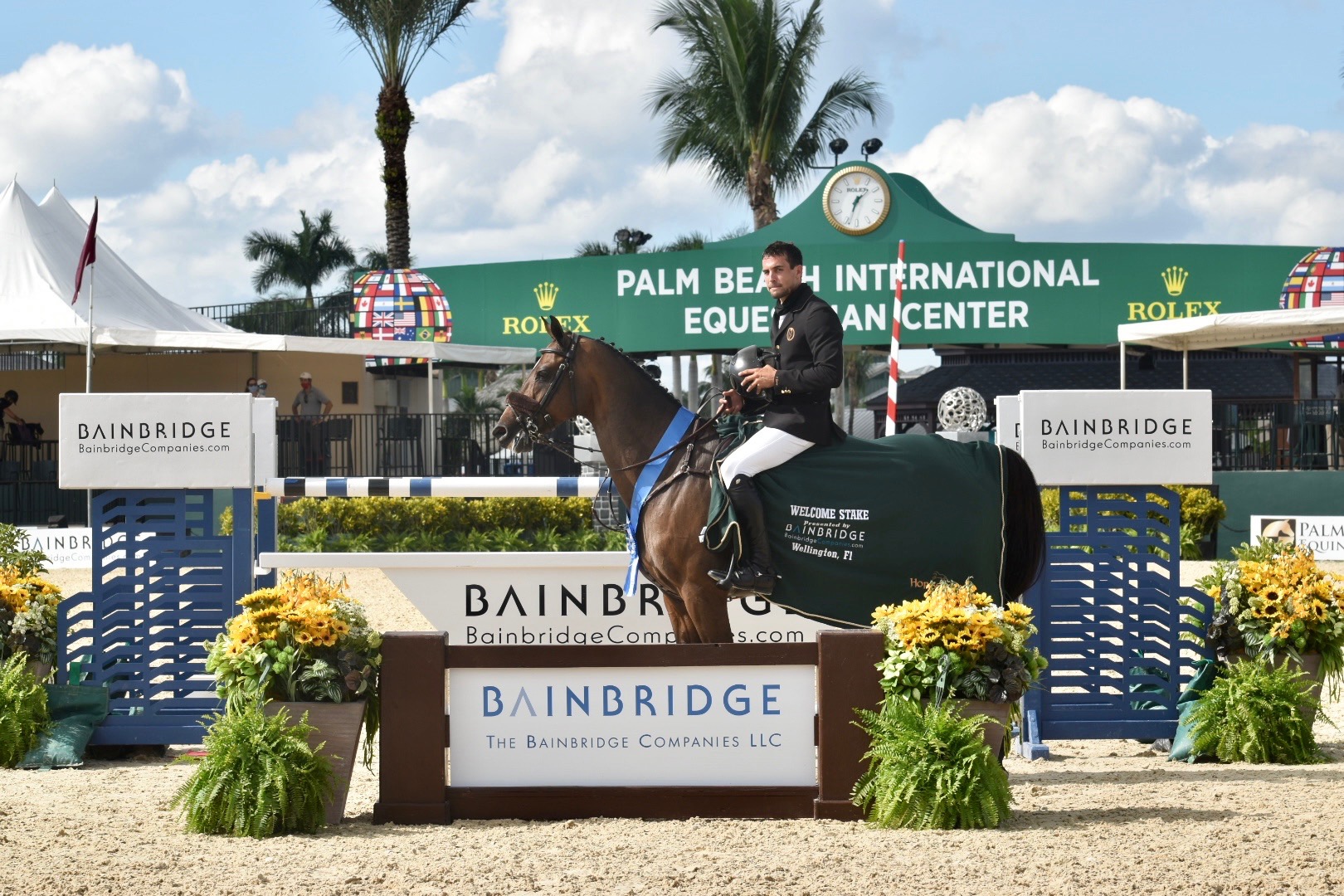 Final Results: $37,000 Spy Coast Farm Grand Prix Qualifier CSI3*

1. COSA NOSTRA: 2010 Oldenburg mare by Conthargos x Quintender
ALBERTO MICHAN (ISR), Alberto Michan: 0/0/35.145
2. CONFU: 2007 Holsteiner gelding by Contact Me x Cambridge
LAURA KRAUT (USA), St. Bride's Farm: 0/0/25.569
3. MTM VIVRE LE REVE: 2009 Westphalian gelding by Ustinov x Chello II
BRIAN MOGGRE (USA), Major Wager LLC: 0/0/35.767
4. DONNA SPECIALE: 2008 KWPN mare by Cavalier x Concorde
LESLIE HOWARD (USA), Peter Howard and Laure Sudreau: 0/0/36.432
5. HILTON VAN DE BREEPOEL: 2007 Belgian Warmblood gelding by Contact Van De Heffinck x Opium
BRITTNI RAFLOWITZ (ISR), ESI Show Jumpers, Inc.: 0/0/38.503
6. VALENTINE CAR: 2009 Warmblood gelding by Son of Juan Car x Galiani CH
GONZALO GUEVARA (COL), Fernando Cardenas, Sr.: 0/0/39.536
7. BULL RUN'S PRINCE OF PEACE: 2009 Holsteiner gelding by Cardenio x Contender
KRISTEN VANDERVEEN (USA), Bull Run Jumpers Six LLC: 0/4/35.205
8. CARNAVAL: 2005 Oldenburg gelding by Chacco Blue x Landadel
HECTOR FLORENTINO (DOM), Spruce Meadows, Ltd.: 0/4/43.228
9. ROYCE: 2004 Oldenburg stallion by Café au Lait x Grandilot
MARGIE GOLDSTEIN-ENGLE (USA), Gladewinds Partners, LLC: 0/8/39.855
10. GRAF COMPLIMENT: 2010 Hanoverian gelding by Graf Top x Compliment
SPENCER SMITH (USA), Spencer Smith: 0/8/42.702
11. VERDI O'MERVEILLES: 2009 Selle Français gelding by Verdi Tn x Quick Star
FABIO LEIVAS DA COSTA (BRA) , Bonne Chance Farm LLC: 1/78.23
12. ALAMO: 2008 KWPN gelding by Ukato x Equador
DANIEL BLUMAN (ISR), Gerardo Pasquel: 1/79.52
For a full list of results for the $37,000 Spy Coast Farm CSI3* Grand Prix Qualifier, please click HERE.
For a full list of results for the $10,000 Bainbridge 1.40m Open Stake, please click HERE.

The ESP Fall Series will continue through Sunday, November 15, at the main grounds of PBIEC with the ESP Pre-Charity Show, featuring "A" rated and Jumper 6* national competition, as well as CSI3* international classes. Click HERE to view the November Edition of the Prize List for the ESP Fall Series.

No spectators are allowed on-site at this time, but friends and family can view all classes via our SGL live stream HERE.

To learn more about the safety protocols and procedures at the horse show in their entirety, please click HERE.

Photo credit ©Anne Gittins Photography and ©PBIEC. These photos may only be used once in relation to this press release with proper credit.