Wellington, FL – November 12, 2020 – The first competition day of the ESP Pre-Charity Show CSI3*, the final installment of the ESP Fall Series, brought international partnerships back to the main stage at the Palm Beach International Equestrian Center (PBIEC) on Thursday. Held in the International Arena, the $6,000 Palm Beach Equine Clinic 1.45m CSI3* kicked off the morning, featuring the likes of heavy-hitters such as Margie Goldstein-Engle (USA), Nayel Nassar (EGY), Laura Kraut (USA) and Lillie Keenan (USA), among others. Ultimately, Israel's Alberto Michan sealed victory aboard Marie Antonette Leviste's Loribri, an 11-year-old Norwegian Warmblood mare.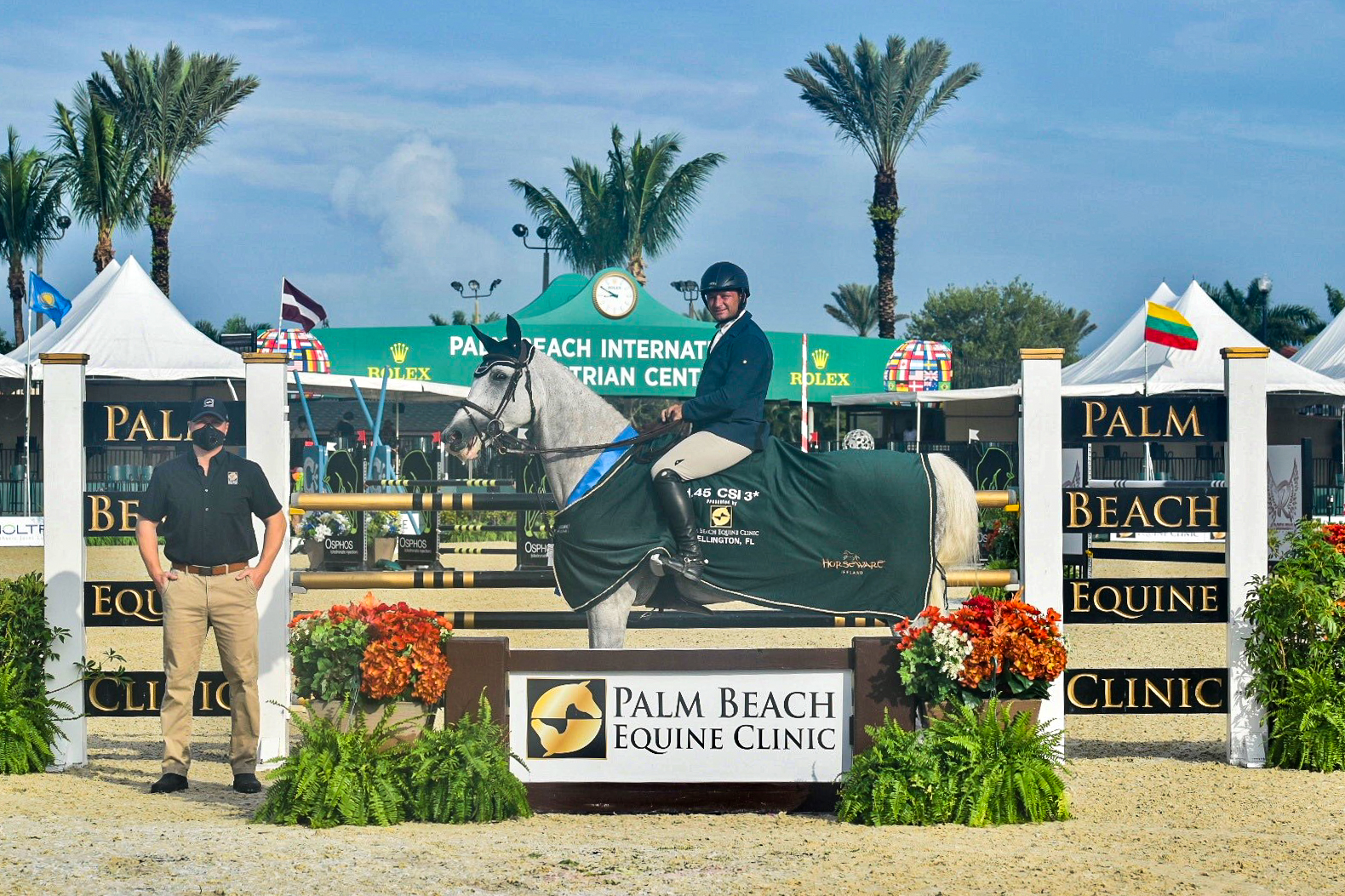 "I think it was a nice start to the week!" commented Michan. "It was a bigger class today [because it was] FEI but still not a ranking class. It was a nice class for speed horses or horses that are training a little bit for the ranking class tomorrow or Sunday. The mare I rode, Loribri, is a very nice speed horse so the plan was to compete today and then the [$12,000 CCTV Agent 1.45M Speed CSI3*] on Saturday. She's very fast naturally, so if we can keep the jumps up we'll have a good chance."
Out of the starting lineup, 17 pairs turned in clear initial trips over course designer Guilherme Jorge's (BRA) track for the 1.45m contest. Michan and Loribri (Kingsland SM x Primas) turned out to be the final fault-free pair in the first round, giving them the advantage of riding last in the jump-off. They used that advantage wisely, turning in the quickest trip over the short course in 26.588 seconds with all the rails still in their cups to capture the top honors. Ashley Vogel (USA) earned second on her own Bellissimo Z in a clear time of 27.275 seconds, and Kraut rounded out the podium in a foot-perfect 27.679 seconds riding Fleurette, owned by St. Bride's Farm.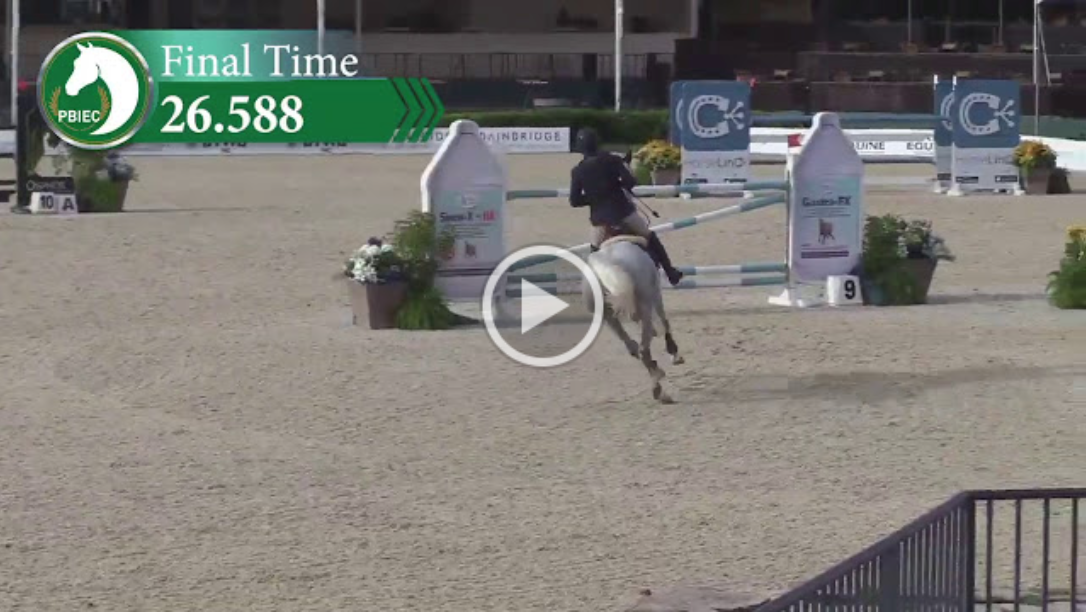 On the return of international competition to the PBIEC grounds in Wellington, Michan said, "This is always a very important venue, and I think we're all very excited to be back. I think they've done a great job with all the safety measures to allow us to keep the sport running, and I think we're all very aware of that. [We are being] very responsible and following the rules so this can keep going and we can have nice shows."
Later in the day, the $5,000 Equine Tack and Nutritionals 1.35m Open Jumper Stake featured 40 partnerships over designer Jorge's courses. Irish rider Shane Sweetnam piloted HDB Quality, owned by Sweet Oak Farm and Spy Coast Farm, to victory as one of 12 duos to make it to the jump-off. 
"The time was a bit tight in the first round, so I had to go with a little bit of a rhythm. She's still only seven, but she's naturally very quick and has won a lot of classes already," Sweetnam said of the 7-year-old Westphalian mare (PR.H.Quality Time x Grannus). He continued, "She'll jump again tomorrow [in the $10,000 Bainbridge Open Stake] and then we'll [move her up] step by step. Hopefully she'll be a real winner for me."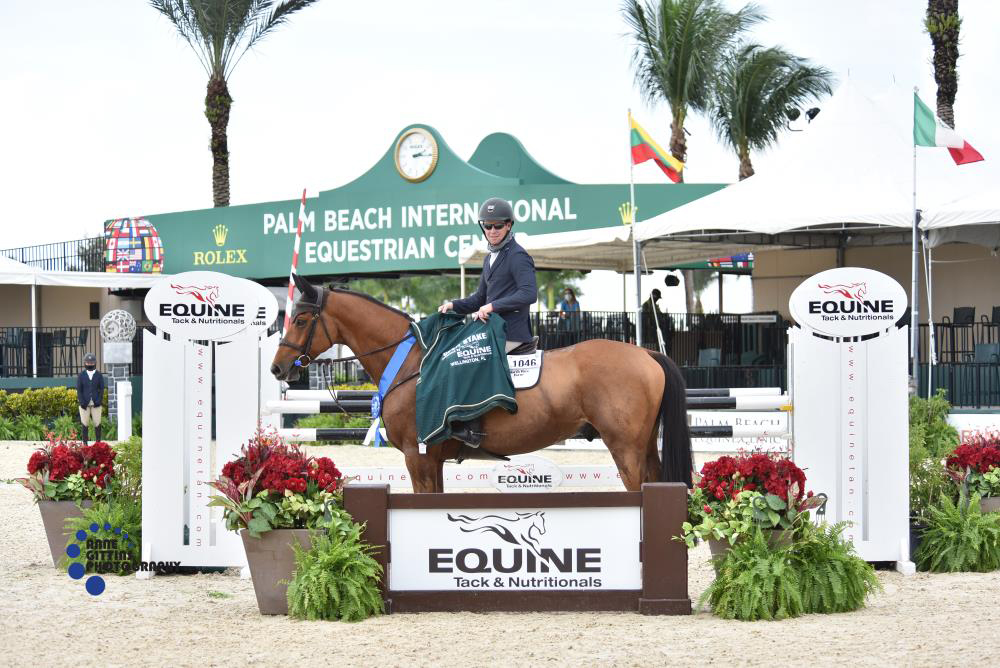 While Sweetnam and HDB Quality won by nearly a full second with a clear time of 31.211 seconds, Kraut and Vanessa Hood (USA) came in a close second and third, respectively. Kraut piloted Stars and Stripes' Diadem Du Thot through the short course in 32.214 seconds to add another top finish to her day's collection, while Hood finished in 32.622 seconds with Fairytale 86, owned by Take Two LLC. 
Final Results: $6,000 Palm Beach Equine Clinic 1.45m CSI3*
1. LORIBRI: 2009 Norwegian Warmblood mare by Kingsland SM x Primas
ALBERTO MICHAN (ISR), Marie Antonette Leviste: 0/0/26.588
2. BELLISSIMO Z: 2009 Zangersheide mare by Bamako de Muze x Chin Chin
ASHLEY VOGEL (USA), Ashley Vogel: 0/0/27.275
3. FLEURETTE: 2009 Selle Francais mare by Verdi Tn x Concorde
LAURA KRAUT (USA), St. Bride's Farm: 0/0/27.679
4. CAZAAN: 2012 Holsteiner stallion by Casall x Clarimo
LILLIE KEENAN (USA), Chansonette Farm LLC: 0/0/28.214
5. MARIE VD MESPEL Z: 2011 Zangersheide mare by Mylord Carthago x Ginus
HEATHER CARISTO WILLIAMS (USA), Mr. and Mrs. Ralph Caristo: 0/0/28.527
6. JACK THE RIPPER 111: 2009 Belgian Warmblood gelding by Der Senaat 111 x Ideal De La Loge
FABIO LEIVAS DA COSTA (BRA), Bonne Chance Farm LLC: 0/0/29.734
7. VALENTINE CAR: 2009 Warmblood gelding by Son of Juan Car x Galiani CH
GONZALO GUEVARA (COL), Fernando Cardenas, Sr.: 0/0/29.756
8. IGOR VAN DE WITTEMOERE: 2008 Belgian Warmblood gelding by Cooper VD Heffinck x Orlando 96
NAYEL NASSAR (EGY), Evergate Stables, LLC: 0/0/29.856
9. CALVALOU: 2007 Oldenburg gelding by Calvaro F.C. x Baloubet De Rouet
TODD MINIKUS (USA), Todd Minikus Ltd.: 0/0/31.105
10. CESNA M: 2012 Oldenburg gelding by Check In 2 x Sandro Boy
MARGIE GOLDSTEIN-ENGLE (USA), Virgina T Bartholomay: 0/0/32.354 
11. CHACCO BUMPY: 2010 Oldenburg mare by Chacco Blue x Toulon
LUIS PEDRO BIRABEN (ARG), Miguel Madero & Luis Pedro Biraben: 0/0/34.096
12. DEAUVILLE S: 2006 Holsteiner gelding by Diamant De Semilly x Lux Z
TANNER KOROTKIN (USA), Castlewood Farm Inc: 0/4/27.93
For a full list of results for the $6,000 Palm Beach Equine Clinic 1.45m CSI3*, please click HERE.
The ESP Fall Series will continue through Sunday, November 15, at the main grounds of PBIEC with the ESP Pre-Charity Show, featuring "A" rated and Jumper 6* national competition, as well as CSI3* international classes. Click HERE to view the November Edition of the Prize List for the ESP Fall Series.
No spectators are allowed on-site at this time, but friends and family can view all classes via our SGL live stream HERE.
To learn more about the safety protocols and procedures at the horse show, please click HERE.
Photo credit ©Anne Gittins Photography and ©PBIEC. These photos may only be used once in relation to this press release with proper credit.