For Immediate Release
Emily Randolph and Sabrina Brashares for Jennifer Wood Media, Inc.
Wellington, FL – January 23, 2020 – Abigail McArdle and Victorio 5 topped a field of 85 entries to win the $37,000 Equinimity WEF Challenge Cup Round 3 CSI3* on Thursday, January 23, during week three of the 2020 Winter Equestrian Festival (WEF) at the Palm Beach International Equestrian Center (PBIEC) in Wellington, FL.
WEF continues through March 29, 2020, with 12 consecutive weeks of world-class competition and $13 million dollars on offer. The third week of competition at WEF is sponsored by Adequan® and recognized as a CSI3* by the Fédération Equestre Internationale (FEI). The week's featured event is the $137,000 Adequan® Grand Prix CSI3* during "Saturday Night Lights" on January 25, at 7 p.m. in the International Arena.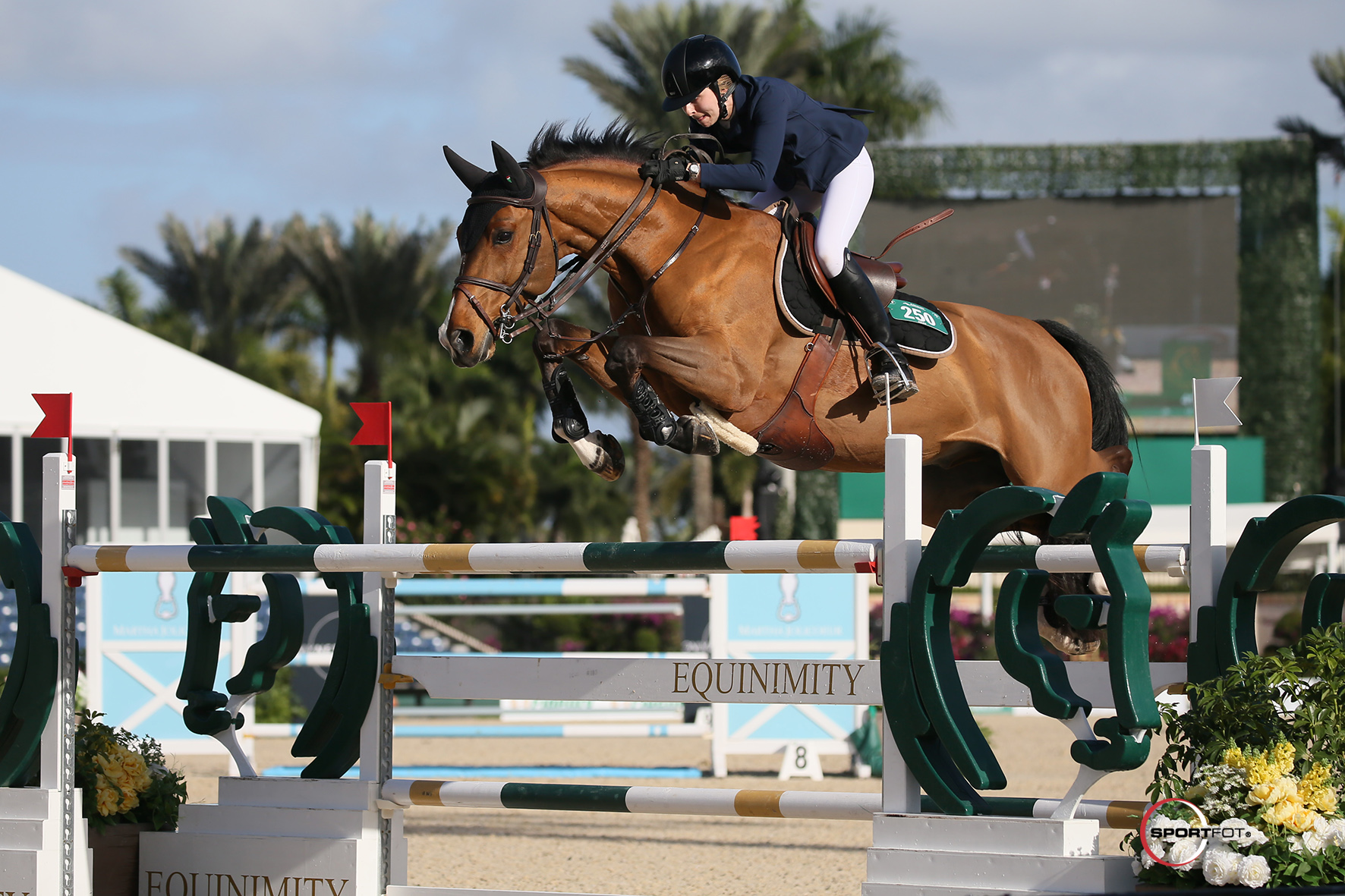 On their way to the win in Thursday's featured class, McArdle and Victorio 5 were one of 11 entries to navigate the first-round course without fault and elect to return to face-off over the Kelvin Bywater (GBR) designed short course.
When McArdle returned to the ring, the time to beat had been set at 45.39 seconds by Lucas Porter (USA) and C Hunter, owned by Sleepy P Ranch, but quick foot speed and a skillful slice to one fence in particular would ultimately clinch the victory for McArdle with an unbeatable time of 43.98 seconds. Porter's time held up for second place, while third place with a time of 46.98 seconds went to Jessica Springsteen (USA) and RMF Tinkerbell, owned by Rushy Marsh Farm LLC.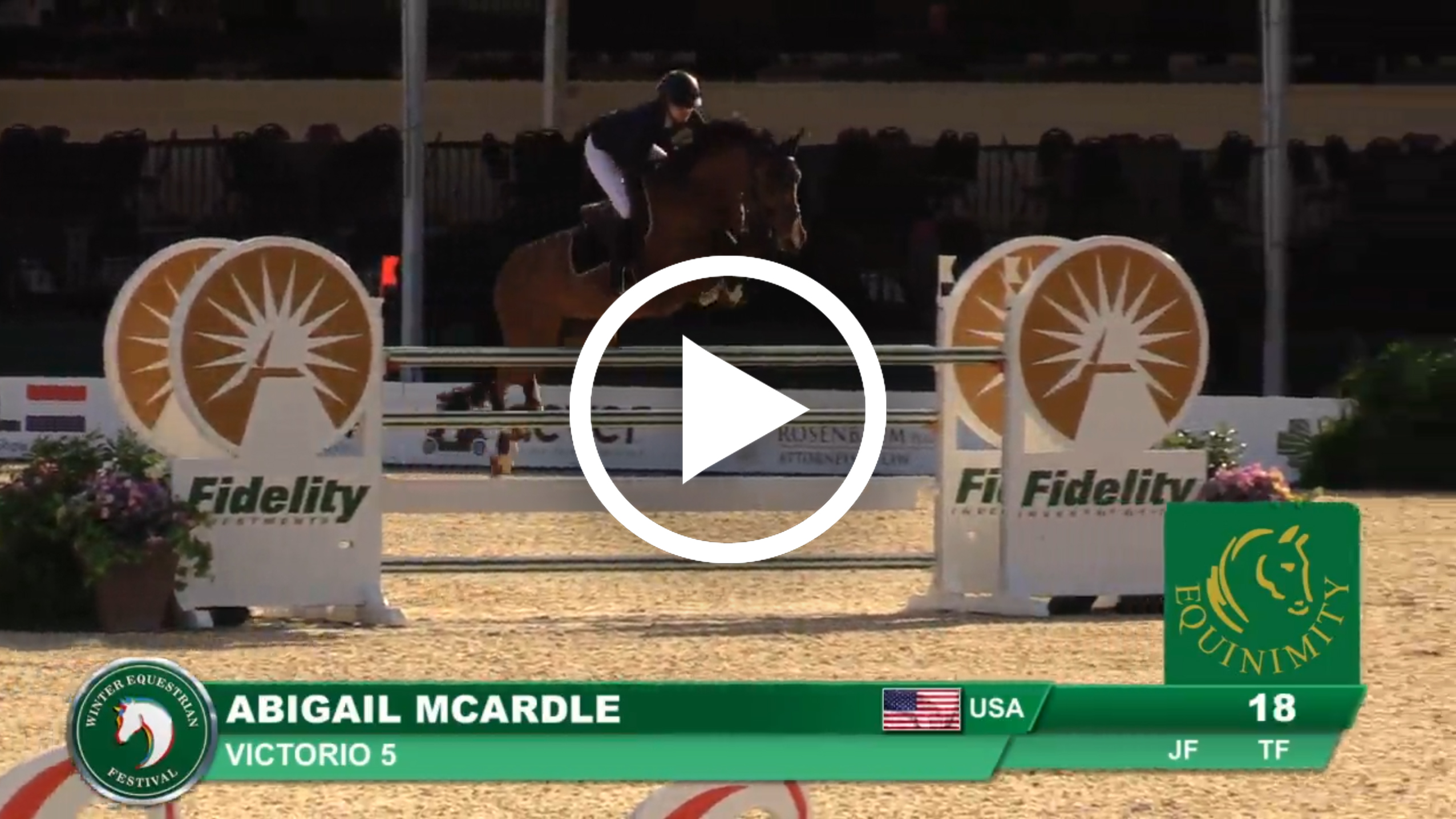 "I've never won a WEF [Challenge Cup] before; this is a first, so I'm very, very happy!" said McArdle, 25. "It was a very difficult first round track; I went for it in the jump-off, and it paid off."
McArdle has been partnered with Victorio 5 for the last years and has been moving the 14-year-old Hanoverian stallion (by Uccello), owned by Victorio Equine Group, up the ranks since riding him to top results in the Under 25 division.
"We've been building up," said McArdle, who rides with Plain Bay Sales LLC, and who will now point Victorio 5 at Saturday night's $137,000 Adequan® Grand Prix CSI3*. "It's such a good horse. He really deserves this win; he's just the best horse in the world. He's freaky careful, super brave, and easy."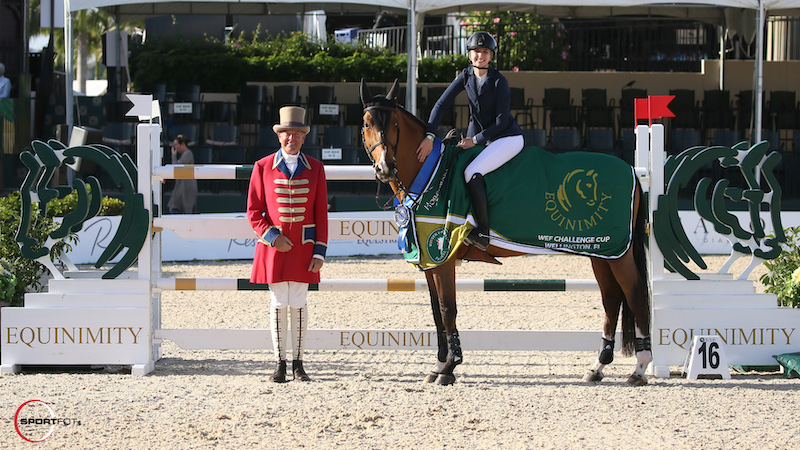 Cameron Hanley (IRL) took fourth aboard Kasper van het Hellehof in 58.10 seconds for owner Poden Farms, while Quentin Judge (USA) capped the top five riding HH Quator, owned by Double H Farm to the fastest four-fault jump-off round.
Also winning in the International Arena at WEF on Thursday were Tomas Yofre and Jamaica in the $8,000 Bainbridge 1.45m Jumpers. For full results, visit www.PBIEC.com.
Final Results: $37,000 Equinimity WEF Challenge Cup Round 3 CSI3*
1 VICTORIO 5: 2006 Hanoverian stallion by Uccello x Graf Top
ABIGAIL MCARDLE (USA), Victorio Equine Group LLC: 0/0/43.98
2 C HUNTER: 2007 Zangersheide stallion by Cassini II x Corland
LUCAS PORTER (USA), Sleepy P Ranch: 0/0/45.39
3 RMF TINKERBELL: 2008 Oldenburg mare by Incolor x Argentinus
JESSICA SPRINGSTEEN (USA), Rushy Marsh Farm LLC: 0/0/46.98
4 KASPER VAN HET HELLEHOF: 2010 BWP stallion by Emerald Van't Ruytershof x Nabab de reve
CAMERON HANLEY (IRL), Poden Farms: 0/0/58.10
5 HH QUATUOR: 2004 Selle Francais gelding by Col Canto x Rosire
QUENTIN JUDGE (USA), Double H Farm: 0/4/45.35
6 THEODORE MANCIAIS: 2007 Selle Français gelding by Kashmir van Schuttershof
SPENCER SMITH (USA), Torrey Pines & Ashland Farm: 0/4/48.76
7 KEL 'STAR DU VINGT PONTS: 2009 Selle Français gelding by Kannan x Landor S
SAM WALKER (CAN), Castlefield Sport Horses Inc.: 0/4/51.13
8 PAPPA ANTE PORTAS II: 2008 Hanoverian gelding by Perigueux x Escudo I
EUGENIO GARZA PEREZ (MEX), David and Monica Garza: 0/8/55.29
9 CAYANI SN: 2010 SWB gelding by Cayado 3 x Voltaire
BLISS HEERS (USA), Team Philippaerts: 0/12/63.23
10 GO EASY DE MUZE: 2006 BWP gelding by Vigo d'Arsouilles x For Pleasure
DARRAGH KENNY (IRL), Kerry Anne LLC: 0/wd.
11 HADJA VAN ORSHOF: 2007 Belgian Warmblood mare by Cabrio van de Heffinck
KELLI CRUCIOTTI VANDERVEEN (USA), Kelli Cruciotti: 0/ret.
12 PRESTIGIOUS: 2007 Westphalian gelding by Con Cento x Corofino
MADISON GOETZMANN (USA), Madison Goetzmann: 0/elim.
Maria Rasmussen Pilots R & R to Green Hunter 3'3" Championship
The Green Hunter 3'3" division came to a close on Thursday with the crowning of Maria Rasmussen and R & R as the champions. Rasmussen rode R & R to a first, two seconds, a fourth, and a fifth-place ribbon in the Equine Tack and Nutritionals Ring 6.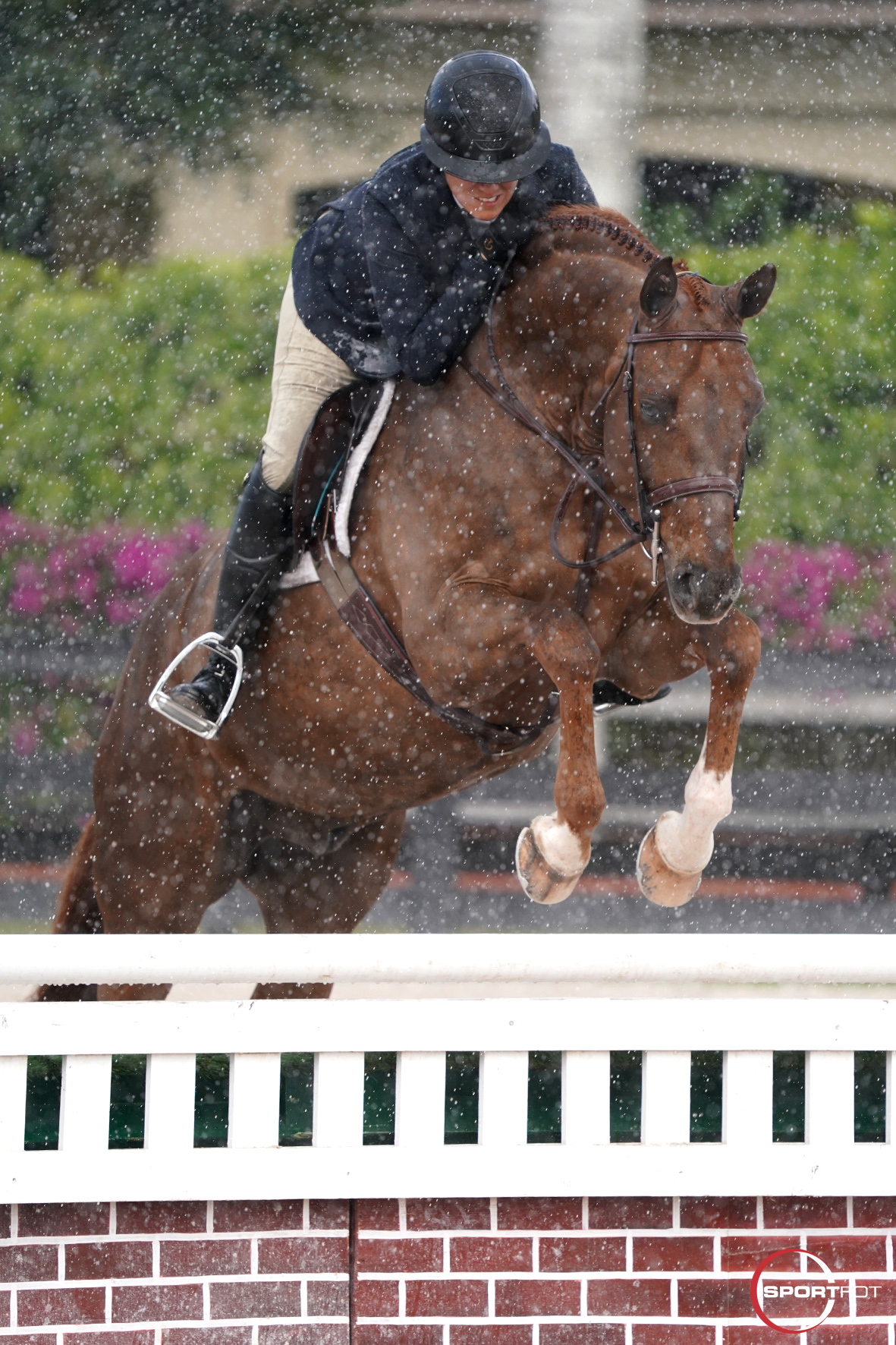 R & R is a fairly new ride for Rasmussen, who has only had the horse for one month. Owned by Jill Abrams of Wellington, FL, the eight-year-old Oldenburg gelding has already proven to be a great addition. "He has been fun, easy and talented right off the bat!" Rasmussen commented.
Rasmussen, of Royal Palm Beach, FL, was pleased with how reliable R & R was in the tough competition. "For pre-green horses it's hard to be so consistent, and he gave it his all every round," said Rasmussen. The gelding's beautiful and rhythmic canter also helped the pair stand out to the judges and win the under saddle.
Although Rasmussen is having fun showing R & R, her main goal is to get him ready for Abrams to take over the ride. Abrams plans to show the gelding in the Adult Amateurs during this season of the Winter Equestrian Festival.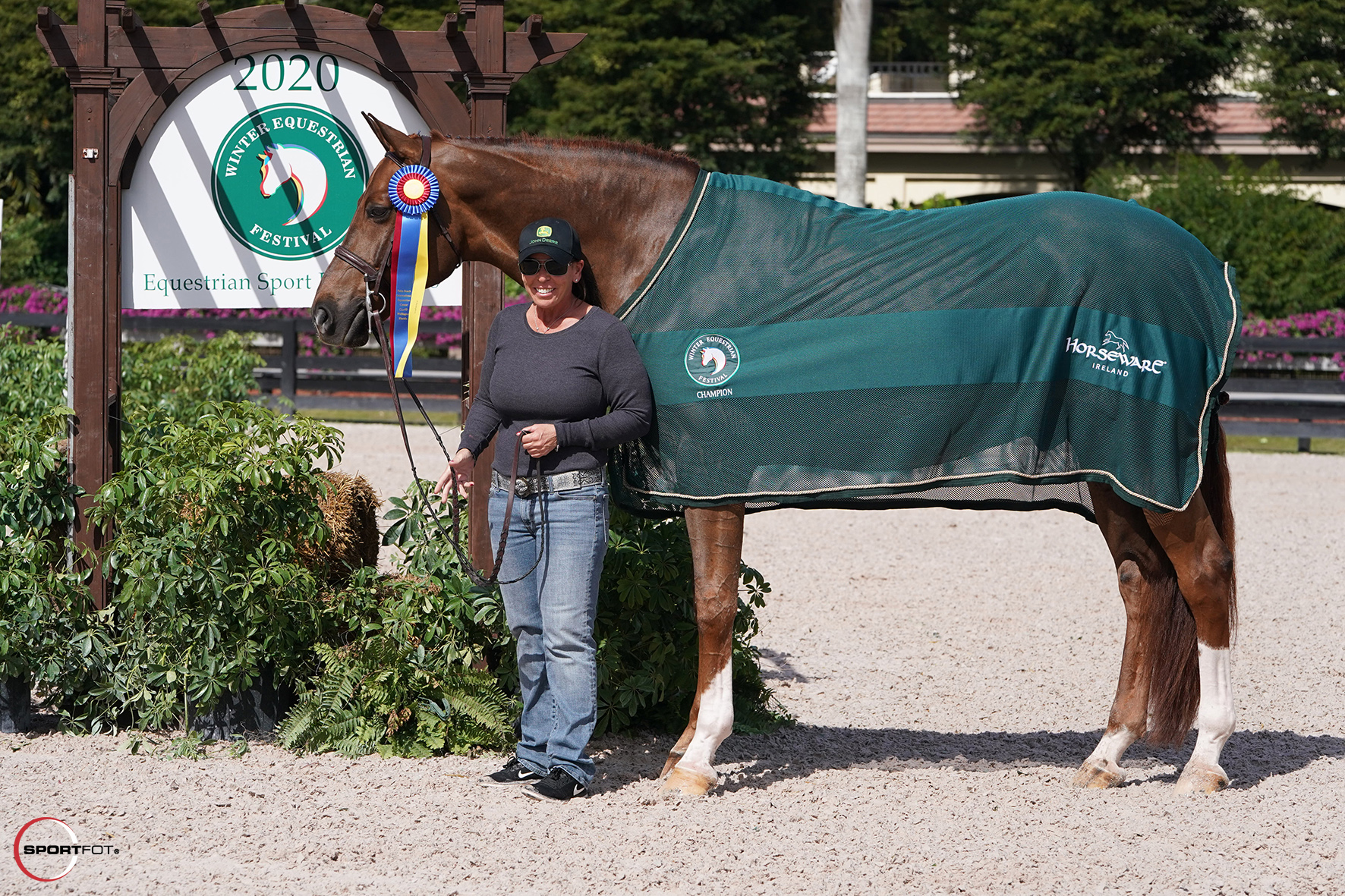 Rasmussen is happy to be showing at the Palm Beach International Equestrian Center and is looking forward to the remaining weeks of the circuit. "It's nice to show here where the footing is nice and there is always a good group of horses to show against," Rasmussen explained.
Reserve champion of the Green Hunter 3'3" division went to John French, of San Juan Bautista, CA, and Lucky Strike. French and Lucky Strike, owned by Kent Farrington LLC, earned two firsts, a fifth and a seventh place.
Friday will bring more hunter competition, with the Adult Amateur Younger Section A finishing up in the Rost Arena.
Photo Credit: Photos © Sportfot, Official Photographer of the Winter Equestrian Festival. These photos may be used only in relation to this press release and must include photo credit.