For Immediate Release
Kate Pettersen, Sabrina Brashares, and Kimberlyn Beaudoin for Jennifer Wood Media, Inc.
Wellington, FL – March 13, 2021 –  Under the lights in the International Arena at the Palm Beach International Equestrian Center (PBIEC), Abdel Saïd (EGY) and his own Bandit Savoie stole the show with a stunning victory in the $401,000 Fidelity Investments® Grand Prix CSI5*, on Saturday, March 13, as part of the Winter Equestrian Festival (WEF).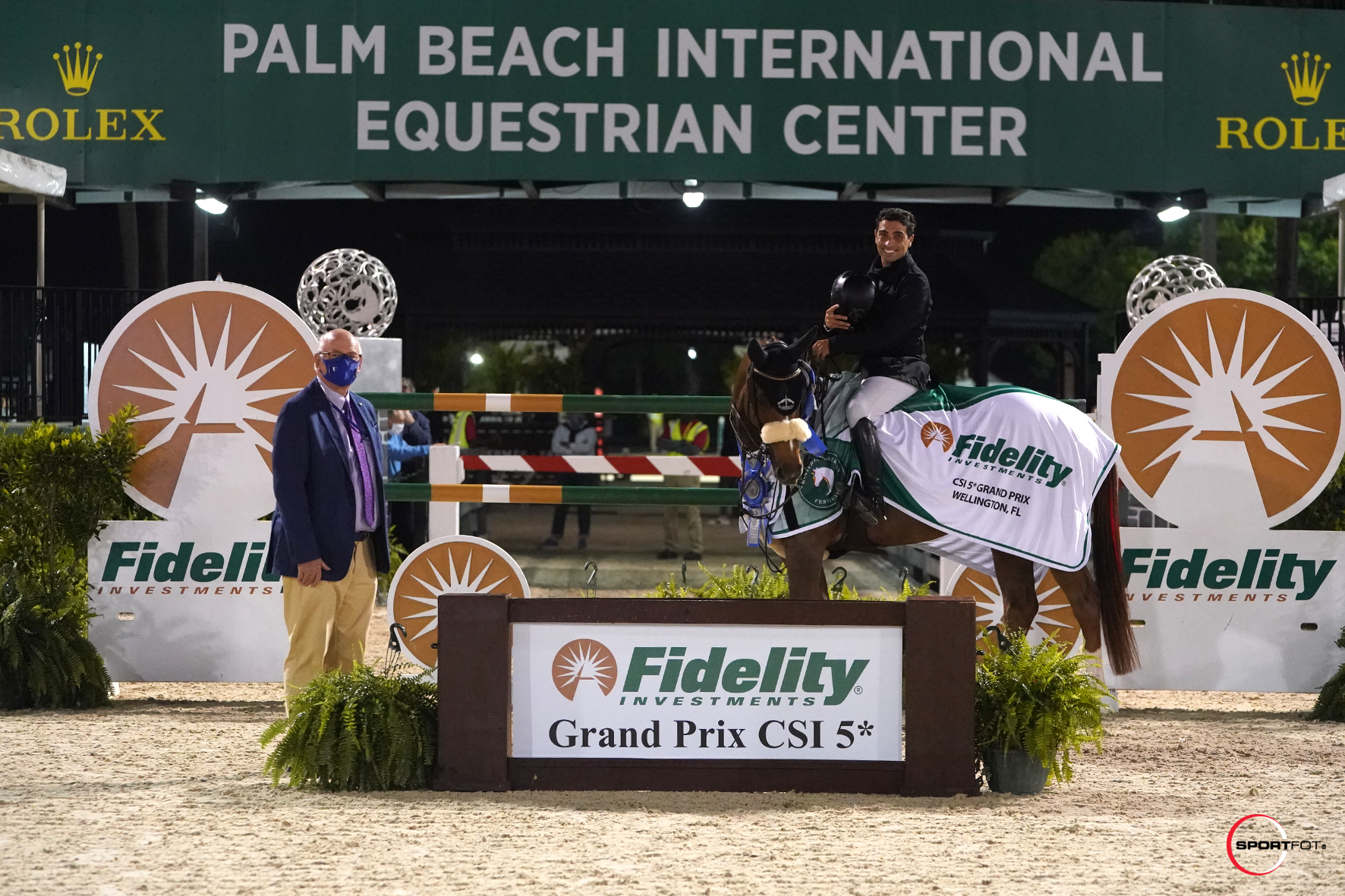 Week nine competition concludes on Sunday, March 14, with the $73,000 CaptiveOne Advisors 1.50m Classic CSI5* on Sunday afternoon as part of 12 weeks of international competition. Feature classes are available free live and on-demand on the livestream.
In the third CSI5* of the 2021 winter circuit, a field of 39 starters attempted the 1.60m track built by Ireland's Alan Wade, with nine jumping clear to qualify for the jump-off. Brazil's Rodrigo Pessoa set the pace early as the first to return aboard Carlito's Way 6 owned by Artemis Equestrian Farm, LLC, with a clear jumping effort in a time of 41.45 seconds. Their pace was fast, but the door was left open and those who followed found a way in.
Fourth of nine to return, Cian O'Connor (IRL) and Kilkenny flew around the shortened track, electing to leave a stride out down the final line and the risk paid off. He and the nine-year-old Irish Sport Horse gelding (Cardento x Mhs Pembrook Lady) owned by Ronnoco Jump Ltd moved into the lead with a clear effort, crossing the timers in 39.09 seconds.
Next to go, Saïd piloted his 10-year-old Selle Français gelding (Qlassic Bois Margot x Falmera) around the track effortlessly, opting to make up the time through the turns, moving swiftly across the ground in nine strides to the final fence to take over the lead in 38.70 seconds.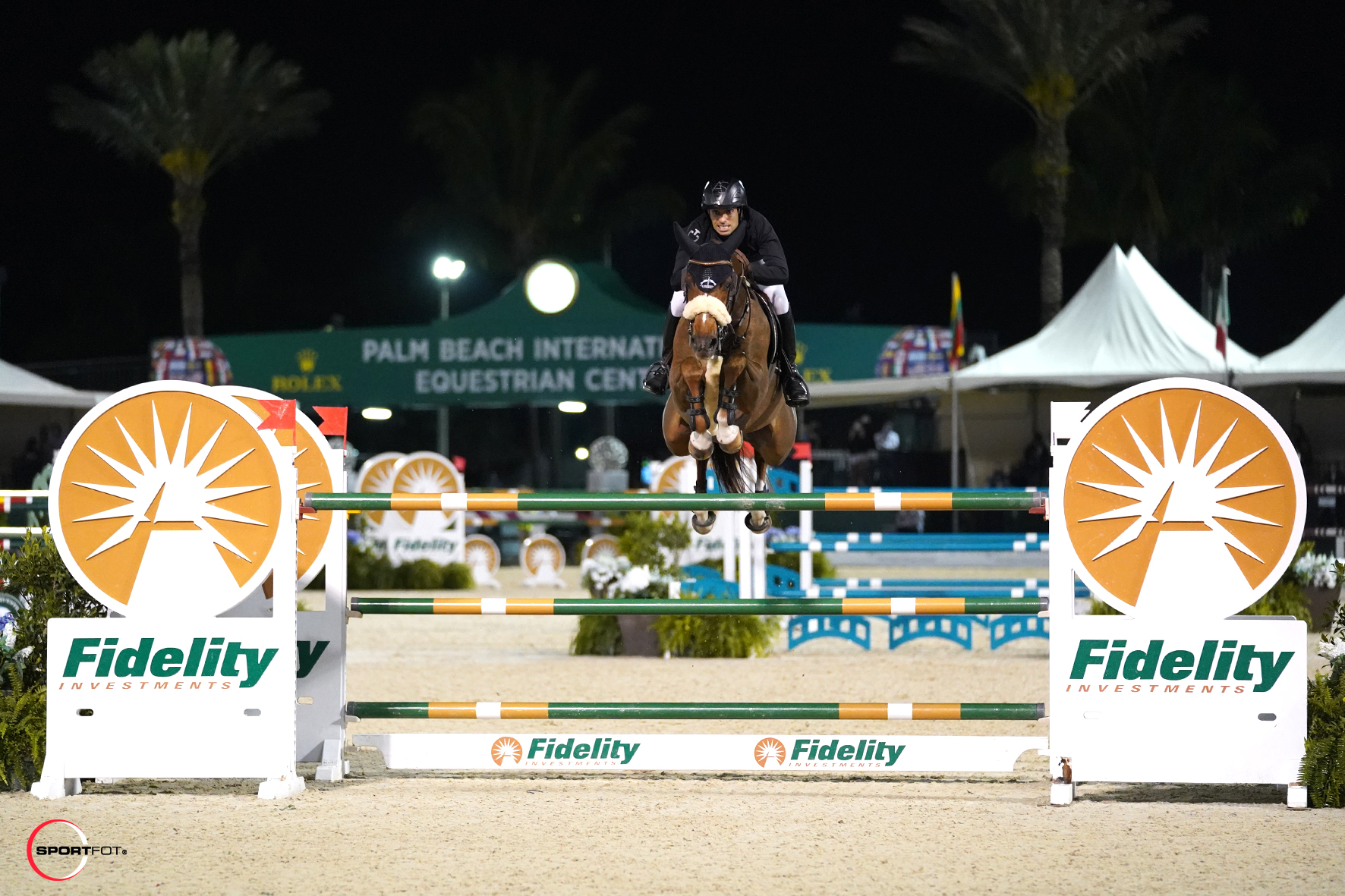 It was the pair following Saïd that kept everyone on the edge of their seats as the quick combination of Daniel Deusser (GER) and Killer Queen VDM gave it their best effort. Deusser, ranked third in the world, guided the 11-year-old Belgian Warmblood mare (Eldorado Vd Zeshoek x Derly Chin De Muze) owned by Stephex Stables to a clear effort, stopping the clock just one-hundredth of a second off the leading time in 38.71 seconds.
In the end, it was Saïd who prevailed to take the victory on the talented gelding he purchased in September from the number one ranked rider in the world, Steve Guerdat.
"He is a feisty little horse who is definitely a trier," said Saïd of the winning gelding. "I love the fire he has in him. It was causing us to have some rails at the past few shows because I didn't really know him, but I sold my two main grand prix horses earlier in the circuit, so he had to really step up. 
Click here to watch the winning round brought to you by Premier Equestrian!
"I must say today going into the jump-off after the first round I was so happy with how he went," continued Saïd. "I just wanted to do my own round and see where I ended up. I didn't really go until I really had to win today, but I like to go in the jump-off, and it just worked out today. Everything clicked a little more, and I was really happy."
Deusser followed up on his fourth-place finish in the WEF 7 CSI5* grand prix ending the evening in second place.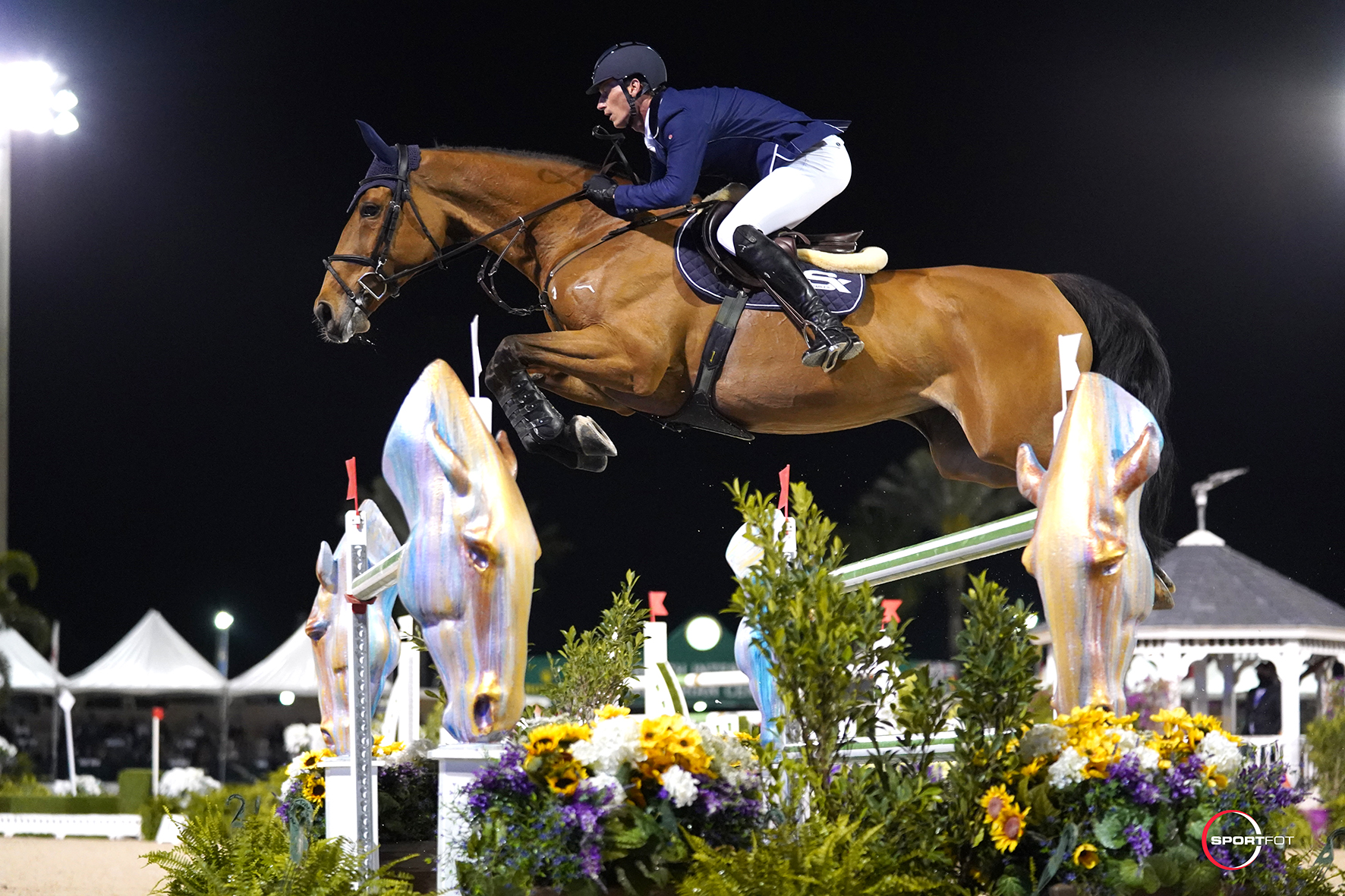 "In the last couple of weeks, she has proven herself," said Deusser. "She is a mare with unbelievable scope and she knows what to do with her range; she wants to leave the poles up. Today was a fantastic round for her. I didn't get the best distance to the second to last fence. I was really planning to do the eight [strides] and she has a big stride, but I could not make her do it. I was so deep to the second to last fence, and that's where I lost it."
As the Irish continue to produce clear rounds at WEF, sweeping the top five spots in Thursday's qualifier, O'Connor kept their podium streak alive as he landed in third in the grand prix.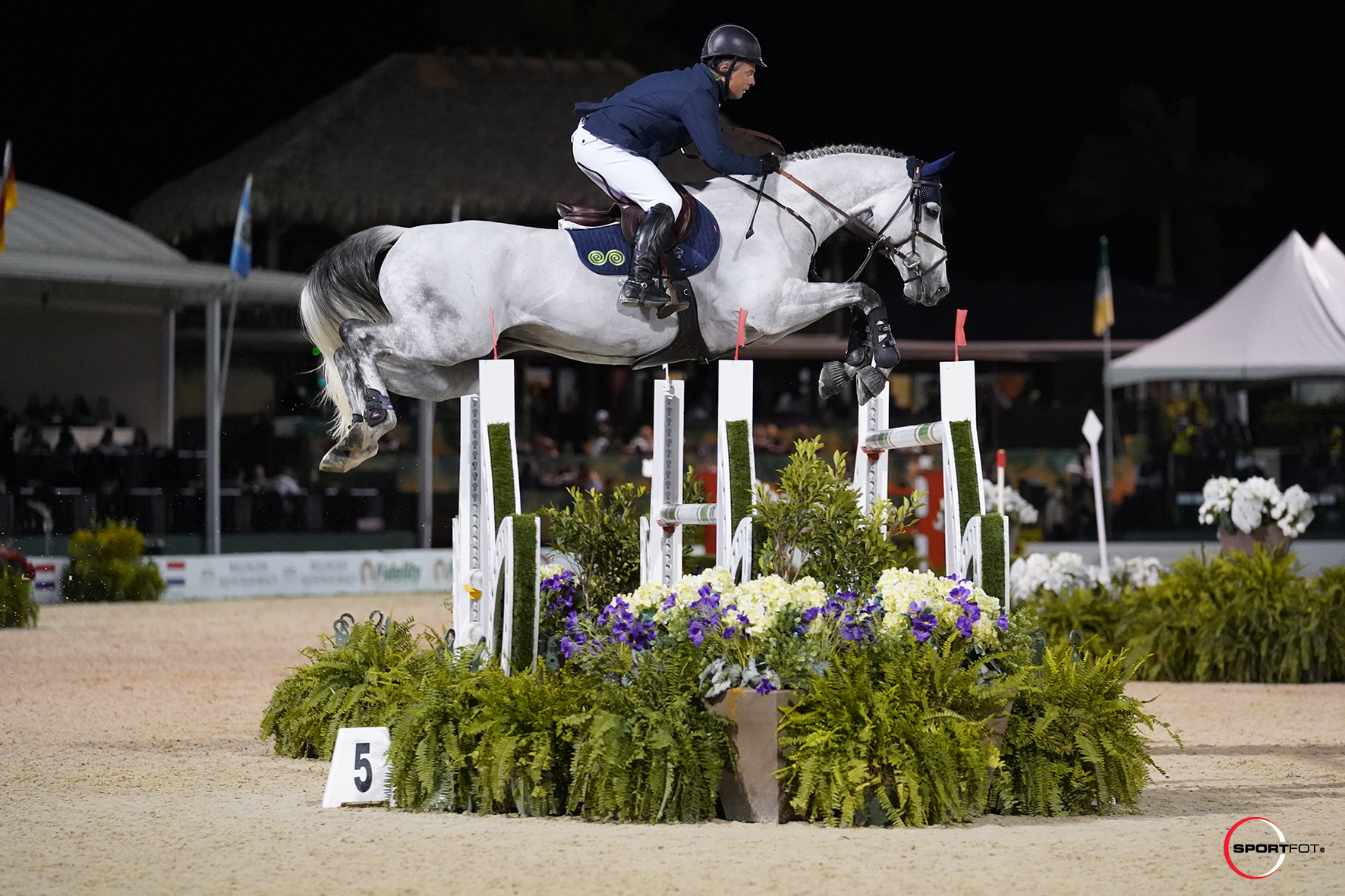 "He's a super horse," said O'Connor. "I only got him last September when he was eight years old. It was really a night of firsts for me; first time under the lights, first time [in a] five star, first time jumping water in the big competition, so I didn't really know what to expect. When I walked the course, I thought it was a very difficult test. The verticals were very tall. I must say the course was nice. This time of year, we're all just getting up and running and the combinations were fair and Alan [Wade] did a super job with the course. I'm just thrilled with the horse. He was only half a second off my good friend [Abdel] here, so we're really, really pleased. I couldn't be happier."
It was a historic night for Saïd as his victory marked the first time an Egyptian rider has won a CSI5* Grand Prix in the history of the Winter Equestrian Festival.
"I'm really, really proud," said Saïd of the opportunity to represent his country in international competition. "Especially now because when my top horses got sold, I felt the pressure of the Olympics and whether or not it would happen. I really felt the pressure the last few shows, and I'm just happy that I have a horse that I can do this with. Obviously, this is a very, very high level and the Olympics aren't too far away, but we will see where we end up." 
 Click here to watch the Press Conference for the $401,000 Fidelity Investments® Grand Prix CSI5*
In a season filled with the challenges of navigating a global pandemic and protecting horses from the Equine Herpes Virus (EHV), competition has been able to continue at WEF with the health and safety of horses and riders as the number one priority. Many riders have expressed the utmost appreciation for the opportunity to compete at the CSI5* level.
"I think we are blessed," said O'Connor of the current situation. "We spoke about it in the prize giving; to be able to compete here is extraordinary this time of year. The horse show here at WEF does a super job with the COVID protocols and to be able to jump at such a high level and be up and running so early on, we feel privileged. It's a huge advantage for us because other people aren't jumping, things are canceled and so on. It's awful with this [EHV] virus in Europe as well, so we think about everyone who has been affected by that, but we feel fortunate to have planned to come here and that we are all able to jump in a very safe environment."
Following the class, the Herman 'Kappy' Kaplan Perpetual Memorial Trophy was presented to Abdel Saïd. The trophy was established for Kappy with fondness by the Farriers of the 1995 WEF.
The Martha Jolicoeur Leading Lady Rider Award, in memory of Dale Lawler, was presented by Adrienne Sternlicht (USA), who placed fourth in the grand prix with Cristalline.
Four people were honored in special presentations prior to the start of the grand prix. David Distler and Leslie Howard were inducted into the Show Jumping Hall of Fame, while WEF show manager David Burton was presented with the new trophy in his honor, the David E. Burton Jr. Perpetual Trophy for Extraordinary Service and Equestrian Sport Productions President Michael Stone was awarded the Wellington Equestrian Lifetime Achievement Award for their incredible work in the past year to make horse shows possible at PBIEC.
Full Results: $401,000 Fidelity Investments® Grand Prix CSI5*
1. BANDIT SAVOIE: 2011 Selle Français gelding by Qlassic Bois Margot x Falmera Savoie
ABDEL SAÏD (EGY), Abdel Saïd and AS Sport Horses: 0/0/38.70
2. KILLER QUEEN VDM: 2010 BWP mare by Eldorado Vd Zeshoek x Derly Chin De Muze
DANIEL DEUSSER (GER), Stephex Stables: 0/0/38.71
3. KILKENNY: 2012 Irish Sport Horse gelding by Cardento x Mhs Pembrook Lady
CIAN O'CONNOR (IRL), Ronnoco Jump Ltd: 0/0/39.09
4. CRISTALLINE: 2008 Bavarian Warmblood mare by Cristallo 1 x Caretello B
ADRIENNE STERNLICHT (USA), Starlight Farms 1 LLC: 0/0/38.52
5. KARLIN VAN 'T VENNEHOF: 2010 BWP mare by Fantomas De Muze X Quasimodo Vd Molendreef
SHANE SWEETNAM (IRL), Seabrook LLC and Shane Sweetnam: 0/0/39.83
6. CARLITO'S WAY 6: 2010 Holsteiner gelding by Casall x Lordanos
RODRIGO PESSOA (BRA), Artemis Equestrian Farm LLC: 0/0/41.45
7. ARMIK: 2009 Oldenburg gelding by Armitage x Justinian xx
CAPT. BRIAN COURNANE (IRL), Brian Cournane and M/M Bob Stiller: 0/4/41.17
8. LEONE JEI: 2012 Dutch Warmblood gelding by Baltic VDL x Corland
MARTIN FUCHS (SUI), Adolfo Jui: 0/4/42.04
9. PACINO AMIRO: 2012: Irish Sport Horse mare by Pacino x Carnone Dancing Queen
BERTRAM ALLEN (IRL), Aiden McGregory: 0/EL
10. GEMMA W: 2011 KWPN mare by Luidam x Unaniem
DANIEL BLUMAN (ISR), Blue Star Investments: 1/83.84
11. CHAKARIA: 2010 German Sport Horse mare by Chap 47 x Askari 173
ANDRE THIEME (GER), Pferdemanagement & Marketing GMBH: 4/78.91
12. SOUPER SHUTTLE: 2011 Hanovarian mare by Stakkato x Luise Marie
CHLOE REID (USA), Live Oak Plantation: 4/79.44
Victoria Colvin Claims First and Second in the $25,000 USHJA International Hunter Derby
Hunter competition continued on the Derby Field at Equestrian Village on Saturday with professional, junior, and amateur riders competing for the top spot in the $25,000 USHJA International Hunter Derby. Well-known hunter rider Victoria Colvin entered the winner's circle once again taking top honors with JT Farm's Gabriel, and earned second place with Meralex Farm, Inc.'s El Primero.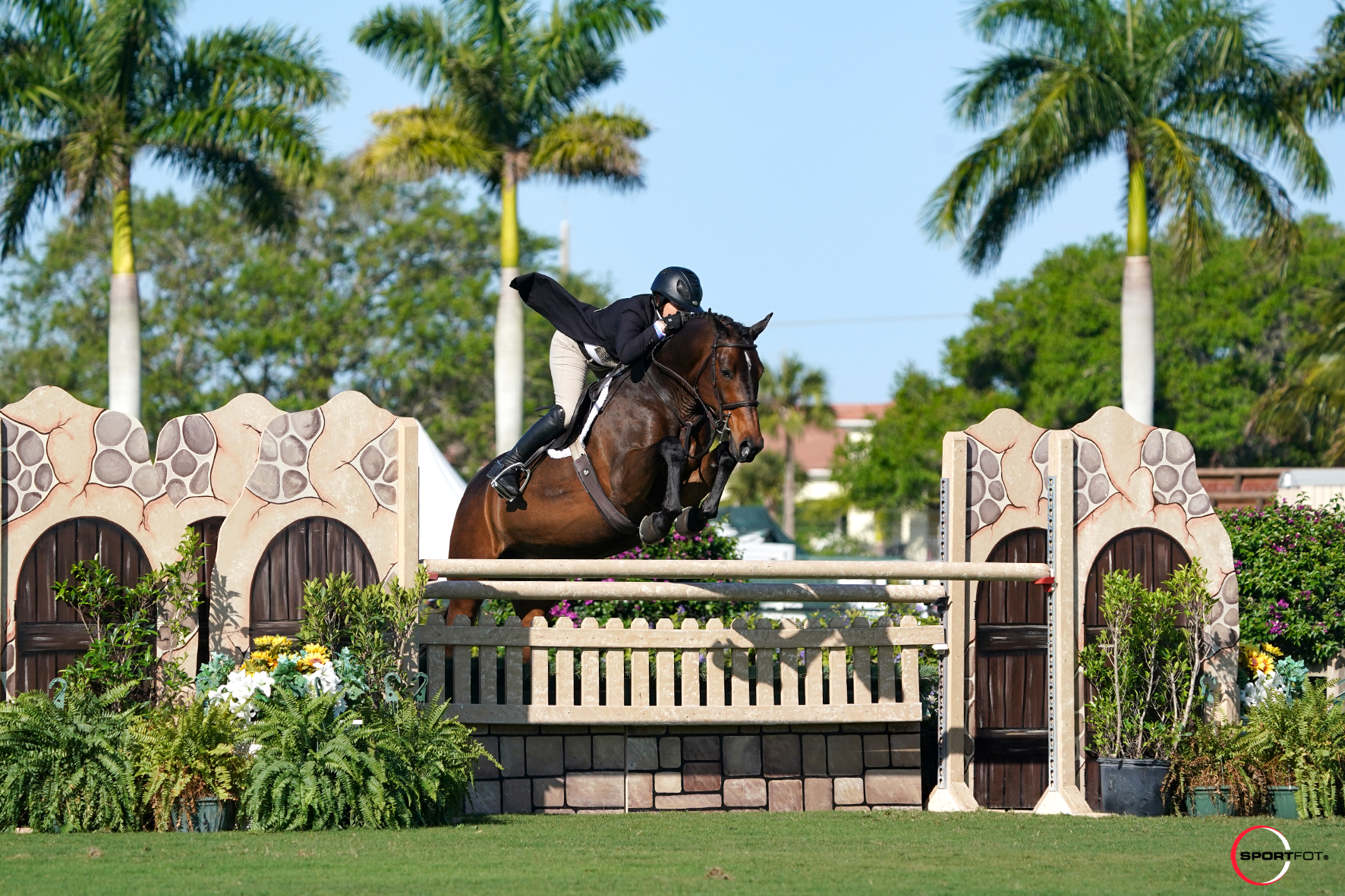 Forty-one horse-and-rider combinations were tested over the classic round course, designed by Tom Carlson, of 12 fences with four high options. The top 12 riders were called back to show off their rideability and style over a shortened handy round track including a trot fence. Two panels judged each round, and their scores were then combined for a total score in each round.
Colvin, of Loxahatchee, FL, and Gabriel navigated the classic round course with ease to earn a score of 185. The rider then produced a beautifully ridden handy round to earn another high score of 203 and an overall score of 388 to put the pair at the top of the class. Colvin also earned a handy round score of 202 and an overall score of 385.5 with her other mount, El Primero.
"Basically I did the same strategy on both," said Colvin regarding the plan of her handy round. "I didn't actually walk the handy course because I didn't think there was anything handy. I didn't realize the trot jump was that tight!"
Colvin has had the ride on Gabriel, a 2011 Dutch Warmblood gelding by Azteca VDL, for several years, but this was one of the few derbies that the duo has done together.
"I've been showing him for a couple years," explained Colvin. "I did him as a pre-green horse, I did him in the first year [greens], and he is a second year green now, so I've been riding him for a while. Ellen [Toon] does him in the amateurs as well so it's an overall really nice horse. I've only done a couple derbies on him."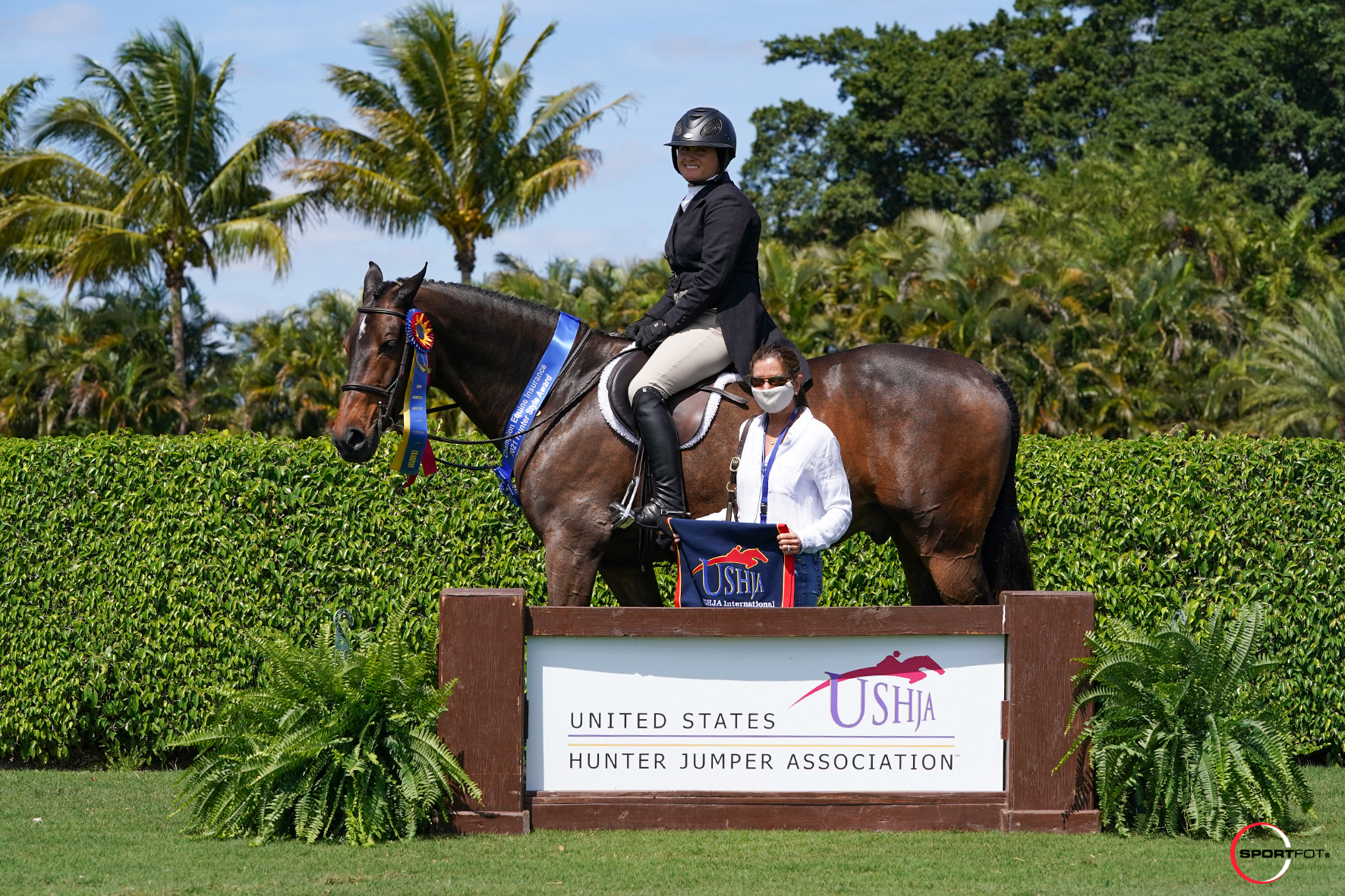 After having down time due to COVID, Colvin was very pleased with how El Primero rose to the occasion. Colvin and the 2009 Dutch Warmblood gelding by Numero Uno have had numerous hunter derby wins, including a victory on the Derby Field in 2019.
"He's literally done, I think, three classes in the last year," commented Colvin. "He was great out there and couldn't have done better. He was all business!"
Colvin and El Primero are planning to gear up for the USHJA International Hunter Derby during Week 12 of WEF, as well as a few others throughout the year.
Cooper Dean and Rock Ridge Farm's Testify earned a third place finish in the class. Dean, of Fayette, AL, rode Testify to a classic round score of 182 and handy round score of 194 for an overall score of 376.
Sunday will be the final day of competition for the ninth week of WEF with the $73,000 CaptiveOne Advisors 1.50m Classic CSI5* taking place in the International Arena. The Always Faithful Equestrian Club Medium Pony Hunter champion will be crowned in Ring 12.
Final Results: $25,000 USHJA International Hunter Derby
Horse, Rider, Owner
Round 1 Score, Round 2 Score | Total
1. Gabriel, Victoria Colvin, JT Farm
185.00, 203.00 | 388.00
2. El Primero, Victoria Colvin, Meralex Farm, Inc.
183.50, 202.00 | 385.50
3. Testify, Cooper Dean, Rock Ridge Farms
182.00, 194.00 | 376.00
4. Zalandra, Hannah Isop, Harry Littler
176.00, 199.00 | 375.00
5. Diatendro, Havens Schatt, Kelley Corrigan
175.50, 190.00 | 365.50
6. Copernicus K, Tiffany Morrissey, Dr. Kathryn Withers
180.00, 184.00 | 364.00
7. Mindful, Jennifer Hannan, Kensel, LLC
182.25, 180.50 | 362.75
8. Someday, Laena Romond, Rachel Suna Britchkow
176.00, 177.00 | 353.00
9. Golden Rule, Stephanie Danhakl, Stephanie Danhakl
170.50, 179.00 | 349.50
10. Handwritten, Greg Crolick, Jon Cotton
170.00, 162.00 | 332.00
11. Fedora, Maria Rasmussen, Julianne Karol
171.00, 119.00 | 290.00
12. Cascartini, Havens Schatt, Ken and Amy Wexler LLC
185.00, 103.00 | 288.00
Ifko Aces $50,000 Wellington Equestrian Realty Grand Prix CSI2*
Canada's Jim Ifko and Eventyre Farms' Un Diamant Des Forets were victorious in the $50,000 Wellington Equestrian Realty Grand Prix CSI2* , after they crossed through the jump-off timers in a quick 32.73 seconds. The class, originally welcoming 45 horse-and-rider combinations into the International Arena at PBIEC, saw 12 pairs return to contest the jump-off.
It was the second two-star win of the season for Ifko and the 2008 Selle Francais stallion (Diamant De Semilly x Grace Des Forets), and after placing tenth in Thursday's qualifier, Ifko went in with a plan that suited his fast-footed mount. "My strategy going in there was to just jump a clear round," he explained. "Fortunately, I do have a naturally fast horse, so as much as that time allowed was quite tight, I knew that if I just stuck to the plan we would make it well within the time. The only problem is leaving the jumps up. It was a difficult, technical course, and on top of that with the tight time, I think it was a challenging class with all of that considered."
Ifko has been riding the horse he fondly calls "Monty" for several years  and credited their long partnership for their continued success. "We've been together for quite a few years now," Ifko commented. "I saw him as a five-year-old, and then our first season together was when he was six. We've been able to develop a partnership over the years, and I think that's helped us a lot. At the end of the day I'm so lucky to have a horse that is brave, fast, careful, and wants to win. It's a pretty amazing feeling, and I feel very lucky."

Ifko and his team got to Wellington at the beginning of February and plan to stay for the remainder of the WEF circuit now that they're in their groove. He concluded, "We had to play a bit of catch-up to feel comfortable, find our bearings, and shake the dust off a bit. Our horses have felt really good, and we are off to a great start, so we are hoping to continue on from there through the remainder of the circuit."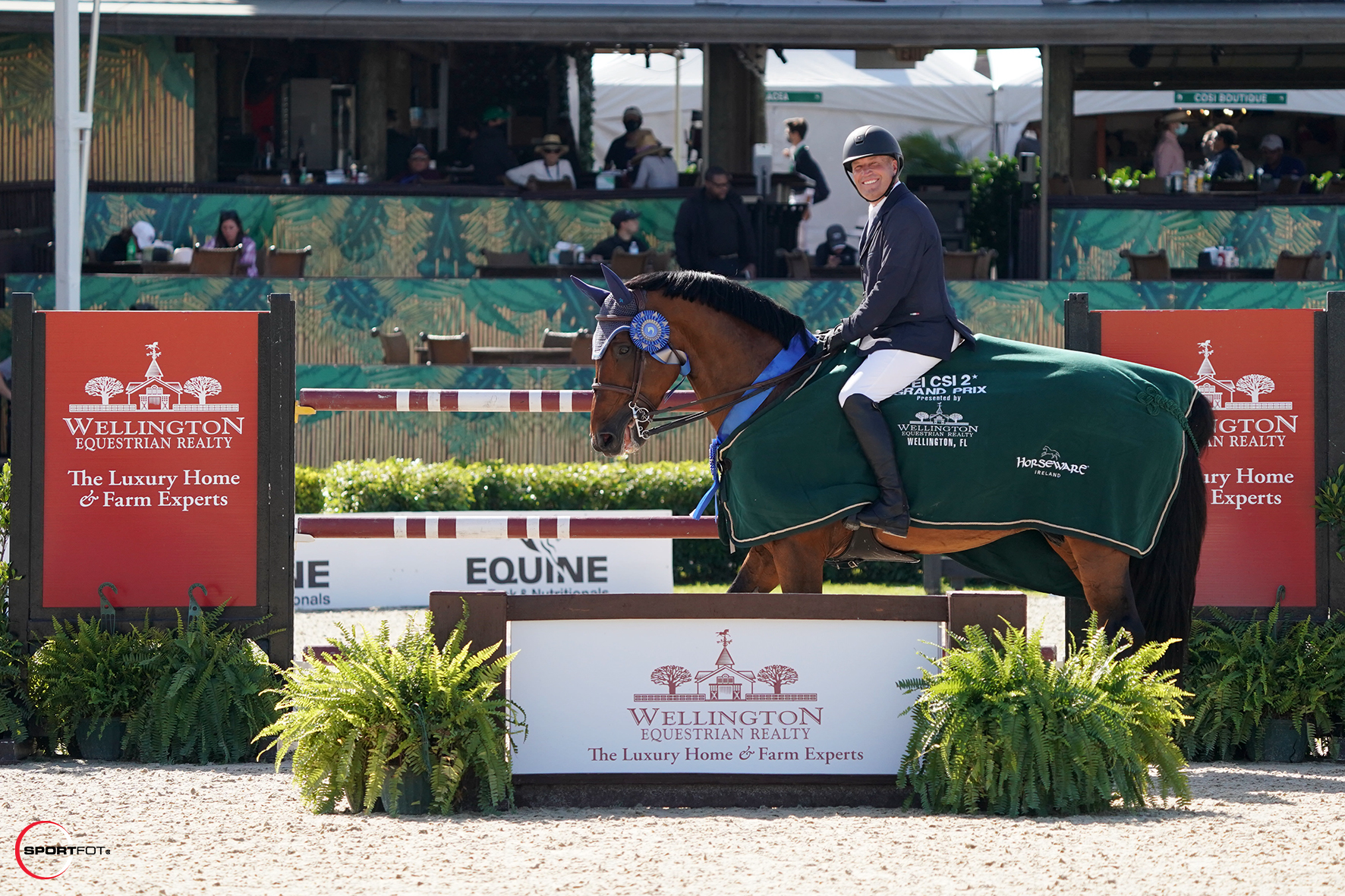 Second place in the $50,000 Wellington Equestrian Realty Grand Prix CSI2* went to the USA's Paris Sellon riding Anna Jo, a 2009 Oldenburg mare (Acodetto 2 x For Pleasure) owned by Willow Grace Farm, finishing their jump-off in 34.12 seconds. Maria Costa (USA) rounded out the top three aboard Ravello Farms, LLC's 2009 Zangersheide stallion (Verdi x Converter), Valentino V Z, clearing the fast track in 34.17 seconds.
Results: $50,000 Wellington Equestrian Realty Grand Prix CSI2*
1. UN DIAMANT DES FORETS: 2008 Selle Francais stallion by Diamant De Semilly x Grace Des Forets
JIM IFKO (CAN), Eventyre Farms:0/0/32.73
2. ANNA JO: 2009 Oldenburg mare by Acodetto 2 x For Pleasure
PARIS SELLON (USA), Willow Grace Farm: 0/0/34.12
3. VALENTINO V Z: 2009 Zangersheide stallion by Verdi x Converter
MARIA COSTA (USA), Ravello Farms, LLC: 0/0/34.17
4. CHACCA KEEPS II: 2010 Hanoverian gelding by Chacco-Blue x For Lucy LN
SUSAN HORN (CAN), Kingsfield Farm: 0/0/35.56
5. BALOTELLI 5: 2010 Hanoverian gelding by Balou du Rouet x Contendro I
MATTHEW BODDY (GBR), Purple Road, LLC: 0/0/36.27
6. BORA BORA DE LA ROQUE: 2011 Selle Francais mare by Zandor x Geromine De Gorgon
LACEY GILBERTSON (USA), Seabrook LLC: 0/0/36.44
7. TANAEL DES BONNES: 2007 Selle Français gelding by Watch me van't Zorgvliet x Don Pierre
BRIANNE GOUTAL-MARTEAU (USA), Gerald Ford: 0/0/36.61
8. DALIDA: 2007 Brandenburger mare by Calido I x Dawina
SLOAN HOPSON (USA), Sloan Hopson: 0/0/41.07
9. CORBAWIDO PS: 2012 PZHK by Balou Du Revention x Annette
GAVIN HARLEY (IRL), Wolfstone Stables and Sales Inc:0/4/33.85
10. ERICSON: 2009 KWPN gelding by Pandius x Saloma
AMY MILLAR (CAN), Amy Millar: 0/4/34.67
11. UPPER: 2008 Selle Francais gelding by Diamant de Semilly x Nadir de San Patrignano
DAVID OBERKIRCHER (USA), Southfields Farm LLC: 0/4/34.96
12. HORTENSIA VAN DE LEEUWERK: 2007 Belgian Warmblood mare by Corland x Danora Van De Leeuwek
MANUEL GONZALEZ DUFRANE (MEX), Manuel Gonzalez Dufrane:0/4/35.80