For Immediate Release
Summer Grace for Jennifer Wood Media, Inc.
Wellington, FL — March 20, 2019 — The penultimate week of the 2019 Winter Equestrian Festival (WEF) got off to a wet start on the morning of Wednesday, March 20, when Erynn Ballard (CAN) and Ilan Ferder's Ceitasi took the win in the $6,000 Bainbridge 1.40m class. Out of an original field of over 100 horse-and-rider combinations, only 86 entries elected to contest Olaf Petersen Jr.'s (GER) course after significant weather issues forced the class to be moved to the Global International Ring at Equestrian Village.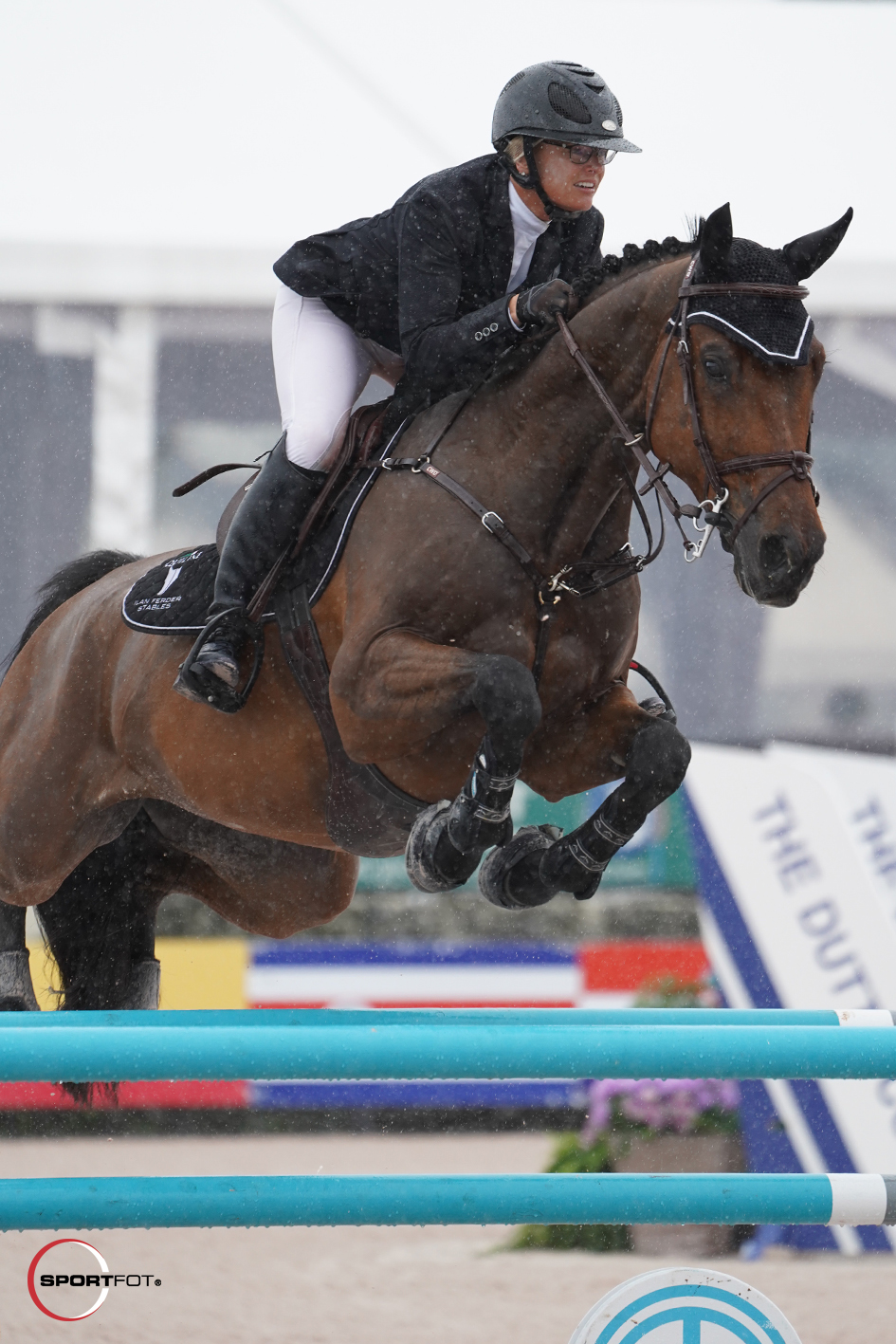 The eleventh week of competition at the 2019 Winter Equestrian Festival is sponsored by Wellington Agricultural Services and will be featuring competition both at the Palm Beach International Equestrian Center (PBIEC) main grounds and at Equestrian Village. The George Morris Excellence in Equitation Championship will take place in the International Arena on Friday at 5 p.m. The week's feature event, the $209,000 Wellington Agricultural Services Grand Prix CSI 4*, will be held on the Derby Field at Equestrian Village on Saturday, March 23, at 11 a.m. The $134,000 CaptiveOne Advisors 1.50m Jumper Series Final will take center stage in the International Arena at PBIEC for "Saturday Night Lights" at 6:30 p.m. Under 25 riders will take to the Derby Field at Equestrian Village on Sunday, March 24 at 11 a.m. for the $50,000 Hermès Under 25 Grand Prix Series Final. 
The Wednesday class at WEF was held in a one-round speed format due to the large volume of entries and 17 of the 86 came home fault-free. Tiffany Foster of Canada took the early lead aboard Artisan Farms, LLC's Galino when she put in the first clear round with a time of 71.23 seconds; she ultimately ended in 14th place at the class's completion. Harrie Smolders (NED) also went early in the class and shaved nine seconds off of Foster's time to end on 62.598 seconds with Copernicus Stables, LLC's 11-year-old KWPN mare (Oklund x Orrada), Corrada. The performance held strong and the pair finished in third place overall. Only several trips after Smolders, Chris Pratt (CAN) laid down a time of 62.49 seconds with Caron Stucky's 12-year-old Oldenburg gelding (Larino x Paguera), Luigi, which was good enough to earn the second place finish. 
Ballard was the first to return after the drag break with her second mount of the day, the nine-year-old Westphalian mare (Caratello B x Ceitas), Ceitasi, and crossed the timers in 58.55 seconds. After shaving four seconds off of the previous top time, it was clear the new combination was unbeatable. 
"For this horse particularly, today was a good opportunity because we are gearing up for the CaptiveOne Advisors 1.50m final on Saturday," Ballard explained. "We actually were not planning to do this class if it was going to be held on the grass, but because it was held in the ring we thought it would be good prep for her. She is very competitive so to go fast on the first day at a lower height is just part of our plan to keep her feeling very confident for the big class." 
Ballard has been leading the rankings in the CaptiveOne Advisors 1.50m Classic division throughout the season but recently dropped into second place after not competing for one week while she was at another horse show. 
"Because I missed a week I'm now second in the ranks for the division going into the final on Saturday night, so the pressure is on her, but I think she will be up for it," she said of the mare. "This is only my fourth show on her but she has all of the experience and as with most of my horses that are in partnership with Ilan [Ferder], we tend to move quickly." 
"I have to say I have good luck at this facility," Ballard added. "I like to jump on the grass but I also like this ring, so hopefully it is a good sign for the rest of the week!"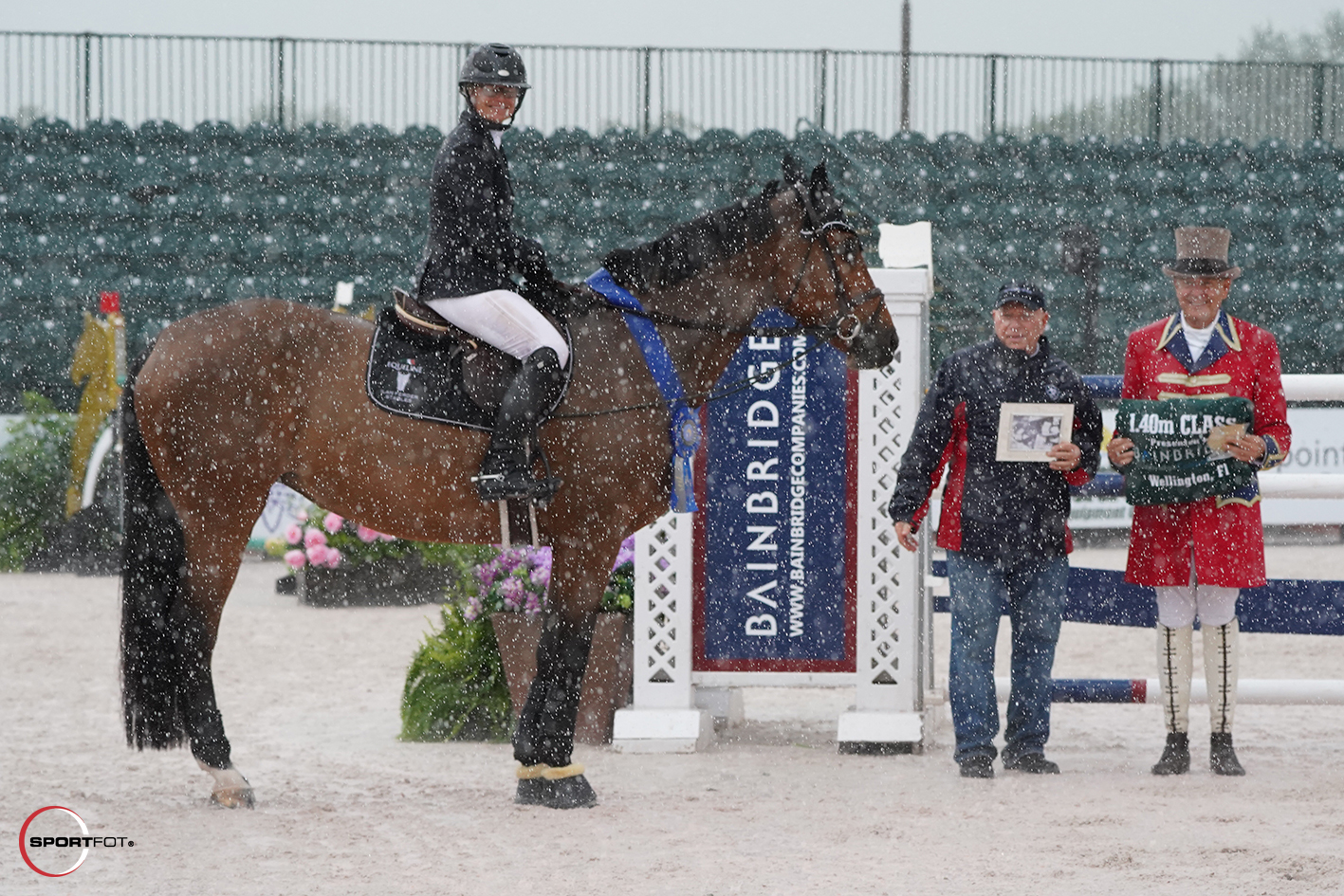 Competition will resume on Thursday, March 21, with round 11 of the $72,000 Equinimity WEF Challenge Cup in the Global International Ring at Equestrian Village at 11 a.m.
Final Results: $6,000 Bainbridge 1.40m Jumpers
1 CEITASI: 2010 Westphalian mare by Caretello B x Ceitas
ERYNN BALLARD (CAN); Ilan Ferder: 0/58.55
2 LUIGI: 2006 Oldenburg gelding by Larino x Paguera
CHRIS PRATT (CAN), Caron Stucky: 0/62.49
3 CORRADA: 2007 KWPN mare by Oklund x Orrada
HARRIE SMOLDERS (NED), Copernicus Stables, LLC: 0/62.598
4 JUST NICE VAN HET INDIHOF: 2009 Belgian Warmblood mare by Deauville De La Vie x Gave VH Indehof
JUAN JOSE ZENDEJAS SALGADO (MEX), Enny Salgado Negrete: 0/62.99
5 LINCOURT GINO: 2003 Irish Sport Horse gelding by Gino III x Lady Graf
ALEJANDRO KAROLYI (VEN), Monica Carrera: 0/63.00
6 FINALLY Z: 2010 Zangersheide mare by Figaro C x Sydney M
PETRONELLA ANDERSSON (SWE), Stephex Stables: 0/63.47
7 DOLITAIRE CHAVANNAISE: 2009 Belgian Warmblood mare by Cicero Z x Olitaire Des Bergeries
ZOE CONTER (BEL), Stephex Stables: 0/64.37
8 H5 BALOU'S CAPTAIN: 2009 Oldenburg stallion by Baloubet Du Rouet x Caramba
EDUARDO MENEZES (BRA), H5 Stables: 0/69.63
9 ICEMAN DE MUZE: 2008 Belgian Warmblood stallion by Erco Van't Roosakker x Teekeitiezzy De Muze
SCHUYLER RILEY (USA), E2 Show Jumpers: 0/69.82
10 DENA-SIENNE: 2008 KWPN mare by Van Gogh x Parisienne
ROBERTO TERAN TAFUR (COL), Roberto Teran Tafur: 0/69.83
11 RMF HORTENSIA: 2009 Swedish Warmblood mare by Heartbeat x Bonecyst
WILLIAM WHITAKER (GBR), Rushy Marsh Farm LLC: 0/70.15
12 BEL STAR: 2011 Selle Francais gelding
EMIL HALLUNDBAEK (DEN), Emil Hallundbaek: 0/70.44