For Immediate Release
Jennifer Wood Media, Inc.
Wellington, FL – February 2, 2018 – Sweden's Petronella Andersson scored the Friday victory on the grass derby field at the Equestrian Village at Palm Beach International Equestrian Center (PBIEC), home of the Adequan® Global Dressage Festival. Andersson and Eclatant, owned by Stephex Stables, took the top prize in the $70,000 Hollow Creek Farm 1.50m Classic. WEF continues through April 1 at PBIEC in Wellington, FL, and offers more than $9 million in prize money.
The fourth week of WEF, sponsored by NetJets, runs January 31-February 4 and features the $205,000 NetJets Grand Prix CSI 4* on Saturday, February 3, at 11 a.m. on the grass derby field at Equestrian Village (home to the Adequan® Global Dressage Festival), and the Great Charity Challenge, presented by Fidelity Investments®, on Saturday evening at 6:30 p.m. in the International Arena.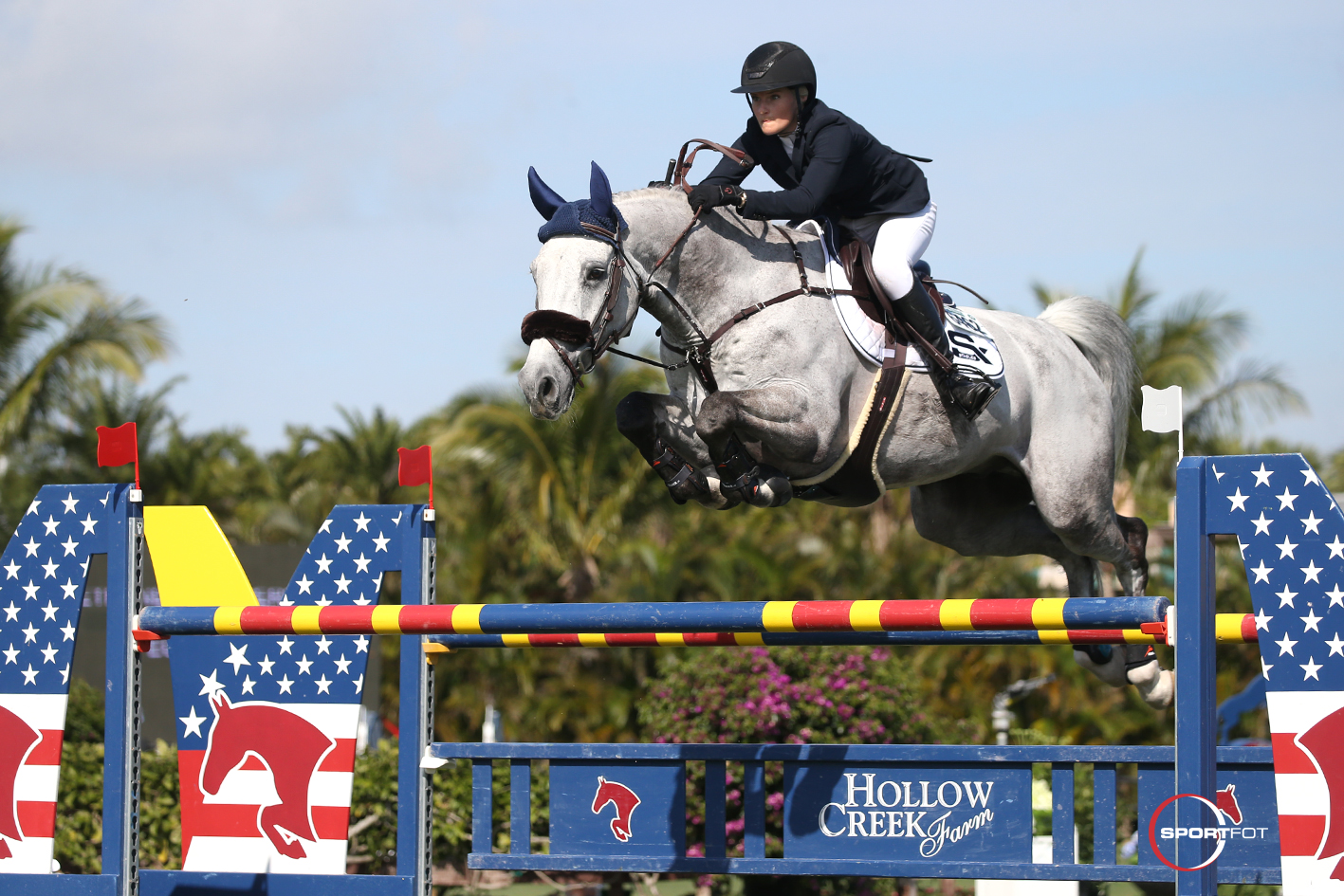 Friday's class on the derby field had 32 entries competing over a course designed by Anderson Lima of Brazil. Twelve were clear to advance to the jump-off, and Andersson and Eclatant rode out of the eighth position over the shortened course. Seemingly never lifting her foot off the gas pedal, Andersson picked up a fast pace from the start and sped through the jump-off in 44.959 seconds with the nine-year old KWPN gelding by Berlin x Heartbreaker.
Shane Sweetnam (IRL) and Don't Touch du Bois (owned by Sweet Oak Farm, Spy Coast Farm, and Paul Tracy) finished second with a time of 46.33 seconds, while Laura Kraut (USA) and Old Willow Farms LLC's Curious George were third in 46.53 seconds.
Andersson started riding Eclatant in the summer of 2016 and knew he had quality, but took her time bringing him up to the top level.
"I didn't know how big he could jump because he always jumped a little too high," she said. "For almost one year, I did 1.30-1.35m. Last year, Rome was his first five star show and he right away placed in a few classes. Most of the time he goes clear."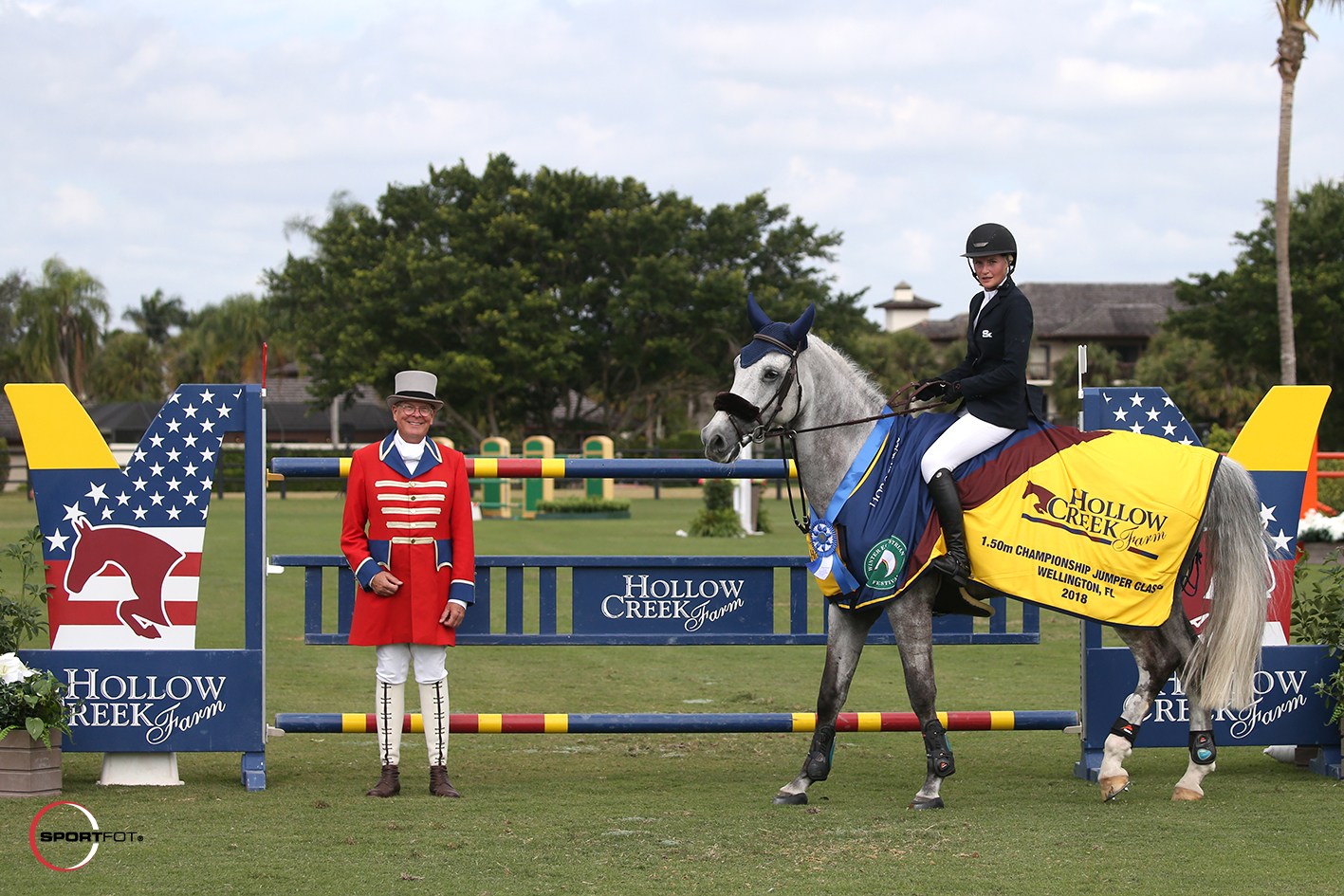 In Friday's class, Andersson felt there was a certain point on course where she and Eclatant made up time, and they kept up the speed thanks to prompting from coach George H. Morris.
"I went really fast to the double (combination) and I was lucky," recalled Andersson. "I had a rub coming in. George was shouting on the side, 'Keep going! Keep going!' I thought I had it down, so it was probably lucky that he kept pushing.
"It's a quick horse, as long as you keep following everywhere," she continued. "You don't have to take strides out. His stride is not that long. As you keep the rhythm, you're fine. I had nice spots forward."
Andersson started working with Morris when he came to Europe and helped the Stephex Stables riders. "When I came over (to the United States), I called him and asked if he could help for a bit. I'm grateful that he can do that for me," she said.
This is Andersson's first time competing at the Winter Equestrian Festival. She and the rest of the Stephex Stables team will stay through week 8. While she has visited Wellington, Andersson was pleasantly surprised when she came to the grass derby field at Equestrian Village.
"For us coming from Europe, it's quite a long time ago that we jumped on grass," she said. "We don't have a lot of really good grass fields in Europe. We have a few at the big shows, but since he was only eight, he didn't do a lot of big shows. I was really amazed when I came here. I've visited here before, and the other ring is also always nice, but here I have to say I was impressed. It's beautiful."
Final Results: $70,000 Hollow Creek Farm 1.50m Classic
1 ECLATANT: 2009 KWPN gelding by Berlin x Heartbreaker
PETRONELLA ANDERSSON (SWE), Stephex Stables: 0/0/44.959.
2 DON'T TOUCH DU BOIS: 2009 SBS mare by Kashmir Van Schuttershof x Indoctro
SHANE SWEETNAM (IRL), Sweet Oak Farm, Spy Coast Farm & Paul Tracy: 0/0/46.337.
3 CURIOUS GEORGE: 2009 Rhein gelding by Codex One x Dutch Capitol
LAURA KRAUT (USA), Old Willows Farm: 0/0/46.536.
4 UDSTURM DU LYS: 2008 Selle Français gelding by Landsturm OLD x Carnute
ALEXA LOWE-WISEMAN (USA), Windsor Farm Sales: 0/0/49.
5 QUIDAM MB: 2005 Oldenburg gelding by Quidam's Rubin x Argentinus
ADRIENNE STERNLICHT (USA), Starlight Farms LLC: 0/0/50.068.
6 CONTENDERS XC: 2006 Oldenburg gelding by Concetto I x Contender
GIANNI GABRIELLE (ARG), Emanuel Andrade: 0/0/50.525.
7 HESTER: 2005 Belgian Warmblood gelding by Wandor van de Mispelaere x Palestro vd Begijnakker
LUCY DESLAURIERS (USA), Lisa Deslauriers: 0/4/48.671.
8 REDMOND: 2006 Selle Français gelding by Neo D'Aunou x Joly Jumper
ALBERTO MICHÁN (ISR), Brianne Goutal LLC: 0/4/49.69.
9 BRAVOURE: 2006 KWPN gelding by Tolano Van't Riethof x Goodwill
BLYTHE KAROLYI (USA), Amalaya Investments: 0/4/51.434.
10 EAX RUN RUN LS: 2008 CDLS gelding by Casall x Montebello La Silla
ILAN BLUMAN (COL), Blue Star Investments: 0/4/53.323.
11 BALOUS DAY DATE: 2005 Oldenburg mare by Balou du Rouet x Domino
MOLLY ASHE (USA), Louisburg Farm: 0/8/48.015.
12 UKULMAN DE LA NUTRIA: 2008 Selle Français gelding by Quick Star
CELSO ARIANI (BRA), Windsor Farm Sales: 0/8/50.351.
Team Ireland/Norway Rises to the Top in $25,000 Hermès Under 25 Team Event
It was a team made up of riders from Ireland and Norway (plus an American and a Swede) who rose to the top of the $25,000 Hermès Under 25 Team Event, held in the AGDF International Arena on Friday evening. The team consisting of Victoria Colvin (USA), Johan Sebastian Gulliksen (NOR), Viggo Björklund (SWE), and William Hickey (IRL) were victorious by finishing on just nine faults.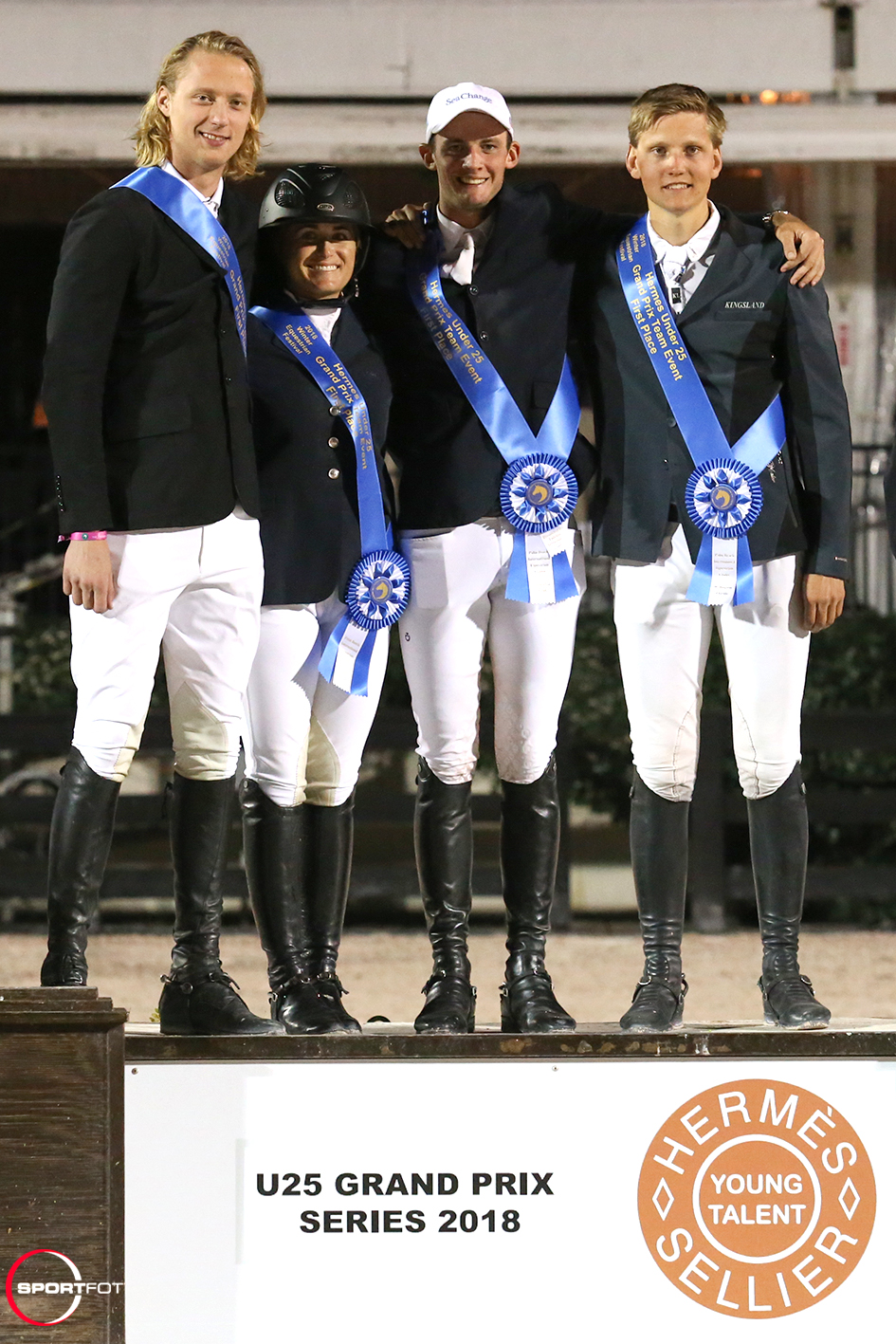 Colvin (20) and I Love Lucy, a 13-year-old Slovakian Warmblood mare by Corrado II x Papillon owned by John & Stephanie Ingram LLC, were the only combination out of 16 teams to finish double clear over a challenging course set by Anderson Lima of Brazil.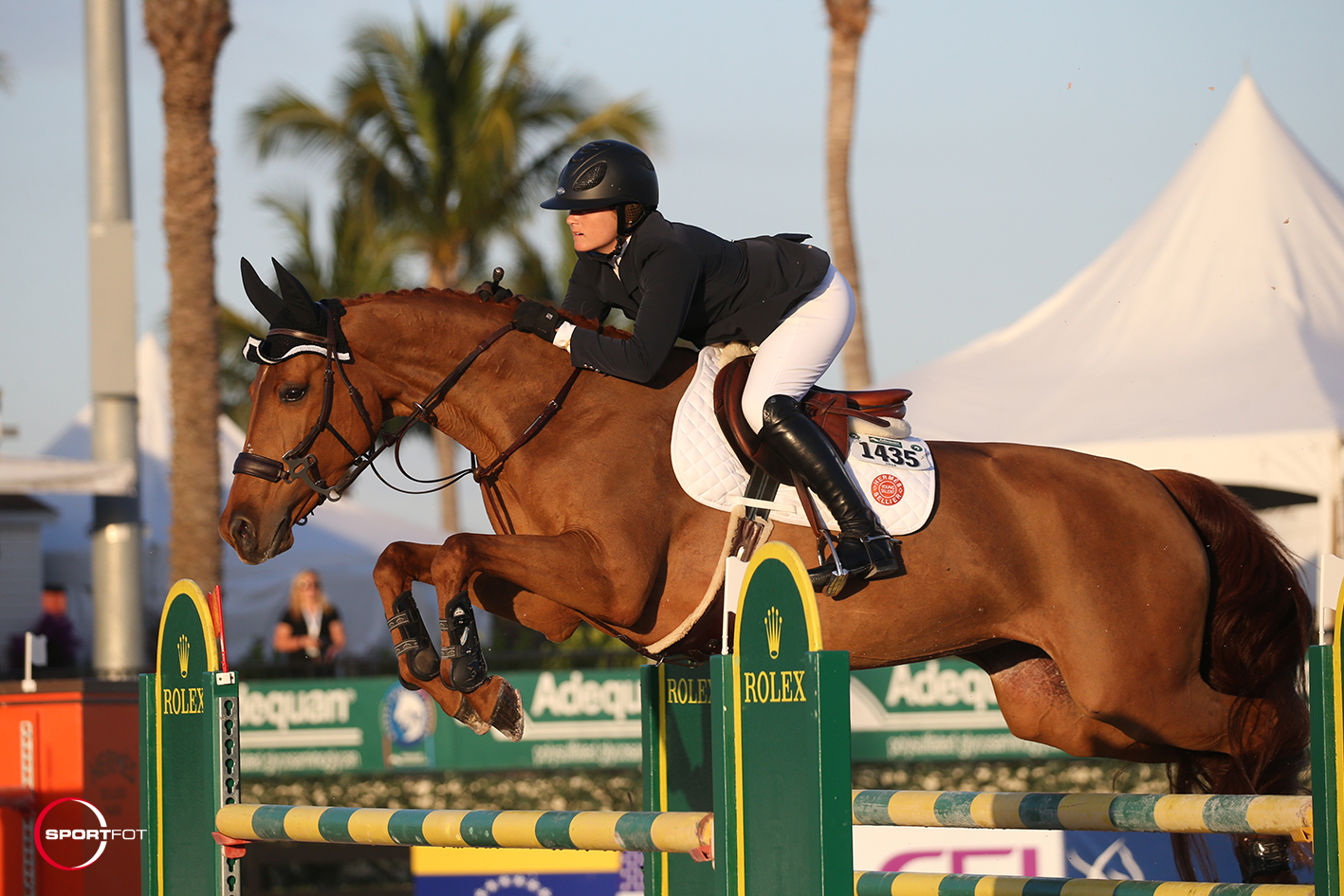 "Honestly, when I walked the course, I thought, 'There are going to be like 50 clear rounds.' It seemed like it was a soft, nice course," said Colvin. "Then I started watching it, and I was like, 'Maybe not.' There were a couple of tricky lines that had some options, which I think made a couple places where there could be mistakes, but it seemed like a very nice course to me."
Colvin only got the ride on I Love Lucy this winter, after the mare was campaigned by Hunter Holloway.
Colvin noted, "We kind of are a good match. She kind of just goes around like a hunter, so we were just planning on going in, hoping we had two good rounds. This was our first class under the lights, so I didn't really know what to expect."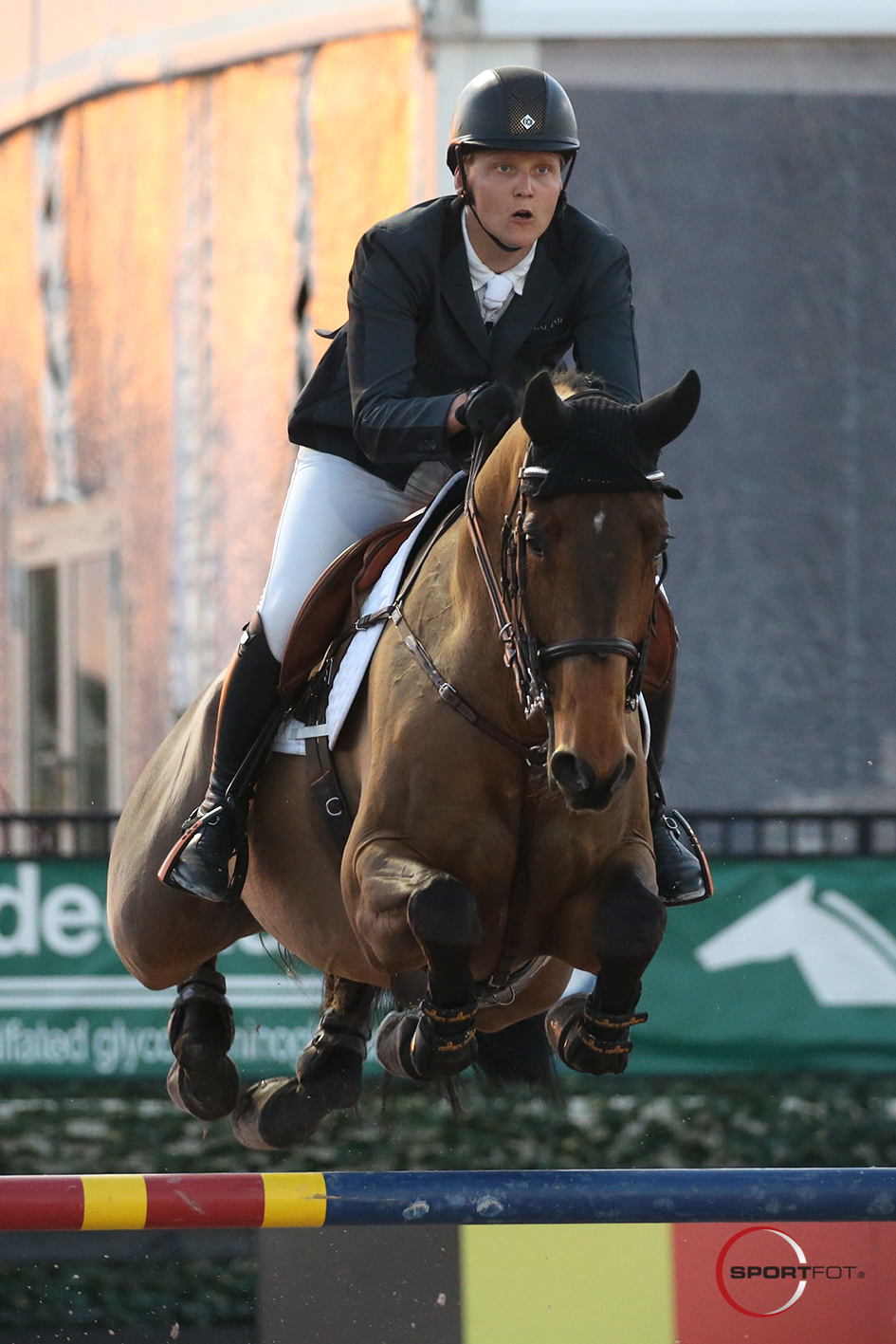 Johan Sebastian Gulliksen and David Guetta, a ten-year-old KWPN gelding by Zento x Vigaro owned by Stall Gullik A/S, also put in two strong rounds of just one time fault each.
The 21-year-old came to compete for his first time at WEF with strong team experience, including a Senior Nations Cup team at Falsterbo CSIO5*, but this was also their first time competing under lights. While Gulliksen noted that David Guetta is still "a bit green," their aim is to compete for Norway at the FEI World Equestrian Games in Tryon this September.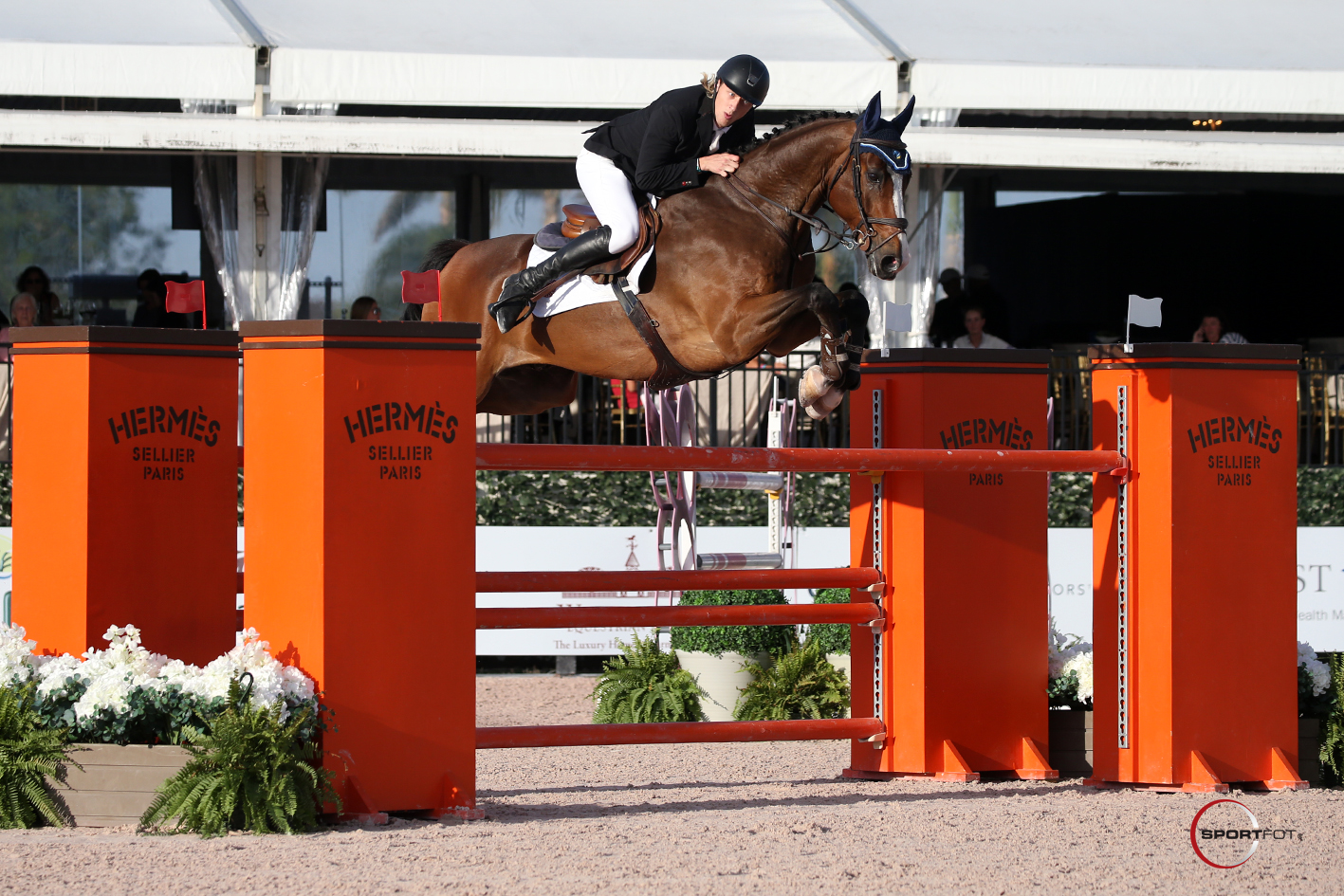 Björklund (20), who only just returned to the show ring for this event since he stopped riding in August, piloted Vincero, a 13-year-old Swedish Warmblood gelding by Emmerton x Robin Z 723 owned by his sister Alma. They had five faults in each round.
After starting school at the University of Southern California in August, Björklund stopped riding, and this was his first competition in seven months. However, strong team experience in the past helped Björklund feel comfortable in the ring.
"I was asked if I could be on a team, so I decided to come out and try to do it," he noted. "It worked out well. I had a good team that carried me through it all, so that was good."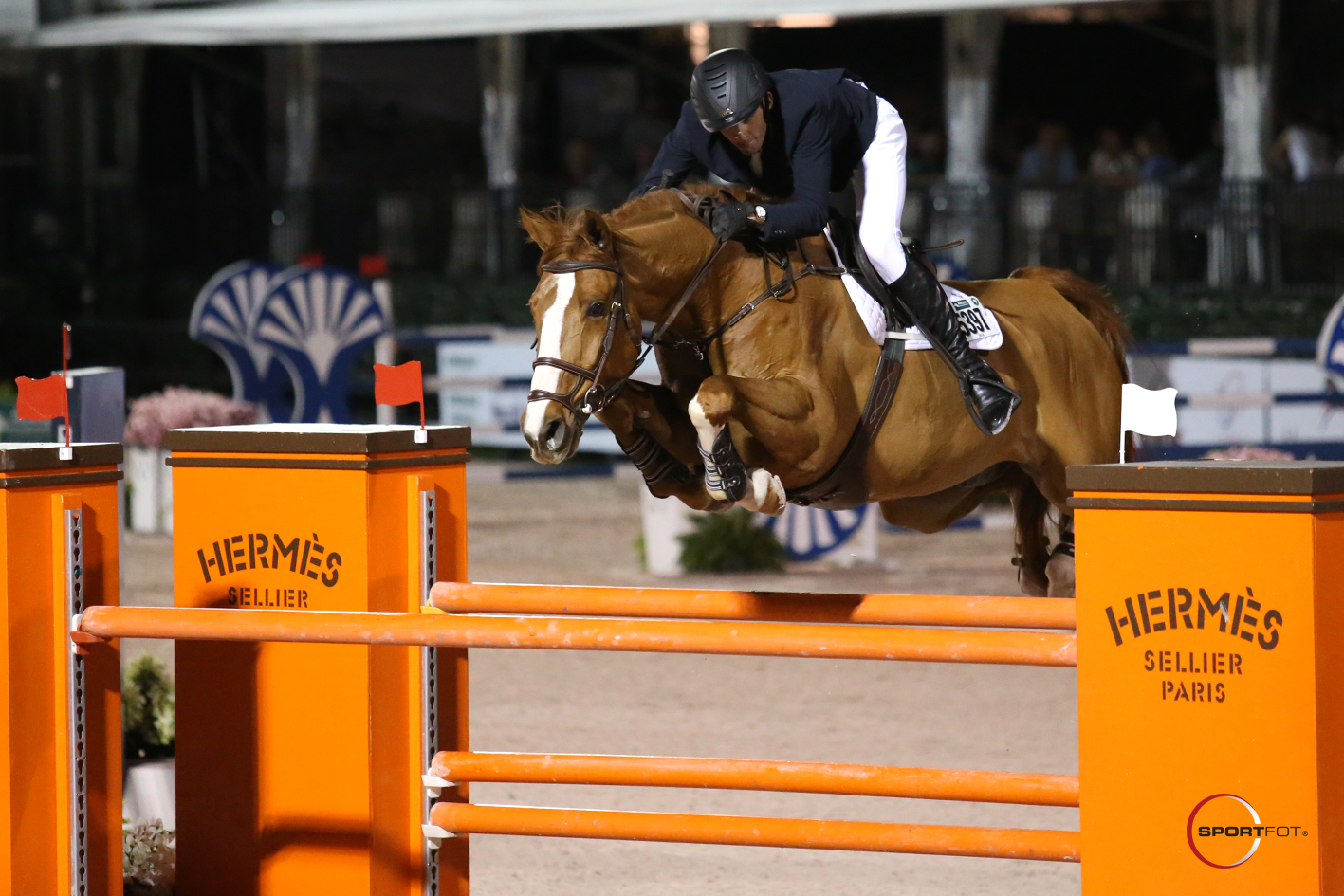 With a disappointing 21 faults in the first round, Hickey and his own Balvino, a 12-year-old Holsteiner gelding by Calvino Z x Jumbo-Jet, returned strong in the second round with just two time faults.
Hickey (22) is just getting to know Balvino, having only started riding him three weeks ago. This was their biggest class together yet, and their first time competing under the lights.
"I had a rough first round," admitted Hickey. "Thankfully my team carried me, and we got in for the second round. Then he started jumping good, and we had a good second round, so I was really happy with him. It's a really cool event. This is actually my first ever team event, and it's my first Under 25 event."
With an diverse collection of riders from four different countries, Hickey outlined how the team came together.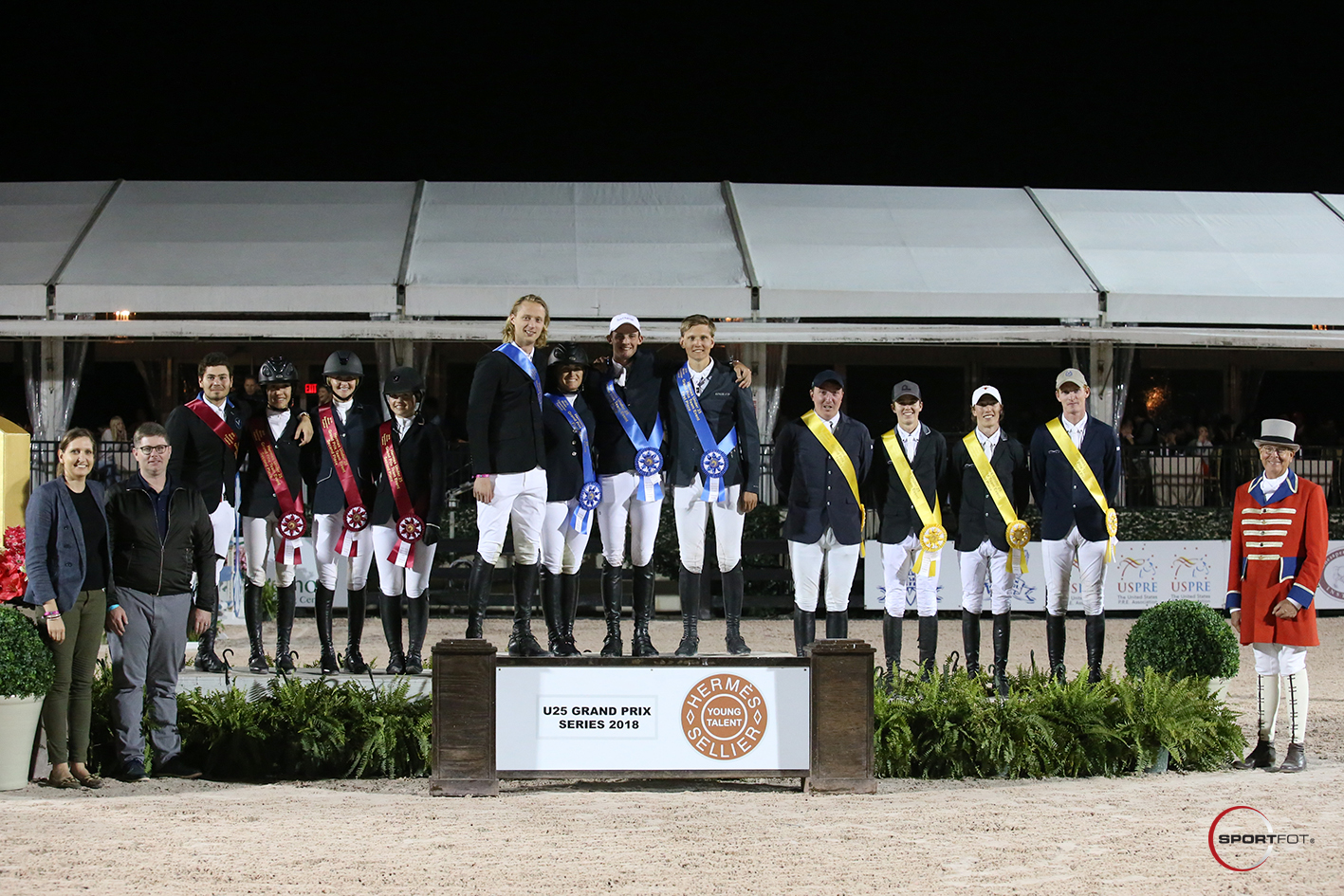 "Actually, it was weird how the team got together," he said. "I only decided that I was doing it like a week ago, and I knew Johan didn't have anybody (for a team). We all just kind of came together as people that didn't have a team, and it worked out good. We ended up being a really good team."
The team won by two points over team Sweet Oak/Vlock, who had 11 faults, and Team USA/Ireland, who finished on 13 faults.
Results: $25,000 Hermès Under 25 Team Event
1 Ireland/Norway: 6+3=9
Victoria Colvin, I Love Lucy: 0/0
Johan Sebastian Gulliksen, David Guetta: 1/1
Viggo Bjorklund, Vincero: 5/5
William Hickey, Balvino: 21/2
2 Sweet Oak/Vlock: 1+10=11
Kaely Tomeu, Gentille: 0/0
Lacey Gilbertson, Baloppi: 0/5
Anna-Beth Athey, Cantero da Lagoa: 9/5
Teddy Vlock, Cristobar: 1/13
3 USA/Ireland: 1+12=13
Daniel Coyle, Tienna: 0/4
Lucas Porter, B Once Z: 1/8
Wilton Porter, Cula Lou V: 22/0
Jordan Coyle, Crespo PKZ: 0/elim.
Kelley Farmer and Shameless Capture Victory in $15,000 USHJA International Hunter Derby "Hunt and Go"
Kelley Farmer and her mount, Shameless, owned by Autumn View Farm, bested a field of 35 exhibitors in Friday's $15,000 USHJA International Hunter Derby "Hunt and Go" and prevailed with top scores from both judges of a 90 and an 86 and an impressive total of 184, including a point each for all four high option jumps. Farmer's win concluded an exciting Friday of WEF 4 and marked the week as a success for the pair's first show together.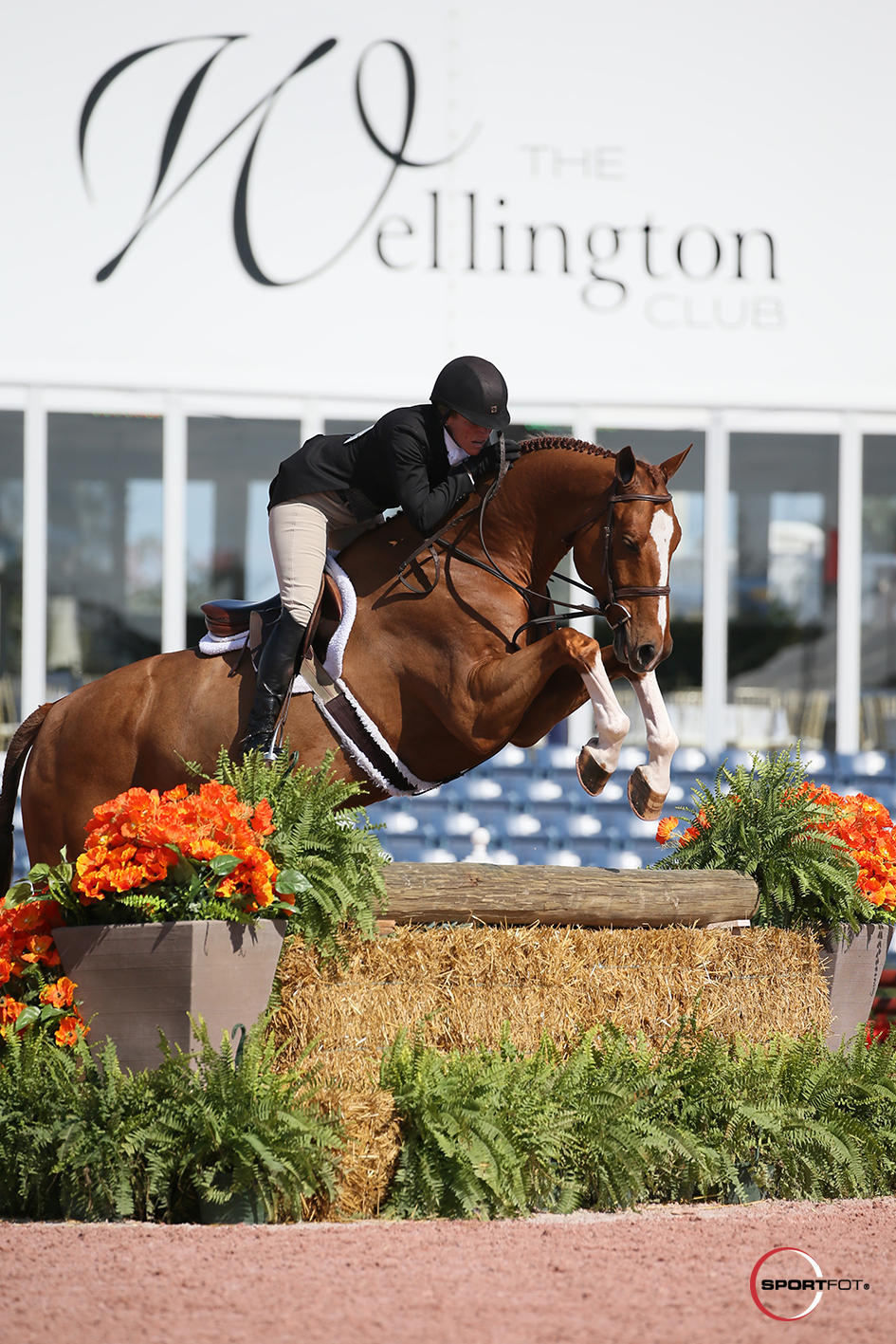 Faced with a challenging course, in addition to a unique hunt and go format, the duo masterfully navigated the International Arena in both the combined hunter and handy round. The hunt and go setup today, with a total of 14 fences, was a combination of the two classes in a traditional hunter derby into one, where the first eight jumps counted as the first half of the course, and the last six counted as the handy section. Competitors were able to choose which height to traverse at four different fences and encountered a trot jump in the second half of the course.
Farmer went 14th in the order and piloted the eight-year-old gelding around the ring as he jumped the top of the standards over all four high options and handled the trot fence with ease.
"I thought that the farther I went, the more he tried," said Farmer. "That is an intimidating ring for horses when they haven't been in there, and I was really pleased with him. I am very fortunate that this horse is so scopey and that he wants to be high and careful. It was a beautiful ride and he builds a nice smooth track."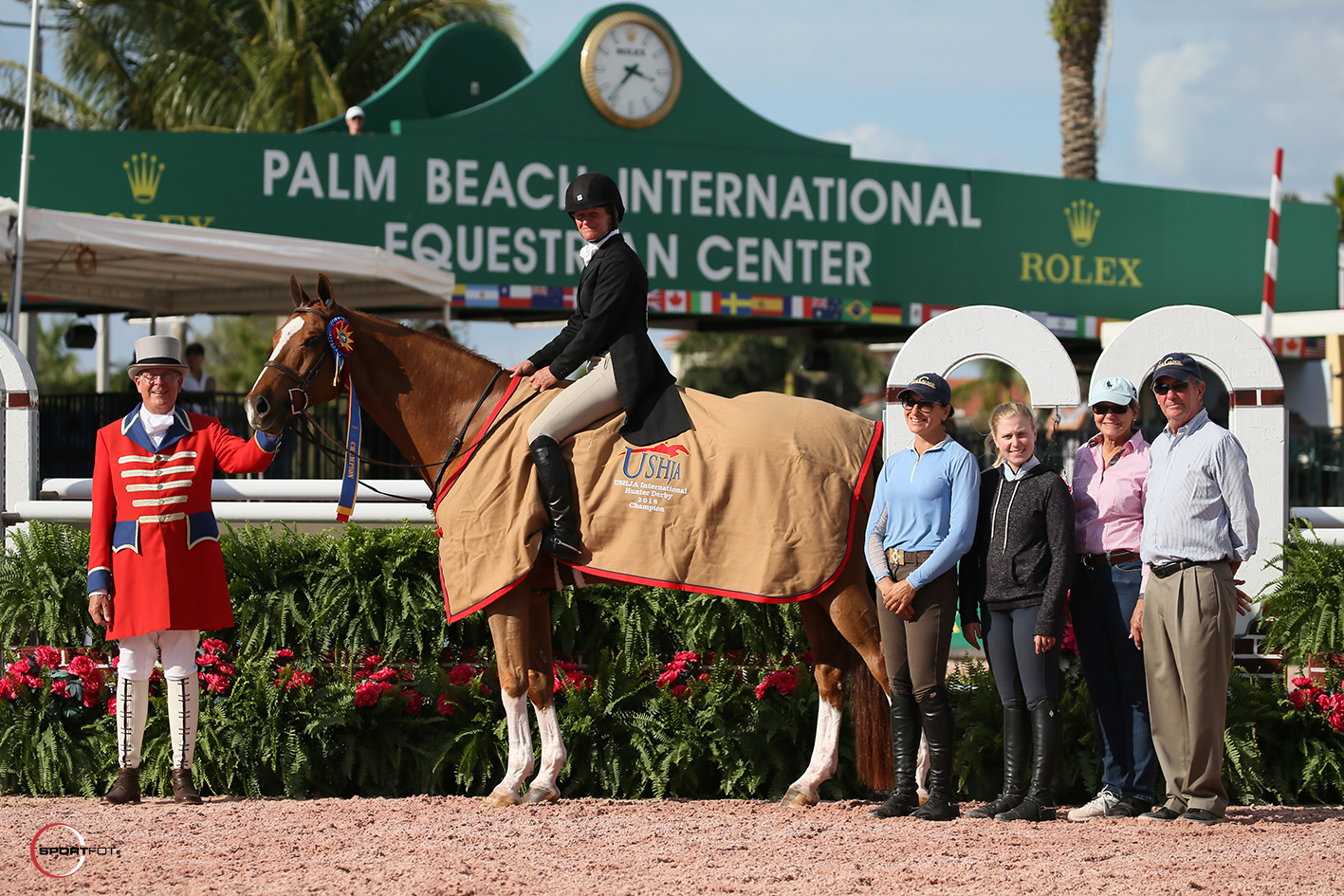 Larry Glefke, Farmer's trainer, echoed Farmer's sentiments about the difficulties involved when competing in the International Arena and complimented Shameless' ability to handle them face on.
"This ring can stop some of my best horses," said Glefke. "Especially that oxer [today] at the end of the ring. That has always been a very intimidating place. I told Kelley that we have to make it a very pleasant experience for [Shameless] because he has the talent. He walked out there today like he had done this all of his life and made easy work of that track."
Shameless, however, was not the only horse to head into the ring on Saturday with confidence. Elizabeth Boyd claimed the second-place ribbon aboard S & L Just A Cobbler, owned by S & L Farms, with a close total score of 182. The pair received two 87s from the judges and excelled over all four high options. Emma Kurtz and Dedication, owned by Dr. Betsee Parker, took third place honors with an 88 and an 83 from the judges, three high option points, and a combined score of 177.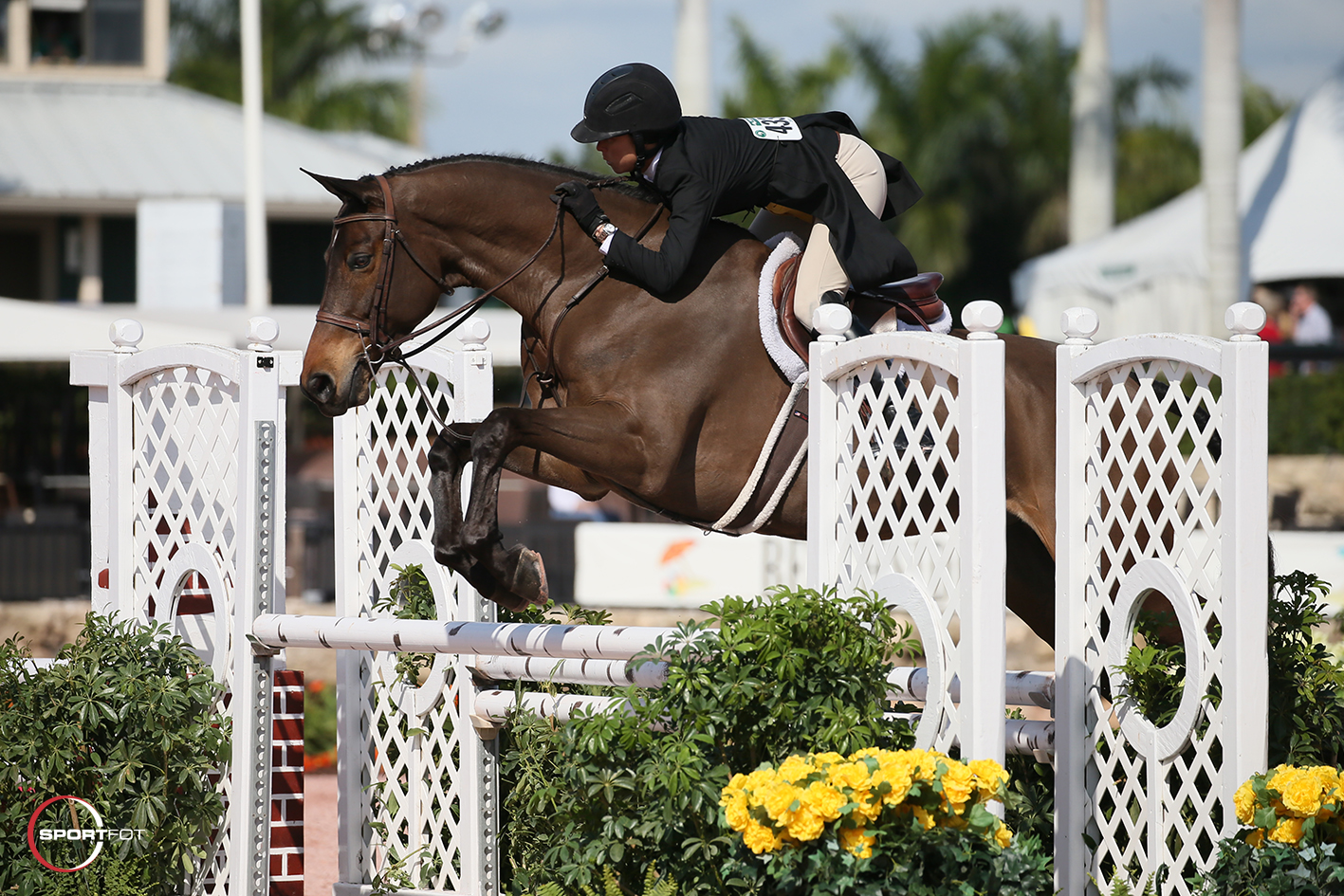 Boyd, having taken home the championship title in the WEF 2 Equine Tack Green Hunter 3'9" division aboard Cobbler, was thrilled with her reserve finish and expressed her enthusiasm for having the chance to compete in the International Arena.
"I think this was a great opportunity for new rider and horse combinations," said Boyd. "We are glad they had it!"
However, Boyd expressed her hopes for a more challenging, and separate, handy round in the future.
"I think we would have gone a little different in the handy if it had been more like a jump-off," said Boyd. "It would bring the excitement and the adrenaline up more. That is [usually] where Kelley and I get so competitive!"
Farmer agreed and added that, in spite of this, it was a wonderful experience to be able to show in the International Arena.
"Anything [WEF] can do to let us out in that field is a great thing," said Farmer. "We really appreciate that from the horse show."
Final Results: $15,000 USHJA International Hunter Derby
SHAMELESS, Kelley Farmer, Autumn View Farm: 184.00
S & L JUST A COBBLER, Elizabeth Boyd, S & L Farms: 182.00
DEDICATION, Emma Kurtz, Dr. Betsee Parker: 177.00
OLYMPIC FIRE, Jennifer Hannan, Jennifer Hannan: 173.00
AEROPLANE, Amy Momrow, Melissa Wight: 171.50
GOVERNOR, Giavanna Rinaldi, Alex Jayne: 171.25
ANY GIVEN SUNDAY, Hunter Holloway, Hays Investment Corp.: 171.00
CADORETTO, Geoffrey Hesslink, Geoffrey Hesslink: 171.00
VANDERPUMP, Augusta D. Iwasaki, Ashland Farms: 171.00
POKER FACE, Jennifer Bliss, Harris Hill Farm, LLC: 170.00
CORICE Z, Jennifer Hannan, Claire Kenna: 169.00
TAKE TWO, Keri Kampsen, Two Goals Farm LLC: 164.50
On Saturday, February 3, the $205,000 NetJets Grand Prix CSI 4* will be held on the grass derby field at 11 a.m. The highlight event of the week, the Great Charity Challenge, presented by Fidelity Investments®, will be in the WEF International Arena at 6:30 p.m. Hunter champions will be presented in the Lugano Diamonds Amateur-Owner 18-35 3'6" division.
Photo Credit: Photos © Sportfot, Official Photographer of the Winter Equestrian Festival. These photos may be used only in relation to this press release and must include photo credit.