For Immediate Release
Jennifer Wood Media, Inc.
Wellington, FL – February 4, 2018 – The fourth week of the 2018 Winter Equestrian Festival (WEF) concluded on Sunday with competition for junior and amateur jumper riders in the International Arena. The win in the $10,000 Sleepy P Ranch SJHOF High Junior Jumper Classic went to Samantha Cohen of New York, NY, and Carmen. WEF continues through April 1 at Palm Beach International Equestrian Center in Wellington, FL, and offers more than $9 million in prize money.
Week 5, sponsored by Fidelity Investments®, features CSI 5* competition from February 7-11 and the $384,000 Fidelity Investments® Grand Prix as the "Saturday Night Lights" feature on Saturday, February 10.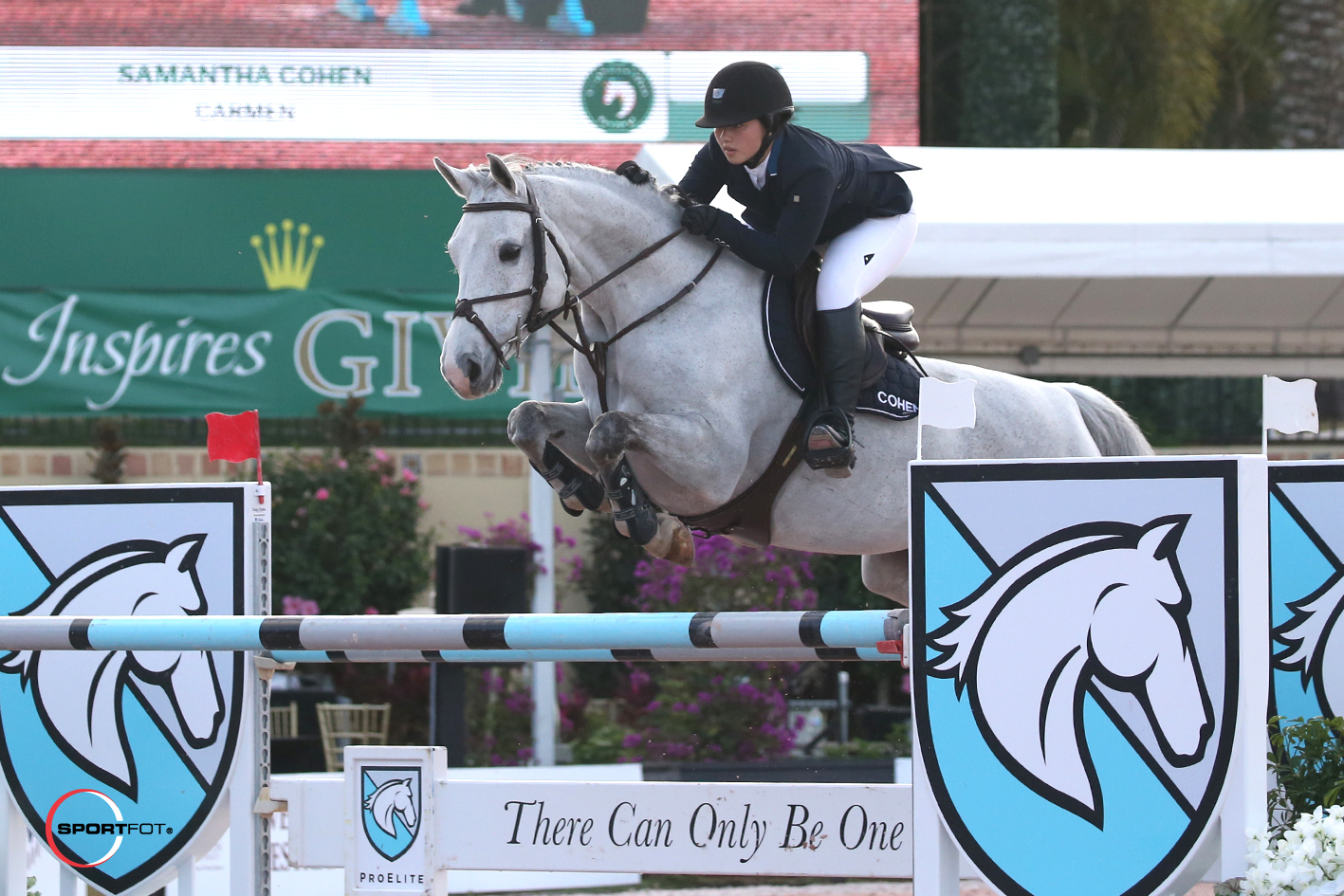 Fourteen entries competed over a first round course set by Olympic course designer Guilherme Jorge of Brazil. Five were clear and moved on to the jump-off, where Cohen and Carmen, her 11-year-old KWPN mare by Whitesnake x Corland, were fastest with a time of 35.253 seconds. Charlise Casas and Rembrandt Blue were second in 35.338 seconds, and Madison Goetzmann rode Prestigious to third place in 36.038 seconds.
"I thought it was challenging enough and it was definitely set a solid 1.45m," said Cohen. "There was a lot of room to gallop between the jumps, so one thing I kept in mind was the time allowed because it was easy to not get going around the turns."
Cohen knew she could rely on Carmen to jump well on a tight rollback in the jump-off course, and thinks that is what put her into the first place position.
"She is so handy with the turns and she will do them so fast," she said of the mare that she has been riding for six months. "I didn't even need to slow her down, so I was going, turned, saw one, and said here we go! And she is always right there for me."
Since Cohen is in school in New York City, she travels down each weekend to compete at WEF. Winning the High Junior Jumper Classic two weeks in a row is a special achievement.
"It means so much," she confirmed. "I owe everything to her. It is a lot of traveling, so days like today make everything worth it."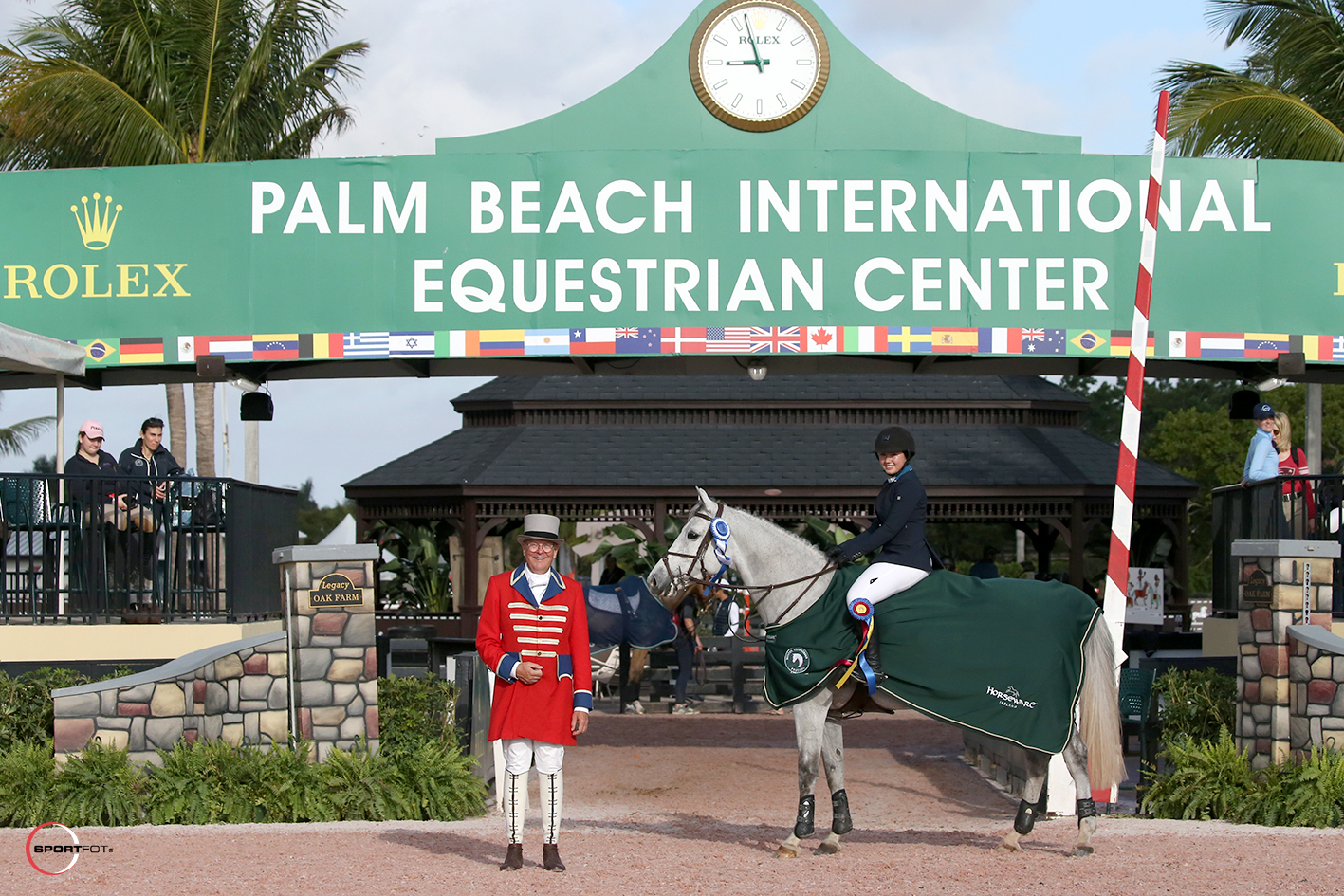 Cohen and Carmen will compete in the Hermès Under 25 Grand Prix events during WEF 6 and additional classes in the High Junior Jumper division for the remainder of the WEF circuit.
Additional results from Sunday's competition in the International Ring include a win for McKayla Langmeier and Valentine in the $10,000 Equitan Medium Junior Jumper Classic. Lucas Porter and Phineas won the $10,000 Equiline Medium Amateur-Owner Jumper Classic.
Final Results: $10,000 Sleepy P Ranch SJHOF High Junior Jumper Classic
1   5475 CARMEN, SAMANTHA COHEN, SAMANTHA COHEN: 0/0/35.253
2   2627 REMBRANDT BLUE, CHARLISE CASAS, ALWAYS FAITHFUL EQUINE LLC: 0/0/35.338
3   2498 PRESTIGIOUS, MADISON GOETZMANN, MADISON GOETZMANN: 0/0/36.038
4   1226 BALOU'S FLY HIGH, ISABELLA RUSSEKOFF, SUAVE PONY LLC: 0/0/40.844
5   1934 BARLANDO, TANNER KOROTKIN, DYNOMITE RANCH LLC: 0/4/38.658
6   1277 ANALYZE THIS, TANNER KOROTKIN, KIMBERLY JAKUBOWSKI: 2/86.186
7   6539 CORALISSA, SAM WALKER, ARK PARTNERS LLC: 4/79.556
8   721 CANTERO DA LAGOA, ANNA BETH ATHEY, ANNA BETH ATHEY: 4/81.895
9   78  FOR SERRANO SR, ANNA BETH ATHEY, SWEET OAK FARM: 4/82.832
10  6604 SS BAAL BERITH, SAMUEL SALAUES NACIF, SANTANA STABLES LLC: 4/84.984
11  2377 DYNAMO, CLAIRE SCHREDER, CEAHORSE LLC: 5/85.364
12  5194 FOR JEF VD WEZELSE, BRILEY KOERNER, BKS HORSE FARMS LLC: 8/83.038
Jordan Allen and High Society Victorious in WEF 4 Bruno Delgrange Large Junior Hunter 16-17
Jordan Allen, from West Bloomfield, MI, and her mount, High Society, owned by Mary Antonini, topped the Bruno Delgrange Large Junior Hunter 16-17 division and took home the championship title on Sunday. The pair finished up week 4 at the Winter Equestrian Festival with two blue-ribbon scores of 85 and 84, along with a second over fences with a sixth under saddle.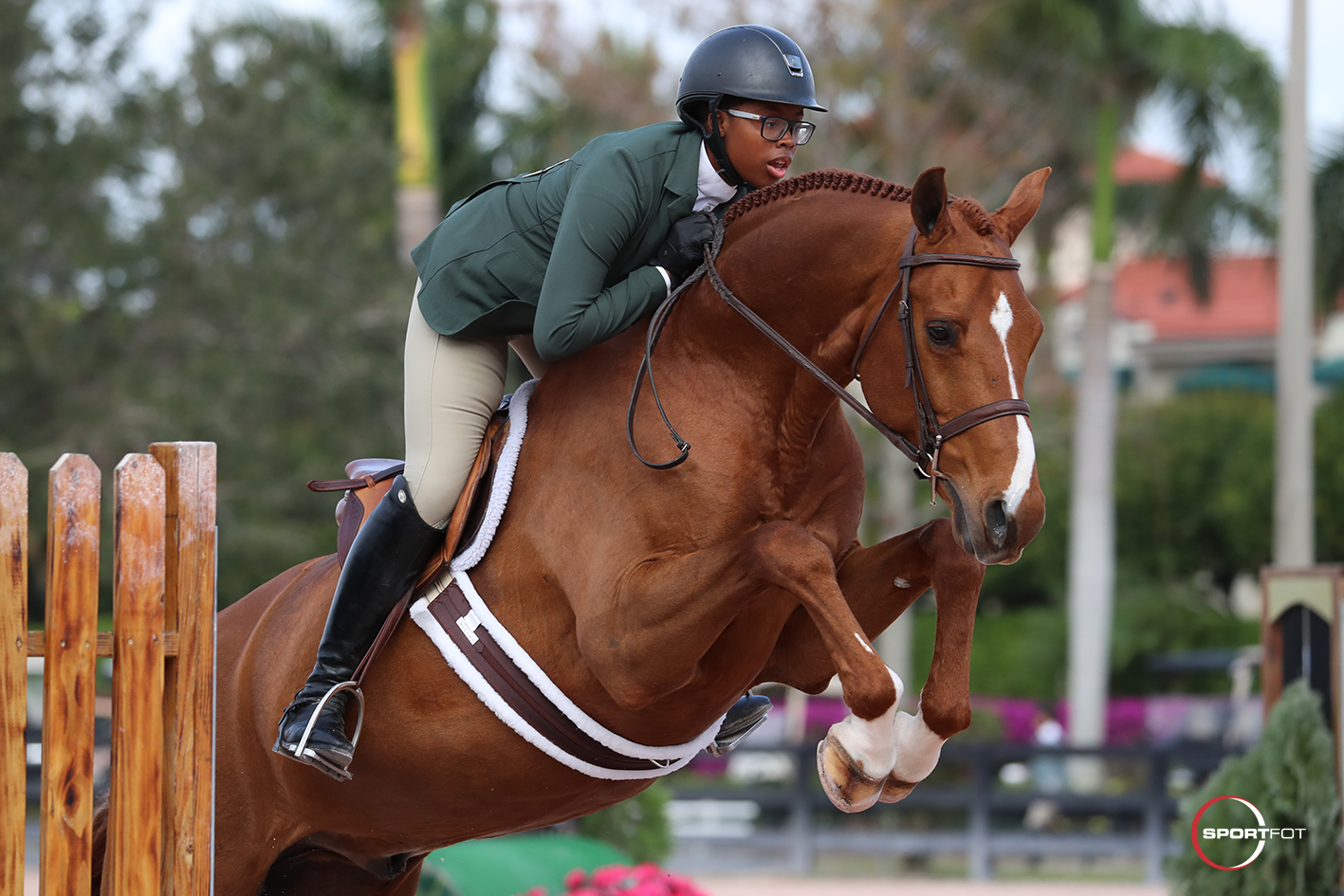 High Society is a 10-year-old Dutch Warmblood by Tolando and a brand-new partner for Allen.
"I just started riding him last week," said Allen. "This is his first time doing the [Large Junior Hunter 16-17] 3'6" division. He has a big stride, a good canter, and he jumps well. I am so proud of him, especially since this is his first time at this height. Yesterday, I didn't give him the greatest ride, but today he was amazing."
Allen hopes to remain consistent with the gelding over the next few weeks and is anticipating a competitive season in the jumpers as well.
"I just got a new horse," said Allen. "We will start in the [Low Junior Jumper division] and then hopefully move up to the [Medium Junior Jumper division] throughout circuit and then on to the [High Junior Jumper division] by the end of the year!"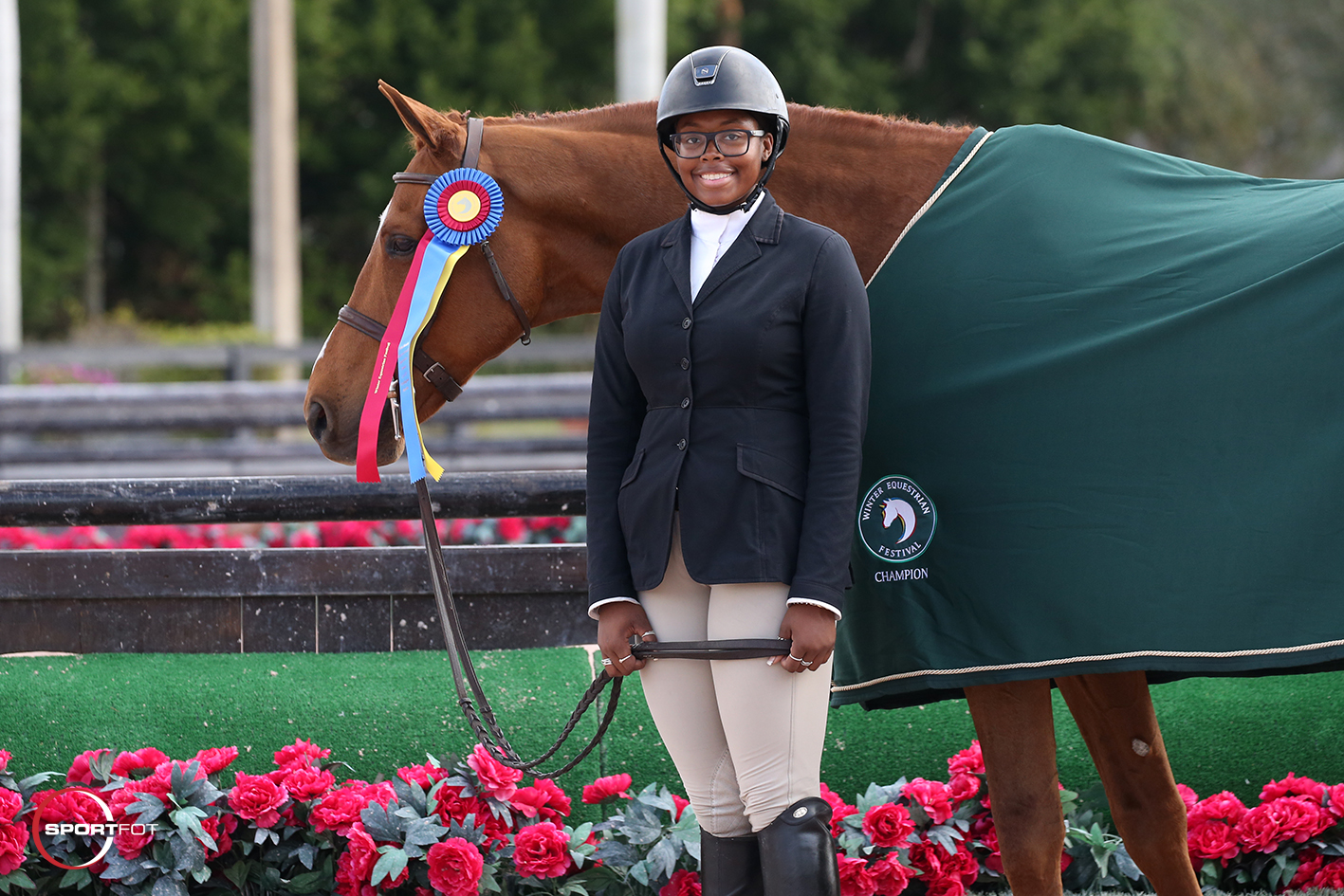 Grace Boston was crowned reserve champion with her mount Stellar, owned by Streett Moore, with a first in the under saddle and a first, third, fourth, and eighth over fences.
Photo Credit: Photos © Sportfot, Official Photographer of the Winter Equestrian Festival. These photos may be used only in relation to this press release and must include photo credit.