For Immediate Release
Jennifer Wood Media, Inc.
Wellington, FL — February 25, 2018 — The seventh week of the 2018 Winter Equestrian Festival (WEF) at the Palm Beach International Equestrian Center in Wellington, FL, concluded on Sunday, February 25, with wins for Rodrigo Pessoa and Santiago Lambre. Pessoa (BRA) rode Chaganus to the win in the $50,000 Grand Prix CSI 2*, presented by The Dutta Corp. in association with Guido Klatte, while Lambre (MEX) and Doloris were victorious in the $70,000 Hollow Creek Farm 1.50m Classic CSI 5*.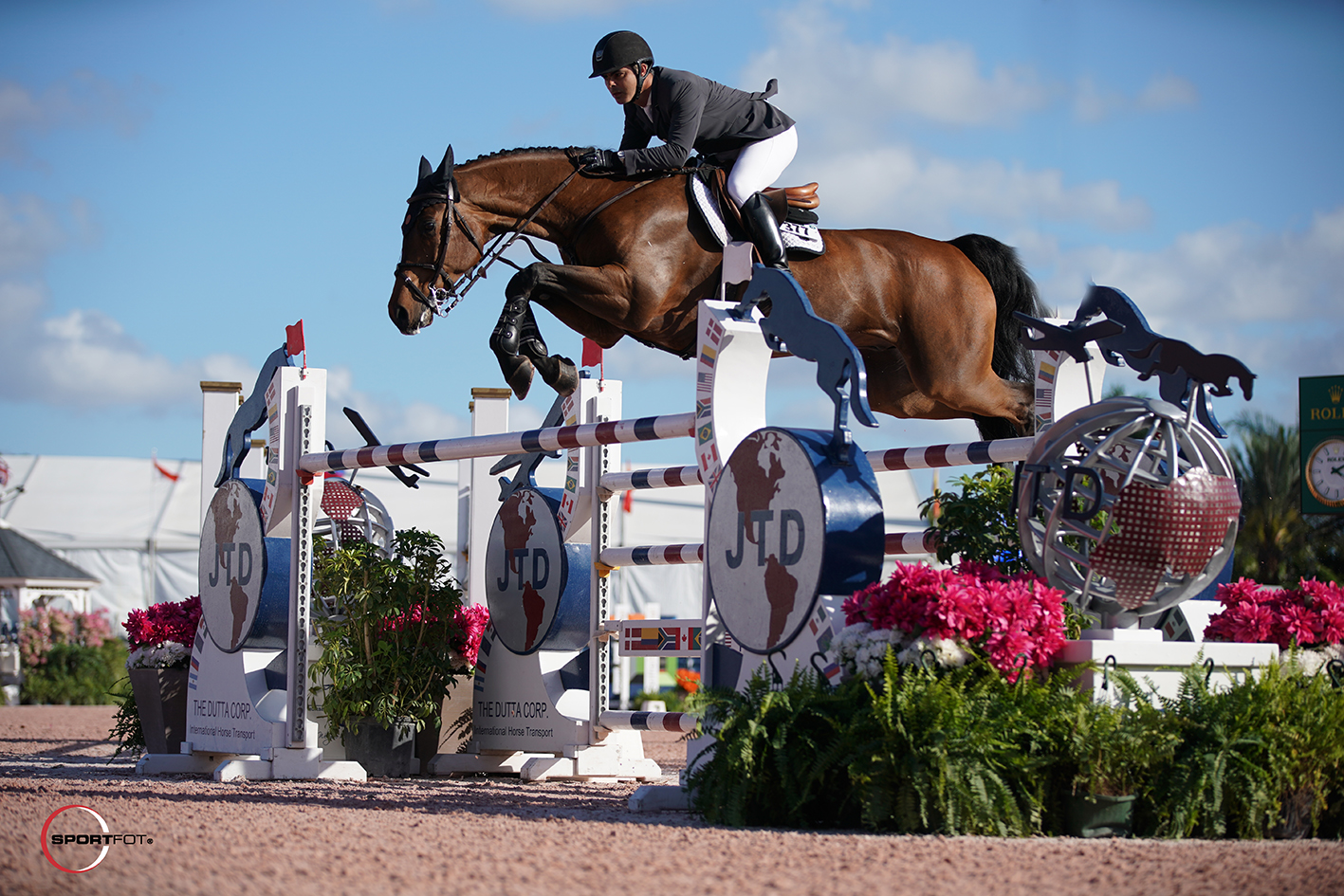 WEF continues with its eighth week of competition on February 28-March 4 with CSIO 4* competition sponsored by U.S. Trust & Bank of America Merrill Lynch. Highlights include the $35,000 Hermès Under 25 Semi-Final Grand Prix on Friday, March 2, at 7 p.m., the $150,000 Nations Cup, presented by U.S. Trust & Bank of America Merrill Lynch on Saturday, March 3, at 7 p.m., and the $205,000 CSIO4* Grand Prix, presented by Lugano Diamonds on Sunday, March 4, at 1 p.m. WEF hosts hunter, jumper, and equitation competition until April 1 and offers more than $9 million in prize money.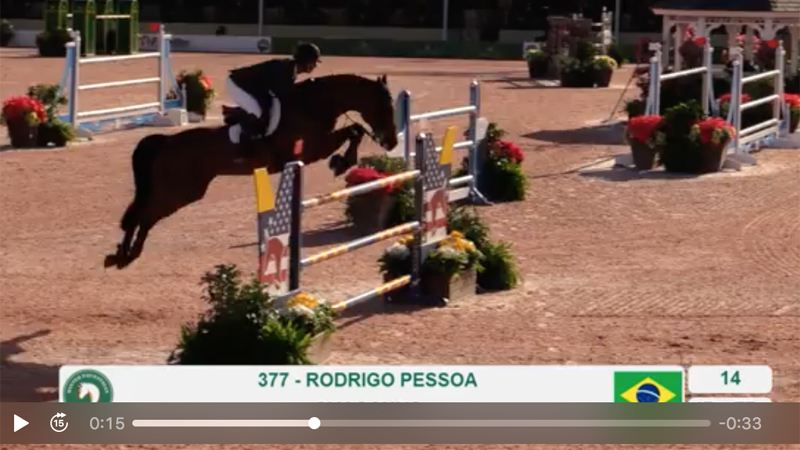 Click here to watch Rodrigo Pessoa and Chaganus' winning round!
The Sunday feature class had 45 entries, and 12 of those were clear to move on to the jump-off. The top three were the only double clears in the class. Pessoa and Chaganus, a ten-year-old Oldenburg gelding by Chacco-Blue x Carthago owned by Pessoa Stables LLC, ended up with the winning time of 36.11 seconds for victory.
Wilhelm Genn (GER) and Dieta, Taylor Reid's ten-year-old KWPN mare by Ukato x Indorado, placed second with a time of 37.28 seconds. Wilton Porter (USA) and Delinquent JX, an 11-year-old SHBGB gelding by Darco x I Need You owned by Sleepy P Ranch LLC, finished third with a time of 39.33 seconds.
Pessoa took over the ride on Chaganus in 2017 from fellow Brazilian Yuri Mansur and praised his carefulness and competitive nature, but knew he had to work on the horse's flexibility.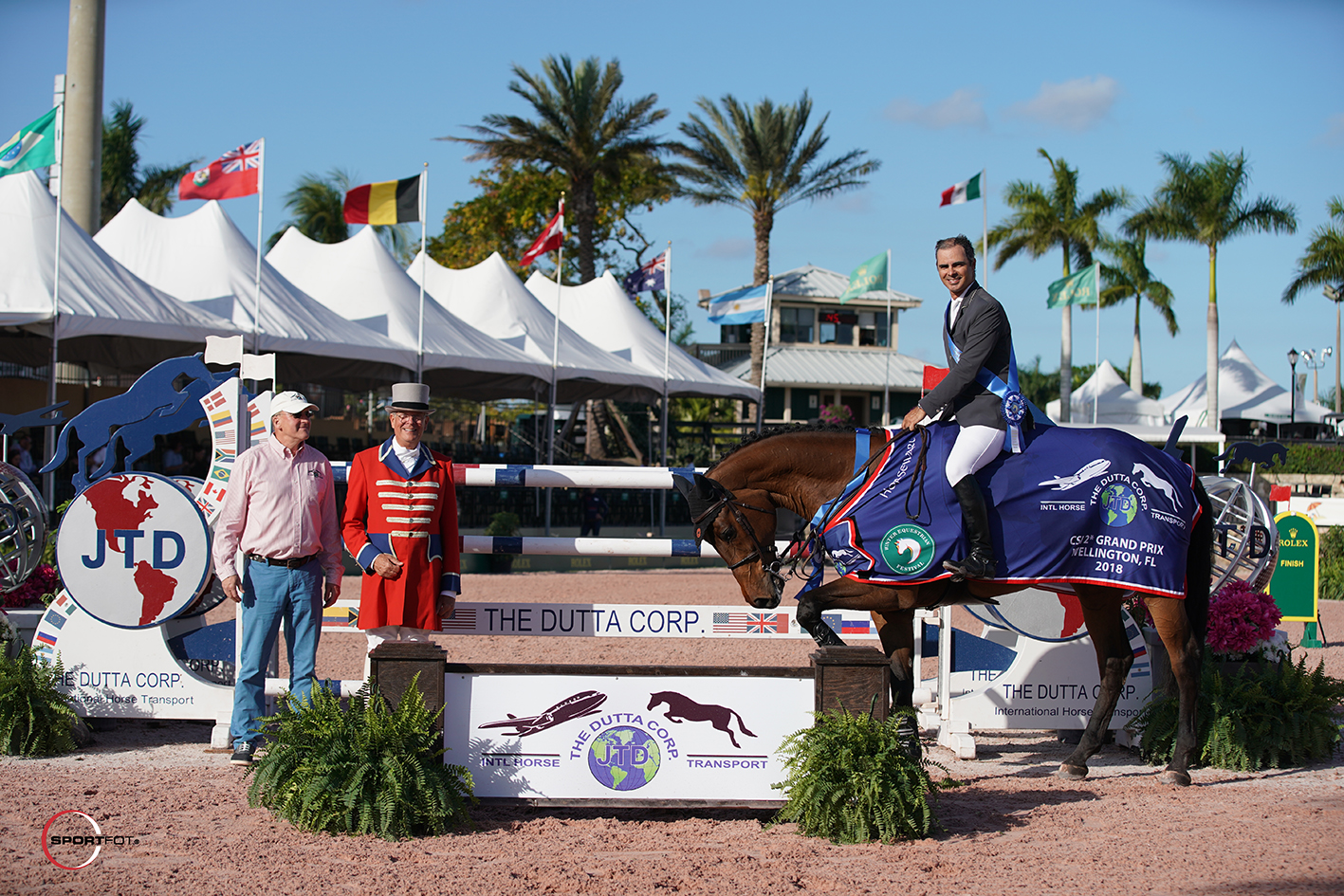 "I would say he would be a little bit stiff, and we were working on getting him a little bit looser to have more control in the ring," said Pessoa. "I really focused from October until now on a lot of flatwork and a lot of getting him supple because I knew to get him to the next level he would need to be better with control."
After their success this week, Pessoa feels ready to move Chaganus up to the next level.
"He is a horse that is really eager to go, and we want to contain him a little bit. He is a fun horse to ride because he wants to jump the fences clear," he noted. "He was third on Friday and won today. For me that was the most important that he performed well both days."
The pairing of Genn and Dieta had a slow start due to Dieta's late start to competition and Genn dealing with multiple injuries in 2017, but has recently come together for success.
"She had several foals, so she didn't come in to the sport until she was seven," said Genn. "I bought her here in the States when she just came into the country. We developed her up to 1.30m, then one of my clients bought her for me to stay on and ride her.
"She's a little tricky," he continued. "She has an old-fashioned body, a little long in the back, and she takes her head extremely high. I haven't found out a different way to ride her. This seems to be the best way she goes. She has a lot of scope, she's careful, and she tries really hard. This was her first FEI week, so I am really happy."
Porter was happy with his mount's consistency and that he and his younger brother Lucas both made it to the jump-off in the grand prix while their trainer, World Champion show jumper Jeroen Dubbeldam (NED), was out of town.
"These two-star weeks are the perfect level for him and me," said Porter. "He's been really consistent, which I'm proud of, and also this is the first week my brother and I have shown without Jeroen here, so I am proud of the fact that he has been able to teach us to do it independently."
He added, "It's an honor to be sitting here with these two great riders. They have a lot of grand prix wins between the two of them, so hopefully one day I can have a record that matches theirs."
Final Results: $50,000 Grand Prix CSI 2*, presented by The Dutta Corp. in association with Guido Klatte 
1   CHAGANUS: 2008 Oldenburg gelding by Chacco-Blue x Carthago
RODRIGO PESSOA (BRA), Pessoa Stables LLC: 0/0/36.11
2   DIETA: 2008 KWPN mare by Ukato x Indorado
WILHELM GENN (GER), Taylor Reid: 0/0/37.28
3   DELINQUENT JX: 2007 SHBGB gelding by Darco x I Need You
WILTON PORTER (USA), Sleepy P Ranch LLC: 0/0/39.33
4   SHARAPOVA IMPERIO EGIPICIO: 2002 Brazilian mare by Baloubet du Rouet x Welton Ambassador
FRANCISCO JOSE MESQUITA MUSA (BRA), Daniel Aguiar Morelli: 0/4/34.96
5  EXPLOSION W: 2009 KWPN gelding by Chacco Blue x Baloubet du Rouet
EMILY MASON (GBR), Poden Farms: 0/4/36.95
6   COLUMBCILLE DE REVE: 2008 Irish Sport Horse mare by Hermes de Reve x Errigal Flight
LAUREN CROOKS (USA), Crooks Show Jumping LLC: 0/4/37.27
7=  BACHELOR 4: 2002 Rheinlander by Baloubet du Rouet x Grosso Z
FREDDIE VAZQUEZ (PUR), Messenger Hill: 0/4/37.31
7=  TOSCA DU FEUGRE: 2007 Selle Francais mare by Calvaro x Nidor Platiere
LAUREN FISCHER (USA), Cheryl Fischer: 0/4/37.31
9   CHARLIE: 2008 Oldenburg gelding by Chacco-Blue x Charlie Z
WINN ALDEN (USA), Southern Arches, LLC: 0/4/37.42
10  HITCHCOCK VD BROEKKANT: 2007 BWP gelding by Canturo x Heartbreaker
ALISE OKEN (USA), Hi Hopes Farm LLC: 0/4/40.62
11  FANTAST: 2005 BWP gelding by Toulon x Rubens du Ri d'Asse
ILAN FERDER (ISR), Sagamore Farms: 0/8/36.70
12  DIAMONTE DARCO: 2005 GBSH mare by Unbelievable Darco x Unknown
LUCAS PORTER (USA), Sleepy P Ranch LLC: 0/8/37.20
Lambre and Doloris Capture 1.50m Title
There were 37 entries in the $70,000 Hollow Creek Farm 1.50m Classic CSI 5*, and nine advanced to the jump-off. The fastest clear round came from the final ride, Santiago Lambre (MEX) with his own Doloris. By leaving strides out in the first and last lines, he stopped the timers in 36.72 seconds for the win.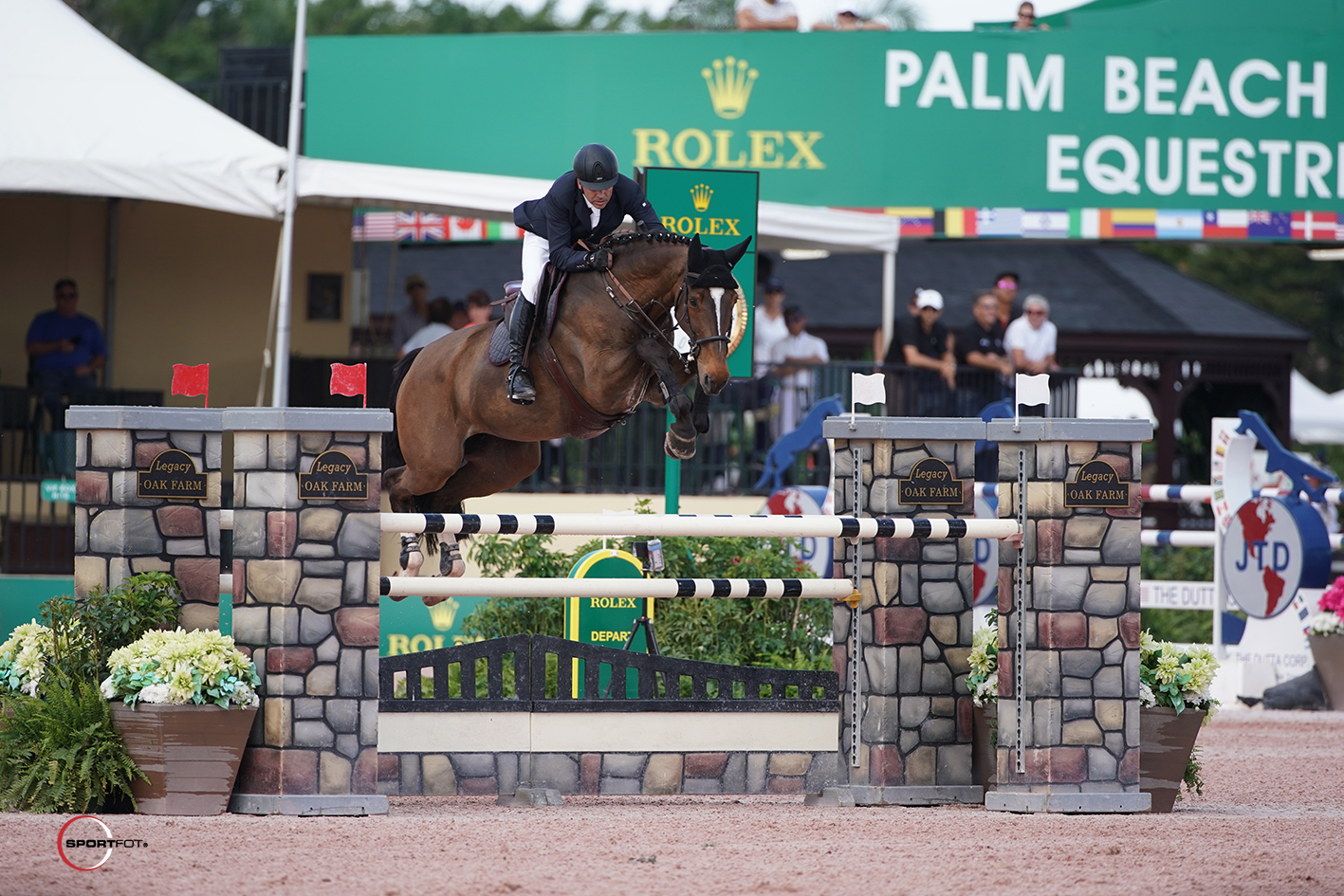 Just slightly behind the time in second place was Ben Maher (GBR) on Poden Farms' Carlson 86 in 36.81 seconds. Catherine Tyree (USA) and Mary Tyree's Catungee were third in 37 seconds flat.
While Lambre found and purchased Doloris, a 10-year-old KWPN mare by Harley VDL x Colorado D, as six-year-old, he did not start competing regularly with her until the end of her eight-year-old year.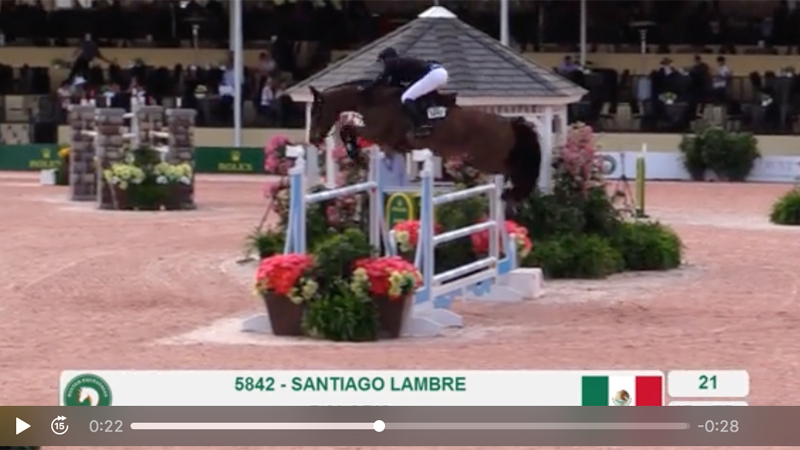 Watch Santiago Lambre and Doloris' winning jump-off round!
Lambre moved from Belgium to Wellington in 2017 after living in Europe for ten years. He and Doloris won five FEI ranking classes in 2017 in Lambre's first year of competing in the United States. After a two-month break, Lambre came ready to compete at WEF.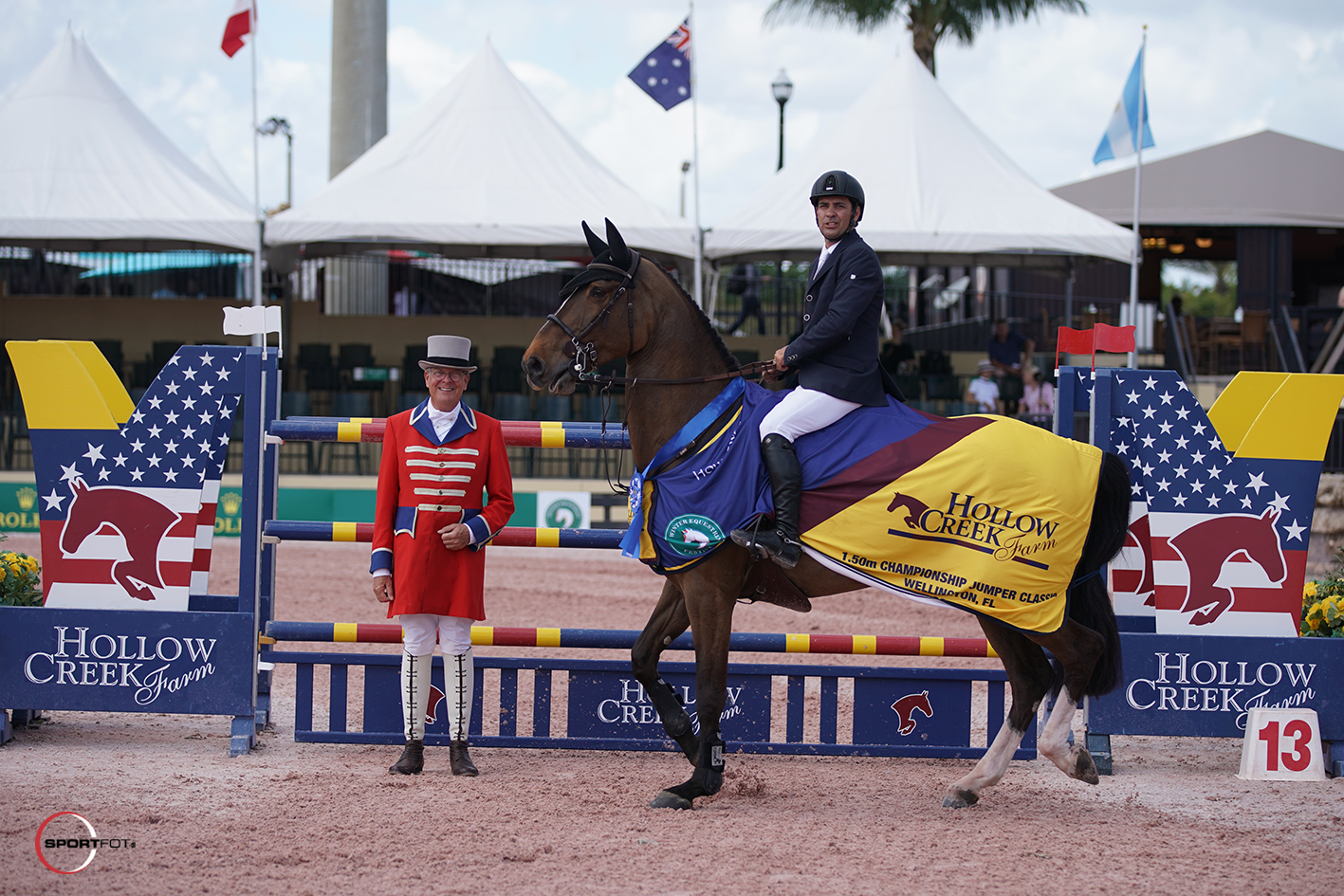 "She started not in the highest form, but after the last two weeks, she started to jump really fantastic again," he said.
"She has a lot of blood. I try to her to let her do a bit what she wants because she doesn't like too much control," described Lambre. "Sometimes when it's too technical, it can be a bit difficult, but the good thing is when it's the jump-off, you can go really fast."
Final Results: $70,000 Hollow Creek Farm 1.50m Classic CSI 5*
1 DOLORIS: 2008 KWPN mare by Harley VDL x Colorado D
SANTIAGO LAMBRE (MEX), Santiago Lambre: 0/0/36.72
2 CARLSON 86: 2008 German Sport Horse gelding by Colorit x Auftritt
BEN MAHER (GBR) Poden Farms: 0/0/36.81
3 CATUNGEE: 2006 Holsteiner gelding by Contact Me x Liatos
CATHERINE TYREE (USA), Mary & Joe Tyree: 0/0/37.00
4 MANODIE II H: 2005 Oldenburg mare by Carthago x Zeus
GEORGINA BLOOMBERG (USA), Gotham Enterprises, LLC: 0/0/37.44
5 CHARLEVILLE: 2007 KWPN gelding by Quasimodo Z x Lancelot
EVE JOBS (USA), Eve Jobs: 0/0/37.46
6 ECLATANT: 2009 KWPN gelding by Berlin x Heartbreaker
PETRONELLA ANDERSSON (SWE), Stephan Conter: 0/0/37.51
7 CATOKI'S SON Z: 2009 Zangersheide gelding by Catoki x Aldo du Reverdy
ERYNN BALLARD (CAN), Ilan Ferder: 0/0/37.61
8 CYBER LADY Z: 2009 Zangersheide mare by Douglas x Skippy II
TIFFANY FOSTER (CAN), Wendy Valdes: 0/0/38.94
9 BIJOUX: 2006 KWPN mare by Cartani x Athletico
DIEGO VIVERO (ECU), Javier Estrada: 0/4/36.87
10 TOULAGO: 2005 Oldenburg gelding by Toulon x Carthago Z
ADRIENNE STERNLICHT (USA), Starlight Farms 1 LLC: 1/72.20
11 CLEARWATER: 2007 Holsteiner gelding by Clearway x Come On
MARILYN LITTLE (USA) Karen O'Connor: 1/72.56
12 BULL RUN'S DIVINE FORTUNE: 2009 KWPN mare by Padinus x Caruso
KRISTEN VANDERVEEN (USA), Bull Run Jumpers Six LLC: 4/67.20
Samantha Weinerman and Bahnoe Capture THIS Children's Medal 15-17
The final day of week seven at the Winter Equestrian Festival began with Samantha Weinerman claiming top honors aboard Bahnoe, owned by Stonehenge Stables, in the Taylor Harris Insurance Services (THIS) Children's Medal 15-17. The duo was one of the top four to return for the second round of testing in ring seven and were the only pair to ace all elements presented by the judges.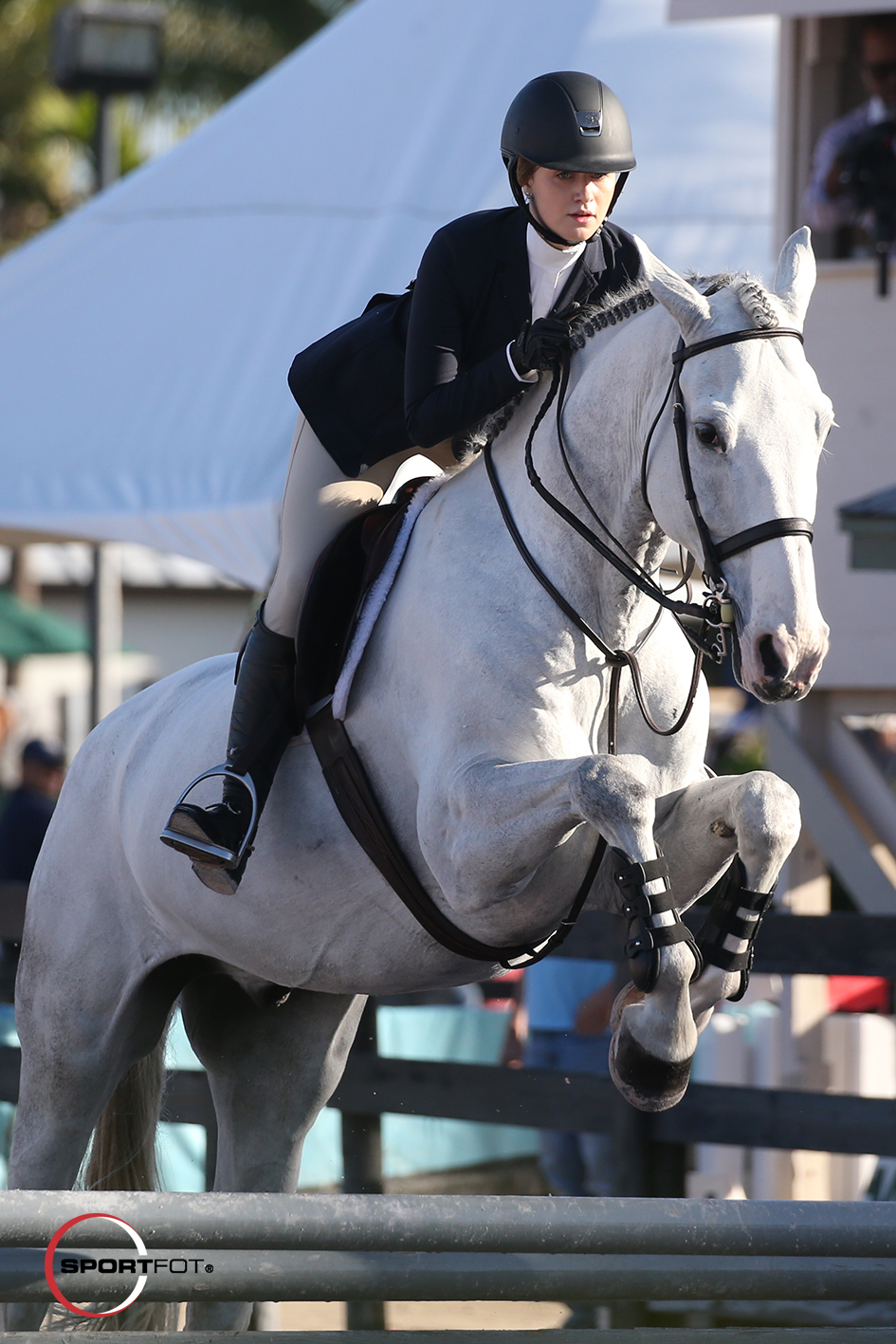 "I think we really won it at the trot jump today," said Weinerman, who had originally returned to the ring in second place with a score of 85. "He came back nicely in the middle of the line, and he got it done easy."
Siena Vasan and Calvin Klein, owned by Palm Ponies LLC, were sitting in first place with a score of 86, but fit a single canter step in before the trot jump in the test, which moved them to third. Grace Klein finished in second aboard Avedon, owned by Elizabeth Klein, with a score of 79 and a successful testing round.
"My goal for today was to focus on keeping him in front of my leg and to make sure all the distances and transitions were smooth," said Weinerman. "So, I think that worked out! He is really quiet to ride, and he knows what he is doing."
Bahnoe is a 12-year-old KWPN gelding by Gentleman x Kiya and a recent import from Europe with experience in the big equitation classes. Weinerman added that she hopes to move up with him over the next few weeks at WEF.
Animo Medium Pony Hunter Win Goes to Baylee McKeever aboard Sterling
Baylee McKeever, of Brewster, NY, had a success-filled week seven finish aboard her mount, Sterling, owned by Madeline Schaefer. The pair took home the Animo Medium Pony Hunter division championship win on Sunday with a first, second, fourth, and eighth over fences.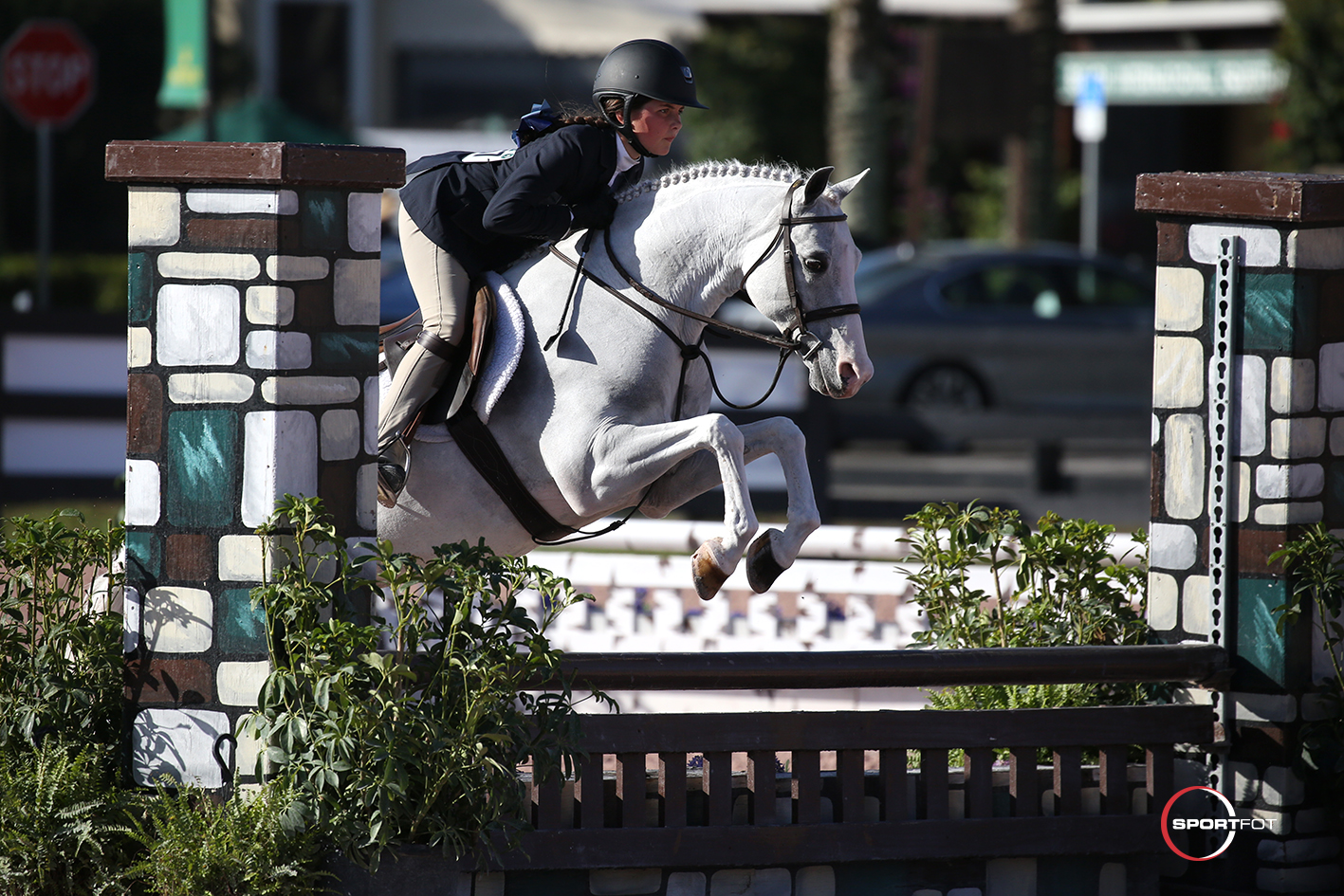 "He is a very sweet pony," said McKeever of the 14-year-old Welsh Pony gelding. "He is very adjustable, and he loves to jump. My favorite part about riding him is how smooth he is to find the distances and how you can kind of just cruise along and stay at one rhythm the whole way around."
When asked about her preparation for this weekend's competition, McKeever added that Sterling can be difficult at times, but that overall, today proved that the pair has come a long way.
"He can ride very differently on different days," said McKeever. "Sometimes he has trouble with some things, but it meant a lot to win today, because we worked a lot on collecting and he turned out really well. I am very excited, and I feel like I have come far with this pony. My goal for this weekend was to be consistent, since we can have some off rounds here and there, and he was really good throughout all of our rounds."
Reserve honors went to Georgia Jacob and Frosted, owned by Kathryn Mccarthy, with a first, fourth, and sixth over fences.
The 2018 Winter Equestrian Festival continues with week eight on February 28-March 4.
Photo Credit: Photos © Sportfot, Official Photographer of the Winter Equestrian Festival. These photos may be used only in relation to this press release and must include photo credit.