For Immediate Release
Emily Riden and Ava Lindsay for Jennifer Wood Media, Inc.
Wellington, FL – March 18, 2018 – The tenth week of competition at the 2018 Winter Equestrian Festival (WEF) concluded with a win for Laura Chapot (USA) and Chandon Blue in the $35,000 Hollow Creek 1.50m Classic CSI 3* on Sunday, March 18, at the Palm Beach International Equestrian Center (PBIEC) in Wellington, FL.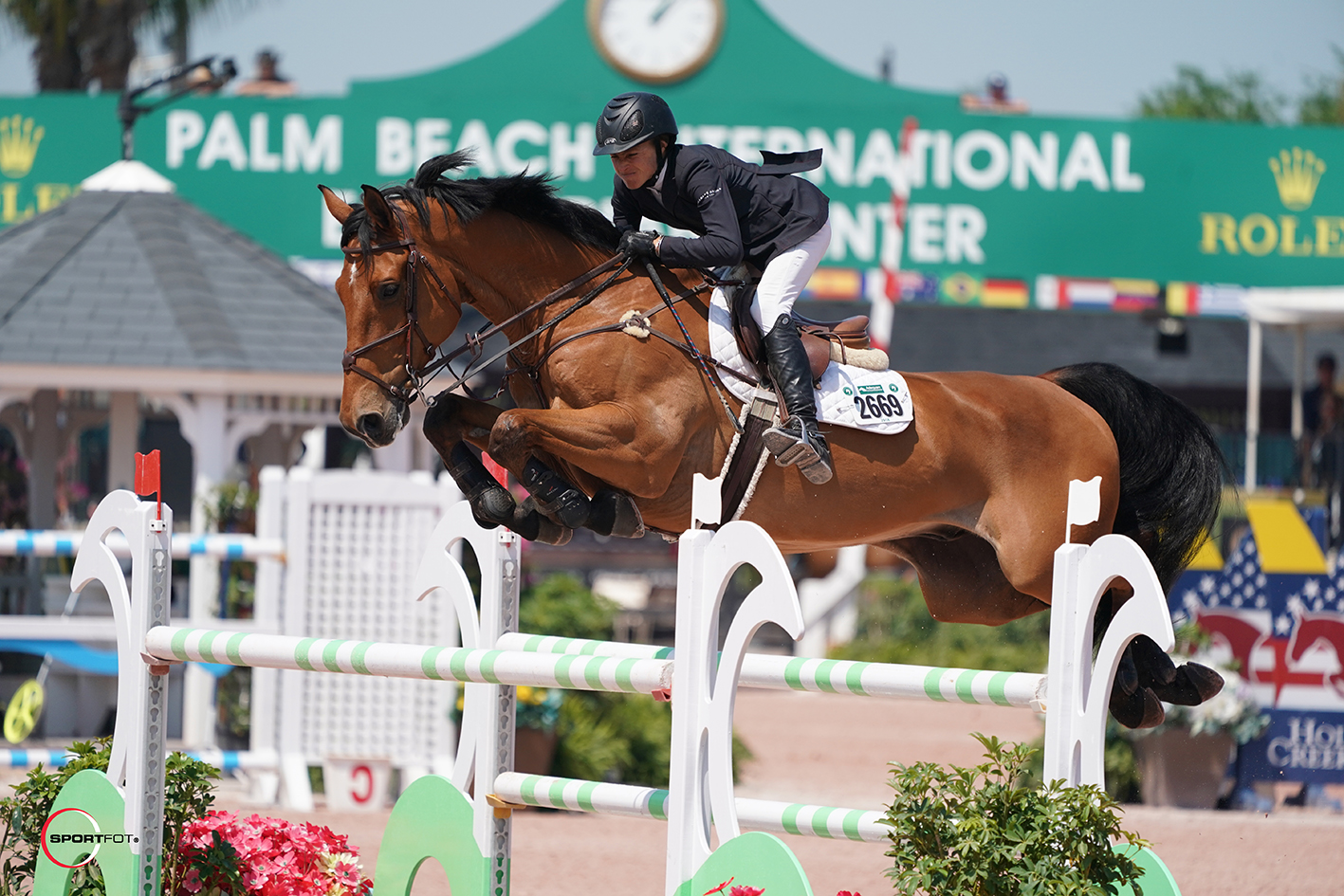 WEF continues with week 11 of the 12-week circuit on March 21-25, featuring CSI 4 * competition sponsored by CaptiveOne Advisors. Highlights of the upcoming week include the $205,000 CaptiveOne Advisors Grand Prix CSI 4* at 11 a.m. on the grass derby field at Equestrian Village (13500 South Shore Blvd.) and the $132,000 Hollow Creek Farm 1.50m Classic Final at 6:30 p.m. in the WEF International Arena on Saturday, March 24, as well as the George H. Morris Excellence in Equitation on Friday, March 23, at 5 p.m. in the WEF International Arena and the $50,000 Hermés Under 25 Grand Prix Series Final at 12 p.m. at the grass derby field on Sunday, March 25. WEF hosts hunter, jumper, and equitation competition until April 1 and offers more than $9 million in prize money.
The $35,000 Hollow Creek 1.50m Classic saw 53 entries contest the track set by Michel Vaillancourt (CAN), with 14 advancing to the shortened jump-off track. Over the short course, it was Chapot aboard Chandon Blue, a 13-year-old Oldenburg gelding (Chacco Blue x Landcapitol) owned by Mary Chapot, who turned in the winning time of 36.145 seconds.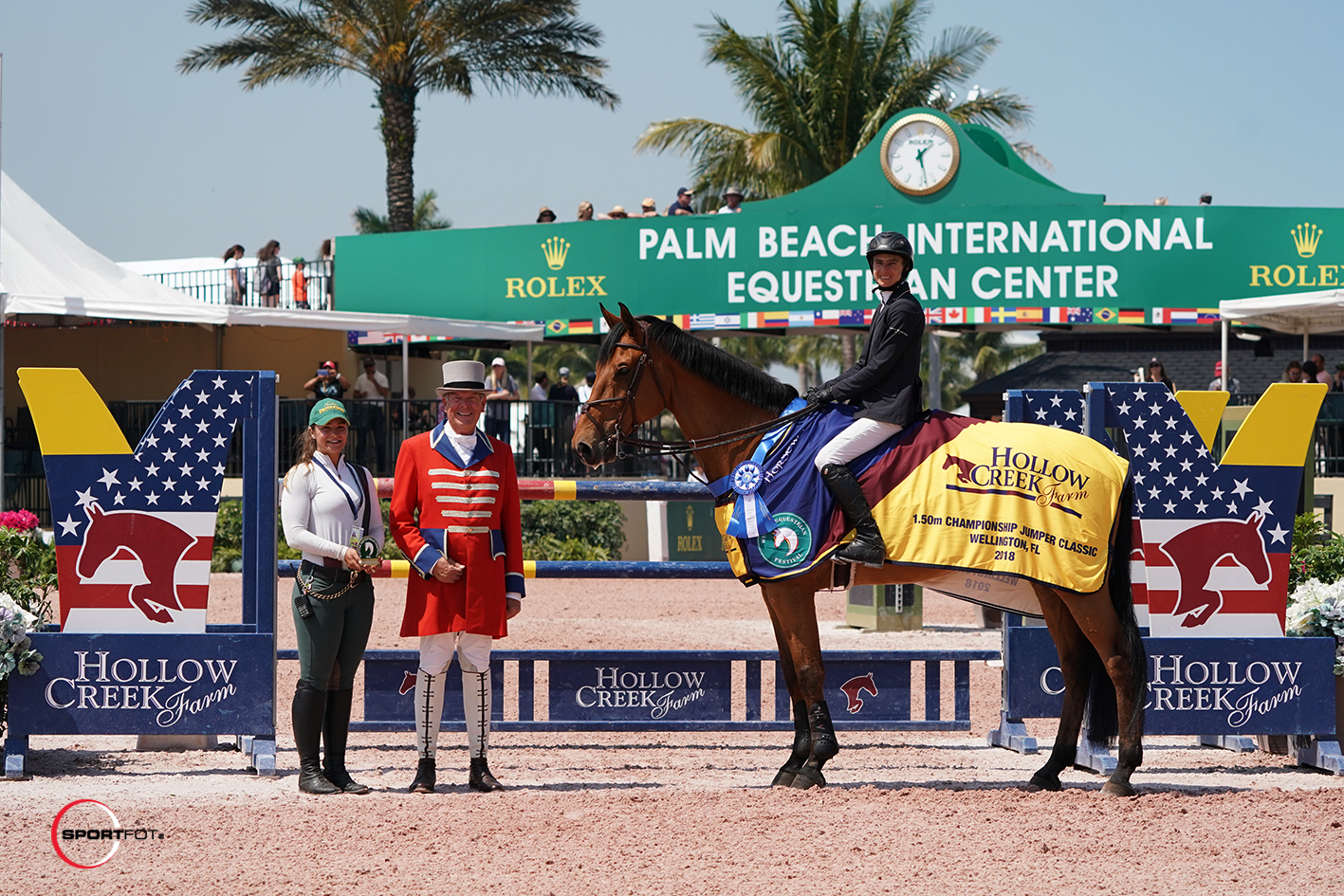 Second place went to Hunter Holloway (USA) and VDL Bravo S, a 12-year-old KWPN gelding (Ephepe For Ever x Chellano Z) owned by Hays Investment Corp, with a time of 36.565 seconds. With American ladies taking all three of the top spots, it was Lillie Keenan who finished in third with a time of 38.647 seconds riding Concho, a ten-year-old Holsteiner gelding (Cassaro 5 x Acord II) owned by Chansonette Farm LLC.
Chapot acquired her winning mount, Chandon Blue, from Irish rider Cian O'Connor in December of 2017, and she has used the 2018 WEF season to get to know the gelding.
"We've just kind of been figuring out which buttons to press, and I think today we got them all together," said Chapot. "He's a really fast and careful horse. He goes in there and tries his heart out and wants to win. I like his energy."
Since Chandon Blue is still a relatively new mount to Chapot, she kept that in mind when planning her jump-off strategy on Sunday, electing to take advantage of his large step to leave a stride out in the first line but then foregoing a tighter approach later on over the short course.
"I thought that that was not a hard leave-out down the first line, but I chose to go around the tree rather than inside. I thought that for him, and not knowing him so well on the really tight turn inside, that was a better plan," explained Chapot. "I know that he's just naturally very fast, and then, if I went around, I would never have to slow down."
With her jump off plan proven effective for the win, Chapot next plans to continue to compete throughout weeks 11 and 12 of the 2018 WEF before returning home to New Jersey and gearing up for the summer season.
"The horses work hard down here, and we try and use this time to build the them up and get them ready for the summer," said Chapot. "Then they get a little bit of time off to recuperate and hopefully they're ready for the next thing!"
Final Results: $35,000 Hollow Creek 1.50m Classic CSI 3*
1 CHANDON BLUE: 2005 Oldenburg gelding by Chacco Blue x Landcapitol
LAURA CHAPOT (USA), Mary Chapot: 0/0/36.14
2 VDL BRAVO S: 2006 KWPN gelding by Ephepe For Ever x Chellano Z
HUNTER HOLLOWAY (USA), Hays Investment Corp.: 0/0/36.56
3 CONCHO: 2008 Holsteiner gelding by Cassaro 5 x Acord II
LILLIE KEENAN (USA), Chansonette Farm LLC: 0/0/38.64
4 PRINCE ROYAL Z MFS: 2007 Zangersheide stallion by Prince de Revel x Ramiro Z
PEDRO MUYLAERT (BRA), Stenio da Silva: 0/0/39.01
5 SERPICO: 2008 Irish Sport Horse gelding by ARS Vivendi x Aldatus Z
ANDREW WELLES (USA), Itasca Group LLC: 0/0/41.18
6 HHS HERCULES: 2009 Irish Sport Horse gelding by Guidam
BEEZIE MADDEN (USA), Abigail Wexner: 0/4/34.63
7 FOR FREEDOM Z: 2005 Zangersheide gelding by For Pleasure x Baloubet du Rouet
KEEAN WHITE (CAN), Angelstone Partners: 0/4/34.63
8 DIEGO: 2008 KWPN gelding by Colman x Guidam
ANDREW BOURNS (IRL), Jürgen Klussman: 0/4/37.328
9 DIVINE DE LA ROQUE: 2008 KWPN mare by For Hero x Kannan
MARIE HECART (FRA), Normandie Connection: 0/4/39.113
10 CASSANDRA: 2007 KWPN mare by Tangelo van de Zuuthoeve x Goodwill
JENN SEREK (CAN), The Cassandra Group: 0/4/41.784
11 CHAKITO: 2006 Oldenburg by Chacco Blue x Padarco
DARRAGH KENNY (IRL), Vlock Show Stables LLC: 0/4/44.593
12 PRESTIGIOUS: 2007 Westphalian gelding by Con Cento x Corofino
MADISON GOETZMANN (USA), Madison Goetzmann: 0/8/35.459
Emma Vandenhouten and Spiderman Top Rosenbaum PLLC Large Pony Hunters
The last day of week ten at the Winter Equestrian Festival featured an exciting win for Emma Vandenhouten and her own entry, Spiderman, who earned the championship in the Rosenbaum PLLC Large Pony Hunter division. The pair secured the title with a sixth on the flat and a first, first, and seventh over fences.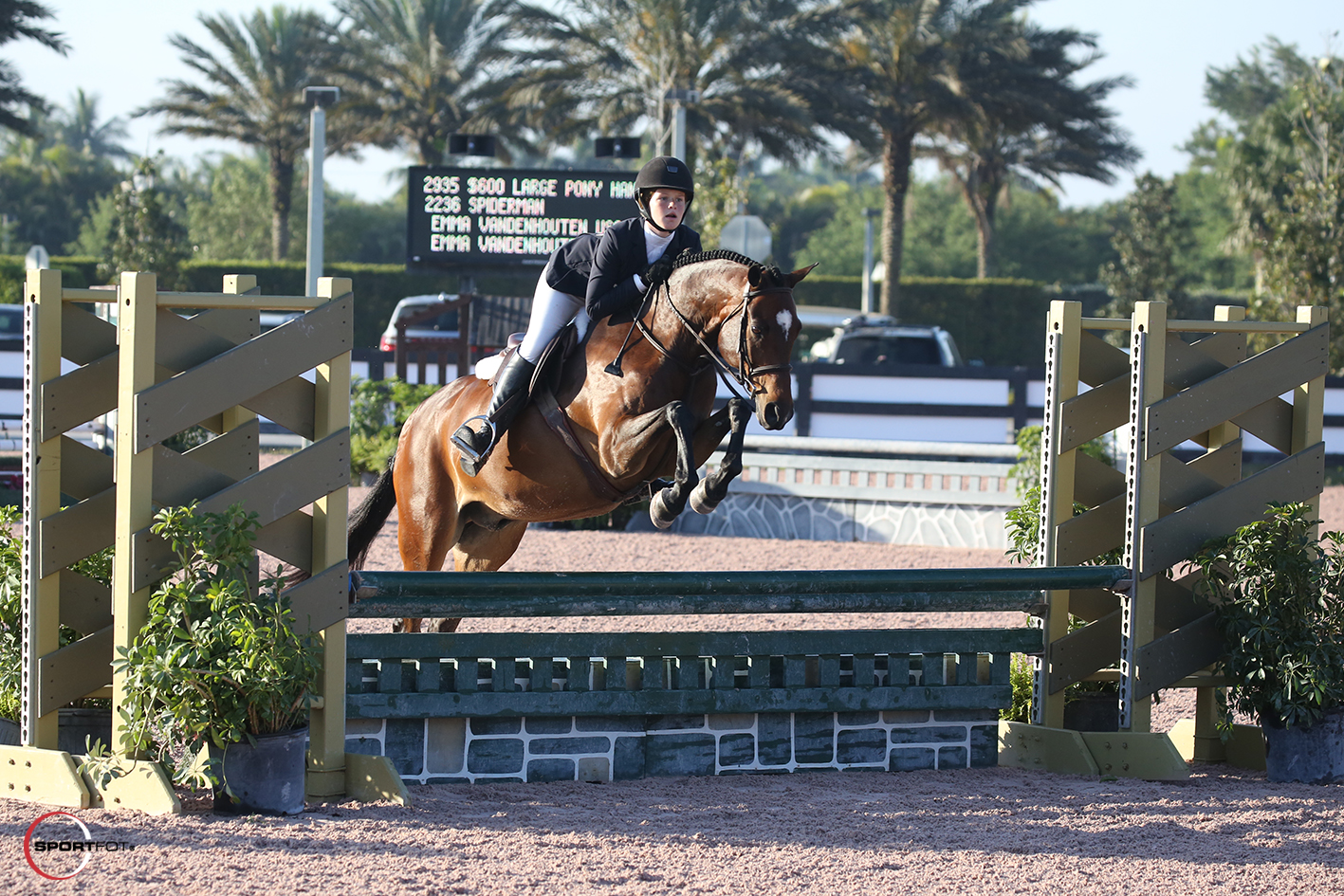 "This win means a lot to me," said Vandenhouten. "I thank my family for always being so supportive."
The junior rider first began her journey to the top with Spiderman in the Large Children's Pony Hunter division over a year ago, and the duo has continued to progress.
When asked about her history with the 11-year-old Welsh Pony Cross, Vandenhouten said, "When we moved up to the [Large Pony Hunter division], it definitely took us a little bit to get going, but we have done well. I have been mainly focusing on keeping him straight in the lines and in-and-outs and not letting him swap. He jumps his heart out, and he loves his food!"
The nine-year-old from Plantation, FL, aspires to continue on to win at the United States Equestrian Federation (USEF) Pony Finals this year, where she won the Buttons N' Bows Sportsmanship Trophy in 2017.
Caroline Signorino and Riveting, owned by Signorino Family Farm, LLC, took reserve honors with an eighth-place finish in the under saddle and a first, second, fourth, and seventh over fences.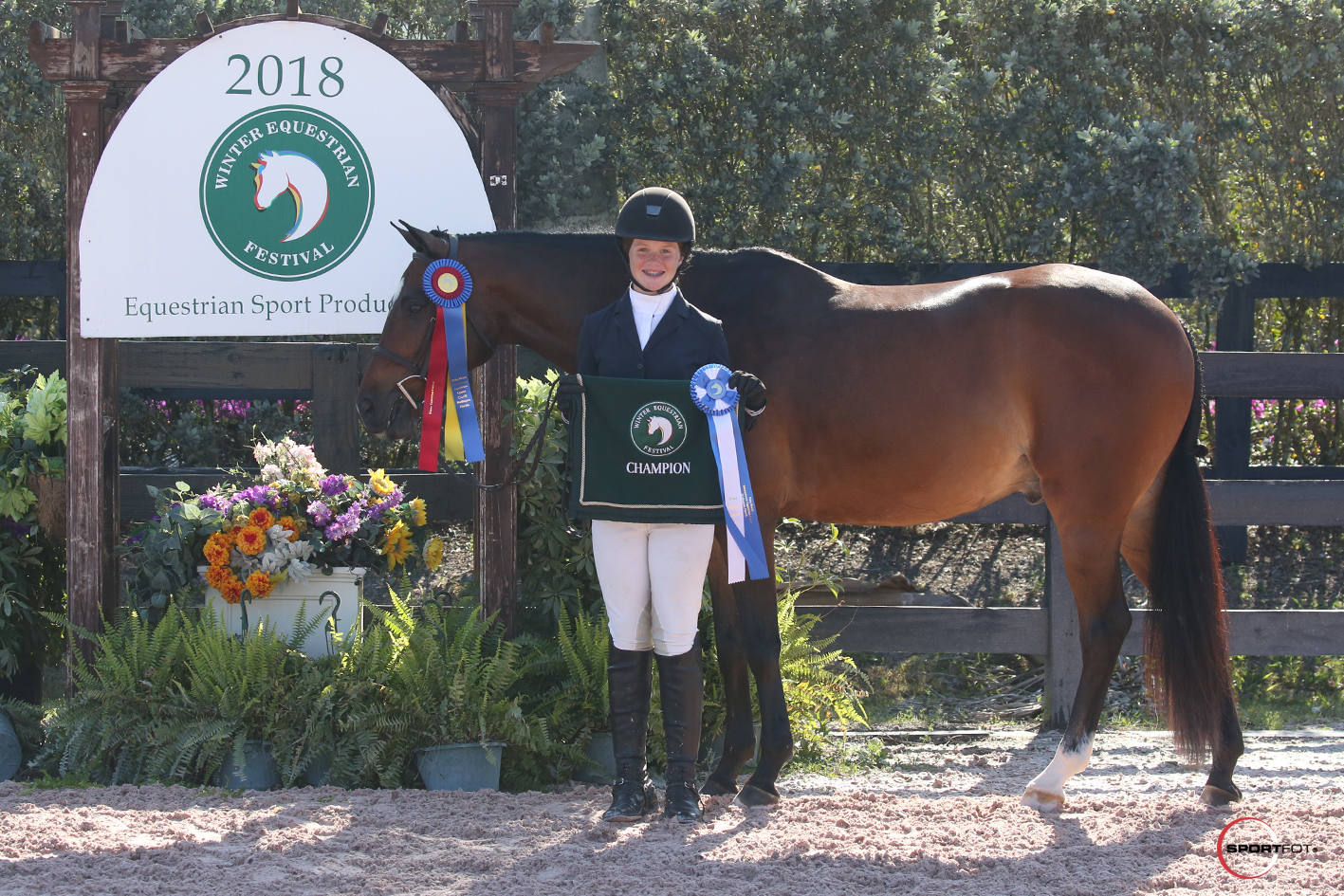 Competition at the 2018 Winter Equestrian Festival resumes on Wednesday, March 21, with week 11, sponsored by CaptiveOne Advisors.
Photo Credit: Photos © Sportfot, Official Photographer of the Winter Equestrian Festival. These photos may be used only in relation to this press release and must include photo credit.