For Immediate Release
Ava Lindsay for Jennifer Wood Media, Inc.
Wellington, FL – February 7, 2018 – The fifth week of the 2018 Winter Equestrian Festival (WEF) started on Wednesday with a win for Kristen Vanderveen (USA) and Bull Run's Divine Fortune, owned by Bull Run Jumpers Six LLC, in the $35,000 Douglas Elliman Real Estate 1.45m Classic. WEF continues through April 1 at Palm Beach International Equestrian Center in Wellington, FL, and offers more than $9 million in prize money.
Week 5, sponsored by Fidelity Investments®, features CSI 5* competition from February 7-11 and the $384,000 Fidelity Investments® Grand Prix as the "Saturday Night Lights" feature on Saturday, February 10.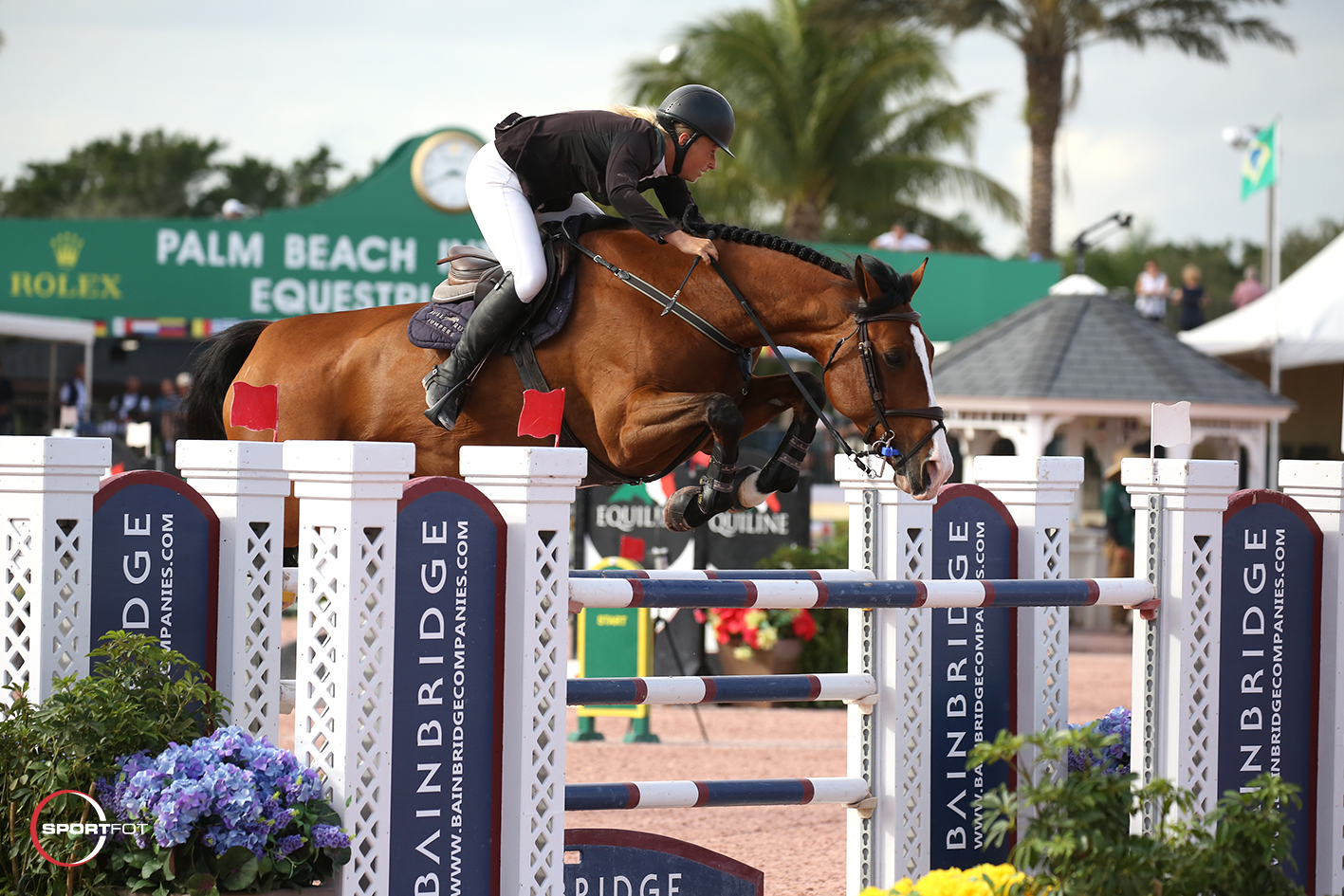 Vanderveen, of Wellington, FL, masterfully piloted her mount, also known as "Fortuna," to the top of the class and bested the field of 59 competitors with a time of 38.407 in the speed portion of the Power and Speed format class, designed by Kelvin Bywater (GBR). Ben Maher (GBR) claimed a close second aboard Poden Farms's Quilata with a time of 38.432 seconds. Third place went to Zoe Conter (BEL) and Soory De L'Hallali, owned by Stephex Stables, who captured the third fastest time of 39.518 seconds.
"I was pretty daring, and it paid off today. She was great," said Vanderveen of her ride on the nine-year-old Dutch Warmblood mare. "There were [some] very open-ended turns, and I thought that there was nothing to really get inside of, so I was focused on figuring out how risky I could be. I was quite long to the first two turns in the jump-off, but I thought she fired well for me. She really believes that she can do anything, which I think is her strongest point right now."
Having been purchased by Vanderveen this past summer from Yuri Mansur, the young mare is a new ride for Vanderveen, and has continued to prove that she is capable of far more than expected. Despite Fortuna's inexperience, Vanderveen had no doubt that she would be able to clear the larger fences in the International Arena.
"Last year, around this time, [Fortuna] had only ever jumped up to a 1.10m with the girl who owned her," said Vanderveen. "Yuri found her, and I got her after that, and we matched really well from the start. Her heart and mind are amazing for such a young and inexperienced horse. She kind of got thrown into [today's competition] because one of my horses [that] I was originally going to be jumping acted up last week. It was her turn to step up, and she did it."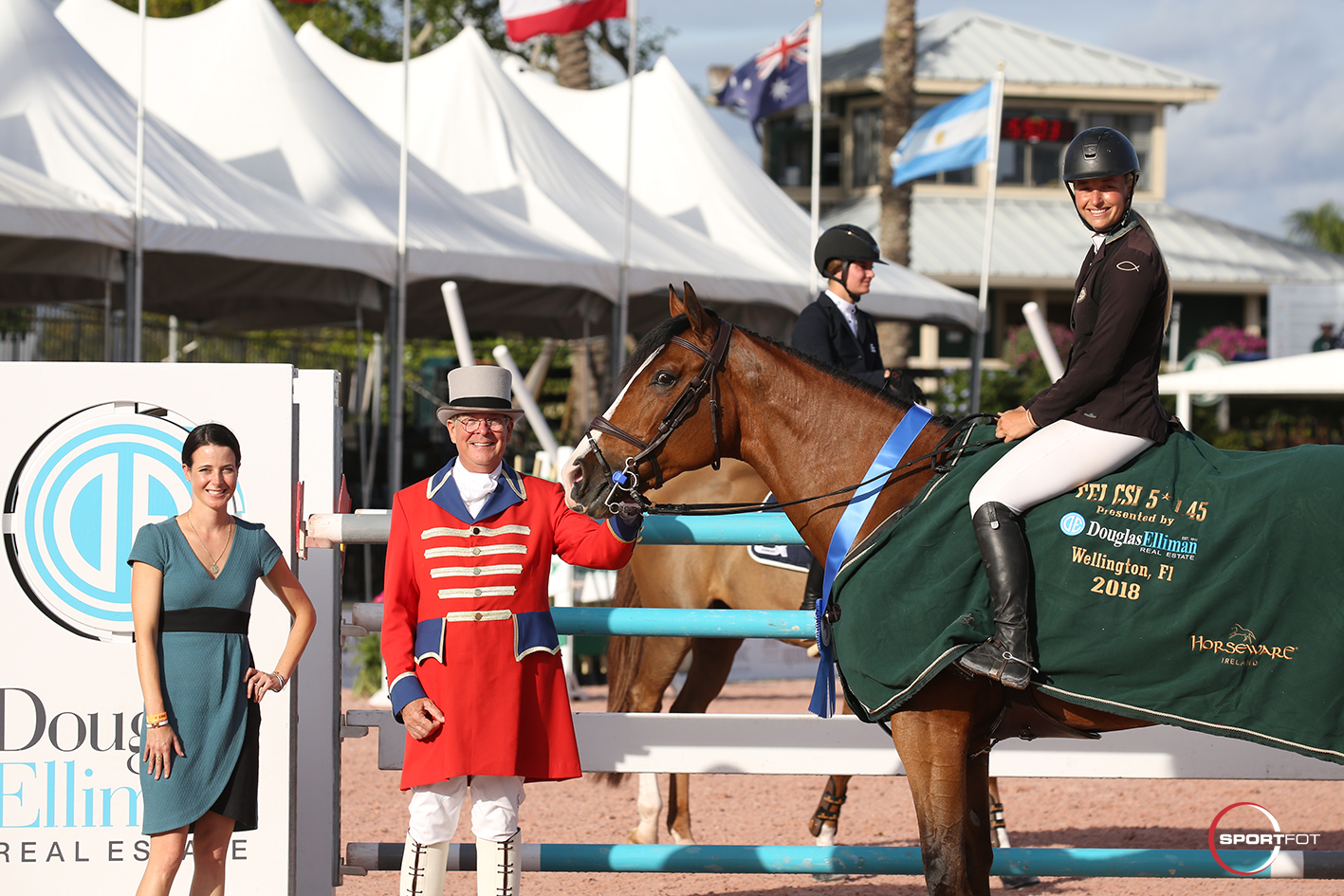 Due to Fortuna's young age, the Wellington professional expressed that she is in no rush to push her winning mount too hard, and that for now, the mare will continue to enjoy the occasional quiet trot and ride from the kids at the barn.
"She is very sweet and the most laid back," said Vanderveen. "[However,] she turns it on when she is in the show mode. She goes in the ring every time and is ready to win!"
Theo Genn (USA) and Colora, owned by Bridlebourne Stables LLC, were the fastest in the $8,000 Equiline 1.45m Speed CSI 2*. Laura Chapot (USA) and Mary Chapot's Chandon Blue were second, while 10-time Canadian Olympian Ian Millar and Vittorio 8, owned by Future Adventures, finished third.
In the $1,000 Bainbridge 1.40m CSI5* class, Danielle Goldstein (ISR) and Celebrity VDL, owned by The Golden Group and Danielle Goldstein, were victorious. Peter Lutz (USA) and QBS Equestrian LLC's Sam 1091 placed second, while Lauren Hough (USA) and Agatha d'Ecuassinnes, owned by Weslands Farms, were third.
The fifth week of WEF continues on Thursday, February 8, with the $132,000 Equinimity WEF Challenge Cup Round 5 and a championship presentation for the Green Hunter 3'3" division.
Final Results: $35,000 Douglas Elliman Real Estate 1.45m Classic
1   BULL RUN'S DIVINE FORTUNE: 2009 KWPN mare by Padinus x Caruso
KRISTEN VANDERVEEN (USA), Bull Run Jumpers Six LLC: 0/38.40
2   QUILATA: 2004 Oldenburg mare by Quidam de Revel x Latus I
BEN MAHER (GBR), Poden Farms: 0/38.43
3   SOORY DE L'HALLALI: 2006 Selle Francais mare
ZOE CONTER (BEL), Stephex Stables: 0/39.51
4   D'ARTAGNAN: 2008 KWPN gelding by Mr. Blue x Carthago
SANTIAGO LAMBRE (MEX), Integrated Services Florida LLC: 0/39.54
5   RYE VAL DE MAI: 2005 Selle Francais stallion by Helios de la Cour II x Type d'Elle
SHARN WORDLEY (NZL), Sharn Wordley: 0/39.81
6   CHAPILOT: 2007 Hanoverian gelding by Chacco Blue x Pilot
RODRIGO LAMBRE (BRA), Mario Onate: 0/39.99
7   SHARAPOVA IMPERIO EGIPICIO: 2002 Brazilian mare by Baloubet du Rouet x Welton Ambassador
FRANCISCO JOSE MESQUITA MUSA (BRA), Daniel Aguiar Morelli: 0/30.84               40.05
8   SHERKAN D'AMAURY: 2006 Selle Francais gelding by Kannan x Quick Star
KENT FARRINGTON (USA), Kent Farrington, Haity McNerney, & Daniel Crown: 0/40.27
9   BOKAI: 2006 KWPN gelding by Up To Date x Ferro
CATHERINE TYREE (USA), Mary & Joe Tyree:  0/40.47
10  CHARMED 2: 2008 Hanoverian mare by Chacco-Blue x Plural
MARKUS BEERBAUM (GER), Michaels & Beerbaum GmbH: 0/40.56
11  ROCKSY MUSIC: 2008 Irish Sport Horse gelding by ARS Vivendi x Diamond Serpent
RICHIE MOLONEY (IRL), Equinimity LLC: 0/41.17
12= BULL RUN'S TESTIFY: 2004 Selle Francais gelding by Dollar du Murier x Oberon du Moulin
KRISTEN VANDERVEEN (USA), Bull Run Jumpers Inc: 0/41.71
12= DRAGONFLY DE LONGCHAMPS: 2009 SBS mare by Clinton x Toulon
ZOE CONTER (BEL), Stephex Stables: 0/41.71
Photo Credit: Photos © Sportfot, Official Photographer of the Winter Equestrian Festival. These photos may be used only in relation to this press release and must include photo credit.