For Immediate Release
Jennifer Wood Media, Inc.
Wellington, FL – January 11, 2018 – The 2018 Winter Equestrian Festival continued with its second day of competition at the Palm Beach International Equestrian Center (PBIEC) in Wellington, FL, on Thursday. Jordan Coyle (IRL) rode Eristov, owned by Andrew Kocher, to victory in the $35,000 Equinimity WEF Challenge Cup Round One. WEF is a 12-week circuit of hunter, jumper, and equitation competition through April 1, 2018, and offers more than $9 million in prize money.
There are two highlight events for week 1 of WEF, sponsored by Wellington Regional Medical Center. They include the $75,000 Battle of the Sexes, presented by Wellington Regional Medical Center, to start the "Saturday Night Lights" series on Saturday, January 13, at 7 p.m., and the $75,000 Rosenbaum PLLC Grand Prix, the first grand prix of the season, on Sunday, January 14, at 2 p.m.
There were 36 entries in the first round of the $35,000 Equinimity WEF Challenge Cup and they competed over a course set by Eric Hasbrouck of the United States. Eleven were clear to continue to the jump-off, to which 10 returned. Coyle and Eristov were fourth in the jump-off order, and had to follow a very quick time set by Todd Minikus (USA) and Victorio 5 of 37.999 seconds.
Coyle and Eristov left a stride out in the first line and also in the line to the double combination, which led them to cross the finish timers in the winning time of 37.662 seconds. Minikus finished in second, while Emily Mason (GBR) rode Explosion W for Poden Farms to third place in 39.008 seconds.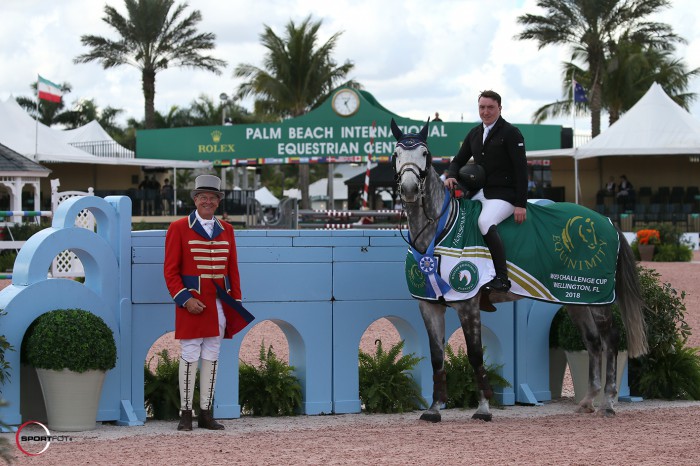 This is one of Coyle's biggest wins in the United States since coming here in the winter of 2016 to visit his brother Daniel Coyle, also a successful show jumper. Jordan Coyle is a professional rider for Old Salem Farm in North Salem, NY.
The win in the class is all the more special as the horse came off a long break from competing and the pair has only been together since October. This week is their first competition together.
"I had no idea what to expect," explained Coyle. "The horse this week jumped a few smaller classes. That was his first big class ever – he's never jumped that big before. I knew he was good enough to jump it and after the first round, I was just happy with that. The jump-off was one of those rounds where everything just worked out. I'd say if I did it another ten times it would never happen like that again, so I suppose you could say it was luck. It wasn't easy, but it suited him because he has such a big jump and a big step."
Coyle previously rode a horse named Chuckles for Kocher and mentioned, "I call him and ask for a horse and so far he's always sent me pretty good ones. Andy has been very good to me. I'm very lucky; he's an unbelievable horse."
"I've said all along since I've had him that he's the only horse I have ever had that gives you total belief he's not going to knock a jump," he continued. "That's something that I have never had before – I'm very lucky."
Additional jumper results from Thursday include:
$8,000 Douglas Elliman Real Estate 1.45m Jumpers – Clenur, ridden by Cian O'Connor (IRL) and owned by Armin Himmelreich
$6,000 Bainbridge 1.40m Jumpers – Avel de la Lande, ridden by Samuel Parot (CHI) and owned by Parot Horses LLC
$2,500 The Crown Family 1.35m Jumpers – Cavalier II, ridden and owned by Caitlyn Shiels (USA)
$2,000 Rushy Marsh Farm 1.30m Jumpers – Vita 24, ridden by Joaquim Malta de Abreu (POR) and owned by Two Swans Farm
Snow Day and Victoria Colvin Take the Lead in Equine Tack Green Hunter 3'6"
Victoria Colvin rode her mount, Snow Day, a six-year-old grey Holsteiner gelding owned by John and Stephanie Ingram LLC, to the Equine Tack Green Hunter 3'6" division championship for week one of the Winter Equestrian Festival. The duo dominated the division with a first under saddle and a first, second, fifth, and eighth over fences.
"This was his first show at 3'6"," said Colvin, the 20-year-old from Loxahatchee, FL. "He hasn't had much experience in the hunters, but he is pretty special."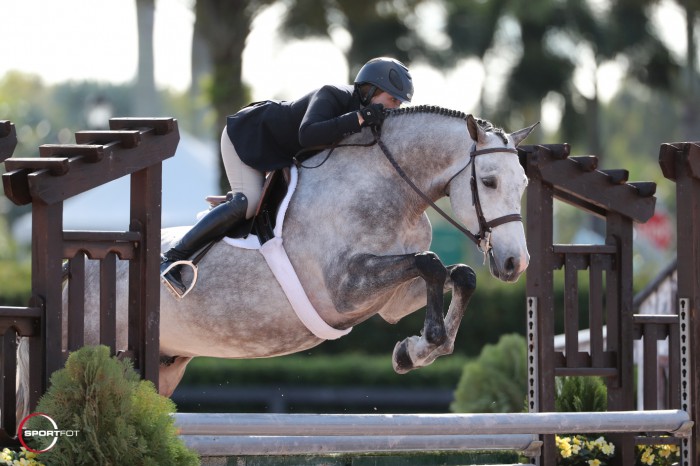 Colvin added that the young gelding has about seven to eight shows of real experience total and that this was his second show back since the USHJA Pre-Green Incentive Championship in Kentucky in August. Today was Snow Day's first time competing in a handy class.
"We prepared with trot jumps and turns," said Colvin. "He's just practicing being a regular hunter."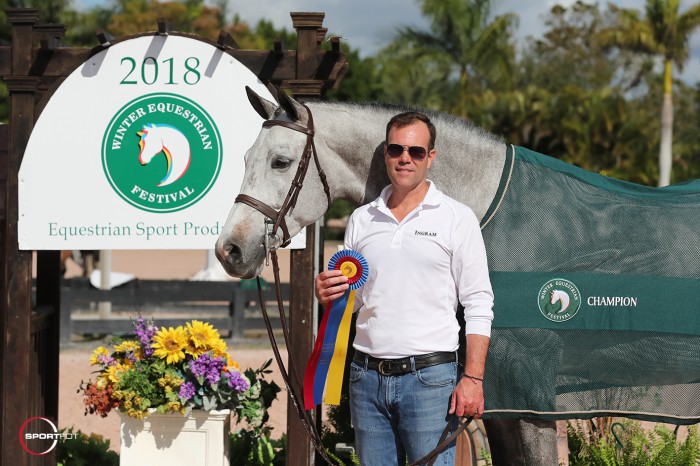 "He's beautiful," said Colvin. "He's definitely the fanciest one in the barn."
Colvin commented that the end goal for Snow Day is to become his owner's amateur horse by next year. For now, however, she plans on him eventually showing in the Green Conformation Hunters and hopefully qualifying for the WEF 6's $100,000 WCHR Peter Wetherill Palm Beach Hunter Spectacular.
In addition to Colvin's wins on Snow Day, the young professional continued her Thursday winning streak in the Marshall and Sterling Performance Hunter 3'3" division taking first place in the under saddle and a first, second, and third in the division's jumping classes aboard Antinori, an 8-year-old bay Oldenburg gelding also owned by John and Stephanie Ingram LLC. Colvin also took a first place in addition to her previous third aboard Libretto, a 14-year-old dapple grey warmblood owned by Brad Wolf, over fences.
This year's Winter Equestrian Festival marks the second year for Colvin as a professional following one of the most successful junior careers in history. Having prevailed as the 2015 WIHS Equitation Final champion and winner of the Platinum Performance/USEF Show Jumping Talent Search, Colvin has continued to add numerous wins to her track record, including the 2016 USHJA International Hunter Derby Championship.
The 2018 Winter Equestrian Festival continues on Friday with the $6,000 Bainbridge 1.40m Speed Challenge in the International Arena and the Adult Amateur Younger Hunters Section A in the E.R. Mische Grand Hunter Field. For full results, please visit www.PBIEC.com.
Final Results: $825,000 Equinimity WEF Challenge Cup Round 1
1 ERISTOV: 2009 KWPN gelding by Cicero Z Van Paemel x Concorde
JORDAN COYLE (IRL), H.M. Gooskens & Stal de Bruijn-Scheepens: 0/0/37.662
2 VICTORIO 5: 2006 Hanoverian stallion by Uccello x Graf Top
TODD MINIKUS (USA), Plain Bay Sales: 0/0/37.999
3 EXPLOSION W: 2009 KWPN gelding by Chacco Blue x Baloubet du Rouet
EMILY MASON (GBR), Poden Farms: 0/0/39.008
4 SERINGAT: 2006 Selle Francais gelding by Chef Rouge x Guillaume Tell
GEIR GULLIKSEN (NOR), Stall Gullik: 0/0/41.909
5 HELIANTE TER WILGEN: 2007 BWP mare by Chin Chin x Surrealist van't Paradijs
HECTOR FLORENTINO (DOM), Marion Scott Head: 0/0/42.547
6 BÖCKMANNS LAZIO: 2000 Westphalian stallion by Lancer II x Cor de la Bryere
MARGIE ENGLE (USA), Gladewinds Farm Inc.: 0/4/38.497
7 AMICE Z: 2007 Zangersheide gelding by Air Jordan Z x Odermus R
CHARLIE JAYNE (USA), Charlie Jayne: 0/4/43.868
8 ZERRO LEONE: 2004 KWPN gelding by Kigali x Iroko
MARTIEN VAN DER HOEVEN (USA), Augusta Pines Farm: 0/8/40.144
9 BULL RUN'S ALMIGHTY: 2008 Hanoverian gelding by Caspar x Quidam de Revel
KRISTEN VANDERVEEN (USA), Bull Run Jumpers Six LLC: 0/8/40.722
10 BIJOUX: 2006 KWPN mare by Cartani x Athletico
DIEGO VIVERO (ECU), Javier Estrada: 0/12/36.739
11 NOUGAT DU VALLET: 2001 Selle Francais gelding by Scherif d'Elle x Saphir d'Elle
KATIE DINAN (USA), Grant Road Partners: 0/DNS
12 CHICAGO HOF EVERSEM Z: 2008 Zangersheide gelding by Con Spirito R x Papillon Rouge
MATTIAS TROMP (USA), Swede Ventures LLC: 2/81.015
Photo Credit: Photos © Sportfot, Official Photographer of the Winter Equestrian Festival. These photos may be used only in relation to this press release and must include photo credit.