For Immediate Release
Jennifer Wood Media, Inc.
Wellington, FL – January 26, 2018 – The third week of the 2018 Winter Equestrian Festival (WEF) continued on Friday with the $35,000 Bainbridge FEI 1.45m Classic as the main feature in the International Arena. Eugenio Garza (MEX) and his mount of six years, Bariano, captured the win in the FEI ranking class. WEF continues through April 1 at the Palm Beach International Equestrian Center in Wellington, FL, and offers more than $9 million in prize money.
The third week of WEF, sponsored by Adequan®, runs January 24-28 and features the $132,000 Adequan® Grand Prix CSI 3* on Saturday, January 27, at 7 p.m.
The $35,000 Bainbridge FEI 1.45m Classic had 61 entries competing over a speed course designed by Peter Grant of Canada. Eighteen of those were clear, and the fastest in the class was Garza with Bariano, a 17-year-old BWP gelding by Jetset-D x Skippy owned by El Milagro, with a time of 63.57 seconds.
"He's a longtime partner and my go-to horse for anything, actually," said Garza of his 2013 Adequan® FEI North American Young Rider Championships individual gold medal-winning partner. "I'll never forget that moment [at Young Riders]. He knows me; I know him. We make a great team. On a good day, it usually goes pretty well. I'm really happy to have him in my string of horses and forever grateful to that horse. He's given me so much."
Second place went to Sydney Shulman (USA) on Jill Shulman's Ardente Printaniere, who stopped the timers in 63.90 seconds. Ireland's Kevin Babington and Double O Seven 7, owned by Babington and Katznelson Jumpers LLC, were third in 65.08 seconds.
Garza said of Friday's course, "It suited him, in that there were big leave outs. He has a big stride, so we did one less from [jumps] one to two, we did one less from the first double to the liverpool, one less after the four-stride line. It was a good course for him."
At 17 years old, Garza said that Bariano certainly knows how to do his job, and he leaves it up to the horse to tell him when to compete.
"If he feels good, he shows. If he doesn't [feel good], he doesn't [show]," explained Garza. "To him, it doesn't really matter if it's 1.45m, 1.50m, 1.60m, it's just a matter of if he feels good or not. If he feels good, then he can jump anything. Our job is just keeping him happy and sound. He's a great horse and very easy to maintain. He's an unbelievable animal. The old man is still going strong."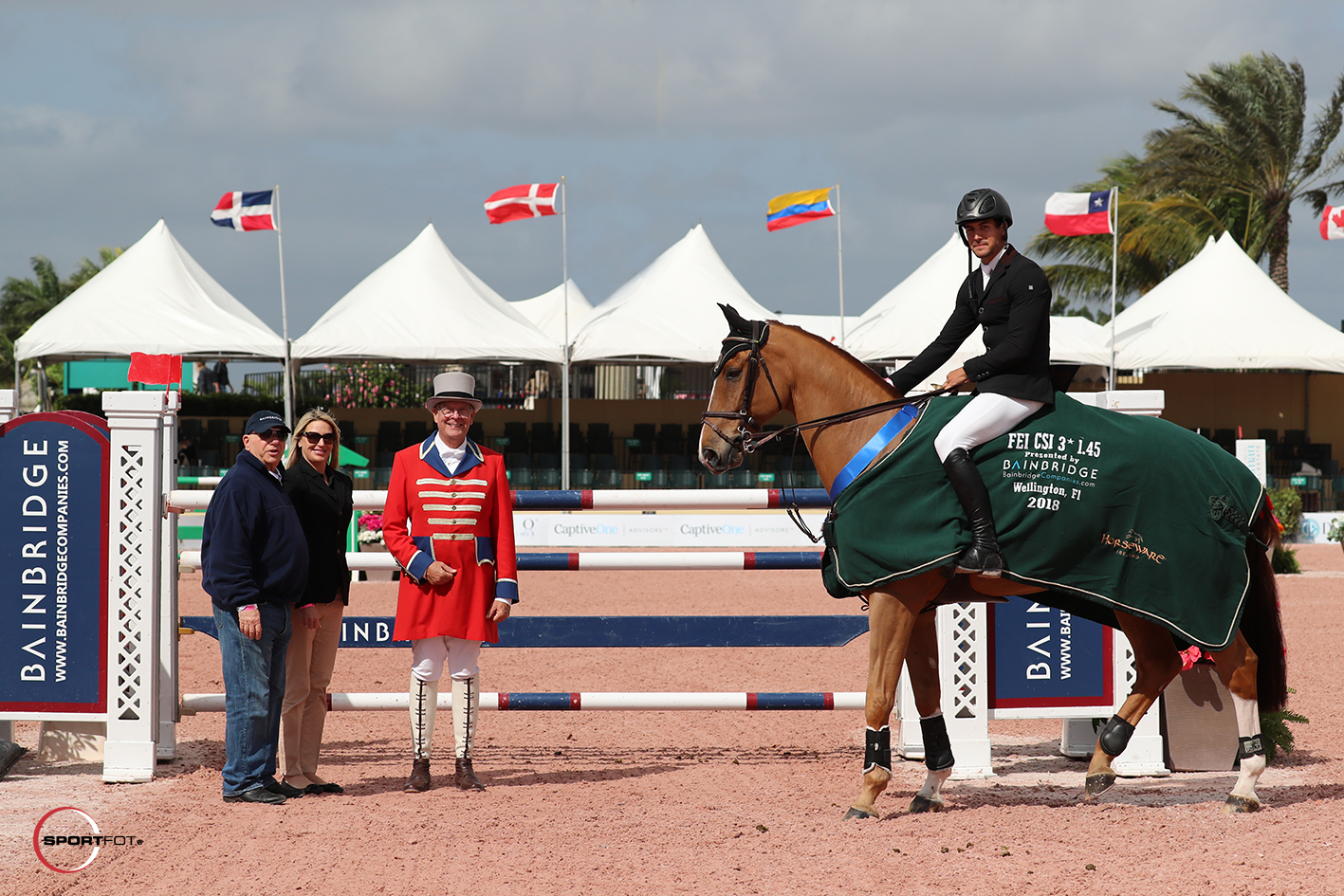 Bariano, who Garza found in 2012 in Belgium through Axel Verlooy, has a WEF schedule that is to be determined. Garza said, "If he comes out fresh tomorrow, we will do the 1.50m with him. If he's tired, then he deserves his rest and we'll keep him happy and fresh for next week."
Earlier in the day was the $6,000 Bainbridge 1.40m Speed Challenge. Alex Granato (USA) and Waomi, owned by Amalaya Investments, won with a time of 64.798 seconds. Nicky Galligan (IRL) and his Javas Miss Jordan were second in 66.63 seconds, while Tiffany Foster (CAN) and Thalis de la Roque, owned by Wendy Valdes, were third in 68.387 seconds.
In the other $6,000 Bainbridge 1.40m class of the day, Kent Farrington (USA) and Dublin, owned by Tanma Corp. and Kent Farrington, were victorious.
Final Results: $35,000 Bainbridge FEI 1.45m Classic
1   BARIANO: 2001 BWP gelding by Jetset-D x Skippy
EUGENIO GARZA (MEX), El Milagro: 0/63.57
2   ARDENTE PRINTANIERE: 2006 SBS mare by Joyeux Ardent x Ramiro
SYDNEY SHULMAN (USA), Jill Shulman: 0/63.90
3   DOUBLE O SEVEN 7: 2008 KWPN gelding by Mr. Blue x Celano
KEVIN BABINGTON (IRL), Kevin Babington & Katznelson Jumpers LLC: 0/65.08
4   FINEMAN: 2003 Swedish Warmblood gelding by Feliciano x Kotiljong II
BRIANNE GOUTAL (USA), Rose Hill Farm: 0/65.91
5   SAMURAI 501: 2008 Westphalian stallion by Stalypso x For Keeps
MEREDITH MICHAELS-BEERBAUM (GER), Artemis Equestrian Farm LLC: 0/66.19
6   BÖCKMANNS LAZIO: 2000 Westphalian stallion by Lancer II x Cor de la Bryere
MARGIE ENGLE (USA), Elm Rock LLC: 0/66.51
7=  VAHINEE: 2009 Selle Francais mare by Lauterbach x Darco
MARIE HECART (FRA), Normandie Connection: 0/66.82
7=  CHACOTE: 2007 Oldenburg gelding by Chacco-Blue x Quick Star
PEDRO MUYLAERT (BRA), Pedro Muylaert: 0/66.82
9   ENJOY LOUIS: 2004 Belgian Warmblood gelding by Coriano x Kannan
CATHERINE TYREE (USA), Mary & Joe Tyree: 0/67.03
10  ZAPZERAP: 2008 KWPN gelding by Zapatero x G. Ramiro Z
ENRIQUE GONZALEZ (MEX), Enrique Gonzalez: 0/67.48
11  CICERO'S ELECTRIC: 2009 Dutch Warmblood gelding by Cicero Z x Mistral
PETER WYLDE (USA), Aram Ampagoumian LLC: 0/67.59
12  PEMBROKE: 2008 Holsteiner mare by Clarimo x Casall
ADRIENNE STERNLICHT (USA), Starlight Farms LLC: 0/68.12
Tina Allen and French Kiss Claim Championship Title in Triple Crown Blankets Adult Amateur Hunter Middle Sec. A
Ava Lindsay for Jennifer Wood Media, Inc.
Tina Allen, of New Canaan, CT, continued her winning streak from week one of the Winter Equestrian Festival into week three with an impressive championship win aboard her mount, French Kiss, a 14-year-old Oldenburg gelding, in the Triple Crown Blankets Adult Amateur Hunter Middle Sec. A. The pair dominated the division with three blue ribbons and a second over fences, with a third-place finish in the under saddle.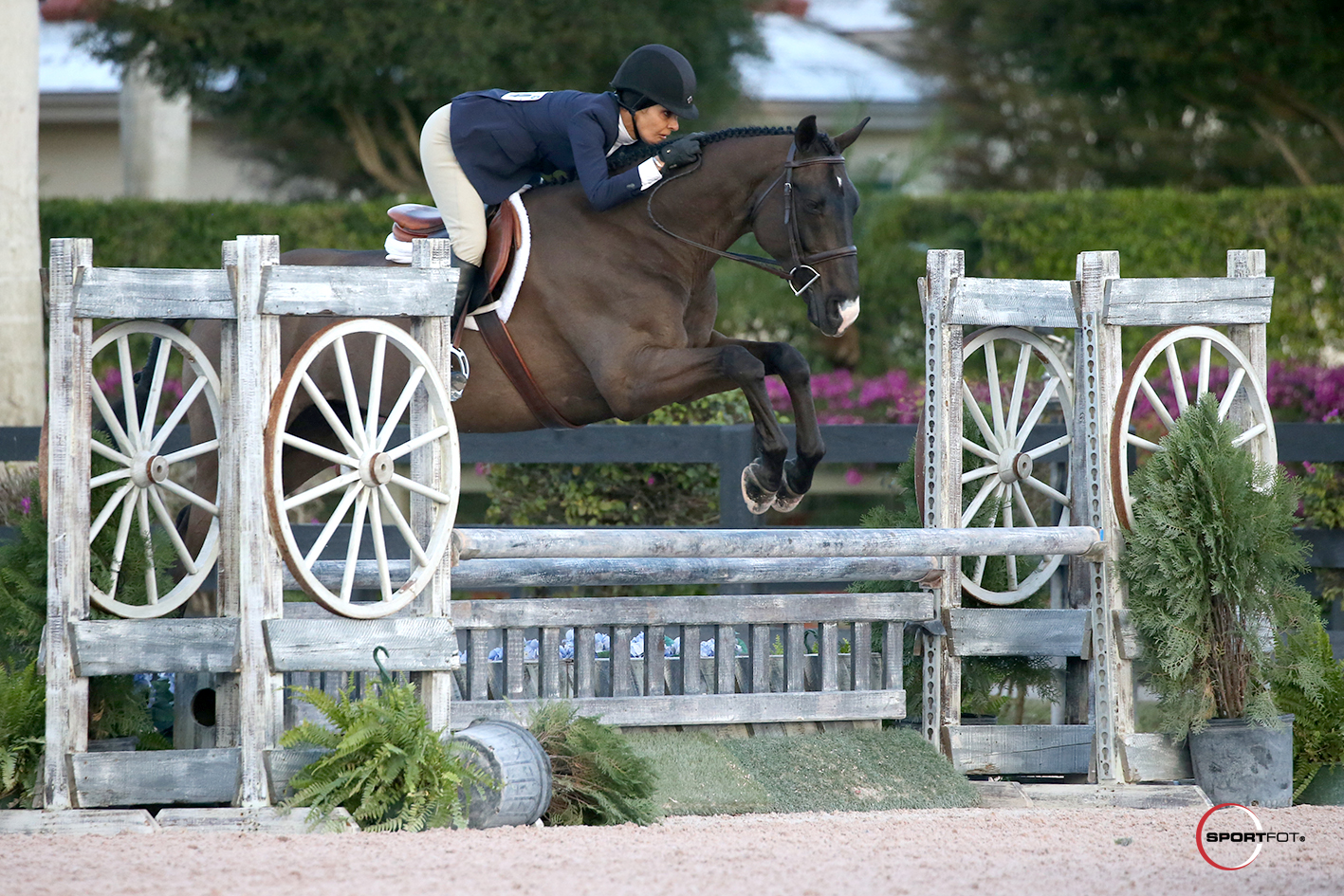 Allen and French Kiss, her partner of eight years, are no stranger to the winner's circle. Just two weeks ago, the duo claimed the reserve championship title in the same division, and Allen expressed her enthusiasm for their most recent win.
"I am excited to be champion," said Allen. "[French Kiss] used to be my 3'3" Amateurs horse, and now he is happily doing the Adults. He is older now, so I am really happy with today. Week one was his first time showing after a bit of a break, so he was a little fresh, but he is usually very quiet and easy to get to the ring, so I was just trying to be consistent."
In addition to her week three success with French Kiss in the Rost Arena, Allen was also champion and reserve champion in the Amateur Owner 3'3" 36 & Over division in the E.R. Mische Grand Hunter ring week 1 of WEF with her two other mounts, Galaxy and Sinatra. However, French Kiss, being Allen's long-term partner, has remained the Connecticut rider's most consistent and trusty steed throughout the years.
"We just pull him out when we want to show him, and he is always on it," said Allen. "He loves to compete, and he does his job well. I really think he likes doing this, and he loves being down here. We try not to do too much with him because of his age, so our goal is to take it easy."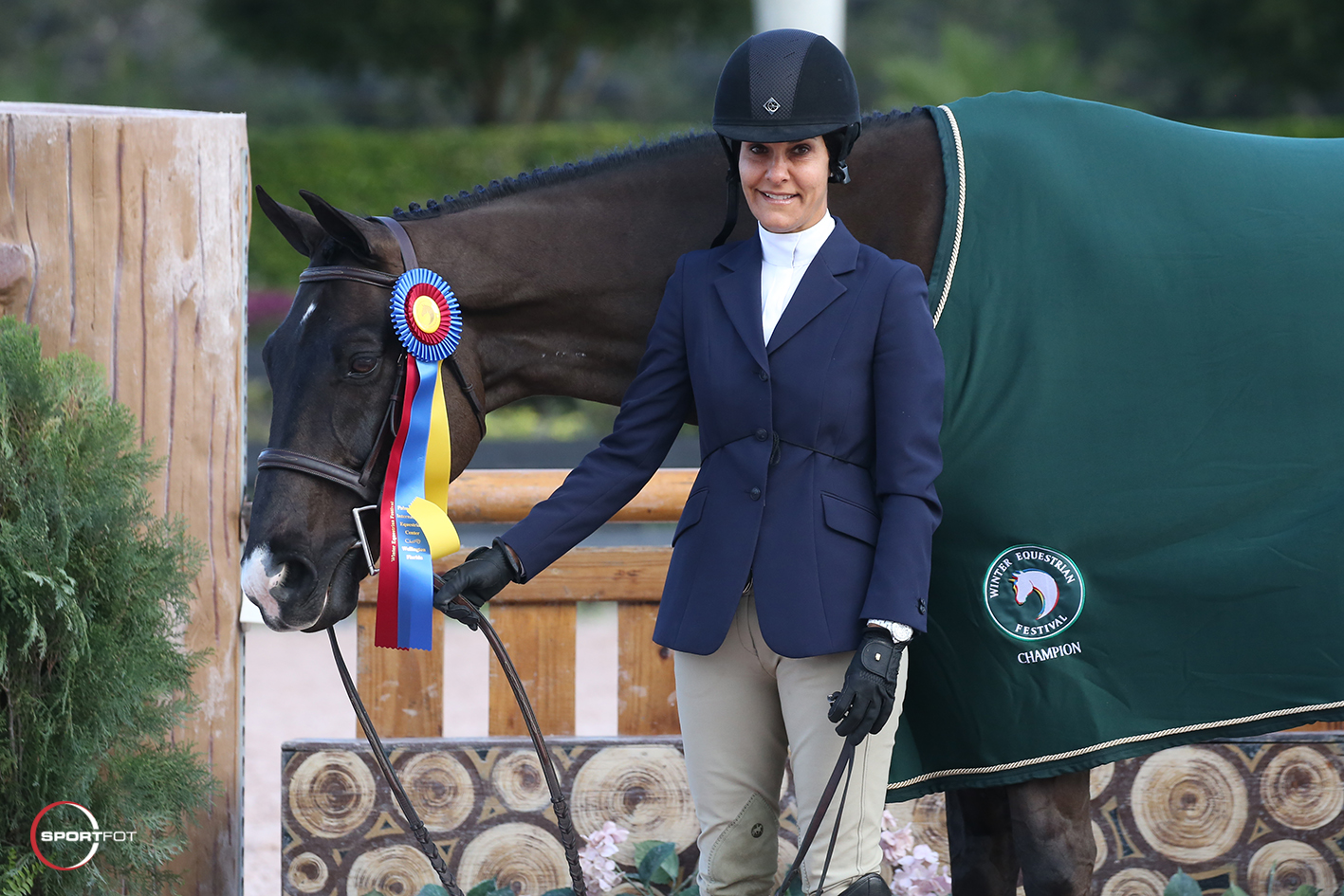 Allen added that the pair might make an appearance for week six of WEF, but for now they are focused on staying comfortable and enjoying their Wellington trail rides together.
The reserve champion title went to Jeanine Cash aboard Tristram 7, owned by Holly Hill Farm, with a first in the division under saddle and a first, third, third, and fifth over fences.
The third week of WEF continues on Saturday, January 27, with the highlight class of the week, the $132,000 Adequan® Grand Prix CSI 3* starting at 7 p.m. The hunters will award championship honors in the Adequan® Amateur Owner 3'3" 18-35 Hunters.
Photo Credit: Photos © Sportfot, Official Photographer of the Winter Equestrian Festival. These photos may be used only in relation to this press release and must include photo credit.