For Immediate Release
Jennifer Wood Media, Inc.
Wellington, FL – January 24, 2018 – The third week of the Winter Equestrian Festival began on Wednesday, January 24, and Ireland's Darragh Kenny celebrated his 30th birthday with victory in the $35,000 Douglas Elliman Real Estate 1.45m Classic with Important de Muze at the Palm Beach International Equestrian Center in Wellington, FL. The 12-week WEF circuit runs through April 1, 2018, and offers more than $9 million in prize money.
The third week of WEF, sponsored by Adequan®, runs January 24-28 and features the $132,000 Adequan® Grand Prix CSI 3* on Saturday, January 27, at 7 p.m.
The $35,000 Douglas Elliman Real Estate 1.45m Classic had 53 entries competing in a two-phase power and speed format over a course designed by Peter Grant of Canada.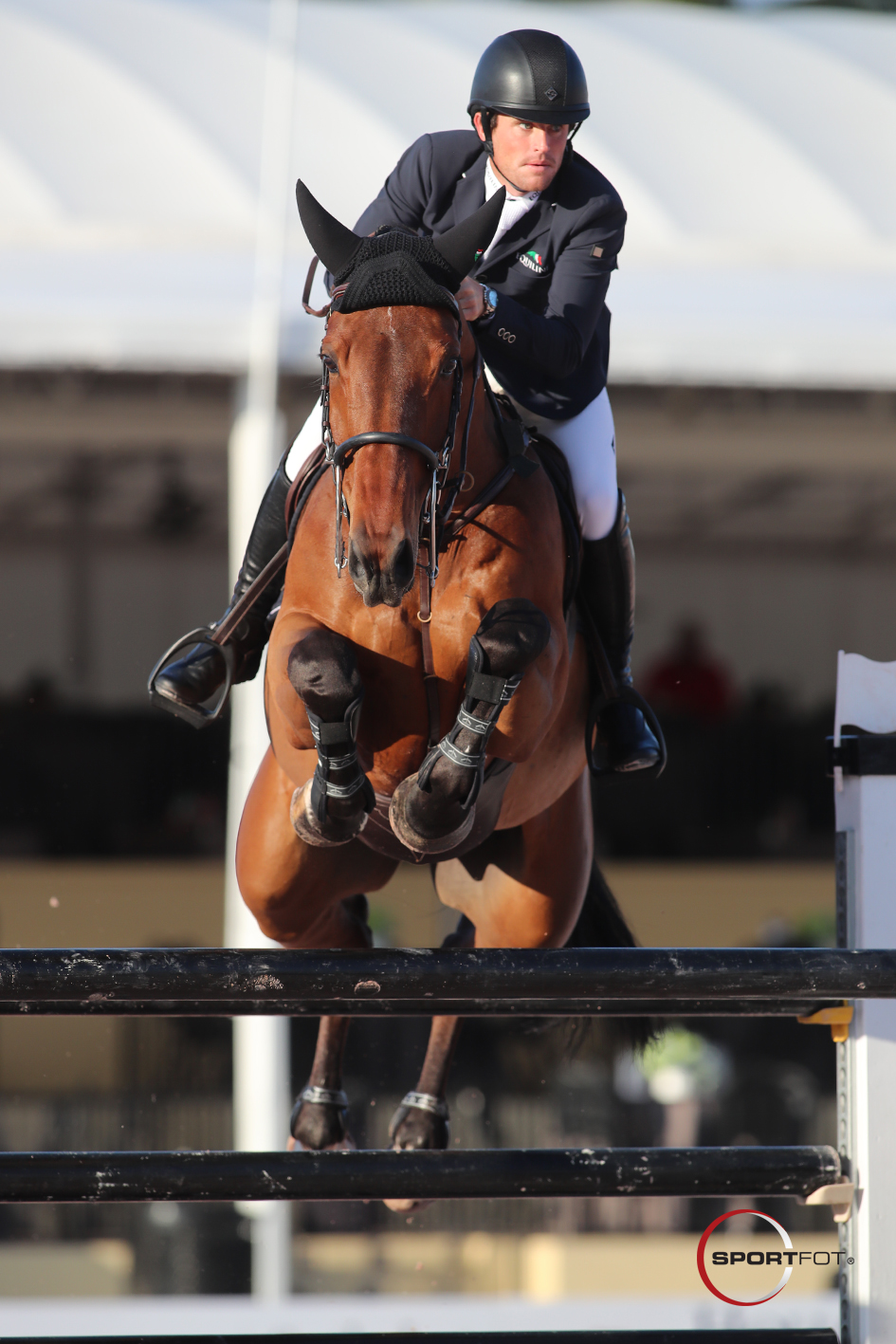 Kenny and Important de Muze, a 10-year-old BWP gelding by Erco van't Roosakker x Nabab de Reve owned by Kerry Anne LLC, were the fastest clear in the second round with a time of 30.98 seconds.
Second place went to Canadian Erynn Ballard on Don's Diamant, owned by Ilan Ferder and Tal Milstein, in 31.18 seconds. Laura Chapot (USA) and Mary Chapot's Chandon Blue were just off the pace for third in 31.19 seconds.
"It was quite a big 1.45m," said Kenny, "(and) it ended up being a very fast class. With two phases, because the second phase is such a short amount of jumps, the times end up being very, very close. It just ended up going my way."
Kenny only got the ride on Important de Muze a few weeks ago; its owner, Kerry McCahill, previously rode the horse.
Kenny explained, "He just needed to get some experience in bigger classes and stuff like that. He's still a bit green. I think he's very, very talented. He's obviously really fast. He showed that today. He's really careful and very scopey, so I really like the horse. I'm really happy with the direction that he's going. "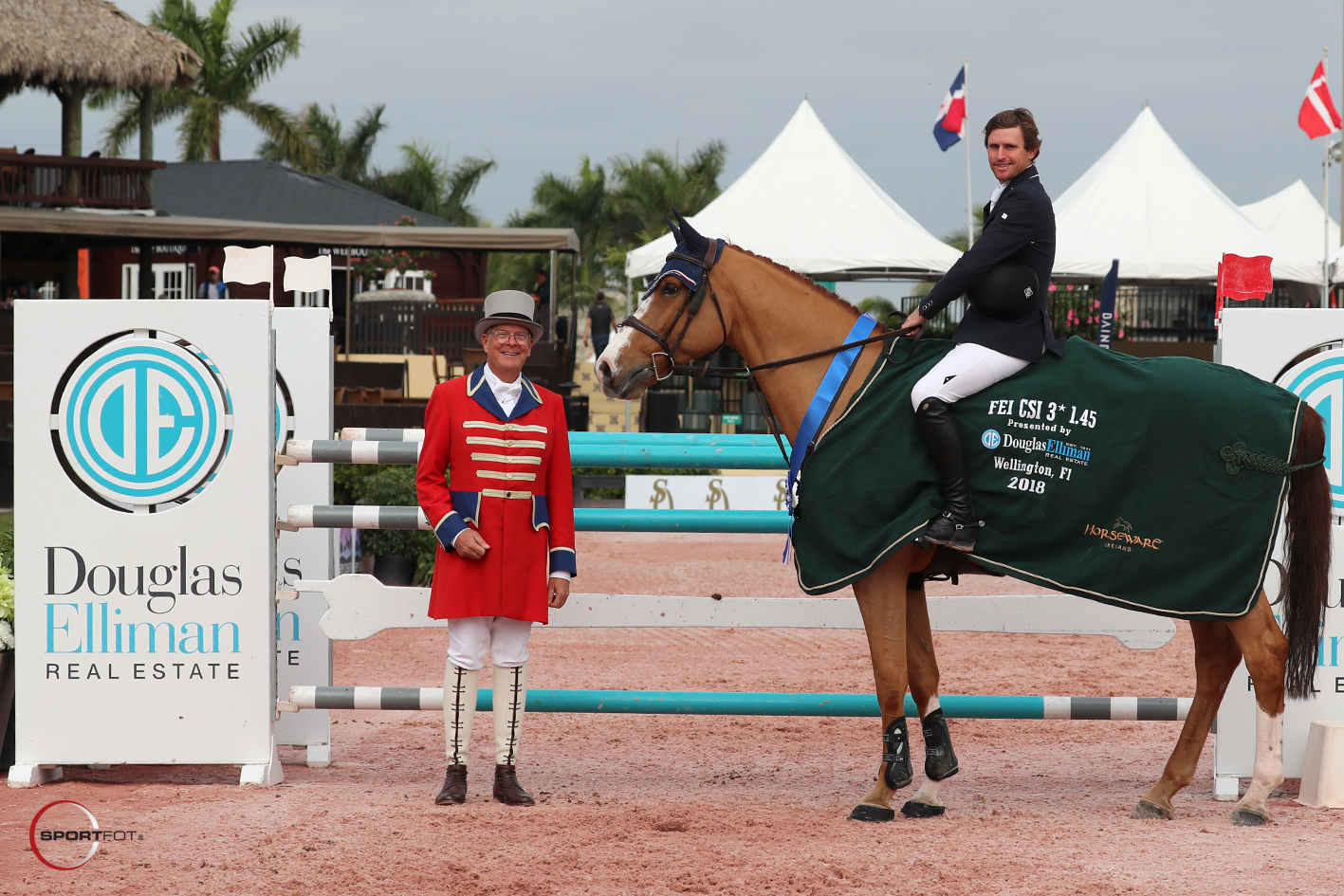 Kenny plans to compete Important de Muze in Sunday's $35,000 Hollow Creek Farm 1.50 Classic. He looks forward to competing with a full string during this year's WEF.
"I'm very, very excited," he said. "I have some brilliant clients, and I'm very lucky that they own some very good horses for me as well. I have a couple of really, really good horses for this winter so I'm quite excited about it."
Also competing in the International Arena today in the $6,000 Bainbridge 1.40m Jumpers speed class, Olympic gold medalist Beezie Madden (USA) won with Jiva, owned by Abigail Wexner. Roberto Teran Jr. (COL) and Brilliant du Rouet, owned by Liubov Kochetova, were fastest in the second $6,000 Bainbridge 1.40m Jumpers class for victory.
The third week of WEF continues on Thursday, January 25, with the $35,000 Equinimity WEF Challenge Cup Round 3 and championships are awarded in the Antares High Performance Hunters.
Final Results: $35,000 Douglas Elliman Real Estate 1.45m Classic
1   IMPORTANT DE MUZE: 2008 BWP gelding by Erco van't Roosakker x Nabab de Reve
DARRAGH KENNY (IRL), Kerry Anne LLC: 0/30.98
2   DON'S DIAMANT: 2008 KWPN stallion by Diamant de Semilly x Phin Phin
ERYNN BALLARD (CAN), Ilan Ferder and Tal Milstein: 0/31.18
3   CHANDON BLUE: 2005 Oldenburg gelding by Chacco Blue x Landcapitol
LAURA CHAPOT (USA), Mary Chapot: 0/31.19
4   VAHINEE: 2009 Selle Francais mare by Lauterbach x Darco
MARIE HECART (FRA), Normandie Connection: 0/31.77
5   ZIEZO: 2004 KWPN gelding by Numero Uno x Ulft
SCOTT LENKART (USA), Fleur de Lis Farms: 0/31.79
6   HIP LIVING: 2009 SWB gelding by Hip Hop x Quite Easy
SANTIAGO LAMBRE (MEX), Aurora Rangel de Alba: 0/31.95
7   LADY MARIA BH: 2006 Holsteiner mare by Cartani x Corrado I
AMANDA DERBYSHIRE (GBR), Gochman Sport Horses LLC: 0/32.00
8   HARLEY'S HERO: 2005 gelding by Harley VDL x Indorado
SAMUEL PAROT (CHI), Parot Horses LLC: 0/32.03
9   DOUBLE O SEVEN 7: 2008 KWPN gelding by Mr. Blue x Celano
KEVIN BABINGTON (IRL), Kevin Babington & Katznelson Jumpers LLC: 0/32.07
10  JELEENA DE MUZE: 2009 BWP mare by Tornedo FCS x Chin Chin
LAUREN TISBO (USA), Tequestrian Farms LLC: 0/32.09
11  ELIZE LA ELSMOS: 2009 KWPN mare by Vaillant x Ovidius
MCLAIN WARD (USA), Susan Heller and McLain Ward: 0/32.12
12  TOSCA DE L'ESQUE: 2007 Selle Francais mare by Cardento x Apache d'Adriers FABIO LEIVAS DA COSTA (BRA), Bonne Chance Farm LLC: 0/32.17
Photo Credit: Photos © Sportfot, Official Photographer of the Winter Equestrian Festival. These photos may be used only in relation to this press release and must include photo credit.