For Immediate Release
Jennifer Wood Media, Inc.
Wellington, FL – January 27, 2018 – The highlight class of the third week at the 2018 Winter Equestrian Festival (WEF) was the $132,000 Adequan® Grand Prix CSI 3*. Victory in the "Saturday Night Lights" event went to Ireland's Darragh Kenny on Cassini Z, owned by Bowers Cone, LLC. WEF continues through April 1 at the Palm Beach International Equestrian Center in Wellington, FL, and offers more than $9 million in prize money.
Saturday night's grand prix had 45 entries over a course designed by Peter Grant of Canada. There were 16 clears, making for a very competitive and fast jump-off. The best of the bunch was Kenny on Cassini Z, an 11-year-old Oldenburg gelding by Cassini II x Capone. They went 12th in the jump-off and were chasing a time of 39.36 seconds set by Adrienne Sternlicht (USA) and Cristalline.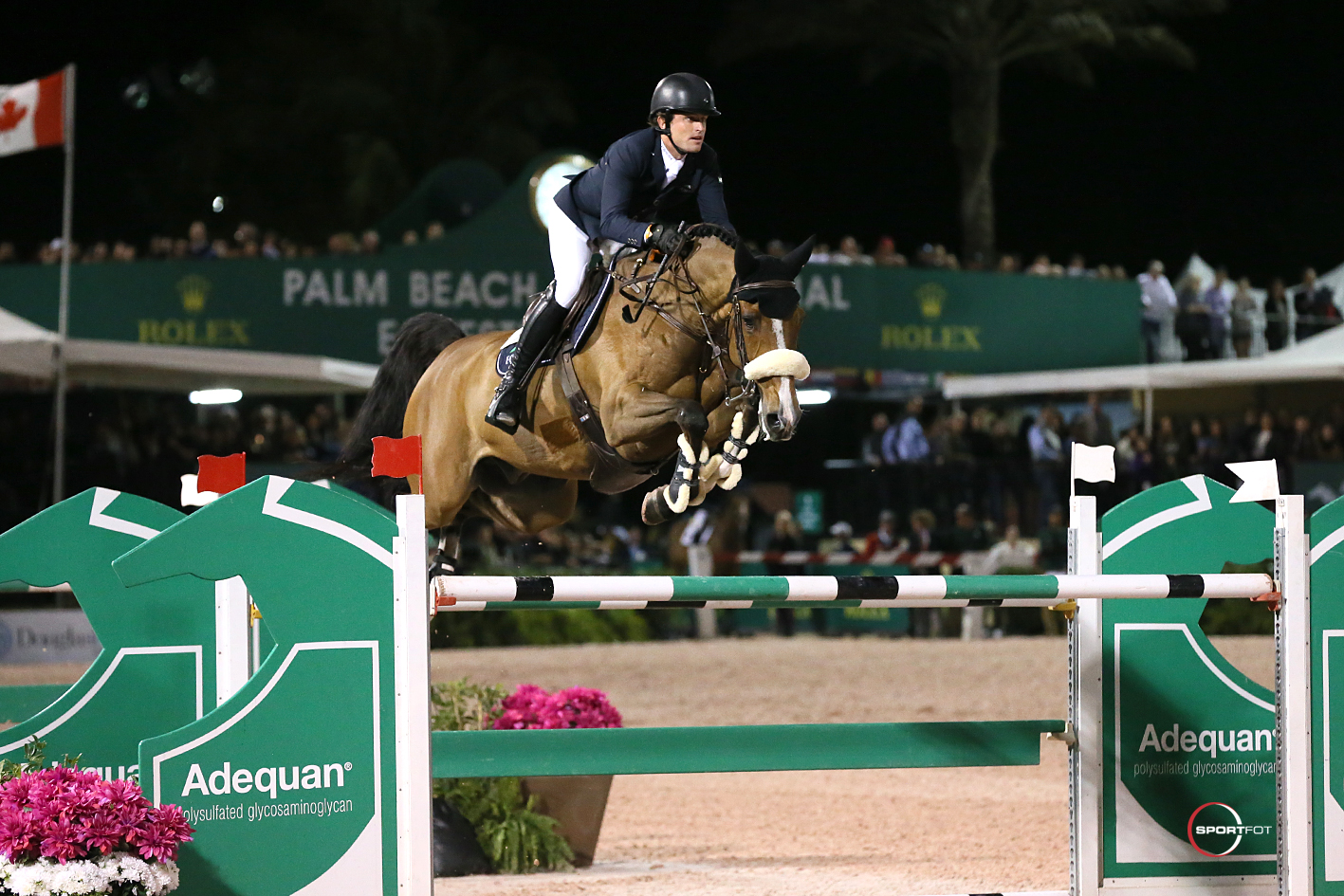 Kenny and Cassini Z were fast from the start and never let up to finish with a winning time of 38.21 seconds. Sternlicht and Cristalline finished in third. Slipping into second place just 2/100ths of a second slower than Kenny was Jessica Springsteen (USA) on RMF Swinny du Parc, owned by Rushy Marsh Farm LLC, in 38.23 seconds.
"I think the two girls' horses have quite a big stride," Kenny said of the jump-off. "So, one to two, definitely Adrienne got there pulling at the end. For me, it was running the whole way. I think my horse just kept running in all of the lines, so just gradually over the length of the course he made up the time. He's very, very careful, so I don't really have to worry about the jumps as much as the turning."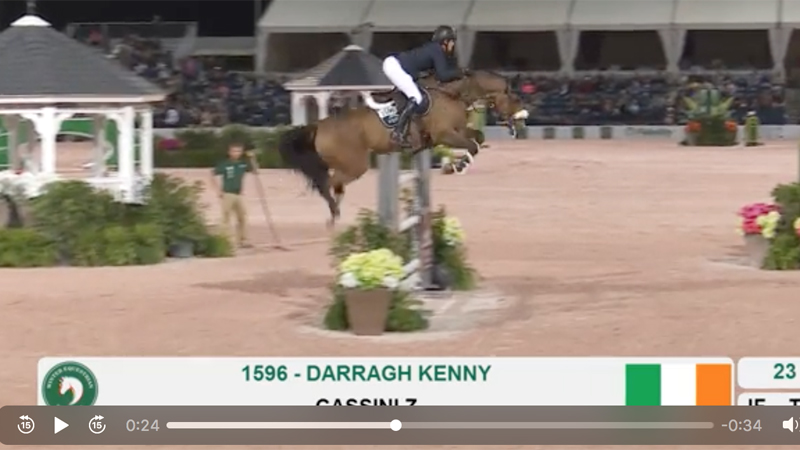 Click to watch the winning jump-off ride for Darragh Kenny and Cassini Z!
Fourth place went to Jessica Mendoza (GBR) on her own Toy Boy in 40 seconds flat, while Jordan Coyle (IRL) and Andrew Kocher's Eristov were fifth in 40.55 seconds.
It was quite a week for Kenny, who celebrated his 30th birthday on Wednesday with a win in the $35,000 Douglas Elliman Real Estate FEI 1.45m Classic with Important de Muze. But it was not smooth sailing with Cassini Z, and Kenny struggled to gel with the horse in Thursday's qualifier.
With a bridle and bit change and a smoother ride in Friday's 1.40m class, Kenny felt more assured going into the Saturday night grand prix.
"I jumped him in the WEF, and I didn't ride great," he explained. "The bit didn't feel great. I was actually very frustrated about it. I jumped the next day in the 1.40m in a different bridle, and it felt good. So then I went tonight in that bridle. He's still green sometimes – like the first jump in the jump-off, I came in quite fast, but he just jumped really high and didn't jump really far across it, so then the seven was very long one to two so I really had to go fast there and then he was just in a really fast rhythm so I just kept going with it."
This was only the second grand prix in which Kenny has shown Cassini Z. Brought to him as a sale horse, his owner Ann Thompson stepped up to buy the horse for him just a week ago.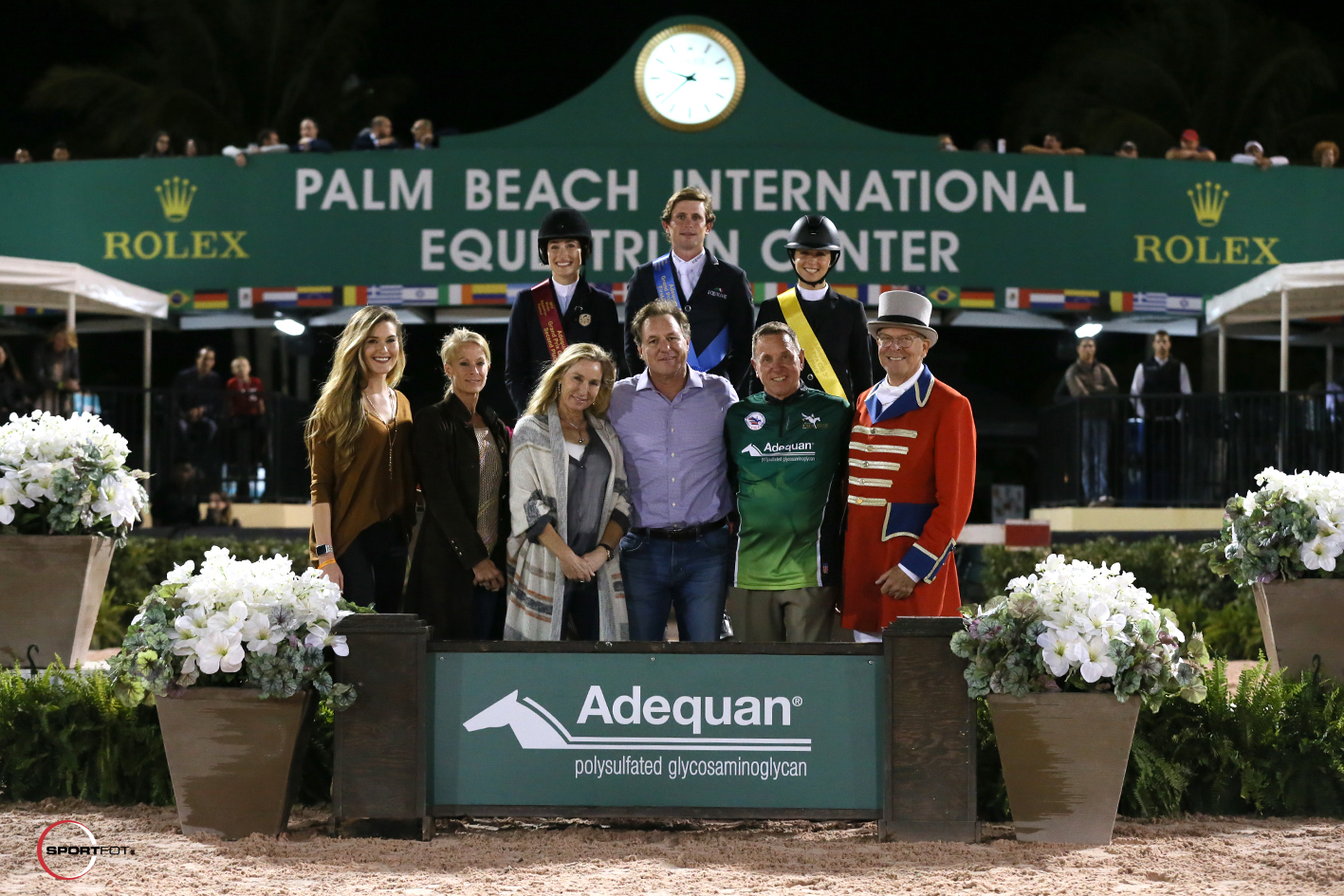 As the owner of tonight's winning grand prix horse, Thompson was awarded a stay at The Brazilian Court Hotel in a luxury studio.
"It was an amazing experience for us for the first grand prix with her as my owner and with this horse, and it was a fantastic result," he said.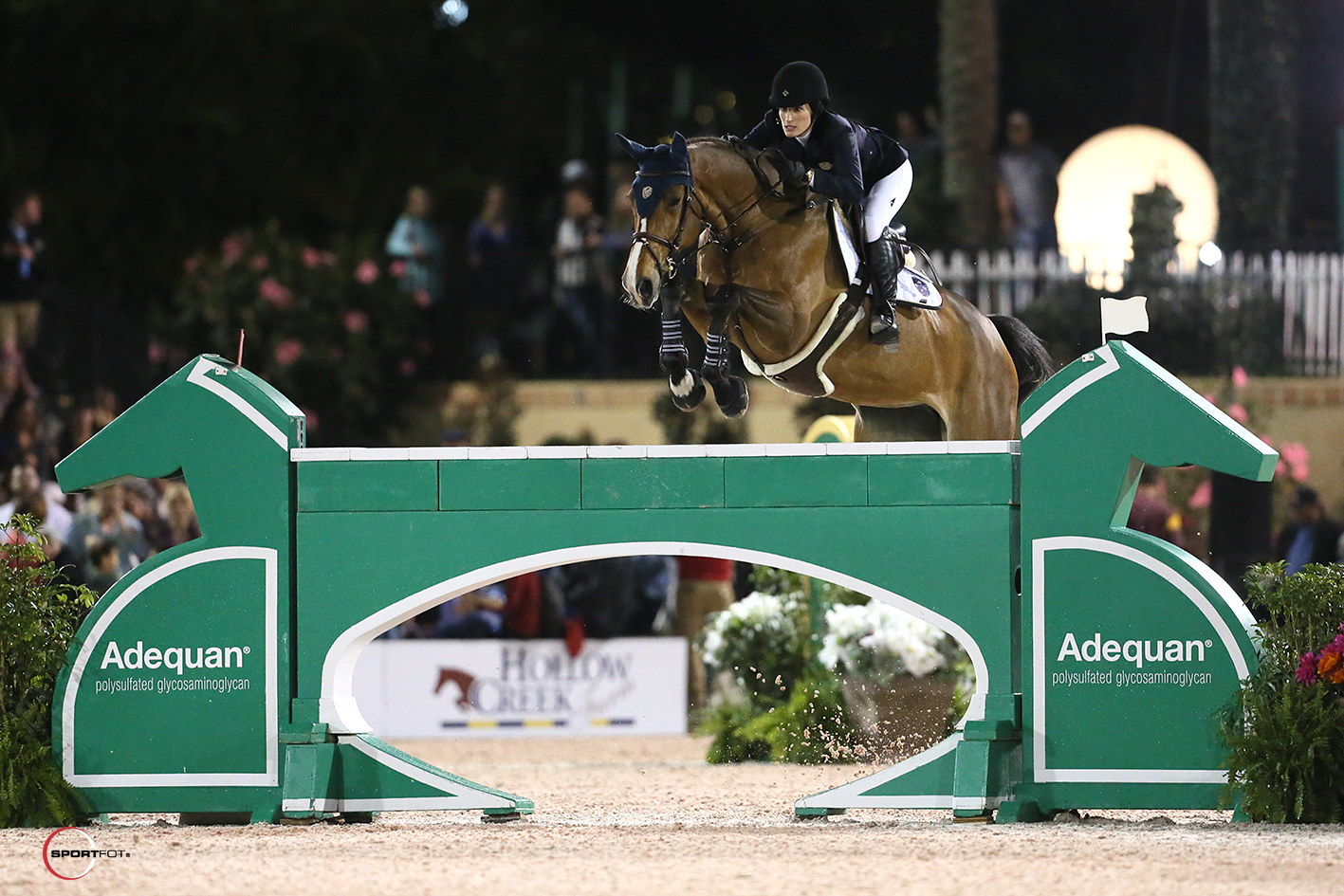 Springsteen, 26, got the ride on RMF Swinny du Parc, a 12-year-old Selle Francais mare by Berlin x Laudanum, last summer.
"We kind of just clicked right away," she said. "I feel really comfortable with her. She's so naturally fast. She's kind of easy to do in these jump-offs."
Along with RMF Swinny du Parc, Springsteen has the ride on RMF Zecilie for Rushy Marsh Farm, noting, "They kind of really pull me, and I like that feeling, especially when you're jumping these big classes. They're both really sweet, really brave, confident, scopey, and really careful, so I'm excited."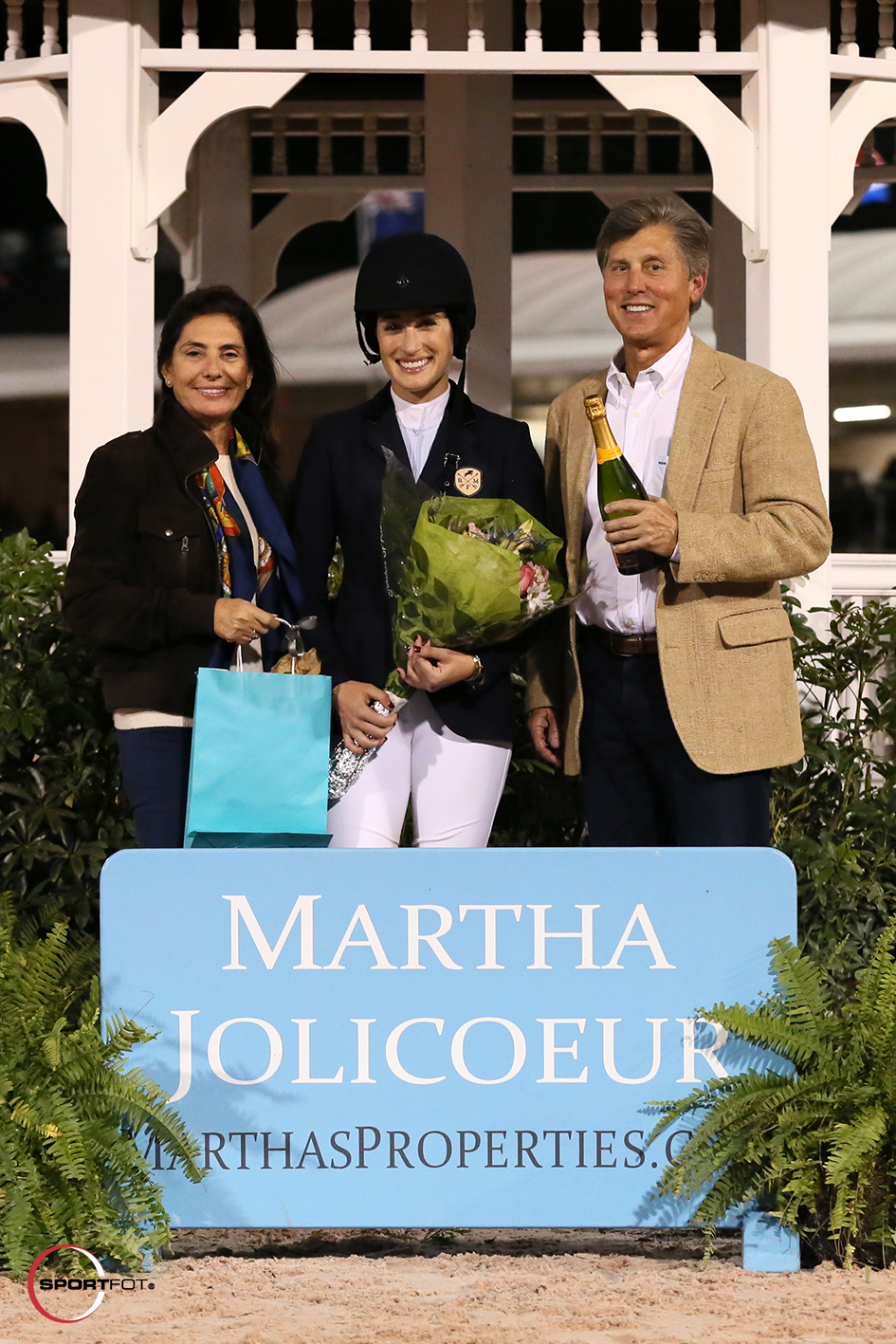 Springsteen was honored with the Martha Jolicoeur Leading Lady Rider Award for her consistency in week three.
Sternlicht made the crowd cheer when she took an unusual path from fence two in a rollback to fence three, the Adequan® wall. She and Cristalline, a 10-year-old Bavarian Warmblood mare by Cristallo 1 x Caretello B, jumped a hedge set up to direct riders around a gazebo.
She and her trainer, Olympic team gold medalist McLain Ward, decided they "had to get a bit creative," knowing that Cristalline does not have the same foot speed and is loftier in the air than others in the stacked jump-off field.
"It was exciting for me too," said the 24-year-old with a smile. "We actually didn't plan that when we walked. McLain told me that at two Olympics, he should have jumped the hedge and didn't, so surely I could risk it in a three star grand prix. So I did! It was a unique experience for me and for my horse. She's super brave. She actually responded better than I anticipated. We have to keep learning together."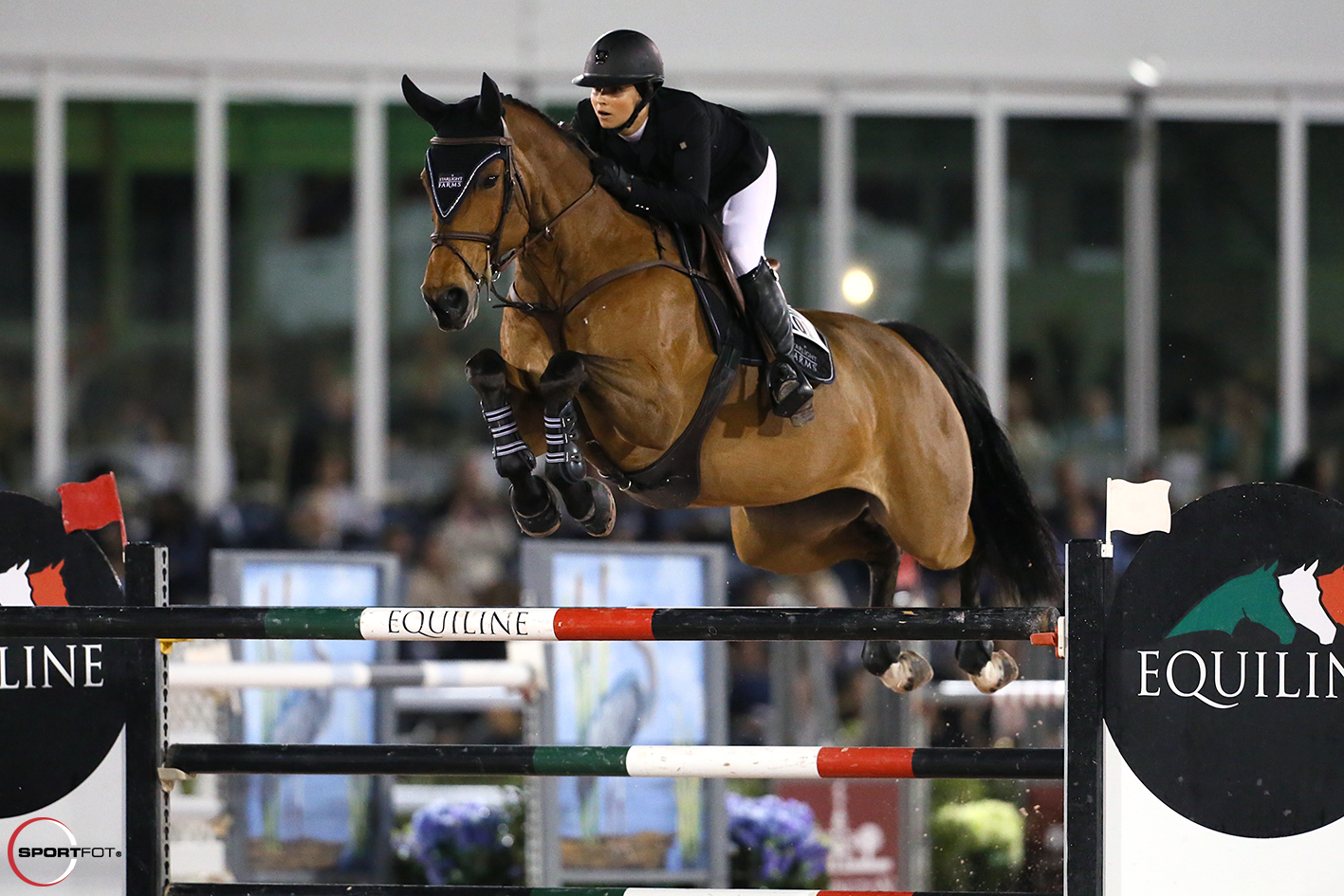 Allyn Mann, Director of Strategic Partnerships for Adequan®, was thrilled to represent the sponsor at such an exciting event.
"What I love about this equestrian sport is that it rarely discriminates," he said. "It doesn't matter how old you are or how young you are, whether you're a man or a woman; if you have a beautiful relationship with your horse, all things are possible. I think we saw that tonight.
"We're just really blessed to be a part of this whole equestrian community," Mann continued. "Whether it's dressage, whether it's jumping or polo or eventing – we really want to try to give back to the sport to really make these nights possible."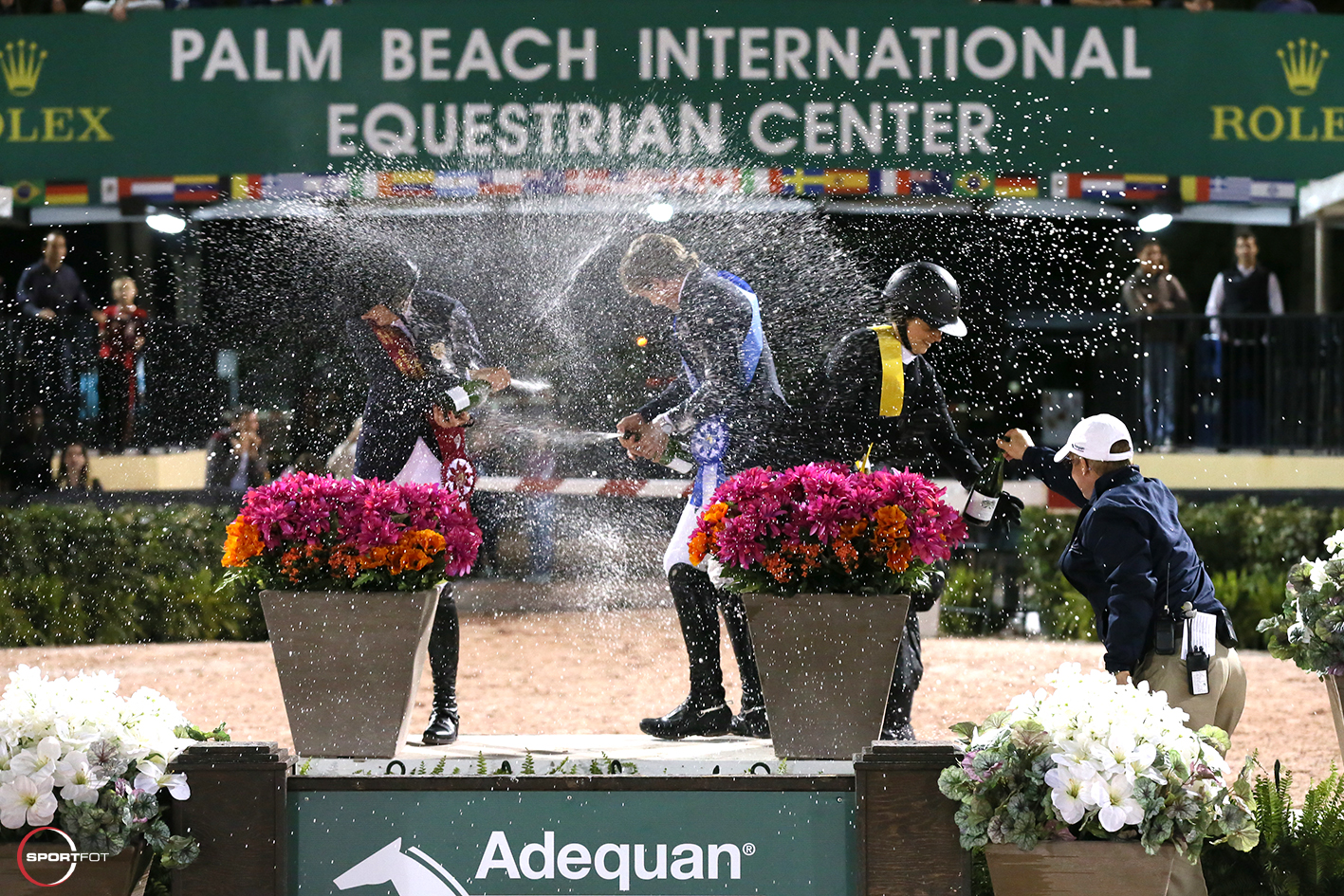 Earlier on Saturday, Ali Boone rode So Elusive to the win in the $15,000 SJHOF High Amateur-Owner Jumper Classic. Katie Tyler and Surf de la Cense were second, while Eugenio Garza and Pappa Ante Portas II were third.
Final Results: $132,000 Adequan® Grand Prix CSI 3*
1 CASSINI Z: 2007 Oldenburg gelding by Cassini II x Capone
DARRAGH KENNY (IRL), Bowers Cone, LLC: 0/0/38.21
2 RMF SWINNY DU PARC: 2006 Selle Francais mare by Berlin x Laudanum
JESSICA SPRINGSTEEN (USA), Rushy Marsh Farm LLC: 0/0/38.23
3 CRISTALLINE: 2008 Bavarian Warmblood mare by Cristallo 1 x Caretello B
ADRIENNE STERNLICHT (USA), Starlight Farms 1 LLC: 0/0/39.36
4 TOY BOY: 2008 BCP gelding
JESSICA MENDOZA (GBR), Jessica Mendoza: 0/0/40.00
5 ERISTOV: 2009 KWPN gelding by Cicero Z Van Paemel x Concorde
JORDAN COYLE (IRL), Andrew Kocher: 0/0/40.55
6 CASPAR 213: 2005 Westphalian gelding by Cornet Obolensky x Acord II
DANIELLE GOLDSTEIN (ISR), Starwyn Farms LLC: 0/0/41.26
7 TROYA CLOVIS VAN DE HELLE: 2008 Holsteiner gelding
JUAN PABLO BETANCOURT (COL), Juan Pablo Betancourt: 0/0/44.91
8 CALIFORNIA 62: 2004 Holsteiner mare by Cassini I x Galant Vert
ANDREW RAMSAY (USA), The California Group: 0/4/39.56
9 DICAS: 2009 Rheinlander gelding by Diarado x Cassini I
MARGIE ENGLE (USA), Storm Ridge Capital LLC, Show Horses, Garber & Gladewinds Partners LLC: 0/4/40.38
10 WESTBROOK: 2008 SWB gelding by Jaguar Mail x Cardento
MARIO DESLAURIERS (CAN), Wishing Well Farm LLC: 0/4/41.13
11 DAISY: 2008 KWPN mare by Excenel V x Timeless
MEREDITH MICHAELS-BEERBAUM (GER), Artemis Equestrian Farm LLC: 0/4/41.22
12 SKYHORSE: 2007 Belgian Warmblood gelding by Calvaro x Quidam de Revel
LILLIE KEENAN (USA), Chansonette Farm LLC: 0/4/41.35
Lindsay Maxwell Pilots Belgravia to Championship Win in Adequan® Amateur-Owner Hunter 18-35 3'3" Division
Ava Lindsay for Jennifer Wood Media, Inc.
Lindsay Maxwell made a smooth comeback on Saturday afternoon in the Rost Arena with her mount of almost a year, Belgravia, in the Adequan® Amateur-Owner Hunter 18-35 3'3" division. The duo, who were seventh in Friday's under saddle, did not place in the division's first two jumping classes. However, they returned on Saturday in full force to take both remaining blue ribbons over fences.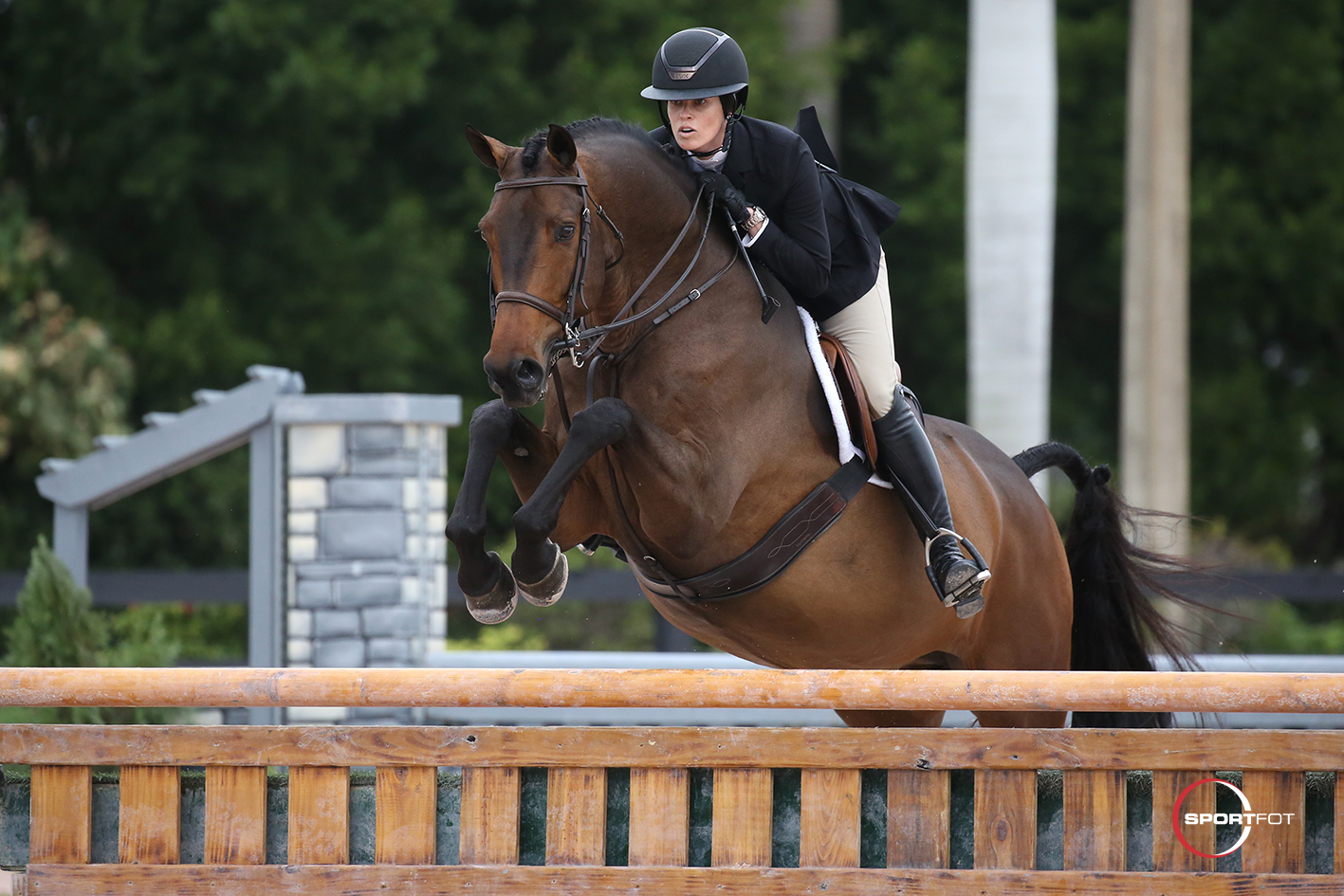 "We had a tough day yesterday. There was a lot of wind, and he was a little spooky," said Maxwell. "So, we knew we had to win both today, and we were able to pull it out. It is nice to have a horse that can do that. I wanted to put down two solid rounds and really ride today for us."
Maxwell purchased the 10-year-old Warmblood gelding last August and began her winning streak soon after by claiming a grand champion title at the Capital Challenge Horse Show. The young rider, from Beverly Hills, CA, is looking forward to more success with her new mount in the weeks to come at the Winter Equestrian Festival.
"We have a great partnership, and we got to know each other pretty quickly. He gives me such a great jump and is so round over the fences," said Maxwell. "He is going to show next week and then have the following week off before week six. I know he will light up in a nice way in the International Arena, and I can't wait for that experience with him."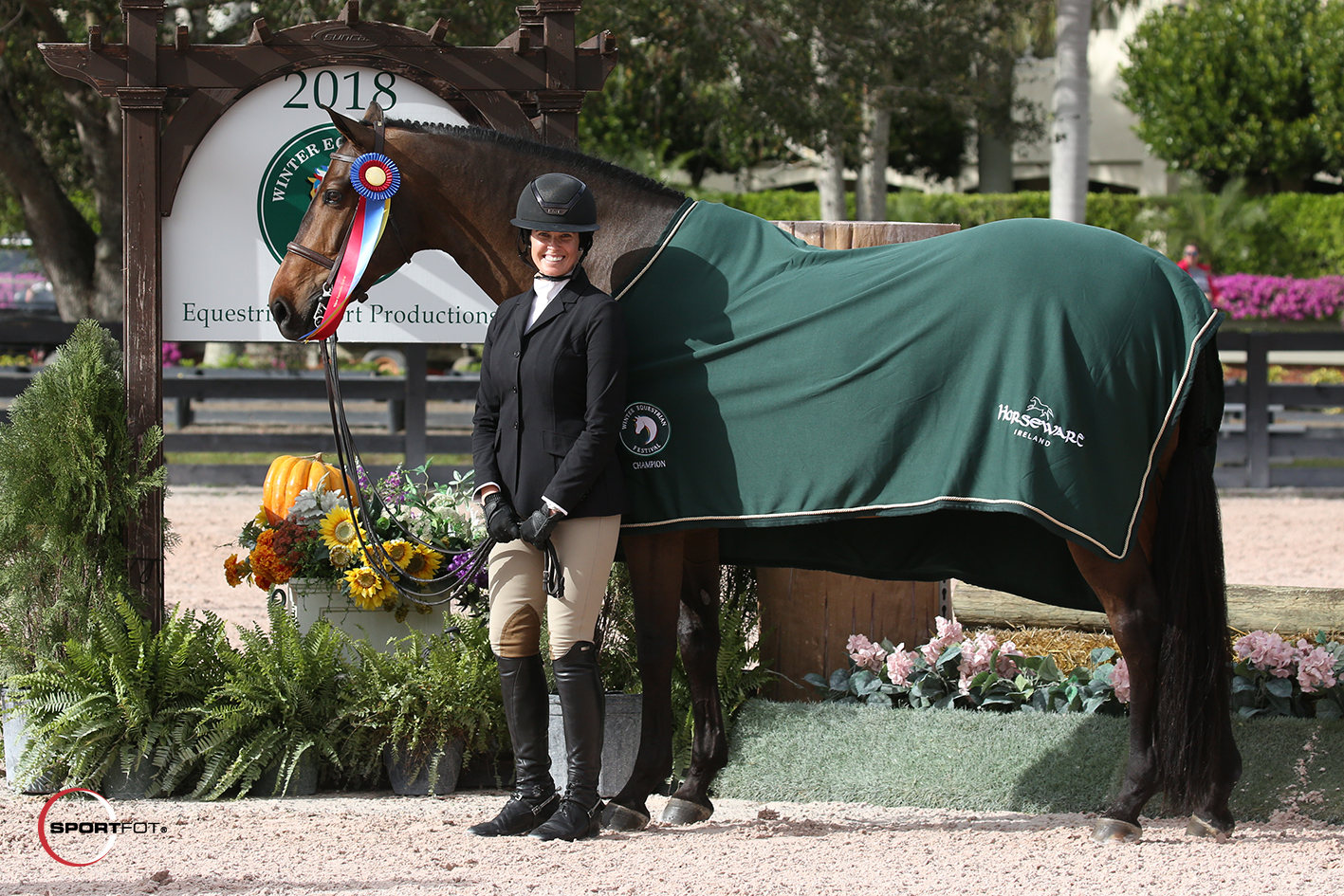 Maxwell competed at WEF throughout her pony and junior years before she took a couple years off. She praised her experience at the venue since she has been back over the past two winter show seasons and added that she will definitely be returning in years to come.
Katherine Oberkircher and her horse, Bozeman, were reserve champion in the division with a second and third over fences and a second in the under saddle.
The third week of WEF concludes on Sunday, January 28, with the $35,000 Hollow Creek Farm FEI 1.50m Classic, as well as the championship in the Small Junior Hunter 15 & Under division.
Photo Credit: Photos © Sportfot, Official Photographer of the Winter Equestrian Festival. These photos may be used only in relation to this press release and must include photo credit.