Parot Wins Douglas Elliman 1.45m; Jimmy Torano and Pure Imagination Triumph in Marshall & Sterling Insurance Performance Hunter 3'3″
For Immediate Release
Lauren Fisher and Sara Cook for Jennifer Wood Media, Inc.
Wellington, FL – March 30, 2017 – Ireland's Darragh Kenny triumphed in the $86,000 Ruby et Violette WEF Challenge Cup Round 12 on Thursday, March 30, riding brand new mount Billy Onslow at the 2017 Winter Equestrian Festival in Wellington, FL.
The 12-week WEF circuit concludes with CSI 4* competition at the Palm Beach International Equestrian Center (PBIEC), sponsored by The Wanderer's Club, running March 29 through April 2, 2017. The week's highlights include the $216,000 The Wanderer's Club Grand Prix CSI 4*, the $50,000 Hollow Creek Farm Under 25 Grand Prix Series Final, and the $50,000 USHJA International Hunter Derby. Feature events can be viewed live HERE.
Olaf Petersen, Jr. (GER) set the course for 70 entries in Thursday's Challenge Cup and yielded 21 clear rounds. With two entries opting out of the jump-off, 19 continued on, and nine were able to clear the short course without fault. Second to go in the jump-off, Darragh Kenny went full speed with Billy Onslow to put the pressure on the remaining competitors. His time of 33.33 seconds held up for the win.
Margie Engle (USA) and Gladewinds Farm's Royce finished second in 34.22 seconds. Nicole Walker (CAN) and Falco van Spieveld placed third in 36.23 seconds.
"He is such a cool horse," Kenny said of the 11-year-old Anglo European gelding (Billy Congo x Iroko) that he purchased from Great Britain's William Funnell. I just got him three weeks ago when I was in Europe. He did a 1.40m class yesterday, and then this today. Obviously, I do not really know him so well, but he tries so hard and he is super easy to ride."
Darragh Kenny and Billy Onslow in their winning 
presentation with ringmaster Steve Rector.
Remarking on his jump-off, Kenny stated, "I know he is really brave, really careful, and really scopey, so I just went as fast as I could go. There were 17 people after me, so I knew that if I left the door open at all I would have no chance. He has a massive stride. I did eight strides to the second to last fence and I did eight strides to the last, which nobody else did. I also did an inside turn to the double, which in hindsight probably was not the smartest thing."
"I did the first line, and I knew he had a big stride, but I did not realize just how big," Kenny detailed. "I did the seven strides really slow and I thought I must have miscounted and done eight, so then I panicked and I thought I had to do something really special to try to win. He was just amazing. He was brilliant. He should not have jumped the double from where I turned back at all. He is so brave and careful. You turn back and you don't even have to worry. You know he is going to do his best to leave the jumps up."

Parot Notches Another WEF Win
Beginning competition in the International Arena at PBIEC on Thursday, Chile's Samuel Parot jumped to victory in the $35,000 Douglas Elliman 1.45m speed class riding his 13-year-old Selle Francais gelding Quick du Pottier (Hurlevent De Breka x Cuba).
Samuel Parot and Quick du Pottier
Fifty-two entries started over Olaf Petersen, Jr.'s first-round course and 15 cleared the track without fault. Parot and Quick du Pottier went fifth in the order, setting an uncatchable time of 59.14 seconds for the win.
Lisa Goldman (USA) and Barbara Disko's Sovereign finished second in 62.60 seconds. Conor Swail (IRL) crossed the timers in 62.82 seconds to place third riding Vanessa Mannix's Rubens LS La Silla. Darragh Kenny (IRL) and Everlong LLC's Diamond D took fourth place in 63.64 seconds.
Speaking of his winning round, Parot stated, "Yesterday I went really fast and I had one down, so today I did not want to go as fast because the course was very careful. I went in the first five, and I thought I went fast, but not that fast. I thought somebody would catch me, but the course was very careful and it caught people.
"This horse is very fast," Parot continued. "I thought I would maybe be in the top three with this time, but I was lucky that I ended up winning it."
Samuel Parot and Quick du Pottier in their winning 
presentation with ringmaster Steve Rector.
Parot has had great success throughout the 2017 circuit, winning week four's $35,000 Illustrated Properties 1.45m riding Dazzle White, topping the $35,000 Ruby et Violette WEF Challenge Cup in week six with Atlantis, winning week seven's $86,000 Suncast® 1.50m Championship Jumper Classic aboard Quick du Pottier, and also taking week eleven's $35,000 Illustrated Properties 1.45m riding Couscous van Orti.
Remarking on his winter, Parot smiled, "It has been a really fantastic season. I think this is the best circuit I have had here. I had a really good summer and then the horses came in to the winter really good. They have stayed really sound and they are all in great shape. This horse is done for the circuit. He was really good all winter and it is nice for him to go out with a win. He and the others will all have a nice vacation until we go to Tryon in May."
Also competing in the International Arena on Thursday, the Spy Coast Farm Six-Year-Old Developing Jumpers completed their Power and Speed class with a win for Andres Soto (COL) and Julia Tedesco's X-Lady.
Jimmy Torano and Pure Imagination Triumph in Marshall & Sterling Insurance Performance Hunter 3'3″
Jimmy Torano of Wellington, FL, and Pure Imagination, owned by Ponies & Palms Show Stables, LLC, topped a competitive field of 37 horse and rider combinations in the Marshall & Sterling Insurance Performance Hunter 3'3″ division on Thursday. The pair only showed in two classes, but after winning an over fences round and placing third in the stake, they earned the championship ribbon.
Torano, who had never ridden the coming nine-year-old Irish Sport Horse gelding by Ars Vivendi before, showed him as a favor to friend Joey Currais, trainer of Hunters Landing.
"We just got Pure Imagination to do the Junior Hunters with one of my clients, Isha Swani," explained Currais. "Honestly, I have had him for four days. I wanted to put Jimmy on him to get a feel of the horse because the horse is going to do the 3'6″ this weekend. I'm beyond words, the trips were beautiful and having somebody of that caliber like Jimmy Torano, it was just a beautiful picture."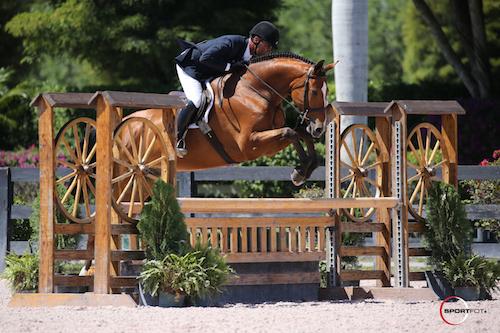 Jimmy Torano and Pure Imagination
While Currais has only had Pure Imagination in his barn for a short time, he speaks highly of the gifted gelding.
"This is a horse I picked for my client because of his personality, he is kind and forgiving, he has a great record, and a beautiful and quality jump," continued Currais. "Working with a talented animal like Pure Imagination is a pure privilege."
Elizabeth Boyd of Camden, SC, and Hide Away, an entry owned by Looking Back Farm, captured the reserve honors, only two points overall behind Torano. Boyd and Hide Away won the handy trip and placed fourth in the stake round.
Competition continues on Friday featuring the $10,000 Gut Einhaus Five-Year-Old Developing Jumper Classic, the $15,000 Spy Coast Farm Six-Year-Old Developing Jumper Classic, and the $20,000 Spy Coast Farm Seven-Year-Old Developing Jumper Classic in the International Arena. The $10,000 USHJA National Hunter Derby will determine a winner in the Derby Field at the Equestrian Village (AGDF show grounds). For full results, please visit www.PBIEC.com.
Final Results: $86,000 Ruby et Violette WE Challenge Cup Round 12
1. BILLY ONSLOW: 2006 AES gelding by Billy Congo x Iroko
DARRAGH KENNY (IRL), Oakland Ventures LLC: 0/0/33.33
2. ROYCE: 2004 Oldenburg stallion by Café au Lait x Grandilot
MARGIE ENGLE (USA), Gladewinds Partners LLC: 0/0/34.22
3. FALCO VAN SPIEVELD: 2005 Belgian Warmblood gelding by Toulon x Lys de Darmen
NICOLE WALKER (CAN), Nicole Walker: 0/0/36.23
4=DAY DREAM: 2008 KWPN gelding by Zento x Heartbreaker
JIMMY TORANO (USA), Jimmy and Danielle Torano & Isalou Inc: 0/0/36.42
4=ADARE: 2005 KWPN mare by Royal Bravour x Burggraaf
PARIS SELLON (USA), Paris Sellon: 0/0/36.42
6. CALETTO CABANA: 2007 Holsteiner stallion by Cassini I x Capecanaveral
WILTON PORTER (USA), Sleepy P Ranch LLC: 0/0/36.56
7. QUI VIVE DES SONGES Z: 2006 Zangersheide stallion by Quaprice Z x Lagos
HEATHER CARISTO-WILLIAMS (USA), Holly & Ralph Caristo: 0/0/38.16
8. CROWN 5: 2005 Holsteiner gelding by Cassini I x Lord
GEORGINA BLOOMBERG (USA), Gotham Enterprizes LLC: 0/0/38.75
9. CARRABIS Z: 2003 Zangersheide stallion by Canabis Z x Grannusso
RICHIE MOLONEY (IRL), Equinimity LLC: 0/0/44.47
10. A S D FARFALA: 2003 Holsteiner mare by Hyo Dario x Furioso II
PABLO BARRIOS (VEN), Pablo Barrios: 0/4/34.14
11. DUBLIN: 2007 Deusches Reitpferd gelding by Cobra x Calido
KENT FARRINGTON (USA), Tanma Corp. & Kent Farrington: 0/4/34.55
12. CHACGRANO: 2007 Oldenburg stallion by Chacco-Blue x Grannus
EDUARDO MENEZES (BRA), E2 Stables: 0/4/35.58
Final Results: $35,000 Douglas Elliman 1.45m CSI 4*
1. QUICK DU POTTIER: 2004 Selle Francais gelding by Hurlevent De Breka x Cuba
SAMUEL PAROT (CHI), Samuel Parot: 0/59.14
2. SOVEREIGN: 2006 Selle Francais stallion by Frontal x Galoubet A
LISA GOLDMAN (USA), Barbara Disko: 0/62.60
3. RUBENS LS LA SILLA: 2006 SLS stallion by Rebozo LS La Silla x Cash
CONOR SWAIL (IRL), Vanessa Mannix: 0/62.82
4. DIAMOND D: 2009 Selle Luxembourg Gelding by Diamant de Semilly x Cassini I
DARRAGH KENNY (IRL), Everlong LLC: 0/63.64
5. CON TAGGIO: 2009 Oldenburg gelding by Contagio x Golliath Life
BEEZIE MADDEN (USA), Abigail Wexner: 0/64.28
6. CONTIKI: 2006 Swedish Warmblood gelding by Contendro I x Calido I
NICHOLAS DELLO JOIO (USA), Coker Farm Inc: 0/64.73
7. CONSTANCE: 2007 KWPN mare by Indoctro x Animo
JESSICA MENDOZA (GBR), Milena Pappas: 0/65.98
8. CARIMBA B: 2008 Hanoverian mare by Contendro I x For Pleasure
ERYNN BALLARD (CAN), Looking Back Farm: 0/67.10
9. CLIFF Z: 2008 Zangersheide gelding by Canturano x Quasimodo Z
GEORGINA BLOOMBERG (USA), Gotham Enterprizes LLC: 0/67.38
10. GENTILLE VAN SPIEVELD: 2006 Belgian Warmblood gelding by Heartbreaker x Capital
LESLIE HOWARD (USA), GJ Stable: 0/68.40
11. SAMURAI 501: 2008 Westphalian stallion by Stalypso x For Keeps
MARKUS BEERBAUM (GER), Artemis Equestrian Farm LLC: 0/68.55
12. HANDY VAN HD: 2007 Belgian Warmblood mare by Tinka's Boy x Nabab de Reve
ALBERTO MICHAN (MEX), Ilan Ferder: 0/70.08
Photo Credit: Photos © Sportfot, Official Photographer of the Winter Equestrian Festival. These photos may be used only in relation to this press release and must include photo credit.