For Immediate Release
Jennifer Wood Media, Inc.
Wellington, FL – March 7, 2018 – The ninth week of the 2018 Winter Equestrian Festival (WEF) began on Wednesday, March 7, with FEI ranking class victories for Daniel Coyle of Ireland and Ibrahim Barazi of Jordan at the Palm Beach International Equestrian Center in Wellington, FL.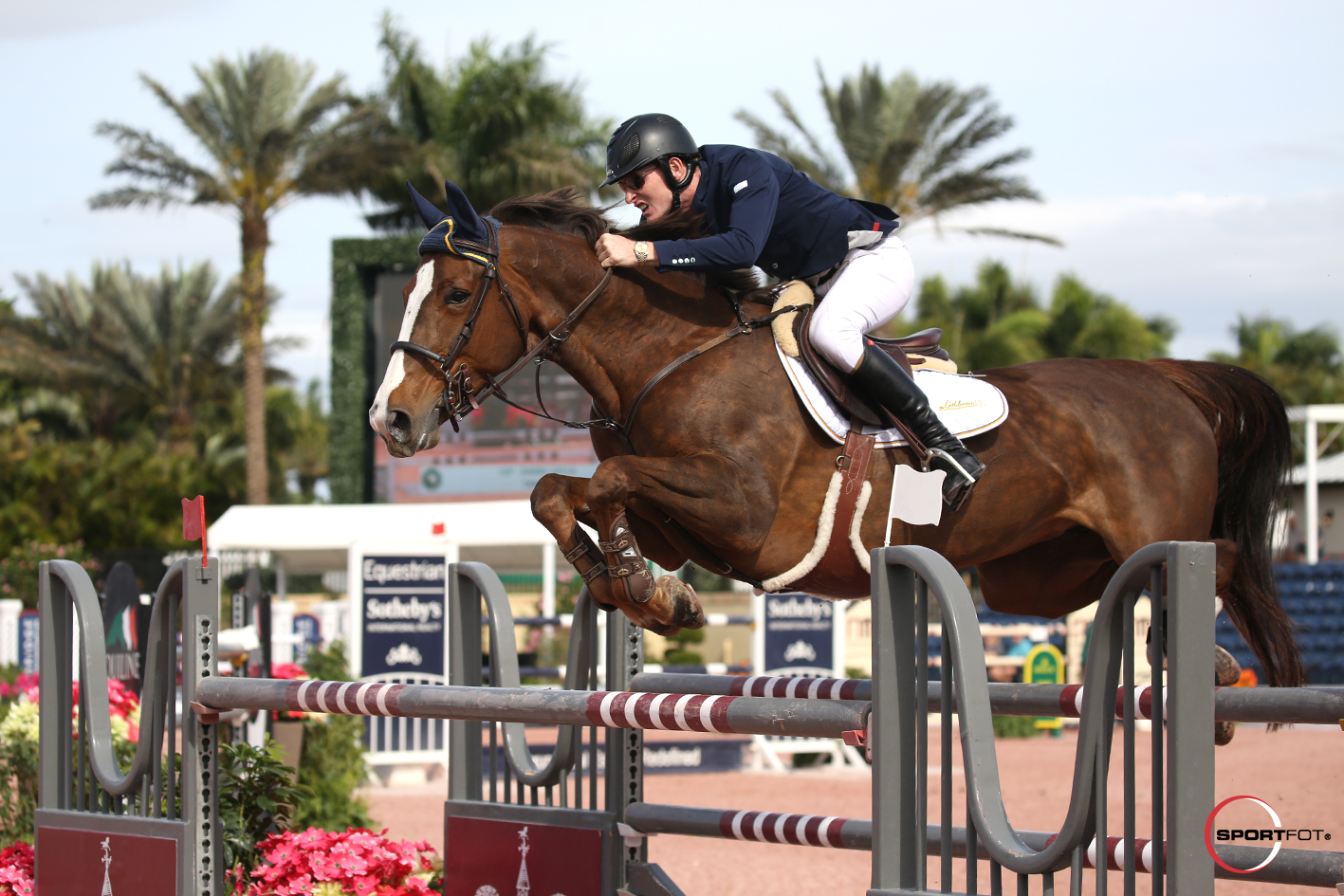 The ninth week of competition at WEF runs March 7-11. Jumper highlights include the $132,000 Equinimity WEF Challenge CSI 5* on Thursday, March 8, the $384,000 Douglas Elliman Real Estate Grand Prix CSI 5* beginning at 7 p.m. on Saturday, March 10, and the $50,000 Rose Hill Farm Grand Prix CSI 2* on Sunday, March 11. Hunter highlights include the $5,000 USHJA Pony Hunter Derby on Friday, March 9, and the $10,000 USHJA National Derby on Saturday, March 10; both events will be held on the grass derby field at Equestrian Village (home of the Adequan® Global Dressage Festival – 13500 South Shore Blvd.). WEF hosts hunter, jumper, and equitation competition until April 1 and offers more than $9 million in prize money.
In the $35,000 Douglas Elliman 1.45m Jumpers CSI 5*, Daniel Coyle, 23, and Tienna, a ten-year-old Canadian Sport Horse mare by For Pleasure x Polydox owned by Ariel Grange, were fastest for victory. They completed the power and speed format course, designed by Ireland's Alan Wade, who will also course design for the 2018 FEI World Equestrian Games™ Tryon this September.
Coyle and Tienna finished the second half of the course in 28.50 seconds for victory. They just pipped Shane Sweetnam (IRL) and Cyklon 1083, owned by Spy Coast Farm LLC, who had the previous leading time of 28.70 seconds. Close behind was Santiago Lambre (MEX), who rode his own Doloris to third place in 29.04 seconds and was fourth on Integrated Services Florida LLC's D'Artagnan in 29.52 seconds.
"She's a homebred, which makes it a little more special for Ariel and the farm," said Coyle of the mare he previously rode in Under 25 competitions. "She's always been one of my favorites. To get a win here today, and it was very competitive, there was very little room for any mistakes. There was no real difference at the top."
Having moved the mare up to the grand prix ranks recently, Coyle has had to adjust to Tienna's way of going.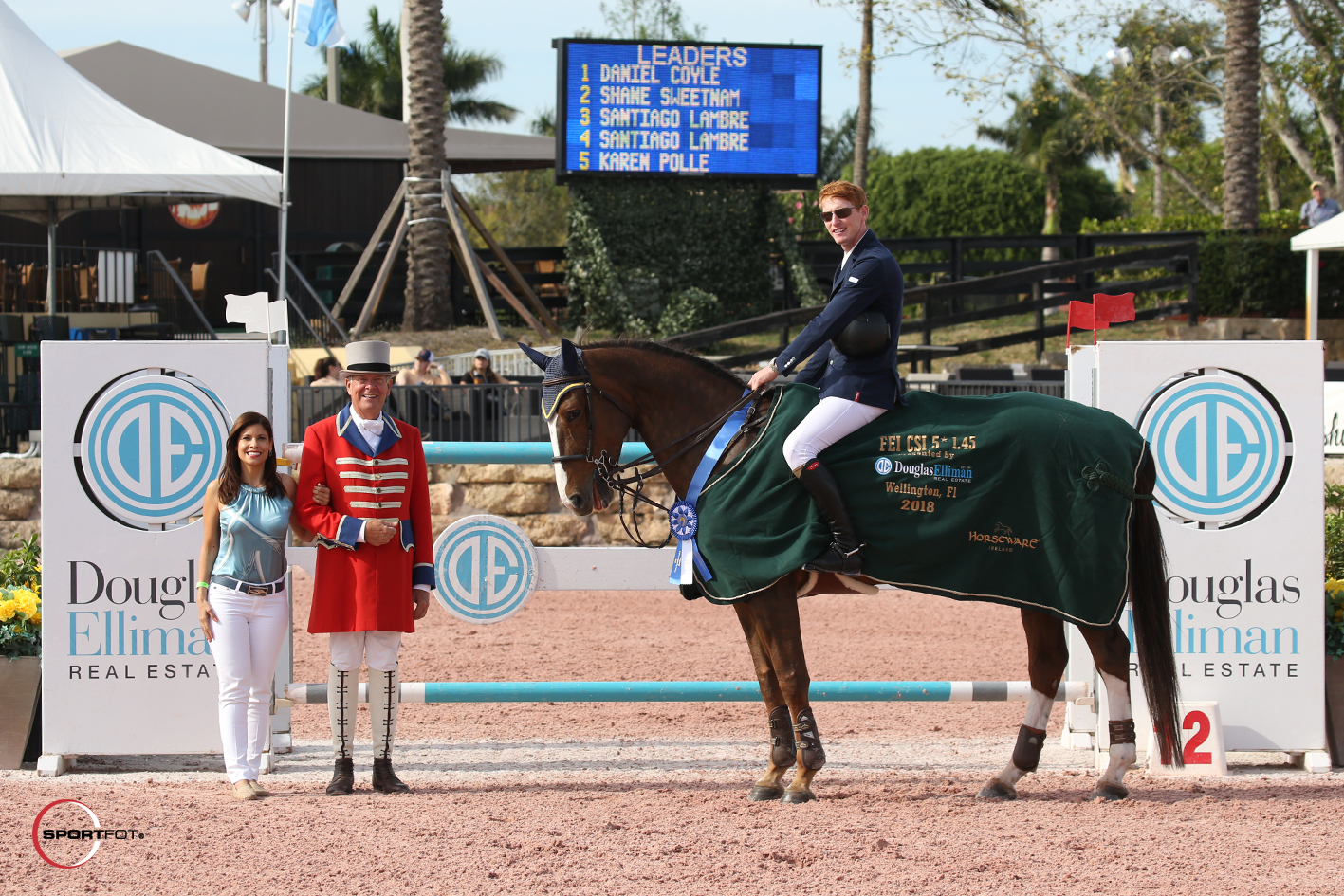 He said, "She's a chestnut mare, and one thing I've found out that I should have known already is that she's a typical chestnut mare. She really likes to go her own way. If you get involved with her way of going too much, she really doesn't like it. If that's way she likes to go and the way she likes to win, then of course, that's it."
Barazi Wins for Jordan
Victory in the $8,000 Rose Hill Farm 1.40m CSI 2* went to Ibrahim Barazi of Jordan, who not only is the first rider from Jordan to win in the FEI division at the Winter Equestrian Festival, but also scored his first FEI victory in just his fourth FEI competition. He rode Omnia Incipit, a 10-year-old mare owned by IB Stable, to the win in a time of 37.15 seconds.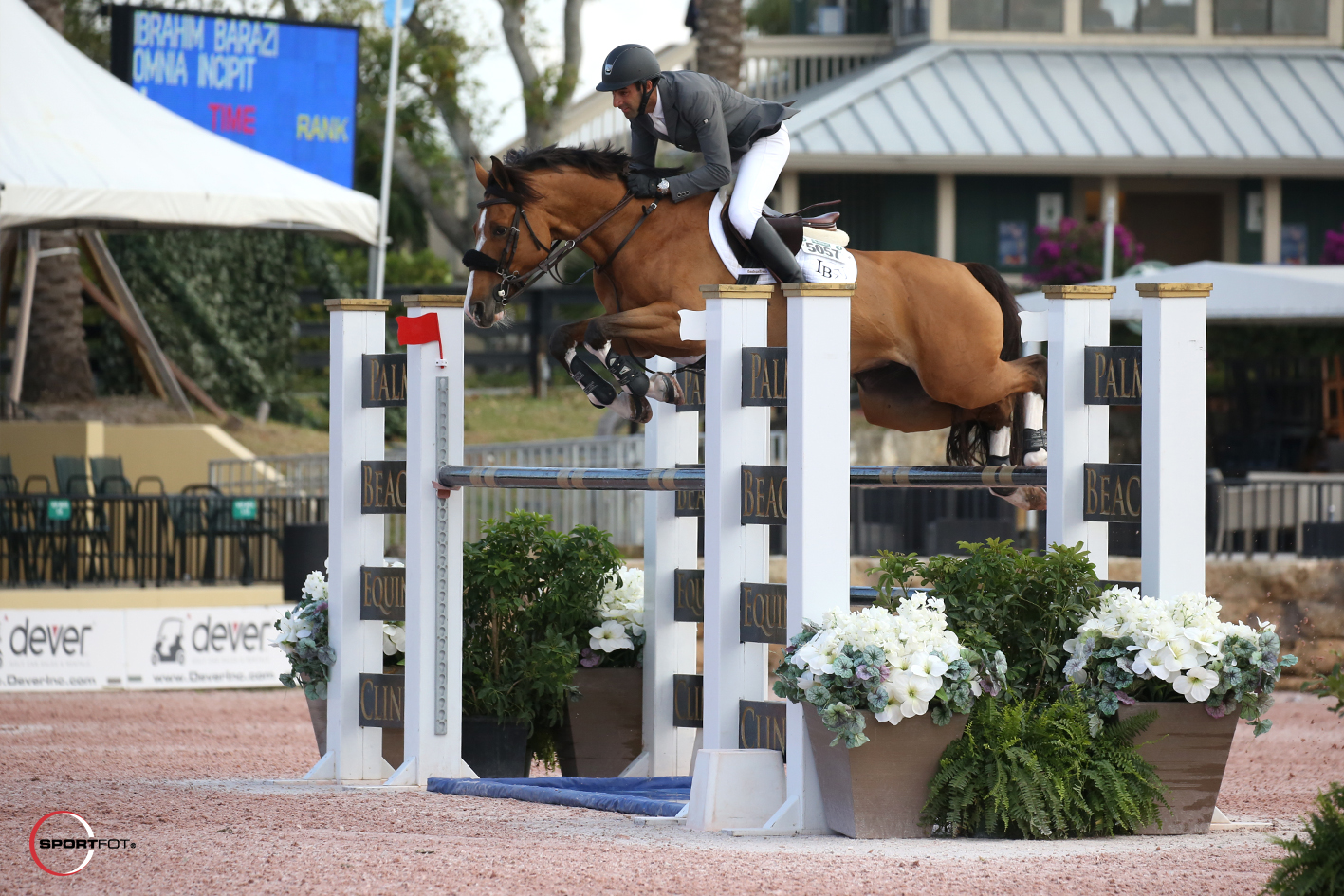 Second place went to Georgina Bloomberg (USA) on Paola 233, owned by Gotham Enterprizes, in 35.38 seconds. Willie Tynan (IRL) and Red Barn Farm LLC's KEC City Limits were third in 36.43 seconds.
Barazi grew up in Jordan and moved to the United States when he was 17.
"I rode there on a very, very basic level – basic meaning we competed up until maybe 1.00m," said Barazi. "Then, I really did not know much about the sport at the big level. I came here, and all I wanted to do was ride horses but didn't really know who was who and where to go. I just got really lucky and ended up with a person from Virginia who almost taught me everything that I know.
"It was Joe Fargis," he continued, speaking of the legendary Olympic individual and team gold medalist from the United States. "I bought a GPS, and I went on Google and started looking up just random horse farms. [Someone] said that I should go to Culpeper and talk to grand prix riders there. So I went to HITS Culpeper and for me it was like Disney Land! I'd never seen anything like that in my life before. I talked to some riders, and one of the riders I talked to said that if anyone could help you, it would be this man. His name is Joe. So he gave me Joe's number, and Joe said, 'Oh you can come hang out at the farm.' I did not have any expectations; I just wanted to be around horses. I enjoyed being on a farm. That's how I ended up with Joe. I had no clue who Joe was. It took me months after I was with him to know who he was or what he has accomplished."
After years of working with Fargis, Barazi has started his own business called IB Stable in Lebanon, New Jersey. "I try to get some clients that really want to learn and love the horses as well. For me, I think if you do a good job caring for the horses then eventually they'll do well in the sport," he said.
Barazi has brought along Omnia Incipit for four years.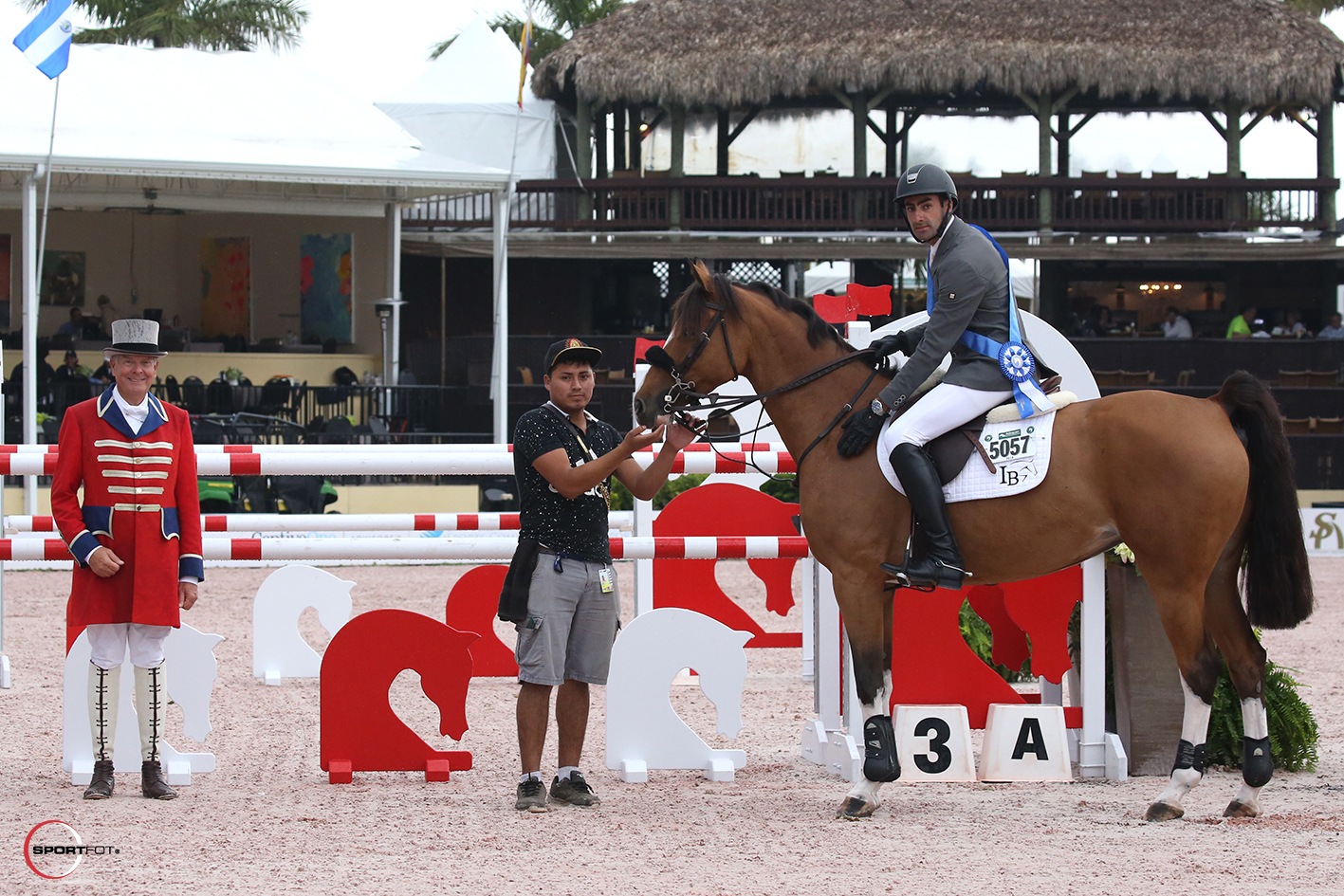 "It's been a little bit of a tough road with her," he said of the 15.3-hand high mare. "She's a very funny horse. I've been working on her a lot, just her attitude and keeping her calm and a little focused. She's my large pony, and I'm a tall rider too. But she has all the heart. She's plenty scopey. She's like riding a cat, not a horse basically."
The ninth week of WEF continues on Thursday, March 8, with the $132,000 Equinimity WEF Challenge Cup Round 9, as well as the championship for the Perfect Products USHJA Hunter 3' division.
Final Results: $35,000 Douglas Elliman 1.45m Jumpers
1 TIENNA: 2008 Canadian Sport Horse mare by For Pleasure x Polydox
DANIEL COYLE (IRL), Ariel Grange: 0/0/28.50
2 CYKLON 1083: 2001 Swedish Warmblood stallion by Cardento x Cortus
SHANE SWEETNAM (IRL), Spy Coast Farm LLC: 0/0/28.70
3 DOLORIS: 2008 KWPN mare by Harley VDL x Colorado D
SANTIAGO LAMBRE (MEX), Santiago Lambre: 0/0/29.04
4 D'ARTAGNAN: 2008 KWPN gelding by Mr. Blue x Carthago
SANTIAGO LAMBRE (MEX), Integrated Services Florida LLC: 0/0/29.52
5 LITTLE LORD 90: 2005 Holsteiner gelding by Lasino x Calato
KAREN POLLE (JPN), Karen Polle: 0/0/29.91
6 LADY MARIA BH: 2006 Holsteiner mare by Cartani x Corrado I
AMANDA DERBYSHIRE (GBR), Gochman Sport Horses LLC: 0/0/29.94
7 SENSATION 21: 2005 Hanoverian gelding by Welcome Sympatico x Acord II
ALISON ROBITAILLE (USA), Hooves LLC: 0/0/31.26
8 BASTIAN 86: 2006 KWPN gelding by Utopie x Indoctro
KRISTEN VANDERVEEN (USA), Bull Run Jumpers, Inc.: 0/0/31.67
9 IT'S REAL LOVE DV SMIS Z: 2008 Zangersheide mare by C Indoctro x Liberato I
EMILY MOFFITT (GBR), Poden Farms: 0/0/31.97
10 CYBEL II: 2008 Irish Sport Horse mare by Varo x Lancer
LAURA CHAPOT (USA), Mary Chapot: 0/0/32.39
11 JACKASS 111: 2009 BWP stallion by Der Senaat 111 x Franco
BEN MAHER (GBR), Poden Farms: 0/0/32.49
12 CURIOUS GEORGE: 2009 Rheinlander gelding by Codex One x Dutch Capitol
LAURA KRAUT (USA), Old Willow Farms LLC: 0/0/32.63
Photo Credit: Photos © Sportfot, Official Photographer of the Winter Equestrian Festival. These photos may be used only in relation to this press release and must include photo credit.