For Immediate Release
Jennifer Wood Media, Inc.
Wellington, FL – February 3, 2018 – Victory on the grass derby field in Saturday's $205,000 NetJets Grand Prix CSI 4* went to Daniel Bluman (ISR) riding his veteran partner Sancha LS.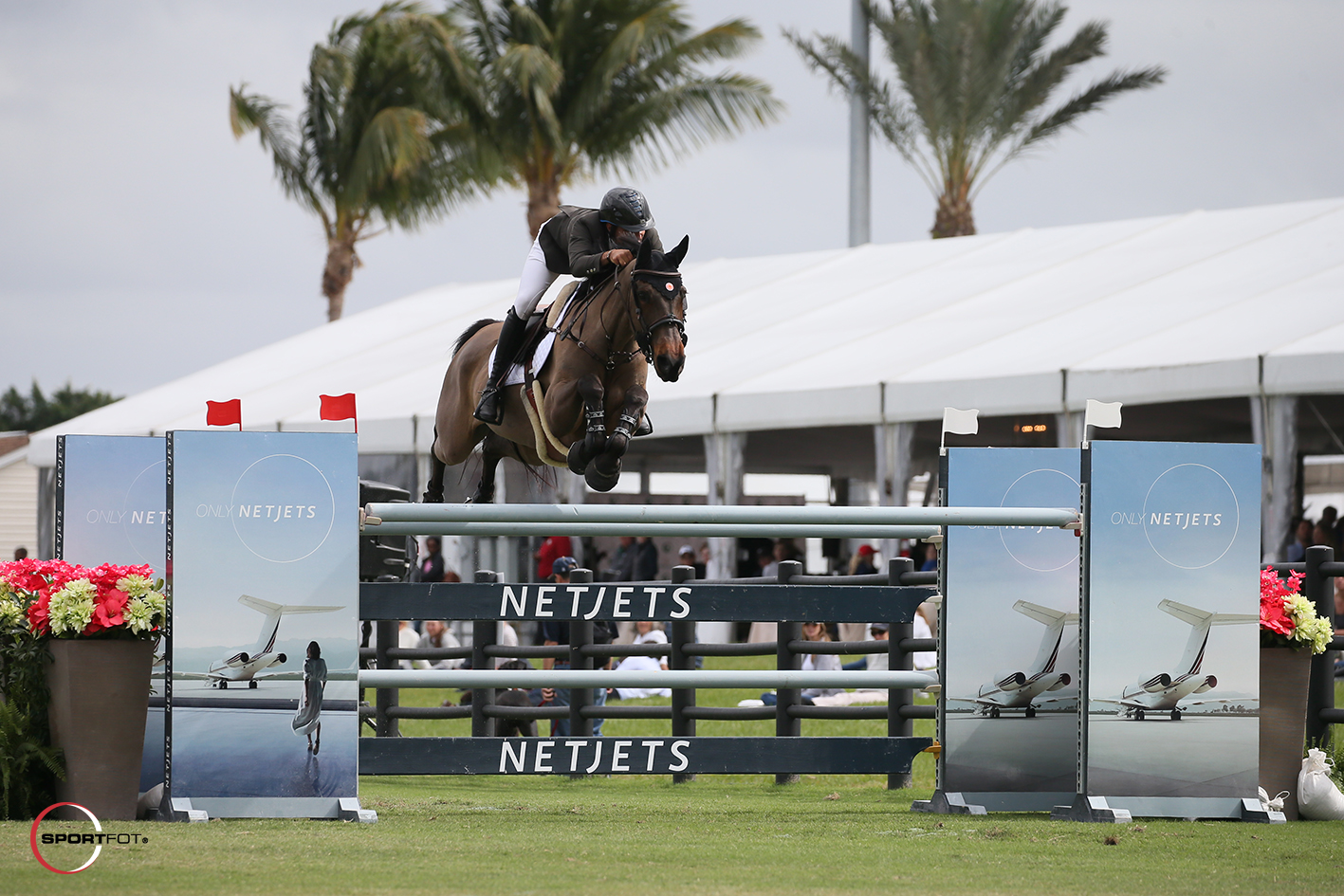 The biggest jumper class of the week was held on the beautiful grass derby field, and 44 entries went to post in the first round over a course designed by Anderson Lima of Brazil. Nine were clear and advanced to the jump-off.
Sixth to go in the jump-off and setting a new leading time was Margie Engle (USA) on the 18-year-old KWPN gelding by Indoctro x Dutchman, Indigo. Looking half his age, they flew around course in a time of 44.30 seconds, which would hold up for third place.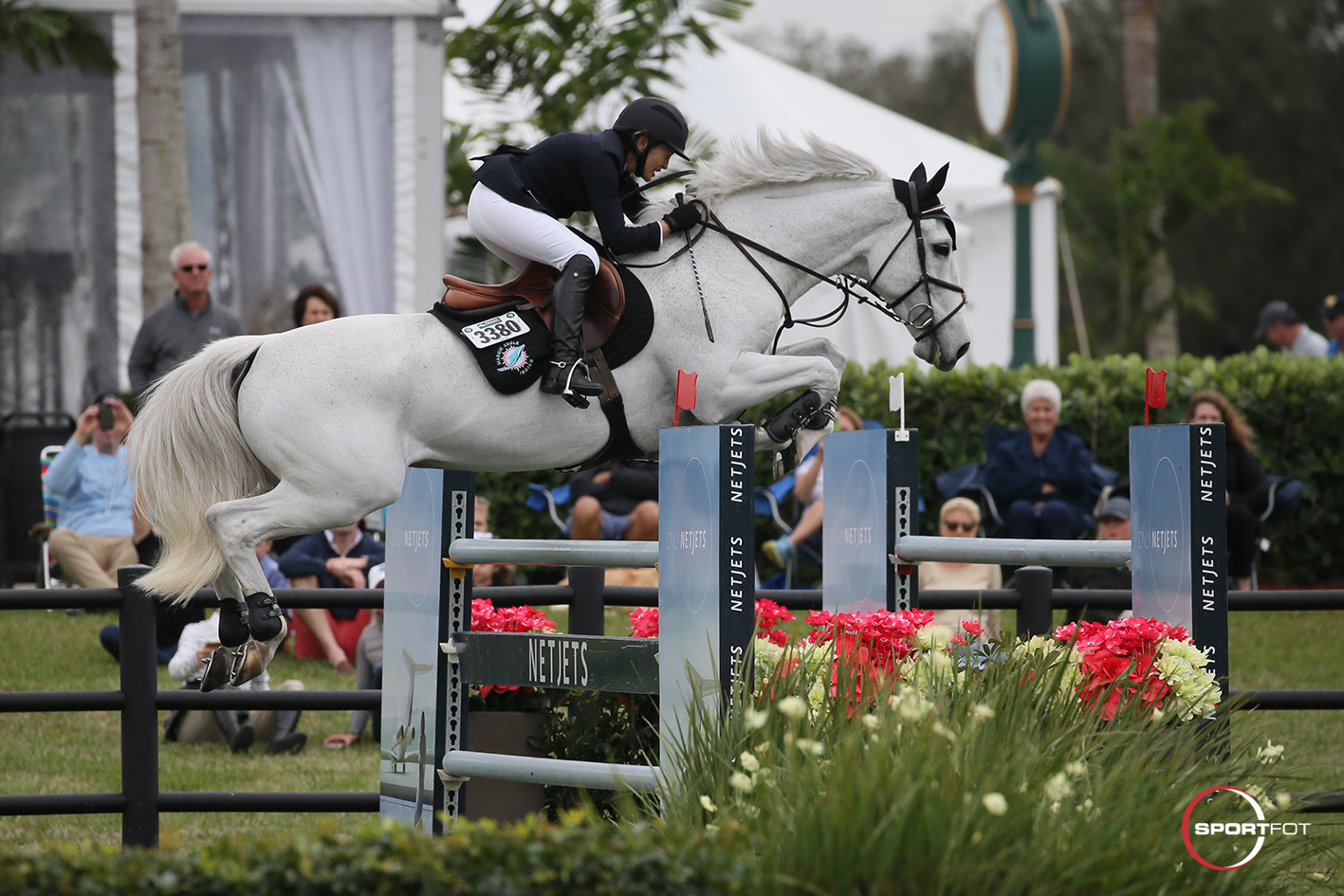 "He [Indigo] is 18 but he doesn't know it, he still thinks he's still five or six years old," said Engle. "I haven't jumped him in a big class in a long time. Since he was 17 last year, he stayed home for the summer.
"He's plenty fresh; I wasn't actually planning on doing this — I was just going to see how it went," she continued. "Since he's 18 I was going to mainly do 1.45m and 1.50m classes, but he felt so good at home I thought I'd give it a try. I thought, 'If he feels like doing it fine, and if not, then I'll come out,' but he's done more than I could have asked for during his life. Even though he's 18 he feels solid and sound and fresh, so I thought I'd give it a shot."
Immediately following in the jump-off was Beezie Madden (USA) on Con Taggio, a nine-year-old Oldenburg gelding by Contagio x Golliath Life owned by Abigail Wexner. It was the horse's first-ever grand prix, and he rose to the occasion. They recorded a new leading time of 43.48 seconds, and eventually finished second.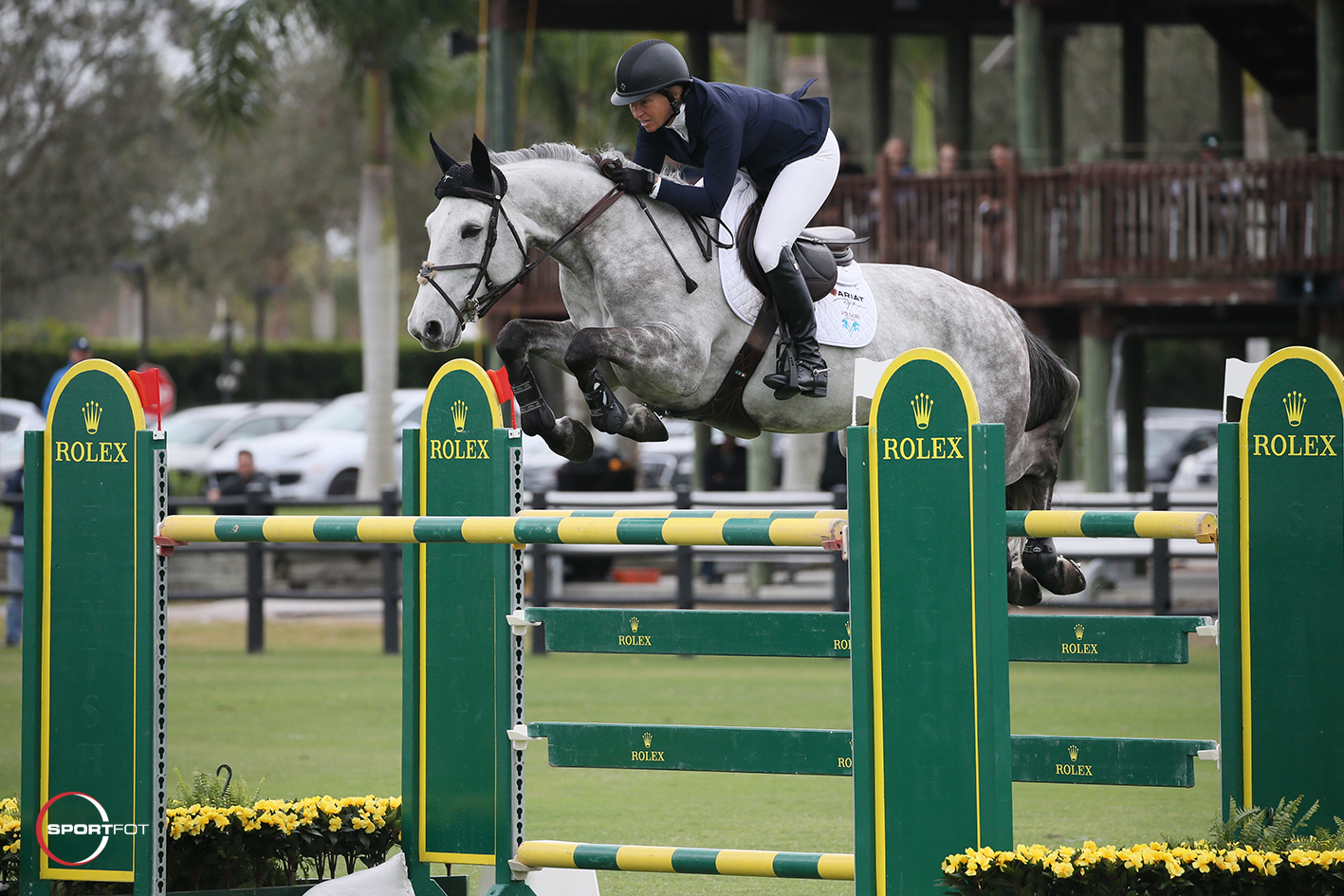 "He [Con Taggio] did some really good classes in Spruce Meadows over parcours de chasse-type courses and he's done a few 1.45m and 1.50m classes, but this was for sure his biggest class and I've never gone that fast over fences this big," said Madden. "But he has experience going fast, so I decided to have some fun in the jump-off and he was fantastic."
Taking the lead as the next horse in the ring, Bluman and Sancha LS, a 15-year-old La Silla-bred mare by Chin Chin x Polydor, brought the winning time down to 43.39 seconds.
"I didn't get to watch many people go but I was lucky that I was able to see Beezie, who is one of the fastest, and she was fast everywhere. Beezie was riding a nine-year-old so knew I could take a little bit of advantage and take some risks that maybe she couldn't take. I was lucky and I edged her for nothing. I could have been sitting in that [second] spot and not so smiley, but luck was on my side and we won."
Some of the risks that Bluman took was a big gallop to the combination – "I knew Sancha would back away from the oxer and it paid off" – but the start was a little more bumpy.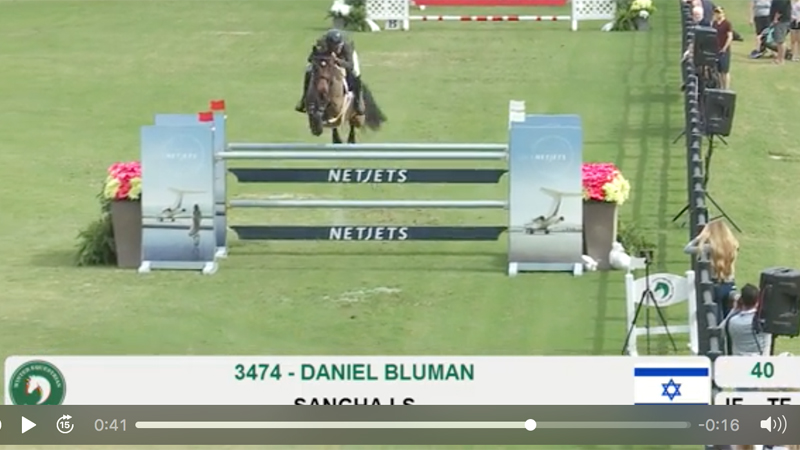 Watch the winning jump-off ride from Daniel and Sancha LS!
"From one to two I wanted to try to do one less [stride] to the vertical," he explained. "I don't know if I achieved it or not because I lost my concentration and nearly ended up in the standard at jump number one. But that was one of the risks I was planning to take; be fast and roll-back. I knew rolling back as fast as Beezie was going to be impossible; she's one of the best roll-back riders in the world — she really did a masterpiece there — but I think I did one more stride and then I was able to gallop full energy to the combination."
It was a nice victory for Sancha and Bluman, who have been partners for eight years.
He said of his 2012 London Olympic Games and 2014 FEI World Equestrian Games mount, "This is my eighth season with Sancha in Wellington so to be able to use this amazing field suits her very well. From last year I made the plan to start the week here; to jump the 1.40m hoping my other horse would qualify me for the grand prix and I'd jump it with her. There's one more week like this at the end of the season so I think that's one more that I plan to jump with her. It's good that she gets some honors because she deserves it."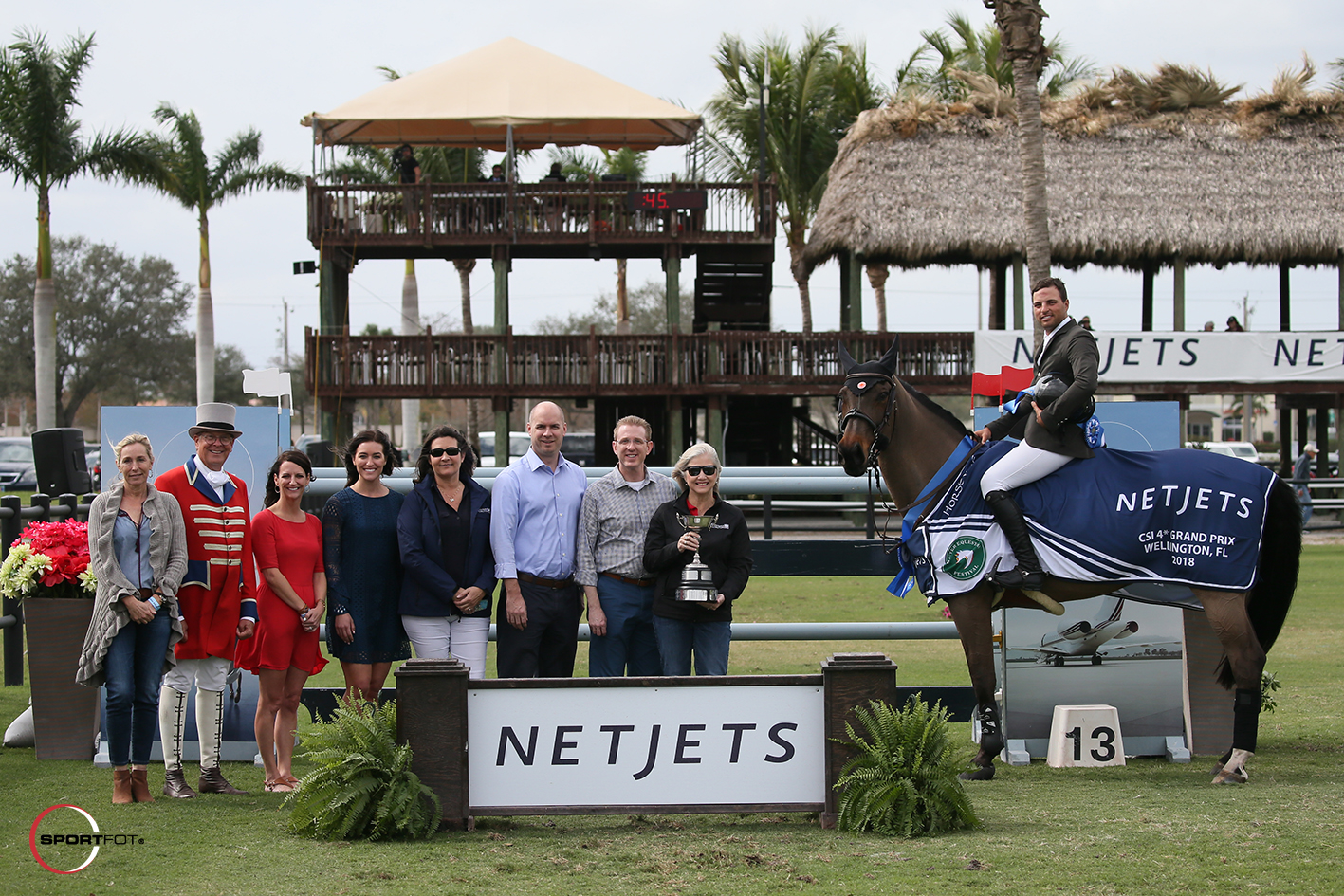 As another rider that recently switched nationalities to Israel – joining new fellow Israeli Alberto Michán – Bluman has the goal to compete at the FEI World Equestrian Games in Tryon as an individual with his top mount, Ladriano Z. Israel hopes to have a strong show jumping team compete at the 2020 Tokyo Olympic Games.
"Hopefully we'll get to have Margie as our Chef d'Equipe one day!" he said with a smile.
Both weeks of FEI competition hosted on the Derby Field at Equestrian Village (WEF 4 and WEF 11) will offer an additional $25,000 Rider Bonus presented by the McNerney Family to the top three riders accumulating the most points over the two weeks of competition. To be eligible for the Rider Bonus, riders must compete during both WEF 4 and WEF 11. Any form of tie will be determined following the $205,000 CaptiveOne Advisors Grand Prix CSI 4* on Saturday, March 24.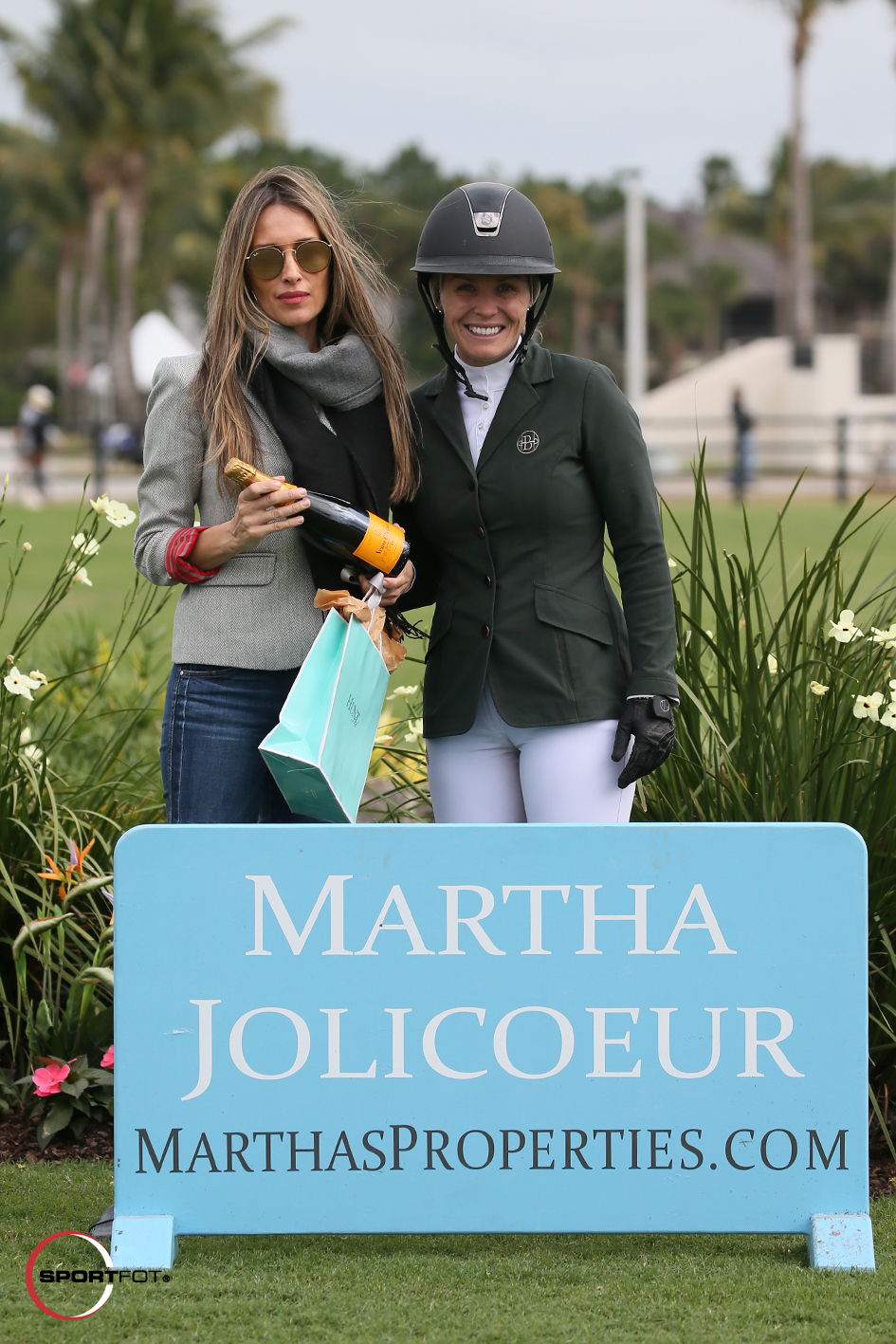 For her win on Thursday and top 12 finish on Saturday, Amanda Derbyshire was named the Martha Jolicoeur Leading Lady Rider for WEF 4. As the owner of Sancha LS, Daniel Bluman also receives a stay in a Luxury Studio at the Brazilian Court Hotel in Palm Beach. Bluman was also presented with the Village of Wellington Cup by Village of Wellington Mayor Anne Gerwig.
Final Results: $205,000 NetJets Grand Prix CSI 4*
1 SANCHA LS: 2003 SLS mare by Chin Chin x Polydor
DANIEL BLUMAN (COL), Daniel Bluman LLC: 0/0/43.39
2 CON TAGGIO: 2009 Oldenburg gelding by Contagio x Golliath Life
BEEZIE MADDEN (USA), Abigail Wexner: 0/0/43.48
3 INDIGO: 2000 KWPN gelding by Indoctro x Dutchman
MARGIE ENGLE (USA), Griese, Garber, Hidden Creek & Gladewinds: 0/0/44.30
4 DIAMONTE DARCO: 2005 GBSH mare by Unbelievable Darco x Unknown
LUCAS PORTER (USA), Sleepy P Ranch LLC: 0/0/44.68
5 NICE DE PRISSEY: 2001 Selle Francais stallion by Rosire x Amarpour
BRIANNE GOUTAL-MARTEAU (USA), Remarkable Farms LLC: 0/0/44.78
6 FREESTYLE DE MUZE: 2005 Belgian Warmblood gelding by Lord Z x Cento
RICHIE MOLONEY (IRL), Equinimity LLC: 0/0/47.20
7 SKARA GLEN'S PRESENCE: 2008 Holsteiner stallion by Contendro x Nekton
PAUL O'SHEA (IRL), Paul O'Shea, Michael Hayden, & Skara Glen: 0/4/43.18
8 FEDOR: 2005 Belgian Warmblood gelding by Kashmir van Schuttershof x Orkaan
SCOTT KEACH (AUS), Southern Cross Equestrian LLC: 0/4/45.03
9 BRILLIANT DU ROUET: 2005 Oldenburg gelding by Balou du Rouet x Caretani Z
ROBERTO TERAN JR. (COL), Liubov Kochetova: 0/4/49.99
10 OHLALA: 2004 Swedish Warmblood mare by Orlando x Cardento
LAUREN HOUGH (USA), Lauren Hough: 4/77.91
11 ERISTOV: 2009 KWPN gelding by Cicero Z Van Paemel x Concorde
JORDAN COYLE (IRL), Andrew Kocher: 4/77.94
12 LUIBANTA BH: 2008 Irish Sport Horse mare by Luidam x Abantos
AMANDA DERBYSHIRE (GBR), Gochman Sport Horses: 4/78.57
Lugano Diamonds Amateur-Owner Hunter 3'6" 18-35 Victory Goes to Grace Tuton Aboard Sorbet
Ava Lindsay for Jennifer Wood Media, Inc.
Grace Tuton, of Scottsdale, AZ, rode her mount, Sorbet, owned by Nicodemus Farms, to the top of the class on Saturday in the Lugano Diamonds Amateur-Owner Hunter 3'6" 18-35 division. Tuton and the 13-year-old grey mare secured the championship win with a first in the under saddle and a second, third, fourth, and sixth over fences.
"I am always hoping to have a calm and slow round with her," said Tuton. "She has continued to shine since we bought her."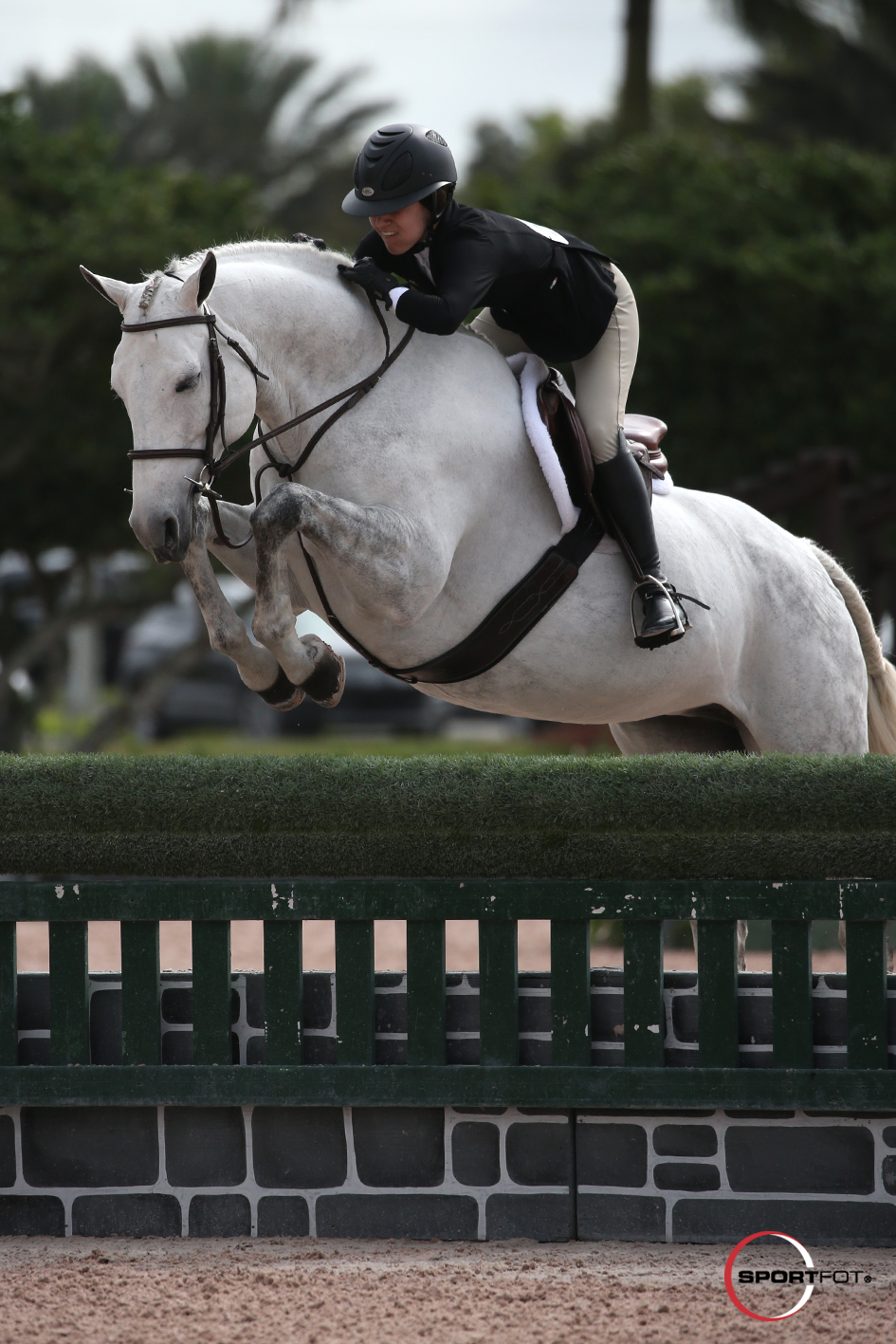 The pair of four years is no stranger to the spotlight, having taken reserve honors in the Small Junior Hunters 16-17 at last year's USEF Junior Hunter National Championship and receiving the title of Top Hunter Mare. Tuton and Sorbet claimed an additional reserve championship win at the 2017 Devon Horse Show in the Small Junior Hunter 16-17 division with a high score in the stake class of 92.
Saturday's championship win was an exciting highlight for Tuton, as this is her first year competing as an amateur and exhibitor at the Winter Equestrian Festival. The young rider impressed throughout the morning and took ribbons on two other entries in the division, Bozeman and Gelato, both owned by Nicodemus Farms. However, Tuton stayed true to character on Sorbet, also known as Soba, and expressed her delight with the mare's ride today in the E.R. Mische Grand Hunter ring.
"I was really happy with her in the first round," said Tuton. "She collected nicely for the two-stride when I asked her to. She has a very strong personality and collecting has always been something we have had to work on, so for her to come back when I asked was great."
Tuton hopes that the duo will be back in action for WEF 6, and expressed her enthusiasm to show in the International Arena.
"We have been excited to get to show in that ring since before we came down here," said Tuton. "WEF is beautiful, and our horses are so happy to be here."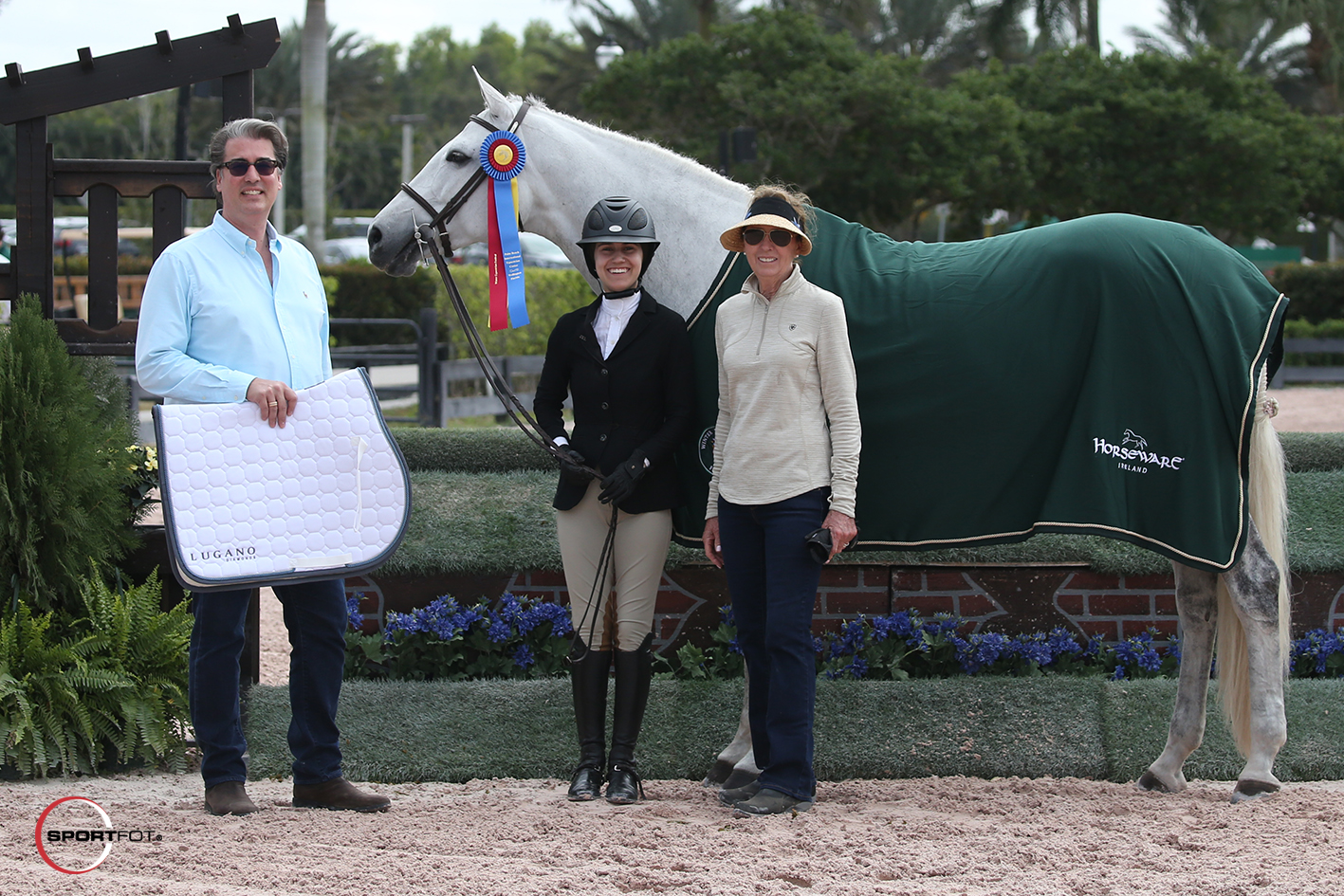 The reserve champion title went to Kaitlin Porath and her ride, Breaux, with a second-place finish under saddle and a first and fifth over fences.
The fourth week of WEF concludes on Sunday, February 3, with the $10,000 Sleepy P Ranch SJHOF Junior Jumper Classic and championship honors in the Bruno DelGrange Large Junior 15 & Under Hunters.
Photo Credit: Photos © Sportfot, Official Photographer of the Winter Equestrian Festival. These photos may be used only in relation to this press release and must include photo credit.