For Immediate Release
Jennifer Wood Media, Inc.
Wellington, FL – March 4, 2018 – Closing out the CSIO4* week of competition on Sunday, March 4, at the 2018 Winter Equestrian Festival (WEF) was the $205,000 CSIO4* Grand Prix, presented by Lugano Diamonds, with a win for Olympic gold medalist Beezie Madden and Breitling LS, owned by Abigail Wexner, at the Palm Beach International Equestrian Center in Wellington, FL.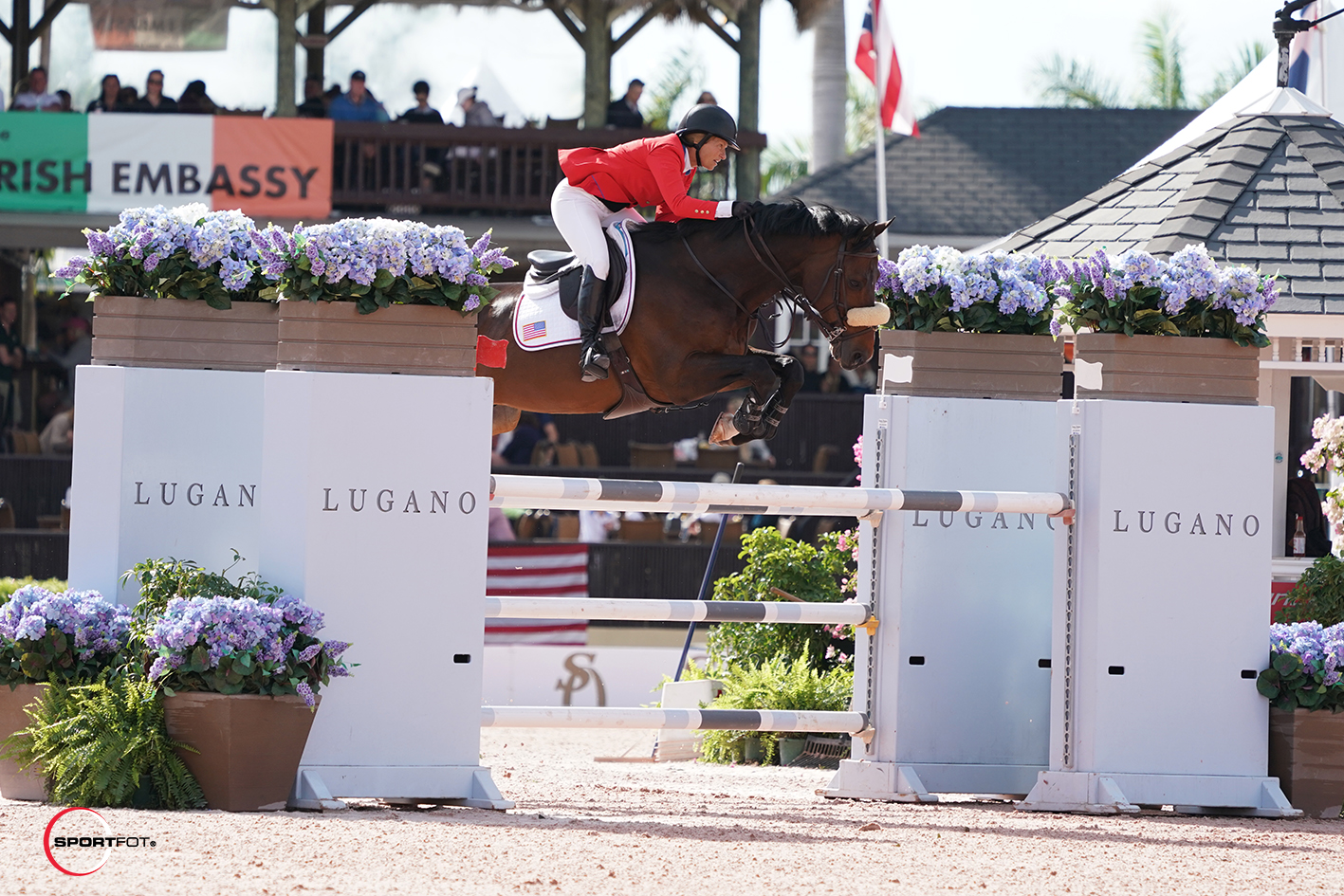 The ninth week of competition at WEF runs March 7-11. Jumper highlights include the $132,000 Equinimity WEF Challenge CSI 5* on Thursday, March 8, the $384,000 Douglas Elliman Real Estate Grand Prix CSI 5* beginning at 7 p.m. on Saturday, March 10, and the $50,000 Rose Hill Farm Grand Prix CSI 2* on Sunday, March 11. Hunter highlights include the $5,000 USHJA Pony Hunter Derby on Friday, March 9, and the $10,000 USHJA National Derby on Saturday, March 10; both events will be held on the grass derby field at Equestrian Village (home of the Adequan® Global Dressage Festival – 13500 South Shore Blvd.). WEF hosts hunter, jumper, and equitation competition until April 1 and offers more than $9 million in prize money.
 Out of 45 entries in the grand prix and 11 who advanced to the jump-off, it was fan favorite Madden who rose to the top of the $205,000 CSIO4* Grand Prix, presented by Lugano Diamonds. Madden rode Breitling LS, a 12-year-old Dutch Warmblood stallion by Quintero x Accord II, in a brilliant jump-off ride to win with a time of 40.49 seconds.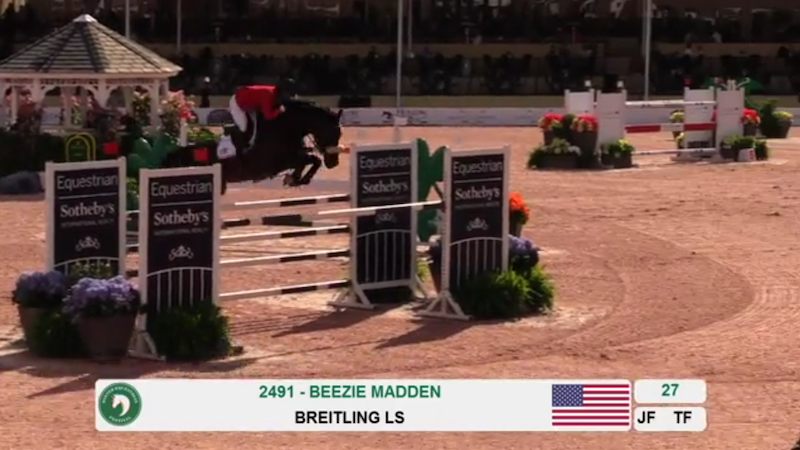 Watch the winning jump-off round!
"I had Richie and Denis behind me, so I needed to go as fast as I was comfortable with him," said Madden. "He's actually become such a fun horse in the jump-offs because he has gotten quite fast. He's careful, and I feel like every time that I'm in a jump-off, I have a really good chance. I put a nice slice on [fence] one. I think I was quite fast to fence two, fast to fence three. I slipped a little bit in that turn [to the double combination]. I thought maybe somebody could get me there. Then again the last turn was really good as well; I think I was pretty tight there."
Madden had originally planned to just focus on the Nations Cup with Breitling LS and ride her greener mount, Con Taggio, in Sunday's grand prix. When the Nations Cup didn't turn out as she hoped for and the U.S. team didn't advance to the second round, Madden changed her mind on which horse she would ride in the grand prix.
"I wasn't really hoping for that scenario – for doing only one round," said Madden of the Nations Cup. "It just wasn't our night as a team. It actually worked out nicely for Adrienne and I in the end. He felt fantastic. It's nice cool weather this week. He's only scheduled to do one more week down here before the World Cup Finals, so I thought really he needed another class this week in order to build up his fitness for that."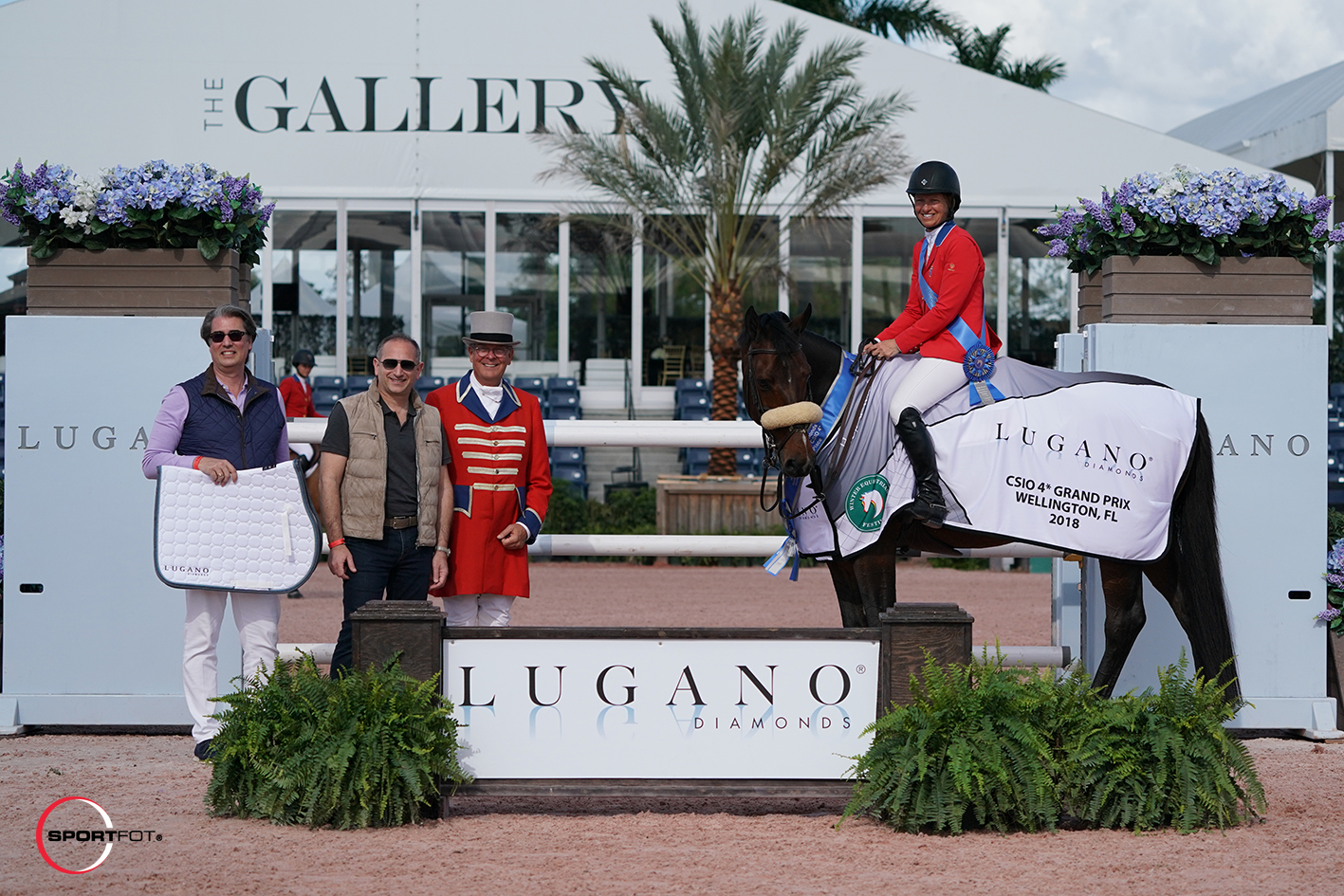 Madden plans to bring out Breitling LS again during WEF 11 to compete on the grass derby field for a change of scenery for the horse she bills as one "kind of climbing up there" in her string of top horses.
Second place went to Richie Moloney (IRL) and Carrabis Z, owned by Equinimity LLC, in a time of 43.16 seconds. They went last in the jump-off and Moloney had seen Madden's round before him.
Moloney said, "In the jump-off, I saw Beezie from one to two, and I knew that I couldn't do that with him because he's hard just to turn straightaway when he lands. He jumps far out the other side of the jumps. I kind of went as quick as I could without taking any risks, just leaving the jumps up. I'm very happy with second place."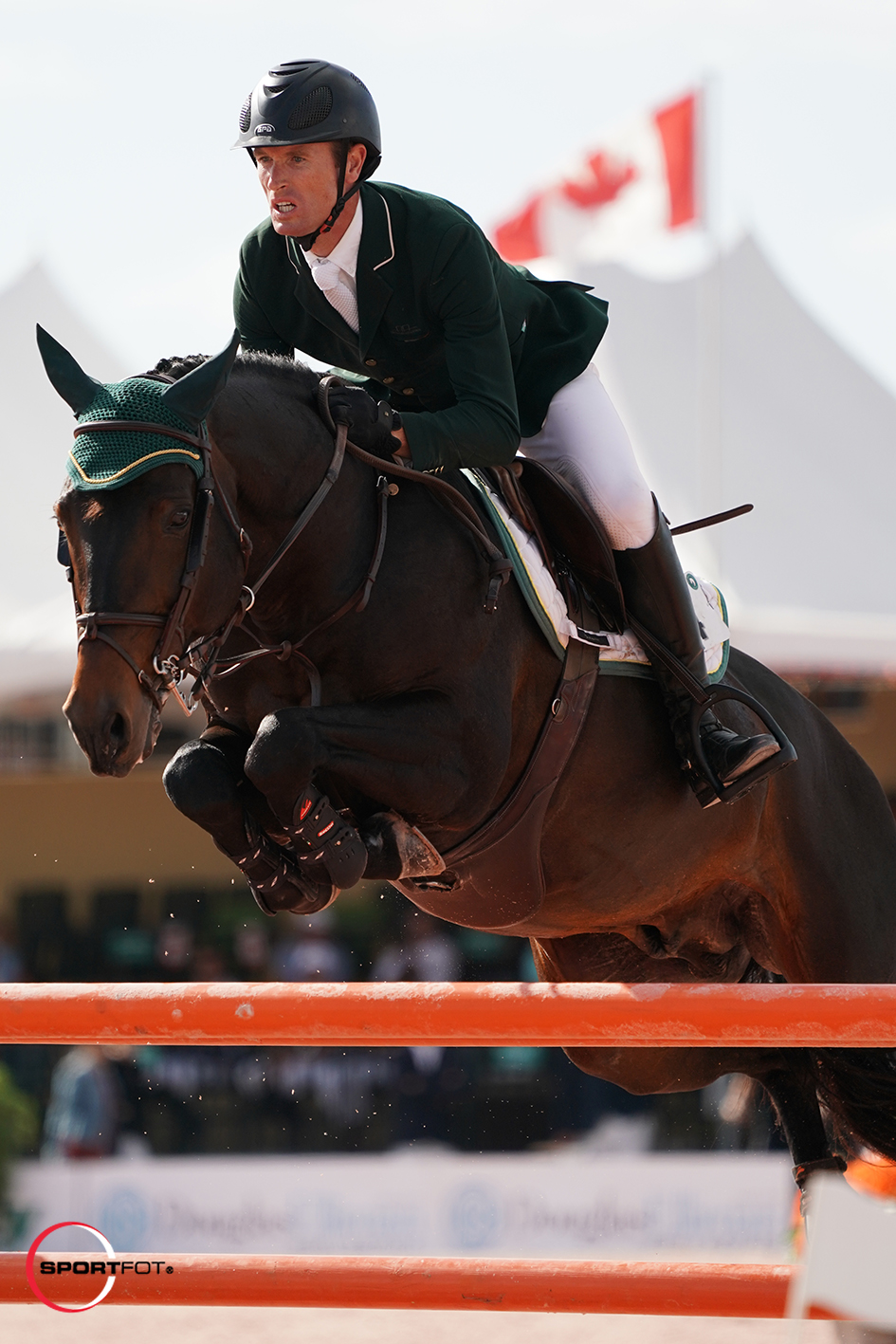 "He's 15 years of age, and he still feels great. He's in great form," said Moloney of his veteran Zangersheide stallion by Canabis Z x Grannusso. "I think probably [the grand prix] during the day helps. He's quite a hot horse and with the lights, I think he gets a little bit excited. So it was nice today. He was relaxed. He felt even better for the jump-off than the first round. I'm very happy with him."
Adrienne Sternlicht (USA) and Cristalline, riding out of the unenviable first position in the class, rode a solid clear round in 43.86 seconds for third place. Fourth place went to the only other double clear, Lisa Carlsen (CAN) and her own Parette.
"I actually only found out that I got into the grand prix at like 9:45 this morning," said Sternlicht. "I was very excited when I got into the grand prix. That definitely fueled my ambition a little bit further. I was quite relaxed. I'm normally quite tense before these classes. I just tried to help my horse out where I could…just ride the track and trust her."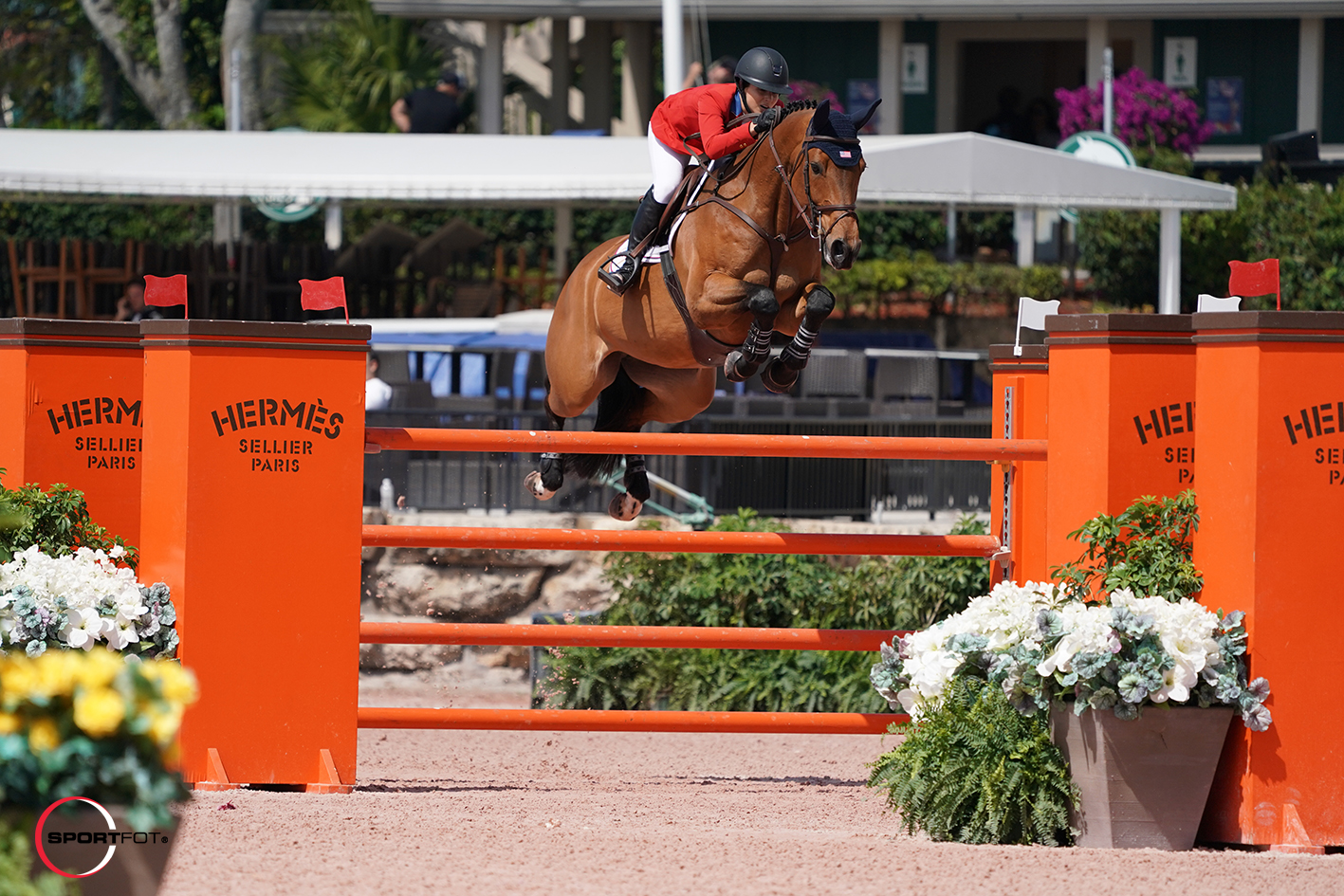 Sternlicht and Cristalline recorded a clear round in Saturday's Nations Cup as well, and their partnership is solidifying, also thanks to the time that Sternlicht spends with the Bavarian Warmblood mare by Cristallo 1 x Caretello B in the barn.
"We have a really special relationship," said Sternlicht. "I spend a lot of time with her at home. I sort of indulge her, perhaps a little bit too much sometimes [my trainer] McLain [Ward] says. Every time I hand walk her on grass, she rolls. She lies down and has a good chunk of grass in her mouth. I just really enjoy being around her every day, and I feel really privileged to have her in my life."
Lillie Keenan (USA) was presented with the Kate Nash Boone Style Award, presented by Michael Meller, friends, and family, given to the international equestrian who exemplifies best style of riding along with maintaining a sportsmanlike composure while competing in the CSIO at WEF. The Niall Grimes "Cheers" Perpetual Trophy was presented to Richie Moloney, which is presented each year to the top Irish rider during CSIO week. Beezie Madden was presented with the Martha Jolicoeur Leading Lady Rider Award for WEF 8.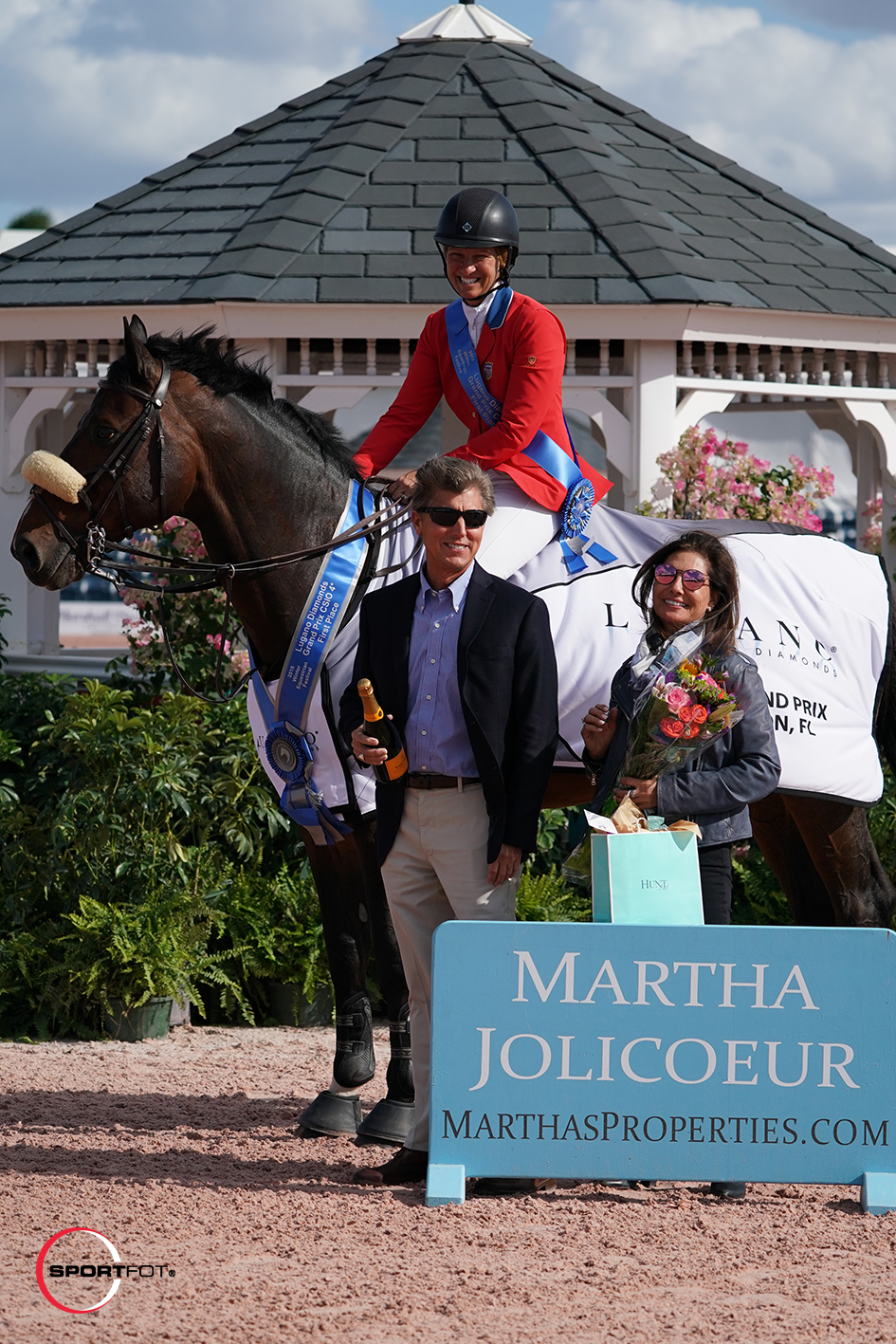 Final Results: $205,000 CSIO4* Grand Prix, presented by Lugano Diamonds
1 BREITLING LS: 2006 Dutch Warmblood stallion by Quintero x Accord II
BEEZIE MADDEN (USA), Abigail Wexner: 0/0/40.491
2 CARRABIS Z: 2003 Zangersheide stallion by Canabis Z x Grannusso
RICHIE MOLONEY (IRL), Equinimity LLC: 0/0/43.164
3 CRISTALLINE: 2008 Bavarian Warmblood mare by Cristallo 1 x Caretello B
ADRIENNE STERNLICHT (USA), Starlight Farms 1 LLC: 0/0/43.868
4 PARETTE: 2006 Brandenburg mare by Pessoa VDL x Barinello
LISA CARLSEN (CAN), Lisa Carlsen: 0/0/47.580
5 RMF ECHO: 2004 BWP gelding by Virus de Laubry x Feo
DENIS LYNCH (IRL), Rushy Marsh Farm LLC: 0/4/41.273
6 HH GIGI'S GIRL: 2008 KWPN mare by Vingino x Celano
MCLAIN WARD (USA), Double H Farm: 0/4/42.508
7 SUPER SOX: 2006 Hanoverian gelding by Salito x Silvio I
LILLIE KEENAN (USA), Chansonette Farm LLC: 0/4/43.916
8 CARLCHEN W: 2008 Mecklenberg gelding by Chacco-Blue x Continue
ALEX GRANATO (USA), Page Tredennick: 0/4/45.422
9 CHAGANUS: 2008 Oldenburg gelding by Chacco-Blue x Carthago
RODRIGO PESSOA (BRA), Pessoa Stables LLC: 0/8/41.299
10 UT MAJEUR DE BRECEY: 2008 Selle Francais stallion by Diamant de Semilly x Quouglof x Rouge
RODRIGO LAMBRE (BRA), Mario Onate: 0/retired
11 BALOU DU REVENTON: 2006 Oldenburg stallion by Cornet Obolensky x Continue
JORGE MATTE CAPDEVILE (CHI), Jorge Matte Capdevila: 0/retire
12 ECLATANT: 2009 KWPN gelding by Berlin x Heartbreaker
PETRONELLA ANDERSSON (SWE), Stephex Stables: 4/77.45
Ryan Moloney Wins Children's Hunter Older Championship
Ryan Moloney of Georgetown, KY, rode Vogue to the Children's Hunter Older division championship, sponsored by Palm Beach International Academy, after earning two first place finishes over fences and a win under saddle during week eight of the Winter Equestrian Festival (WEF).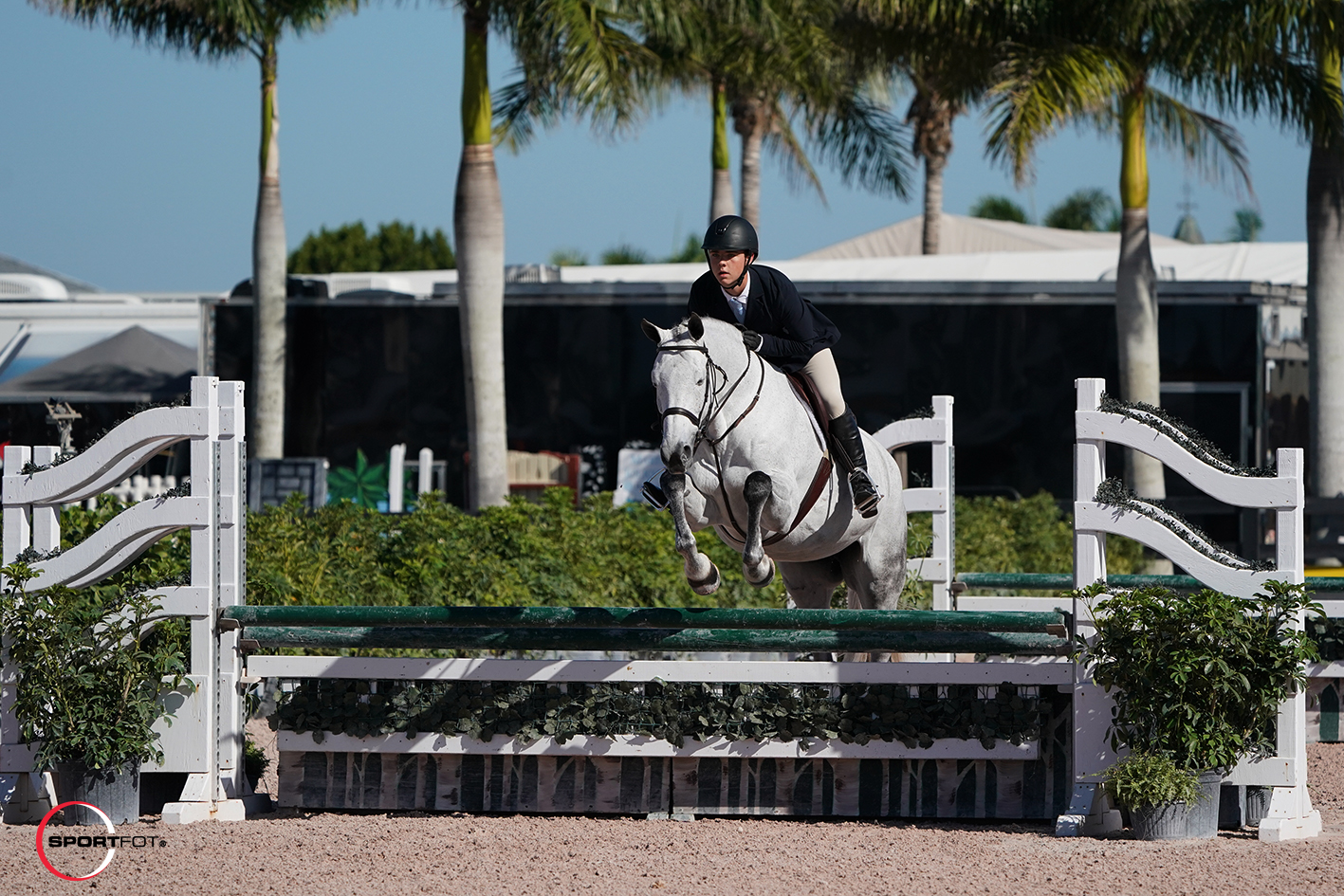 "She's one of the most incredible horses that I've ever ridden," said Moloney, 16, of Vogue, the ten-year-old grey Swedish Warmblood mare owned by his mother, Karen Bailey. "She is just a rockstar. She has a big personality, and she loves to let you know that she's there. I love her so much, and you can feel that it's such a good partnership. She just really helps you out."
Bailey acquired Vogue in July of 2017, and she initially had the ride on the mare before recently handing over the reins to her son.
"It's just been learning with her and working on improving together," said Moloney, who trains with Ken and Emily Smith at their Ashland Farms. "It's been amazing to watch how far we've come in just the short couple of weeks."
This year marks both Moloney and Bailey's first season competing at WEF, and they could not have asked for a better debut, with week eight of the 12-week circuit proving to be a banner one for their family.
"It was an exciting week because we have three horses here, and all three were champions," said Bailey, who rode Baton Rouge to the Low Child/Adult Training Jumper championship and who owns Simply Red, who Leylan Gleeson rode to the Performance Hunter 3'3" championship. "We put a little bit of pressure on Ryan, 'You know it'd be really awesome son, if you were to be champion too.' To pull that off was really, really cool. I'm so proud of him!"
Moloney will continue to compete in the Children's Hunters throughout the remainder of the WEF season while commuting back and forth from Kentucky where he is a junior in high school.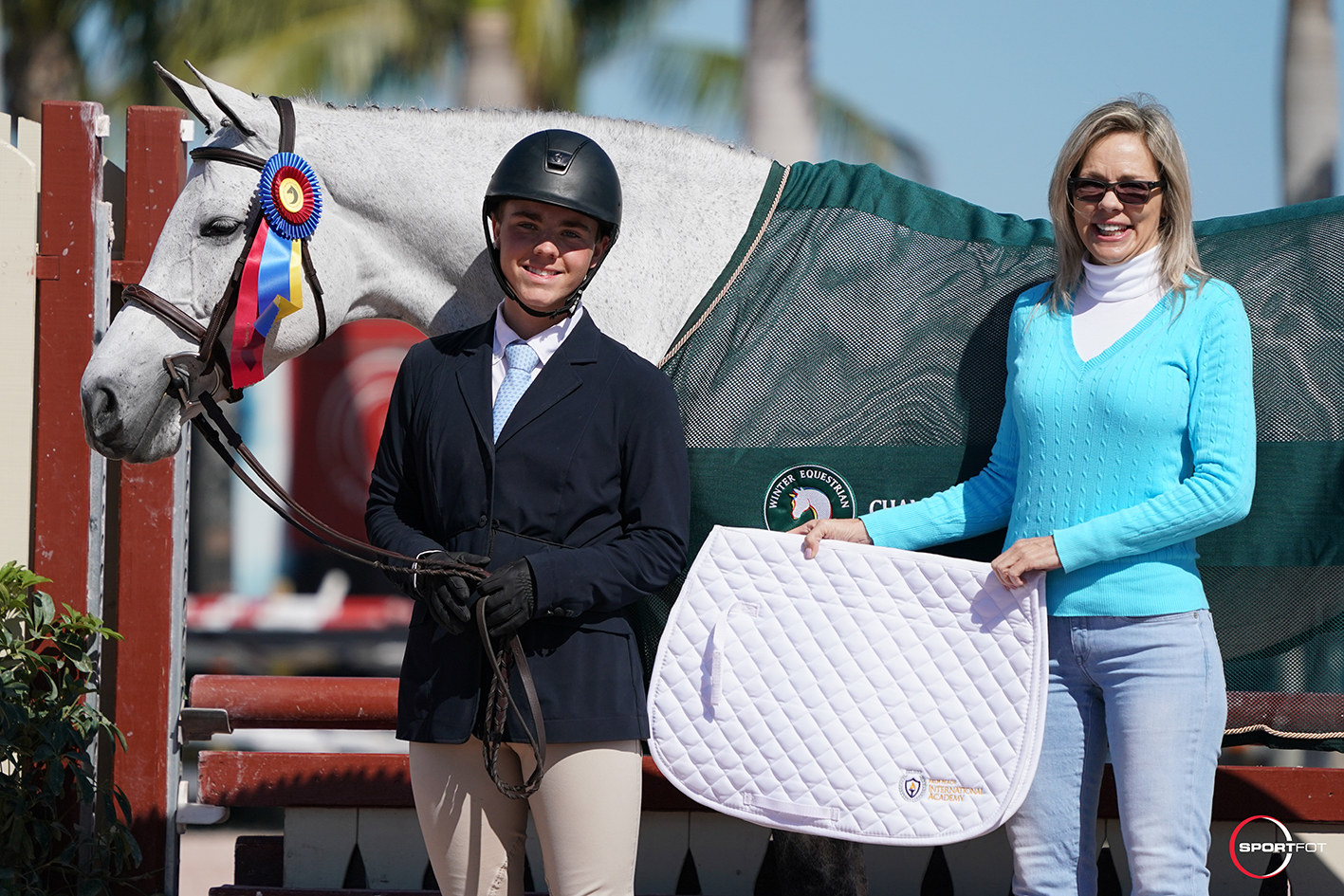 While Sunday marked the conclusion of week eight of the Winter Equestrian Festival, competition resumes on Wednesday, March 7. Week nine event highlights will include the $132,000 Equinimity WEF Challenge CSI5* on Thursday, March 8, and the $384,000 Douglas Elliman Real Estate Grand Prix CSI5* beginning at 7 p.m. on Saturday, March 10. For more information and full results, please visit www.PBIEC.com.
Photo Credit: Photos © Sportfot, Official Photographer of the Winter Equestrian Festival. These photos may be used only in relation to this press release and must include photo credit.