The 2017 Winter Equestrian Festival hosted eleventh week, featuring CSI 5*/2* competition sponsored by Rolex, on March 22-26, 2017. Highlights included the $500,000 Rolex Grand Prix CSI 5*, as well as the $130,000 Suncast® 1.50m Championship Jumper Classic Series Final on Saturday, March 25.
The 12-week WEF circuit concludes with its final week of competition at the Palm Beach International Equestrian Center (PBIEC) running March 29 through April 2, 2017, sponsored by The Wanderer's Club. The week's highlights include the $216,000 The Wanderer's Club Grand Prix CSI 4*, the $50,000 Hollow Creek Farm Under 25 Grand Prix Series Final, and the $50,000 USHJA International Hunter Derby.
WEF 11 Wrap-Up: Sergio Alvarez Moya and Charmeur Win $500,000 Rolex Grand Prix CSI 5*
Olympian Sergio Alvarez Moya (ESP) was the big winner in the $500,000 Rolex Grand Prix CSI 5* riding Charmeur on Saturday, March 25, at the 2017 Winter Equestrian Festival (WEF) in Wellington, FL. Moya beat out two-time Olympic team gold medalist McLain Ward (USA) aboard veteran partner Rothchild, and young up-and-comer Karen Polle of Japan riding With Wings.
Guilherme Jorge (BRA) set the course for the highlight event of the WEF circuit featuring 40 of the season's top competitors from 17 different countries. Five entries conquered the first round course without fault to jump-off, and only two were clear in the tiebreaker.
Polle and With Wings were first to jump the short course in 39.54 seconds, with one rail down, and ultimately finished third. Moya and Charmeur followed, setting the challenge with a clear round in 37.76 seconds. Beezie Madden (USA) and Abigail Wexner's Coach had one rail in 40.20 seconds to place fifth. Laura Kraut (USA) and St. Bride's Farm's Confu also dropped one rail in 39.81 seconds to take the fourth place prize. Last to go, Ward and Sagamore Farm's Rothchild raced through the course, taking a different inside turn that no one else tried, but still crossed the timers in second place with a time of 38.30 seconds.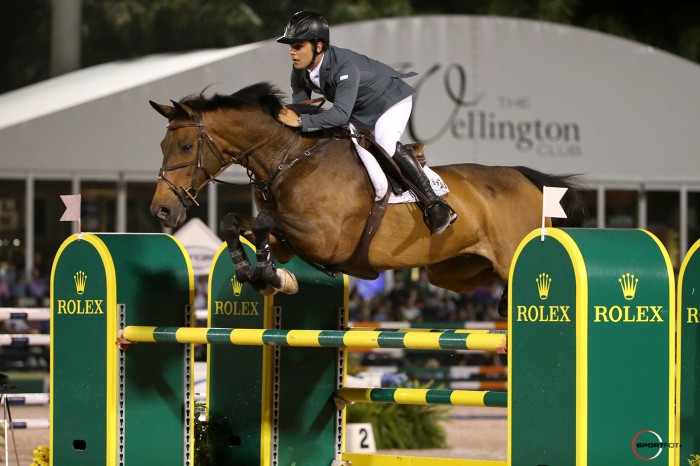 "I am super happy. My horse jumped amazing," Moya said of his ten-year-old Dutch Warmblood gelding (Numero Uno x Gelha's VDL Emilion). "I just went as fast as I could. I saw Karen go, and then I knew I had to start fast from jump one, and keep going to the end. My plan was to go one more stride to the combination, but I had a good eight strides, and I just trusted my horse. Then to the next oxer I had a good gap as well, so I could go and keep on pushing. I actually saw one stride less to the next vertical, but I thought that was maybe too much. I don't think I left much room for the others, and it worked out well."
Moya had a fantastic WEF circuit, placing third in week three's $130,000 Adequan® Grand Prix CSI 3* and second in week four's $216,000 Ariat® Grand Prix CSI 4* with G&C Unicstar de l'Aumone, third in week seven's $380,000 Suncast® Grand Prix CSI 5* aboard Arrayan, and again third in week nine's $380,000 Douglas Elliman Grand Prix CSI 5* with Charmeur before taking the biggest prize in week eleven.
Remarking on his success, Moya stated, "For me, this is one of the best shows in the world. Most of the best and most competitive riders in the world are here. I think that to have so many weeks here, and to be so consistent, is a great opportunity to bring a horse up like this. I have had Charmeur since he was six years old, and I just feel very happy and very proud that we got to win a five-star grand prix here. I have a feeling that this is the grand prix that every rider in the circuit wants to win, and I was just lucky that I won this one, and not the others.
"The horse does not have so much experience at this level," Moya continued. "He just got better and better here at this show. I think it is a great place to bring horses up, and obviously to jump such a grand prix they have to be really ready. I think from here on, we can go anywhere in the world."
Saturday night concluded Moya's time in Wellington for the winter circuit. The Olympian, European Championships silver medalist, and reigning Spanish champion is now headed to compete in next week's FEI World Cup™ Jumping Final with top mount Arrayan before continuing his season in Europe.
For Ward and longtime mount Rothchild, the pair gave it their best on Saturday night, but settled for second place. Detailing his round, Ward stated, "I have to watch (Rothchild) a little bit on the slice to the verticals, so the first two jumps were a bit of a challenge for me. I went in and I looked at the cut inside the gazebo, and I decided not to do it. Then when I turned back on the oxer, I kind of saw the line, and I knew I was too slow one to two to have a chance, so I figured at that point it was worth the risk. I thought maybe at that point, the turn did so much that I did not have to go as fast to the last fence. I took a little bit off, but Sergio did not leave much room.
"I'm thrilled with the horse," Ward said of the 16-year-old Belgian Sport Horse gelding (Artos x Elegant de l'Ile). "This is his eighth year jumping grand prixs in Palm Beach. He is just a remarkable animal. I am blessed to have had him, and I am really excited to be able to keep doing it with him."
Polle and her 14-year-old Dutch Warmblood gelding (Larino x L. Ronald) With Wings also finished out an excellent 2017 WEF circuit with their top three finish. The pair earned back to back victories in week nine's $130,000 Ruby et Violette WEF Challenge Cup and $380,000 Douglas Elliman Grand Prix CSI 5*, presented by The Bainbridge Companies, leading up to Saturday night.
"It is definitely a great feeling," Polle noted. "I am really happy that Wings and I are so consistent at this level now, and that we are in these jump-offs. I thought the course tonight was really, really tricky. It was definitely the trickiest grand prix that I have jumped this circuit. It was very big. I had to work hard, but I thought it was very nice to ride."
Equestrian Sport Productions CEO Mark Bellissimo wrapped up a fantastic evening of show jumping with his remarks and congratulated the top riders.
"I think there is consistently great sport at WEF," Bellissimo stated. "The crowd has become a lot more engaged, and you can see the people really following the sport. I think there is top sport here, and we are very excited about it.
"I want to thank Rolex," Bellissimo continued. "This festival went into a different transition when Rolex came on board. We started four five-star events and have some of the best riders in the world competing. I am hopeful that next year will be even more exciting and an even better series of outcomes."
Margie Engle (USA) earned the Leading Lady Rider Award for week 11, presented by Martha Jolicoeur of Douglas Elliman Real Estate.
Final Results: $500,000 Rolex Grand Prix CSI 5*
1. CHARMEUR: 2007 KWPN gelding by Numero Uno x Gelha's VDL Emilion
SERGIO ALVAREZ MOYA (ESP), Alvarez Moya Horse SL: 0/0/37.76
2. ROTHCHILD: 2001 Belgian Sport Horse gelding by Artos x Elegant de l'Ile
MCLAIN WARD (USA), Sagamore Farms: 0/0/38.30
3. WITH WINGS: 2003 KWPN gelding by Larino x L. Ronald
KAREN POLLE (JPN), Karen Polle: 0/4/39.54
4. CONFU: 2007 Holsteiner gelding by Contact Me x Cambridge
LAURA KRAUT (USA), St. Bride's Farm: 0/4/39.81
5. COACH: 2008 Holsteiner gelding by Con Air x Corofino I
BEEZIE MADDEN (USA), Abigail Wexner: 0/4/40.20
6. GRAND CRU VD JIJF EIKEN: 2006 Belgian Warmblood stallion by Contact van de Heffinck x Heartbreaker
VANESSA MANNIX (CAN), Vanessa Mannix: 1/85.91
7. ROYCE: 2004 Oldenburg stallion by Café au Lait x Grandilot
MARGIE ENGLE (USA), Gladewinds Partners LLC: 4/78.42
8. ISHD DUAL STAR: 2002 Irish Sport Horse mare by Quick Star x Concorde
LAURA CHAPOT (USA), Mary Chapot: 4/79.14
9. SFN ZENITH: 2004 KWPN gelding by Rash x Fuego du Prelet
JEROEN DUBBELDAM (NED), Springpaarden Fonds Nederland & W. van der Ham: 4/79.59
10. CADALORA P: 2007 KPWN gelding by Namelus R x Furore
TIFFANY FOSTER (CAN), Artisan Farms LLC: 4/80.68
11. A S D FARFALA: 2003 Holsteiner mare by Hyo Dario x Furioso II
PABLO BARRIOS (VEN), Pablo Barrios: 4/80.77
12. CORNET 39: 2004 Oldenburg gelding by Cornet Obolensky x Caletto I
LAUREN HOUGH (USA), Willow Grace Farm: 4/80.88
WEF 11 Wrap-Up: Kent Farrington and Dublin Top $130,000 Suncast® 1.50m Championship Jumper Classic Final; McLain Ward Takes 1.50m Series Overall
2016 U.S. Olympic team silver medalist Kent Farrington and his mount Dublin were the winners of the $130,000 Suncast® 1.50m Championship Jumper Classic Final on Saturday night at the Winter Equestrian Festival. After the final competition of the 2017 series, two-time Olympic team gold and one-time team silver medalist McLain Ward (USA) secured his lead in the standings and took home the championship title overall.
The 1.50m final held its first round on Saturday afternoon, with forty-nine entries starting over Guilherme Jorge's (BRA) first-round course, and 13 advancing to the evening jump-off. Only four riders cleared both rounds without fault.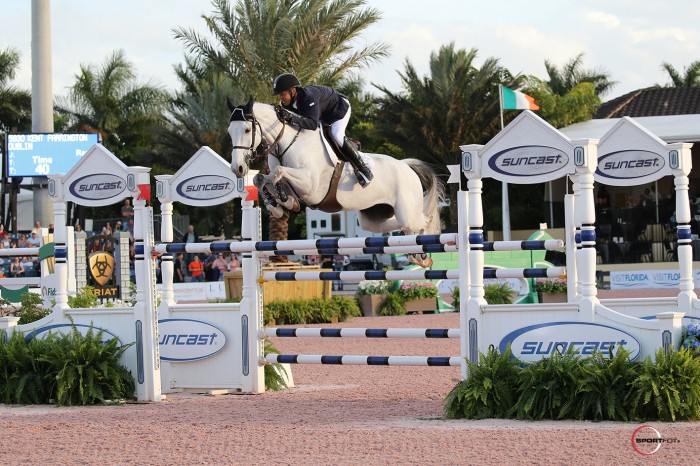 Portugal's Luciana Diniz was first to clear the short course in 44.26 seconds aboard her own and Arnaldo Diniz's Lennox to end in third place. Ali Wolff cleared the track next in 48.93 seconds riding Quirie 2 to a fourth place finish. Canada's Tiffany Foster upped the pace in 43.05 seconds with Artisan Farms' Brighton to place second. Last to go, Farrington took the win in 41.90 seconds with his own and Tanma Corp.'s Dublin.
"I am really excited. I thought the horse went great today; I thought both of my horses did," Farrington stated following his win, as well as an eighth place finish aboard Sherkan d'Amaury. "I have been bringing them along this winter really slowly. I started them both in the 1.35m and built them up this whole winter. To finish off with them both going clear in the 1.50m final was a great accomplishment for them regardless of their results. The win was a bonus."
Farrington purchased Dublin, a ten-year-old German Sport Horse (Cobra x Calido), at the start of the winter. The gelding previously showed with Carly Anthony (USA) under the ownership of Artisan Farms.
"He is extremely careful," Farrington detailed. "He is actually quite difficult to ride. He is so careful that he borderlines on too careful almost, where he goes too high. I think this horse really needs to bond with a rider and have a lot of confidence. I actually carry a lot of speed with him, even in the first round, to give him confidence so that he does not go too high."
"Whether or not he will allow you to really have total control over him, I do not know," Farrington continued, "but if we can find a good compromise in the middle like today, then I think he has a big future. Time still has to show us, but we are off to a great start, and we will see where it takes us from here."
Remarking on his jump-off, Farrington added, "I trust that horse's quality, so I know that I can really go at high speed to the jumps and trust that he is going to miss the rails. I thought he did an incredible roll back to the vertical by the in-gate. I do not think I even touched the reins there; he just flew back on that jump. That is probably where he won it."
Saturday's competition brought the overall Suncast® 1.50m Series standings down to the wire, but USA's McLain Ward held onto his lead coming into the night's event and earned the championship title for 2017. Ward qualified for the jump-off with two mounts, Tina la Boheme and HH Carlos Z, finishing sixth and seventh in the final class to secure his lead overall.
For his win, Ward was presented a two-year lease on a beautiful new Land Rover Discovery Sport HSE. Ward remarked, "It feels great to win the series. It would have been nice to win the final, but the horses jumped well all winter. I had some nice young ones that really stepped up well. I am really proud of how Tina La Boheme has continued to be a great competitor, and it is nice to have Carlos back. He is still maybe a touch rusty, but close."
"I think it is a great series; a very competitive series," Ward continued. "These classes are hard. I think it gives an older horse a chance to get going in the season, and it gives a younger horse a class to step up into where hopefully they are not over-faced by the height. I was happy with both of my horses tonight, and we had a nice year."
Final Results: $130,000 Suncast® 1.50m Championship Jumper Classic Final
1. DUBLIN: 2007 German Sport Horse gelding by Cobra x Calido
KENT FARRINGTON (USA), Tanma Corp. & Kent Farrington: 0/0/41.90
2. BRIGHTON: 2006 KWPN gelding by Contendro II x Quick Star
TIFFANY FOSTER (CAN), Artisan Farms LLC: 0/0/43.05
3. LENNOX: 2001 Oldenburg gelding by Lifestyle x Grannus
LUCIANA DINIZ (POR), Arnaldo & Luciana Diniz: 0/0/44.26
4. QUIRIE 2: 2007 Bayerischer stallion by Quadrigus M x Quidam's Rubin
ALI WOLFF (USA), Ali Wolff: 0/0/48.93
5. DILLINGER: 2007 Belgian Warmblood stallion by Contender x Capitol I
DANIEL COYLE (IRL), Ariel and Susan Grange: 1/0/54.24
6. HH CARLOS Z: 2002 Zangersheide gelding by Challeno Z x Voltaire
MCLAIN WARD (USA), Double H Farm: 0/4/44.04
7. TINA LA BOHEME: 2007 Selle Francais mare by Calvaro x Arpege Pierreville
MCLAIN WARD (USA), Susan Heller & McLain Ward: 0/4/44.11
8. SHERKAN D'AMAURY: 2006 Selle Francais gelding by Kannan x Quick Star
KENT FARRINGTON (USA), Kent Farrington, Haity McNerney, and Daniel Crown: 0/4/44.58
9. DINGEMAN: 2008 KWPN gelding by Nintender x Darnels
SANTIAGO LAMBRE (MEX), Santiago Lambre: 0/4/50.61
10. AZRAEL W: 2005 KWPN stallion by Chin Chin x Voltaire
JOSE ROBERTO RENYOSO (BRA), Jose Roberto Reynoso: 0/8/44.64
11. IT'S REAL LOVE DV SMIS Z: 2008 Zangersheide mare by C Indoctro x Liberato I
EMILY MOFFITT (GBR), Poden Farms: 0/8/45.18
12. BULL RUN'S FAUSTINO DE TILI: 2005 Belgian Warmblood stallion by Berlin x Darco
KRISTEN VANDERVEEN (USA), Bull Run Jumpers Five LLC: 4/4/47.14
Week 11 Wrap-Up: Beat Mändli and Simba Win $50,000 Engel & Völkers Grand Prix CSI 2*

Switzerland's Beat Mändli emerged victorious riding Grant Road Partners' Simba in the $50,000 Engel & Völkers Grand Prix CSI 2* to conclude competition for week eleven of the 2017 Winter Equestrian Festival (WEF) in Wellington, FL.
Guilherme Jorge (BRA) set his final course of week 11 for 45 starters in the two-star grand prix. Twenty-three qualified for the jump-off, and six completed double clear rounds. It was Mändli and the 11-year-old Oldenburg gelding Simba (Toulon x Argentinus) that took the win in 43.66 seconds.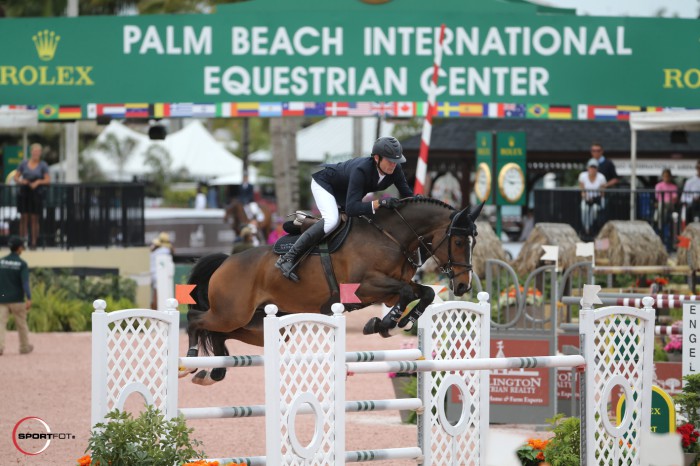 Canada's Jordan MacPherson jumped to second place with JEM Stables' Aanwinst in 44.77 seconds. Fellow Canadian Beth Underhill rode Sandy Lupton's Count Me In to third place in 45.26 seconds.
Prior to his purchase by the Dinan family in 2015, Simba was jumping successfully in England, and has since continued his career under Mändli's guidance.
"I am just very happy to have him to ride, and he has been going better and better every time he goes in the ring," Mändli detailed. "He is fun. He was good in Vilamoura last year. Then he had a little bit of a rest, and now we have just been playing around with him and preparing for the tour in Europe. That was maybe the third time that I have gone fast with him in a jump-off, and it is the first time that it worked out, so I am very happy."
Speaking further of Simba, Mändli stated, "I hope he is going to be a five-star grand prix horse. He has all the quality and the ability to do it. He just sometimes wants to do it too well and gets a little bit strong. I just have to work on keeping his energy in control; all the rest is perfect. He is a careful, scopey horse who wants to do the job. It will be interesting to see where he goes."
Mändli, the 2007 FEI World Cup Jumping Final winner, rides under the Dinan family's ownership and teaches young rider Katie Dinan full-time. For Mändli, as well as his young horses and student, the addition of the CSI 2* division this year has been a great enhancement to the show.
"I think it is a very good addition, especially to a professional who is training someone," Mändli noted. "Now I can do my two or three horses in the two-star and then focus completely on my student when she goes in the five-star. For younger horses, of course, not everyone is ready to go in the five-star classes, so I think it is a really good thing."
Second place finisher Jordan MacPherson has had her mount Aanwinst, a 12-year-old Dutch Warmblood mare (Odermus R x Jackson) for five years now, and enjoyed the opportunity to compete in the two-star division for more experience with her mount.
"I would say that we have a really good partnership," MacPherson stated. "When I got her, she was seven, so we were able to grow and move up through the ranks together. It has definitely been great for me to learn how to bring a young horse along up to the two-star level. I think over the last couple of years she has really proven herself as a great horse, and I am just really happy that I get to ride her and that I get to compete with her."
Speaking of her round, MacPherson detailed, "I went 16th in the jump-off, so at that point there was only one clean. My plan was to go quick enough, but to leave the jumps up, knowing that there had only been one clean before me."
"I think that the addition of the two stars has been a great learning experience and a great way to get in the ring with great competitors and great horses, and be able to compete against the best at the two-star level," MacPherson added.
Coming in third, Underhill was riding the ten-year-old Hanoverian gelding Count Me In (Count Grannus x Sherlock Holmes), a horse that she has competed for three years.
"He started doing some national grand prixs in Canada and the U.S. last year," Underhill described. "This is his first year jumping in the International Ring here at WEF, so that has been really exciting and great exposure for him. I could not have been more proud of him today. There were a lot of clears, but it felt like we were in great company."
Remarking on the class, Underhill stated, "I thought the course was perfect. It was demanding, but fair. I think all of the horses came out of this week jumping more confidently; certainly mine did. It was a really wonderful experience for my horse having this division. It is a great opportunity for young horses like mine to develop and learn the skills that they need to without the pressure of the 1.60m height. It feels special when there is a five-star at the same time. You have the opportunity to be part of that, but still bring the young horses along the way that you would like to."
Final Results: $50,000 Engel & Völkers Grand Prix CSI 2*
1. SIMBA: 2006 Oldenburg gelding by Toulon x Argentinus
BEAT MÄNDLI (SUI), Grant Road Partners LLC: 0/0/43.66
2. AANWINST: 2005 KWPN mare by Odermus R x Jackson
JORDAN MACPHERSON (CAN), JEM Stables Inc: 0/0/44.77
3. COUNT ME IN: 2007 Hanoverian gelding by Count Grannus x Sherlock Holmes
BETH UNDERHILL (CAN), Sandy Lupton: 0/0/45.26
4. CAS 2: 2007 KWPN gelding by Indoctro x Numero Uno
AUDREY COULTER (USA), Copernicus Stables LLC: 0/0/45.41
5. HHS FIGERO: 2006 Irish Sport Horse gelding by Guidam x Cavalier Royale
ALEXANDRA THORNTON (GBR), Dunwalke Ltd: 0/0/45.69
6. D CAROLUS: 2008 KWPN gelding by Tjungske x Calando I
JONATHAN MCCREA (USA), Candy Tribble: 0/0/47.36
7. CARLCHEN W: 2008 Mecklenberg gelding by Chacco-Blue x Continue
ALEX GRANATO (USA), Page Tredennick: 0/4/41.39
8. AKUNA MATTATA: 2008 Holsteiner mare by Quinar x Landwind II
NICOLE SHAHINIAN-SIMPSON (USA), Silver Raven Farms: 0/4/43.28
9. CHARLEVILLE: 2007 KWPN gelding by Quasimodo Z x Lancelot
EVE JOBS (USA), Eve Jobs: 0/4/43.44
10. HEROS: 2007 Belgian Warmblood gelding by Canadian River x Clinton
AMY MILLAR (CAN), AMMO Investments: 0/4/43.51
11. CAPITO Z: 2008 Zangersheide gelding by Capitos x Burggraaf
PETER LEONE (USA), Lionshare Farm: 0/4/43.75
12. B ONCE Z: 2004 Zangersheide mare by Baloubet du Rouet x Lavaletto
LUCAS PORTER (USA), Sleepy P Ranch: 0/4/44.26

WEF 11 Wrap-Up: McKayla Langmeier Moves Up to Win George Morris Excellence in Equitation
After two rounds and a test, McKayla Langmeier of East Granby, CT, emerged victorious riding Calberon B in the tenth annual George Morris Excellence in Equitation class, the highlight competition on March 24.
Thirty-nine horse and rider combinations tackled the first round course designed by Andy Christiansen Jr. and Frank Madden in the Van Kampen Covered Arena at Equestrian Village at PBIEC. Following the initial round, the top 15 riders returned for a second round, and ultimately the top four riders came back for a final test. Without the help of their trainers, the junior riders were responsible for walking the course, warming up their horses, and time management as no outside contact was allowed during the event and riders were required to turn in their cell phones at the start of the class. One groom was permitted to tend to the horse and set jumps during the warm-up.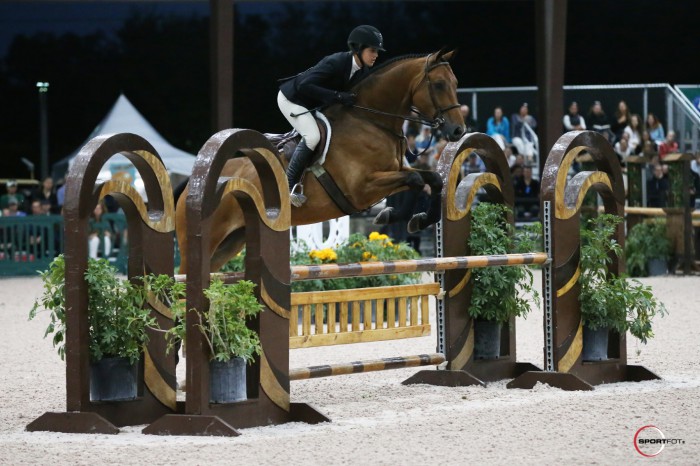 The competitors received scores from two panels of judges and a schooling judge, who graded riders in the warm up area and gave a score that ranged from minus two to plus two. Panel one consisted of Anne Kursinski and Ralph Caristo, panel two was made up of Frank Madden and Bobby Braswell, and Eric Straus acted as schooling judge.
Langmeier, who finished second in the class last year, was sitting in second place going into the final test, but after flawlessly asking all of the test's questions, she moved up to win the blue ribbon. Ava Stearns of Chilmark, MA, captured the reserve honors, while Taylor St. Jacques of Glen Allen, VA, earned the third place ribbon, and Coco Fath of Fairfield, CT, settled for a fourth place finish.
Madden of Old Salem Farm in North Salem, NY, is a well-established figure in the equitation world and was greatly impressed with the talent demonstrated in the class.
"It was a real privilege to judge the class and be involved in building the courses," said Madden. "I thought the test was great. I loved McKayla's [Langmeier's] horse landing on the right lead and making the flying change. Overall it was a great class, and I hoped the riders enjoyed the courses and the test."
Langmeier piloted Calberon B, a nine-year-old gelding owned by Linda Langmeier, to a first round score of 179 and a second round score of 182 for an overall winning score of 361. The pair have not been partnered together long as Langmeier started showing the gelding, who previously competed in the jumpers, in equitation classes at the start of this winter circuit.
Speaking of her test, Langmeier explained, "Part of the test was to hold the counter lead, and I have had issues in tests not being able to hold it. I was going to try to go inside the hay bales, but I ended up going around. I saw in the previous tests that people held the counter lead after the second fence, but I decided do the flying change."
Although Stearns entered the test in fourth place, her impeccable performance aboard Eclipse, an entry owned by Missy Clark & North Run, earned her the reserve honors. Stearns received first and second round scores of 174.5 and 179, respectively, for a combined score of 353.
"I had a lot of fun tonight!" Stearns exclaimed. "I have an incredible mount, Eclipse. I was really excited to get to compete in the class on him because he is so special, and he handles everything so well. He is so handy, and everything you ask of him he does perfectly, so that made it really fun."
St. Jacques was sitting on top when the final four entered the test; however, Madden explained that her hand gallop in the test dropped her down to finish in third place. The talented junior guided Charisma, owned by Heritage Farm, Inc., to a first round score of 182, and the highest second round score, 187.5, for an overall total of 369.5. Charisma, a ten-year-old Warmblood gelding by Stakkato, won the honor of Best Equitation Horse after the first two rounds
"Charisma was incredible today," St. Jacques praised. "Everything I asked him to do he did perfectly, and he could not have gone any better. It was a really good class overall! The class is a different atmosphere than we are used to, and I think it is a lot of fun under the lights."
Fath rode veteran equitation mount, Class Action, owned by Hillside Farm, LLC, to a fourth place finish. The pair earned first and second round scores of 177 and 178, respectively, for a combined total of 355.
Speaking of the her first time showing in the class, Fath said, "It was such a fun experience! Not having trainers was something new and different that I have not experienced before. I rode Class Action, who has done this many times. I could not imagine doing this on any other horse. He is so special and perfect, he could basically do it by himself."
Jumper Highlights: Wednesday through Sunday
Jessica Springsteen (USA) and Davendy S topped the $35,000 Douglas Elliman 1.45m CSI 5* on March 22 at the Winter Equestrian Festival (WEF) in Wellington, FL. The pair outraced Amanda Derbyshire (GBR) and Lady Maria BH, who finished in second place, and Kristen Vanderveen (USA) and Bull Run's Faustino, who settled for third place.
Guilherme Jorge (BRA) was the course designer in the International Arena at PBIEC for WEF 11. Jorge set the track filled with related distances for 54 starters over the 1.45m course, held in a two-phase competition, and saw 22 double clear rounds. With the exception of Springsteen, the top six competitors finished the second phase within one second of each other.
Springsteen and Stone Hill Farm's Davendy S sprinted around the second phase of the course, crossing the timers in 24.609 seconds, over a second and a half ahead of Derbyshire and Lady Maria BH, who left a stride out in the final line to take over the leading time just four trips earlier in 26.302 seconds. Vanderveen and Bull Run's Faustino recorded a third-place time of 26.532 seconds.
The International Arena had three other classes on Wednesday. The first class of the day, the $8,000 Illustrated Properties 1.40m CSI 2*, found a winner in Lucy Davis (USA) and Old Oak Farm's Boucherom. The $1,000 Illustrated Properties 1.40m CSI 5* followed with Ben Maher (GBR) taking the top honors aboard It's Real Love Vd Smis Z, owned by Poden Farms. Darragh Kenny (IRL) and Important de Muze, an entry owned by Kerry Anne LLC, concluded the day with a win in the $6,000 Illustrated Properties 1.40m.
El Salvador's Paulo Santana and Taloubet were the winners of the $35,000 Ruby et Violette WEF Challenge Cup Round 11 during CSI 5* competition on Thursday, March 23, at the 2017 Winter Equestrian Festival (WEF).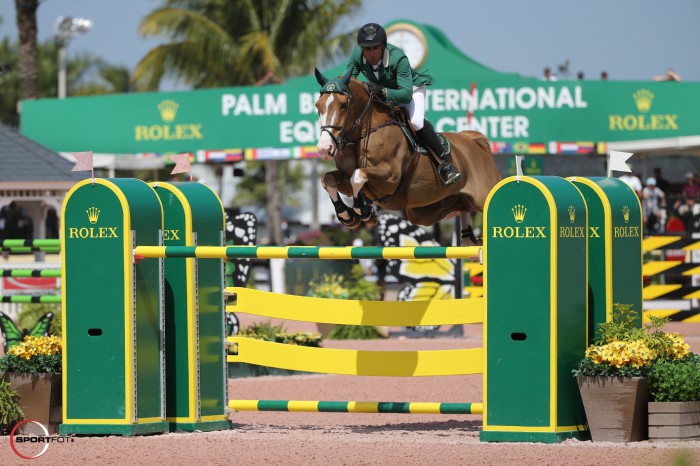 Course designer Guilherme Jorge (BRA) saw 55 starters over his first round course for the WEF Challenge Cup and 16 clear rounds. Just ten of the16 clear entries chose to return for the jump-off, where Paulo Santana and his veteran mount Taloubet stopped the clock in 37.47 seconds.
Lucy Deslauriers (USA) guided Lisa Deslauriers' Hester to second place in 37.60 seconds. Jose Roberto Reynoso (BRA) placed third in 38.39 seconds riding Azrael W.
Also competing in the International Arena on Thursday, Lucy Davis (USA) and Boucherom won the $8,000 Douglas Elliman 1.45m CSI 2* speed class. The afternoon concluded with the $6,000 Illustrated Properties 1.40m Speed Challenge and a win for Darragh Kenny (IRL) riding Kerry Anne LLC's Important de Muze.
It was an emotional win for Chile's Samuel Parot in Friday's $35,000 Illustrated Properties 1.45m CSI 5* at the Winter Equestrian Festival, as the rider was competing his mount Couscous van Orti for the final time.
Parot found Couscous van Orti from Belgium's Pieter Devos in 2015 and rode the gelding at the Pan American Games in Toronto that year. The pair has since earned numerous victories and had a very successful partnership. The horse will now compete under the flag of El Salvador with rider Juan Manuel Bolanos.
Course designer Guilherme Jorge (BRA) set the speed track for 35 starters in Friday's five-star 1.45m competition, yielding ten clear rounds. Last to go, Parot and the 15-year-old Belgian Warmblood gelding (Nabab de Reve x Cash) raced to victory in 60.48 seconds.
Darragh Kenny (IRL) finished second in 62.24 seconds riding Kerry Anne LLC's Chanel. Eric Lamaze (CAN) guided Torrey Pines Stable's Thalis de la Roque to third place in 63.25 seconds, and Richie Moloney (IRL) placed fourth aboard Equinimity LLC's Slieveanorra in 64.19 seconds.
Also competing in the International Arena on Friday, Amy Millar (CAN) and AMMO Investments' Heros won the $35,000 1.45m CSI 2* jump-off.
Also competing in the International Arena on Saturday, David Oberkircher and Southfield Farm's Castelino van de Helle won the $15,000 SJHOF High Amateur-Owner Jumper Classic, presented by Engel & Völkers. Giavanna Rinaldi topped the $10,000 SJHOF High Junior Jumper Classic, presented by Sleepy P Ranch, aboard Nuvolari Holdings' Commissario.
On Sunday, the $10,000 Martha Jolicoeur, Douglas Elliman Low Amateur-Owner Jumper Classic was pinned in a California Split with a win for Caroline Donnally and Reve du Razzy in Section A, and victory for Hannah Patten and Love in Section B.
Week 11 Jumper Classic Winners:
$15,000 SJHOF High Amateur-Owner Jumpers, presented by Engel & Völkers – David Oberkircher and Castelino van de Helle
$10,000 SJHOF High Junior Jumpers, presented by Sleepy P Ranch – Giavanna Rinaldi and Commissario
$10,000 Equiline Medium Amateur-Owner Jumpers – Lucy Matz and Bailey VI
$10,000 Hollow Creek Farm Medium Junior Jumpers – Annabella Sanchez and Cassano Z
$10,000 Martha Jolicoeur, Douglas Elliman Real Estate Low Amateur-Owner Jumpers (Cali Split) – Caroline Donnally and Reve du Razzy; Hannah Patten and Love
$10,000 Maria Mendelsohn, Douglas Elliman Real Estate Low Junior Jumpers – Mimi Gochman and Caleno 3
$10,000 EnTrust Capital Adult Jumpers 18-35 – Maggie McCormack and Finale
$10,000 Adult Jumpers 36 and Over – Nilani Trent and Casablanca 108
$10,000 Horseware Ireland Don Little Masters – Juan Gamboa and Classic Z
Week 11 Jumper Champions:
Equestrian Sotheby's Children's Jumper 14 & Under – Eva Fisherman and Caledonia
Equis Boutique Children's Jumper 15-17 – Helena Vasconcelos and Chakira
Griffis Residential Modified Children's Jumpers – Mimi Gochman and E Bay
FarmVet Adult Modified Jumpers – Catherine Wu and Ren Round Number
Karina Brez Jewelry Low Adult Jumper 18-35 – Lucy Huber and Knuffel
Pegasus Builders Low Adult Jumper 36 & Over – Juan Pablo Mejia and Como's Comet
Equo Low Children's Jumper – Anna Richardson and With Love
Hunter and Equitation Highlights – Thursday through Sunday
Kelley Farmer of Keswick, VA, and Mindful dominated the Antares High Performance Working Hunter division and captured the championship ribbon. The pair won four out of five classes and placed second in the stake round. Mindful received scores of 87 and 85 over fences, and 89 and 88 in the handy and stake rounds.
MTM Hands Down, owned by Beechwood Stables, LLC, and Peter Wylde of Lake Worth, FL, secured the reserve title, placing second and fifth over fences, as well as winning the stake round with a score of 89. MTM Hands Down is a 14-year-old Warmblood gelding that has had a strong showing at the 2017 winter circuit in Wellington, earning championship honors in the Antares High Performance Working Hunter and the CWD Saddlery Performance Hunter 3'6" divisions.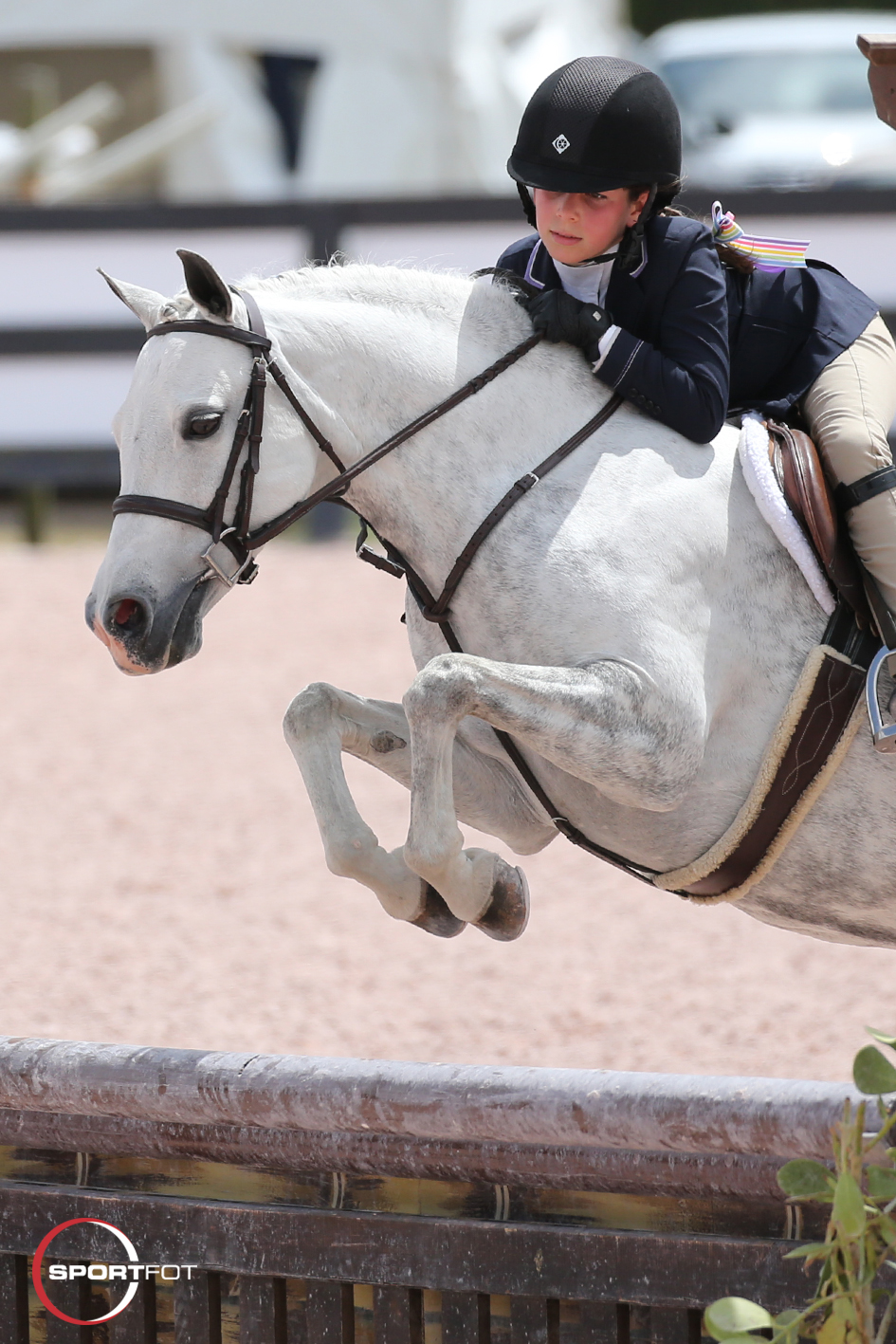 Mimi Gochman captured the championship honors in the Engel & Völkers Large Junior Hunter 15 & Under division, while her younger sister, Sophie Gochman, earned the reserve title. Both girls show out of Palm Beach, FL. Mimi Gochman piloted Scott Stewart's Caldwell to the win in the handy and in one over fences trip, to second place finishes under saddle and in the stake round, as well as a sixth place ribbon over fences.
Sophie Gochman guided Garfield, an entry owned by Gochman Sport Horses, LLC, to two second place finishes over fences, a third place ribbon under saddle, and a third place finish in the stake round.
After having her flight canceled on Saturday, Clara Propp of New York, NY, flew to Wellington on Sunday morning in time to ride Quicksilver Butterfly and win the championship title in the Visse Wedell, Realtor Small Pony Hunters. Propp piloted Quicksilver Butterfly, an entry owned by Aquitaine Equine, to a sixth place finish in the handy trip.
Trinity Beitler of Coconut Creek, FL, stepped in to show the 11-year-old Welsh Pony mare on Saturday and won two over fences classes, in addition to placing third under saddle.
Alexa Elle Lignelli of New York, NY, captured the reserve tricolor ribbon. Lignelli guided her own iParty to win the under saddle, place second in two over fences classes, as well as a fourth place finish in another over fences round.